By Bolin Song
The World AIDS Day (WAD) on December 1st is an international day aimed at raising people's awareness of AIDS and related problems and mourning those who have died of the disease. On December 2nd, a World AIDS Day event was held in DKU, in support of World AIDS Day. This event was supported by the Global Health Research Center and PETAL (Planetary Ethics and Planetary Ethics Lab). The event was organized by undergraduate students Bolin Song, Qianyu(Sherry) Pan, and other undergraduate student volunteers.
The aim of this event was to facilitate focused discussions of HIV/AIDS at DKU, using a Medical Humanities framework. It includes the presentation of the pathology and epidemiology of the diseases to raise people's awareness and encourage preventive practices. It also created a platform for communication across cultures about the disease and the associated stigmas in order to establish a more informed campus and ultimately reduce stigmatization. This discussion attempted to examine HIV/AIDS from many perspectives, including the ethical, religious, and cultural aspects.
Specifically, this event included a lecture given by Dr. Benjamin Anderson about epidemiology and disease stigmatization of HIV/AIDS, lunchtime tabling activities and a panel discussion, particularly about HIV stigmatization. The details of these activities are shown below.
Tabling
Tabling activities were held in the AB lobby during lunchtime to facilitate direct interactions with the DKU community. The activities included an information table where people could stop by and get the basic knowledge about HIV/AIDS, a quiz table where people could take the quiz and get red ribbon badges as gifts, an interactive session where people could write down the words they want to say to people living with HIV/AIDS.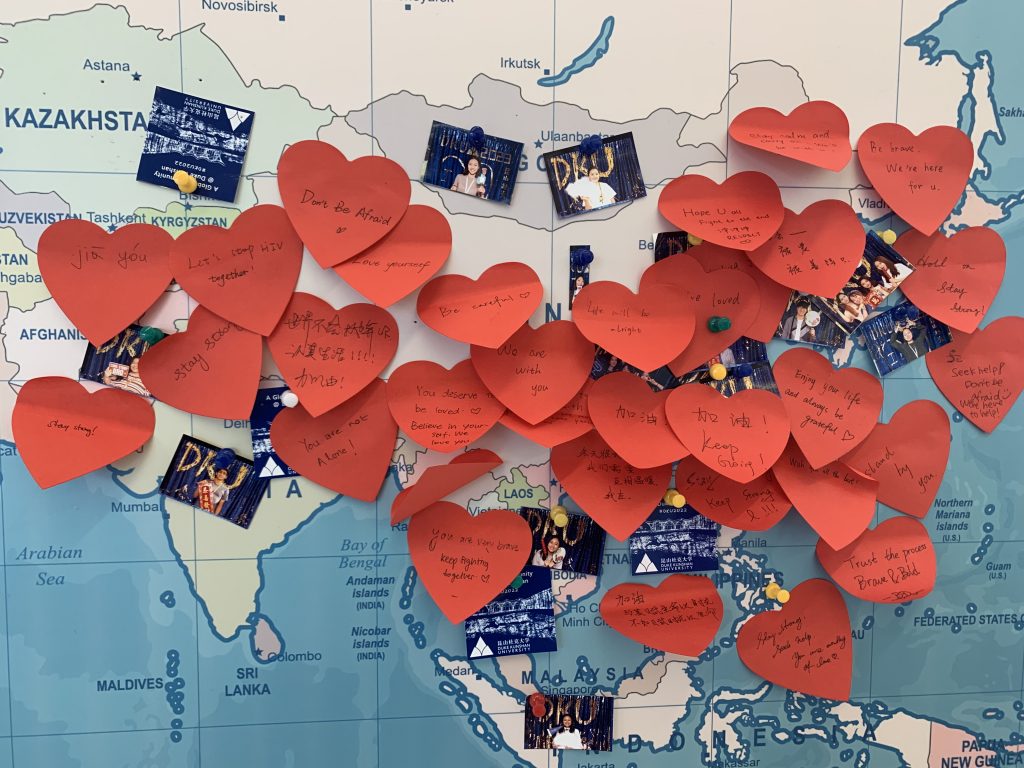 Lecture: Epidemiology and Disease Stigmatization
There was a campus-wide lecture that provided basic information about HIV/AIDS, including pathology and epidemiology. The lecture included information about preventive practices and also an overview of stigmatization. Professor Benjamin Anderson introduced us to some basic classifications of HIV stigmas, causes of HIV stigma, and some methods to avoid HIV stigma. The main goals of this lecture were, to raise people's awareness of HIV/AIDS as a disease and to introduce preventive practices. The larger emphasis of this activity was establishing a culture of prevention of HIV/AIDS at DKU. This activity had also created opportunities for students interested in this topic to explore more through the Humanities Research Center and the Global Health Research Center.
Panel: HIV/AIDS and Disease Stigmatization
HIV/AIDS is known to carry intense social stigmas for those individuals affected by the virus/disease and can be a sensitive topic to discuss even at a cross-cultural academic institution such as DKU. This activity successfully facilitated a discussion on how cultural and social views are associated with HIV/AIDS stigmatization. Prof. Kyle Fruh, Prof. Mengqi Wang and UG student Bolin Song, participated in this panel as panelists. Based on their disciplinary training and backgrounds, they discussed about the complexity of HIV/AIDS stigmatization in terms of its cause, complexity as a "wicked problem" and cultural differences from the East and West.
Read more:
Specifically, Bolin discussed the social, religious, psychological and educational causes of HIV stigma, then presented some current interventions from these causes.
Prof. Fruh discussed HIV stigmatization from the point of philosophy, as well as his own views on the differences between east and west.
Prof. Wang talked about HIV stigmatization in China when it first came into the public eye in the 1980s. She discussed in detail some of the extreme behaviors about HIV in China at that time, including the revenge from Chinese HIV patients on society, and the extreme panic from the public media, which are important reasons for the deep-rooted HIV stigma in China.