The Media & Arts Speaker series at Duke Kunshan University is a bi-weekly event that invites leading practitioners in media and arts to speak about their work and practice and engage with our DKU community.
The third miniseries of talks looks at the intersection of pandemic, virology, disease and art, presenting three artists whose works inspect the delicate relationship between ourselves and the sicknesses that plague us, presenting their unique perspectives on wellness.
The lecture scheduled on Friday November 13th, 2020 at 6pm China Central time features the Taiwanese bio artist Pei-ying Lin. This series is organized and hosted by Prof. Vivian Xu and Prof. Benjamin Bacon, and supported by Arts and Humanities and the Humanities Research Center at Duke Kunshan University. This event is open to the public.
Time: 12/04, Friday 6-7pm China Time
Location: Duke Kunshan Innovation Building 1046
Zoom: 262-835-7204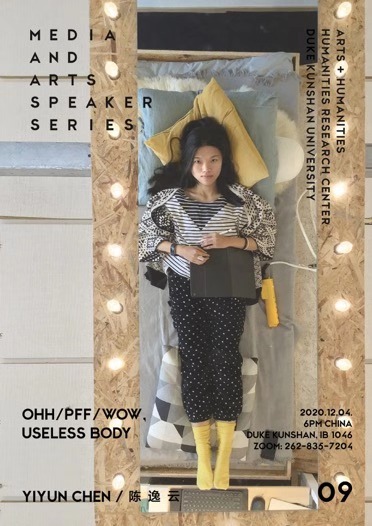 Continue reading "Art in the Age of Viral Infection Miniseries | Ohh/Pff/Wow, Useless Body (Artist: Yiyun Chen)"