Thursday 23 April, 10pm Eastern / Friday 24 April, 10am China
Zoom: 695-290-0771
Interdisciplinarity lies at the heart of Duke Kunshan University's innovative curriculum for the 21st century. Recently DKU appointed James Miller, Co-Director of the Humanities Research Center to be its first Associate Dean of Interdisciplinary Strategy. Join Professor Miller and students from the HumanSpace+ research group as they embark on a series of conversations with leading theorists and practitioners of interdisciplinarity in the world today to explore how interdisciplinarity is tied to innovation and future of knowledge.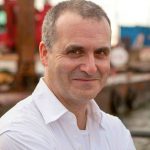 The second conversation in this series is with Professor Evan Thompson from the University of British Columbia and focuses on the future of the mind. Evan Thompson is a writer and professor of philosophy at the University of British Columbia in Vancouver. He works on the nature of the mind, the self, and human experience. His work combines cognitive science, philosophy of mind, phenomenology, and cross-cultural philosophy, especially Asian philosophical traditions. He is the author of Waking, Dreaming, Being: Self and Consciousness in Neuroscience, Meditation, and Philosophy (Columbia University Press, 2015); Mind in Life: Biology, Phenomenology, and the Sciences of Mind (Harvard University Press, 2007); and Colour Vision: A Study in Cognitive Science and the Philosophy of Perception (Routledge Press, 1995). He is the co-author, with Francisco J. Varela and Eleanor Rosch, of The Embodied Mind: Cognitive Science and Human Experience (MIT Press, 1991, revised edition 2016). Evan is an Elected Fellow of the Royal Society of Canada.
Continue reading "Interdisciplinarity and the Future of the Mind"