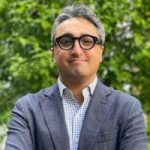 Congratulations to Rasoul Namazi, Assistant Professor of Political Theory, on his new book, "Leo Strauss and Islamic Political Thought," published by Cambridge University Press.
Description: "In this book, Rasoul Namazi offers the first in-depth study of Leo Strauss' writings on Islamic political thought, a topic that interested Strauss over the course of his career. Namazi's volume focuses on several important studies by Strauss on Islamic thought. He critically analyzes Strauss's notes on Averroes' commentary on Plato's Republic and also proposes an interpretation of Strauss' theologico-political notes on the Arabian Nights. Namazi also interprets Strauss' essay on Alfarabi's enigmatic treatise, The Philosophy of Plato and provides a detailed commentary on his complex essay devoted to Alfarabi's summary of Plato's Laws. Based on previously unpublished material from Strauss' papers, Namazi's volume provides new insights into Strauss' reflections on religion, philosophy, and politics, and their relationship to wisdom, persecution, divine law, and unbelief in the works of key Muslim thinkers. His work presents Strauss as one of the most innovative historians and scholars of Islamic thought."
The book is available on different platforms including Amazon but if ordered from the Cambridge website, one can get 20% off by entering the code NAMAZI22 at the checkout.
Continue reading "Congratulations to Professor Rasoul Namazi on his new book "Leo Strauss and Islamic Political Thought""