The Humanities Research Center and the Division of Arts and Humanities, in collaboration with the Undergraduate Studies program, are pleased to present a lecture and discussion on religion and politics, on Monday 26 September, 2022 via Zoom and in person in Barcelona. The event comprises a guest lecture, which will be presented via Zoom, and a discussion, which will take place in person in the Barcelona student residence.
Robert Yelle: Thomas Hobbes's Radical Path to Secularization
Abstract: Is secularism a disguised form of Christianity?  A new religion? Or something altogether different? One of the paradoxes of the modern age is that it was built partly on a biblical foundation, but dramatically altered our understanding of Christian and Jewish traditions—in some cases, by rejecting these entirely. Thomas Hobbes's Leviathan (1651) illustrates this paradox. I will offer a new reading of Hobbes's controversial masterpiece, and argue that his attack on the biblical tradition went further than even his staunchest critics have recognized. This will lead us directly to a reappraisal of the relationship between religion and politics in our contemporary secular order.
This lecture takes place as part of the DKU course Foundational Questions in Social Science, and is made available via Zoom (ID 954 7736 1554) for the whole DKU community. It takes place at 1030 CET / 1630 BJT.
Religion and Politics: An Interdisciplinary Conversation
Contrary to the prediction of some 20th century social science, religion continues to dominate political life in the present day. Social sciences, political science, and the study of religion can all provide insight into understanding the origins and development of local, transnational, and global events. Join DKU professors Rasoul Namazi and James Miller, with special guest Robert Yelle, for an informed and insightful conversation about the political and religious forces that shape our world today.
The conversation takes place in the Barcelona Student Residence. Snacks and drinks will be provided. All are welcome.
Robert Yelle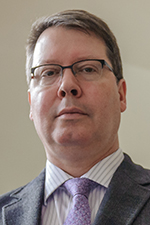 Robert A. Yelle is Professor and Chair of Religious Studies at Ludwig-Maximilians-University of Munich. He is the author of Explaining Mantras: Ritual, Rhetoric, and the Dream of a Natural Language in Hindu Tantra (Routledge, 2003); The Language of Disenchantment: Protestant Literalism and Colonial Discourse in British India (Oxford University Press, 2013); and Semiotics of Religion: Signs of the Sacred in History (Bloomsbury, 2013), in addition to numerous articles. He co-edited After Secular Law (Stanford University Press, 2011) with Winnifred Sullivan and Mateo Taussig-Rubbo. Yelle is presently the editor of the AAR/Oxford University Press book series Religion, Culture, and History. He served as Chair of the AAR's Law, Religion, and Culture Group, and is currently on the steering committee of the Secularism and Secularity Group.