Tue, Nov 16, 2021, 7pm CST
IB 2026 | Zoom 69 79 89 79 69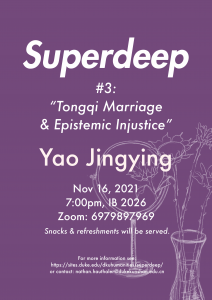 Join us for our third session with DKU's Superdeep workshop for philosophically-minded or -interested students & projects. This time Yao Jingying (Cecilia) ('22, Ethics & Leadership (Philosophy)) is going to share with us her work on "Tongqi Marriage & Epistemic Injustice".
Everyone is welcome to join; no prior knowledge of philosophy is required.
Snacks and refreshments will be served at the meeting.
---
For more information on the Superdeep workshop, see https://sites.duke.edu/dkuhumanities/superdeep/ or contact nathan.hauthaler@dukekunshan.edu.cn