Highlights of the week:
Beckerman Joins Division of Cardiovascular & Thoracic Surgery Faculty
We are pleased to welcome Ziv Beckerman, MD, congenital and aortic surgeon, to the Duke faculty in the division of cardiovascular and thoracic surgery of the Department of Surgery. He will serve as a vital member of the pediatric heart surgery team along with Drs. Joe Turek and Nick Andersen. His position was effective July 1. Beckerman joins the team after having served as the surgical director of the Adult Congenital Heart Disease Program at the Texas Center for Pediatric and Congenital Heart Disease at Dell Children's Medical Center in Austin.
Beckerman, who was born in Israel, says he had always known he wanted to work in the field of medicine, but had been unsure in what capacity. After turning 18, he was required to serve in the Israeli Defense Force and spent three years as a medic assigned to a combat unit. It was during this time tending to a variety of injuries and trauma, that he realized caring for patients was a passion and that he wanted to do it for the rest of his life. Upon completion of his military service to Israel, he started medical school in Hungary at the Medical University of Debrecen. Beckerman went on to complete residency in cardiac surgery at the Ruth and Bruce Rappaport Faculty of Medicine at Technion Israel Institute of Technology in Haifa. He then completed fellowships in Congenital Heart at Sheba Medical Center (Israel); Congenital Heart at Baylor College of Medicine, and in Advanced Aortic Surgery at Emory.
Once he began medical school, Beckerman says he knew from the get-go that he wanted to be a heart surgeon.
"Nothing in the body can function well without a well-functioning heart," says Beckerman. "It is the most amazing organ and the source of life. Unfortunately, I had a few friends who died because of injuries to their chest and hearts. As I began my training, it was clear to me that this was where I'd place my focus.
"I have always, always felt that if you want to do something and really understand it, you should do it from the very beginning," he added. "This is why I trained to care for the youngest patients – babies with congenital heart defects and even those still in the womb. If you're able to take care of problems early enough – perhaps even before they start, then you're on the way to success."
Beckerman trained in congenital heart surgery and has dedicated his career to that, but he also decided to take a somewhat unusual path by completing advanced training in aortic surgery. It made great sense to do this, he says, because of the population of adults with congenital heart problems.
In the United States, Beckerman says, there are two types of congenital patients. They are either pediatric congenital patients who were born with identifiable heart defects or they are adult congenital patients. Of the adults, they are either people who were identified and treated as children or they are patients who were never diagnosed in childhood and they are now symptomatic adults. Either way, he says, these patients have complex needs.
Interestingly, there are actually more adults in the U.S. with congenital heart defects than there are kids, adds Beckerman. He says this population is comprised of well over two million people.
"When I thought about this patient subset and the problems they would have – many of them have aortic problems such as issues with dilation or problems with the aortic valve. Most of these adult patients end up as very, very complex surgical candidates," he says. "So it made a lot of sense to me to train in aortic surgery. I think having this skill set that allows me to care for patients from fetal life all the way to adulthood is special in what it allows me to do, and it is something I feel very passionate about."
He says that Duke offers an excellent space in which to care for patients. An issue the medical community experiences with congenital patients is "people falling through the cracks" during the transition from childhood to adulthood.
"We frequently lose patients during this transition into adulthood. They're young adults, they feel strong and healthy, and decide to move away for college or a new job. Unless you have taken very good care to educate this young patient and help them understand their medical history and condition, the importance of keeping follow-ups with their current care team or establishing a relationship with a new care team in their new community, they can put themselves at risk by not getting regular monitoring. If they then resurface when something bad happens or their heart starts to fail, it can be too late."
As Duke cares for both pediatric and adult patients under the same roof, it allows continuity of care and a unique opportunity to improve education and transition of care for congenital patients.
"One of the biggest advantages that Duke has over many other centers is the structure and the opportunity to maintain the care of the patients throughout their entire life," says Beckerman. "Duke offers a truly world-class adult heart center and an excellent pediatric center that is one of the best in the country. Coming here offers the perfect opportunity to truly provide patients with the care they need. This is an extraordinary opportunity for me."
Ziv and his wife, Anett, have two sons: Ben (13) and Ron (12). He says they are enjoying Durham and exploring the area. He said the community members they are meeting are kind and helpful, that their new neighbors are wonderful and welcoming. The family enjoys hiking, fishing, and sports – his sons especially enjoy soccer. He and Anett both enjoy cooking and are somewhat competitive about who is the better chef. They are very happy with their move and are looking forward to meeting more people.
"One of the things I really love about being here is the medical community," Beckerman adds. "From a physician perspective, this offers me a terrific opportunity to do something meaningful. It is also the kind of community where we can really make an impact. We love being part of the community we live in and really getting to know people. I believe this will allow me to provide a more personalized level of care to my patients and allow me to feel closer to the community overall. We are really glad to be here."
Please join us in offering Ziv a warm welcome when you see him!
Old-School Health Assessment Beats Genetic Test for Predicting Heart Disease
A genetic risk for heart disease is far less predictive of problems than actual lifestyle risk factors such as
high blood pressure, high cholesterol and diabetes — even among younger adults.
In a finding published July 26 in the journal Circulation, researchers led by a team at Duke AI Health found that genetic tests do little to accurately identify cardiovascular risks compared to a simple risk equation that uses basic health measures.
"It's important to intervene early to prevent cardiovascular disease from progressing," said senior author Michael Pencina, PhD, vice dean for data science at Duke University School of Medicine and director of Duke AI Health, which develops, evaluates and implements artificial intelligence initiatives at Duke Health and elsewhere.
"A lot of young people can be given a false sense of security if it looks like they have a low risk of inherited disease from their family," Pencina said. "But in the nature vs. nurture battle, it's nurture that is the stronger factor for cardiovascular disease: how a person lives throughout adulthood is a much bigger factor in the course of this disease."
Pencina and colleagues analyzed two large databases — the Framingham Offspring Study and the Atherosclerosis Risk in Communities study — and stratified participants into three groups by age: Younger adults (median 30 years old); early mid-life (median 43 years old); and late mid-life (median 52 years old).
They applied two predictive models. The first, called a polygenic risk score, calculates the number of inherited genetic variants that are likely to put a person at risk of developing cardiovascular disease.
The second was a scoring model that uses traditional long-term risk factors — including high blood pressure, smoking, diabetes and high cholesterol levels — which are largely preventable depending on lifestyle choices.
In their analysis, the researchers found that the polygenic risk score provided limited predictive accuracy for cardiovascular disease risk compared to the traditional health assessment. Even when a genetic score was added in as a factor among the traditional health measurements, it made little difference.
"What we find is consistent in all three age groups, even in the youngest, the risk factor-based model was superior to the genetics-based model for predicting cardiovascular disease," Pencina said.
"While genetic tests use new technology, they can be high-priced," Pencina said. "People should instead visit their doctor and have their actual, clinical factors measured, because this will do a much better job of determining their state of health. And for those who have a high risk of developing cardiovascular disease — especially young people — they should eat healthy foods, exercise and begin proper medications as warranted."
In addition to Pencina, study authors include Sadiya S. Khan, Courtney Page, Daniel M. Wojdyla, Yosef Y. Schwartz, and Philip Greenland. The study received funding from the National Institutes of Health (P30AG059988, RO1HL159250, U01HL160279, 5R01-EB025020-03).
Douglas Awarded Honorary Fellowship by ASPC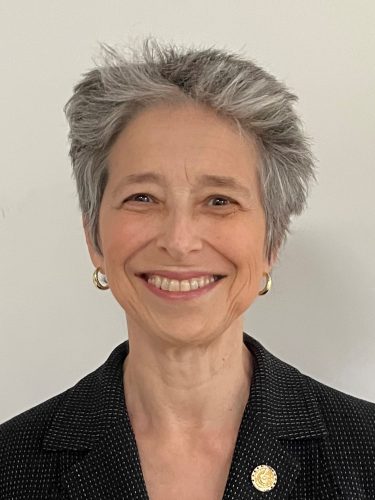 Pamela S. Douglas, MD, the Ursula Geller Distinguished Professor for Research in Cardiovascular Disease, was awarded with an honorary fellowship by the American Society of Preventative Cardiology on Friday, July 29 during the 2022 ASPC Congress on CVD Prevention. The event is being held at the Omni Louisville Hotel from July 29-31 in Louisville, KY.
"Each year the ASPC identifies someone who has made extraordinary contributions to the field of preventive cardiology through groundbreaking research, exemplary clinical care or excellence in education. Rarely, we find someone who meets all three of these aspects, but in Dr. Pam Douglas, we have," said Martha Gulati, MD, director of preventive cardiology at Cedars-Sinai Medical Center's Smidt Heart Institute and president of the ASPC. "Dr. Douglas has led several landmark clinical trials that have changed the workup and management of patients being evaluated for ischemia. She also has helped establish important specialty areas, including heart disease in women, sports cardiology and cardio-oncology. She has also been an outspoken advocate for women in cardiology, in addition to pushing all our cardiology societies to achieve equity and diversity in our ranks of cardiology. She has led the DEI task force for the American College of Cardiology, but this has had a trickle-down effect on all of our cardiology societies. I had the honor of working with her on a landmark paper — published this year in JACC — about what women in cardiology who bear children experience when they are pregnant and how it affects their careers. We outlined actionable solutions to improve the inclusion and advancement of
child-bearing persons in the field of cardiology. This is but one example of her numerous papers that are pushing to make our field welcoming to everyone.
"Additionally, she has been a role model and mentor to so many, myself included. She pushes for what is right, she counsels us when we are lost (this she personally did for me in the past year), and she cares about everyone's success — certainly at Duke Cardiology, but actually beyond Duke's borders. We are excited to celebrate Dr. Douglas as our 2022 Honorary FASPC."
Congratulations, Pam!
Krasuski Named Editor-in-Chief Elect of PHA's Journal
Richard Krasuski, MD, professor of medicine in cardiology, has been named Editor-in-Chief elect of the journal Advances in Pulmonary Hypertension (APH). The position is effective as of July 25. His term as Editor-in-Chief will begin next July and run through June 2025.
Krasuski has served on the editorial board of APH for the past four years.
Congratulations, Rich!
Legath to Serve as Nurse Manager DUH 7300, Effective September 1st
Duke Heart is pleased to announce that Jessie Legath, BSN, RN, PCCN, CNIV will become Nurse

Manager Operations for Duke University Hospital's Cardiology Stepdown Unit 7300 effective September 1st.  Jessie will co-manage 7300 with Monica Harper until Monica retires in December. Jessie earned a Bachelor of Science in Nursing from Duke University School of Nursing in 2015. She joined the Duke Heart Team as a new graduate nurse on 3100 in March 2016 and has served as Clinical Lead, now Assistant Nurse Manager, since September 2020.
During her time at Duke, Jessie advanced on the clinical ladder by becoming a CNIV and has held a variety of roles on 3100 including Preceptor, Charge Nurse, and Skin Care Champion. As Clinical Lead/Assistant Nurse Manager, she has been heavily involved with safety and quality initiatives including pressure injury prevention and assisting with the creation and implementation of the Heart Center SD Pressure Injury Prevention Bundle. She has been part of many team building and leadership activities throughout the Heart Center, including Heart Center chart navigator for Division of Health Service Regulation (DHSR) visits, organizing and leading monthly CTSD leadership meetings, and currently serves as one of the DUH Heart Core Class presenters.
Please join us in congratulating and welcoming Jessie to her new role.
Temporary Cath Lab Space Opens
Congratulations to the Cardiac Catheterization team on the opening this week of their newest (albeit temporary) lab space in Duke University Hospital. "Cath 4" is located in the area that was vacated by the pediatric team earlier this year. Leadership repurposed the space to support select procedures in order to enhance through-put and operations as we accommodate construction and growth in the DUH adult cardiac catheterization and electrophysiology labs.
The cath team performed their first case in the temporary space on Thursday, July 28. With the help of Duke Heart administrators, nursing and physician leadership, the cath lab super users (Jake Chastain, Adam Edmundson, Ashely Kinney and Miranda Olson), Drs. Larry Crawford and Caitlyn Drescher performed a successful RHC!!
To commemorate the event and to offer homage to Schuyler Jones (who was not in the lab this week), the team crafted this verse:
A cath lab haiku:
The volume was high
The lab space was so low
We opened Cath 4!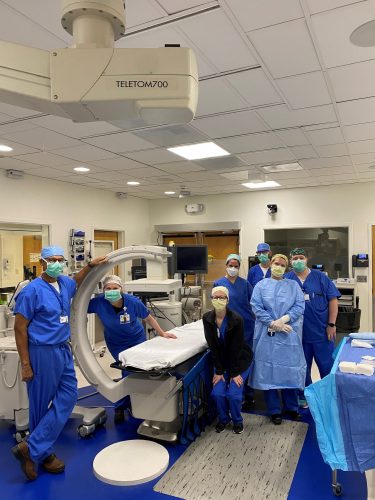 Shown here (L-R) are: Larry Crawford, Anna Mall, Miranda Olson, Caitlin Drescher, Jake Chastain, Ashley Kinney and Adam Edmundson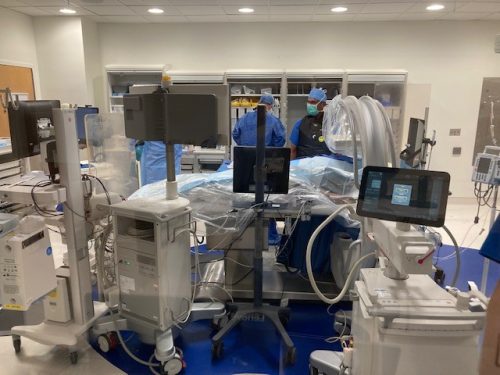 Shown L-R are: Jake Chastain, Larry Crawford and Caitlin Drescher
A big shout-out to Anna Mall and Joe Kelly who were instrumental in getting the room up and running, and many thanks to the entire team for their support. Cheers to our many cases to come!
WiC Event Held
The Duke program for Women in Cardiology met this week at the home of Pam Douglas. All attendees benefited from a great group discussion on mentorship and sponsorship with faculty members Karen Alexander, Anna Lisa Chamis, Pam Douglas, Camille Frazier Mills, Neha Pagidipati, Jennifer Rymer, and Tracy Wang. Thank you to Pam Douglas for hosting and to Joey Harrington, Ali Corley and Paula Rambarat for organizing and participating in this insightful discussion!
Photos of the Week
A belated congratulations to John and Karen Alexander on their daughter Emily's entry to medical school. Members of Dr. John Alexander's clinical team are excited to see her pursuing a career in medicine! When his team members saw recent photos they couldn't help but notice the stark contrast between Emily's fresh white coat and John's less-than-pristine one.
We are told the team has wondered if a 'GoFundMe' campaign is needed to get a replacement. "That coat," they said, "should probably go already."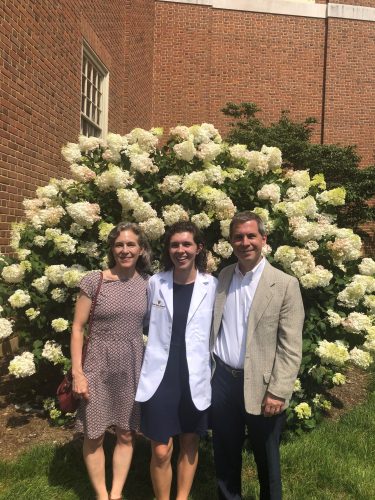 Karen, Emily, and John Alexander, July 2022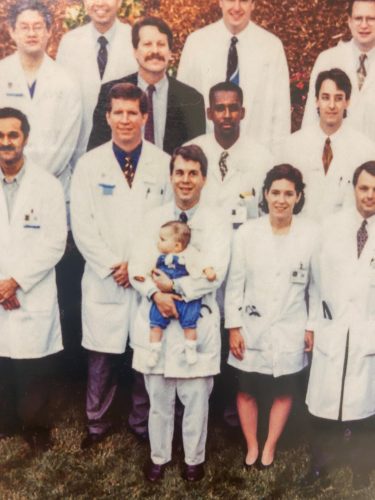 John, holding a much younger Emily, and Karen Alexander along with faculty and fellows of the division of cardiology circa 1997.  For those that look carefully – you will also see some other notable Duke Cardiology Alums
John Alexander & the coat
Photos submitted by Sasmrita Belbase, cardiology APP.
In all seriousness, congratulations to Emily — we are thrilled for her and look forward to all she will accomplish!
ICYMI: USNWR 'Best Hospitals' Ratings Released for 2022-2023
Tom Owens, MD, president of Duke University Hospital commented:
Duke University Hospital is privileged to serve all of our patients and communities, and one of my favorite things is to read the many grateful patient comments and notes we receive every day, thanks to your excellent, compassionate care.
It also is gratifying to receive recognition from outside organizations. We are pleased that Duke University Hospital again has been recognized among the best hospitals in the country in the U.S. News & World Report rankings for 2022-2023. We have improved overall from 24 to 21 in the national ranking, and we remain No. 1 in North Carolina.
We also have been nationally ranked in 11 adult specialties, we saw improvement in most of the specialty groups, and we received the highest rating for 19 of 20 common procedures and conditions.
Congratulations to each of our specialties for these outstanding designations, with national rankings from USNWR as follows:
Cancer – Ranked 22
Cardiology & Heart Surgery – Ranked 34
Ear, Nose & Throat – Ranked 29
Gastroenterology & GI Surgery – Ranked 29
Geriatrics – Ranked 30
Obstetrics & Gynecology – Ranked 33
Neurology & Neurosurgery – Ranked 23
Ophthalmology – Ranked 6
Orthopedics – Ranked 19
Pulmonology – Ranked 31
Urology – Ranked 26
In addition, our hospital is recognized this year as high performing in two adult specialties (endocrine and rheumatology), as well as in 19 procedures and conditions:
Abdominal aortic aneurysm
Aortic valve stenosis
Coronary artery bypass grafting
Colon Cancer Surgery
Congestive Heart Failure
Chronic Obstructive Pulmonary Disease (COPD)
Hip replacement
Knee replacement
Lung cancer surgery
Transcatheter Aortic Valve Replacement (TAVR)
Heart attack
Stroke
Pneumonia
Diabetes
Kidney failure
Hip fracture
Back surgery (spinal fusion)
Ovarian cancer surgery
Prostate cancer surgery
Although pleased with the improving USNWR recognition and rankings, we know that the quality of the care we deliver is not defined by a single ranking system. We continue to deliver outstanding care to some of the country's most vulnerable patients and diverse communities, which is may not always be reflected in the USNWR models.
This can be especially seen at times with regards to the Cardiology and Heart Surgery care – where our performance on care in our quality and national registries is substantially better than some of the claim's data based measure. Nevertheless, we continue to work on our processes to improve and capture the care we deliver in addition to working on ways to innovate and improve patient outcomes.  We have seen some of the recent changes due to these efforts and will anticipate continuing to see those in upcoming years.  Additionally, these efforts are often recognized in other measures some of which are provided below.
Newsweek ranking of the World's Best specialized hospitals for heart care (July 2022)
https://www.newsweek.com/worlds-best-specialized-hospitals-2022, Duke University Hospital – Division of Cardiology ranked 13th
STS 3 Star ratings for CT surgery
"A" distinction from The Leapfrog Group for upholding patient safety
Achieving an Overall Hospital Quality Star Rating of 4 Stars from the Centers for Medicare and Medicaid (CMS)
Maintaining the 1 ranking of our Children's Hospital in North Carolina
Achieving Healthcare Equality Index Leader 2022 from the Human Rights Campaign
COVID-19 Update
Please continue to practice safe COVID-19 protocols in your day-to-day interactions with others. Be particularly vigilant about masking, and avoid eating indoors in group settings. The health of our team members and our patients remains a priority as we continue to monitor the COVID-19 trends throughout our community.
Stay home if you are not feeling well. Employees who begin to experience any COVID-19 symptoms should report symptoms through the Duke SymMon app, which is available in both the Apple and Google app stores.
Donate blood if you're able to. Click here for Duke-sponsored blood drives through the Red Cross.
All the latest Clinical Operations updates related to COVID can be found at https://covid-19.dukehealth.org. Patient-facing resources on DukeHealth.org can be found here: https://www.dukehealth.org/covid-19-update/resources. Duke University maintains a resource page as well, which can be accessed here: https://coronavirus.duke.edu/updates/for-staff.
Upcoming Events & Opportunities
August 17: Duke GME DEI 'First Look'. The Duke Office of Graduate Medical Education is holding a virtual DEI 'First Look' event for potential incoming residents and fellows. It's specifically designed for underrepresented applicants and any applicant interested in DEI issues. Registration is required.
September 25: Triangle Heart Walk. PNC Arena, Raleigh. Check-in starts at 11 am. Walk begins at Noon. Join us!
October 14: Cardio-Oncology in the Era of Precision Medicine. Symposium to be held at the J.B. Duke Hotel, Durham, NC. Registration is open: https://bit.ly/CardioOnc22. Email Beth Tanner with questions: beth.tanner@duke.edu.
Cardiology Grand Rounds
Cardiology Grand Rounds has concluded and will resume in September.
Have news to share?
If you have news to share with the Pulse readership, please contact Tracey Koepke, director of communications for Duke Heart at tracey.koepke@duke.edu. We would love to hear about your latest accomplishments, professional news, cool happenings, and any events or opportunities that may be of interest to our Duke Heart family. Please call with any questions: 919-681-2868. Feedback on Pulse is welcome and encouraged. Submissions by Noon, Wednesdays, to be considered for weekend inclusion.
Duke Heart in the News:
July 23 — Stephen Greene
Practical Cardiology
Don't Miss a Beat: Understanding GFR Slope, with Brendon Neuen, MBBS, MSc
https://duke.is/5zn99
July 26 — Richard Shannon
The News Courier
How the Dobbs decision affects women and children
https://duke.is/4nw5f
July 26 — Duke University Hospital, Duke Regional Hospital
CBS17.com
The Triangle is home to 5 of NC's top 10 hospitals, says US News & World Report
https://duke.is/92n74
July 27 — Michael Pencina
CLPmag.com
Traditional Health Assessment Beats Genetic Test for Heart Disease Prediction, Study Shows
https://duke.is/b7v66
July 27 — Duke University Health System
Becker's Hospital Review
30 hospitals, health systems and biomedical companies on Forbes' top 100 list of best employers for women
https://duke.is/zqnyt
July 27 — Sujay Kansagra (Pediatrics)
CBS17.com
Study finds frequent naps linked to high blood pressure, stroke
https://duke.is/mr69s
July 27 — Duke University Hospital and Duke Regional Hospital
Newsobserver.com
Where Triangle hospitals land in new US News & World rankings
https://duke.is/88s53
July 28 — Shahzeb Khan
HealthDay*
More Young Americans Are Dying of Heart Failure
https://duke.is/rnvvu
*carried by additional 196 news outlets
July 28 — Julie Doberne
Medscape
World's First HIV+ to HIV+ Heart Transplant Performed
https://duke.is/69wea