Graduating Cardiology Fellows Celebrated!
Our Duke Cardiovascular Disease Fellowship graduates were celebrated at our annual End-of-Year dinner on Friday evening, June 23, at The Durham Hotel. We are blessed to have the cardiology fellows that we have, often matching 8-10 out of over 800 applicants.  These are men and women with purpose and passion as evident by the graduation dinner. It was a terrific evening and we wish all of them the best as they transition as follows:
J.D. Serfas, MD, is joining the faculty at the University of Kansas and Children's Mercy Hospital in Kansas City.
Matthew Carlisle, MD, will begin his fellowship in Clinical Cardiac Electrophysiology at Duke.
Ali Corley, MD, will begin her fellowship in Interventional Cardiology at Duke.
Jessica Duran, MD, will join the Multimodality Imaging & Women's Cardiovascular Health faculty at Vanderbilt Health in Nashville.
Karen Flores Rosario, MD, will begin her fellowship in Adult Heart Failure and Transplant Cardiology at Duke.
Josephine Harrington, MD, will begin her fellowship in Adult Heart Failure and Transplant Cardiology here at Duke.
Cara Hoke, MD, is joining Duke as an Imaging and Prevention faculty member in the Duke Raleigh practice.
Anthony Peters, MD, will begin his fellowship in Adult Heart Failure and Transplant Cardiology here at Duke.
Christopher Wrobel, MD, our chief fellow, is joining the Advanced Heart Failure and Transplant Cardiology faculty at UT Southwestern.
Per tradition, we recognized a number of faculty and fellows with annual awards during the dinner. We're pleased to share the following:
The following awardees are selected by the current fellowship team:
The 2023 Outstanding Service Award, awarded to a member (or members) of the hospital staff who demonstrate dedication and excellence in fellow education, goes to Brianna Small and Jeff Washam.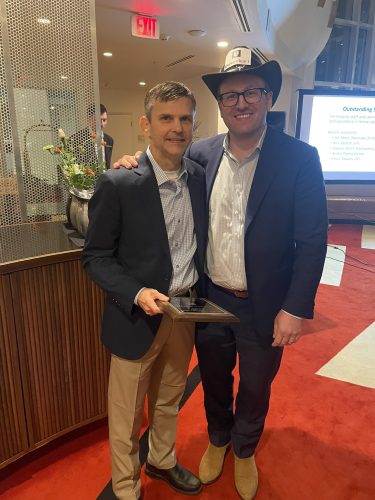 The 2023 Bashore Faculty Teaching Award for a faculty member demonstrating dedication and excellence in teaching this year goes to Fawaz Alenezi, MD.
The 2023 Fellow Mentorship Award for a faculty member demonstrating dedication and excellence in mentoring fellows' careers goes to Svati Shah, MD.
The following awards are given in recognition of our fellows and are made possible by the generosity of donors to our training programs:
The Walter F. Floyd Award for Clinical Excellence goes to a fellow demonstrating the most outstanding skills and acumen. This year's recipient is Daniel Loriaux, MD.
The Joseph G. Greenfield Award for Research Excellence goes to Josephine L. Harrington, MD.
The Cassell-Saperstein Award for Clinician-Educator Excellence goes to Cara Hoke, MD.
The Brandt and Belinda Louie Award for Excellence in all three missions goes to Matt Carlisle, MD.
Well earned! Congratulations to all of our graduates. Those of you leaving Duke will be missed – please stay in touch!
Duke's MVRR Center Receives Recognition Award
Congratulations to Don Glower, Jeff Gaca, Andrew Wang, and our mitral valve and Center of Excellence teams! For the second year, our Mitral Valve Repair Reference Center has been notified by the Mitral Foundation (working in collaboration with the American Heart Association) that our application on behalf of Duke University Hospital again met all criteria to earn their 2023 recognition award.
The Award jointly recognizes centers in the U.S. which have a demonstrated record of superior clinical outcomes in degenerative mitral valve repair resulting from evidence-based guideline treatment. The Mitral Foundation's Scientific Advisory Board, a multidisciplinary group of leaders including surgeons, cardiologists, and imagers from around the country, developed the criteria applied in the evaluation of candidate centers. Based on their review, our center has demonstrated that it continues to meet these high standards of quality care.
Great work, everyone!
Starks Awarded AHA Funding Via Rural PRO-CARE Health Network
A number of principal investigators, including Duke Heart cardiologist Dr. Monique Starks, were alerted this week by the American Heart Association that their innovative cardiovascular research projects have been awarded a portion of $20 million in funding via the Rural PRO-CARE Health Network, newly established by the AHA.
People who live in rural areas of the U.S. are 40% more likely to develop heart disease and have a 30% higher risk of stroke than people who live in urban areas, according to data reported in the 2020 Call to Action: Rural Health: A Presidential Advisory From the AHA and American Stroke Association. At least 20% of the U.S. population live in rural areas and these people face unique health challenges related to individual risk factors, social determinants of health and lack of access to health care. To address this issue, the AHA is funding a new $20 million scientific research initiative comprised of a network of special projects focused on advancing the understanding of the factors that impact health in rural America.
The Health Equity Research Network on Improving Access to Care and other Health Inequities in Rural America is part of the multi-pronged approach of the AHA's ongoing work to improve health in rural America. Teams of scientists from Children's Hospital Medical Center in Cincinnati, OH; Duke University School of Medicine in Durham, NC; Oregon Health & Science University in Portland; VA Palo Alto Health Care System in Palo Alto, CA.; and the University of Washington School of Medicine in Seattle will lead the community-engaged research projects. The University of Washington will also serve as the coordinating center for the network, leveraging expertise across network sites and nationally, to help train the next generation of rural health equity researchers, providing consultation and guidance, compiling data reports and coordinating the administration of the initiative.
"Along with higher rates of heart disease and stroke, people living in rural areas of the U.S. have a 20% higher death rate than people in metropolitan and urban areas and rural Americans live an average of three years fewer than their urban counterparts," said Michelle A. Albert, MD,  MPH, 2022-23 volunteer president of the AHA. "Rural populations have higher levels of obesity, diabetes and hypertension and higher rates of tobacco use – all factors that negatively impact heart and brain health. They have also been plagued by increasing prevalence of substance use disorders associated with opioids and methamphetamines. All of these risk factors contribute to poor health. In addition, higher rates of poverty, lower levels of education, lack of public transportation and shortages of health care facilities and providers contribute to the unique obstacles rural communities face in achieving good health. This new research initiative will explore innovative ways to address these challenges, as well as determine how tried-and-true methods can be used to make meaningful change."
Reciprocal Innovations to Improve Cardiovascular Care in Rural America (Rural PRO-CARE) is the name of the overarching research network. The coordinating center will be managed by a team from the University of Washington School of Medicine, led by Chris Longenecker, MD
Starks' project, Developing and Testing Drone-Delivered AEDs for Cardiac Arrests In Rural America, is one of five selected for funding. The others include:
Implementation and Scale-up of the American Indian Structural Heart Disease Partnership (IN-STEP), led by Dr. Andrea Beaton, Children's Hospital Medical Center in Cincinnati.
Rural Community Peer Partnerships for Improving Methamphetamine-Associated Heart Failure Screening and Engagement, led by Dr. Todd Korthuis, of Oregon Health & Science University in Portland.
Implementation and Evaluation of Pharmacist-Based Management of Chronic Heart Failure for Rural Veterans (PHARM-HF), led by Dr. Paul Heidenreich of the VA Palo Alto Health Care System in Palo Alto.
GROW-RURAL: A Global to Rural Innovation Network to Adapt Evidence-Based Cardiovascular Interventions to Context led by Dr. Chris Longnecker of University of Washington School of Medicine in Seattle.
Congratulations, Monique!
Duke Children's Ranked Top Children's Hospital in NC, Peds Heart #2 in US!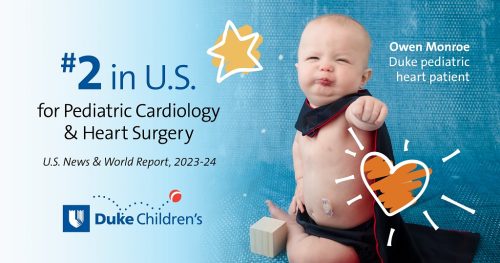 Congratulations to our Duke Children's Hospital colleagues and especially our pediatric cardiology and pediatric cardiovascular and thoracic surgery teams! Duke Children's Hospital has been ranked the top children's hospital in NC by U.S. News & World Report in their annual pediatric rankings for 2023-2024.
The ranking of every pediatric specialty improved this year, and all of our pediatric specialties ranked within the top 50 in the nation. We are especially excited for the recognition given to our pediatric heart team for being ranked second in the nation this year.
Congratulations to all for these outstanding pediatric specialty designations:
Cancer – Ranked 26
Cardiology & Heart Surgery – Ranked 2
Diabetes & Endocrine – Ranked 32
Gastroenterology & GI Surgery — Ranked 20
Neonatal Care – Ranked 14
Nephrology — Ranked 31
Neurology & Neurosurgery – Ranked 45
Orthopedics – Ranked 23
Pulmonology – Ranked 23
Urology – Ranked 19
These distinctions would not be possible without the remarkable work of our team members. Please take a moment today to pause and reflect on the positive difference you make in the lives of our patients and their families.
Way to go!
ICYMI: CMS Provider Enrollment and Revalidation Processes
ATTN PROVIDERS!! The following was distributed via email on Friday, June 23 from the PDC.
If you have recently received an email from CMS or if you receive an email from CMS in the future, you are required to take action in order to continue receiving payment from CMS. The email from CMS is not spam.
If you have not and do not receive an email from CMS in the future, no action is required.
As part of the Centers for Medicare and Medicaid Services (CMS) provider enrollment related to DHIP, enrollment updates and/or revalidation process, some providers may be required to login and complete a two-step process to ensure seamless billing and prescribing under CMS.  The email will be sent from CMS (donotreply@cms.gov) with the subject "CMS I&A Connection Request – Action Required."
This is a two-step process for you to take:
If you have received or receive in the future an email from CMS (donotreply@cms.gov) with the subject "CMS I&A Connection Request – Action Required", click the link and sign-in to the portal to approve surrogacy for the Enrollment Specialist to complete the enrollment update. You must approve surrogacy as soon as possible after receiving the email from CMS. By approving surrogacy, this gives the PRMO the authority to act on your behalf with PECOS.
Once you approve the surrogacy request and the Enrollment Specialist has updated your enrollment record, you will receive a second email from CMS instructing you to login to PECOS and approve the application submission. You must approve the enrollment submission as soon as possible after receiving the email from CMS.
Failure to complete both steps will result in the provider being unenrolled in Medicare and could impact patient care. See the PDC email from 6/23 for an example for the CMS email.
Please note:
Your UserID/password for CMS and PECOS is the same UserID for updating your NPI information within NPPES.
There are additional links for "Forgot Password" and Forgot User ID" if needed:
Direct questions to:
Christina Blevins, Director of Provider Enrollment, at Christina.Blevins@duke.edu or to Kristen Mascoe, Manager of Provider Enrollment, at Kristen.Mascoe@duke.edu.
Thank you for your prompt attention to this important matter.
Quick Reminders & Updates
DHIP Updates: The transition team released a Q&A via email on Friday, June 16 regarding Temporary Medical Leave. If you missed it, you can find all the information here, look under "Benefits Information."
Upcoming Events & Opportunities
Cardiology Grand Rounds is on hiatus for the summer. We'll be back in the fall!
Have news to share?
If you have news to share with the Pulse readership, please contact Tracey Koepke, director of communications for Duke Heart at tracey.koepke@duke.edu. We would love to hear about your latest accomplishments, professional news, cool happenings, and any events or opportunities that may be of interest to our Duke Heart family. Please call with any questions: 919-681-2868. Feedback on Pulse is welcome and encouraged. Submissions by Noon, Wednesdays, to be considered for weekend inclusion.
Duke Heart in the News:
June 9 — Harry Severance
KevinMD.com
AI-driven solutions for burnout, patient empathy, and worker shortage
https://duke.is/2/ut75
June 11 — Harry Severance
Medpage Today
A Manager's Perspective on Healthcare Unionization
https://duke.is/z/hex2
June 12 — Harry Severance
Becker's Hospital Review
Viewpoint: Why this hospital administrator is pro-union
https://duke.is/m/bm6y
June 15 — Duke Health & Jason Banner
Geo TV/Health
Hopes for dying patients awaiting heart donation get new lease on life
https://duke.is/yqsq3
June 15 — Carmelo Milano, Brandi Bottinger, and Alejandro Murillo-Berlioz
Fundahrse.org
Honduras Medical Center Y El Programa Duke Heart for Honduras Realizan Brigada Cardiovascular Con El Apoyo De Grupo Financiero Atlantida
https://duke.is/vgkwt
June 8 — Harry Severance
Becker's ASC Review
Physicians are losing power. Here's why. (Part 1)
https://duke.is/g/fpht
June 16 — Harry Severance
Becker's ASC Review
How physician can become 'captains of their own fates' once more (Part 2)
https://duke.is/6/7ybw
June 16 — Adrian Hernandez
News & Observer
Biden picks Mandy Cohen, the architect of NC's COVID-19 response, as CDC director
https://duke.is/n6j26
June 18 — Kelly Arps
Cardio Nerds
Episode 309: Atrial Fibrillation: Situational Assessment of Stroke and Bleeding Risk with Dr. Hafiza Khan
https://duke.is/c7ks4
June 19 — Jacob Schroder & Zachary Fitch
VOA News/Health & Lifestyle
Study: New Heart Transplant Method Could Save More Patients
https://duke.is/jb9y2
June 19 — Adam DeVore & Jacob Schroder
tctMD
Randomized Trial Supports Using Hearts Donated After Circulatory Death
https://duke.is/yg6gy
June 20 — James Tcheng
EHR Intelligence
ONC Project Taps FHIR to Extract Over 40% of Clinical Data Registry
https://duke.is/rkv3v
June 21 — Manesh Patel
tctMD
Medicare Data on AMICS Too Muddied for Firm Conclusions on Impella
https://duke.is/7/j66z
June 21 — Duke Children's Hospital & Health Center
Becker's Hospital Review
Top 20 children's hospitals for cardiology, heart surgery
https://duke.is/m/n482
June 21 — Duke Children's Hospital & Health Center
Triangle Business Journal
Duke Children's Hospital named best in Southeast by U.S. News & World Report
https://duke.is/8/jtby
June 22 — Kelly Kester
Becker's Hospital Review
Where have all the preceptors gone? Nurse leaders offer strategies to build a pipeline
https://duke.is/p/sqpa