Chief's message:
Living in the Moment:
If anything, the last few years have taught us how fragile our usual way life is and how much things can change quickly.  This week's Pulse is notable for the fact that the American College of Cardiology conference has been going on both virtually but also in-person this weekend.  The conference has had vaccination confirmation and masking, but still has quite a bit of great science and clinical sessions that our fellows and faculty have worked to present.  You will see some of it here and more over the upcoming months.  More importantly has been the ability to see people (not on zoom) and exchange ideas and just be back together has been important.  The weekend of course has also had the ups and downs (depending on your shades of blue) around the Final Four.  The outcome of the game, despite not being favorable for the Duke side of the world, has also underscored the refrain from the pandemic to Coach K of living in the moment.  The ability to appreciate your colleagues, friends, and most importantly family.  As we continue to go through the changes in our healthcare environment, the unknown around virus resurgences or getting back to life, we hope you all have time to spend with loved ones.  The conference this week has highlighted for Duke Cardiology the value of our colleagues, alumni, fellows, and friend near and far.  More than ever – it has also provided an opportunity to enjoy and live in the moment  for our group.
Highlights of the week:
ACC.22: Few Patients Have Infected Heart Devices Removed Despite Lifesaving Benefits
Medicare patients whose implantable heart devices became infected were less likely to die from the complication if they had the hardware removed compared to patients who only received antibiotics, according to the largest study on the topic, led by the Duke Clinical Research Institute.
The study showed that just 18 percent of patients with device infections underwent surgeries to have their pacemakers or defibrillators removed, even though removal is recommended by all leading medical society treatment guidelines. There is a 43-percent lower risk of death in these patients if guidelines are followed.
The findings, reported earlier today as a late-breaker presentation at the 2022 American College of Cardiology Scientific Sessions, highlight that cardiac device infection is a major public health issue, and there are large gaps in guideline adherence.
"This is an important message about a persistent gap in care: These devices should be removed when an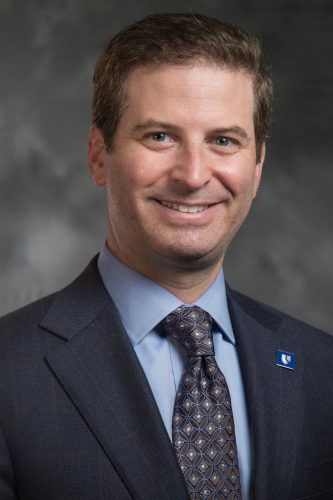 infection occurs, and their removal saves lives," said lead author Sean D. Pokorney, MD, an electrophysiologist and cardiologist in the Department of Medicine at Duke University School of Medicine. Pokorney is also a member of the Duke Clinical Research Institute.
Pokorney and colleagues launched the study in 2021, using Medicare data for nearly 1.1 million patients who received cardiac implantable electronic devices, or CIEDs, between 2006 and 2019.
Of those study patients, 11,619 (about 1 percent) developed infections a year or more after implantation. Only 13 percent of the patients had the device removed within six days of infection, and an additional 5 percent had them removed from day 7 to 30.
The vast majority — nearly 82 percent — were treated solely with antibiotics, despite numerous earlier studies showing antibiotics fail to wipe out infections involving CIEDs.
Those earlier studies led to a 2017 consensus of leading health organizations to recommend removal of CIEDs when a definitive infection is identified.
In the current study, the researchers found that removing the devices had a clear survival benefit. The death rate for those who did not have their devices removed was 32.4 percent in the year after an infection was diagnosed, compared with a rate of 18.5 percent among patients who underwent extraction within six days and 23.2 percent for patients who had extractions on days 7 to 30.
"Any extraction was associated with lower mortality when compared to no extraction, but the highest benefit was to those who had devices removed within six days of an infection," Pokorney said. "This speaks to the importance of putting systems in place to identify these patients and get them quickly and appropriately treated, because delays in care result in higher mortality."
The Duke Clinical Research Institute, with funding from Philips and leadership from Pokorney and Christopher B. Granger, MD, is acting on this data and launching a quality improvement demonstration project to address the gap in care for CIED infection patients within three health care systems in the US.
In addition to Pokorney, study authors include Lindsay Zepel, Melissa A. Greiner, Eric Black-Maier, Robert K. Lewis, Donald D. Hegland, Christopher B. Granger, Laurence M. Epstein, Roger G. Carrillo, Bruce L. Wilkoff, Chantelle Hardy and Jonathan P. Piccini.
The study received funding support from Philips, which markets devices used in CIED extraction procedures. The funder had no role in the design, implementation or publication of the study. Six study authors — Pokorney, Lewis, Epstein, Carillo, Wilkoff, and Piccini — reported ties to the company; a full disclosure is provided in the study manuscript.
ACC.22: Investigational Anti-Clotting Drug Reduces Bleeding Risk Among AF Patients
A new type of anti-clotting drug caused fewer bleeding incidents among patients with atrial fibrillation than the commonly prescribed apixaban, according to results from a head-to-head comparison of the two.
The study, led by cardiologists at Duke, was reported today as a late-breaking presentation at the 2022 American College of Cardiology Scientific Sessions being held in Washington, DC. The results were simultaneously published in the journal The Lancet.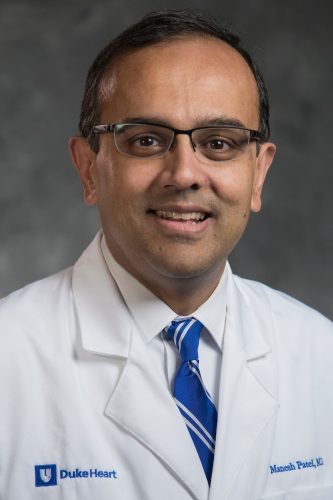 "Anti-clotting therapy is a lifesaver for people who develop atrial fibrillation, which can increase the risk of stroke by five-fold," said presenter and senior author Manesh Patel, MD, chief of the Division of Cardiology at Duke University School of Medicine and member of the Duke Clinical Research Institute. "But a serious complication associated with anti-clotting therapies is bleeding, leading many patients to reduce or stop taking their medications. As a result, there is great interest in alternatives that reduce this risk."
Asundexian is a new class of anti-clotting drug that is under investigation. It works by inhibiting a blood protein called Factor XI, which contributes to the development of blood clots but is not involved in the process of healing blood vessels.
In the PACIFIC-AF trial — a phase 2 study funded by Bayer AG, which manufactures the investigative therapy — the researchers focused on bleeding outcomes arising from two different doses among patients with atrial fibrillation.
Both doses of asundexian taken once daily, 20 mg and 50 mg, were tested in comparison to similar dosages of apixaban, which is one of several commonly prescribed anti-clotting therapies that affect a different blood clotting protein.
The trial included 755 patients with an average age of about 74 years old. At both doses, patients who took asundexian had a 67-percent lower risk of bleeding compared to patients taking apixaban.
"Reducing bleeding risks for atrial fibrillation patients is encouraging," said lead author Jonathan Piccini,
MD, clinical cardiac electrophysiologist at Duke. "One in four people will develop atrial fibrillation — it's the leading cause of heart arrhythmia and is a risk factor for stroke — so it's important that we have safe and effective therapies. We're eager to see the research move into phase 3 studies."
In addition to Piccini and Patel, study authors include Valeria Caso, Stuart J. Connolly, Keith A.A. Fox, Jonas Oldgren, W. Schuyler Jones, Diana A. Gorog, Václav Durdil, Thomas Viethen, Christoph Neumann, Hardi Mundl, on behalf of the PACIFIC-AF Investigators.
ACC.22: Investigational Drug for Heart Failure has Little Impact on Exercise Tolerance
Heart failure patients taking the investigational drug omecamtiv mecarbil, which has been previously shown to improve long-term outcomes, see little impact on their ability to exercise compared to a placebo, according to a study supported by Duke Clinical Research Institute (DCRI).
The study was designed to test whether the new therapy — a selective cardiac myosin activator — could yield improvements in overall exercise capacity for patients with heart failure. Therapies that help heart failure patients better tolerate exercise remains an unmet need.
The findings were reported today as a late-breaking presentation at the 2022 American College of Cardiology Scientific Sessions. Circulation: Heart Failure published the study design in March 2022.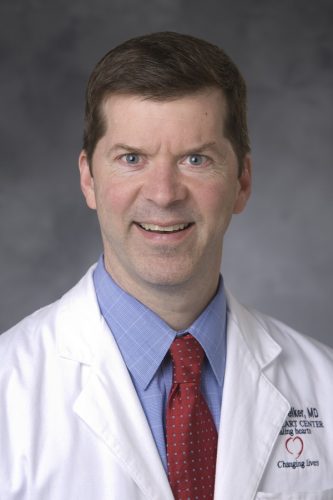 "We are fortunate to have a lot of medications in heart failure that can help patients live longer or stay out of the hospital — all very important goals," said Duke cardiologist Michael Felker, MD, study co-chair and a member of DCRI.
"However, exercise tolerance is the main symptom patients with heart failure have," Felker said. "They get tired or out of breath very easily. This is a major impediment for their quality of life. Unfortunately, many of the guideline-directed drugs that improve survival don't improve exercise tolerance."
The research study, called the Multicenter Exercise Tolerance Evaluation of Omecamtiv Mecarbil Related to Increased Contractility in Heart Failure (METEORIC-HF), recruited patients across 64 sites in nine countries. It included 276 adult heart failure patients with reduced ejection fraction; they were randomly assigned to receive the study medication or a placebo. The results were blinded to the investigators, the study sponsor, and the participants.
As its primary outcome, METEORIC-HF sought to examine the changes omecamtiv mecarbil had on peak oxygen uptake during cardiopulmonary exercise over a 20-week period. Secondary outcome measurements included assessing overall exercise capacity, ventilator efficiency, and daily activity.
"We found in the trial that even though omecamtiv mecarbil was safe and well-tolerated, it did not improve exercise tolerance over placebo," Felker said. "I think what that tells us is finding interventions that can improve people's exercise tolerance is still an unsolved/unmet need for our patients with heart failure. What our trial has done is helped better define what this medication does and doesn't do."
During the METEORIC-HF trial, study authors for the Global Approach to Lowering Adverse Cardiac Outcomes Through Improving Contractility in Heart Failure (GALACTIC-HF) trial published their own results. That trial examined outcomes between omecamtiv mecarbil and a placebo in a broad population of over 8,000 symptomatic patients. GALACTIC-HF found that omecamtiv mecarbil decreased the rate of heart failure or death from cardiovascular causes.
Felker and Gregory Lewis, MD, at Massachusetts General Hospital, co-chaired the study.
In addition to Felker and Lewis, study authors include Kieran Docherty, Adriaan Voors, Alain Cohen-Solal, Marco Metra, David Whellan, Justin Ezekowitz, Piotr Ponikowski, Michael Böhm, John Teerlink, Stephen Heitner, Stuart Kupfer, Fady Malik, and Lisa Meng.
Impressive work by all! Please note: We will have additional coverage from ACC.22 next weekend. Stay tuned! Please consider submitting photos from your ACC experience as well as information related to your presentation for inclusion in Pulse; please email your submissions to Tracey Koepke by EOB Wednesday, 4/6. Thank you!
Rymer to Host Post-ACC.22 Twitter Space
Duke Heart is collaborating with Med-IQ to conduct a Twitter Space 'live' on Wednesday, April 6 at 6:30 p.m. Join interventional cardiologist Dr. Jennifer Rymer for a recap of highlights from the ACC! Rymer will lead a free-flowing discussion highlighting data presented during the 2022 ACC Scientific Sessions and provide expert insight on the trials. You can follow Jenn on Twitter @jennifer_rymer. You can also follow Med-IQ (@MedIQCME).
When: Wednesday, April 6 at 6:30 p.m. ET
Where: https://twitter.com/i/spaces/1vAxRkbplgqKl
If you're not familiar with Twitter, all you'll need to do is visit the Twitter Space at https://twitter.com/i/spaces/1vAxRkbplgqKl and drop in. You DO NOT need a Twitter account just to listen in (simply click the link to join). You only need a Twitter account if you'd like to request to "speak" during the Twitter Space event.
If you can't join the live space, Med-IQ will have the recording on their Facebook page (https://www.facebook.com/MedIQCME) later next week.
We're looking forward to this and hope you'll join us!
Karra & Team Score Grant Funding to Explore Sarcoidosis
Congratulations to Ravi Karra, MD, MHS, and team — they were recently notified that their project, Epithelioid Mechanisms of Sarcoidosis, has been selected for award funding by the Ann Theodore Foundation Breakthrough Sarcoidosis Initiative, supported by the Ann Theodore Foundation.
Sarcoidosis is a systemic disease defined by the presence of granulomas provoked by an unknown trigger. Although central to sarcoidosis, granulomas also occur in other diseases where they serve to contain bacteria or foreign materials. In prior work on infectious granulomas, David Tobin, PhD, an associate professor of Molecular Genetics and Microbiology at Duke and his team have determined that epithelioid cells, found in the granuloma interior, are responsible for the barrier function of the granuloma. Interfering with macrophage epithelioid transformation can loosen the granuloma and allow for inflammatory cells to clear the infection. Karra – who is partnering with Tobin on this project — and team hypothesize that specific targeting of epithelioid cells in sarcoidosis might similarly improve treatment responses. However, before such treatments can be developed, the biology of epithelioid cells in sarcoidosis needs to be better understood.
The goal of the Epithelioid Mechanisms of Sarcoidosis project is to identify key pathways and events that lead to the emergence of epithelioid cells. Their first aim is to use spatial RNA sequencing to profile granuloma formation following the Kveim test, the only system available to induce and follow sarcoid granulomas over time in humans. Their experiments will illuminate where and when signaling pathways are activated in different cell types during granuloma formation and provide a better understanding of how epithelioid cells form in sarcoidosis. Their second aim is to profile changes in DNA and RNA of individual circulating cells. They believe their work will identify why patients with sarcoidosis develop epithelioid cells in response to a trigger, while individuals without sarcoidosis do not.
The team hopes their project can lead to new therapeutic targets for treating sarcoidosis and new diagnostic tests for identifying sarcoidosis.
Duke Heart launched a multidisciplinary sarcoid clinic about one year ago, which has seen regular growth over time. According to Karra, the team has treated 50 sarcoid patients in the past year and are now seeing 2-3 new patients for evaluation each week and that a number of our cardiology fellows have been involved in the work, including Kelly Arps, MD, who will be presenting on arrhythmia concerns related to sarcoid during our next Cardiology Grand Rounds on Tuesday, April 5 (Webex link included in events listing, below).
Congratulations to Ravi and our sarcoid team — this is excellent news!
Shout-out to Barnes, Dimsdale!
The North Carolina Nurses Association held its annual Nurse Practitioner Spring Symposium in Asheville, NC from March 20-23. Presenters from Duke Heart included Stephanie Barnes and Allison Dimsdale.
Way to go!!!
In Memoriam: Kelly Ann Machovec, MD, MPH, Peds Cardiac Anesthesiologist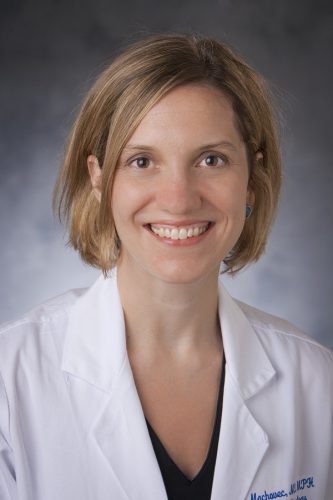 It is with deep sadness that we share the news of the passing of our colleague, Kelly Ann Machovec, MD, MPH, a pediatric cardiac anesthesiologist and team member with the Duke Pediatric and Congenital Heart Center. She passed away on March 30 at the age of 43.
She will be remembered as an exceptional academician and physician who dedicated her career to improving the lives of children undergoing cardiothoracic or vascular surgery, and for her special impact that was palpable to her colleagues and patients throughout the Duke Children's Heart Center.
Originally from Baltimore, Maryland, Machovec received her Master of Public Health degree in 2005 and her Doctor of Medicine degree in 2006, both at the University of North Carolina. She went on to complete a residency in anesthesiology at Drexel University College of Medicine in Philadelphia and a fellowship in pediatric anesthesiology at Duke University School of Medicine. In 2013, Dr. Machovec joined Duke Anesthesiology faculty as an assistant professor of anesthesiology; she was appointed an associate professor of anesthesiology in 2019. She was an accomplished pediatric anesthesiologist whose research primarily focused on the hemostasis management of children following open heart surgery performed on cardiopulmonary bypass.
Earlier this year she received the Duke Pediatric and Congenital Heart Center Impact Award, recognizing her exceptional impact on the clinical practice around hemostasis, on both local and national levels. She was a fierce advocate for child-centered health care policies and always questioned the status quo. For example, she led the charge to discontinue preoperative blood testing in children to prevent them from having unnecessary painful blood draws in the preoperative clinic.
Dr. Machovec's excellence and research led to her invitation to write the book chapter on "Anesthesia for Pediatric Cardiac Surgery" in Miller's Anesthesia textbook. In 2015, she co-founded the Hemostasis Interest Group, a committee within the Congenital Cardiac Anesthesia Society which she served on for six years as committee chair, member and mentor; she also served as an at-large member on the Board of Directors of the Congenital Cardiac Anesthesia Society. Dr. Machovec was a passionate educator, serving as chair of the Clinical Competency Committee for Duke's Pediatric Anesthesiology Fellowship and as a question writer and committee member for the American Board of Anesthesiology's Pediatric Maintenance of Certification.
In addition to being an outstanding clinician and a dedicated educator, she was recognized with the high honor of the Leonard Tow Humanism in Medicine Award at the Duke University School of Medicine in March of this year. Recipients of this distinguished award are recognized as exemplars of humanism in the care of their patients, their compassionate delivery of care and respectfulness given to their patients and health care colleagues, as well as for their clinical excellence.
Beyond her career, Dr. Machovec advocated and raised funds for basic science research. From 2013-2017, she also advocated for pediatric health care on a global scale by taking part in medical missions in India, the Philippines and Haiti for Operation Smile, which helps children with cleft lip and cleft palate, and Gift of Life International, which provides lifesaving cardiac treatment to children in need from developing countries.
When introduced by Dr. Edmund Jooste prior to her delivery of Duke Anesthesiology Grand Rounds last year, Dr. Machovec was described as having "the determination of Ruth Bader Ginsberg, the curiosity of Marie Curie and fierceness of Wonder Woman" and these are the qualities that her work family loved and admired in her. She was also described as funny, strong-willed and energetic, and a dedicated team member who will be deeply missed by her pediatric anesthesiology colleagues and all of her interprofessional friends and colleagues within Duke Anesthesiology and the Pediatric Heart Center.
To preserve Dr. Machovec's legacy at Duke, the Department of Anesthesiology has formally established the Kelly Machovec Humanism Award. The recipient of this annual departmental award will exemplify grace and compassion in their delivery of patient-centered care, reverence for patients, their loved ones and colleagues, ethical principles, and a continuous commitment to clinical excellence.
Most importantly, Dr. Machovec's legacy will live on through her family. She was a dedicated and loving wife to her husband, Scott Matthews, and proud mother to her three young daughters, Vivienne, Eva and Caroline. Her loved ones will remember her as an engaged, talented and powerful woman with unwavering passion and optimism, who loved spending time with her family and friends, running, practicing yoga, reading, and baking.
A Celebration of Life will be held on Monday, April 11 from 5:00 – 8:00 p.m. at the Rigmor House, 5501 NC Highway 54, in Chapel Hill. All are welcome to attend. The family kindly requests that if you do plan to attend, please respond via this link for catering purposes.
We extend our deep condolences to Dr. Machovec's family, friends and colleagues. Duke flags were lowered on Friday in honor of her life and legacy. They will remain lowered through Monday. At the request of her family, in lieu of flowers, memorial gifts may be made in her name to the Dana-Farber Cancer Institute.
COVID-19 Updates
All the latest Clinical Operations updates related to COVID can be found at https://covid-19.dukehealth.org.
Upcoming Events & Opportunities
Cardiology Grand Rounds
April 5: Cardiac Sarcoidosis: Updates and Contemporary Challenges with Kelly Arps. 5 p.m. via Webex.
Duke Heart CME
April 23: Duke Sports Cardiology & Sudden Death in Athletes Symposium with course directors Jim Daubert and Bill Kraus. Virtual. For information or to register, contact Christy Darnell christy.darnell@duke.edu or 919-880-8686.
Marfan NC Walk for Victory, April 23
The North Carolina Walk for Victory to support Marfan patients and their families will take place on Saturday, April 23, 2022 from Noon to 3 p.m. at Laurel Hills Park on Edwards Mill Road in Raleigh. Duke Heart is proud to serve as the presenting sponsor and we are excited for Chad Hughes, MD to serve as medical chair for the walk.
Please help us support all Marfan families as well as those with Loeys-Dietz (LDS), Vascular Ehlers-Danlos (VEDS), and related conditions. Donate or come join us!
Walk for Victory is The Marfan Foundation's global walk program. The event is low-key, fun and family-oriented. To learn more or to register for this event, please visit: https://give.marfan.org/event/2022-north-carolina-walk-for-victory/e353032.
To learn more about The Marfan Foundation, please visit marfan.org.
Have news to share?
If you have news to share with the Pulse readership, please contact Tracey Koepke, director of communications for Duke Heart at tracey.koepke@duke.edu. We would love to hear about your latest accomplishments, professional news, cool happenings, and any events or opportunities that may be of interest to our Duke Heart family. Please call with any questions: 919-681-2868. Feedback on Pulse is welcome and encouraged. Submissions by Noon, Wednesdays, to be considered for weekend inclusion.
Duke Heart in the News:
March 17 — Pamela Douglas
Medscape
ACC Looks to Build Inclusive, Bully-Free Cardiology Workplaces
https://duke.is/zrp29
March 19 — Adrian Hernandez
The Western Journal
After Concerted Effort to Bury Ivermectin, New Bill Would Put This Medicine in the Hands of the American People
https://duke.is/v2tjr
March 22 – Joseph Turek, Mary Louise Markert and Allan Kirk
Medical News Today
Novel heart-thymus transplant technique may spell end of lifelong drugs
https://duke.is/ydzhp
March 24 — Nishant Shah
Cardiology Advisor
Mean Monthly BP Increased Among US Adults During COVID-19
https://duke.is/j7q7j
March 27 — Renato Lopes
Healio/Cardiology Today
Alirocumab does not impact AF risk after ACS
https://duke.is/wffkg
March 29 — Duke University/Duke Health
Becker's Hospital Review
Best medical schools for 2023: US News
https://duke.is/ckpuc
March 29 — Duke University/Duke Health
Becker's Hospital Review
10 best nursing schools for master's and DNPs, as ranked by US News
https://duke.is/bgcp8
March 30 — Joseph Turek
Nation (Kenya)
New procedure gives hope to transplant patients
https://duke.is/nb7bn
March 31 — Sunil Rao
Cardiovascular News
SCAI aims to minimise risks in medical proctoring of new techniques and technologies
https://duke.is/5jcmw
Division of Cardiology Publications Indexed in PubMed March 17-23, 2022
Blumer V, Parsons JB, Anderson DR, Bloomfield GS, Ward C. Hemophagocytic Lymphohistiocytosis Associated With Endocarditis: A Case Years in the Making. Circulation 2022 Mar 22;145(12):934-939. PM: 35312382.
Dangas G, Baber U, Sharma S, Giustino G, Sartori S, Nicolas J, Goel R, Mehta S, Cohen D, Angiolillo DJ, Zhang Z, Camaj A, Cao D, Briguori C, Dudek D, Escaned J, Huber K, Collier T, Kornowski R, Kunadian V, Moliterno DJ, Ohman EM, Weisz G, Gil R, Krucoff M. Safety and efficacy of ticagrelor monotherapy according to drug-eluting stent type: the TWILIGHT-STENT study. EuroIntervention 2022 Mar 18;17(16):1330-1339. PM: 34881696.
El-Chami MF, Bockstedt L, Longacre C, Higuera L, Stromberg K, Crossley G, Kowal RC, Piccini JP. Leadless vs. transvenous single-chamber ventricular pacing in the Micra CED study: 2-year follow-up. Eur Heart J 2022 Mar 21;43(12):1207-1215. PM: 34788416.
Fagundes A, Berg DD, Bohula EA, Baird-Zars VM, Barnett CF, Carnicelli AP, Chaudhry SP, Guo J, Keeley EC, Kenigsberg BB, Menon V, Miller PE, Newby LK, van Diepen S, Morrow DA, Katz JN. End-of-life care in the cardiac intensive care unit: a contemporary view from the Critical Care Cardiology Trials Network (CCCTN) Registry. Eur Heart J Acute Cardiovasc Care 2022 Mar 16;11(3):190-197. PM: 34986236.
Friedman DJ, Qin L, Parzynski C, Heist EK, Russo AM, Ranasinghe I, Zeitler EP, Minges KE, Akar JG, Freeman JV, Curtis JP, Al-Khatib SM. Longitudinal Outcomes of Subcutaneous or Transvenous Implantable Cardioverter-Defibrillators in Older Patients. J Am Coll Cardiol 2022 Mar 22;79(11):1050-1059. PM: 35300816.
Gallagher EJ, Rockey DC, Kontos CD, Vyas JM, Brass LF, Hu PJ, Isales CM, Ajijola OA, Rathmell WK, Conlin PR, Baiocchi RA, Kazmierczak BI, Akabas MH, Williams CS. Pearls of wisdom for aspiring physician-scientist residency applicants and program directors. JCI Insight 2022 Mar 22;7(6):10.1172/jci.insight.158467. PM: 35315364.
Gulati M, Korn RM, Wood MJ, Sarma A, Douglas PS, Singh T, Merz NB, Lee J, Mehran R, Andrews OA, Williams JC. Childbearing Among Women Cardiologists: The Interface of Experience, Impact, and the Law. J Am Coll Cardiol 2022 Mar 22;79(11):1076-1087. PM: 35300820.
Haeusler KG, Eichner FA, Heuschmann PU, Fiebach JB, Engelhorn T, Blank B, Callans D, Elvan A, Grimaldi M, Hansen J, Hindricks G, Al-Khalidi HR, Mont L, Nielsen JC, Piccini JP, Schotten U, Themistoclakis S, Vijgen J, Di Biase L, Kirchhof P. MRI-Detected Brain Lesions and Cognitive Function in Patients With Atrial Fibrillation Undergoing Left Atrial Catheter Ablation in the Randomized AXAFA-AFNET 5 Trial. Circulation 2022 Mar 22;145(12):906-915. PM: 35135308.
Mansour M, Radaideh Q, Alaiwah MN, Alnimer Y, Devabhaktuni SR, Dhar G, Vallurupalli S, Michos ED, Newby DE, Williams MC, Fudim M, Al'Aref SJ. Major adverse cardiac events in symptomatic women with non-obstructive CAD on coronary CTA: pooled analysis from PROMISE and SCOT-HEART. Int J Cardiovasc Imaging 2022 Mar;38(3):683-693. PM: 34628593.
Parker DC, Wan M, Lohman K, Hou L, Nguyen AT, Ding J, Bertoni A, Shea S, Burke GL, Jacobs DR, Post W, Corcoran D, Hoeschele I, Parks JS, Liu Y. Monocyte miRNAs Are Associated With Type 2 Diabetes. Diabetes 2022 Apr 1;71(4):853-861. PM: 35073575.
Pinsker BL, Serfas JD, Krasuski RA. Burden and Impact of Arrhythmias in Repaired Tetralogy of Fallot. Curr Cardiol Rep 2022 Mar;24(3):225-234. PM: 35138576.
Salah HM, Minhas AMK, Khan MS, Khan SU, Ambrosy AP, Blumer V, Vaduganathan M, Greene SJ, Pandey A, Fudim M. Trends and characteristics of hospitalizations for heart failure in the United States from 2004 to 2018. ESC Heart Fail 2022 Apr;9(2):947-952. PM: 35098700.
Usman MS, Khan MS, Fonarow GC, Greene SJ, Friede T, Vaduganathan M, Filippatos G, Coats AJS, Anker SD, Butler J. Robustness of outcomes in trials evaluating sodium-glucose co-transporter 2 inhibitors for heart failure. ESC Heart Fail 2022 Apr;9(2):885-893. PM: 35029056.
Voors AA, Angermann CE, Teerlink JR, Collins SP, Kosiborod M, Biegus J, Ferreira JP, Nassif ME, Psotka MA, Tromp J, Borleffs CJW, Ma C, Comin-Colet J, Fu M, Janssens SP, Kiss RG, Mentz RJ, Sakata Y, Schirmer H, Schou M, Schulze PC, Spinarova L, Volterrani. The SGLT2 inhibitor empagliflozin in patients hospitalized for acute heart failure: a multinational randomized trial.                                                       Nat Med 2022 Mar;28(3):568-574. PM: 35228754.
Zheng K, Smith JS, Eiger DS, Warman A, Choi I, Honeycutt CC, Boldizsar N, Gundry JN, Pack TF, Inoue A, Caron MG, Rajagopal S. Biased agonists of the chemokine receptor CXCR3 differentially signal through Gα:β-arrestin complexes. Sci Signal 2022 Mar 22;15(726):eabg5203. PM: 35316095.
Division of Cardiology Publications Indexed in PubMed March24-30, 2022
Alexander JH. Equipoise in Clinical Trials: Enough Uncertainty in Whose Opinion? Circulation 2022 Mar 29;145(13):943-945. PM: 35344405.
Elgendy IY, Wegermann ZK, Li S, Mahtta D, Grau-Sepulveda M, Smilowitz NR, Gulati M, Garratt KN, Wang TY, Jneid H. Sex Differences in Management and Outcomes of Acute Myocardial Infarction Patients Presenting With Cardiogenic Shock. JACC Cardiovasc Interv 2022 Mar 28;15(6):642-652. PM: 35331456.
Komisarow JM, Toro C, Curley J, Mills B, Cho C, Simo GM, Vavilala MS, Laskowitz DT, James ML, Mathew JP, Hernandez A, Sampson J, Ohnuma T, Krishnamoorthy V. Utilization of Brain Tissue Oxygenation Monitoring and Association with Mortality Following Severe Traumatic Brain Injury. Neurocrit Care 2022 Apr;36(2):350-356. PM: 34845596.
Rao SV. RESPONSE: Navigating the Transition From Fellowship to Early Career: "Sink or Swim" to "Lifting All Boats". J Am Coll Cardiol 2022 Mar 29;79(12):1218-1219. PM: 35331418.
Xian Y, Xu H, Smith EE, Saver JL, Reeves MJ, Bhatt DL, Hernandez AF, Peterson ED, Schwamm LH, Fonarow GC. Achieving More Rapid Door-to-Needle Times and Improved Outcomes in Acute Ischemic Stroke in a Nationwide Quality Improvement Intervention. Stroke 2022 Apr;53(4):1328-1338. PM: 34802250.