Highlights of the week:
Turek Receives Everest Award from Marfan Foundation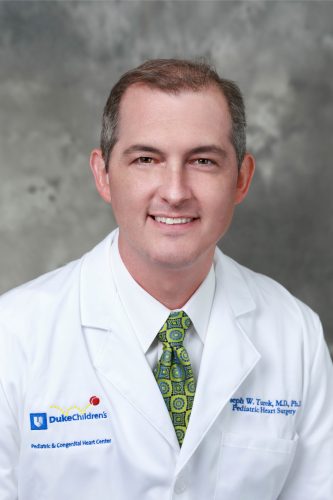 Late last year, the Marfan Foundation announced that it had selected Joseph Turek, MD, PhD, chief of pediatric cardiac surgery in Duke's division of cardiovascular and thoracic surgery as the first-ever recipient of their Everest Award, the Foundation's largest research grant to date. The award will provide up to four years of funding, for a total of $800,000, as long as annual milestone goals are met. The initial year of funding provides $200,000.
The Marfan Foundation is a nonprofit organization created to support individuals with Marfan syndrome as well as other genetic aortic and vascular conditions, including Loeys-Dietz and Vascular Ehlers-Danlos syndromes.
Marfan syndrome is a genetic condition that affects connective tissue. It is caused by a mutation in the FBN1 gene, which limits the body's ability to make proteins required to build connective tissue. This can lead to damaged blood vessels, as well as damage to the heart, eyes, skin, lungs, and the bones of the hips, spine, feet, and rib cage, according to the Centers for Disease Control and Prevention. A serious complication of Marfan syndrome is the development of an aortic aneurysm, which can eventually rupture.
In the US, there are about 75,000 patients with known Marfan Syndrome. Most of them will need surgery to repair an aneurysm, according to Turek.
Typically, surgery is not performed until a patient reaches early adulthood. Children diagnosed with Marfan are usually monitored over time in order to detect changes to their aorta. Most first surgeries occur due to an aneurysm that has developed on the ascending aorta.
We spoke with Turek to learn more about the work he's doing on Marfan and the project that is being funded with the Everest Award.
"I've seen how devastating this disease can be," says Turek. "The fact is, patients who do not get treated in time die from these aneurysms. Patients who do get treated in time undergo large operations — extensive heart surgery to repair an aortic aneurysm — and in many cases have to come back to get additional surgeries to fix other parts of their aorta. The best thing we could ever do for these patients would be to get to the point where we could just manage this with medicine and avoid surgery altogether."
There is a well-characterized pathway in the mediation of Marfan syndrome. It has been pretty well studied, so a lot is known about it, Turek adds.
"The problem is that when you treat this well-known pathway with medications, it still doesn't stop the growth of aneurysms in Marfan. It slows it, but it doesn't stop it. So, there are clearly other pathways involved that are leading to aneurysm growth."
Dating back to his time as a pediatric cardiac surgeon at the University of Iowa, he and his team have been investigating alternate pathways that could also be causing aneurysms to form in Marfan patients. The team's persistence has been paying off.
"We found a new pathway that, when treated in animal models, completely blocked that pathway in addition to the well-characterized pathway," added Turek. "We actually didn't get aneurysms forming at all in our animal studies. Of course, we need more research and a path forward towards drug discovery."
Turek hopes the Everest Award will allow him to do just that. He says the goal is to be able to get to the point where Marfan patients can effectively be medically managed, and hopefully keep them from needing surgery at all.
"Without the Everest grant I don't think we could push this through the preclinical stages as quickly as we'd like," he says. "This award really changes everything for us by allowing us to take a deeper dive into exploring this promising pathway and treatment modality. We'd really like to have something we could take into clinical trials for people with Marfan syndrome."
We look forward to tracking this project as it moves forward.
If you'd like to see the video announcement made by Josephine Grima, PhD, Chief Science Officer of the Marfan Foundation, please check it out here: https://duke.is/wxyc2.
Beyond the Everest Award, the Marfan Foundation bestowed $600,000 in new grants to physician-scientists as part of its Research Grant program, bringing total current grant funding to $1,285,500.
Congratulations, Joe!
Support Marfan Patients & Duke Heart!
Speaking of Marfan syndrome and the Marfan Foundation… if you'd like to help Duke Heart in supporting patients with Marfan and other connective tissue disorders, please consider joining us at the upcoming 2023 NC Walk for Victory.
The 2023 NC Walk for Victory is planned for Saturday, April 22 from Noon-3 p.m. at Laurel Hills Park, 3808 Edwards Mill Rd., Raleigh (27612). Duke Heart is serving as the presenting sponsor, with Dr. Chad Hughes serving as the Walk's Medical Director.
This event is held to gather patients, family members and friends who are affected by genetic aortic and vascular conditions, including Marfan Syndrome, Loeys-Dietz, and Vascular Ehlers-Danlos syndromes. Attendees come from all over the southeast region of the U.S. to celebrate one another and to forge friendships with others going through similar experiences.
The Walk for Victory is a fun, family-friendly event that recognizes an incredible group of people and their caregivers. The Walk helps to create awareness in the community, and is one way the Marfan Foundation raises funding for much-needed research into these genetic conditions.
Please consider supporting any of the walkers/teams — maybe throw your support behind Duke Aorta and our team captain Melissa Burkett! Check out Duke Aorta's team fundraising page for The Marfan Foundation: https://give.marfan.org/team/482581) or behind Team James ("giving hugs and raising awareness since 2018!"). Even small contributions will help!
To learn more about the event or the Marfan Foundation in general, please visit: https://duke.is/pkjnw. Thank you!
Benkert Receives NHLBI Research Fellowship Award
Congratulations to Abigail Benkert, a PGY-4 in our Integrated Cardiothoracic Surgery training program (I6 resident), who was recently notified that she has been selected for a Research Fellowship Award from the National Heart, Lung, and Blood Institute. The award funding, which begins August 21, 2023, includes $76,292 in funding for Year 1.
The award is for her project, Evaluation of adeno-associated viral (AAV) mediated gene replacement therapy as a therapeutic option for SLC25A4 deficiency (award #F32HL167559), which will fund part of a project Benkert has been working on for several years. She has been conducting research into a form of inherited hypertrophic cardiomyopathy that captured her interest while in medical school at Tufts, and ties back to her experiences as an undergraduate student at Franklin & Marshall College.
At Franklin & Marshall, Benkert began working in a laboratory that collaborated with the Clinic for Special Children (CSC), located in Strasburg, PA. CSC is a pediatric medical genetics clinic that treats children with a myriad of conditions, but historically focused on the treatment of Amish and Mennonite children with rare genetic, biochemical, and other disorders.
Benkert says her exposure to the physicians at the Clinic for Special Children was instrumental to her not only because the experience piqued her interest in medical genetics, but also in shaping her initial career choices. "The pediatricians and research team at CSC are devoted to providing innovative and high-quality care to a very underserved population.," she says. "I originally thought I'd become a pediatrician and practice in a rural location at some point, maybe even go back to working at the Clinic."
She headed to medical school at Tufts University, which has a partnership program with Maine Medical Center that focuses on primary care in rural settings. Benkert signed on for the program and during her final year of medical school worked with the CSC once again to study the natural history of an inherited skeletal myopathy and form of hypertrophic cardiomyopathy (HCM) among a cohort of Mennonite patients.
Unfortunately, for a lot of patients with HCM there aren't many effective therapies, and that was true for these particular Mennonite patients.
Fast forward to now. Benkert says the lack of therapies for these patients was the impetus for her project.
"Nothing is available to help modify their disease or effectively help their symptoms," she adds. "The reality is we have to wait until they're in heart failure, and then treat the heart failure and perhaps consider heart transplantation."
Her Research Fellowship Award from the NHLBI will allow her to focus on gene therapy strategies that could potentially help. Her project aims to develop an adeno-associated virus (AAV) gene replacement strategy. She'll be working with Aravind Asokan, PhD, professor in the department of surgery, and director of gene therapy at Duke. Benkert has been working with Asokan's basic science lab in Duke's department of Biomedical Engineering to develop the construct that can be used for gene therapy, and test it in a transgenic mouse model and in patient-derived cells. They'll be getting blood samples from HCM patients, dedifferentiating them into pluripotent stem cells, and from there turning them into cardiomyocytes so they can actually test the gene therapy on heart cells.
"The award will give me a good launching point for my career as a surgeon-scientist, and I believe demonstrates my commitment to this work. It's really nice to have the funding to continue pursuing a project and interest that started while I was a medical student."
When asked to reflect on why she chose to go into medicine, Benkert thinks back to her childhood. "Since I was a young kid, I knew I wanted to be in medicine. I enjoy helping people and I thought it would be something that I'd be good at, because I felt passionate about it," she  says. "I realized that while I love doing research, I also really enjoy interacting with patients. I wanted a combination of the two."
In medical school, eventually her love of heart physiology won out over her interest in pediatrics. Benkert says she "basically did a 180" by deciding to go into cardiothoracic surgery. "I love taking care of critically ill patients. And once I was exposed to surgery, I couldn't imagine doing anything outside of the field," she added.
Benkert is excited by the prospect of working as a clinician while conducting research and working in the translational space. "I hope to be involved in translational projects and eventually clinical trials with patients. I think this grant sets a nice foundation for that by allowing me the time and the funding to work in the lab so that I am able to get research years as part of my residency training."
Congratulations, Abby! We're excited to see your career take off!
ACC.23: Lerman's Paragonix Interview; Burkett Poster Presentation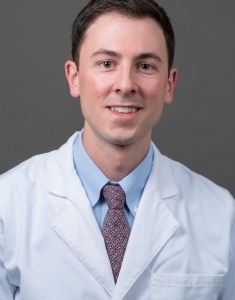 We missed these items a couple of weeks ago, but still wanted to share! Cardiology fellow Joe Lerman was interviewed by Mary Jacoski, senior director of Scientific and Medical Affairs for Paragonix Technologies during the ACC Scientific Sessions. Lerman presented a sub-study analysis on post-transplant outcomes in patients on a durable LVAD from of the GUARDIAN-Heart trial. You can see her interview with Lerman here: https://duke.is/n4m7e.
And, Melissa Burkett, nurse practitioner in cardiothoracic surgery, presented her poster, Adherence to Antibiotic Prophylaxis After Valve Replacement Surgery.
Nicely done, Joe and Melissa!
Quick Reminders & Updates
Please do not hold doors open for non-Duke Health employees! You're not being rude, you're maintaining safety for our patients and for each other.
The AANC site visit for DUH Magnet re-designation will take place March 28-31.
New funding opportunity for fellows! See Mario Family Foundation Award announcement under Opportunities, below. Deadline to apply is May 1.
National Doctor's Day is Thursday, March 30!
Upcoming Events & Opportunities
Cardiology Grand Rounds
March 28: The Global Burden of Cardiovascular Diseases and Risks with Gregory Roth, director of the Program in Cardiovascular Health Metrics and associate professor of medicine in cardiology at the University of Washington in Seattle. 5 p.m., DN 2002 or via Zoom.
April 25: Regulatory Guidance for Cardiovascular Outcomes Trials of Antihyperglycemic Agents: Connecting the Past with the Future with Darren K. McGuire, University of Texas Southwestern Medical Center & Parkland Health and Hospital System; Deputy Editor, Circulation. 5 p.m., DN 2002 and via Zoom.
ICYMI: Links to Recent CGRs
March 14: Italo Biaggioni of Vanderbilt University Medical Center, Role of Sympathetic Nervous System in Obesity Hypertension. https://duke.is/v73n9 (Please note, the CGR begins at 00:16:55).
March 15: Patrick O'Gara of Brigham and Women's Hospital and Harvard Medical School, Asymptomatic Valvular Heart Disease. https://duke.is/zd96e (Please note, the CGR begins at 00:10:05)
March 21: Emily S. Lau of Mass General and Harvard Medical School presentation, What Can Sex Differences Teach Us about HFpEF ? https://duke.is/9f78c (Please note, CGR begins at 00:12:05)
2023 Dean's Research Series
The Dean's Research Series continues on Thursday, March 30 and Thursday, April 20. Full schedule and details can be found at medschool.duke.edu/research-series. The Zoom link for all faculty lectures is https://bit.ly/Duke-DDRS.
The Duke University School of Medicine's Dean's Distinguished Research Series showcases groundbreaking research from the basic, clinical, and translational sciences. All faculty, staff, trainees and students are welcome to attend.
Funding Opportunity: The Mario Family Foundation Award
Training the next generation of biomedical researchers is an important core mission of the Department of Medicine. We admit the most promising, dedicated fellows into our programs, and provide experiences that will allow them to put their passion for medicine to work. These fellows will be tomorrow's leaders in science and medicine. The Mario Family Foundation has generously supported this mission to support junior investigators in training to make the transition to become independent scientists and planning for their first extra-mural funding.
The Department of Medicine is accepting applications from fellows in specialty training for the Mario Family Foundation Award, which funds two patient-oriented research (clinical or translational) proposals for one year of funding.  The total funding for all proposal expenses is $35,000.
Applications must be submitted electronically no later than Monday, May 1, 2023, 5p.m.
Applications will be peer reviewed by a panel of senior scientists from the Department of Medicine.  Proposals will be judged on scientific-merit, rigor, and quality of project.  Our intent is to complete reviews and start funding by July 1, 2023.
Additional details and application information can be found on the Mario Family Foundation Award webpage. For project-related questions, please contact Saini Pillai, MBA, Senior Program Coordinator, Chair's Office.
Cardiac Safety Research Consortium Think Tank Meeting, June 7
The Cardiac Safety Research Consortium will hold a Think Tank meeting on June 7. The event,  CSRC Think Tank: Update on Regulatory Status of Hypertension, Biomarkers and Arrhythmia Monitoring in Clinical Trials will be held at the FDA.
In Session 1, these leading industry professionals will speak on panels discussing:
Regulations for ECG/QT
The double-negative conundrum
Alternative methods for assay sensitivity assessment in routine Phase 1 QT Studies
Covid-19 and prolonged QT
In Session 2, we will discuss:
Small increases in blood pressure and CV risk I
Intermittent versus chronic use hypertension drugs
In Session 3, the meeting faculty will dive into:
In Session 4, the panelists will discuss hot topics in the field such as:
Biologics/cardiomyopathy and vaccine development
MACE
Gene therapies
Wearables
The event will include professionals from FDA Regulatory, Cardiac Safety Consultants, Ltd., Eli Lilly, Richmond Pharmacology, University of Connecticut, Stanford University, University of Pennsylvania, Cleveland Clinic, Clario, Mass General, DSI, Penn Medicine, and UCSF.
There is a registration fee for attendance, for academics it is $275. Registration and more information is available here: https://cardiac-safety.org/
The meeting will be held in person; a recording of the meeting and slide presentations will become available a month after the event occurs.
Have news to share?
If you have news to share with the Pulse readership, please contact Tracey Koepke, director of communications for Duke Heart at tracey.koepke@duke.edu. We would love to hear about your latest accomplishments, professional news, cool happenings, and any events or opportunities that may be of interest to our Duke Heart family. Please call with any questions: 919-681-2868. Feedback on Pulse is welcome and encouraged. Submissions by Noon, Wednesdays, to be considered for weekend inclusion.