Chief's message: Spring Breaks and March Madness
This was a particularly busy week for Duke Heart with several visiting professors as noted before.  Italo Biaggioni of Vanderbilt University Medical Center gave a great grand rounds on Role of Sympathetic Nervous System in Obesity Hypertension. For those with Duke access can use the link below to see the lectures. We also had a wonderful visit from Pat O'Gara who gave the 17th J.G. Reves Lecture – a lecture started by Jerry Reves in honor of building and starting the Duke Heart Center over 30 years ago.  The time for coordinated care and working through how we get closer to serving our patients could not be more important.  Dr. O'Gara gave the lecture, visited with fellows and faculty across Duke Heart, and then was also able to give cardiology grand rounds.  We are appreciative of his inspirational visit.
We were out of town this week and were able to visit the Grand Canyon National Park, Upper Antelope, and Horseshoe Bend Arizona (pictured) where the Colorado River turns back on itself when faced with significant opposing rock formations. The natural wonders were great to see with family and provide perspective on how change happens in nature and the delicate balance between ecosystems.  We were able to find a heart in Upper Antelope Canyon (pictured) where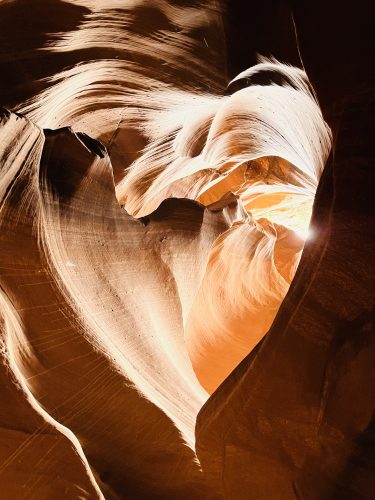 depending on day and time the light can make quite a few amazing streams.  Also, during the travels we saw other members from Duke Heart on spring breaks to similar and distant locations.
Finally, many of us are following March Madness basketball and the twists and turns for teams.  The Duke Basketball team lost on Saturday to Tennessee, but the year in reflection highlighted the impact that teamwork, coaching, and effort can have as all of the school will be proud of the accomplishments of the team, wonder about what could have been, and hope springs eternal for returning players and next year's team. Hopefully all of you will get sometime this spring to be with family.
Highlights of the week:
Annual Reves Lecture Held
The 17th annual J. G. Reves, MD Lecture was held on Wednesday with Patrick O'Gara, MD, as the guest speaker. His lecture, Research and Decision-Making at the Interface Between Cardiac Surgery and Cardiology, was well received! O'Gara is the Watkins Family Distinguished Chair in Cardiology and professor of medicine, Harvard Medical School, and the director of Strategic Planning for the cardiovascular division of Brigham and Women's Hospital. We enjoyed having him at Duke – and especially delighted that he was able to spend some quality time with our fellows!
The Annual Reves Lecture is arranged by Duke's Department of Anesthesiology and honors Dr. Jerry Reves, a former Duke cardiac anesthesiologist and a founding member of the Duke Heart Center.
Dr. O'Gara gave a special Cardiology Grand Rounds lecture as part of his visit to Duke. A link can be found below, in the CGR section.
We'd like to add a very special shout-out to Christy Johnson for her efforts in helping to organize his visit to Duke. Thanks, Christy!
Patel to Receive AHA National 2023 Physician of the Year Award
We're pleased to share that Manesh Patel, MD will receive the American Heart Association's 2023 Physician of the Year Award. The announcement was made on Thursday by Nancy Brown, CEO of the AHA. Patel is among nearly two dozen people and organizations who will be recognized during the AHA's National Volunteer Awards event on Wednesday, June 14. The event will be held virtually.
The AHA's Physician of the Year Award honors a physician with a longstanding commitment to the highest ideals of patient care and exemplary leadership in the AHA mission. Patel currently serves on the Board of the Triangle AHA, has led programming for the AHA Scientific Sessions and committees, and is a strong advocate for research, safety, and quality care for cardiovascular patients. He regularly gives his time to advocacy, and is a long-time supporter of the annual Triangle Heart Walk.
Manesh stated "I am humbled by the award, and it speaks to the longstanding ethos of service and work with the AHA that so many of my mentors and colleagues have instilled as part of our culture at Duke.  I hope to be able to give back as they have to  our community and mentor the next generation."
Great Catch, McGugan!
Lynn McGugan, one of our nurse practitioners on 7 West received a Great Catch this week from DUH administration! McGugan
recognized a discrepancy in an order set for temporary mechanical circulatory support that contraindicated the specific device policy and would have resulted in asking nurses to practice outside of their scope.  Appropriate stakeholders were engaged, and the order set was immediately updated.
Kudos to Lynn for calling out this discrepancy in a long-standing order set, showing willingness to question the status quo in the name of safety!
Way to go, Lynn!
Shout-out to CICU Nursing Staff!
A big shout-out to nurses from the Cardiology Intensive Care Unit – they were able to arrange for one of our long-term patients to go outside for a bit. The patient was deeply appreciative of this. Special recognition to nurses Yu Wang and Morgan Stone, and to nursing assistant Allyson Blake.
According to Jason Katz, "It was the first time this patient had seen the sun or felt fresh air in over two months – and the last time (the patient had been outdoors) was on the tarmac to be flown to Duke University Hospital for emergent care. We topped things off with a vanilla milkshake from Chick-Fil-A — it was his favorite and he enjoyed it quite a lot."
Our nursing team is amazing!!! Thank you for all that you do.
Cardiac Cath Team Featured in Working @Duke
Hat tip to the "Cath Us If You Can" team, comprised of members of Duke Heart's cardiac catheterization unit. They're featured in the most recent issue of Working@Duke for their participation in Duke's Get Moving Challenge. Thanks for literally walking the walk and getting your steps and exercise in! To read the story, visit https://duke.is/mpapm.
ICYMI: Quick Thinking Mother Saves Daughter with CPR, AED
A really terrific story out of Duke pediatric cardiology this week, which was featured on the Today show, Good Morning America, and several local news outlets here in the Triangle. The mother of a cheerleader recognized that her daughter had gone into cardiac arrest, and quickly began performing CPR until an AED was brought to her. Her daughter survived and was transported to Duke University Hospital, where she received care from Dr. Zebulon Spector. Links to the news stories are below under News.
This is another great example of why knowing CPR and having access to AEDs is important!
Quick Reminders & Updates
Please do not hold doors open for non-Duke Health employees! You're not being rude, you're maintaining safety for our patients and for each other.
The AANC site visit for DUH Magnet re-designation will take place March 28-31.
New funding opportunity for fellows! See Mario Family Foundation Award announcement under Opportunities, below. Deadline to apply is May 1.
Updates to COVID Protocols
Leadership announced earlier today several changes to the COVID protocols:
"As we head into the home stretch of the academic year, we find our campus' COVID risk to be far less serious than any time during the pandemic. During the last 18 months, we have seen immunity through vaccination or natural infection increase to about 90 percent of our population. This has led to a steep decline in cases and severe illness. As a result, we are making several changes to our COVID protocols.
Masking: Masking on Duke buses and vans is now recommended, but will no longer be required. Masks will be available on buses for those who request one. Masking is still required in all patient-care and clinical settings and for anyone who is symptomatic and around others, regardless of location or test results.
COVID Vaccination: Duke's medical experts are currently assessing potential changes in the COVID vaccination policy given the increase in community immunity levels and decline in severity of illness. More information will be shared once decisions are finalized.
Surveillance Testing: The last two remaining surveillance test sites ended operation before spring break. Symptomatic testing will continue to be available on campus through Student Health or the Employee Exposure Hotline, 919-385-0431, option 1.
Rapid Antigen Tests: At-home antigen tests are available through the Duke Stores' Service Desk in the Bryan Center. One test kit per week is available at no charge to anyone with a valid DukeCard.
SymMon App: The SymMon app used for reporting symptoms or test results will be retired on April 3. Employees can use the My COVID Link to report symptoms or test results, and students should contact Student Health to do the same.
Student Case Management: Formal student COVID case management will conclude on Sunday, March 19. Going forward, students who test positive for COVID should isolate in place for at least 5 days from symptom onset and wear a mask when indoors or around others for 10 days. For nurse advice or to make an appointment with a medical provider, students can call Duke Student Health at 919-681-9355.
As has been the case throughout the pandemic, these changes are based on the data, trends and science. We acknowledge the possibility that a new COVID variant could change the current trends and require us to modify our approach regarding vaccination, masking and other safety protocols. We will continue to monitor and assess global and local data to determine if such changes are needed in the future. Anyone testing positive should continue to report to Employee Health or Student Health, mask and isolate in place as required before returning to work, class or academic activities.
Thank you for your ongoing support and collective efforts during these difficult years. Working together as a community, we have learned, adapted, and overcome so many challenges." 
DHIP update
Distribution of Employment Agreements for transitioning members is ongoing. Please monitor your inbox for critical communication from DHIP@duke.edu, your department chair, and Adobe Sign.
Reminder: The Duke Guarantee offers the minimum compensation each Member can expect to receive. Additional compensation opportunities which exist today will continue to be available to members within DHIP.
All members will be given four weeks to consider employment and sign their Employment Agreements.
Benefits:
All other questions can be sent to DHIP@duke.edu, and all DHIP updates can be found at https://dhip.org.
Upcoming Events & Opportunities
Cardiology Grand Rounds
March 21: What Can Sex Differences Teach Us about HFpEF ? with Emily S. Lau, Director, Cardiometabolic Health and Hormones Clinic, Massachusetts General Hospital; Instructor in Medicine, Harvard Medical School. 5 p.m., Zoom only.
ICYMI: Links to Recent CGRs
In case you were unable to join us, we have links available to our most recent Cardiology Grand Rounds:
February 16: Haider Warraich of VA Boston Healthcare System, State of the Heart: What the History of Heart Disease Teaches Us About Its Future. https://duke.is/26j5p
February 28: Sandeep Nathan of the University of Chicago, Percutaneous Mechanical Circulatory Support (pMCS) in High Risk PCI and Shock: Facts, Fiction & Future Devices. https://duke.is/g2dzh (Please note, the CGR begins at 00:21:47).
March 14: Italo Biaggioni of Vanderbilt University Medical Center, Role of Sympathetic Nervous System in Obesity Hypertension. https://duke.is/v73n9 (Please note, the CGR begins at 00:16:55).
March 15: Patrick O'Gara of Brigham and Women's Hospital and Harvard Medical School, Asymptomatic Valvular Heart Disease. https://duke.is/zd96e (Please note, the CGR begins at 00:10:05)
2023 Dean's Research Series
The Dean's Research Series continues on Thursday, March 30 and Thursday, April 20. Full schedule and details can be found at medschool.duke.edu/research-series. The Zoom link for all faculty lectures is https://bit.ly/Duke-DDRS.
The Duke University School of Medicine's Dean's Distinguished Research Series showcases groundbreaking research from the basic, clinical, and translational sciences. All faculty, staff, trainees and students are welcome to attend.
Funding Opportunity: The Mario Family Foundation Award
Training the next generation of biomedical researchers is an important core mission of the Department of Medicine. We admit the most promising, dedicated fellows into our programs, and provide experiences that will allow them to put their passion for medicine to work. These fellows will be tomorrow's leaders in science and medicine. The Mario Family Foundation has generously supported this mission to support junior investigators in training to make the transition to become independent scientists and planning for their first extra-mural funding.
The Department of Medicine is accepting applications from fellows in specialty training for the Mario Family Foundation Award, which funds two patient-oriented research (clinical or translational) proposals for one year of funding.  The total funding for all proposal expenses is $35,000.
Applications must be submitted electronically no later than Monday, May 1, 2023, 5p.m.
Applications will be peer reviewed by a panel of senior scientists from the Department of Medicine.  Proposals will be judged on scientific-merit, rigor, and quality of project.  Our intent is to complete reviews and start funding by July 1, 2023.
Additional details and application information can be found on the Mario Family Foundation Award webpage. For project-related questions, please contact Saini Pillai, MBA, Senior Program Coordinator, Chair's Office.
Cardiac Safety Research Consortium Think Tank Meeting, June 7
The Cardiac Safety Research Consortium will hold a Think Tank meeting on June 7. The event,  CSRC Think Tank: Update on Regulatory Status of Hypertension, Biomarkers and Arrhythmia Monitoring in Clinical Trials will be held at the FDA.
In Session 1, these leading industry professionals will speak on panels discussing:
Regulations for ECG/QT
The double-negative conundrum
Alternative methods for assay sensitivity assessment in routine Phase 1 QT Studies
Covid-19 and prolonged QT
In Session 2, we will discuss:
Small increases in blood pressure and CV risk I
Intermittent versus chronic use hypertension drugs
In Session 3, the meeting faculty will dive into:
In Session 4, the panelists will discuss hot topics in the field such as:
Biologics/cardiomyopathy and vaccine development
MACE
Gene therapies
Wearables
The event will include professionals from FDA Regulatory, Cardiac Safety Consultants, Ltd., Eli Lilly, Richmond Pharmacology, University of Connecticut, Stanford University, University of Pennsylvania, Cleveland Clinic, Clario, Mass General, DSI, Penn Medicine, and UCSF.
There is a registration fee for attendance, for academics it is $275. Registration and more information is available here: https://cardiac-safety.org/
The meeting will be held in person; a recording of the meeting and slide presentations will become available a month after the event occurs.
Have news to share?
If you have news to share with the Pulse readership, please contact Tracey Koepke, director of communications for Duke Heart at tracey.koepke@duke.edu. We would love to hear about your latest accomplishments, professional news, cool happenings, and any events or opportunities that may be of interest to our Duke Heart family. Please call with any questions: 919-681-2868. Feedback on Pulse is welcome and encouraged. Submissions by Noon, Wednesdays, to be considered for weekend inclusion.
Duke Heart in the News:
March 10 — John Alexander
Pharmacist.com/APhA
Statin alternative joins drugs that could reduce heart attack risk
https://duke.is/6g5mk
March 13 — John Alexander
NPR/Morning Edition
Got muscle pain from statins? A cholesterol-lowering alternative might be for you
https://duke.is/p5j62
March 14 — Tony Gutierrez
El Confidencial
¿Podemos de verdad morir de la risa? Esto es lo que dice la ciencia y la historia
https://duke.is/ys84c
March 14 — Neha Pagidipati
HealthDay
ACC: Coordinated Intervention Increases Rx for Evidence-Based T2DM Therapies
https://duke.is/zjk5r
*also carried by 65 additional outlets including Drugs.com, Physician's Weekly
March 14 — Keianna & Andrea Joe
WCNC NBC-36 Charlotte
NC cheerleader recovering after going into cardiac arrest during competition
https://duke.is/ms52v
March 14 — Keianna & Andrea Joe
WRAL NBC-5
Mother saves life of 17-year-old daughter who went into cardiac arrest at Raleigh high school
https://duke.is/8ejc5
March 15 — Zebulon Spector (pediatrics) and Keianna & Andrea Joe
Today show, NBC
Mom saves teen daughter's life after she had cardiac arrest at a cheerleading competition
https://duke.is/c48sy
March 15 — Danielle Wood (pediatrics)
Clinical Advisor
Protocol Reduces Opioid Exposure in Pediatric Cardiac ICU
https://duke.is/wvkds
March 15 — Zebulon Spector and Keianna & Andrea Joe
People.com
North Carolina Mom Saves Daughter's Life After Suffering Cardiac Arrest: 'Scariest Moment of My Life'
https://duke.is/633yb
Consumer news coverage will return on April 2. Thanks for reading! 
Division of Cardiology Publications: March 9-15, 2023
Blumer V, Zhbannikov IY, Douglas PS. Contributions of Women to Cardiovascular Science Over Two Decades: Authorship, Leadership, and Mentorship. J Am Heart Assoc 2023 Mar 7;12(5):e026828. PM: 36847072.
Chi G, Violi F, Pignatelli P, Vestri A, Spagnoli A, Loffredo L, Hernandez AF, Hull RD, Cohen AT, Harrington RA, Goldhaber SZ, Gibson CM. External validation of the ADA score for predicting thrombosis among acutely ill hospitalized medical patients from the APEX Trial. J Thromb Thrombolysis 2023 Feb;55(2):211- 221. PM: 36566304.
Desai MY, Owens A, Geske JB, Wolski K, Saberi S, Wang A, Sherrid M, Cremer PC, Naidu SS, Smedira NG, Schaff H, McErlean E, Sewell C, Balasubramanyam A, Lampl K, Sehnert AJ, Nissen SE. Dose-Blinded Myosin Inhibition in Patients With Obstructive Hypertrophic Cardiomyopathy Referred for Septal Reduction Therapy: Outcomes Through 32 Weeks. Circulation 2023 Mar 14;147(11):850-863. PM: 36335531.
Filbey L, Zhu JW, D'Angelo F, Thabane L, Khan MS, Lewis E, Patel MR, Powell-Wiley T, Miranda JJ, Zuhlke L, Butler J, Zannad F, Van Spall HGC. Improving representativeness in trials: a call to action from the Global Cardiovascular Clinical Trialists Forum. Eur Heart J 2023 Mar 14;44(11):921-930. PM: 36702610.
Greene SJ, Felker GM. Considering Addition of Acetazolamide to Loop Diuretics as Treatment for Acute Heart Failure: ADVOR Reappraisal. JACC Heart Fail 2023 Mar;11(3):365-367. PM: 36889884.
Hsueh YC, Pratt RE, Dzau VJ, Hodgkinson CP. Novel method of differentiating human induced pluripotent stem cells to mature cardiomyocytes via Sfrp2. Sci Rep 2023 Mar 9;13(1):3920. PM: 36894665.
Khedagi A, Hoke C, Kelsey M, Coviello A, Jones WS, Jackson LR, Patel MR, McGarrah RW, Pagidipati NJ, Shah NP. Call to action: Understanding the differences in the use of SGLT-2 inhibitors and GLP-1 receptor agonists. Am J Prev Cardiol 2023 Feb 24;13:100477. PM: 36915710.
Maia IS, Marcadenti A, Veiga VC, Miranda TA, Gomes SPC, Carollo MBS, Negrelli KL, Gomes JO, Tramujas L, Abreu-Silva EO, Westphal GA, Fernandes RP, Horta JGA, Oliveira DC, Flato UAP, Paoliello RCR, Fernandes C, Zandonai CL, Coelho JC, Barros WC, Lemos JC, Bolan RS, Dutra MM, et al. Antivirals for adult patients hospitalised with SARS-CoV- 2 infection: a randomised, phase II/III, multicentre, placebo-controlled, adaptive study, with multiple arms and stages. COALITION COVID-19 BRAZIL IX-REVOLUTIOn trial. Lancet Reg Health Am 2023 Apr;20:100466. PM: 36908503.
Montalescot G, Alexander JH, Cequier-Fillat A, Solomon SD, Redheuil A, Hudec M, Silvain J, Kachenoura N, Janas A, Orban M, Josse I, Balavoine F, Besse B. Firibastat Versus Ramipril After Acute Mechanical Reperfusion of Anterior Myocardial Infarction: A Phase 2 Study. Am J Cardiovasc Drugs 2023 Mar;23(2):207- 217. PM: 36757536.
Schnittman SR, Jung W, Fitch KV, Zanni MV, McCallum S, Lee JS, Shin S, Davis BJ, Fulda ES, Diggs MR, Giguel F, Chinchay R, Sheth AN, Fichtenbaum CJ, Malvestutto C, Aberg JA, Currier J, Lauffenburger DA, Douglas PS, Ribaudo HJ, Alter G, Grinspoon SK. Effect of host factors and COVID-19 infection on the humoral immune repertoire in treated HIV. JCI Insight 2023 Mar 8;8(5):e166848. PM: 36805331.
Selvaraj S, Kosiborod MN, Shah SH. Response by Selvaraj et al to Letter Regarding Article, "Metabolic Profiling of the Effects of Dapaglifozin in Heart Failure with Reduced Ejection Fraction: DEFINE-HF." Circulation 2023 Mar 14;147(11):922-923. PM: 36913500