Highlights of the week:
Chmielewski Retiring Sept. 30 after 29 Years of Service
Carl Chmielewski, administrative assistant in the division of cardiology, will retire from Duke Heart this week on Sept. 30. He has worked with the division for 29 years.
We had the opportunity to speak with Carl about his Duke experience over the years. "It has been an amazing ride that
is for sure," he said.
Chmielewski, who started at Duke as a temporary file clerk was assigned to Duke's division of cardiology to help with the purging of old files "back when all we used were paper records," he says. He was soon brought into an administrative role that would basically evolve over the years into something akin to 'chief troubleshooter'.
One of the things Chmielewski says he has enjoyed the most about working for the division is that things never got stale. "It has always been something new every day, or what might work today will not work tomorrow, so the days have always been challenging."
Most who know Carl recognize him for his superb troubleshooting skills; most of us have either uttered or heard the refrain, "Go ask Carl," when some administrative complexity could not be figured out. Over the course of 29 years, he has certainly worked on a very large number of projects, but the ones that stand out the most for him are those that have arguably made the greatest difference to others by making their lives a bit easier.
"My motto has always been, 'work smarter, not harder' so when people would come to me with issues or ideas – especially the staff, I started documenting them so that we could share these great tips," Chmielewski says.
All cardiology administrative staff is likely familiar with the Help Documents folder, now in Box. Carl created that as a centralized means of sharing knowledge throughout the group. "Every time a staff member came up with an idea that was a shortcut or something, I put it on there for everybody to look at. It might not apply to everybody, but it will apply to a lot of them."
Another long-term project he enjoyed working on is related to Duke Cardiology's historical records. Inevitable in any academic medical center is the accumulation of important records, papers, photographs, instruments, illustrations and other artifacts. Chmielewski has helped various faculty members over the years, including Tom Bashore, by ensuring the Duke Medical Center archives team had access to older materials that could be of historical value.
Chmielewski was also instrumental in working with cardiology leadership to develop the PODS system and an improved wording grid for paging operators to use for reaching cardiologists.
At one time, Carl was actively involved with Cardiology Grand Rounds and helping to plan the travel and itinerary for guest speakers. Through his involvement there, he found he enjoyed listening to the CGR recordings and learning more about what the faculty and fellows were working on.
The project he is most proud to have worked on, however, is the implementation of QGenda, which allowed him to work with faculty members like Jimmy Tcheng in order to take faculty scheduling fully electronic, with greater accessibility to key contact information. It was a project that many would agree was transformative.
Chmielewski refers to retirement as his 4th and final career change. Prior to Duke, Carl's family had been based in Michigan. His first career was in mobile home repair, but when he and his wife began to have children, the extremely long work days he had been putting in were no longer satisfying. He moved to the lumber industry, working for a local lumber company. During this time he honed enough skills to build his own home, which he says took him six months to do, but it was something he had always dreamed of doing.
Michigan happens to be a hot spot for the ballooning industry, which was his next career move. While at the lumber company, he met a customer who was launching his own balloon manufacturing company. The two hit it off and Carl was brought on board first to help build the plant, and then to build hot air balloons. He stayed on for 10 years – helping to manufacture special shaped balloons for Disney World and other major companies, but also for the private sector, including individuals such as Malcolm Forbes (they built him one in the shape of a Harley-Davidson).
Chmielewski's wife Kathleen expects to retire from Duke early next year. The two are passionate about boating and, with the pandemic continuing, expect to hang out quite a bit on their 27-foot pontoon boat, grill out with family members and continue to entertain their grandchildren. The two have also become avid e-bicyclists and have found the trail system in the Triangle to be ideal for local rides. They plan to stay fully active and enjoy living.
When asked if there will be anything he misses, Carl says he will miss his colleagues the most — as well as the challenges of helping to support a very fast-paced cardiology team. He encourages all of us to keep in mind what a great team we are a part of and, to 'work smarter, not harder'.
For the past few years, Carl has reported to Chris Morgenstern, administrative manager for the division. "It has been an honor and privilege to work alongside Carl for these past few years," Morgenstern says. "It was clear to me when I first started that Carl was an invaluable resource to the division of Cardiology. Without Carl's assistance through my time here at Duke, I know for certain that I wouldn't have been as successful as I have been. I can't thank him enough for all his hard work, and I know that I, and the Division, will miss him dearly."
Thank you, Carl, for all the great work you have done in supporting the faculty and staff over the years. We wish you all the best in retirement!
New CMS ICD-10 code I5A Going Live October 1
The Centers for Medicare and Medicaid (CMS) recently released the diagnosis code files for 2022. The new codes go into effect on Friday, Oct. 1.
Included is a new cardiology diagnosis code, I5A, specific to non-ischemic myocardial injury (non-traumatic). This is an important development and something each provider and all coders need to be aware of. The updated code allows providers the opportunity to more correctly label patients who have an elevation of high sensitivity troponin who are not having a myocardial infarction. Stay tuned for more information — Drs. Jimmy Tcheng, Kristin Newby, Manesh Patel, Jennifer Rymer and Andrew Wang are working on a package of information to distribute to all care teams.
CICU Expansion Set for October 1
On Friday, October 1, 2021, the Cardiac Intensive Care Unit located on 7E in Duke Medical Pavilion will expand from 20 beds to our full operational capacity of 24 beds under the medical directorship of Drs. Jason Katz and Kristin Newby, and nurse manager Greg Flynn, BSN. The additional beds will allow us to better support the Duke Heart mission of providing high-quality, excellent cardiac care to our patients and their families. The team has worked diligently to onboard new staff members for the expansion, including nurses, advanced practice providers, and an additional rounding pharmacist. The medical coverage model has added advanced practice providers to the current structure of residents, fellows, and attendings.
VAD Joint Commission Survey Completed
Thank you to all faculty and staff for their support and participation during the recent VAD Joint Commission Survey at Duke University Hospital. Your preparedness and enthusiasm was greatly appreciated! Shown here are team members Da-Vida Clark, Jill Engel, Heather Pena, Laura Blue, Stephanie Barnes, Mary Lindsay and Laura Dickerson after the completion of the survey.
Heart Faculty Life Support Training Event Held
On Wednesday, Sept. 22, the biannual Life Support training event was held for 23 Heart faculty members. Special thanks to our instructors Kristen Newby, Jill Engel, Mary Lindsay, and Laura Dickerson. Administrative assistant support was provided by Sara Yarboro and Caleb Smith, shown here.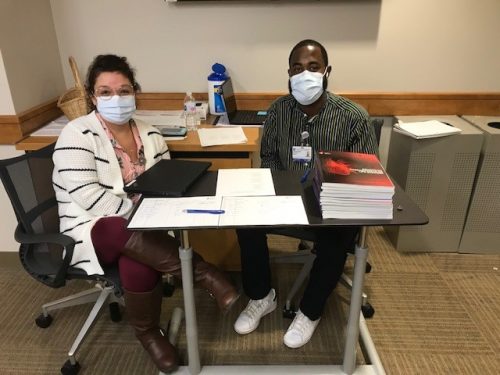 Kudos to Cardiology Fellows
This week, multiple unexpected challenges arose in the cardiology fellowship. Anna Lisa Crowley, program director, would like to recognize and thank the following fellows who went above and beyond by volunteering to cover their co-fellows in need on short notice during this time:
Ali Corley
Josephine Harrington
Shahzeb Khan
Mark Kittipibul
Manasi Tannu
Great team work, everyone!!!!
Granger & Gersh Discuss ESC
Chris Granger along with Bernard Gersh of the Mayo Clinic were our special guests for Cardiology Grand Rounds on Tuesday, Sept. 21. They led a lively discussion recapping the European Society of Cardiology's 2021 Congress.
Many thanks to all who joined us!
Duke Heart Seeks Team Captains, Walkers for Heart Walk
The Triangle Heart Walk is scheduled for Sunday, October 10 and we'd love see more members of the Duke Heart faculty and staff sign on as team captains or walkers. It is not too late! Registration is quick and easy – you can start your own team or join an existing one: simply visit triangleheartwalk.org/dukehealth2021. Looking for a team to join? Manesh Patel and Jill Engel are both team captains and would be happy to have you join them! If you have any questions or need help, feel free to email Kimberly Burrows, senior director of development for the Triangle AHA, at kimberly.burrows@heart.org.
Due to pandemic circumstances, the event will not take place at PNC arena. Instead, the American Heart Association will have "pop-up" starting lines at various locations throughout the Triangle:
NC State Campus – LexisNexis, 1801 Varsity Dr. in Raleigh, NC 27606
Healthy Mile – Holton Trail, 401 N. Driver St. in Durham, NC 27703
Healthy Mile – Northgate Park Trail, 302 W. Club Blvd. in Durham, NC 27704
Shelley Lake Loop, 1400 W. Millbrook Rd. in Raleigh, NC 27612
Worthdale Park, 1001 Cooper Rd. in Raleigh, NC 27610
Or, you can choose to walk on your own, wherever is most convenient to you. Too busy to walk? You can support any Duke Heart team by making a general donation to a walker to support their fundraising efforts.
Thanks for considering. We appreciate every dollar!
Upcoming Events & Opportunities
Cardiology Grand Rounds
September 28: Hypertrophic Cardiomyopathy Guidelines and Treatment Update with Andrew Wang. 7:15 a.m., Webex.
October 5: Critical Care Cardiology in the 21st Century with Anthony Carnicelli. 5 p.m. Webex.
October 12: Lessons from ADAPTABLE and PREVENTABLE: Is Pragmatism the Answer? with Schuyler Jones. 5 p.m. Webex.
Upcoming Duke Heart CME
October 8: Duke Heart Failure Symposium: The Leading Edge of Heart Failure Management. Course directors are Richa Agarwal and Robert Mentz. 12 – 4:30 p.m. Zoom Webinar. To learn more and to register, please visit: http://duke.is/Q1sBtf
November 5: 13th Annual NC Research Triangle Pulmonary Hypertension Symposium. Course directors are H. James Ford (UNC) and Terry Fortin. 8:30 a.m. to 4:20 p.m. Morning case-based workshops will be live, in person at Durham Convention Center (subject to change pending pandemic conditions). Masks and COVID vaccination required. Afternoon portion will be held via Zoom. For more information and to register, please visit: https://bit.ly/3DrZwuv.
Have news to share?
If you have news to share with the Pulse readership, please contact Tracey Koepke, director of communications for Duke Heart at tracey.koepke@duke.edu. We would love to hear about your latest accomplishments, professional news, cool happenings, and any events or opportunities that may be of interest to our Duke Heart family. Please call with any questions: 919-681-2868. Feedback on Pulse is welcome and encouraged.
Duke Heart in the News:
September 17 — Manesh Patel
tctMD
AHA Announces Fully Virtual Meeting in Light of Surging COVID-19 Numbers
http://duke.is/iXT98J
September 17 — Harry Severance
The Columbian
In Our View: Appreciate workers by slowing virus's spread
http://duke.is/hK6X7x
September 20 — Harry Severance
Healthgrades
7 Reasons Doctors Are Leaving Medicine
http://duke.is/iRJ11X
September 21 — Marat Fudim and Manesh Patel
HCPLive
New Heart Failure Data from ESC 2021 with Marat Fudim, MD
http://duke.is/Fm1rh4
September 22 — Duke University Hospital
Becker's Hospital Review
5 recent 'firsts' in cardiology
http://duke.is/wrJ53t
September 23 — Geeta Swamy and Adrian Hernandez
WRAL NBC-5
U.S. Food and Drug Administration's decision to endorse giving booster doses
http://duke.is/twztyN
Division of Cardiology Publications Indexed in PubMed Sept 16-23, 2021
Abou Assi H, Rangadurai AK, Shi H, Liu B, Clay MC, Erharter K, Kreutz C, Holley CL, Al-Hashimi HM. 2′-O-Methylation can increase the abundance and lifetime of alternative RNA conformational states. Nucleic Acids Res 2020;48(21):12365-12379. PM: 33104789.
Alba GA, Samokhin AO, Wang RS, Zhang YY, Wertheim BM, Arons E, Greenfield EA, Lundberg Slingsby MH, Ceglowski JR, Haley KJ, Bowman FP, Yu YR, Haney JC, Eng G, Mitchell RN, Sheets A, Vargas SO, Seo S, Channick RN, Leary PJ, Rajagopal S, Loscalzo J, et al. NEDD9 Is a Novel and Modifiable Mediator of Platelet-Endothelial Adhesion in the Pulmonary Circulation. Am J Respir Crit Care Med 2021;203(12):1533-1545. PM: 33523764.
Beijnink CWH, van der Hoeven NW, Konijnenberg LSF, Kim RJ, Bekkers SCAM, Kloner RA, Everaars H, El Messaoudi S, van Rossum AC, van Royen N, Nijveldt R. Cardiac MRI to Visualize Myocardial Damage after ST-Segment Elevation Myocardial Infarction: A Review of Its Histologic Validation. Radiology 2021;301(1):4-18. PM: 34427461.
Goli S, Sakita FM, Kweka GL, Tarimo TG, Temu G, Thielman NM, Bettger JP, Bloomfield GS, Limkakeng AT, Hertz JT. Thirty-day outcomes and predictors of mortality following acute myocardial infarction in northern Tanzania: A prospective observational cohort study. Int J Cardiol 2021;342:23-28. PM: 34364908.
Herrera AF, Ahn KW, Litovich C, Chen Y, Assal A, Bashir Q, Bayer RL, Coleman M, DeFilipp Z, Farhadfar N, Greenwood M, Hahn T, Horwitz M, Jacobson C, Jaglowski S, Lachance S, Langston A, Mattar B, Maziarz RT, McGuirk J, Mian MAH, Nathan S, Phillips A, et al. Autologous and allogeneic hematopoietic cell transplantation for diffuse large B-cell lymphoma-type Richter syndrome. Blood Adv 2021;5(18):3528-3539. PM: 34496026.
Kereiakes DJ, Feldman RL, Ijsselmuiden AJJ, Saito S, Amoroso G, Zidar JP, Wong SC, Stella P, Yakubov S, Lasala J, Cohen DJ, Doros G, Cutlip DE, Rao SV. Safety and Effectiveness of the SVELTE Fixed-Wire and Rapid Exchange Bioresorbable-Polymer Sirolimus-Eluting Coronary Stent Systems for the Treatment of Atherosclerotic Lesions: Results of the OPTIMIZE Randomized Study. Circ Cardiovasc Interv 2021;14(9):e010609. PM: 34353122.
Krishnamoorthy V, Temkin N, Barber J, Foreman B, Komisarow J, Korley FK, Laskowitz DT, Mathew JP, Hernandez A, Sampson J, James ML, Bartz R, Raghunathan K, Goldstein BA, Markowitz AJ, Vavilala MS, et al. Association of Early Multiple Organ Dysfunction With Clinical and Functional Outcomes Over the Year Following Traumatic Brain Injury: A Transforming Research and Clinical Knowledge in Traumatic Brain Injury Study. Crit Care Med 2021;49(10):1769-1778. PM: 33935162.
Mahle RE, Suchindran S, Henao R, Steinbrink JM, Burke TW, McClain MT, Ginsburg GS, Woods CW, Tsalik EL. Validation of a Host Gene Expression Test for Bacterial/Viral Discrimination in Immunocompromised Hosts. Clin Infect Dis 2021;73(4):605-613. PM: 33462581.
Makkar RR, Yoon SH, Chakravarty T, Kapadia SR, Krishnaswamy A, Shah PB, Kaneko T, Skipper ER, Rinaldi M, Babaliaros V, Vemulapalli S, Trento A, Cheng W, Kodali S, Mack MJ, Leon MB, Thourani VH. Association Between Transcatheter Aortic Valve Replacement for Bicuspid vs Tricuspid Aortic Stenosis and Mortality or Stroke Among Patients at Low Surgical Risk. JAMA 2021;326(11):1034-1044. PM: 34546301.
Picard F, Bhatt DL, Ducrocq G, Ohman EM, Goto S, Eagle KA, Wilson PWF, Smith SC, Elbez Y, Steg PG. Generalizability of the REDUCE-IT trial and cardiovascular outcomes associated with hypertriglyceridemia among patients potentially eligible for icosapent ethyl therapy: An analysis of the REduction of Atherothrombosis for Continued Health (REACH) registry. Int J Cardiol 2021;340:96-104. PM: 34450192.
Salah HM, Khan MS, Fudim M. Summary of new trials presented at the 2021 American College of Cardiology Scientific Sessions. Eur Heart J Cardiovasc Pharmacother 2021;7(5):e79-e80. PM: 34156461.
Smith JS, Pack TF, Inoue A, Lee C, Zheng K, Choi I, Eiger DS, Warman A, Xiong X, Ma Z, Viswanathan G, Levitan IM, Rochelle LK, Staus DP, Snyder JC, Kahsai AW, Caron MG, Rajagopal S. Noncanonical scaffolding of G and β-arrestin by G protein-coupled receptors. Science 2021;371(6534):eaay1833. PM: 33479120.
Wang Z, Rankine L, Bier EA, Mummy D, Lu J, Church A, Tighe RM, Swaminathan A, Huang YT, Que LG, Mammarappallil JG, Rajagopal S, Driehuys B. Using hyperpolarized Xe gas-exchange MRI to model the regional airspace, membrane, and capillary contributions to diffusing capacity. J Appl Physiol (1985) 2021;130(5):1398-1409. PM: 33734831.