Chief's message: Changing residents and fellows
Each year in July, the change of the Academic Calendar we say good bye to our graduating fellows and residents and welcome in our newly starting residents and fellows.  This upcoming week holds that excitement on the clinical wards as we go into July 4th.  I have always found the transition to be both bittersweet – saying by to some that have spent somewhere between 4-9 years at Duke, while embracing the excitement of teaching and workin with the next generation of medicine and cardiovascular medicine leaders.  The end of the Academic year also allows for reflection on our accomplishments, and we continue that series with an update from our Interventional Labs by Schuyler Jones this week.
Highlights of the week:
Heart Highlights: Duke Interventional Cardiology
We are pleased to offer an update on our Interventional Cardiology team from Schuyler Jones as we continue to celebrate the accomplishments our team has made over the past year:
The Duke Interventional Cardiology team has continued to stay busy as we work to fulfill the tripartite mission, support Duke University Health System, and take care of ourselves, our patients, and our partners. COVID-19 was an especially challenging time in the Cath Lab, as reports from all over the world made us think differently about how we deliver care to patients with heart disease. We held true to our beliefs that we should not change how we approach patient care, and we worked diligently with our operational and nursing teams to ensure that we all had the appropriate personal protective equipment and created adjunctive processes that ensured the safety of our patients, staff, fellows, and faculty. Special thanks to Anna Mall (Clinical Lead) for her work with donning and doffing practice, training of staff, and overall coordination of care during the pandemic – there was a period when Anna was on call to come in for emergency procedures almost every night.
The Interventional Cardiology Fellowship is the life blood of our Cath Lab, and this year, the four fellows – Adam Banks, Jaidip Chakravartti, Angela Lowenstern, and Michael Nanna – really rose to the challenge. Maintaining an affable and steady approach, this team worked together to take care of some of the sickest patients in the hospital. They learned, they taught, and they did it as a team, and honestly, we couldn't be more proud of this group as they all finish their training and move on to start their careers.
Adam will be moving to Albuquerque, New Mexico where he will be doing coronary and structural interventional procedures alongside former Duke fellow, Sharif Halim.
Jaidip will be starting his practice in Portland, Maine where he will be a coronary and peripheral interventionalist in a practice with former Dukie, Ed Sze.
Angela is moving to Nashville, Tennessee where she will join the Vanderbilt University faculty and perform coronary and structural interventions.
Finally, Mike will be moving back to New Haven, Connecticut where he did his residency and joining the Yale University faculty to focus on research and perform coronary and peripheral interventions.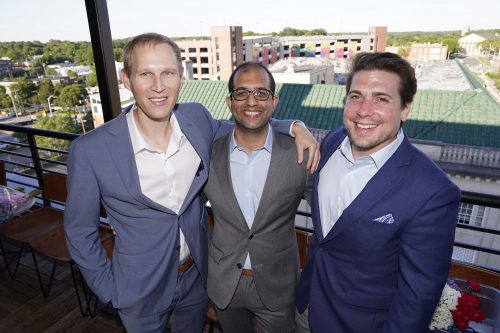 Huge congratulations to this outstanding group!
More so than most sections, our faculty and fellows are highly dependent on our nurses and staff members in the Cath Lab to stay up-to-date on devices and procedures, provide critical care services to patients needing urgent or emergent procedures, and to work in an environment that is both complex and (at times) extremely stressful. Our fearless leaders—Elizabeth Watts, Tara Bass, and Anna Mall—helped run the Cath Lab and Cardiovascular Short Stay Unit masterfully and they have maintained full staffing during this difficult year. This partnership has remained strong, and while we know that our fellows and staff will transition frequently, having a solid leadership team makes a huge difference and we appreciate their work and all the work of our nurses, techs, and other staff members. We also want to recognize the efforts of our APP colleagues who evaluate and treat our patients in the CVSSU and on the cardiology ward – we're excited to continue this partnership with Paige Rossman and Tiffany McEwen, among others.
Our site-based research team, including Stephanie Newbold, Mary Beth Summers, Jennifer Andrews, Jessica Ashworth, Inneke (Nikki) Johnson, Chris Pruitt, Krista Camuglia, and Cynthia Pierce have continued to do great work. Like many of our groups within the Heart Center Clinical Research Unit, our team worked from home during a large part of the last academic year. We are gearing up to resume full-time, in-person recruitment for studies involving TAVR, HOCM, coronary stents, acute coronary syndrome, and heart failure hemodynamics and new devices. Great work everyone.
We have 24 faculty members who take care of patients and do procedures in the Duke University Cath Lab, and we have two new faculty members that I would like to highlight:
Jennifer Rymer – Jenn joined our faculty after completing residency, chief residency, cardiology fellowship (and being chief fellow), and interventional cardiology fellowship at Duke. She splits her time between seeing patients and doing coronary/vascular procedures at Duke Hospital and Mariah Parham Hospital and doing clinical research at the DCRI. Her enthusiasm for cardiology and work product are truly impressive, and we are incredibly happy to have her on our Cath Lab faculty.  Jenn is one of five international winners of the women as one escalator award for your early career contributions to the field.  Winners are awarded $50,000 in support of an approved research project, participation in networking events, and attend quarterly online research mentorship meetings with field leaders and previous Escalator Award winners.
Marat Fudim – Marat's primary appointment is within Heart Failure, but his focus on hemodynamics and new devices has led to him spending some of his time in the Cath Lab. We expect Marat to continue to expand the hemodynamic investigation of patients with suspected or confirmed heart failure and focus on early phase device and diagnostic modalities. Marat was awarded the 2021 Zipes Award from the American College of Cardiology at this year's Scientific Sessions. His zest for new knowledge and to try new things (including devices and procedures) are exciting, and we're happy to partner with him in the Cath Lab.
As an interventional cardiology faculty, we have continued to improve our delivery and coordination of care, fellow education, and research opportunities. Some examples include:
Duke Heart Team: As a group, we consistently meet every Tuesday morning at 6:30am (in-person and webex) to review patient care decisions and angiograms; this meeting has served as an example of the close partnership we have in Duke Heart among cardiologists, interventional cardiologists, and cardiac surgeons.
Duke TAVR Team: This team meets every Friday morning at 6:30am (typically in-person) to review imaging tests (echos, CTAs, angiograms) and discuss the most appropriate management for high-risk patients with aortic valve disease, concomitant coronary disease, and other valvular problems. TAVR procedures continue to be done in the hybrid OR and multiple Duke Heart partners offer this service including cardiologists (Kevin Harrison, Todd Kiefer, and Andrew Wang) and cardiac surgeons (Chad Hughes, Jeff Gaca, Adam Williams, and Ryan Plichta). This team has performed >250 TAVR procedures over the last year. Special thanks to Edana Christy (valve coordinator), Lynne Koweek (chest radiology), and our Cath Lab and OR staff for the excellent work and collaboration.
Chronic total occlusions: Izzy Othman has continued to offer and perform complex procedures to recanalize chronic total occlusions of the coronary arteries. Typically, ischemia/viability testing is used to determine the appropriateness for these higher risk procedures, and Izzy has been able to draw referrals from our Duke Heart practices and from all over the state. Great work, Izzy!
MitraClip: Andrew Wang continues to develop and expand the MitraClip program at Duke, using data that he and others collected and published from the COAPT study and registry. Andrew performs these procedures with the help of our Echo/TEE partners and Duke Anesthesia, and he has availability on most Tuesdays to coordinate and complete these procedures.
Coronary/peripheral revascularization: As I describe below, the expansion of coronary and peripheral revascularization continues in the community and this has meant that we do fewer coronary interventions in Duke North Hospital. But that also means that our faculty members take on more complex and high-risk procedures for patients with multivessel CAD, more challenging anatomy, cardiogenic shock, and other conditions – and our Heart Team approach is one that we're very proud of. Our group of vascular interventionalists (Manesh Patel, Larry Crawford, Tony Gutierrez, Jenn Rymer, Raj Swaminathan, Raj Swamy, Schuyler Jones) also continue to be active and often collaborate with our Vascular Surgery partners who do procedures alongside us in the Duke Cath Lab (Kevin Southerland, Chandler Long, Mitch Cox, Zach Williams).
Adult Congential: Rich Krasuski has developed a niche for complex congenital procedures, as well as for ASD/PFO closures and pulmonary angioplasty for CTEPH.
Quality improvement work: As he has done for the past few decades, Jimmy Tcheng has led our quality improvement efforts in the Cath Lab. Partnering with multiple hospitals (including many Duke Lifepoint hospitals), Jimmy leads M&M conferences, cine reviews, and QI projects in many states and most of North Carolina.
Diagnostic fellow education: Tom Bashore continues to teach our diagnostic and interventional fellows about hemodynamics, radiation safety, and other aspects of diagnostic catheterization. I don't know what we'll do when Bashore retires, but I have a feeling that our group including Todd Kiefer, Mike Sketch, and Tom Gehrig will step in to fill that gap.
Our faculty members continue to do great work at Duke University Hospital, but I would be remiss not to mention the great interventional cardiology work at other centers including Duke Regional (Matt Brennan, Stew Jones, Mike Komada), Duke Raleigh (James Mills, Mark Leithe), Alamance Regional (Dwayne Callwood, Alex Parachos, Ken Fath, Bruce Kowalski), Sovah Danville (Bosh Zakhary, Kevin Lingle, Brian Zagol, David Kotlaba), Lumberton (Bill Herzog), Sanford/Central Carolina Hospital (Rajiv Swamy), Wake Med Cary (Manesh Patel, Izzy Othman, Tom Gehrig), Henderson/Mariah Parham Hospital (Syd Short, Jennifer Rymer, Tony Gutierrez, Manesh Patel, Rajesh Swaminathan, Schuyler Jones), and the Durham VA Medical Center (Sunil Rao, Rajesh Swaminathan, Tony Gutierrez, Tom Povsic, Mitch Krucoff).
On the research side, a number of faculty have led important clinical trial and outcomes research projects. To my best count, the faculty have published 250 manuscripts (collectively) over the past 12 months in high-impact journals including New England Journal of Medicine, Lancet, Circulation, Journal of the American College of Cardiology, European Heart Journal, and JAMA Cardiology. Impressively, 75% of our faculty have published this year, with many publications involving multiple members of the Duke Cath Lab team. I have highlighted a few – the first 6 publications represent studies where we enrolled patients at Duke and our faculty had key leadership roles and/or were included on the main/subsequent publications:
Overall, we're incredibly proud of the work we do in the Duke Interventional Cardiology section, and we are excited to expand our services throughout North Carolina. Really excellent work everyone!
Year-End Celebration for Interventional & Structural Heart Fellowship Programs
Our graduating structural heart fellow and three interventional fellows were celebrated in downtown Durham on Thursday evening at The Roof restaurant at The Durham hotel. Congratulations to Angela Lowenstern, who completed the Structural Heart Disease Fellowship Training program; and to Adam Banks, Jaidip Chakravartti and Mike Nanna who have completed the Interventional Cardiology Fellowship Training program. (See additional highlights from Schuyler Jones, above)
The Warren S. and Gloria R. Newman Fellowship in Cardiology award established in Honor of Robert H. "Jess" Peter, MD, was awarded to Adam Banks. Congratulations, Adam!
Best wishes to each of them as they embark on their new positions! Congratulations!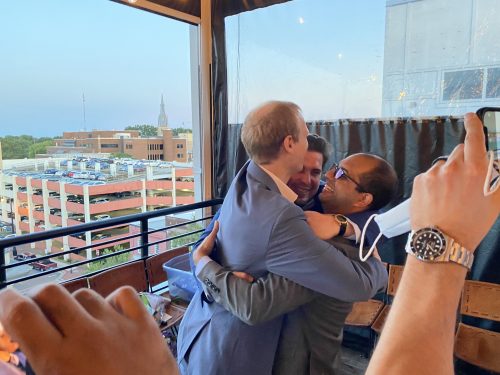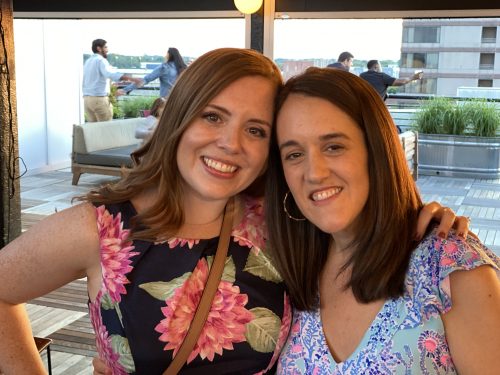 McDermott Earns DNP at Hopkins
Congratulations to Jaime McDermott, cardiology nurse practitioner, for completing her Doctor of Nursing Practice degree with
Johns Hopkins University School of Nursing in May. Her DNP capstone project, Improving Advanced Practice Provider Knowledge and Screening of Medication Adherence in Cardiovascular Patients received the JHU Doctor of Nursing Practice Executive Track program award for greatest clinical impact!
McDermott began the JHU program in 2017 before relocating to Durham, NC for a nursing position at Duke Heart in 2018. She took time off from the program to settle into her new role here at Duke before rejoining the program in January 2020.
She worked closely with Jill Engel and Bradi Granger – both of whom hold DNP degrees — to map out a doctoral capstone project. In September of 2020, Jaime successfully designed a medication adherence screening tool and an educational program for APPs. When the project wrapped up two months later, data showed that by having the APPs use the screening tool in the electronic health record, screening for medication adherence increased from 3.7% to over 73%.
"Jaime is such a tremendous cardiology APP provider and Duke Heart team member," says Jill Engel, associate vice president of Duke Heart Services. "Her capstone project exemplified what a QI DNP capstone project should look like. She was masterful in her execution and positively impacted Duke Heart patients and the provider team. Dr. Bradi Granger was a tremendous asset, as always, in the academic partnership with the Johns Hopkins faculty. People like Jaime and Bradi make Duke Heart the great place it is."
Congratulations Dr. McDermott!
PHASeR Team Earns FHIT Award
Congratulations to Deepak Voora and his research team! Voora leads the Pharmacogenomics program at the VA called PHarmacogenomics Action for Cancer Survivorship (PHASeR) — and they just won a 2021 Federal Health IT Award!
Awardees were celebrated this past week during the 7th Annual FedHealthIT Innovation Awards, an event that recognizes and honors the Federal Health technology and consulting community by celebrating the programs nominated and selected by their peers for driving innovation and results across the Department of Veterans Affairs, Military Health, Health and Human Services, and Centers for Medicare & Medicaid Services.
PHASeR is a clinical program bringing preemptive pharmacogenetic testing to up to 250,000 Veterans across the VA system. Congratulations, Deepak!
Patient Compliment for Heart Valve Replacement Team & Support Staff
We received a note this week from Lisa Clark Pickett, Chief Medical Officer for Duke University Hospital with a compliment for some of our Duke Heart team members:
"Good Morning, I was just delighted to read this lovely compliment about your team on our Patient Satisfaction survey.  I wanted to share so that you can enjoy the good words and convey to your team at huddle, etc.! Best wishes, Lisa
"During my week's visit, I was impressed by the entire staff of the hospital, from the doctors and nurses to the food service, sanitation, and other support groups. Everyone I encountered was friendly, helpful, respectful, caring, professional, and inspired confidence that my decision to go to Duke University Hospital for my heart valve repair surgery was the correct choice." — Name withheld for privacy
Great job, team!
Kudos to Pena!
I just wanted to give a shout out to Heather Pena who just obtained official certification in patient safety (CPPS). Kudos to her and all the work she does in support of the Heart Center. She is a great asset to Heart Services and the DUH SSA group, always sharing great insights and best practices. It is always a pleasure working with Heather and I am excited she reached this achievement. — Submitted by Kara Lyven, MBA, CPPS, Executive Director, Patient Safety, Duke University Hospital
Congratulations, Heather!!
Duke Health: Change Passwords; New Policy
Good news, Duke has updated its password policy! Why is this good news? Duke Health users and sponsored guests must update passwords as soon as possible, but will not be required to change passwords in the future – unless you want to update or your password is compromised.
The new password policy removes the requirement to update passwords every 180 days and requires passwords to be at least 12 characters (special characters and numbers are no longer required); however, including special characters creates a stronger password. In addition, the option to update passwords using CTRL+ALT+DEL is no longer available.
Team members can update their passwords now, but will receive a notice from DHTS via email that requires passwords to be changed by a deadline. Please visit the OIT Account Self Service Portal and create a new NetID password that doesn't expire.
Tip: If working remotely (at a non-Duke site) users should connect to the Duke Virtual Private Network (VPN) before updating passwords (see page 29 of the Technology Toolkit for more information about the VPN). Passwords can be updated without connecting to the VPN, but passwords are synced across all your Duke log-ins faster if connected to the VPN.
Visit https://security.duke.edu/news-alerts/new-password-policy to review the password policy FAQ.
Attention Omnicell Users
Due to Omnicell's password policy, Duke Health employees that use Omnicell, with the exception of Duke Raleigh Hospital employees, must keep passwords to 15 characters or less; Duke Raleigh Hospital employees must keep passwords to a maximum of 30 characters.
We are working with Omnicell to upgrade their password policy to remove restrictions across Duke Health. Check the password policy information page for updates.
Contact the Duke Health Service Desk at (919) 684-2243 for technical support.
Have news to share?
If you have news to share with the Pulse readership, please contact Tracey Koepke, director of communications for Duke Heart at tracey.koepke@duke.edu. We would love to hear about your latest accomplishments, professional news, cool happenings, and any events or opportunities that may be of interest to our Duke Heart family. Please call with any questions: 919-681-2868. Feedback on Pulse is welcome and encouraged.
Duke Heart in the News:
June 10 — Harry Severance
VN Express
Seven-day quarantine for fully vaccinated foreigners feasible: experts
https://bit.ly/3d1ZEp3
June 16 — Christopher Granger and Sean Pokorney
Physician's Weekly
DOAC Reversal Agents Tied to High Bleeding Risk
https://bit.ly/3gM5MTk
June 18 — Michael Carboni (pediatric cardiology)
WSOC-TV (Charlotte)
CDC investigating possible link between mRNA COVID-19 vaccines and heart inflammation
https://bit.ly/3wQYTa8
June 18 — Manesh Patel
tctMD
Unseen and Unheard: In the Cath Lab, Anti-racism Efforts Fall Short
https://bit.ly/3wTKavc
June 22 — Myra Ellis
Physician's Weekly
New Protocol Aims for Early Extubation in Cardiac Surgery Patients
https://bit.ly/35JwnLM
June 22 — Manesh Patel
WNCN/CBS17.com
Triangle hospitals see a handful of potential heart inflammation cases in COVID-19 vaccine recipients
https://bit.ly/3wUQd2t
June 23 — Renato Lopes
Medscape
No Benefit to Therapeutic Oral Anticoagulation in COVID-19 Hospitalizations
https://www.medscape.com/viewarticle/953573?src=
June 24 — Sunil Rao
Medscape
Could the Surgisphere Lancet and NEJM Retractions Debacle Happen Again?
https://www.medscape.com/viewarticle/953653
Division of Cardiology Publications Indexed in PubMed June 19-23, 2021
Boshara A, Patel A, Alasaad M, Dutcheshen KJ, LaLonde TA, Schreiber TL, Mehta RH, Kaki A, Rosman HS. Cardiogenic Shock Complicating Acute Myocardial Infarction Treated With Percutaneous Coronary Intervention Supported by Impella: Implications of Advanced Age and Refractory Shock on Outcomes. Crit Care Explor 2021;3(6):e0447. PM: 34136823.
de Boer RA, Aboumsallem JP, Bracun V, Leedy D, Cheng R, Patel S, Rayan D, Zaharova S, Rymer J, Kwan JM, Levenson J, Ronco C, Thavendiranathan P, Brown SA. A new classification of cardio-oncology syndromes. Cardiooncology 2021;7(1):24. PM: 34154667.
Dungan JR, Qin X, Hurdle M, Haynes CS, Hauser ER, Kraus WE. Genome-Wide Variants Associated With Longitudinal Survival Outcomes Among Individuals With Coronary Artery Disease. Front Genet 2021;12:661497. PM: 34140969.
Granger CB, Pokorney SD. Preventing and Managing Bleeding With Anticoagulation for Atrial Fibrillation. J Am Coll Cardiol 2021;77(24):3002-3004. PM: 34140102.
Hess CN, Cannon CP, Beckman JA, Goodney PP, Patel MR, Hiatt WR, Mues KE, Orroth KK, Shannon E, Bonaca MP. Effectiveness of Blood Lipid Management in Patients With Peripheral Artery Disease. J Am Coll Cardiol 2021;77(24):3016-3027. PM: 34140105.
Lowenstern A, Li S, Navar AM, Virani SS, Roger VL, Robinson JG, Goldberg AC, Kampman W, Peterson ED, Wang TY. Patient perceptions and use of non-statin lipid lowering therapy among patients with or at risk for atherosclerotic cardiovascular disease: Insights from the PALM registry. Clin Cardiol 2021;44(6):863-870. PM: 34008247.
Meyersohn NM, Mayrhofer T, Corey KE, Bittner DO, Staziaki PV, Szilveszter B, Hallett T, Lu MT, Puchner SB, Simon TG, Foldyna B, Voora D, Ginsburg GS, Douglas PS, Hoffmann U, Ferencik M. Association of Hepatic Steatosis With Major Adverse Cardiovascular Events, Independent of Coronary Artery Disease. Clin Gastroenterol Hepatol 2021;19(7):1480-1488. PM: 32707340.
Nachun D, Lu AT, Bick AG, Natarajan P, Weinstock J, Szeto MD, Kathiresan S, Abecasis G, Taylor KD, Guo X, Tracy R, Durda P, Liu Y, Johnson C, Rich SS, Van Den Berg D, Laurie C, Blackwell T, Papanicolaou GJ, Correa A, Raffield LM, Johnson AD, Murabito J, et al. Clonal hematopoiesis associated with epigenetic aging and clinical outcomes. Aging Cell 2021;20(6):e13366. PM: 34050697.
Serfas JD, Thibault D, Andersen ND, Chiswell K, Jacobs JP, Jacobs ML, Krasuski RA, Lodge AJ, Turek JW, Hill KD. The Evolving Surgical Burden of Fontan Failure: An Analysis of The Society of Thoracic Surgeons Congenital Heart Surgery Database. Ann Thorac Surg 2021;112(1):179-187. PM: 32763267.
Slawsky E, Ward-Caviness CK, Neas L, Devlin RB, Cascio WE, Russell AG, Huang R, Kraus WE, Hauser E, Diaz-Sanchez D, Weaver AM. Evaluation of PM air pollution sources and cardiovascular health. Environ Epidemiol 2021;5(3):e157. PM: 34131618.
Smith LR, Darty SN, Jenista ER, Gamoneda GL, Wendell DC, Azevedo CF, Parker MA, Kim RJ, Kim HW. ECG-gated MR angiography provides better reproducibility for standard aortic measurements. Eur Radiol 2021;31(7):5087-5095. PM: 33409772.