Chief's message:
The end of the academic year is highlighted by fellowship graduation ceremonies, time with family and friends, and this weekend we had the additional benefit of having Father's Day.  We are blessed at Duke Heart with the lifeblood of our program, the fellowship training program.  We have the privilege of training the next generation of cardiovascular leaders with an amazing group of fellows, and that was on display at our year end get together.  Chris and Bradi Granger kindly shared their home/farm in Bahama, NC for the festivities.  You will find the pictures and updates below of all the amazing faculty and fellow awards.   Additionally, hopefully all of you got sometime this weekend to celebrate father's day.
Highlights of the week:
Year-End Celebration for General Cardiology Fellowship Programs
On Friday evening, we gathered (together, in-person, for the first time in far too long!) to celebrate five of our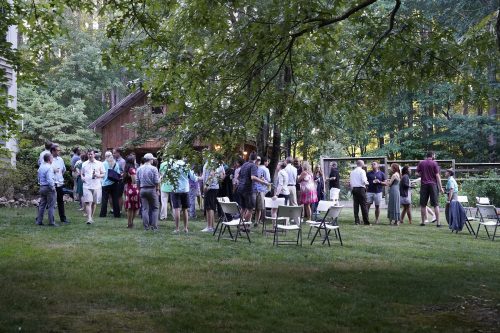 fellows who are completing their training with us and those who are completing one program and transferring into their next fellowship. The general cardiology fellowship year-end dinner, held at the home of Drs. Chris and Bradi Granger and hosted by fellowship program director Anna Lisa Crowley, honored fellows from the Cardiovascular Disease, Advanced Training in Cardiology, and Clinical Investigator Pathway – Cardiovascular Disease fellowship programs. The casual affair featured a BBQ dinner, an awards program and presentation, the annual Fellows video, live music performed by Tony & Ashli Carnicelli and Rob Mentz, MCNA$TY, some free ranging chickens and a dog named Tilley.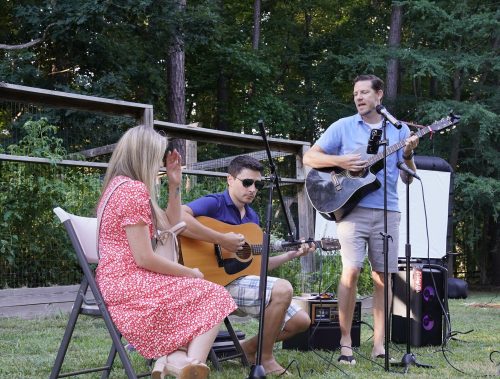 Congratulations to:
Rahul Loungani, completing the Advanced Heart Failure and Transplant Cardiology program. He has accepted a position with Piedmont Hospital in Atlanta.
Hirak Shah, completing the Advanced Heart Failure and Transplant Cardiology program. He has accepted a position with the University of Kansas in Kansas City.
Angela Lowenstern, our Structural Heart Fellow, is completing the Advanced Training in Cardiology program. She has accepted a position with Vanderbilt University in Nashville.
Gedion Titus Ng'eno, completing the Advanced Training in Cardiology program. He will join the Duke faculty.
Jordan Pomeroy, completing the Clinical Investigator Pathway – Cardiovascular Disease program. He has accepted a position with the Food and Drug Administration in Silver Spring.
The following fellows are completing one of the general cardiology fellowship programs on June 30 and transitioning to another. They are:
Amanda Coniglio, completing Advanced Heart Failure and Transplant Cardiology training and returning to the Cardiovascular Disease program for her third year. She will serve as Duke's chief cardiology fellow for 2021-2022.
Caitlin Dresher, Michelle Kelsey, Navid Nafissi, Vishal Rao, and Lauren Truby are completing the Cardiovascular Disease program and moving into Advanced clinical and research training in the Cardiology fellowship.
Kevin Friede, Zachary Wegermann and George Sipa Yankey are completing the Advanced Training in Cardiology program and moving into Interventional Cardiology fellowship.
Anthony Carnicelli and Marc Samsky are completing the Advanced Training in Cardiology program and moving into Advanced Heart Failure and Transplant Cardiology fellowship.
Jeffrey Dixson will return to the Cardiovascular Disease fellowship program on July 1 to complete his third year. He will complete the Non-pulmonary Critical Care Medicine fellowship on June 30.
Christopher Wrobel will take a one year break from the Cardiovascular Disease program to complete the Advanced Heart Failure and Transplant Cardiology fellowship, starting July 1.
John Serfas is completing the Adult Congenital Heart Disease fellowship and moving into the Advanced Training in Cardiology program as the Structural Heart Fellow.
As is our custom at year-end, we presented the following annual awards, which are selected by the cardiology faculty:
The Cassell-Saperstein Award recognizes a cardiology fellow who most demonstrates a commitment to teaching and passion for clinical education. Our recipient this year is George Sipa Adjay Yankey, Jr.
The Brandt and Belinda Louie Award recognizes a cardiology fellow who demonstrates a commitment to excellence in all three missions of Duke Heart (clinical, education, and research). Our recipient this year is Kevin Friede.
The Joseph G. Greenfield Scholar in Cardiology Award recognizes a fellow demonstrating dedication and contribution to research. Our recipient this year is Lauren Truby.
The following annual awards, selected by the fellows, were also presented:
The Walter J. Floyd Award is presented to a fellow who demonstrates most outstanding clinical skills and acumen. Our recipient this year is Vishal Rao.
The Bashore Faculty Teaching Award is presented to a faculty member demonstrating dedication and excellence in teaching. Our recipient this year is Jason Katz.
The Fellow Mentorship Award is presented to a faculty member demonstrating dedication and excellence in mentoring fellows' careers. Our recipient this year is Adam DeVore.
The Outstanding Service Award is presented to a hospital staff member who demonstrates dedication to and excellence in fellow education. Our recipient this year is Richard Palma.
Congratulations to all awardees and — once again to Rahul, Hirak, Angela, Titus and Jordan — all the best as you transition into the next phase of your careers! Many thanks to all who joined us for a joy- and music-filled evening — special thanks to the fellows for their annual video presentation, to the Grangers for a beautiful venue; to Anna Lisa Crowley, Manesh Patel and Amanda Coniglio for a truly wonderful event, welcoming remarks and presentation. Great job, everyone!
Wofford Heading to Atrium Health
Brian M. Wofford, Vice President of Heart Operations in Durham County, has accepted a position at Atrium Health as the VP of Clinical Integration. His last day at Duke will be June 22. Brian has been on the Duke Heart team for four years and has spent 11 years overall at Duke. He is well-known for his excellent communication skills, ability to network and provide mentorship.
Brian came to Duke in 2010 as an Administrative Fellow and has supported key operational and strategic projects as an Administrative Manager for Strategic Operations including leading the Facility Transition Planning Team for the Duke Medical Pavilion. Brian's other roles at Duke University Hospital include Administrative Director of Strategic Operations, Administrative Director for Perioperative Ambulatory Services, Interim VP of Emergency Services and Patient Flow and VP of Medical, Surgical and Critical Care Services.
In his most recent role as VP of Heart Services for Durham County, Brian provided support for the expansion of Respiratory Care Services to a system model, partnered with the operational teams and faculty on key construction projects, and co-created the Heart Patient and Family Advisory Council. Brian played a key role as a trainer for other leaders and team members in the Duke Quality System Commit to Zero Harm journey and served as the Operations Sections Co-Chief for the DUH COVID-19 Command Center.
Brian is a talented leader who focuses on relationship building and growing new leaders as demonstrated by the numerous Duke Administrative fellows he has mentored over the years. We very much appreciate Brian's leadership and commitment to Duke University Hospital and Duke Heart and his strong commitment to excellence, safety and quality.
Please join us in congratulating Brian and thanking him for his tremendous contributions during his time with us!
Frazier-Mills Appointed to Editorial Board
Congratulations to Camille Frazier-Mills from our Electrophysiology team – she has been appointed to the Editorial Board of the journal Circulation: Arrhythmia and Electrophysiology. She joins fellow faculty members Sana Al-Khatib, Jim Daubert, Jon Piccini and Kevin L. Thomas who also serve on the editorial board.
Congratulations, Camille!
Southerland Named Wylie Scholar for 2021
Kevin Southerland, MD, an assistant professor of vascular surgery who has been working in the Duke
Cardiovascular Research Center under the mentorship of Dr. Chris Kontos, was mentioned earlier this month in the Pulse after he was awarded a Strong Start Award from the School of Medicine. We are pleased to share that Southerland is this year's winner of the prestigious Wylie Scholar Award from the Vascular Cures Foundation and the Society for Vascular Surgery Foundation.
The Wylie Scholar Award is given to only one vascular surgeon-scientist each year, and the prize's previous winners since it was first awarded in 1996 have gone on to become many of the top academic vascular surgeon-scientists in North America. The award is for his project "Transcriptional Dynamics and Heterogeneity of Macrophages in Chronic Limb Threatening Ischemia." Like the Strong Start Award, the three-year Wylie Scholar Award will provide support for Kevin's work to understand the mechanisms of critical limb threatening ischemia (CLTI).
Kevin is also supported by a KL2 award from the Duke CTSA, and he is co-investigator on an NIH U01 award with his collaborator Yarui Diao in the Department of Cell Biology. Kevin's work has focused on single cell transcriptomic and genomic data in clinical and preclinical models to elucidate mechanisms for tissue loss in limb ischemia.
Congratulations, Kevin!!
Bonadonna Named to AmSECT Board of Directors
We learned this week that Desiree Bonadonna, chief of Perfusion Services, has been appointed to the American Society of Extracorporeal Technology (AmSECT) Board of Directors as the Extracorporeal Life Support Organization (ELSO) Liaison. The position places her on the ELSO Steering Committee, as well.
The role of the ELSO Liaison is to promote the science of Extracorporeal Life Support in the perfusion community by maintaining an active role in the collaborative efforts of both AmSECT and ELSO. The position, which requires clinical experience in providing extracorporeal life support to neonatal, pediatric and adult patients, is seen as integral in establishing and maintaining all levels of communication across the steering committee, leaders of ELSO and the Board of Directors of AmSECT.
The role is effective July 1. Congratulations, Desiree!
Duke Heart APPs Support MSN Students
Several of our ambulatory APP members shared their knowledge and skills with MSN students from the Duke School of Nursing over the past week during the Nurse Practitioner Intensive.
Michelle Johnson, NP-C discussed cases of Adults with Congenital Heart Disease and Mike Strub, PA-C did a live demonstration of cardiac ultrasound and shared his knowledge of Point of Care Cardiac Ultrasound with students across the country via Zoom. Allen Stephens, PA-C discussed EKG interpretation and Kevin Cox, NP-C facilitated discussions on Initiating Home Inotropes and Caring for an LVAD in the outpatient setting.
Great work, everyone! Hat tip to Midge Bowers for sharing this update with us!
Cardiology Faculty Members Participate in AAHFN
This week, the American Association of Heart Failure Nurses (AAHFN) held its 17th Annual Meeting, including a pre-meeting Mechanical Circulatory Support (MCS) Bootcamp and Pharmacology workshop this week. The AAHFN thanks Stu Russell, Jason Katz and Marat Fudim for sharing their expertise with the audience.
Thank you to Stephanie Barnes, Clinical Director for Advanced Heart Failure Services, for sharing this with Pulse!
ICYMI: Rauch Foundation Makes Historic Gift for Financial Aid
A family foundation established by the late Dudley Rauch, AB'63, has pledged $30 million to establish an endowment for need-based financial aid for medical students in the Duke University School of Medicine.
The gift by the Rauch Family Foundation is the single largest commitment for financial aid ever made to the School of Medicine.
School of Medicine Dean Mary E. Klotman said the Rauch Family Foundation's generosity will ease the financial burden on generations of medical students at Duke. The gift will help open the path to a career in medicine to more students from diverse backgrounds, and enhance Duke's ability to compete for the highest caliber of incoming students.
To read the full story, please see: https://bit.ly/3iMhpMF.
Upcoming Opportunities/Save the Date:
Cardiovascular Risk Management: State of the Science Summit
June 23: — Institutional Perspectives in Cardiology: Cardiovascular Risk Management webinar with Manesh Patel, Schuyler Jones, Tracy Wang and Christopher Granger. 7 to 8:30 p.m. EST. Virtual. Registration is free. They'll cover:
CAD/PAD: Identifying Risk & Summary of Recent Clinical Trials
Extended Thromboprophylaxis: What Do We Know About Scoring, Risk and Contemporary Trials?
Atrial Fibrillation: What Have We Learned About NOACs in Special Populations?
Putting This All Together: Treatment Pyramid
To learn more, please visit: HCPLive Institutional Perspectives in Cardiology.
Have news to share?
If you have news to share with the Pulse readership, please contact Tracey Koepke, director of communications for Duke Heart at tracey.koepke@duke.edu. We would love to hear about your latest accomplishments, professional news, cool happenings, and any events or opportunities that may be of interest to our Duke Heart family. Please call with any questions: 919-681-2868. Feedback on Pulse is welcome and encouraged.
Duke Heart in the News:
June 11 — Sunil Rao and Zachary Wegermann
MDEdge/Cardiology
First risk score to predict bleeding risk after TAVR
https://bit.ly/3iWpVZN
June 14 — Christopher Granger and Sean Pokorney
Medpage Today
DOAC Antidotes No Panacea for Fatal Bleeds
https://www.medpagetoday.com/cardiology/prevention/93096
June 14 — Christopher Granger and Sean Pokorney
Medscape
Reversal Agents Curb DOAC-related Bleeding but Deaths Still High
https://www.medscape.com/viewarticle/953045#vp_2
June 17 — Vanessa Blumer
Univision NC/WUVC 40
"Fue un héroe": padre muere ahogado luego de rescatar a su hijo
(Story is about a drowning/water safety & importance of CPR)
https://bit.ly/35Aem2o
Division of Cardiology Publications Indexed in PubMed June 10-18, 2021
Arnold SV, Petrossian G, Reardon MJ, Kleiman NS, Yakubov SJ, Wang K, Hermiller J, Harrison JK, Deeb GM, Huang J, Cohen DJ. Five-Year Clinical and Quality of Life Outcomes From the CoreValve US Pivotal Extreme Risk Trial. Circ Cardiovasc Interv 2021;14(6):e010258. PM: 34092091.
Coles TM, Hernandez AF, Reeve BB, Cook K, Edwards MC, Boutin M, Bush E, Degboe A, Roessig L, Rudolph A, McNulty P, Patel N, Kay-Mugford T, Vernon M, Woloschak M, Buchele G, Spertus JA, Roe MT, Bury D, Weinfurt K. Enabling patient-reported outcome measures in clinical trials, exemplified by cardiovascular trials. Health Qual Life Outcomes 2021;19(1):164. PM: 34120618.
Friedman DJ, Emerek K, Sørensen PL, Zeitler EP, Goldstein SA, Al-Khatib SM, Søgaard P, Graff C, Atwater BD. Sex differences in left ventricular electrical dyssynchrony and outcomes with cardiac resynchronization therapy. Heart Rhythm O2 2020;1(4):243-249. PM: 34113878.
Friedman DJ, Field ME, Rahman M, Goldstein L, Sha Q, Sidharth M, Khanna R, Piccini JP. Catheter ablation and healthcare utilization and cost among patients with paroxysmal versus persistent atrial fibrillation. Heart Rhythm O2 2020;2(1):28-36. PM: 34113902.
Lam CSP, Giczewska A, Sliwa K, Edelmann F, Refsgaard J, Bocchi E, Ezekowitz JA, Hernandez AF, O'Connor CM, Roessig L, Patel MJ, Pieske B, Anstrom KJ, Armstrong PW. Clinical Outcomes and Response to Vericiguat According to Index Heart Failure Event: Insights From the VICTORIA Trial. JAMA Cardiol 2021;6(6):706-712. PM: 33185650.
Lopes RD, de Barros E Silva PGM, Furtado RHM, Macedo AVS, Bronhara B, Damiani LP, Barbosa LM, de Aveiro Morata J, Ramacciotti E, de Aquino Martins P, de Oliveira AL, Nunes VS, Ritt LEF, Rocha AT, Tramujas L, Santos SV, Diaz DRA, Viana LS, Melro LMG, et al. Therapeutic versus prophylactic anticoagulation for patients admitted to hospital with COVID-19 and elevated D-dimer concentration (ACTION): an open-label, multicentre, randomised, controlled trial. Lancet 2021;397(10291):2253-2263. PM: 34097856.
Murphy SP, Prescott MF, Maisel AS, Butler J, Piña IL, Felker GM, Ward JH, Williamson KM, Camacho A, Kandanelly RR, Solomon SD, Januzzi JL. Association Between Angiotensin Receptor-Neprilysin Inhibition, Cardiovascular Biomarkers, and Cardiac Remodeling in Heart Failure With Reduced Ejection Fraction. Circ Heart Fail 2021;14(6):e008410. PM: 33998243.
Nagaraja V, Rao SV, George S, Mamas M, Nolan J. Evidence-based arterial access site practice in patients with acute coronary syndromes: Has SAFARI-STEMI changed the landscape? Catheter Cardiovasc Interv 2021;97(7):1417-1421. PM: 33837993.
Patel D, Kumar A, Black-Maier E, Morgan RL, Trulock K, Wilner B, Nemer D, Donnellan E, Tarakji KG, Cantillon DJ, Varma N, Saba SF, Al-Khatib SM, Wilkoff BL, Rickard JW. Cardiac Resynchronization Therapy With or Without Defibrillation in Patients With Nonischemic Cardiomyopathy: A Systematic Review and Meta-Analysis. Circ Arrhythm Electrophysiol 2021;14(6):e008991. PM: 33999647.
Piccini JP, Braegelmann KM, Simma S, Koneru JN, Ellenbogen KA. Risk of atrioesophageal fistula with cryoballoon ablation of atrial fibrillation. Heart Rhythm O2 2020 May 28;1(3):173-179. PM: 34113871.
Rao SV, Wegermann ZK. Quo Vadis, Bleeding Risk Models? JACC Cardiovasc Interv 2021 Jun 14;14(11):1207-1208. PM: 34112455.
Rodriguez F, Solomon N, de Lemos JA, Das SR, Morrow DA, Bradley SM, Elkind MSV, Williams JH, Holmes D, Matsouaka RA, Gupta D, Gluckman TJ, Abdalla M, Albert MA, Yancy CW, Wang TY. Racial and Ethnic Differences in Presentation and Outcomes for Patients Hospitalized With COVID-19: Findings From the American Heart Association's COVID-19 Cardiovascular Disease Registry. Circulation 2021 Jun 15;143(24):2332-2342. PM: 33200953.
Samsky MD, Hellkamp A, Hiatt WR, Fowkes FGR, Baumgartner I, Berger JS, Katona BG, Mahaffey KW, Norgren L, Blomster JI, Rockhold FW, DeVore AD, Patel MR, Jones WS. Association of Heart Failure With Outcomes Among Patients With Peripheral Artery Disease: Insights From EUCLID. J Am Heart Assoc 2021 Jun 15;10(12):e018684. PM: 34056910.
Segar MW, Jaeger BC, Patel KV, Nambi V, Ndumele CE, Correa A, Butler J, Chandra A, Ayers C, Rao S, Lewis AA, Raffield LM, Rodriguez CJ, Michos ED, Ballantyne CM, Hall ME, Mentz RJ, de Lemos JA, Pandey A. Development and Validation of Machine Learning-Based Race-Specific Models to Predict 10-Year Risk of Heart Failure: A Multicohort Analysis. Circulation 2021 Jun 15;143(24):2370-2383. PM: 33845593.
Sutton NR, Banerjee S, Cooper MM, Arbab-Zadeh A, Kim J, Arain MA, Rao SV, Blumenthal RS. Coronary Artery Disease Evaluation and Management Considerations for High Risk Occupations: Commercial Vehicle Drivers and Pilots. Circ Cardiovasc Interv 2021 Jun;14(6):e009950. PM: 34092098.
Wang A, Truong T, Black-Maier E, Green C, Campbell KB, Barnett AS, Febre J, Loring Z, Al-Khatib SM, Atwater BD, Daubert JP, Frazier-Mills C, Hegland DD, Jackson KP, Jackson LR, Koontz JI, Lewis RK, Pokorney SD, Sun AY, Thomas KL, Bahnson TD, Piccini JP. Catheter ablation of atrial fibrillation in patients with diabetes mellitus. Heart Rhythm O2 2020 May 12;1(3):180-188. PM: 34113872.