Chief's message:
Memorial Day message.
On this Memorial day weekend, we take time to ensure we stop and remember those who have served our country and sacrificed for the freedoms and life we enjoy.  For those with the courage and calling to serve, we are thankful and blessed to have them as part of our community and country.  For those who have had the ultimate sacrifice and lost a life in the service of our country, we remain forever grateful to them and their families.
As this weekend is also a time for many graduations and transitions, we hope that you get to spend some time with family and friends.  We are also thankful for those of you in our Duke Heart community that are not in-hospital caring for patients and their loved ones.
We hope each of you has a safe and relaxing holiday weekend. Thank you for all you do.
Highlights of the Week
SCAI.23 Highlights
The Society for Cardiovascular Angiography & Interventions (SCAI) held its annual Scientific Sessions meeting from May 18-20 in Phoenix, AZ. A number of current and former Duke faculty helped shape the meeting.
Outgoing SCAI president, Sunil Rao, MD (now with NYU Langone) gave the presidential address to a packed room. Rao received a standing ovation for highlighting a number of SCAI accomplishments during his term including securing a formal NRMP Match process for interventional cardiology fellowship applicants; initiating a new "Ready to Launch" program to introduce future under-represented minority and female medical students to the field of interventional cardiology; establishing the SCAI Early Career Research Grant program, and supporting numerous advocacy and government relation efforts. Congrats, Sunil on all your contributions to the interventional community!
Raj Swaminathan, MD, current SCAI Board of Trustee member, presented primary results from his investigator-initiated national, multicenter ACCELERATION study evaluating the role of contrast FFR in physiologic assessment of intermediate coronary disease. He also participated in a number of events including presenting and serving as a panelist on a widely attended session on renal denervation.
Tony Gutierrez, MD co-presented data with Marc Bonaca on a novel drug being evaluated in ischemia-reperfusion injury following PCI. Gutierrez also spoke about optimal access site considerations for aorto-iliac disease and served as a mentor for the inaugural Ready to Launch program.
Jennifer Rymer, MD was recognized with one of SCAI's top 30 in their 30s award! This prestigious award is given to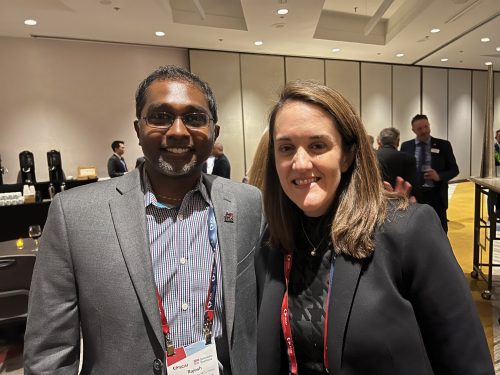 physicians who demonstrate professional excellence in their clinical practice. Rymer also gave a presentation on stent strategies for coronary bifurcations and mentored in the Ready to Launch program.
Raj Swamy, MD, an experienced interventionalist in the Duke Cath Lab who leads the Duke Lifepoint/CCH cardiology practice in Sanford, NC gave two invited talks on Imaging & AI and new scoring & non-compliant balloons for the treatment of complex, calcified lesions.
Amit Vora, MD, MPH (now with Yale) attended as a member of SCAI's competitive 2-year Emerging Leader Mentorship (ELM) program.  Recognized nationally as a leader in structural heart interventions, he served as a panelist on creative, advanced techniques in structural heart interventions and as a moderator in structural heart hemodynamic pearls.
Alexander Fanaroff, MD, MHS (now with U. Penn) was a recipient of one of SCAI's Early Career Research Grants and presented his research on "Racial, Socioeconomic, and Geographic Disparities in the Management of PAD and CLI" as well as a featured science presentation on the "Development & Baseline Characteristics of a 1.13M-patient longitudinal cohort to assess CLTI quality of care."
Strong work to all! We look forward to seeing a strong Duke presence at SCAI.24 in Long Beach, CA!
Friends of Nursing Gala & Duke Heart Winners
Duke's Friends of Nursing held their 2023 Gala Celebration of Nursing Excellence on Saturday, May 20 at the Durham Convention Center. We're pleased to celebrate all of the nurses who were nominated and those selected for awards this year, especially the eight winners from Duke Heart, which include:
Catie Dunn, RN received the 2023 Inez "Turk" James Award for Excellence in Nursing Practice. Catie is an RN and an assistant nurse manager for the DUH Patient Response Team. In her role she is responsible for the Behavioral Response Team and the Patient Response Team. This nominee is a powerful advocate for patients who are experiencing behavioral challenges. She strives to partner with the primary care team to identify the root cause of the behavior, rather than simply reacting to the behavior. Often, patients with behavioral challenges can be difficult to work with due to frequent refusal of care, sporadic communication, and caregiver discomfort. However, this nominee always remains unbiased and has an incredible ability to communicate calmly, concisely, and directly. Those who work with this nominee are proud to be her colleague due to her always ensuring that the patient is the focus and that each individual is treated with respect and dignity.
Ashley Frazier, RN, NMO received the 2023 Heart Center Award for Excellence in Cardiovascular Nursing in Recognition of Mary Ann Peter. She works on DUH 7100; Ashley is an exemplary model of a true, dedicated leader who is highly motivated to make a difference in the field of nursing. She promotes accountability, empowerment and team work as she analyze, investigates and obtain feedback to ensure service excellence will be provided.
Hope S. Miles, RN received the 2023 Nan & Hugh Cullman Heart Center Award for Excellence in Nursing Practice. Hope is an RN in the Duke Cardiopulmonary Lab at Duke University Hospital. She has more than 35 years of nursing experience, with 22 of those years serving the Duke community. She obtained her certification as a Certified Cardiac Rehabilitation Professional (CCRP) from the American Association of Cardiovascular and Pulmonary Rehab Profession Certification Commission (AACVPR) in 2017. Her nominator wrote, "Her kind and caring heart is evident to all in the way she approaches each and every interaction. She is always smiling and has a warm and approachable demeanor. She takes the time to listen to her patients and colleagues, making others feel instantly comfortable in her presence. She seeks to truly understand her patient's reality and the trauma that they have been through using compassion and empathy to make a connection. Through active listening, she engages the patient to examine and set personal goals at the start of the program that are measurable and achievable. She endorses a 'you can do it' attitude which motivates the patient to make lifestyle changes and face the future with hope.
Adam Millard, RN received the 2023 Award for Excellence in Critical Care Nursing. Adam is an RN and assistant nurse manager and CNIII on 7W, our Cardiothoracic Intensive Care Unit (CTICU). He also has his CCRN certification. His nominator wrote, "This nominee strongly exemplifies Duke's professional practice model through his commitment to patient care, performance improvement, and staff development, and multidisciplinary collaboration." He oversees the quality improvement committee within the unit supporting prevention of hospital acquired infection (HAI), hospital acquired pressure injury (HAPI), patient falls, blood product wastage, and monitoring the unit based fast-track extubation practices. He has led efforts to establish an electronic rounding tool that captures multiple audits, which enables staff to audit efficiently and provide effective coaching where needed. Additionally, he supports unit team members overseeing equipment and medical supplies. Through this work, the unit has decreased null transactions resulting in decreased waste of supplies and improved finances. Moreover, he provides real time coaching at the bedside on a daily basis through his CL role.
Paige Romer, RN received the 2023 Ernestine Davis & Edward L. Cole Award for Excellence in Coronary Care Unit Nursing. Paige is currently applying for her CN3, is certified as a critical care nurse (CCRN) and is co-chair of the unit based healthy work environment committee. Her nominator wrote, "She supports the team in any way possible and always with a positive attitude. She really makes the unit a great place to work and her positivity and "can do" attitude is infectious. She's currently in school and pursuing an advanced degree in nursing as family care practitioner. This nurse always strives to do the right thing and will hold others to the Duke and unit standards. I have often heard her giving constructive feedback to other nurses to ensure that we are providing the best care to our patients. She coaches in a way that is respectful and considerate, all while being understood clearly. I've over heard her helping family members understand the visitation policy and explains it in such a helpful way. She consistently makes sure that our patients' needs are met, as well as the families'. This nurse makes herself approachable and often you'll hear other nurses or physician ask her "what do you think?"
Amanda Rooney, RN received the 2023 Nan & Hugh Cullman Heart Center Award for Excellence in Nursing Practice. Her nominator wrote, "Amanda has been the gold standard of integrity. I have observed how she documents accordingly, how she speaks up and stands up for what is right, for implementing policy and protocols. She is consistent with what she says and what she does. Her great organizational skills, result-oriented mindset, proactiveness, promptness to act, and the most beautiful one is her positive attitude which is enormously contagious to the staff. She is the best cheer leader when the day is about to drown. You will know when she is around, aside from her charismatic patient greetings, the unit is in its tidiest and well-supplied state. Not to mention, her candy jar is always full and welcoming."
Robert Stern, RN received the 2023 Fuchs Family Award for Excellence in Innovation. His nominator wrote, "This nominee is committed to the values of Duke nursing in his day-to-day practice. He is an innovator, who constantly strives to identify new challenges and implement solutions. This nominee is an active member on his home unit as well as an innovator in a multitude of initiatives throughout the hospital. He has a passion for health innovation and patient care. This nurse is certified with CCRN (Critical Care Certification). By achieving and maintain this certification, this nominee demonstrates his dedication to continuous learning and maintaining up-to-date Knowledge. Further this nominee is active in the professional organization American Association of Critical-Care Nurses through his sharing of learning at the organization's national conference (National Teaching Institute)."
Shelley Thompson, RN received the 2023 Wilma Minniear Award for Excellence in Nursing Mentorship. Her nominator wrote, "She goes above and beyond patient care in ensuring that patients have everything they need prior to being discharged from the hospital. For example, on one occasion, a patient had difficulty with filling pill boxes at home which resulted in multiple hospital admissions. She called multiple pharmacies and found one that could provide blister packs instead, thereby reducing the stress and burden on the patient to ensure they could take all of their correct medications. This nurse is most giving of her time, both physically and emotionally. She contributes her time to volunteering through her home church and is recognized for the work she does in the volunteering space.
This nurse is a proud Duke Nurse who wears her Duke Nursing badge with pride. I recall many times when this nurse took extra time to sit with a patient and their family to share prognosis or explain the clinical situation. One patient, who will remain anonymous, was admitted to the hospital for end of life care. I had the pleasure to admit the patient where he promptly asked me, "How is my cousin 'this nurse' doing; can she come see me?" This nurse shared a similar name with this patient and the relationship they built of trust has stood out with me for many years. The patient's family even voiced appreciation for this nurse as part of the patient's memorial."
Did you know? Duke Health is one of only a few (~6) organizations in the U.S. with an endowed program to support nursing? This is just one of the many reasons that Duke is a great place for nurses!
Congratulation to all winners across Duke Health – we are so proud of you and the work you do each day on behalf of our patients and team.
AACN NTI Conference Held
Last week, Duke Heart had a large representation at the American Association of Critical Care Nurses' National Teaching Institute Conference held from May 22-24 in Philadelphia, PA. The AACN NTI is the largest conference in the United States held specifically for progressive and critical care nurses. We had 17 nurses representing several Duke Heart ICUs, stepdown units, and procedural areas. Our team delivered five podium and five poster presentations, with 13 different presenters.
The team disseminated their work on varying topics, including:
Behavioral Response Team
Appropriate Staffing
Healthy Work Environment
Onboarding and Orientation
Leading with Science
Electronic Debriefing Process
CLABSI Reduction
Delirium Prevention
Patient Satisfaction in the ICU
Ambulation of CRRT Patients
Several nurses from other healthcare organizations complimented the work ongoing at Duke Heart and even expressed interest in joining our teams! We received kudos on our outcomes related to clinical care, work environments, and interdisciplinary partnerships. Thank you to those who represented us at the conference, and to those who contributed to the work that was presented. Incredible job, all — way to go!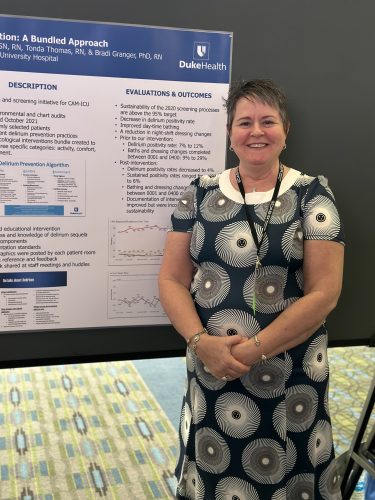 The Latest from Moi Teaching Hospital
Titus Ngeno traveled with Jerry Bloomfield, Chris Beyrer (the new director of Duke's Global Health Institute), Wendy Omeara, John Lawrence, Cory Miller, Cynthia Binanay, and Gretchen Sanders to Moi Teaching Hospital in Eldoret, Kenya back in January. They held several training sessions on transesophageal echocardiography (TEE) and invasive hemodynamic monitoring. A catheterization lab and cardiac MRI are currently under construction there, and we're looking forward to hearing more all about it from Andrew Wang, who will be visiting the space this summer! The Moi team now has a cardiac rehab space and they are working to set up CPET as well.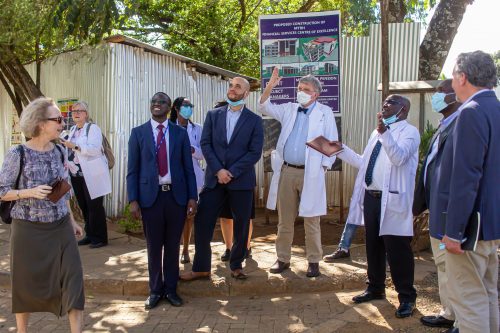 2023 Heart Walk Exec Kick-Off Held
The American Heart Association along with Drs. Rick Shannon and Manesh Patel hosted the Duke Health Executive Kick-off for the 2023 Triangle Heart Walk on Thursday, May 25. The breakfast event allowed the team to discuss the overall goals of the AHA, the need for team coaches and walkers for the fall event, as well as the many ways AHA funding comes back to Duke over time.
Stay tuned for information regarding the team captain and walker kick-off later this summer! Thanks to everyone who has been involved over the years with the American Heart Association and the Triangle Heart Walk.
Annual DOM End of Year Review: June 2
Department of Medicine (DOM) faculty and staff are invited to join Kathleen A. Cooney, MD, Chair, Department of Medicine and the George Barth Geller Distinguished Professor of Medicine, on Friday, June 2 at 8 a.m. for the annual DOM End of Year Review either in-person (Trent Semans Great Hall) or via Zoom. This event will take place during the regular time slot for Medicine Grand Rounds. Coffee/light breakfast will be provided at the Great Hall for those who choose to attend in person.
We look forward to celebrating and recognizing the numerous accomplishments across the department. If you plan to attend in person, please visit https://duke.is/p5p7y to RSVP by Thursday, May 25.
Thanks to all faculty who submitted accomplishments for the division of cardiology. Although it's too late to be added to the DOM End of Year Review, we are still collecting items specifically for Duke Heart. If you haven't yet submitted and would like to, send your list to Tracey Koepke.
DHIP Open Enrollment Deadline, May 28
As part of the transition to Duke Health Integrated Practice (DHIP), a special Open Enrollment for Duke Benefits** is currently underway through May 28.
Click here for resources and details – dhip.org/enroll
**Special enrollment does not apply to Duke-leased employees who already have access to Duke benefits. No changes or elections can be made during this time.
Quick Reminders & Updates
June 1-7 is National CPR & AED Awareness Week
The American Heart Association (AHA) is inviting all interested team members from Duke Heart and Duke Health to attend a virtual hands-only CPR awareness event on June 1st from 11 a.m. to Noon. Attendees will hear from a survivor, members of the local chapter of the American Heart Association, and learn about the importance of hands-only CPR and how to perform it.
Cardiac arrest is a leading cause of death throughout the world. Each year, more than 350,000 out-of-hospital cardiac arrests occur in the United States. Almost three out of four of those happen at home.
By attending this session, participants will increase their knowledge and awareness about Hands-Only CPR and learn how to act in the event of an emergency. By the end of the activity, employees will be aware of how and when to use Hands-Only CPR, what to do when calling 9-1-1, and specific ways to take action and get involved with our local AHA affiliate.
Event will be held via Microsoft Teams. June 1, 11 a.m. to Noon. https://duke.is/mr792. If you would like to receive a calendar invitation, please email Tracey Koepke.
New: Back-up Care Service for Duke Health Employees
In addition to a career filled with purpose and opportunity, at Duke Health we ensure that you are supported in both work and in life with a comprehensive benefits package that lets you plan your future. We are excited to add another incredible service to our Total Rewards Program that will give you and your family support during difficult times.
We have entered into a new partnership with Bright Horizons Family Solutions that will provide affordable back-up dependent care for you and your families. A high-level overview of this new service is provided below, and we encourage you to view this video that provides a more comprehensive description of the service.
Services provided:
10 annual days of back-up care at discounted rates using Bright Horizons' network of caregivers who provide temporary care when you have a disruption in your regular care.
Bright Horizons' center-based care is $15 per child per day or $25 per family.
Bright Horizons' in-home care for both children and adults is priced at $6 per hour.
Please sign up for this service at the following link: https://hr.duke.edu/benefits/family/backup-care.
Once you complete the profile online, you will be able to make reservations as far out as 60 days in advance or as quickly as the same day care is needed.
Please note that all PDC employees joining the Duke Health Integrated Practice will be eligible for this service starting on July 1, 2023.
We are excited to offer this new service to you and your families so that you feel supported by our organization both as leaders in healthcare and leaders of your household.
Upcoming Events & Opportunities
DCRI Research Forum with John Scheyer
The Duke Clinical Research Institute team is excited to have rescheduled their Research Forum with special guest John Scheyer, head coach of the Duke Men's Basketball program. Please join us on June 6, at 9 a.m. for the Forum, which will feature a fireside chat with Scheyer. This will be a virtual event; Scheyer will discuss his journey and the philosophy that keeps him focused on success — both his personal success and the success of his team. We'll also address how his philosophy and resilience translates to healthcare and our approach to enhancing human health.
What: DCRI Research Forum: A Conversation with Duke Men's Basketball Head Coach Jon Scheyer
When: Tuesday, June 6 from 9-10 a.m. ET
Zoom Link:  DCRI Research Forum
Cardiac Safety Research Consortium Think Tank Meeting, June 7
The Cardiac Safety Research Consortium will hold a Think Tank meeting on June 7. The event,  CSRC Think Tank: Update on Regulatory Status of Hypertension, Biomarkers and Arrhythmia Monitoring in Clinical Trials will be held at the FDA.
In Session 1, these leading industry professionals will speak on panels discussing:
Regulations for ECG/QT
The double-negative conundrum
Alternative methods for assay sensitivity assessment in routine Phase 1 QT Studies
Covid-19 and prolonged QT
In Session 2, we will discuss:
Small increases in blood pressure and CV risk I
Intermittent versus chronic use hypertension drugs
In Session 3, the meeting faculty will dive into:
In Session 4, the panelists will discuss hot topics in the field such as:
Biologics/cardiomyopathy and vaccine development
MACE
Gene therapies
Wearables
The event will include professionals from FDA Regulatory, Cardiac Safety Consultants, Ltd., Eli Lilly, Richmond Pharmacology, University of Connecticut, Stanford University, University of Pennsylvania, Cleveland Clinic, Clario, Mass General, DSI, Penn Medicine, and UCSF.
There is a registration fee for attendance, for academics it is $275. Registration and more information is available here: https://cardiac-safety.org/
The meeting will be held in person; a recording of the meeting and slide presentations will become available a month after the event occurs.
Have news to share?
If you have news to share with the Pulse readership, please contact Tracey Koepke, director of communications for Duke Heart at tracey.koepke@duke.edu. We would love to hear about your latest accomplishments, professional news, cool happenings, and any events or opportunities that may be of interest to our Duke Heart family. Please call with any questions: 919-681-2868. Feedback on Pulse is welcome and encouraged. Submissions by Noon, Wednesdays, to be considered for weekend inclusion.
Duke Heart in the News:
May issue — William Kraus
Scientific American
You Don't Really Need 10,000 Daily Steps to Stay Healthy
https://duke.is/yhwhy
May 19 — Robert Mentz and Stephen Greene
HCPLive
Don't Miss a Beat: ESC Heart Failure Association Preview
https://duke.is/84kr8
May 22 — Robert Mentz
Korea Biomed
Will Entresto's reimbursement be expanded to heart failure with ejection fraction above 40%?
https://duke.is/2d6ac
(scroll down)
May 22 — Robert Mentz
tctMD
More ARNI Insights Fortify Role in 'Below Normal' LVEF: PARAGLIDE-HF
https://duke.is/geseg
May 22 — Adrian Hernandez
The Washington Post
An exercise trial for long covid is being criticized by some patients
https://duke.is/6ydwj
May 22 — Robert Mentz
HCPLive
PARAGLIDE-HF Offers Further Insight into Sacubitril/Valsartan in Heart Failure with Elevated EF
https://duke.is/p9v9p
May 23 — Robert Mentz
DAIC
Sacubitril/Valsartan Shows Benefit in Heart Failure with Ejection Fraction Above 40%
https://duke.is/4fwqr
May 24 — W. Schuyler Jones
mmm-online.com
In the 'Wild West' of outpatient vascular care, doctors can reap huge payments as patients risk life and limb
https://duke.is/5n6m9
May 24 — Jacob Schroder
Medical Stories
Heart Transplant: Strong Hearted
https://duke.is/nv9b6
May 25 — Jonathan Piccini
Medscape
Leadless Dual-Chamber Pacemaker Clears Early Safety, Performance Hurdles
https://duke.is/bp6pb
May 25 — Robert Mentz
Medscape
ARNI Bests ARB to Reduce NT-proBNP in Stabilized Preserved-EF HF
https://duke.is/cxvu4
May 26 — Stephen Greene
HCPLive
The Prospect of SGLT1/2i in Heart Failure: Cardiologists Await FDA Decision on Sotagliflozin
https://duke.is/j5k72