Chief's message: Happy Mother's Day
Happy Mother's day to all of the moms and mother figures in the Duke Heart Community.  We appreciate the love, commitment to family, and support that you all provide.  Hopefully you all have had some time this weekend to spend with family. It is also graduation weekend around the Duke University and many of the schools in the area.  Congratulations to our graduating students from university and medical schools in the area.
Highlights of the week:
DUH, DRH Receive Platinum Rating for Treatment of MI
Duke University Hospital and Duke Regional Hospital have each received the American College of Cardiology's NCDR Chest Pain  ̶  MI Registry Platinum Performance Achievement Award for 2023. The hospitals are two of only 262 hospitals nationwide to receive the honor.
The award recognizes Duke's commitment and success in implementing a higher standard of care for heart attack patients and signifies that each hospital has reached an aggressive goal of treating these patients to standard levels of care as outlined by the American College of Cardiology/American Heart Association clinical guidelines and recommendations.
To receive the Chest Pain  ̶  MI Registry Platinum Performance Achievement Award, a hospital must demonstrate sustained achievement in the Chest Pain  ̶   MI Registry for two consecutive years (2021 and 2022), and perform at the highest level for specific performance measures. Full participation in the registry engages hospitals in a robust quality improvement process using data to drive improvements in adherence to guideline recommendations and overall quality of care provided to heart attack patients.
Congratulations, team — way to go!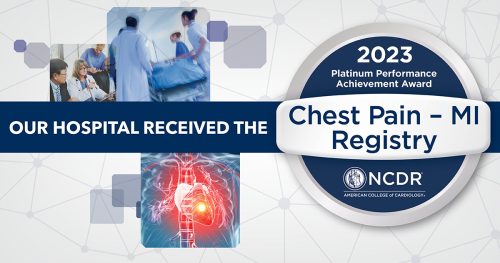 Celebrating Hospital Week & Nursing Week
We hope everyone had a chance to take part in some of the activities that were planned for Hospital Week and National Nursing Week. This past week has been a special time to recognize all of you and the truly amazing things you do. The quality of care we provide to those who trust us with their health makes us very proud. Our team, working together, makes a big difference in so many lives.
Across Duke Heart we have a lot to celebrate and look forward to. And it's because of what everyone contributes!
Shown here as part of the celebration are just a few members of our cardiology APP squad: Sas Belbase, Sandra Anton, Jesslyn Doody, Brooke Moyer, and Henry Delgado Avila. Great pic!
And a shot from the Friday, May 12 gathering of the DUHS Cath/EP Ops Committee – they are loving their meeting!
Save the Date: June 2, Annual DOM End of Year Review
Department of Medicine (DOM) faculty and staff are invited to join Kathleen A. Cooney, MD, Chair, Department of Medicine and the George Barth Geller Distinguished Professor of Medicine, on Friday, June 2 at 8 a.m. for the annual DOM End of Year Review either in-person (Trent Semans Great Hall) or via Zoom. This event will take place during the regular time slot for Medicine Grand Rounds. Coffee/light breakfast will be provided at the Great Hall for those who choose to attend in person.
We look forward to celebrating and recognizing the numerous accomplishments across the department. If you plan to attend in person, please visit https://duke.is/p5p7y to RSVP by Thursday, May 25.
Shout-out to Glower & the DMP 6E Team
This week we received a terrific note from Dr. David Gallagher, the new Chief Medical Officer for Duke University Hospital,
regarding a patient compliment for cardiothoracic surgeon Don Glower, MD and members of the DMP 6E care team.
"I am the new DUH CMO, taking over for Dr. Pickett, and just wanted to forward you a very nice compliment towards the DMP 6E nurses, staff, and Dr. Glower and his team from the HCAHPS survey last week. Thank you for the great work you do!" — David Gallagher, MD, SFHM
The patient wrote:
"Excellent nurses included Shannon, Scott, and Mandi. 10 out of 10! Dr. Glower (and his team) was excellent at keeping me updated, explaining various concepts to me, and encouraging my recovery. 11 out of 10!!" – grateful patient, name withheld for privacy
(More) Kudos for Glower!
We received a note early last week from Dr. Lisa Pickett, the outgoing Chief Medical Officer for Duke University Hospital, regarding a patient compliment:
"Good Afternoon, Don — While reading the comments on our Patient Satisfaction Survey, I was just delighted to read this beautiful compliment about you and your team.  Thank you for your tireless dedication to patients and remarkable clinical excellence. Very Best Wishes, Lisa" – Lisa Pickett, MD
The patient wrote:
"Dr Glower and his PA's were first class!  They were wonderful and took the time to answer any question I had.  As far as my nurses, they too were the absolute best!  They answered my questions and took care of my every need.  I would recommend Duke to anyone for Cardio Care!" – grateful patient, name withheld for privacy
Shout-out to Lampila!
We received a number of glowing comments this week about Beverly Lampila, one of our PAs in the Cardiothoracic Clinic, and staff members throughout the CT Surgery team. The comments are from various patients who completed a recent Press Ganey survey.
They wrote:
"Knowledgeable, kind, and efficient staff. They were able to break down what was happening with me into layman's terms very well. They answered health and quality of life issues around my heart issue, its severity, and scheduling to repair it. All of this is about trusting people I don't know to cut into my chest and work on my heart. I'm looking forward to having these folks do that. I expect the same level of competence, care, and empathy will be maintained through my time recovering care at Duke." – grateful patient of Dr. Glower, name withheld for privacy
"Beverly, the PA, was so kind and so perky! We loved talking with her! The girl that took my blood was so good, I hardly felt the needle. The woman who did the EKG was friendly and I felt she took time with me, accompanied Me showing the way out, and offering assistance as to my next appointment," – grateful patient of Dr. Gaca, name withheld for privacy
"Dr. Hughes and staff are terrific!" – grateful patient, name withheld for privacy
Great job Beverly and CT Surgery team!
Kudos to Burkett!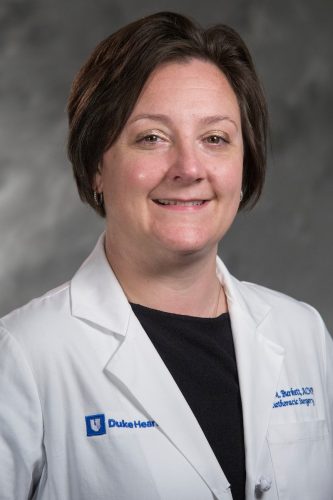 We received a note from Jamie Hilton regarding Melissa Burkett and a recent Press Ganey survey comments:
"Dr. Hughes', Nurse Practitioner, Melissa, is a real asset to this practice. She actually provided answers to all my questions, even before I saw Dr. Hughes. She seems to be very knowledgeable, and this reinforces my confidence in her. I was extremely fortunate with my visit to Duke. Arriving early and being taken early for each of my tests, as well as my visit with Dr. Hughes made for a pleasant experience." – grateful patient, name withheld for privacy
"Melissa, Thank you so much for ALWAYS creating such an amazing patient experience for our patients in 2F2G!!" — Jamie Hilton, Clinic 2F/2G Nurse Manager, Operations
"Kudos, Melissa, and thanks again for being an amazing provider and Duke Heart team member! Celebrate your awesomeness." – Jill Engel, Service Line Vice President – Heart & Vascular
Nicely done!
DHIP Special Open Enrollment
DHIP special Open Enrollment is coming May 15-28, 2023. As part of the transition to Duke Health Integrated Practice (DHIP), a special Open Enrollment for Duke Benefits** will take place May 15-28.
Click here for resources and details – dhip.org/enroll
**Special enrollment does not apply to Duke-leased employees who already have access to Duke benefits. No changes or elections can be made during this time.
Quick Reminders & Updates
May is Asian American and Pacific Islander (AAPI) Heritage Month. We join Duke Health in celebrating the contributions and achievements of our AAPI team members and communities this month and every month.
May is also American Stroke Month. Thanks to each and every one of our team members for the work you do to help control and to diminish the risks of cardiovascular diseases in our patient population – especially those with high blood pressure, high cholesterol, and atrial fibrillation, all of which increase the risk of stroke.
Upcoming Events & Opportunities
Cardiology Grand Rounds
May 16: Heart Failure and Obesity: Weighing the Evidence with cardiology fellow Joey Harrington. 5 p.m. Zoom link.
May 23: topic TBD with cardiology fellow Anthony Peters. 5 p.m. Zoom link.
New: AHA Virtual Hands-Only CPR Event, June 1
As National CPR Week approaches (June 1-7) and as a special thank you to corporate sponsors of the Triangle Heart Walk and Go Red for Women, the American Heart Association (AHA) is inviting all interested team members from Duke Heart and Duke Health to attend a virtual hands-only CPR awareness event on June 1st from 11 a.m. to Noon. Attendees will hear from a survivor, members of the local chapter of the American Heart Association, and learn about the importance of hands-only CPR and how to perform it.
Cardiac arrest is a leading cause of death throughout the world. Each year, more than 350,000 out-of-hospital cardiac arrests occur in the United States. Almost three out of four of those happen at home.
By attending this session, participants will increase their knowledge and awareness about Hands-Only CPR and learn how to act in the event of an emergency. By the end of the activity, employees will be aware of how and when to use Hands-Only CPR, what to do when calling 9-1-1, and specific ways to take action and get involved with our local AHA affiliate.
Event will be held via Microsoft Teams. June 1, 11 a.m. to Noon. https://duke.is/mr792. If you would like to receive a calendar invitation, please email Tracey Koepke.
Cardiac Safety Research Consortium Think Tank Meeting, June 7
The Cardiac Safety Research Consortium will hold a Think Tank meeting on June 7. The event,  CSRC Think Tank: Update on Regulatory Status of Hypertension, Biomarkers and Arrhythmia Monitoring in Clinical Trials will be held at the FDA.
In Session 1, these leading industry professionals will speak on panels discussing:
Regulations for ECG/QT
The double-negative conundrum
Alternative methods for assay sensitivity assessment in routine Phase 1 QT Studies
Covid-19 and prolonged QT
In Session 2, we will discuss:
Small increases in blood pressure and CV risk I
Intermittent versus chronic use hypertension drugs
In Session 3, the meeting faculty will dive into:
In Session 4, the panelists will discuss hot topics in the field such as:
Biologics/cardiomyopathy and vaccine development
MACE
Gene therapies
Wearables
The event will include professionals from FDA Regulatory, Cardiac Safety Consultants, Ltd., Eli Lilly, Richmond Pharmacology, University of Connecticut, Stanford University, University of Pennsylvania, Cleveland Clinic, Clario, Mass General, DSI, Penn Medicine, and UCSF.
There is a registration fee for attendance, for academics it is $275. Registration and more information is available here: https://cardiac-safety.org/
The meeting will be held in person; a recording of the meeting and slide presentations will become available a month after the event occurs.
Have news to share?
If you have news to share with the Pulse readership, please contact Tracey Koepke, director of communications for Duke Heart at tracey.koepke@duke.edu. We would love to hear about your latest accomplishments, professional news, cool happenings, and any events or opportunities that may be of interest to our Duke Heart family. Please call with any questions: 919-681-2868. Feedback on Pulse is welcome and encouraged. Submissions by Noon, Wednesdays, to be considered for weekend inclusion.
Duke Heart in the News:
May 3 — Vishal Rao and Neha Pagidipati
Today's Dietitian
Can Weight Loss Benefit the Heart Even if Some Pounds Return?
https://duke.is/62qek
May 8 — Nada El Husseini
Healio/Primary Care
Top in cardiology: Cognition screening; novel ablation strategy
https://duke.is/przx2
May 8 — Richard Shannon
Physician Leadership Journal
Artificial Intelligence and Machine Learning: What Physician Leaders Need to Know
https://duke.is/4dt8m
May 9 — Stephen Greene
HCP Live
FDA Expands Dapagliflozin Label to Include Reducing Risk of CV Death in Heart Failure
https://duke.is/9tpbv