Albanese Named EVP, COO of DUHS Effective Jan. 17
Craig Albanese, a seasoned health care executive and distinguished academic pediatric surgeon, has been named executive vice president and chief operating officer of Duke University Health System (DUHS).
Albanese comes to DUHS from New York-Presbyterian Hospital, where he's currently group senior vice president and chief medical officer of the $9.2 billion, 10-hospital academic health system. He will start his new role at Duke on Jan. 17, 2022.
"Dr. Albanese is a passionate and collaborative executive with deep experience in leading cutting-edge academic health systems such as ours in becoming the best place to work, delivering highest-quality patient care, and helping to advance our other missions, including research, education and community health," said A. Eugene Washington, MD, chancellor for health affairs and DUHS president and CEO.
"Given his impressive achievements and commitment to our values, I am confident that Duke University Health System will begin a new era of excellence and impact under his leadership," Washington said.
As executive vice president, Albanese will serve as the senior leader overseeing the timely execution of DUHS goals and strategic priorities. He will work with other clinical enterprise leaders to deliver outstanding outcomes and care across Duke's network, from the hospital to ambulatory clinics to care in homes and the community. He will also bring new insights to manage the organization's COVID pandemic response, to support the health system's faculty and staff and to further advance the clinical enterprise strategic plan.
"I am honored to accept this position and to join the Duke family," Albanese said. "I look forward to growing Duke's footprint in the community and building upon the existing quality improvement work that contributes to Duke's reputation as a world-class health system."
Albanese succeeds William Fulkerson, MD, who held the executive vice president position since 2010 and announced he would step down at the end of the year.
In his current role at NYP, Albanese is responsible for the chief medical officers and all eight service lines, including oversight for enterprise clinical standardization, network integration and medical affairs. He also oversees quality, safety, and infection prevention and control for the enterprise.
His more than 25 years of health care management experience includes overseeing the redesign of service line strategy at NYP to drive integration and single standards of care across 10 hospitals and two medical schools, Columbia Vagelos College of Physicians and Surgeons and the Weill Cornell Medical College.
He also served as the COO of New York-Presbyterian's Morgan Stanley Children's Hospital and the Sloane Hospital for Women, which is located within the Children's Hospital.
Prior to NYP, Albanese held senior leadership roles at Stanford University and Stanford Health Care. A respected surgeon-scientist and clinical investigator, he co-directed the team that pioneered in-utero fetal surgery.
Albanese received his medical degree from SUNY Health Science Center in Brooklyn and was a resident and chief resident in general surgery at Mount Sinai Medical Center. He completed pediatric general surgery and critical care research fellowships at Children's Hospital of Pittsburgh. Albanese also holds a Master's in Business Administration from the Leavey School of Business at Santa Clara University.
"Dr. Albanese is a seasoned health care leader who possesses a collaborative management style and is committed to the same core ideals we value here at Duke," said Duke University President Vincent E. Price.
Jackson Receives K Award
Congratulations to Duke electrophysiologist Larry R. Jackson, MD, assistant professor of medicine in cardiology! He has received notification of a K-award from the National Institutes of Health's National Heart, Lung, and Blood Institute for his project, Shared Decision-Making to Reduce Racial Disparities in Oral Anticoagulation Use in Patients with Non-Valvular Atrial Fibrillation.
Jackson, a faculty member at Duke since 2016, says this award "will allow him finalize the skill set that will lead him toward independence as a physician scientist with a research program focused on addressing racial differences and abnormal heart rhythm care."
We look forward to sharing more about this important project as it gets underway.
Thanking Respiratory Therapists
Duke Heart's leadership team took time to recognize our Respiratory Care Team this week during Respiratory Care Week by thanking each of them for their professional accomplishments and contributions over the last year.
"We recognize that the past 18 months has been filled with challenges like we have not seen before and that each of you have stepped up to support our patients, their loves ones and the entire Duke Health team. We have all seen the amazing outcomes and even miracles that have positively impacted patients and families due to the contributions made by each of you. Duke Respiratory Therapists are recognized as the best in the country because of the amazing things that each of you make possible for our patients each and every day (and night). The number of lives you touch is immeasurable as you set the bar for others in your profession.
Please take time to reflect on and celebrate your personal and team successes during the 2021 Respiratory Therapy Week. We thank you for everything you have done and continue to do for Duke Health patients."
Shown in photo collage are some celebratory shots of our Respiratory Care Team members. We think you're awesome – thank you for all you do!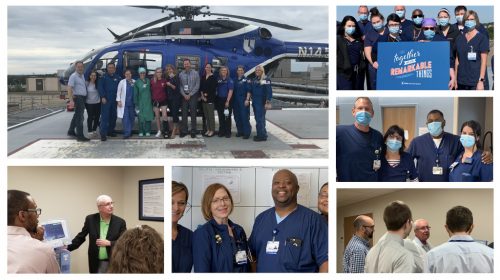 Adams Named Nurse Manager for 7700 Effective Nov. 1
The Duke Heart Leadership team is pleased to announce Katherine Adams as the new 7700 Nurse Manager, effective November 1, 2021. Adams has been a Duke Heart Nurse since September 2015 after obtaining her BSN at Liberty University. She has served as a Clinical Team Lead for Cardiology Step-Down since June 2019, including units 7100 and 7700.
Adams has been instrumental in the opening and establishing of 7700 as a new Cardiology Step-Down Unit since it opened in December 2020. She has helped 7700 grow through her mentorship of new team members, leadership of committees and assisting in various champion roles as the staff have developed experience and embraced various leadership roles of their own. We are looking forward to all that she has planned for the future of 7700.
Please join us in congratulating Katherine on her new role!
Shout-Out to Haney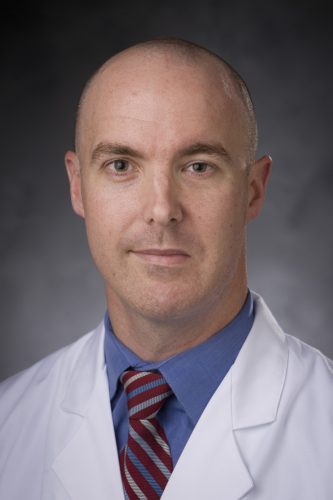 We received a patient compliment on behalf of Jack Haney this week — passed along to us by Lisa Clark Pickett, Chief Medical Officer for Duke University Hospital.
"Jack, While reading comments on our Patient Satisfaction Survey, I found another wonderful compliment about you and your team!
Thank you for giving me such great care. The nurses and staff were amazing! Dr. Haney did a great job!
Thank you so much for your dedication, excellence, and positive spirit!" – Lisa Clark Pickett
Mother and Daughter Receive Organ Transplants at Duke One Month Apart
Tyra Ingram, 19, of Laurinburg, NC was born with more than one congenital heart defect and needed three major heart surgeries and a pacemaker before she was five years old. She underwent a heart transplant at Duke in 2021, but the family couldn't relax just yet. Within weeks of Tyra's transplant, her mother, Teyanna, received a kidney transplant at Duke. Now, months later, mom and daughter are feeling great, going on family vacations again, and looking forward to a healthy future.
A Journey Not for the Faint of Heart
Tyra was born with several heart defects, including congenitally corrected transposition of the great arteries (also called L-transposition of the great arteries, or L-TGA). This rare defect caused two of Tyra's four heart chambers to be switched, one of which was too small to function properly. By the time she was in kindergarten, Tyra had undergone a series of complex heart surgeries at Duke University Hospital. She had a pulmonary artery band surgery at two months old, a bidirectional Glenn procedure at 14 months old, and a Fontan surgery with a pacemaker placement when she was four. As she grew, Tyra struggled to keep up with other kids.
"I was the worrywart," Teyanna, now 41, said. "I'd see her trying to run, and I would tell her not to. I'd be like, 'No, baby. You might need to sit down. You look tired.'"
Kidney Failure Complicates Things
In June 2019, Teyanna was diagnosed with kidney failure due to complications from diabetes. She started dialysis, which required four-hour treatments, three times a week. Within a few months, Teyanna's doctors suggested she be evaluated for a kidney transplant. She was added to the national waitlist.
Two Organ Transplants Within One Month
Two years later, in February 2021, Tyra started having trouble breathing while she was a student at North Carolina Central University. "I called my grandma. They were like, 'let's call the doctor,'" Tyra said.
Michael Carboni, MD, Tyra's Duke pediatric cardiologist since she was five years old, knew that she needed advanced therapy or a heart transplant. About two weeks after Tyra was put on the transplant waitlist, a heart became available.
"She had a really complicated surgery because of her complex congenital heart disease. But the transplant went really well, and she thrived afterward," said Duke transplant cardiologist Adam DeVore, MD, MHS, who was part of her care team.
Just a few weeks later, Teyanna got the call that a kidney was available for her and she underwent the transplant. Six weeks later, her kidney transplant surgeon Kadiyala Ravindra, MBBS, was pleased with her progress. "She was really sick prior to her transplant," he said. "It's gratifying to see how well she's done."
Figuring Out What's Next
Both Teyanna and Tyra are getting stronger every day. "I can walk a lot more without getting tired," Tyra said.
"My experience was great. Some of my Duke nurses were the same ones who took care of Tyra, so they remembered me. They would ask how she was doing," Teyanna said. "It felt like a second home."
According to Dr. Carboni, Duke has the resources and collaborative expertise to help people like Tyra and Teyanna Ingram. "We can do the same for others like them," he said.
Upcoming Events & Opportunities
Cardiology Grand Rounds
November 2: Coronary Microvascular Dysfunction with Jessica Duran. 5 p.m. Webex.
November 9: Case Conference – Lessons Learned in Peri-Operative LVAD Care with Amanda Coniglio. 5 p.m. Webex.
Upcoming Duke Heart CME
November 5: 13th Annual NC Research Triangle Pulmonary Hypertension Symposium. Course directors are H. James Ford (UNC) and Terry Fortin. 8:30 a.m. to 4:20 p.m. Morning case-based workshops have been cancelled due to Covid. Afternoon portion will be held via Zoom. For more information and to register, please visit: https://bit.ly/3DrZwuv.
Request for Nominations: Samuel DuBois Cook Society Award
The Samuel DuBois Cook Society invites nominations of individuals from every sector of the Duke Community: staff, administrators, and students — undergraduate, graduate or professional.
Founded to be an instrument of social engagement and change, the Cook Society seeks to recognize members of the Duke community who reflect in their work or in their academic pursuits, the objectives to which Dr. Cook dedicated his professional life — social justice, mentoring, the University's relationship to the black community, and his vision of the "beloved community," seeking to improve relations among persons of all backgrounds.
Nominations are due November 8, 2021, and winners will be notified in the first week of December.
Awards will be presented during the annual Cook Society Awards Ceremony on February 22, 2022, at the Washington Duke Inn & Golf Club.
In evaluating nominees, the committee seeks members of the Duke community who:
Actively nurture a sense of community and belonging for Black people.
Commit to translate the promise and potential of Black people at Duke into fulfillment and actuality
Foster positive and constructive interpersonal and intergroup relations within both Duke University's and Durham's Black communities
Cultivate positive relations between Black people and other ethnic, racial, and national groups on the basis of an enlightened appreciation and knowledge of our historic interdependence
To learn more/make a nomination please click here.
Request for Nominations: Raymond Gavins Distinguished Faculty Award
The Samuel DuBois Cook Society invites nominations of faculty whose teaching, mentoring, research, publishing, and engagement with faculty, students and staff have helped to improve relations among people of all backgrounds at Duke and beyond.
Nominations are due November 8, 2021, and winners will be notified in the first week of December. Awards will be presented during the annual Cook Society Awards Dinner on February 22, 2022, at the Washington Duke Inn & Golf Club.
In evaluating nominees, the committee seeks faculty who:
Actively nurture a sense of community and belonging for Black people.
Commit to translate the promise and potential of Black people at Duke into fulfillment and actuality
Foster positive and constructive interpersonal and intergroup relations within both Duke University's and Durham's Black communities
Cultivate positive relations between Black people and other ethnic, racial, and national groups on the basis of an enlightened appreciation and knowledge of our historic interdependence
To learn more/make a nomination please click here.
Have news to share?
If you have news to share with the Pulse readership, please contact Tracey Koepke, director of communications for Duke Heart at tracey.koepke@duke.edu. We would love to hear about your latest accomplishments, professional news, cool happenings, and any events or opportunities that may be of interest to our Duke Heart family. Please call with any questions: 919-681-2868. Feedback on Pulse is welcome and encouraged.
Duke Heart in the News:
October 18 — Kevin Thomas
Cardiovascular Business
Exploring reports of discrimination, burnout and job satisfaction among US cardiologists
https://duke.is/yzge9
October 18 — Kevin Thomas
tctMD
ACC Survey Reveals Racial/Ethnic Gaps but Also Job Satisfaction
https://duke.is/jwuar
October 18 — Kevin Thomas
Medscape
Survey Spotlights Double-Edged Sword for Minority Cardiologists
https://www.medscape.com/viewarticle/961101
October 20 — Kevin Thomas
HealthDay
Many Minority, Women Cardiologists Face Discrimination
https://duke.is/vmsrp
October 20 — Joseph Turek
Medscape
US Surgeons Successfully Test Pig Kidney Transplant in Human Patient
https://www.medscape.com/viewarticle/961240?src
October 20 — Manesh Patel
Healio/Cardiology
For patients with HFpEF, medical therapy options now abound
https://duke.is/wxumz
October 20 — Kevin Thomas
Cardiovascular News
Ethnic and racial minority cardiologists face professional discrimination and exclusion
https://duke.is/cerq8
October 21 — Kevin Thomas
Becker's Hospital Review
Discrimination in the cardiology field: 5 survey findings
https://duke.is/b8n9g
October 22 — Robert Califf
Politico
Biden meets with top FDA candidate
https://duke.is/n4wwc
October 25 — Sunil Rao
tctMD
OPTIMIZE: 2-Year DES Data Affirm Need for Meaningful MI Definitions
https://duke.is/zjrvh
October 26 — Adrian Hernandez
Fox13 Memphis
Woman says controversial COVID-19 treatment Ivermectin saved her life
https://duke.is/mhuks
October 26 — Jonathan Piccini
AHA Newsroom
New heart clinical trial to shine light on early atrial fibrillation treatment
https://duke.is/8ag33
October 26 — G. Michael Felker
Cardiology Today
GALACTIC-HF: Omecamtiv mecarbil effective in patients with severe HF
https://duke.is/ccsyt
October 28 — Andrew Almond (Respiratory Therapy)
ABC11/WTVD (Raleigh/Durham)
Raleigh man credits Duke respiratory therapists for saving him from COVID-19
https://duke.is/wvrwn
Division of Cardiology Publications Indexed in PubMed October 14-27, 2021
Ageno W, Lopes RD, Goldin M, Yusen RD, Albers GW, Elliott GC, Halperin JL, Hiatt WR, Maynard G, Steg PG, Weitz JI, Suh E, Lu W, Barnathan ES, Raskob GE, Spyropoulos AC. Rivaroxaban for extended thromboprophylaxis in acutely ill medical patients 75 years of age or older. J Thromb Haemost 2021;19(11):2772-2780. PM: 34314574.
Arps K, Piccini JP, Yapejian R, Leguire R, Smith B, Al-Khatib SM, Bahnson TD, Daubert JP, Hegland DD, Jackson KP, Jackson LR, Lewis RK, Pokorney SD, Sun AY, Thomas KL, Frazier-Mills C. Optimizing mechanically sensed atrial tracking in patients with atrioventricular-synchronous leadless pacemakers: A single-center experience. Heart Rhythm O2 2021;2(5):455-462. PM: 34667960.
Barnett AS, Bahnson TD. Recurrent atrial fibrillation after pulmonary vein isolation: Box it or not? Heart Rhythm O2 2021;2(5):498-499. PM: 34667965.
Bossone E, Cademartiri F, AlSergani H, Chianese S, Mehta R, Capone V, Ruotolo C, Tarrar IH, Frangiosa A, Vriz O, Maffei V, Annunziata R, Galzerano D, Ranieri B, Sepe C, Salzano A, Cocchia R, Majolo M, Russo G, Longo G, Muto M, Fedelini P, Esposito C, et al. Preoperative Assessment and Management of Cardiovascular Risk in Patients Undergoing Non-Cardiac Surgery: Implementing a Systematic Stepwise Approach during the COVID-19 Pandemic Era. J Cardiovasc Dev Dis 2021;8(10):126. PM: 34677195.
Bracamonte-Baran W, Gilotra NA, Won T, Rodriguez KM, Talor MV, Oh BC, Griffin J, Wittstein I, Sharma K, Skinner J, Johns RA, Russell SD, Anders RA, Zhu Q, Halushka MK, Brandacher G, Čiháková D. Endothelial Stromal PD-L1 (Programmed Death Ligand 1) Modulates CD8 T-Cell Infiltration After Heart Transplantation. Circ Heart Fail 2021;14(10):e007982. PM: 34555935.
Careau V, Halsey LG, Pontzer H, Ainslie PN, Andersen LF, Anderson LJ, Arab L, Baddou I, Bedu-Addo K, Blaak EE, Blanc S, Bonomi AG, Bouten CVC, Buchowski MS, Butte NF, Camps SGJA, Close GL, Cooper JA, Das SK, Cooper R, Dugas LR, Eaton SD, Ekelund U, et al. Energy compensation and adiposity in humans. Curr Biol 2021;31(20):4659-4666. PM: 34453886.
Edmonston DL, Matsouaka R, Shah SH, Rajagopal S, Wolf M. Noninvasive Risk Score to Screen for Pulmonary Hypertension With Elevated Pulmonary Vascular Resistance in Diseases of Chronic Volume Overload. Am J Cardiol 2021;159:113-120. PM: 34497006.
Gautam N, Saluja P, Fudim M, Jambhekar K, Pandey T, Al'Aref S. A Late Presentation of COVID-19 Vaccine-Induced Myocarditis. Cureus 2021;13(9):e17890. PM: 34660088.
Gelijns AC, Moskowitz AJ, O'Gara PT, Giustino G, Mack MJ, Mancini DM, Bagiella E, Hung J, Ailawadi G, Leon MB, Acker MA, Alexander JH, Dickert NW, Taddei-Peters WC, Miller MA. Transcatheter mitral valve repair for functional mitral regurgitation: Evaluating the evidence. J Thorac Cardiovasc Surg 2021;162(5):1504-1511. PM: 32359794.
Gutierrez JA, Patel MR. Crossing Peripheral Chronic Total Occlusions: More Tolls and More Questions. J Am Heart Assoc 2021;10(20):e023423. PM: 34612087.
Holder TA, Gutierrez JA, Aday AW. Medical Management of Peripheral Artery Disease. Cardiol Clin 2021;39(4):471-482. PM: 34686260.
Jackson LR, Ugowe F. Epidemiology and Outcomes Associated with PR Prolongation. Card Electrophysiol Clin 2021;13(4):661-669. PM: 34689893.
Kuno T, Claessen B, Cao D, Chandiramani R, Guedeney P, Sorrentino S, Krucoff M, Kozuma K, Ge J, Seth A, Makkar R, Bangalore S, Bhatt DL, Angiolillo DJ, Saito S, Neumann FJ, Hermiller J, Rau V, Ruster K, Wang J, Valgimigli M, Mehran R. Impact of renal function in high bleeding risk patients undergoing percutaneous coronary intervention: a patient-level stratified analysis from four post-approval studies. J Thromb Thrombolysis 2021;52(2):419-428. PM: 33709255.
Lopes RD, Higano CS, Slovin SF, Nelson AJ, Bigelow R, Sørensen PS, Melloni C, Goodman SG, Evans CP, Nilsson J, Bhatt DL, Clarke NW, Olesen TK, Doyle-Olsen BT, Kristensen H, Arney L, Roe MT, Alexander JH. Cardiovascular Safety of Degarelix Versus Leuprolide in Patients With Prostate Cancer: The Primary Results of the PRONOUNCE Randomized Trial. Circulation 2021;144(16):1295-1307. PM: 34459214.
Martinez Campos C, Tsai K, Courtney DG, Bogerd HP, Holley CL, Cullen BR. Mapping of pseudouridine residues on cellular and viral transcripts using a novel antibody-based technique. RNA 2021;27(11):1400-1411. PM: 34376564.
Pani B, Ahn S, Rambarat PK, Vege S, Kahsai AW, Liu A, Valan BN, Staus DP, Costa T, Lefkowitz RJ. Unique Positive Cooperativity Between the -Arrestin-Biased -Blocker Carvedilol and a Small Molecule Positive Allosteric Modulator of the 2-Adrenergic Receptor. Mol Pharmacol 2021;100(5):513-525. PM: 34580163.
Perino AC, Gummidipundi SE, Lee J, Hedlin H, Garcia A, Ferris T, Balasubramanian V, Gardner RM, Cheung L, Hung G, Granger CB, Kowey P, Rumsfeld JS, Russo AM, True Hills M, Talati N, Nag D, Tsay D, Desai S, Desai M, Mahaffey KW, Turakhia MP, Perez MV. Arrhythmias Other Than Atrial Fibrillation in Those With an Irregular Pulse Detected With a Smartwatch: Findings From the Apple Heart Study. Circ Arrhythm Electrophysiol 2021;14(10):e010063. PM: 34565178.
Polcwiartek C, Loewenstein D, Friedman DJ, Johansson KG, Graff C, Sørensen PL, Nielsen RE, Kragholm K, Torp-Pedersen C, Søgaard P, Jensen SE, Jackson KP, Atwater BD. Clinical Heart Failure Among Patients With and Without Severe Mental Illness and the Association With Long-Term Outcomes. Circ Heart Fail 2021;14(10):e008364. PM: 34587762.
Sheikh FH, Ravichandran AK, Goldstein DJ, Agarwal R, Ransom J, Bansal A, Kim G, Cleveland JC, Uriel N, Sheridan BC, Chomsky D, Patel SR, Dirckx N, Franke A, Mehra MR. Impact of Race on Clinical Outcomes After Implantation With a Fully Magnetically Levitated Left Ventricular Assist Device: An Analysis From the MOMENTUM 3 Trial. Circ Heart Fail 2021;14(10):e008360. PM: 34525837.
Siddiqi TJ, Arshad MS, Sreenivasan J, Blumer V, Almani MU, Usman MS, Kolawole JO, Fudim M, Hernandez GA, Khan MS. Readmissions in Patients With Heart Failure and Mental Health Disorders (from a National Database). Am J Cardiol 2021;159:142-143. PM: 34493385.
Siegbahn A, Lindbäck J, Hijazi Z, Åberg M, Alexander JH, Eikelboom JW, Lopes RD, Pol T, Oldgren J, Granger CB, Yusuf S, Wallentin L. Multiplex protein screening of biomarkers associated with major bleeding in patients with atrial fibrillation treated with oral anticoagulation. J Thromb Haemost 2021;19(11):2726-2737. PM: 34390530.
Starks MA, Jackson LR, Hellkamp A, Al-Khatib SM, Mark DB, Thomas KL, Nichol G, Lee KL, Davidson-Ray L, Poole J, Anderson J, Johnson G, Bardy GH. Outcomes for patients with anterior myocardial infarction and prior cardiac arrest in the home automated external defibrillator trial (HAT). Resuscitation 2021;168:75-83. PM: 34500022.
Thomas KL, Mehta LS, Rzeszut AK, Lewis SJ, Duvernoy CS, Douglas PS. Perspectives of Racially and Ethnically Diverse U.S. Cardiologists: Insights From the ACC Professional Life Survey. J Am Coll Cardiol 2021;78(17):1746-1750. PM: 34674820.
Tran AT, Fonarow G\C, Arnold SV, Jones PG, Thomas LE, Hill CL, DeVore AD, Butler J, Albert NM, Spertus JA. Risk Adjustment Model for Preserved Health Status in Patients With Heart Failure and Reduced Ejection Fraction: The CHAMP-HF Registry. Circ Cardiovasc Qual Outcomes 2021;14(10):e008072. PM: 34615366.
Yoon S, Goh H, Fung SM, Tang S, Matchar D, Ginsburg GS, Orlando LA, Ngeow J, Wu RR. Experience and Perceptions of a Family Health History Risk Assessment Tool among Multi-Ethnic Asian Breast Cancer Patients. J Pers Med 2021;11(10):1046. PM: 34683187.
Krantz MJ, Debus SE, Hsia J, Patel MR, Anand SS, Nehler MR, Hess CN, Capell WH, Bracken T, Szarek M, Mátyás L, Krievins DK, Nault P, Stefanov S, Haskell LP, Berkowitz SD, Muehlhofer E, Hiatt WR, Bauersachs RM, Bonaca MP. Low-dose rivaroxaban plus aspirin in older patients with peripheral artery disease undergoing acute limb revascularization: insights from the VOYAGER PAD trial. Eur Heart J 2021 Oct 14;42(39):4040-4048. PM: 34430972.