Chief's message:
Hopefully everyone is finding some time to be with family and friends in over the weekend.  The Cath lab had some delayed summer games out at a park this weekend.  Some fun photos attached as Dr. Sketch was the judge for the team competition.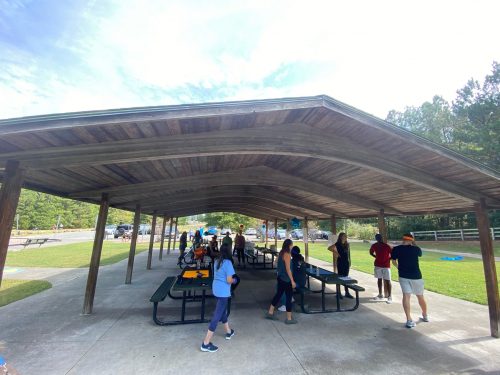 Highlights of the week:
CICU Expansion
On Friday, October 1, 2021, the Cardiac Intensive Care Unit located on 7E in Duke Medical Pavilion expanded from 20 beds to 24 beds. Thanks to all who helped us with our expansion! We want to especially thank the Nursing leadership and nurses who are everyday at the bedside caring for our patients, our CICU pharmacist Jeff Washam who has helped ensure we deliver safe and evidence based care, and our faculty and fellows who have worked to ensure that we have been able to support our patients and teams.  Additionally, we are excited to have our APPs lead by Corey Fry fully staffed and helping with the care of our patients and expansion.  Shown here are (L-R): Manasi Tannu, Jocelyn Goodall, Abbie Prodruck, Sipa Yankey and Chris Granger on our opening day.
Great job, everyone!
Pulmonary Hypertension CME Update
Hosted by Duke and UNC in collaboration with the Pulmonary Hypertension Association, the 13th Annual NC Research Triangle Pulmonary Hypertension Symposium will be held on Friday, November 5, 2021. The previously scheduled morning case-based workshop is cancelled due to the resurgence of COVID-19, however the afternoon symposium/webinar will still take place from 12:00-4:20 p.m. Eastern on Zoom. Registration is complimentary but required. Register here. Please contact Christy Darnell with questions.
Triangle Heart Walk – One Week from Today
We have one week left before the Triangle Heart Walk! The walk is scheduled for Sunday, October 10 and there is still time for you to help us make this a great year, despite the ongoing pandemic.  You can sign up as either a captain or a walkers, or simply donate to a member of an existing team. Registration and donations are quick and easy – you can start your own team or join an existing one: simply visit triangleheartwalk.org/dukehealth2021. Looking for a team to join? Manesh Patel and Jill Engel are both team captains and would be happy to have you join them! If you have any questions or need help, feel free to email Kimberly Burrows, senior director of development for the Triangle AHA, at kimberly.burrows@heart.org.
The American Heart Association will have "pop-up" starting lines for walkers at various locations throughout the Triangle:
NC State Campus – LexisNexis, 1801 Varsity Dr. in Raleigh, NC 27606
Healthy Mile – Holton Trail, 401 N. Driver St. in Durham, NC 27703
Healthy Mile – Northgate Park Trail, 302 W. Club Blvd. in Durham, NC 27704
Shelley Lake Loop, 1400 W. Millbrook Rd. in Raleigh, NC 27612
Worthdale Park, 1001 Cooper Rd. in Raleigh, NC 27610
Or, you can choose to walk on your own, wherever is most convenient to you. Too busy to walk? You can support any Duke Heart team by making a general donation to a walker to support their fundraising efforts.
Thanks for considering. We appreciate every dollar!
Chmielewski Retires
Carl Chmielewski, administrative assistant in the division of cardiology, retired from Duke Heart this past week after 29 years of service to the Division of Cardiology. We collected thoughts from a range of team members this past week and a small team was able to treat him to lunch recently.
"Carl – a short note of acknowledgement and deep appreciation for being the "glue" for our faculty, staff, and Division. Your tireless attention to details to make the "magic happen" is one of the untold secrets underlying the success of Duke Cardiology. The endless hours you spent "herding the cats" – what a journey!  Remember PDA's? (For those of you who don't know the acronym, PDA stands for personal digital assistant – yes, there was a time we used Palm Pilots and Windows Mobile devices). Remember the tape cartridge Dictaphones you deployed for our clinical documentation – and the work to convert to digital Dictaphones? Then remember converting from digital Dictaphones to direct voice to text in Epic?  Thank you for making sure that we had just the right information at just the right time to make our lives work, not too much and not too little – plus the patience and persistence to make the exceptions work.  And each of us was an exception! And you are truly the QGenda master – but before QGenda, there was AMION. And before AMION – there was Carl!  Through it all, your even-keeled demeanor and consistent willingness to tackle the toughest of assignments stand out as best characteristics for us to emulate.  Thank you for everything you mastered, the details you attended to, and your leadership, guidance and counsel you provided all of us – you will be deeply missed!  Best wishes on the well-deserved next chapter of your journey of life." – Jimmy Tcheng, MD
"Carl was one of the people in the Division that I first met, when I came to Duke 6 years ago.  It was immediately clear that he was the go-to guy, who could demystify so many of the complex and confusing systems here at Duke.  He was always very responsive as well as direct—if Carl said it, you could take it to the bank!" – Maria Price Rapoza, PhD
"Duke Cardiology is such a better place thanks to Carl. He has worked in the Division for past 29 years and has been truly committed to making it a better place. He has quietly done so much behind the scenes to help so many people. He will be so missed but truly deserves to be able to enjoy his pontoon boat!" – Mike Sketch, MD
"My work relationship with Carl begin over thirty plus years ago.  During that time, Carl proved to be an amazing and dedicated employee to the Division of Cardiology and a valuable asset to the staff assistants.  Any task or question the staff assistants needed help with, Carl had a solution.  If there was a process we did not understand, Carl took the time to meet with you and walk you through every step.  When I was given the administrative responsibilities in the Cardiovascular Research Center, Carl was instrumental in providing me with all of the resources needed to ensure a successful transition.  Carl will be truly missed as he was our "go to" person in the Division of Cardiology." — Cheryl Woodard
"Carl is one of those unsung heroes that is the "glue" that holds any diverse organization together. He is pretty much the proverbial "jack of all trades." His job description includes fixing hardware (such as a monitor or a printer) and software (Qgenda has been his baby). His resourcefulness is evident from his office space where, much like a family hardware store, he can reach into one of his desk drawers and come up with a solution to most any problem.  He is a master at using paper clips or twistee wire or duct tape to piece together whatever is needed to keep something up and running. And he always does so with enthusiasm, a smile and occasionally a corny joke. Hopefully he will get in more fishing and boating now. He will certainly be sorely missed." – Tom Bashore, MD
We wish Carl all the best in his retirement!
Upcoming Events & Opportunities
 Cardiology Grand Rounds
October 5: Critical Care Cardiology in the 21st Century with Anthony Carnicelli. 5 p.m. Webex.
October 12: Lessons from ADAPTABLE and PREVENTABLE: Is Pragmatism the Answer? with Schuyler Jones. 5 p.m. Webex.
October 26: Sleep Disordered Breathing and Cardiovascular Disease with Jonathan Piccini, Marat Fudim and Andrew Spector. 5 p.m. Webex.
Upcoming Duke Heart CME
October 8: Duke Heart Failure Symposium: The Leading Edge of Heart Failure Management. Course directors are Richa Agarwal and Robert Mentz. 12 – 4:30 p.m. Zoom Webinar. To learn more and to register, please visit: http://duke.is/Q1sBtf
November 5: 13th Annual NC Research Triangle Pulmonary Hypertension Symposium. Course directors are H. James Ford (UNC) and Terry Fortin. 8:30 a.m. to 4:20 p.m. Morning case-based workshops have been cancelled due to Covid. Afternoon portion will be held via Zoom. For more information and to register, please visit: https://bit.ly/3DrZwuv.
Have news to share?
If you have news to share with the Pulse readership, please contact Tracey Koepke, director of communications for Duke Heart at tracey.koepke@duke.edu. We would love to hear about your latest accomplishments, professional news, cool happenings, and any events or opportunities that may be of interest to our Duke Heart family. Please call with any questions: 919-681-2868. Feedback on Pulse is welcome and encouraged.
Duke Heart in the News:
September 27 — James Blumenthal (psychiatry)
Healio/Cardiology
Structured lifestyle program for resistant hypertension improves BP, multiple biomarkers
https://duke.is/bc5x2
September 27 — James Blumenthal
MD Edge
Lifestyle interventions improve resistant hypertension
https://duke.is/che8m
September 27 — James Blumenthal
CNN Health*
DASH diet and exercise helps uncontrolled high blood pressure, study finds
https://duke.is/jppmf
*carried by 62 additional news outlets
September 27 — James Blumenthal
U.S. News & World Report*
Better Diet, More Exercise Equals Better Blood Pressure
https://duke.is/ygf64
*carried by 59 additional news outlets
September 29 — Duke University Hospital
WNCN CBS-17*
NC man home with family 3 months after receiving new-generation artificial heart at Duke Hospital
https://duke.is/r32z6
*also carried by FOX-8 Greensboro, CBS-3 Charlotte, & ABC-24 Wilmington
September 29 — Geoffrey Ginsburg
STAT News
A new study points to the power of wearables to predict even presymptomatic infections, suggesting use one day against Covid-19
https://duke.is/wxhhp