Chief's message:
Dear Duke Heart Faculty, Staff, Fellows, Residents, and Community.
As 2021 comes to an end, we take time to reflect on the amazing accomplishments, resiliency, and teamwork of our entire Duke Heart community.   In another difficult year, we were again privileged to be able to provide healthcare to our community, to be able to lean on each other in challenging times, and to be able to celebrate joint successes.  Importantly we cherish our ability to continue to be with each other through these difficult times, frequently centering on our mission to train the next generation of heart leaders while we work to discover and deliver heart health.
So, on behalf of the Duke Heart Leadership team, we offer our heartfelt wishes of joy and health to you and your loved ones. More than ever, we recognize life is precious and hope that the season brings you peace — happiness, and warmth that comes from shared moments spent with friends and family.
Happy Holidays and Best Wishes in the upcoming year!
Highlights of the week:
Pediatric Team Receives SVRF Funding
We learned this week that Andrew Landstrom, MD, PhD, and his colleagues have been awarded a 2021 Single Ventricle Research Fund award. The funding was announced publicly on Wednesday, Dec. 15 by Additional Ventures. Landstrom will receive $660,000 ($220K for three years) to study single ventricle heart disease in the laboratory; his project is titled, "Leveraging induced pluripotent stem cells to define the developmental drivers of hypoplastic left heart syndrome." Landstrom will serve as principal investigator; Drs. Nick Andersen and Joe Turek will serve as co-investigators.
The grant is particularly notable because it represents the first major funding award for the Single Ventricle Care and Research Program (SVCRP) launched in 2019 and housed within Duke's Pediatric and Congenital Heart Center. The SVCRP is dedicated to the care of children born with single ventricle heart disease and improving their survival and quality of life. Their multi-disciplinary team is dedicated to the longitudinal care of these patients, from fetal life through adulthood. The program is led by Nick Andersen, surgical director; Andrew McCrary, cardiology director, and Veera Allareddy, medical director.
Congratulations to all!!!
Lee Completes EP Fellowship; Will Return to Military Service
Joshua Lee, DO, a fellow in the Duke Clinical Cardiac Electrophysiology Fellowship program, is completing his training with us this month and then heading back to San Antonio, TX. There, he will complete his military service with the U.S. Army and put his new skillset to work caring for patients at Brooke Army Medical Center, a 400-bed hospital situated at Fort Sam Houston.
Lee joined the EP fellowship in July 2019, spending the bulk of his time at Duke training during the COVID-19 pandemic. He says he chose the Duke program in part based on overall reputation, but also because he had known a former Duke EP fellow serving in the U.S. Army who had raved about their training here.
"When I first came to interview, I immediately sensed the collegiality between the EP attendings, as well as between the fellows and the attendings," Lee says. "I knew I'd pick up excellent skills and knowledge here, but I also felt that I'd be joining a supportive, encouraging team who would provide great mentorship."
He says that beyond the supportive environment, one of the things that really stood out to him was the emphasis on the importance of teamwork.
"Patient care is not just about offering a knowledgeable team of physicians," Lee states. "It's a holistic partnership involving EP technicians, EP staff, cardiologists, surgeons and general medicine – it's all about teamwork. This has really been emphasized during my years here at Duke and it's very similar to my work in the Army where you have a core group of people working together. You really develop a strong bond with others on your team."
Electrophysiology began to intrigue Lee while he was practicing as a general cardiologist in San Antonio. During that time, he encountered a cardiac sarcoid patient with a recurrent ventricular tachycardia (VT). An electrophysiologist on the team performed a procedure and afterward the patient was shown to have no signs of VT and felt a lot better.
"It's amazing how procedures, skills and knowledge are always improving in the EP field," adds Lee. "Medicine is lifelong learning. I now have some great tools and resources that I've picked up during my time here at Duke and I am excited to keep learning more."
Lee has four more years of commitment to fulfill with the Army and is looking forward to assisting in the training of general cardiology fellows when he gets back to Brooke Army Medical Center.
"It is very bittersweet to leave Duke, and while I feel sad about that, I am so excited to move on to another adventure," Lee says. "I am so thankful to the many people that I have worked with here, especially the small group of EP attendings who work with our fellowship program. Everyone has been so easy to work with and it has been really fun. I felt happy every day to be here."
It's clear that Lee made just as big an impact on the EP team as they did on him.
"We are really grateful to have had Josh in our EP fellowship program during the trying and difficult times of the COVID pandemic," said Jonathan Piccini, MD, associate professor of medicine and director of Duke Electrophysiology. "He has inspired all of us with his eternal optimism, refreshing smile, and the kindness he extends to everyone. He always goes the extra mile for every single one of his patients. We know the San Antonio area and military will be very fortunate to have Lt. Colonel Lee taking care of them and keeping their hearts in rhythm. We salute you Dr. Lee and thank you for your service to Duke, our country, and the US Armed Forces!"
Congratulations, Josh! We look forward to tracking your career and wish you all the best.
Duke Heart Network Welcomes Kotyra as new Senior Director
Duke Network Services is happy to introduce Lisa Kotyra, RN, MSBA, ACNP, as the new Senior Director of the Duke Heart Network.
Lisa comes to Duke Network Services after practicing in the Advanced Heart Failure Program at the University of Rochester Medical Center (URMC) as a Senior Nurse Practitioner and the Program Administrator. Lisa had been with Advanced Heart Failure since 2004 and has experience managing one of the largest VAD centers in the US (behind Duke). Additionally, Lisa's role included oversight of both CMS and the Joint Commission regulatory processes for Advanced Heart Failure and VAD.  Throughout her career, Lisa has cared for cardiovascular patients, including time spent as a nurse practitioner in the URMC Cardiothoracic ICU and in a private, community cardiology practice in both inpatient and outpatient roles.  Lisa has been a longstanding member of the American Association of Critical Care Nurses (AACN) and the American College of Cardiology (ACC); most recently serving as the NY State representative for the national ACC CV Team.
Lisa received her Bachelor of Science in Nursing from State University of New York at Binghamton. She received her Masters of Science in Nursing (Acute Care NP Program/Critical Care) from the University of Rochester and her Masters of Science in Business Administration from the Simon Business School at the University of Rochester.
Lisa enjoys paddle boarding, hiking and traveling with family — perfect for our NC landscape. She is married with three children – one of whom is 26, and twins who are 19.
Please give her a warm welcome when you are able to do so!
Outing with Califf
Saturday, December 11, brought a fun outing with Rob Califf – Duke and UNC cardiologists Kristin Newby, Sid Smith (UNC), Magnus Ohman and Chris Granger spent the day out on the links helping to "prep" Califf for his FDA Commissioner Senate hearing, which was held on Tuesday, Dec. 14.
For more on the hearing, please visit: https://www.pbs.org/newshour/politics/watch-live-senate-hearing-on-the-nomination-of-robert-califf-as-commissioner-of-fda.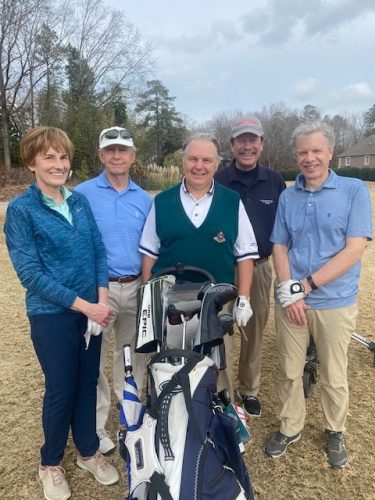 Ginsburg Celebrated, Pre-Departure for NIH
The team at Duke's Center for Applied Genomics & Precision Medicine (CAGPM) gathered this week to honor Geoff Ginsburg in his final days as Center director. Ginsburg, a faculty member in our division of cardiology, is leaving Duke to take on the role of Chief Medical and Scientific Officer for the National Institutes of Health (NIH) All of Us Research Program starting next month. In a recent message to the CAGPM, he said, "Transitions are great opportunities for everyone. I am extremely confident in this team, in your future growth and successes, and that Duke CAGPM will continue to be at the forefront of genomics and precision medicine."
We wish him all the best in his exciting new role and look forward to staying in touch!
Kudos to Ouyang
We received some terrific feedback from a patient recently on behalf of Wendy Chian Ouyang, one of our terrific nurse practitioners.
The patient's note states: "Wen a gentle spirit, she is. Dr. Glower picked a great lady, caring, kind and a loving spirit. Super attentive."
Thank you for the care and the compassion you show to all of the patients you provide care for, Wendy! We are very happy that you joined our team. – Diane Sauro, MSN, ANP, NEA-BC, Director-Advanced Practice, Duke Heart Center
Way to go, Wendy!
ICYMI: Final Tributes – Duke Univ & Health System Passings, 2021
We lost several members of our Duke Heart family in 2021. The University published a full list of all staff, faculty and retirees who passed away this past year, through November. To access that publication, please visit: https://bit.ly/3J3zBfB.
Happy Holidays & Reminder from the Pulse!
We wish each of you a calm, peaceful and joy-filled holiday season. Duke Heart Pulse will not be published on Dec. 26 or Jan. 2. We'll be back on Sunday, Jan. 9. Be safe and healthy out there and we'll see you in the New Year!
Upcoming Events & Opportunities
Duke Well-Being Ambassador Virtual Course
January 11 – March 15: The Well-being Essentials for Learning Life-Balance (WELL-B) weekly webinar series begins January 11, 2022 at 3 p.m. EST. For only one hour a week for 10 weeks (with an optional 11th week for sharing content with colleagues), healthcare workers can learn about the science and practice of well-being from Dr. Bryan Sexton, Dr. Carrie Adair, and Dr. Kyle Rehder. These strategies can enhance your well-being, and through sharing, the well-being of your co-workers. Available to all Duke Health employees and those outside of Duke as well. More information: bit.ly/dukewellb. Offered by the Duke Center for Healthcare Safety and Quality.
Duke Research Week 2022
January 31 – February 4: Registration is now open for Duke Research Week 2022. Join us virtually for a week-long celebration of research underway at Duke! There is an excellent lineup of faculty lectures, panel discussions, "flash talks" with graduate students, trainees and postdoctoral fellows, and guest presenters for the Robert J. Lefkowitz, MD, Distinguished Lecture and Daubechies Lecture. Check out the full agenda here: https://dukeresearchweek.vfairs.com/en/#distinguishedlectures
Save the Date: Wear Your Red
Friday, Feb. 4: National Wear Red Day. Seriously team, put this one on the calendar! It's never too early to start thinking of what you can wear on National Wear Red Day — red running shoes? Heart socks? The perfect red top or sweater? A cool red tie? What about that AHA gear you picked up at the last in-person Sessions? Stock up, plan ahead and have plenty of attire to wear throughout heart month to help promote cardiovascular disease awareness — and YES — we would love to have individual and team photos to share in Pulse!!
Have news to share?
If you have news to share with the Pulse readership, please contact Tracey Koepke, director of communications for Duke Heart at tracey.koepke@duke.edu. We would love to hear about your latest accomplishments, professional news, cool happenings, and any events or opportunities that may be of interest to our Duke Heart family. Please call with any questions: 919-681-2868. Feedback on Pulse is welcome and encouraged. Submissions by Noon, Wednesdays, to be considered for weekend inclusion. Note: Pulse is taking a break for the holidays (Dec. 26, Jan. 2). We'll return on Jan. 9, 2022!
Duke Heart in the News:
December 13 — Manesh Patel
tctMD
World-wise: As In-Person Meetings Resume, Global Voices Hope to Be Heard
https://duke.is/g4tz7
December 14 — Stephen Greene
Medscape
Metformin Benefits Patients Hospitalized for Heart Failure
https://duke.is/w6c3p
December 15 — Svati Shah
Associated Press
$10 million invested to study long-term impact of COVID-19 on heart and brain health
https://duke.is/vdmnw
December 15 — Svati Shah
dicardiology.com
AHA Funds Research on Underlying Causes and Therapies for Cardiovascular Impacts of Long COVID
https://duke.is/ze76a
December 15 — Sunil Rao
Healio/Cardiology Today
DES systems to facilitate transradial PCI receive FDA approval
https://duke.is/mgxbq
December 15 — Rajesh Swaminathan
tctMD
Discharge Safe as Early as a Day After Primary PCI for STEMI
https://duke.is/85yyr