Chief's message:
AHA21: This weekend we had the AHA meeting 2021 where we had several of our faculty and fellows presenting.  Given the great science and immediate impact on clinical care – we will have updates in the upcoming weeks.  Want to personally congratulate and thank all the faculty and fellows presenting at this years scientific sessions.
Highlights of the week:
Thomas named Vice Dean for Diversity, Equity and Inclusion for Duke SOM
Kevin Thomas, MD, associate professor of medicine in cardiology and an electrophysiologist in the Division of Cardiology at Duke, has been named Duke University School of Medicine's first Vice Dean for Diversity, Equity and Inclusion. Dr. Thomas currently serves as Assistant Dean for Underrepresented Faculty Development for the School of Medicine and as Director of Faculty Diversity and Health Disparities Research for Duke Clinical Research Institute (DCRI).
As Vice Dean for Diversity, Equity and Inclusion, Dr. Thomas will lead the School's Office of Diversity and Inclusion and will serve as a key advisor and partner to the Dean to advance the School's goal of cultivating an inclusive, welcoming, respectful and supportive working and learning environment. Dr. Thomas and his team will collaborate with staff, faculty and students across the school to implement the School's Moments to Movement Strategic Plan to Dismantle Racism and Advance Equity, Diversity and Inclusion and to develop and implement a broad range of policies and programs rooted in equity that foster a greater sense of belonging, engagement, and achievement amongst all members of the School of Medicine and larger Duke Health community.
Dr. Thomas has developed and led a number of programs at Duke that facilitate academic achievement and promotion of Underrepresented Racial and Ethnic Faculty in the School of Medicine, including the School's Academic Development, Advocacy, Networking Coaching, and Education in Underrepresented Populations (ADVANCE-UP) faculty development program. In 2016, he was the inaugural recipient of the School's Michelle P. Winn Inclusive Excellence Award, which recognizes individuals who have made significant contributions to diversity and inclusion.
Dr. Thomas received a BS degree from Emory University, his MD from the University of North Carolina at Chapel Hill, and was Chief Resident in Medicine at Duke University in 2003-2004. In 2007, he completed fellowships in cardiology and cardiac electrophysiology at Duke and joined the Duke faculty.
The announcement was made by Mary E. Klotman, MD, Dean of the School of Medicine, on November 8. Dr. Thomas's service in this role is effective immediately.
Congratulations, Kevin – well deserved!
Perfusion Team Update
Congratulations to the following members of our Perfusion Team! Andrew (AJ) Jack, CCP, Demetria Middleton, CCP,
DeShantra Kelly, CCP, and Heather Keck, CCP have passed both the Perfusion Basic Science Examination (PBSE) and the Clinical Applications in Perfusion Examination (CAPE).  They are now designated by the American Board of Cardiovascular Perfusion as Certified Clinical Perfusionists (CCP).  We are so proud of them – this accomplishment is the culmination of many years of hard work and sacrifice.
Kudos also to the Pediatric Perfusion Team. They have successfully rolled out new state of the art technology in cardiopulmonary bypass this week. New Quantum pediatric heart-lung machines with Viper technology made by Spectrum Medical came online this past week – they are equipped with enhanced digitization, safety monitoring and best practice alerts. Spectrum customized the software with our Duke team to fit our specific needs and goals. This software enables the Duke team to continue to customize and design best practices alerts to optimize the care of our patients.
After many, many months of design, coordination, and simulation the team successfully pumped their first case with these heart lung machines on Wednesday, November 10th — a neonatal arterial switch operation.
Pictured here some of the members of the pediatric perfusion team: Amy Evans, Rachel Gambino, Felicia Shugars, Greg Smigla, and Travis Siffring.
Great work, everyone!!!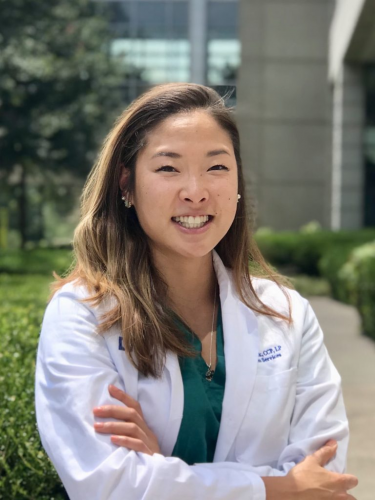 Shout-out to Hernandez
A shout-out to Adrian Hernandez who volunteered his entire Sunday last weekend (November 7) to help give COVID vaccines to kids at Durham Academy and throughout the broader Durham community.
Our hat tip comes from Jenn Rymer: "I got my son vaccinated and was so thankful to do so, and saw a lot of other Duke parents getting their kids vaccinated. I really appreciated people like Adrian being there to hopefully get our world back to a normal place!"
Nicely done, Adrian!
ICYMI: Code Blue & Duke's Chaplain Service
A new peer-reviewed journal article is out in the American Journal of Critical Care: "A Descriptive Study of Chaplains' Code Blue Responses" (https://doi.org/10.4037/ajcc2021854) by co-authors Callie Tennyson, John Oliver (chaplain services) and Karen Joost (pediatrics, palliative care), all of Duke. Background: Family presence during resuscitation is the compassionate practice of allowing a patient's family to witness treatment for cardiac or respiratory arrest (code blue event) when appropriate. Offering family presence during resuscitation as an interprofessional practice is consistent with patient- and family-centered care. In many institutions, the role of family facilitator is not formalized and may be performed by various staff members. At the large academic institution of this study, the family facilitator is a member of the chaplain staff.
Congrats, Callie, John and Karen!
Duke Heart Family Halloween Fun
Many thanks to Jamie Jollis for collecting some really adorable photos of our Duke Heart team family members to share with Pulse. We hope everyone had an enjoyable Halloween!
Upcoming Events & Opportunities
Cardiology Grand Rounds
We will not hold Cardiology Grand Rounds this week.  
Have news to share?
If you have news to share with the Pulse readership, please contact Tracey Koepke, director of communications for Duke Heart at tracey.koepke@duke.edu. We would love to hear about your latest accomplishments, professional news, cool happenings, and any events or opportunities that may be of interest to our Duke Heart family. Please call with any questions: 919-681-2868. Feedback on Pulse is welcome and encouraged.
Duke Heart in the News:
November 5 — Edward Chen
tctMD
TAVI Edges Out Surgery in 2-Year Costs for Low-risk Patients: PARTNER 3
https://bit.ly/3qBHWjE
November 5 — Jennifer Rymer
Medpage Today
Surgical Scores Shine for Prognostication in No-Option PCI — Surgeons, Not So Much
https://bit.ly/3c6YyaB
November 8 — Manesh Patel
tctMD
AHA 2021 Tackles AF Triggers, Watchful Waiting in AS, Data Overload, and More
https://bit.ly/3FfpjX1
November 8 — Manesh Patel
Medscape
AHA 2021 Puts Scientific Dialogue, Health Equity Center Stage
https://wb.md/31WtKYm
November 9 — Geoffrey Ginsburg
Triangle Business Journal
Duke professor leaving to join NIH for 'once in a lifetime opportunity'
https://bit.ly/3wIdxRR
November 9 — Mitchell Krucoff
tctMD
Cardiogenic Shock: SCAI Categories Get a Rethink as Research Rolls On
https://bit.ly/3n9YtJD
November 9 — Jennifer Rymer
MDEdge
At 5 years, iFR found as effective and safe as FFR for guiding PCI intervention
https://bit.ly/30pwtsS
November 10 — Pamela Douglas
Radiology Today
Heart CT Shows Slight Benefit Over Stress Tests
https://bit.ly/3HhxcwR
November 10 — Pamela Douglas
tctMD
Debating ISCHEMIA: Do the Results Apply to CABG, Too?
https://bit.ly/3CfQ3V7
November 12 — Robert Califf
Associate Press*
Biden picks ex-FDA chief Robert Califf to again lead agency
https://bit.ly/3FcAG1W
*story appears in dozens of news outlets across the U.S.
November 12 — Robert Califf
Politico
Biden nominates Califf as FDA chief
https://politi.co/3FizFoK
Division of Cardiology Publications Indexed in PubMed November 4-10, 2021
Berntorp K, Persson J, Koul SM, Patel MR, Christiansen EH, Gudmundsdottir I, Yndigegn T, Omerovic E, Erlinge D, Fröbert O, Götberg M. Instantaneous wave-free ratio compared with fractional flow reserve in PCI: A cost-minimization analysis. Int J Cardiol 2021;344:54-59. PM: 34600977.
Blumenthal JA, Smith PJ, Jiang W, Hinderliter A, Watkins LL, Hoffman BM, Kraus WE, Liao L, Davidson J, Sherwood A. Effect of Exercise, Escitalopram, or Placebo on Anxiety in Patients With Coronary Heart Disease: The Understanding the Benefits of Exercise and Escitalopram in Anxious Patients With Coronary Heart Disease (UNWIND) Randomized Clinical Trial. JAMA Psychiatry 2021;78(11):1270-1278. PM: 34406354.
Chouairi F, Miller PE, Guha A, Clarke JR, Reinhardt SW, Ahmad T, Freeman JV, Desai NR, Friedman DJ. Cannabis use disorder among atrial fibrillation admissions, 2008-2018. Pacing Clin Electrophysiol 2021;44(11):1934-1938. PM: 34506639.
Darden D, Duong T, Du C, Munir MB, Han FT, Reeves R, Saw J, Zeitler EP, Al-Khatib SM, Russo AM, Minges KE, Curtis JP, Freeman JV, Hsu JC. Sex Differences in Procedural Outcomes Among Patients Undergoing Left Atrial Appendage Occlusion: Insights From the NCDR LAAO Registry. JAMA Cardiol 2021;6(11):1275-1284. PM: 34379072.
Dupre ME, Farmer HR, Xu H, Navar AM, Nanna MG, George LK, Peterson ED. The Cumulative Impact of Chronic Stressors on Risks of Myocardial Infarction in US Older Adults. Psychosom Med 2021;83(9):987-994. PM: 34297011.
Feng KY, O'Connor CM, Clare R, Alhanti B, Piña IL, Kraus WE, Whellan DJ, Mentz RJ. Greater Pain Severity Is Associated with Worse Outcomes in Patients with Heart Failure. J Cardiovasc Transl Res 2021;14(5):984-991. PM: 33564986.
Grubb AF, Greene SJ, Fudim M, Dewald T, Mentz RJ. Drugs of Abuse and Heart Failure. J Card Fail 2021;27(11):1260-1275. PM: 34133967.
Hein AM, Scialla JJ, Sun JL, Greene SJ, Shaw LK, Chiswell K, Pun PH, Mentz RJ. Estimated Glomerular Filtration Rate Variability in Patients With Heart Failure and Chronic Kidney Disease. J Card Fail 2021;27(11):1175-1184. PM: 33971291.
Klem I, Cavalier JS. Vasodilator Stress Magnetic Resonance Imaging in Patients With Prior Myocardial Infarction. JACC Cardiovasc Imaging 2021;14(11):2152-2154. PM: 34147445.
Kumar N, Xu H, Garg N, Pandey A, Matsouaka RA, Field ME, Turakhia MP, Piccini JP, Lewis WR, Fonarow GC. Patient characteristics, care patterns, and outcomes of atrial fibrillation associated hospitalizations in patients with chronic kidney disease and end-stage renal disease. Am Heart J 2021;242:45-60. PM: 34216572.
Lala A, Mentz RJ. Following Our Hearts: Prioritizing Self-care and Wellness. J Card Fail 2021;27(11):1163-1164. PM: 34749927.
Naidu SS, Baron SJ, Eng MH, Sathanandam SK, Zidar DA, Feldman DN, Ing FF, Latif F, Lim MJ, Henry TD, Rao SV, Dangas GD, Hermiller JB, Daggubati R, Shah B, Ang L, Aronow HD, Banerjee S, Box LC, Caputo RP, Cohen MG, Coylewright M, Duffy PL, Goldsweig AM, et al.  Hot topics in interventional cardiology: Proceedings from the society for cardiovascular angiography and interventions (SCAI) 2021 think tank. Catheter Cardiovasc Interv 2021;98(5):904-913. PM: 34398509.
Nathan SD, Waxman A, Rajagopal S, Case A, Johri S, DuBrock H, De La Zerda DJ, Sahay S, King C, Melendres-Groves L, Smith P, Shen E, Edwards LD, Nelsen A, Tapson VF. Inhaled treprostinil and forced vital capacity in patients with interstitial lung disease and associated pulmonary hypertension: a post-hoc analysis of the INCREASE study. Lancet Respir Med 2021;9(11):1266-1274. PM: 34214475.
Ramacciotti E, Agati LB, Calderaro D, Volpiani GG, de Oliveira CCC, Aguiar VCR, Rodrigues E, Sobreira ML, Joviliano EE, Dusilek C, Itinose K, Dedivitis RA, Cortina AS, Sanches SMV, de Moraes NF, Tierno PFGMM, de Oliveira ALML, Tachibana A, Chate RC, et al. Medically Ill hospitalized Patients for COVID-19 THrombosis Extended ProphyLaxis with rivaroxaban ThErapy: Rationale and Design of the MICHELLE Trial. Am Heart J 2021;242:115-122. PM: 34480880.
Samsky MD, Morrow DA, Proudfoot AG, Hochman JS, Thiele H, Rao SV. Cardiogenic Shock After Acute Myocardial Infarction: A Review. JAMA 2021;326(18):1840-1850. PM: 34751704.
Shi H, Ossip DJ, Mayo NL, Lopez DA, Block RC, Post WS, Bertoni AG, Ding J, Chen S, Yan C, Xie Z, Hoeschele I, Liu Y, Li D. Role of DNA methylation on the association between physical activity and cardiovascular diseases: results from the longitudinal multi-ethnic study of atherosclerosis (MESA) cohort. BMC Genomics 2021;22(1):790. PM: 34732130.
Sofer T, Kurniansyah N, Aguet F, Ardlie K, Durda P, Nickerson DA, Smith JD, Liu Y, Gharib SA, Redline S, Rich SS, Rotter JI, Taylor KD. Benchmarking association analyses of continuous exposures with RNA-seq in observational studies. Brief Bioinform 2021;22(6):bbab194. PM: 34015820.
Sun D, Richard M, Musani SK, Sung YJ, Winkler TW, Schwander K, Chai JF, Guo X, Kilpeläinen TO, Vojinovic D, Aschard H, Bartz TM, Bielak LF, Brown MR, Chitrala K, Hartwig FP, Horimoto ARVR, Liu Y, Manning AK, Noordam R, Smith AV, Harris SE, Kühnel B, et al. Multi-Ancestry Genome-wide Association Study Accounting for Gene-Psychosocial Factor Interactions Identifies Novel Loci for Blood Pressure Traits. HGG Adv 2021;2(1):100013. PM: 34734193.
Taron J, Foldyna B, Mayrhofer T, Osborne MT, Meyersohn N, Bittner DO, Puchner SB, Emami H, Lu MT, Ferencik M, Pagidipati NJ, Douglas PS, Hoffmann U. Risk Stratification With the Use of Coronary Computed Tomographic Angiography in Patients With Nonobstructive Coronary Artery Disease. JACC Cardiovasc Imaging 2021;14(11):2186-2195. PM: 33865792.
Vemulapalli S, Stebbins A, Jones WS, Gutierrez JA, Patel MR, Dolor RJ, Pellikka PA, Alhanti B, Hoffmann U, Douglas PS. Cardiovascular risk and outcomes in symptomatic patients with suspected coronary artery disease and non coronary vascular disease: A report from the PROMISE trial. Am Heart J 2021;242:82-91. PM: 34384742.
Weissler EH, Ford CB, Patel MR, Goodney P, Clark A, Long C, Jones WS. Younger patients with chronic limb threatening ischemia face more frequent amputations. Am Heart J 2021;242:6-14. PM: 34371002.
Westerterp KR, Yamada Y, Sagayama H, Ainslie PN, Andersen LF, Anderson LJ, Arab L, Baddou I, Bedu-Addo K, Blaak EE, Blanc S, Bonomi AG, Bouten CVC, Bovet P, Buchowski MS, Butte NF, Camps SGJA, Close GL, Cooper JA, Das SK, Cooper R, Dugas LR, Ekelund U, et al. Physical activity and fat-free mass during growth and in later life. Am J Clin Nutr 2021;114(5):1583-1589. PM: 34477824.