Highlights of the week:
AHA Scientific Sessions & Watch Party
A big congratulations to all members of our team who showcased the outstanding cardiovascular research and clinical care taking place at Duke during the 2021 AHA Scientific Sessions – in an extraordinarily challenging year, we still had a tremendous showing of speakers, moderators, panelists, discussants and collaborators from across Duke Heart and Duke Clinical Research Institute. Congratulations to Karen Alexander, Renato Lopes, Marat Fudim, Sean Pokorney, Neha Pagidipati, Svati Shah, Adrian Hernandez, Magnus Ohman, Schuyler Jones, L.Kristin Newby, Patricia  Cowper, Gerald Bloomfield, Monique Starks, Jennifer Rymer, Stephen Greene, Kevin Thomas, Sana Al-Khatib, Dan Mark, Pamela Douglas, Jonathan Piccini, Adam DeVore, Robert Mentz, Manesh Patel, Michael Felker, Chris Granger, Jim Daubert, Sunil Rao, Vishal Rao, Michelle Kelsey, Josephine Harrington and Vanessa Blumer and to all of our amazing staff members who support their research, time and efforts.
A full listing of all presentations by members of the DCRI, including On-Demand Content can be found here: https://duke.is/2s2f8; media coverage appears in our News Section, below.
A big hat tip to Chris and Bradi Granger for hosting an AHA Watch Party at their lovely home in Bahama last weekend – it was a fun event held in lieu of the annual AHA Duke Reception to celebrate Duke Heart's presence at the AHA. The Watch Party included some serious and not-so-serious awards, including "Most Likely to Succeed (as next FDA Commissioner)" which went to Rob Califf.
Other superlatives included:
Best Stats awarded to Hillary Mulder and Karen Pieper of the DCRI
Best BP Cuff Distribution awarded to Holly Biola of the AHA-Duke-PACE Team
Best Dissemination Award given to the ICU iPad Patient-Family Communication Study
The Heart Success Champion "Big Gold Belt" Award, given to the Heart Failure team member involved in research that has led to significant improvement in the care of HF patients, went to Steve Green for his presentation of CHAMP-HF. Green is a collaborator or partner on 14 total presentations or posters and, according to his colleagues, "will hunt you down if you fail to prescribe GDMT."
The Rising Star Award, given to a trainee who consistently demonstrates commitment to growth, education and involvement with the AHA, was presented to Vanessa Blumer, a finalist for and winner of the 2021 AHA Laennec Award.
The Bench to Bedside Award, given to an individual who leads the way in basic science research went to Lauren Truby for her work with Svati Shah and others surrounding proteomic profiling to identify pre-transplant biomarkers of renal failure after heart transplantation which was accepted and presented as a rapid fire oral abstract.
The Master Collaborator Award was awarded to Marat Fudim for his 13 collaborations across the globe during AHA Scientific Sessions ranging in topics from global health to big data in MIs and stroke care to heart failure disparities. "When in doubt, stop, collaborate and listen."
The Best Site-Based Randomized Study was awarded to UNTAP-IT team for improving understanding of patient discomfort and pain during cath.
The 2nd Best Caipirinhas award was presented to Renato Lopes
Our newest Heart Center Nurse-APP PIs were recognized: Heather Pena, Dustin Tart, Anna Mall, Kelly Brown, Jules Onorato, Jaime McDermott, Callie Tennyson, Shelley Thompson and Kelly Kester
Most Synergistic was awarded to Neha Pagidipati
We hope everyone enjoyed the evening! Congrats to each and every one of you.
Blumer Wins AHA Laennec Award at Scientific Sessions
Vanessa Blumer, MD, was awarded the 2021 Laennec Fellow in Training Clinician Award by the American Heart Association (AHA) Council on Clinical Cardiology during the AHA Scientific Sessions held virtually last weekend. The award recognizes the importance of clinical acumen, inductive analytic skills, and teaching ability in future academic cardiologists; it is a highly competitive award category.
Blumer, a third year fellow in our cardiovascular disease fellowship program, presented her abstract, A Challenging Case of Endocarditis — Multi-Disciplinary Approach is an Achievable Chimera during the Laennec FIT Award Competition Session. She is the first finalist from Duke to earn the Laennec award, which has been given since 2010.
"I am extremely honored to have been awarded this year's AHA Laennec FIT Clinician Award," said Blumer. "All the finalists did an exceptional job and I learned so much from the experience. Mostly, I am beyond grateful to everyone who helped and supported me."
Congratulations, Vanessa — this is a tremendous accomplishment and we are so excited for you!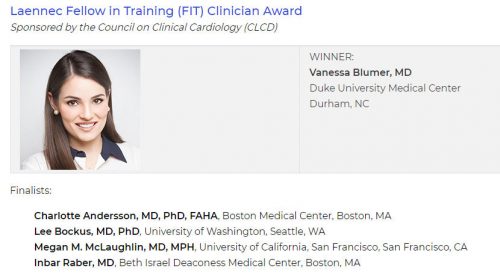 New Cardiology Clinic Space Opens at Arringdon in Morrisville
Our newest cardiology ambulatory space, Duke Cardiology of Arringdon, opened on Monday, Nov. 1. Two Open House events were held in late October in order to showcase the location and orient clinicians and staff to the new space.
Special thanks to Matt Fitzsimmons; Drs. Mike Blazing, Camille Frazier-Mills, Sreekanth Vemulapalli and Anita Kelsey; Annette Moore; Karen Strub; Sarah Moore; Allen Stephens, and Amber Stohl for their exceptional work on planning for the space and helping to executing the move from the Southpoint location. This group led the effort, meeting weekly for more than a year, to ensure that perspectives from all stakeholders within Duke Heart Services were taken into account during the planning phase. In addition, the Division's staff assistant team led by Mitzi Scarlett and Chris Morgenstern provided additional support with a tremendous volume of appointment rescheduling and helping to ensure our patients were informed.
"This was definitely an all hands on deck operation, said Nick Nguyen, MHA, Duke Heart's administrator for the Division of Cardiology. "We worked to include multiple viewpoints from across our service line before reaching consensus on operations, layout and design. The team met weekly to consider all aspects of the clinical spaces and operations– working and reworking toward an agreed upon solution."
Arringdon offers a fresh, bright and spacious location with lots of upgrades, including high-low chairs that convert to exam tables, perimeter work spaces that offer individual sit-stand capability and better ergonomics for the team, as well as ample natural lighting. The clinic, located on the 4th floor, offers a 21 exam room clinic; diagnostic imaging capabilities, including echo, stress tests, and nuclear imaging; and a beautiful, relaxing lobby for patients and their family members that offers both standard and electronic check-in. Everything is larger –including hallways — allowing for easier navigation for patients, especially those who are using mobility aids such as walkers, canes or wheelchairs.
Additional clinical areas at Duke offering services at Arringdon include Duke Eye Center, Obstetrics & Gynecology, Orthopedics and Physical Therapy – making cardiovascular visits even more convenient for our patient population. We anticipate an additional cardiology and EP clinic to open on the 2nd floor of Arringdon in early 2022.
Arringdon Clinic is located at 5601 Arringdon Park Drive, Suite 410 in Morrisville. It is very easy to access off of I-40 (take the Page Road Exit), with free, ample parking and picturesque views of the surrounding area.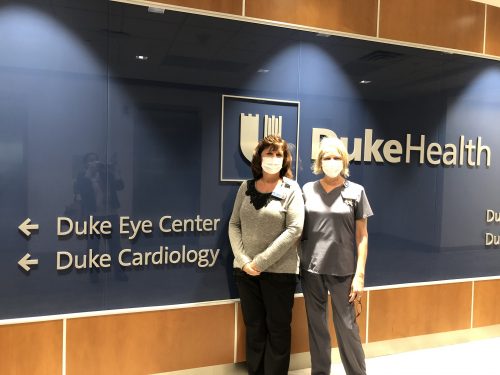 WIC Gathering Held
On Thursday evening, Nov. 18, members of our Women in Cardiology (WIC) group were able to gather together for the first time in… far too long. The dinner event, which was hosted by Tracy Wang and sponsored by division chief Manesh Patel, was designed to draw together women from throughout the cardiovascular space at Duke as a means of networking and fostering an important community within Duke Heart.
This will hopefully be one of many such events. Those who joined were able to learn more about each other on a personal and professional level, and to plan future initiatives for Duke WIC. The group recently launched a distribution list to help all WIC members and anyone who is interested in joining the group to stay apprised of future events. If you'd like to be included, please drop a note to: womenincardiology@duke.edu.
The group is grateful to all who took time to help organize and attend the dinner – and they are looking forward to future events as well as welcoming newcomers to the group.
Shown L to R in the group photo are: (Back row) Melissa Daubert, Jenn Rymer, Balim Senman, Manasi Tannu, Karen Flores, Cara Hoke, Ali Corley, Jessica Duran, Pam Douglas, Kelly Arps, Ijeoma Eleazu and Vanessa Blumer. (Front row): Josephine Harrington, Karen Alexander, Tracy Wang, Terry Fortin, Toi Spates, and Kiki Osude. Attendees not shown: our newest cardiology faculty member, Brandy Patterson; heart surgeon, Brittany Zwishenberger and electrophysiologist, Camille Frazier-Mills.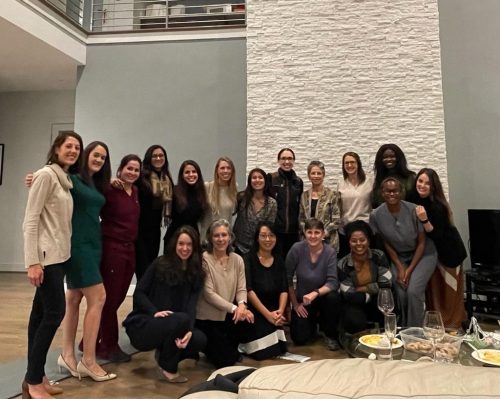 Mentz, Lala Interview Lady & Dr. Glaucomflecken for JCF
Rob Mentz, chief of our Heart Failure Section and Editor-in-Chief, Journal of Cardiac Failure (JCF) recently joined with JCF deputy editor Anu Lala, a cardiologist at Mount Sinai, to interview Kristin and Will Flanary to explore their experience as co-patients/co-survivors in patient care. Will, an ophthalmologist, is a cardiac arrest survivor thanks to Kristin's use of CPR on him a year ago.
The duo, known in the Twitterverse as "Lady and Dr. Glaucomflecken," have developed a large and loyal social media fan base. The video is well worth watching. Additionally, Kristin Flanary wrote a special piece for JCF describing their experience with cardiac arrest, the care they received and their overall journey to recovery. The Quiet Place can be accessed here: https://duke.is/gaaqz.
Great job, Rob!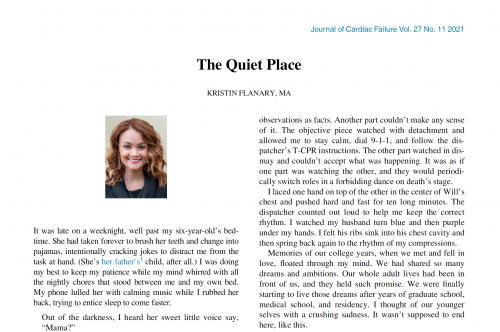 Cardiac MRI Techs Celebrated During Radiologic Technology Week
Duke Heart leadership took time to recognize our cardiac magnetic resonance imaging (CMRI) technologists last week during National Radiologic Technology Week (Nov. 7-13) by thanking each of them for their professional accomplishments, contributions, and the excellent care they provide to patients. National Radiologic Technology Week is celebrated annually to recognize the vital work of imaging professionals across the nation; it takes place each year during the week of November 8th to commemorate the discovery of the x-ray by Wilhelm Conrad Roentgen on November 8, 1895.
Did you know that Duke's CMRI program was one of the first such dedicated programs in the world? It's also one of the largest, performing more than 4,000 clinical procedures per year. In fact, their program volume has grown by more than 18 percent in the past year, despite the pandemic.
CMRI technologists start with basic radiologic training but then work to advance their skills and knowledge by becoming specialized in cardiac imaging — gaining a focused understanding of cardiac anatomy, cardiac rhythms, and cardiac disease processes, mastering cardiac terminology, and utilizing MRI technology for all diagnosis and treatment plans.
Duke clinical and research faculty have developed several advances in the field of CMRI, including the development of the Delayed Enhancement technique, which was done with scientists at Siemens. According to the team, this is arguably the single most important advance to propel cardiac magnetic resonance (CMR) into widespread clinical use. Delayed Enhancement CMR detects injury to the heart and, importantly, can differentiate irreversible damage from damage that may recover with appropriate treatment – offering essential guidance for clinical decisions.
We hope that all members of our CMRI team paused to reflect on and celebrate their personal and team successes during Radiologic Technology Week. We thank you for everything you have done and continue to do for cardiovascular patients at Duke Health.
Shown here are members of the CMRI technologist team during one of their recent celebrations. L to R: Jeanne Dement, Stephen Darty, George Gamondea, Vera Kimbrell, Rafael Rojas, Ryan Seward.  Not pictured is technologist Nestor Mena. We think you're awesome – thank you for all you do!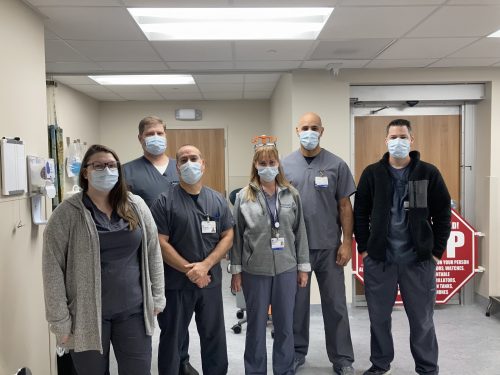 Thanksgiving Wishes to All
Finally, as we close out a busy AHA week and look to the end of the month, we want to wish all of our Pulse readers a very peaceful, safe and happy Thanksgiving holiday. Thank you for all that you have done this year.
We are incredibly grateful for the talented faculty and staff throughout Duke Heart who have showed up 110 percent throughout a rough year. Our fellows have gone above and beyond during the pandemic and with the expansion of our CCU; our APPs have done an incredible job of enhancing continuity of care over the past year, despite the many challenges confronting healthcare. We have so many reasons to feel grateful — your presence, your effort, your collective spirit matters.
Duke Heart is a place unlike any other — thank you for being a part of our team. Please take time to recognize the wonderful people around you this holiday season.
Upcoming Events & Opportunities
Cardiology Grand Rounds
December 1: The Pathophysiology and Natural History of Perioperative Atrial Fibrillation: Transient Nuisance or Cause for Concern with Bernard Gersh of the Mayo Clinic, Rochester, MN. 5 p.m. Webex.   
Have news to share?
If you have news to share with the Pulse readership, please contact Tracey Koepke, director of communications for Duke Heart at tracey.koepke@duke.edu. We would love to hear about your latest accomplishments, professional news, cool happenings, and any events or opportunities that may be of interest to our Duke Heart family. Please call with any questions: 919-681-2868. Feedback on Pulse is welcome and encouraged.
Duke Heart in the News:
November 12 — Manesh Patel
Practical Cardiology
AHA 2021 Scientific Sessions Preview with Manesh Patel, MD
https://duke.is/cze92
November 13 — Manesh Patel
Medscape
Village Health Workers Successfully Treat Hypertension in Rural China
https://duke.is/wsb5y
November 13 — Manesh Patel
tctMD
RAPID CABG: No Penalty to Early Surgery for ACS After Stopping Ticagrelor
https://duke.is/j8pr6
November 13 — Manesh Patel
Healio/Cardiology
'Feasible' doctor-led strategy improved blood pressure control in rural China
https://duke.is/8cfwg
November 14 — Sana Al-Khatib
Healio/Cardiology
No increase in atrial arrhythmias, more activity, less sleep with coffee consumption
https://duke.is/ru2e4
November 14 — Geoffrey Ginsburg
WRAL (NBC – Raleigh)
NIH taps Duke researcher for key role
https://duke.is/53atw
November 14 — Sana Al-Khatib
tctMD
Small CRAVE Trial Reassures on Caffeine Safety in Rhythm Disorders
https://duke.is/6ccjn
November 14 — Jonathan Piccini
Healio/Cardiology
No effect of trigger testing on AF-related quality of life, but fewer events
https://duke.is/pre28
November 14 — Sana Al-Khatib
tctMD
Fitbit Joins the AF Hunt, but Effect on Treatment, Outcomes Unknown
https://duke.is/4dfhc
November 14 — Jacob Schroder
The Philadelphia Inquirer
https://duke.is/6pedr
November 14 — Sana Al-Khatib
Medscape
Fitbit Algorithm Successfully Detects AF
https://www.medscape.com/viewarticle/962910#vp_1
November 14 — Sana Al-Khatib
tctMD
Empagliflozin Safe in Acute HF, Improves 'Clinical Benefit' Over Time: EMPULSE
https://duke.is/9t5sg
November 14 — Sana Al-Khatib
Medscape
CRAVE: No Spike in Atrial Arrhythmias Among Coffee Drinkers
https://duke.is/2gzpj
November 14 — Jonathan Piccini
Healio/Cardiology
Cognitive outcomes similar at 2 years with dabigatran vs warfarin in older adults with AF
https://duke.is/g52yp
November 14 — Sana Al-Khatib
Medpage Today
Coffee Causes This One Arrhythmia, Trial Shows
https://www.medpagetoday.com/meetingcoverage/aha/95644
November 15 — Tracy Wang
Medscape
Oral Factor XIa Inhibitor Cuts Post-Op VTE Risk: AXIOMATIC-TKR
https://www.medscape.com/viewarticle/963000#vp_1
November 15 — Manesh Patel
Medscape
High-Dose Fish Oil: "Intriguing" Results in COVID-19
https://www.medscape.com/viewarticle/962972
November 15 — Sana Al-Khatib
HealthDay
Your Morning Cup of Coffee Can Affect Your Heart's Rhythms
https://duke.is/vqbkr
November 16 — Tracy Wang
Physician's Weekly
AHA: Novel Oral Factor XIa Inhibitor Demonstrates Prevents VTE in Knee Arthroplasty
https://duke.is/7n339
November 16 — Tracy Wang
Medpage Today
Oral Factor XIa Inhibitor Sets the Stage for a Safer Anticoagulant
https://www.medpagetoday.com/meetingcoverage/aha/95710
November 16 — Manesh Patel
Medscape
No Benefit of Antiplatelets in Noncritical COVID: ACTIV-4a
https://www.medscape.com/viewarticle/963093
November 16 — Sana Al-Khatib
Medpage Today
Hospitalized Acute HF Patients See Clinical Benefits With Empagliflozin
https://www.medpagetoday.com/meetingcoverage/aha/95694
November 17 — Sunil Rao
Medscape
Left-Main PCI, CABG Mortality Similar; Choice Remains Complex
https://www.medscape.com/viewarticle/963198
November 19 — Manesh Patel
MSN.com
Advances in Care, Impact of COVID Highlights of Latest Cardiologists' Meeting
https://duke.is/mjpgc