Highlights of the week:
Thank you, Residents & Fellows
On behalf of the Duke Heart Leadership team and faculty across the Divisions of Cardiology and Cardiovascular and Thoracic Surgery, we thank each and every one of our trainees – our surgery residents and all fellows — we hope you know how much we value and appreciate the work you do, your dedication to patient care, and the fact that you chose to spend your training years here with us in Durham, NC.
These are not easy years for anyone who chooses to embark on a career in surgery or medicine – but we hope you find your time here fulfilling, enriching, fun and inspiring. This week happens to be GME Appreciation Week, but your work matters today and every day, and it will matter for years to come. Thank you for the many ways in which you inspire each of us and for being part of the Duke Heart family!
Voting for USNWR 'Best Hospitals' Now Open in Doximity
The survey period for U.S. News & World Report's 'Best Hospitals' is now open in Doximity. We encourage all those who are eligible to vote in the survey of "Best Hospitals for Cardiology and Heart Surgery" to consider casting a vote for Duke's hospitals – this is a great way to support our efforts in leading the country in patient care, innovation, research and the education of future specialists.
Reminder: paper surveys have been discontinued. The only way to vote in the survey is online via Doximity.
If you have not yet claimed your profile on this platform, you can do so at any time during the voting period.
Go to Doximity.com
Enter your first and last name on the home screen
Click on the 'Find My Profile' button
A survey will display in your profile until you vote or the survey closes on March 25, 2022.
Circulate! 2022 Recognizes Duke Efforts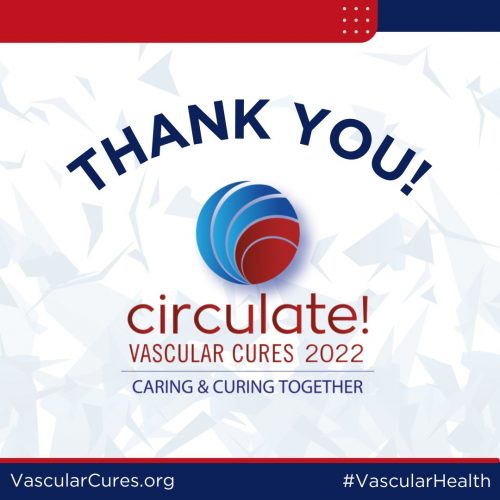 Members of the Duke Heart team were recently celebrated by our Vascular Cures partners at Circulate!, their annual gala held to celebrate the work done throughout the year by patient advocates, industry members and researchers, all of whom are dedicated to improving the care of patients with vascular disease.
According to Megan Patterson, chief executive officer of Vascular Cures, all proceeds from the gala support national education and awareness initiatives that help at-risk populations, patients, and their caregivers. This year's gala was held virtually on Feb. 3.
Some of the work done through Duke in support of Vascular Cures and honored this year include the following:
Chronic Limb-Threatening Ischemia (CLTI) Research
Manesh Patel, MD and E. Hope Weissler, MD, a resident in our Vascular Surgery Integrated Residency Program,
are members of the Vascular Cures Chronic Limb-Threatening Ischemia (CLTI) Working Group for Patient Engagement, an initiative to promote and facilitate CLTI patient engagement in research. Patel and Weissler comprise half the team responsible for organizing this working group. This initiative is designed to build capacity to engage CLTI patients in research as advisors and participants, so that study results align with the needs of patients. It also works to prioritize the kinds of research that are most important to patients. Ultimately, the goal of this work is to create new knowledge and treatments that more closely align with CLTI patient needs and improve health outcomes in this population.
Kevin Southerland, MD, assistant professor of vascular surgery, is the 2021 Wylie Scholar Award recipient for his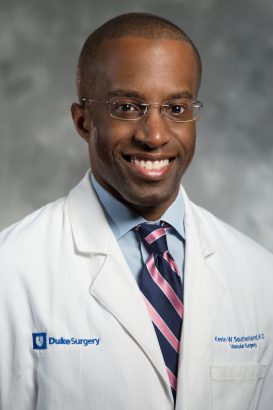 project Transcriptional Dynamics and Heterogeneity of Macrophages in Chronic Limb Threatening Ischemia. The award is given annually by the Vascular Cures Foundation and the Society for Vascular Surgery Foundation. Chronic limb-threatening ischemia (CLTI) is the most severe manifestation of peripheral arterial disease. Patients with CLTI are at high risk for limb loss and death. A significant number of CLTI patients suffer limb loss despite successful restoration of arterial flow. Novel approaches to treat CLTI remain an unmet clinical need. The goal of Dr. Southerland's work is to understand the communication signals between the various cell types in the ischemic limb. He is particularly interested in how macrophages interact with muscle stem cells. He believes that understanding these mechanisms will be the groundwork for the development of new therapies for CLTI patients.
Patient Reported Outcome Measures in Peripheral Artery Disease (PAD)
Patel and Jennifer Rymer, MD have been instrumental in facilitating the Vascular Cures Working Group on
Patient-Reported Outcome Measures in PAD, which resulted in the recently published (23 Dec 2021) review article in Circulation: Cardiovascular Interventions, "Patient-Reported Outcome Measures in Symptomatic, Non-Limb Threatening Peripheral Artery Disease: A State-of-the-Art Review".
The Circulate! gala includes the announcement of the recipient of the Ron Stoney Vascular Hero Award which is given annually to an outstanding care provider and/or researcher who goes above and beyond to advocate for patients. Stoney, a surgeon and professor emeritus at UCSF, co-founded Vascular Cures in 1982 to "save and improve the lives of those living with vascular diseases outside the heart."
This year's honoree was Manesh Patel, MD.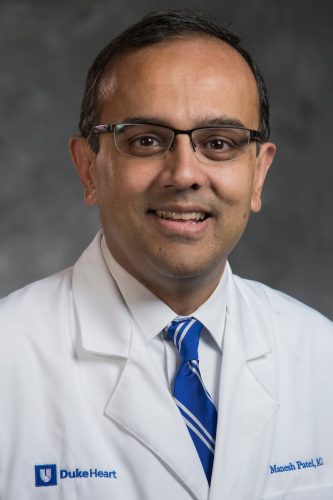 "Dr. Patel received this award not just because of the incredible support he has provided Vascular Cures as an advisor, but his persistent and passionate commitment to improving vascular health for patients through research and other national initiatives with organizations like the American Heart Association," says Patterson. "He is a visionary and is always inspiring us to do more and do it better so that more people can have happy healthy lives."
Congratulations to Hope, Jenn, Kevin and Manesh – well deserved recognition for the work you are doing!
Kelsey Appointed to CAAHEP's JRC on Education in CV Technology
Congratulations to Anita M. Kelsey, MD, MBA! Kelsey has been appointed as Commissioner for the Joint Review Committee on Education in Cardiovascular Technology (JRC) by the Commission on Accreditation of Allied Health Education Programs (CAAHEP). CAAHEP is the largest programmatic accreditor of the health sciences professions.
Originally established in 1976 by the American Medical Association as the Committee on Allied Health Education and Accreditation (CAHEA) with our own Joseph Kisslo, MD and Kitty B. (Filly) Kisslo (who was then at Stanford) as founding JRC members who led the way in defining the standards of cardiac sonography.
CAAHEP reviews and accredits more than 2100 individual education programs across 32 health science occupations. CAAHEP-accredited programs are assessed on an ongoing basis to ensure they meet the standards and guidelines of each profession.
Duke's Cardiac Ultrasound Certificate Program received CAAHEP accreditation in 2021. We are proud to be accredited by this organization that upholds the highest standards of quality, outcomes-based education. We are equally as proud of Dr. Kelsey for her new role.
Congratulations Dr. Kelsey, for your work to ensure quality allied health education here at Duke and, now, across the U.S. as part of CAAHEP. Way to go!
Newest HF Collaboratory Members Include Three from Duke Heart
Congratulations to cardiology fellows Vanessa Blumer and Shahzeb Khan, and to former cardiology fellow Jordan Pomeroy! Blumer, Khan and Pomeroy were each asked to join the Heart Failure Collaboratory (HFC), and all were welcomed as new members last week during a quarterly meeting of the HFC's Drugs and Devices Working Group.
Excellent additions to the Collaboratory!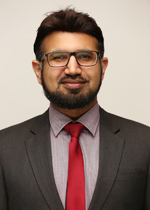 Paul Farmer, MD & Dzau Distinguished Lecture in Global Health
We were shocked and deeply saddened this week by the passing of Duke alumnus and trustee emeritus Dr. Paul Farmer, who — along with Dr. Agnes Binagwaho, vice chancellor of the University of Global Health Equity in Rwanda — delivered the annual Victor J. Dzau Distinguished Lecture in Global Health on Jan. 26, 2022.
For those who were unable to attend that event (held via Zoom), we share the following article by our colleagues at Duke Global Health Institute. The article includes a link to the lecture: https://globalhealth.duke.edu/news/never-try-save-people-without-them-participating.
Reaction to his passing was swift and widespread. A compilation of moving tributes, including several from members of our Duke Heart team, can be found here:  https://globalhealth.duke.edu/news/dghi-reacts-death-dr-paul-farmer
Duke Today's memorial piece about Farmer is available here: https://duke.is/jmxq6.
ICYMI: Genomic & Precision Medicine Forum
Duke Heart's Bill Kraus was guest speaker at the Genomic & Precision Medicine Forum sponsored by the Duke Center for Applied Genomics & Precision Medicine on Thursday, Feb. 24. His lecture, "Components of Personalized Lifestyle Medicine with a Focus on Physical Activity" can be viewed here.
Great job, Bill!
Participants in Duke's PROMOTE Study Hope to Improve Care for Type 2 Diabetes
Joining Duke's diabetes study in Kannapolis at the N.C. Research Campus was part of Susan Wagner's commitment to improving the health of her community.
"I have diabetes, and it's somewhat under control. But I wanted to provide Duke with statistical data that they will need to build a model to address the issues of diabetes in Cabarrus County," said Wagner, of Concord.
Retired from manufacturing, Wagner, 68, participates in several Duke Clinical and Translational Science Institute (CTSI) studies in Kannapolis, including the PROMOTE study. PROMOTE will assess whether a test product can improve insulin sensitivity in people with Type 2 diabetes.
The study seeks more people like Wagner, who are between the ages of 18 and 70 and are under the care of a healthcare professional for management of their disease.
"This study fit into the bigger picture for me," she said. "I don't know if I am getting the placebo or the product, but diabetics in Cabarrus County need data to improve their health."
Study participation lasts about 15 weeks with six appointments in either Kannapolis or Durham. Participants are randomly assigned to receive either the test product or placebo.
The PROMOTE team in Kannapolis, led by Duke cardiologist Dr. Kristin Newby, recently expanded the study to a new Duke research facility in Durham. Launched in October 2020, Duke Research at Pickett Road encourages community participation and diversity in clinical research by providing a convenient and comfortable site for study participants and researchers.
"We are grateful to our study participants for their contributions to answering important healthcare questions," Newby said. "Diabetes mellitus is such a challenging disease that affects almost every system in the body and can lead to a number of major long-term health consequences. Research into ways to improve management of diabetes is critical to reduce the burden of illness resulting from diabetes mellitus. To this end, we are excited to work with the community to conduct studies like PROMOTE."
Wagner, who has had Type 2 diabetes since 1995, began focusing on diet and exercise when she took a class at Cabarrus Health Alliance and began reading labels, counting steps, and keeping a daily food log.
As her focus on health grew, Wagner began volunteering at Green Leaf Farms in the garden. She now eats mostly food that she has helped grow, and she's enjoying relatively good health.
"This is not something that happened overnight," Wagner said. "Part of this evolution was to join the PROMOTE study, as well as doing things like getting enough sleep and eating correct portions. It's about expanding your toolbox."
Like Wagner, Rosa Dorantes has Type 2 diabetes and participates in several Duke studies in Kannapolis. She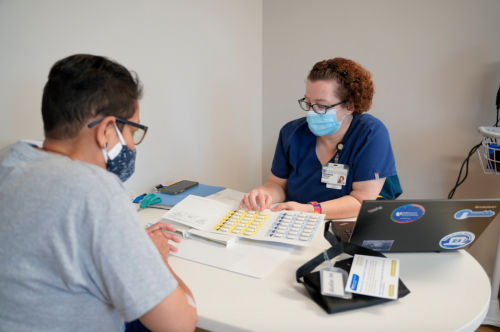 joined PROMOTE after returning home to Granite Quarry from Mexico, where she had cared for a loved one who eventually passed away from complications due to diabetes.
Her family history of diabetes, and witnessing the devastating effects of the disease if untreated, motivated Dorantes to begin participating in clinical research seven years ago.
"I never thought that I would be a research participant, but it is important to me to help other people by helping researchers find new medicines," said Dorantes, 56. "People are suffering."
Dorantes, who works for her daughter's diaper service in Charlotte, said she has improved her health by eating well and staying active. When her PROMOTE appointments are complete, she plans to keep enrolling in new studies.
"We are regular people," she said. "For me to be able to do something like this, to perhaps save a life or help find a new medicine to help people, I can say I did something good during my journey."
People who want to learn whether they qualify for PROMOTE can call 704-273-5456, email mailto:TransPop@duke.edu or visit duketranspop.org/promote. Compensation is provided for completed study activities.
To learn more about the Duke CTSI clinical research facility in Kannapolis, visit https://ctsi.duke.edu/research-support/duke-kannapolis. To learn more about Duke CTSI, visit ctsi.duke.edu.
COVID-19 Updates
The COVID-19 Employee Hotline hours are changing to reflect recent utilization trends. Beginning March 1, the hotline will be available during these times:
Monday — Friday: 8 a.m. to 5 p.m.
Saturday — Sunday: 8 a.m. to 12 p.m.
The phone number for the hotline is 919-385-0429 (option 1).
All the latest Clinical Operations updates related to COVID can be found at https://covid-19.dukehealth.org.
Upcoming Events & Opportunities
Cardiology Grand Rounds
March 1: Toward Allograft Longevity: Leveraging Multiomic Approaches to Understand Biomarkers and Biology of Heart Transplant Outcomes with Lauren Truby. 5 p.m. via Webex.
Duke Research & Innovation Virtual Conference
March 3 & March 4: The Evolving Role of Universities in the American Innovation System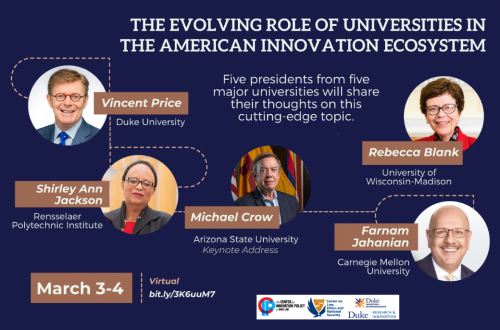 Duke Research & Innovation is proud to co-sponsor The Evolving Role of Universities in the American Innovation System, a two-day virtual conference discussing the role of university research in the U.S. innovation ecosystem.
Hosted by the Center for Innovation Policy at Duke Law, this conference aims to outline a new framework for America's universities in the context of the country's long-term competitive future and features five presidents from five major universities, including Duke's very own President Price.
The conference kicks off next Thursday, March 3rd and is open to everyone. Registration is required.
Upcoming Duke Heart CME
April 23: Duke Sports Cardiology & Sudden Death in Athletes Symposium with course directors Jim Daubert and Bill Kraus. Virtual. For information or to register, contact Christy Darnell christy.darnell@duke.edu or 919-880-8686.
Have news to share?
If you have news to share with the Pulse readership, please contact Tracey Koepke, director of communications for Duke Heart at tracey.koepke@duke.edu. We would love to hear about your latest accomplishments, professional news, cool happenings, and any events or opportunities that may be of interest to our Duke Heart family. Please call with any questions: 919-681-2868. Feedback on Pulse is welcome and encouraged. Submissions by Noon, Wednesdays, to be considered for weekend inclusion.
Duke Heart in the News:
February 17 — Christopher Granger
HCPLive
Multifaceted Therapy Interventions Suggested for Patients with Diabetes, ASCVD
https://duke.is/nerg3
February 17 — Kristin Newby
WBTV.com (Charlotte, NC)
Participants in Duke's PROMOTE study in Kannapolis hope to improve care for Type 2 diabetes
https://duke.is/bxx9c
February 19 — Kristin Newby
Independent Tribune
Participants in Duke's PROMOTE study hope to improve care for Type 2 diabetes
https://duke.is/2cnjj
February 19 — Christopher Granger
Medscape
Full-press Therapy Rare in Diabetes With ASCVD
https://duke.is/48mqn
February 22 — Duke Health
Advisory Board
Update: The 'Best Employers' in health care, according to Forbes
https://duke.is/95myg
February 24 — Duke University
Forbes.com
Johns Hopkins Tops List Of Leading Universities For NIH Funding In 2021
https://duke.is/4ggpc
February 28 — Allan Kirk
The New Yorker
The Medical Miracle of a Pig's Heart in a Human Body
https://duke.is/9phm8
Division of Cardiology Publications Indexed in PubMed February 17-23, 2022
Bodkin N, Ross M, McClain MT, Ko ER, Woods CW, Ginsburg GS, Henao R, Tsalik EL. Systematic comparison of published host gene expression signatures for bacterial/viral discrimination. Genome Med 2022;14(1):18. PM: 35184750.
Fanaroff AC, Lopes RD. The role of triple antithrombotic therapy in patients with atrial fibrillation undergoing percutaneous coronary intervention. Prog Cardiovasc Dis 2021;69:11-17. PM: 34883097.
Fanaroff AC, Vora AN, Lopes RD. Non-vitamin K antagonist oral anticoagulants in patients with valvular heart disease. Eur Heart J Suppl 2022;24(Suppl A):A19-A31. PM: 35185406.
Kam W, Holmes DN, Hernandez AF, Saver JL, Fonarow GC, Smith EE, Bhatt DL, Schwamm LH, Reeves MJ, Matsouaka RA, Khan YM, Unverdorben M, Birmingham MC, Lyden PD, Asimos AW, Altschul D, Schoonover TL, Jumaa MA, Nomura JT, Suri MFK, Moore SA, Lafranchise EF. Association of Recent Use of Non-Vitamin K Antagonist Oral Anticoagulants With Intracranial Hemorrhage Among Patients With Acute Ischemic Stroke Treated With Alteplase. JAMA 2022;327(8):760-771. PM: 35143601.
Lam CSP, Ramasundarahettige C, Branch KRH, Sattar N, Rosenstock J, Pratley R, Del Prato S, Lopes RD, Niemoeller E, Khurmi NS, Baek S, Gerstein HC. Efpeglenatide and Clinical Outcomes With and Without Concomitant Sodium-Glucose Cotransporter-2 Inhibition Use in Type 2 Diabetes: Exploratory Analysis of the AMPLITUDE-O Trial. Circulation 2022;145(8):565-574. PM: 34775781.
Lau ES, Binek A, Parker SJ, Shah SH, Zanni MV, Van Eyk JE, Ho JE. Sexual Dimorphism in Cardiovascular Biomarkers: Clinical and Research Implications. Circ Res 2022;130(4):578-592. PM: 35175850.
Nelson AJ, O'Brien EC, Kaltenbach LA, Green JB, Lopes RD, Morse CG, Al-Khalidi HR, Aroda VR, Cavender MA, Gaynor T, Kirk JK, Lingvay I, Magwire ML, McGuire DK, Pak J, Pop-Busui R, Richardson CR, Senyucel C, Kelsey MD, Pagidipati NJ, Granger CB. Use of Lipid-, Blood Pressure-, and Glucose-Lowering Pharmacotherapy in Patients With Type 2 Diabetes and Atherosclerotic Cardiovascular Disease. JAMA Netw Open 2022;5(2):e2148030. PM: 35175345.
Pasquali SK, Thibault D, Hall M, Chiswell K, Romano JC, Gaynor JW, Shahian DM, Jacobs ML, Gaies MG, O'Brien SM, Norton EC, Hill KD, Cowper PA, Shah SS, Mayer JE, Jacobs JP. Evolving Cost-Quality Relationship in Pediatric Heart Surgery. Ann Thorac Surg 2022;113(3):866-873. PM: 34116004.
Peters AE, Mentz RJ, DeWald TA, Greene SJ. An evaluation of torsemide in patients with heart failure and renal disease. Expert Rev Cardiovasc Ther 2022;20(1):5-11. PM: 34936522.
Russo JJ, Yan AT, Pocock SJ, Brieger D, Owen R, Sundell KA, Bagai A, Granger CB, Cohen MG, Yasuda S, Nicolau JC, Brandrup-Wognsen G, Westermann D, Simon T, Goodman SG. Determinants of long-term dual antiplatelet therapy use in post myocardial infarction patients: Insights from the TIGRIS registry. J Cardiol 2022;79(4):522-529. PM: 34857432.
Utz PJ, Jain MK, Cheung VG, Kobilka BK, Lefkowitz R, Yamada T, Dzau VJ. Translating science to medicine: The case for physician-scientists. Sci Transl Med 2022;14(632):eabg7852. PM: 35171650.
Welsh RC, Dehghani P, Lopes R, Wojdyla DM, Aronson R, Granger CB, Windecker S, Vora AN, Vinereanu D, Halvorsen S, Parkhomenko A, Mehran R, Alexander JH, Goodman S. Impact of prior oral anticoagulant use and outcomes on patients from secondary analysis in the AUGUSTUS trial. Open Heart 2022;9(1):e001892. PM: 35172988.
Wilson RJ, Lyons SP, Koves TR, Bryson VG, Zhang H, Li T, Crown SB, Ding JD, Grimsrud PA, Rosenberg PB, Muoio DM. Disruption of STIM1-mediated Ca sensing and energy metabolism in adult skeletal muscle compromises exercise tolerance, proteostasis, and lean mass. Mol Metab 2022;57:101429. PM: 34979330.
Wu JH, Zhang L, Nepliouev I, Brian L, Huang T, Snow KP, Schickling BM, Hauser ER, Miller FJ, Freedman NJ, Stiber JA. Drebrin attenuates atherosclerosis by limiting smooth muscle cell transdifferentiation. Cardiovasc Res 2022;118(3):772-784. PM: 33914863.
Zeitler EP, Poole JE, Albert CM, Al-Khatib SM, Ali-Ahmed F, Birgersdotter-Green U, Cha YM, Chung MK, Curtis AB, Hurwitz JL, Lampert R, Sandhu RK, Shaik F, Sullivan E, Tamirisa KP, Santos Volgman A, Wright JM, Russo AM. Arrhythmias in Female Patients: Incidence, Presentation and Management. Circ Res 2022;130(4):474-495. PM: 35175839