Chief's message:
As we come to the end of the academic year, we are reminded of the amazing faculty, fellows, residents, administrative and clinical staff and colleagues we have.  The year end is punctuated with having to say goodbye to many of our graduating fellows (we have our end of year party this upcoming week), and unfortunately some departures of faculty (you will see the note around Tom Gehrig and Magnus Ohman below).  We also have a set of year end recognitions and awards (School of Medicine, Department of Medicine, and Resident awards).  These times of change are moments to reflect and hopefully we can all celebrate these amazing life accomplishments and recognitions along with appreciating those that are leaving Duke.  We intend to celebrate our entire community over these next few weeks and look forward to sharing in the Pulse.
Highlights of the week:
Gehrig Departs Duke; Heads to UVA Health
Dr. Thomas Gehrig, associate professor of medicine in cardiology, and an integral part of our team for 24 years, will be moving to the University of Virginia in Charlottesville (UVA). His last day with Duke Heart will be June 15.
Tom is one of our most cherished and beloved clinician-educators, a true role model for all of us and someone adored by his huge patient population. To say he will be greatly missed by everyone at Duke is quite the understatement.
For those of you who are unaware of his background, Tom is a hard-core University of Florida Gator, having been born in central Florida. He completed both his undergraduate and medical school studies there (where he, by the way, graduated number one in his class in med school). He went on to internal medicine house staff training at the University of Virginia, staying on as their Chief Resident, before joining the Duke Cardiology program in 1995 to focus on interventional and structural heart disease. He has remained at Duke ever since as a member of the Duke Heart Physicians (DHP) clinical group. He was a star then and remains a star now. As a fellow he won the Floyd Award for Clinical Excellence and as a faculty member won the Bashore Teaching Award, the Waugh Educational Award, and the School of Medicine's Tow Humanism Award.
Over the last 24 years Tom has had a major impact on all that is Duke cardiology. His incredible work ethic, his outstanding clinical and teaching skills, his photographic memory, his kindness, his ability to work with virtually anyone, his respect for the staff and coworkers, and his loyalty to medicine and to Duke are all just part of who he is. He never knows a stranger, and he is the first to offer a helping hand when there is a need. Tom will be an associate professor of medicine at UVA, and they are extraordinarily lucky to have him. Fortunately, he knows some of the folks there already, and they know him. We can all be honored and proud that we were able to be associated with him while he was at Duke.
Tom would like to continue to be connected with his friends and colleagues here. His email at UVA is TRG2Z@virginia.edu. He says his job description at UVA will be similar to what he does here at Duke with a little more time off. His wife, Dr. Paola Gehrig, will be the W. Norman Thornton Jr. Professor and Chair of the Department of OB/GYN at the University of Virginia.
We all wish Tom and Paola the very best, as they represent the very best.
The above background and the following photos from recent celebrations for Tom and Paola are courtesy of Tom Bashore, MD and Cary Ward, MD – many thanks!
Asked about his time at Duke and in Durham, Gehrig says it's a bittersweet time for his family. They've loved raising their children here, have enjoyed the uniqueness of the Triangle area and being part of their respective healthcare teams (his wife Paola has been on the faculty at UNC School of Medicine/UNC Lineberger). He adds that he's had fantastic mentors, particularly Kevin Harrison, Tom Bashore and Andrew Wang – but also a great career partnering with the rest of the cardiology faculty. He says he jokes about probably being the only general cardiologist at Duke because he "takes on whatever comes along, so to speak."
"Duke has been a wonderful place to have a career where I could practice any type of cardiology I wanted to and have supportive people around me," Gehrig says. "The camaraderie here has always been fantastic. I think it has been unmatched, really, the camaraderie among physicians in our division in particular, but also with the surgical division. And I'm going to miss the patients – the south is known for a lot of things, I suppose, but definitely for its kind, wonderful people. I've got 1400 patients I see on a regular basis that are going to be hard to walk away from."
As he looks to the future in Charlottesville, it's a circling back to where he and Paola both did residency and where they have a lot of good friendships already in place. The opportunity to return to Virginia was something they always thought they'd be interested in, he says, and it literally came up out of nowhere and everything just fell into place. He jokes that it's Paola that UVA really wants, that he's just the 'baggage' along for the ride.
We know otherwise, of course. UVA is getting an amazing clinician in Gehrig. He's a clinician who considers his patients to be the very best population at Duke, and he's a beloved colleague who will be missed on a daily basis.
In addition to Bashore and Ward, we asked others for their thoughts on Tom. Here is what they shared with us:
From Tom Povsic, MD:
"It has simply been an honor to be a fellow and faculty colleague of Tom's. I can think of no one who exemplifies a "man for others" better than Tom. With Tom it is always about those around him: his colleagues, the fellows and students who have been lucky enough to learn from him, and most of all his patients. It is daunting to take care of or cath one of his patients, not only because of how they regard him, but because of the level of care he provides (I have it from reliable sources the he broke the curve for the rest of us taking cardiology boards) and the empathy and concern he imparts to them. Duke cardiology, our trainees, staff and Duke cardiology patients will sorely miss Tom. I can think of no one to whom I would rather entrust a family member or loved one's care. We will find people to see his patients, but he will not be replaced."
From Andrew Wang, MD:
"Dr. Tom Gehrig, over 24 years as a Duke Cardiology fellow and faculty member, was the epitome of a master clinician and educator. He had a keen sense of what the patient and learners needed in the moment and over time. His care of his patients and the trainees whom he taught were exemplary and highly respected by all. He is the cardiologist that you would want caring for your family or yourself. As a colleague, he was always willing and eager to lend a hand (or two), his sage advice and kind support. His daily contributions to our division will be greatly missed, and UVA is very fortunate to have him on their faculty."
From Jimmy Tcheng, MD:
"I've had the privilege of having Tom as a friend, colleague, and confidant for nearly 25 years. I can recall as if just yesterday when he began his Duke cardiology fellowship in 1998 – inquisitive and eager to learn while already advanced beyond his years in clinical acumen. His humanistic qualities were readily apparent, his remarkable ability to relate to patients, to engender trust – all qualities that set him apart from day one. In the cath lab, he proved to be a "natural", rapidly mastering the techniques and technologies of interventional cardiology. We have since shared many days shoulder to shoulder in the cath lab, with his facility to integrate clinical knowledge, patient characteristics, and technical command consistently providing the perspectives needed to chart the best possible course for our patients. His steadying influence and balanced approach have been consistent and remarkable qualities that we would all do well to emulate. And not only is he the "physician's physician" – but a great teacher and educator as well. Tom will be deeply missed – his thoughtfulness, compassion, brilliance, perspectives and wit truly set him apart as the "Best of Duke". I wish him the best in his future endeavors, he is leaving Duke a better place."
From Schuyler Jones, MD:
"Tom has been a great teacher and partner for me over the last 20 years. He's a consummate professional and a master clinician, but more than that, he's a really great guy and someone I always felt I could reach out to for advice and guidance. Like the rest of the Duke cath lab, I'll miss his sarcastic banter with the staff and fellows, and his total dedication to patient care and quality. Best of luck to Tom and Paola as they return to Charlottesville."
From Manesh Patel, MD:
"It's bittersweet to have someone like Tom Gehrig leave Duke.  Tom has been one of our best clinicians with a focus on teaching our fellows, delivering the highest quality care, but most of all just being a great friend and partner.  UVA is lucky to have him and I am sure he and Paola will enjoy the return.  We will miss someone that we could call at anytime about a patient and he would provide sage and thoughtful guidance, with compassion and understanding.  He is truly one of our best, and we wish him well and hope to continue to work together in the future.
Shown in photos are:
DHP GROUP:  From Left: Mike Sketch, Tom Bashore, Anita Kelsey, Tom Gehrig, Cary Ward, Andrew Wang, Kevin Harrison
The Gehrigs:  their son Joe Gehrig, Tom & Paola Gehrig
Gehrig and OP Staff: Michelle Johnson, Christine Beyer-McFarlane and Edana Christy with Tom
Gehrig and faculty:  From Left: Andrew Wang, Paul Rosenberg, Rob Mentz, Cary Ward, Tom
Best wishes, Tom!!
Magnus Ohman to retire from clinical medicine to become Vice-President of Global Development of Cardiometabolic therapeutics for Amgen
Magnus came to Duke from Dublin, Ireland in 1987 to complete a cardiology fellowship and to build on his translational research work on beta-adrenergic receptors with Dr. Gary Stiles.  A meeting with Dr. Galen Wagner changed his trajectory.  Galen suggested that Magnus should connect with Dr. Robert Califf to see if Magnus may be some interest in working on clinical trials at Duke, given Magnus' exposure to the Clinical Trials Unit at University of Oxford with Richard Peto and Rory Collins. Magnus became the 6th Duke Databank fellow and started working with Rob on the TAMI trials. He later became one of the founding members of the Duke Clinical Research Institute in 1996, with Dr. Chris Granger, Dr. Dan Mark, Dr. Chris O'Connor and Dr. Bob Harrington, among others.  The Duke Databank and later DCRI collaboration led to a fantastic opportunity to test new strategies in Acute Coronary Syndromes and cardiac devices.  Magnus led the first adequately sized randomized clinical trial (RCT) of a device, IABP, in STEMI in the early 1990s. His knowledge from the Oxford days also became helpful as Rob Califf and Chris Granger embarked on the GUSTO trials. Magnus continued to revolutionize clinical trials throughout his career. Some of these included trial designs assessing infarct size in STEMI with Dr Manesh Patel (JAMA); the first dedicated ACS trial for medical management with dual anti-platelet therapy with Dr Matt Roe (NEJM); and testing low-dose oral anti-coagulation with clopidogrel or ticagrelor in ACS without aspirin (Lancet).
One of the spin-offs (sub-study) led by Magnus was the GUSTO-II trial Troponin T study. The study was assessing the ECG, CK-MB, which was the gold standard for diagnosing MI at the time.  The new marker, Troponin T, was a potential new way of diagnosing MI. The GUSTO TnT study showed that this marker was better aligned with the cardiovascular risk of the patient and therefore a better marker for determining MI.  The first Universal Definition of MI meeting held jointly with ESC, AHA and ACC then led to redefinition of MI using troponin as the new standard.  Magnus continued the biomarker work with Dr. Kristin Newby, among others. They published several papers together using biomarkers for risk stratification and linking it to a therapeutic strategy.  Some of these have now become standard practice in ACS such as the early invasive strategy based on troponin positive non-STEMI patients.
In the late 1990s after several large RCTs in ACS had been completed, it became clear that there was a gap between the practice of ACS and the findings from the RCT trials.  Jointly with Drs Brian Gibler, Eric Peterson and Matt Roe, Magnus led the first large-scale Quality Improvement (QI) registry in ACS, called the CRUSADE program.  It evaluated over 250,000 patients from about 400 US hospitals over a 5-year period.  One of the most seminal papers from this registry written by Eric Peterson was able to link the better adherence to ACC/AHA guideline recommended therapies with improved survival.  This registry was later adopted by the ACC and now forms the basis for the NCDR ACTION registry.
Magnus has been a big advocate for the value of collaboration and mentorship not only within Duke, but across multiple institutions and continents.  This collaborative work has been richly rewarded with a large publication record of over 700 peer-reviewed articles, 47 book-chapters, and 3 books. Among these, Magnus authored 16 papers in NEJM, 14 in the Lancet and 15 in JAMA making him one of the top 1% cited researcher worldwide from 2001 to 2020 by Clarivate Analytics.
Because of his large clinical trial experience, Magnus has been a frequent advisor to the FDA.  He served on the Circulatory System Device Panel for 7 years and remains an ad-hoc member.  He was also a member of the ACCF/AHA Task Force for Practice Guidelines between 2010 and 2019, being one of their longest serving members that helped shape the ACC/AHA guidelines into their present format.
In 1991, Magnus finished his interventional training under Drs Richard Stack and Harry Phillips. Over the years his practice gravitated towards high-risk PCI.  This led him to explore innovative solutions to support patients needing PCI with reduced cardiac function.  In the late 1990s, he initiated a program at Duke for ECMO supported PCI.  This was followed by Impella supported PCI in the late 2000s.  His dedication towards the management of high-risk PCI led Magnus to be inducted into the International Andreas Gruentzig Society honoring the innovators of PCI. More recently he collaborated with Dr Tom Povsic on novel therapies for patients with Advanced Coronary Disease including gene therapy. Dr Chris O'Connor and Magnus formally proposed this program in the early 2010. Magnus became its first director with assistance of philanthropic support from the Rawson family.  It remains the only endowed Directorship at Duke Health.
In 2000, Magnus became the Chief of Division of Cardiology and the first Director of the UNC Heart Center.  While at UNC, Magnus was unaware that he remained a DCRI faculty member. It was therefore a big surprise after spending 5 rewarding years at UNC that he never left Duke! Drs Pam Douglas and Tom Ryan recruited Magnus back to focus on patients with Advanced Coronary Disease and help re-organize the Duke Heart out-patient clinics.  The latter included a new model that Magnus and Dr David Zaas (now CEO at MUSC Health) developed that added mid-level providers (NPs and PAs) and nurse-clinicians to facilitate new patients accessing Duke Cardiology.  The program continues on now and has created a team-care model that is now being replicated in other parts of Duke Health.
In 2012, Drs John Paat, Jim Kelly, and Magnus started Signature Care at Duke.  A concierge system of care within Duke Health; Magnus being the only cardiologist. It was the first concierge practice within an academic setting in the US and has now been replicated by other leading academic centers around the country.  The program accelerated philanthropic giving to Duke. Dr Mary Klotman made Magnus the Vice-Chair of Medicine for Development and Innovation (2014-20), where he, with Duke Alumni and Development officers, raised over $12 million over the period towards research programs in Duke Medicine and the Heart Center.  Several Cardiology fellows have subsequently benefitted from the Ernest Mario Family Foundation award and outside speakers for the Lynn Williams lecture in Cardiovascular Genetics.
Magnus has followed a large number of patients at Duke over several years.  "It has been an honor to be partner with so many wonderful patients.  It will be hard to leave them, but I am comforted that they will continue to have outstanding care at Duke by the many exceptional providers at Duke Heart."
In his new role he hopes to continue to build on the relationship DCRI and Duke Heart has with industry and serve as a mentor to Duke faculty and fellows.  He will also help steer philanthropic gifts to Duke. "My journey at Duke over 35 years have been amazing and I am so grateful for all the support and collaboration that I have received from Duke.  Our three children were all born at Duke; as a family we will forever love Duke".
Personally, I believe we will miss the tremendous impact that Magnus had on the way we think about clinical cardiology, interventional cardiology, and his continual desire to push us to innovate and improve how we thought about cardiovascular care.  We are sure that Amgen will benefit from his leadership, and look forward to continuing to partner with him on innovating cardiovascular care.
Duke DOM Recognizes Fortin, Shah with Faculty Awards
The Duke Department of Medicine presented their annual faculty awards during their Annual Celebration held on Thursday, June 9 at the University Club in Durham. Congratulations to Drs. Terry Fortin and Nishant Shah! Fortin received the 2022 Master Clinician Award and Shah received the 2022 Excellence in Education Award.
We are so proud of each of them. Well deserved!
Duke IM Chief Residents Award Rymer, Abraham & Loriaux
The Duke Internal Medicine chief residents — Jessica Regan, MD; Dennis Narcisse, MD, MS; Nancy Yang, MD, and Michael Burt, MD — presented the annual awards honoring excellence in the Department of Medicine's education mission at Medicine Grand Rounds on Friday, June 10. The team recognizes medical students, residents, fellows and faculty for their service and excellence in teaching.
Several awards were given to team members in the division of cardiology:
Jennifer Rymer received the Greenfield Research Mentor Award
Dennis Abraham received the Eugene Stead Award for Excellence in Teaching
Dan Loriaux received the Fellowship Teaching Award
I
Incoming Duke IM chiefs include cardiology fellows Lonnie Sullivan, MD and Sara Coles, MD; rheumatology/immunology fellow Nathanial Harris, MD, PhD and internal medicine resident Ryan Duffy, MD.
Well deserved! Congratulations, Jenn, Dennis and Dan!
Thomas Looks to Lead SOM Toward a More Equitable Future & He's Up for the Challenge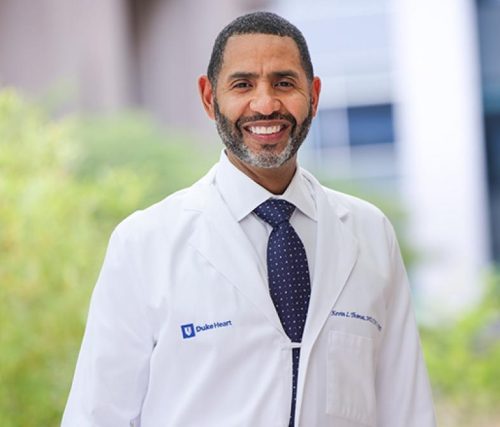 Kevin Thomas, MD, associate professor of medicine in cardiology, had little interest in cardiology when he first entered medical school, but it is difficult now to separate his journey toward becoming a cardiologist from his current work advancing equity, diversity, and inclusion (EDI).
In November 2021, Thomas, an electrophysiologist in Duke's Division of Cardiology, was named the Duke University School of Medicine's vice dean for equity, diversity, and inclusion by Dean Mary E. Klotman. The role is a first for the school, and was among the key action items outlined in the anti-racism and advancing equity strategic plan launched by the School of Medicine in June 2021.
"The creation of this critical new leadership role reflects the school's commitment to advancing equity, diversity, and inclusion," Klotman said. "We needed someone with great strategic vision, perspective, and dedication to lead this effort. Kevin Thomas embodies those qualities. We could not have made a better choice, and he is already making a difference."
Thomas has been at Duke for more than 22 years, making a mark on health disparities research in the cardiology field. If it weren't for a few notable encounters with the right people at the right time, Thomas said, he may not have ended up in either role.
An Unexpected Path
Choosing cardiology as a specialty at Duke almost felt clichéd, Thomas said, and he did his best to avoid it initially. As a visiting fourth-year medical student, he became attracted to gastroenterology after a rotation in the division and working under Mark Swaim, MD.
But after a few of his mentors in that discipline left to pursue positions at other institutions, he began to wonder if there was something else in store for him. "This is not coincidence," he recalled thinking at the time.
Despite his initial resistance to cardiology, events and interactions kept steering him toward it. During Thomas' first year of training at Duke, close friend Mark East, MD, who was a Duke cardiology fellow at the time told him outright that he was going to become a cardiologist and that he should embrace it. "He said, 'Kevin, you know you're going to do cardiology; I don't know why you're trying to run from it,'" Thomas said.
Ultimately, as a person of faith, Thomas decided he should pay attention to the signs. "There was this narrative that people kept telling me: 'Oh, you have to do cardiology.' Through all those experiences, I said I feel like God is speaking to me, and maybe I need to consider cardiology."
So he did. Thomas became a cardiology fellow and chief resident at Duke. He has no doubt now that it was the right choice because it put him on the path to his other passion: equity, diversity, and inclusion work. His time as a fellow opened his eyes to health inequities, in cardiology in particular.
"I began to see people being treated differently based on race, ethnicity, and socioeconomic status," Thomas said. "There were things happening that were making me uncomfortable and made me want to see change. This is really when my passion and interest in health inequities and health disparities came about."
The realization led Thomas to begin researching the topic, and he has never stopped.
"I found research as a way to try to understand why these differences, disparities, and inequalities existed," he said. "Cardiovascular disease is the number one killer particularly of African Americans. Cardiology was a great platform and a conduit for me to get into my equity, diversity, and inclusion work."
Kevin's story continues in Magnify. To continue reading, please click here.
Holley Team Secures Translational Research Grant
Congratulations to Chris Holley, MD, PhD, associate professor of medicine in cardiology. He and his team have recently secured
a translational research grant through the North Carolina Biotechnology Center for their proposal, "Silencing Small Nucleolar RNAs (snoRNAs) with Antisense Oligonucleotides (ASOs) for Treatment of Atherosclerosis". Holley's research lab is located within the Duke Cardiovascular Research Center. The research grant includes $110K in funding.
Exciting news, Chris — congratulations!
Duke Heart Team in Honduras
Our Duke Heart for Honduras team has been having a successful week – they provided photos of their welcome, first patient and an incredible cake that was provided by the Honduras-based team for Carmelo Milano's birthday. Not only did our Duke team receive a warm celebration upon arrival, they also earned some positive news coverage while in Honduras – be sure to see below in our news section.
We look forward to hearing all about the trip when they return.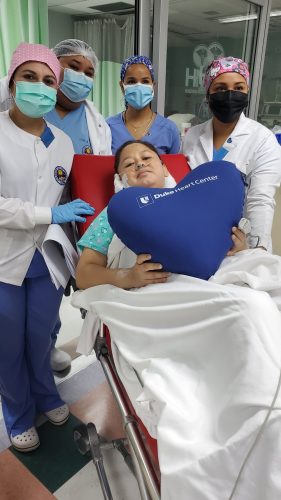 Duke Heart NP Plans 'Be The Match' Drive
Prior to June 2020 Dayana Ramos, a cardiology nurse practitioner at Duke University Hospital (DUH), was travelling throughout the world as often as she was able to do so. She had run a marathon, was spending time with friends and family, and was engrossed in a fulfilling nursing career. But that month, seemingly out of nowhere, the avid runner and walker started experiencing bouts of fatigue that she, at first, attributed to effects of the pandemic. Of her circle of friends, Ramos and others would tell you she was the most health-conscious and fit among them. Suddenly, going up a short flight of steps left her out of breath and she couldn't complete an easy afternoon bike ride. Within weeks, Ramos received a diagnosis that stunned her family, friends and coworkers: acute lymphoblastic leukemia (ALL). She had just turned 37 and had no family history of blood cancer.
She began induction therapy treatment within days of her diagnosis, spending 35 days on 9100 at DUH. Despite two full courses of treatment, it wasn't enough. She needed a stem cell transplant, but had no family matches. Seventy percent of patients with blood cancers or other disorders don't have a blood stem cell donor match in their family.
Ramos and her care team turned to the Be The Match registry, operated by the National Marrow Donor Program, and went through 6 or 7 potential matches before a good stem cell donor candidate was found. The transplant was successful and she is now back at work with our cardiology patients. She was away from work for a year and a half during the pandemic. With her family located in PA, northern VA and FL, she limited her contact to just a few close friends and several family members who could rotate through Durham to stay with and care for her during treatment.
She was really lucky. Dayana is Latina. Statistics show the odds of her finding a match based on her ethnic background were only 48 percent. For Blacks/African Americans, the disparity is even worse: 29 percent. For Caucasians, the chances are much higher at 79 percent. Patients are most likely to match with someone of their same ethnicity.
To increase awareness and do what she can to increase representation in the registry, Ramos is  holding a Be the Match registration drive at Duke University Hospital on Friday, June 24th from 8 a.m. to 3 p.m. outside the Atrium Café. Her goal is to increase understanding about blood cancers and the National Marrow Donor Registry and to increase the field of potential matches. Ideal registrants are between the ages of 18 and 35. She'd like to emphasize that registering is easy and that if a registrant ends up being a match, the costs associated with the donation process are covered and that donating, overall, is pretty easy. She encourages anyone who is interested to learn more.
Please consider stopping by the Be The Match drive on June 24 and supporting Dayana. She's amazing and we are so glad she is doing well!
Shout-out to Khan!
A shout-out to cardiology fellow Shahzeb Khan, MD, who presented at the American Diabetes Association's 82nd annual Scientific Sessions (held as a hybrid event from June 3-7 in New Orleans, LA). Khan presented on the socioeconomics of heart failure.
Way to represent Duke Heart, Shahzeb!
AHA Go Red Luncheon
The American Heart Association's 15th Annual Triangle Go Red for Women luncheon was held on Friday, June 3 at the Raleigh Convention Center. The event included health and wellness breakout sessions on mindfulness and well-being, healthy nutrition tips, and heart disease/stroke prevention. A big shout-out to Neha Pagidipati, MD for her 'Real Talk with a Doc' session on prevention and what women most need to know. Excellent job, Neha!!
The luncheon included Margot Ridgeway's moving stroke survivor story. Ridgeway, an NC State student and soccer player suffered a stroke at the beginning of the pandemic. Although she was displaying multiple signs of stroke, her condition went undiagnosed for several days. Now 21, Ridgeway–along with her mom– talked about her medical crisis and recovery. Both are now dedicated to raising awareness of stroke and heart disease among all ages. To read more about her story, visit: https://duke.is/j6bu9)
The Go Red luncheon included a heart disease survivor fashion show and recognition of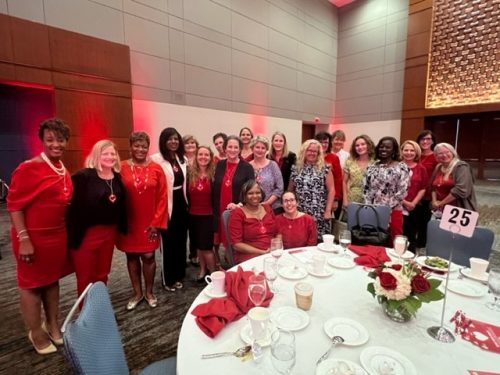 local AHA 'Women of Impact' including Duke's own Priscilla Ramseur, DNP, RN, CNOR, NEA-BC, chief nursing officer of Duke Raleigh Hospital.
Thanks to everyone who was able to join us and help make this event a success!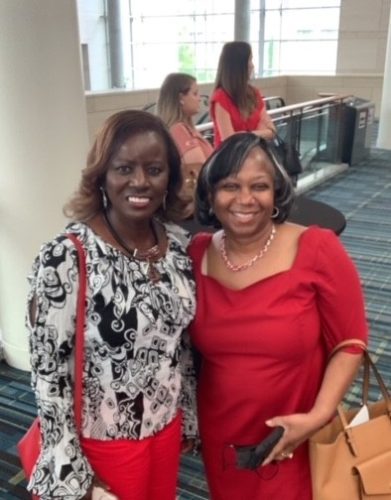 COVID-19 Update
All the latest Clinical Operations updates related to COVID can be found at https://covid-19.dukehealth.org. Patient-facing resources on DukeHealth.org can be found here: https://www.dukehealth.org/covid-19-update/resources. Duke University maintains a resource page as well, which can be accessed here: https://coronavirus.duke.edu/updates/for-staff.
Upcoming Events & Opportunities
June 30: Women in Cardiology. Arrive by 6:30 p.m. The WIC team has announced their next meeting will be at the home of Dr. Pamela Douglas. The theme of the event will be 'Mentorship and Sponsorship' with panelists Dr. Douglas, Dr. Jenn Rymer, Dr. Tracy Wang, and Dr. Camille Frazier-Mills. We are lucky to have such a group of incredibly accomplished women and we can't wait to hear about their mentorship and sponsorship experiences and advice. Dinner will be provided. For more details, please contact cardiology fellow Karen Flores Rosario, MD.
June 24: Be The Match Registry Drive. 8 a.m. – 3 p.m., Duke University Hospital outside of Atrium Café. If you're between the ages of 18-35 years old, consider registering as a potential stem cell/bone marrow donor via Be The Match. Help support our cardiology team member and ALL survivor, Dayana Ramos.
Did you know that every three minutes, someone is diagnosed with a blood cancer? You can help be part of their cure. It's quick and easy — with just a swab kit, it can be determined if your bone marrow or stem cells can save a patient's life. Come to event to learn more or visit https://bethematch.org. Test kits are available through the registry website.
Duke-Stanford Cardiovascular Research Symposium
June 27 & 28. The Duke-Stanford Cardiovascular Research Symposium returns to Durham this year and is offered as a hybrid event. This symposium is sponsored by the Edna and Fred L. Mandel, Jr. Foundation.
Registration required. In person: Great Hall, Mary Duke Biddle Trent Semans Center, Durham, NC. For those who wish to attend virtually, the event will offer live-streaming. The link will be emailed prior to the program. Registrants who choose the virtual live-streamed webinar option will be able to obtain CE credit for the course. For more information, contact Christy Darnell.
Cardiology Grand Rounds
Cardiology Grand Rounds has concluded and will resume in September.
Have news to share?
If you have news to share with the Pulse readership, please contact Tracey Koepke, director of communications for Duke Heart at tracey.koepke@duke.edu. We would love to hear about your latest accomplishments, professional news, cool happenings, and any events or opportunities that may be of interest to our Duke Heart family. Please call with any questions: 919-681-2868. Feedback on Pulse is welcome and encouraged. Submissions by Noon, Wednesdays, to be considered for weekend inclusion. 
Duke Heart in the News:
June 6 — William Kraus
CBS/The Today Show
Prescription exercise? How doctors are tailoring workout plans
https://duke.is/paaap
June 7 — Carmelo Milano, Alina Nicoara, Adam Williams & Alejandro Murillo
Hondudiario.com (Honduras)
Honduras Medical Center es sede de la Brigada Cardiovascular "Unidos por el Corazón, por una noble causa"
https://duke.is/jhfgm
June 8 — Carmelo Milano, Alina Nicoara, Adam Williams & Alejandro Murillo
El Pais.hn (Honduras)
El Hospital Honduras Medical Center es Sede de la Brigada Cardiovascular "Unidos por El Corazon"
https://duke.is/ya5wv
June 9 — Stephen Greene
Practical Cardiology
Don't Miss a Beat: oHCM and Mavacamten, with Anjali Owens, MD
https://duke.is/vcaf2
Division of Cardiology Publications Indexed in PubMed June 2-8, 2022
Allen LaPointe NM, Ali-Ahmed F, Dalgaard F, Kosinski AS, Schmidler GS, Al-Khatib SM. Outcomes of Cardiac Resynchronization Therapy with Image-Guided Left Ventricular Lead Placement at the Site of Latest Mechanical Activation: A Systematic Review and Meta-Analysis. J Interv Cardiol 2022 May 20;2022:6285894. PM: 35655661
Collins KA, Huffman KM, Wolever RQ, Smith PJ, Siegler IC, Ross LM, Hauser ER, Jiang R, Jakicic JM, Costa PT, Kraus WE. Determinants of Dropout from and Variation in Adherence to an Exercise Intervention: The STRRIDE Randomized Trials. Transl J Am Coll Sports Med 2022 ;7(1):e000190. PM: 35669034.
Drozda JP, Graham J, Muhlestein JB, Tcheng JE, Roach J, Forsyth T, Knight S, McKinnon A, May H, Wilson NA, Berlin JA, Simard EP. Multi-institutional distributed data networks for real-world evidence about medical devices: building unique device identifiers into longitudinal data (BUILD). JAMIA Open 2022 May 25;5(2):ooac035. PM: 35663113.
Echouffo-Tcheugui JB, Musani SK, Bertoni AG, Correa A, Fox ER, Mentz RJ. Patients phenotypes and cardiovascular risk in type 2 diabetes: the Jackson Heart Study. Cardiovasc Diabetol 2022 Jun 1;21(1):89. PM: 35650579.
Harrington J, Jones WS, Udell JA, Hannan K, Bhatt DL, Anker SD, Petrie MC, Vedin O, Butler J, Hernandez AF. Acute Decompensated Heart Failure in the Setting of Acute Coronary Syndrome. JACC Heart Fail 2022 Jun;10(6):404-414. PM: 35654525.
Jean-Charles PY, Rajiv V, Sarker S, Han S, Bai Y, Masoudi A, Shenoy SK. A single phenylalanine residue in β-arrestin2 critically regulates its binding to G protein-coupled receptors. J Biol Chem 2022 May;298(5):101837. PM: 35307348.
Lerman JB, Giamberardino SN, Hernandez AF, Felker GM, Shah SH, McGarrah RW. Plasma metabolites associated with functional and clinical outcomes in heart failure with reduced ejection fraction with and without type 2 diabetes. Sci Rep 2022 Jun 2;12(1):9183. PM: 35654972.
Petek BJ, Moulson N, Baggish AL, Drezner JA, Harmon KG, Klein CF, Kliethermes SA, Patel MR, Churchill TW. Electrocardiographic findings in young competitive athletes during acute SARS-CoV-2 infection. J Electrocardiol May-Jun 2022;72:13-15. PM: 35219112.
Pinsker BL, Serfas JD, Awerbach JD, Dizon S, Spector ZZ, Campbell MJ, Krasuski RA. Utility of Cardiac Magnetic Resonance Imaging in Predicting Atrial Arrhythmias in Repaired Tetralogy of Fallot. Am J Cardiol 2022 Jul 1;174:151-157. PM: 35473783.
Rao S, Hurst JH, Zhao C, Goldstein BA, Thomas L, Lang JE, Kelly MS. Asthma and the Risk of SARS-CoV-2 Infection Among Children and Adolescents. Pediatrics 2022 Jun 1;149(6):e2021056164. PM: 35274143.
Rymer JA, Bhatt DL, Angiolillo DJ, Diaz M, Garratt KN, Waksman R, Edwards L, Tasissa G, Salahuddin K, El-Sabae H, Dell'Anna C, Davidson-Ray L, Washam JB, Ohman EM, Wang TY. Cangrelor Use Patterns and Transition to Oral P2Y Inhibitors Among Patients With Myocardial Infarction: Initial Results From the CAMEO Registry. J Am Heart Assoc 2022 Jun 7;11(11):e024513. PM: 35621210.
Singh AK, Cizman B, Carroll K, McMurray JJV, Perkovic V, Jha V, Johansen KL, Lopes RD, Macdougall IC, Obrador GT, Waikar SS, Wanner C, Wheeler DC, Wiecek A, Stankus N, Strutz F, Blackorby A, Cobitz AR, Meadowcroft AM, Paul G, Ranganathan P, Sedani S, Solo. Efficacy and Safety of Daprodustat for Treatment of Anemia of Chronic Kidney Disease in Incident Dialysis Patients: A Randomized Clinical Trial. JAMA Intern Med 2022 Jun 1;182(6):592-602. PM: 35377393.
Szarek M, Hess C, Patel MR, Jones WS, Berger JS, Baumgartner I, Katona B, Mahaffey KW, Norgren L, Blomster J, Rockhold FW, Hsia J, Fowkes FGR, Bonaca MP. Total Cardiovascular and Limb Events and the Impact of Polyvascular Disease in Chronic Symptomatic Peripheral Artery Disease. J Am Heart Assoc 2022 Jun 7;11(11):e025504. PM: 35621222.
Venkatraman V, Ponder M, Gellad ZF, Lad SP, Christy E, Plichta R, Harrison JK, Hughes GC, Doberne J. Feasibility study of a novel digital health platform for patients undergoing transcatheter aortic valve replacement. J Card Surg 2022 Jul;37(7):2017-2022. PM: 35434823.
Wang YZ, Zhao W, Ammous F, Song Y, Du J, Shang L, Ratliff SM, Moore K, Kelly KM, Needham BL, Diez Roux AV, Liu Y, Butler KR, Kardia SLR, Mukherjee B, Zhou X, Smith JA. DNA Methylation Mediates the Association Between Individual and Neighborhood Social Disadvantage and Cardiovascular Risk Factors. Front Cardiovasc Med 2022 May 19;9:848768. PM: 35665255.