Chief's message: Remembering, celebrating, and working to improve our future.
Happy Father's day to all the dads and dad-figures throughout our team and in each of our lives.
This year, the holiday happens to coincide with Juneteenth, providing an opportunity to reflect how we can be better. In his all-staff letter, Vincent E. Price, president of Duke University wrote, "As we mark Juneteenth, we are reminded that racial equity and justice are not end goals to be reached or achieved—they are ongoing institutional and personal principles that must guide all that we do as a university." In a message to all DUHS team members, Dr. A. Eugene Washington, chancellor for health affairs at Duke, wrote, "At Duke Health, we honor the full spectrum of diversity, and we value the richness that our differences bring to us. We have pledged that equity is our goal, inclusion is our practice, and belonging is the desired result. This is how we build upon the gifts that each of us brings to our mission of advancing health together."
Like a lot of academic programs, this week also marked our end of year celebrations for graduating fellows and residents.  We were reminded about the amazing accomplishments of our fellows, the efforts of our wonderful faculty to teach, and the ability to recognize truly outstanding contributions. We hope each of you has an opportunity to reflect upon year-end and to celebrate not only our dads and our graduates, but our individual and collective blessings.
Highlights of the week:
Duke Heart Celebrates Year-End Graduates
Each of our fellowship and residency training programs celebrated their graduating trainees this week. We are pleased to share updates and photos with you. Congratulations to each of our graduates and a big shout-out to all of our program directors and associate directors: Anna Lisa Chamis; Camille Frazier-Mills; Chris Holley; Rob Mentz; Neha Pagidipati; Schuyler Jones; Kevin Harrison; Donald Hegland; Ben Bryner; Betty Tong, and Jack Haney.
The Interventional Cardiology and Structural Fellowship programs held their year-end celebration on Thursday evening at The Roof restaurant on top of the Durham Hotel in downtown Durham. They celebrated four graduates: Zach Wegermann, Sipa Yankey and Kevin Friede from the interventional cardiology fellowship and John D. Serfas from the structural fellowship.
John D. Serfas, MD, has completed the Structural Heart fellowship and is entering Interventional Cardiology fellowship at Duke.
Kevin Friede, MD, is joining the faculty at UNC Chapel Hill.
Zach Wegermann, MD, is entering the Advanced Training in Cardiology fellowship as the Structural Heart fellow at Duke.
Sipa Yankey, MD, is leaving Duke to enter the Structural Heart Fellowship at UNC Chapel Hill
The annual Gloria and Warren Newman Award, established in honor of Robert H. "Jess" Peter, MD, was presented to Zach Wegermann. Congratulations, Zach!
Our Cardiology Fellowship programs held their year-end appreciation event on Friday, June 17, at the Washington Duke Inn.
They celebrated the following graduates:
From the Cardiovascular Disease Fellowship:
Amanda Coniglio, MD, our outgoing chief fellow, is joining the advanced heart failure faculty at Rochester Regional Hospital.
Jeff Dixson, MD, is going into general invasive cardiology practice with Alaska Heart and Vascular Institute in Anchorage, Alaska.
Michelle Kelsey, MD, is joining the cardiology faculty at Duke. She will be a part of our prevention team at Duke Heart.
Vanessa Blumer, MD, is heading to the Cleveland Clinic in Ohio for Advanced Heart Failure and Transplantation fellowship.
Lauren Truby, MD, is heading to University of Texas Southwestern Medical Center for Advanced Heart Failure and Transplantation fellowship.
From the Adult Congenital Heart Disease Fellowship:
Sarah Goldstein, MD, has accepted a position with the congenital heart disease team at Yale University.
The following graduates are transitioning to another training program within Duke:
Kelly Arps, MD, is entering Clinical Cardiac Electrophysiology
Caitlin Drescher, MD, is entering Interventional Cardiology
Navid Nafissi, MD, is entering Clinical Cardiac Electrophysiology
Vishal Rao, MD, is entering the Advanced Heart Failure and Transplant Cardiology
Toi Spates, MD, is entering the Adult Congenital Heart Disease
Francis Ugowe, MD, is entering Clinical Cardiac Electrophysiology
The following trainees have completed the Advanced Heart Failure and Transplant Cardiology Fellowship:
Anthony Carnicelli, MD, has accepted a position with the Medical University of South Carolina, Charleston.
Marc Samsky, MD, has accepted a position with Yale University.
Christopher Wrobel, MD, is returning to the Cardiovascular Disease fellowship program for his third year. He will serve as Duke's chief cardiology fellow for 2022-2023.
Graduating from the Clinical Cardiology Electrophysiology Fellowship are:
Adam Barnett, MD, is joining Prisma Health in Greenville, SC.
Eric Black-Maier, MD is joining Maine Medical Center in Portland, ME.
Zak Loring, MD, is joining the cardiology faculty here at Duke. He will be on the electrophysiology team.
Mike Rehorn, MD, is joining Virginia Cardiovascular Specialists in Richmond, VA.
The following fellows are transitioning from the Cardiovascular Disease fellowship to Advanced Training in Cardiology: Jessica Duran, Josephine Harrington and Anthony Peters.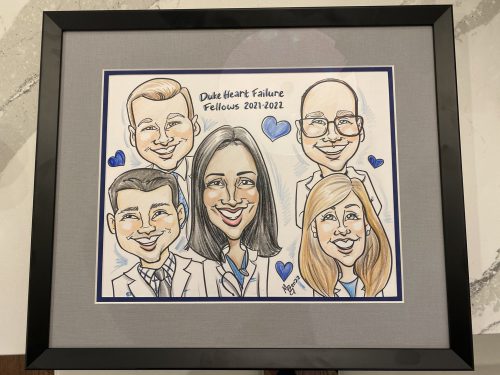 As is the custom at year-end, the following annual recognition awards were presented on Friday evening during the Cardiology Fellowship celebration:
Fellow-selected awards
The Outstanding Service Award was presented to Emily Towery. This award is for a hospital staff member who demonstrates dedication and excellence in fellow education.
The Bashore Faculty Teaching Award was presented to Nishant Shah, MD. This award is given to a faculty member demonstrating dedication and excellence in teaching.
The Fellow Mentorship Award was presented to Neha Pagidipati, MD. This award is given to a faculty member demonstrating dedication and excellence in mentoring fellows' careers.
Faculty-selected awards, which are made possible through the generosity of Duke philanthropic donors:
The Walter F. Floyd Award is a peer-selected award that goes to a fellow demonstrating the most outstanding clinical skills and acumen. This year's recipient is Willard Applefield, MD.
The Joseph G. Greenfield Award is given to a fellow demonstrating excellence, dedication and contribution to research. This year's recipient is Vishal Rao, MD, MPH.
The Cassell-Saperstein Award is given to a fellow demonstrating commitment to teaching and a passion for clinical education. This year's recipient is Michelle Kelsey, MD.
The Brandt and Belinda Louie Award is given to a fellow demonstrating excellence in all three missions of Duke Heart: clinical, education, and research. This year's recipient is Kelly Arps, MD.
The year-end celebration for our trainees in Cardiovascular and Thoracic Surgery was celebrated as a virtual event on Friday, June 17.
Congratulations to the following:
Babatunde Yerokun, MD has taken a surgery position at Saint Thomas Hospital for Specialty Surgery in Nashville, TN.
David Ranney, MD has taken a surgery position at Spectrum Health in Grand Rapids, MI.
Doug Overbey, MD will remain at Duke as our very first trainee in the new Congenital Cardiac Surgery Fellowship.
As you can see, it was a big week for trainees throughout Duke Heart – congratulations to all of you. Your hard work, commitment and excellence shines and we are so proud of all that you've accomplished!
Duke Heart at ASE 2022
Duke Heart was well represented at the American Society of Echocardiography (ASE) Scientific Sessions held June 10-13 in Seattle, WA. Madhav Swaminathan, MD, MBBS, MMCi, FASE, Vice Chair for Faculty Development, Duke Anesthesiology, and Professor of Anesthesiology, Duke University School of Medicine, served as the President of ASE from 2021-2022. By all accounts an amazing year of leadership and well represented the entire field and Duke Heart.  Dr. Pamela Douglas was honored during the ASE gala event.  A number of our faculty and staff spoke and presented research, including Pamela Douglas, MD; Anita M. Kelsey, MD; Joseph Kisslo, MD; David Adams, ACS; Alicia Armour, ACS; Colin Dunbar II, RDCS; Dallas Gardner, RDCS; Melissa Lefevre, RDCS, and Richard Palma, ACS. Cardiology fellow Manasi Tannu, MD, an ASE Foundation Top Investigator grant winner, also presented (see below "kudos"). Two students from our Cardiac Ultrasound Certificate Program received ASE Foundation student scholarships — Nick Medlock received the Waggoner Award and Daisy Chang received the Katanick Award.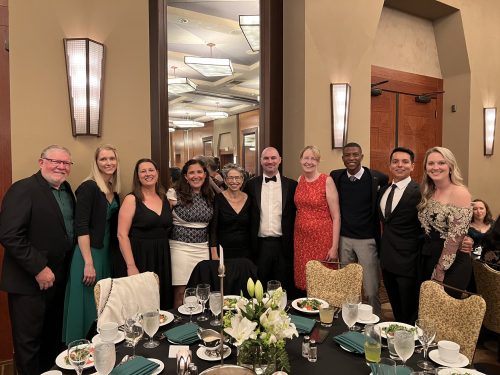 Congratulations to all!
Kudos to Tannu
First-year cardiology fellow Manasi Tannu, MD, who was awarded an American Society of Echocardiography (ASE) Foundation top investigator grant in early May, presented her work at the ASE scientific sessions in Seattle this past weekend. Her presentations included:
Echocardiography based estimation of pulmonary vascular resistance and outcomes in patients with pulmonary hypertension.
Prognostic value of right ventricular-pulmonary artery coupling in patients with pulmonary hypertension.
Congratulations to Dr. Tannu and her co-authors!
DUHS AONL Nurse Leaders Advocate on Capitol Hill
Roughly 120 nurse leaders from 33 states – including several from Duke — met last week with state and federal representatives on Capitol Hill in Washington, D.C. to advocate for the American Organization of Nursing Leadership's (AONL) 2022 legislative priorities. This included national strategies to address the nursing shortage and support legislation that promotes safety from violence for healthcare employees. DUHS nursing leaders (shown in photos) met with the offices of Representative David Rouzer, Representative David Price, Senator Thom Tillis, Senator Richard Burr, and Representative Ted Budd.
Pictured below from left to right are Katrina Green (Administrative Director Clinical Education & Professional Development), Frank Demarco (Associate CNO Emergency Services), and Laura Dickerson (Clinical Operations Director Heart Services)
Great work – and thank you for representing Duke Health and North Carolina!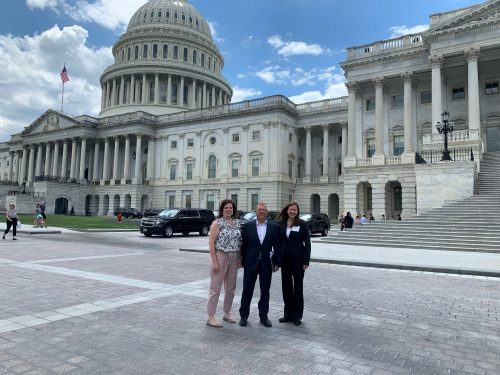 Duke Heart Grows by One
Congratulations to Emily and Mike Towery on the birth of their son, Amos. The family reported, "After 72 hours of labor, Amos Richard Towery came into the world weighing 7 lbs, 15 oz! We are so in love with him and we are all doing great!"
Emily, a cardiology device nurse, and Mike, a PA, are both members of our cardiology team. We are so excited for them and can't wait to meet Amos!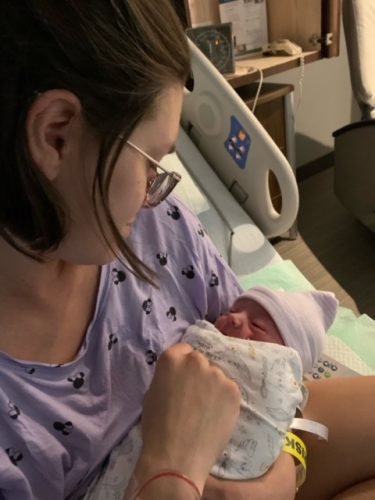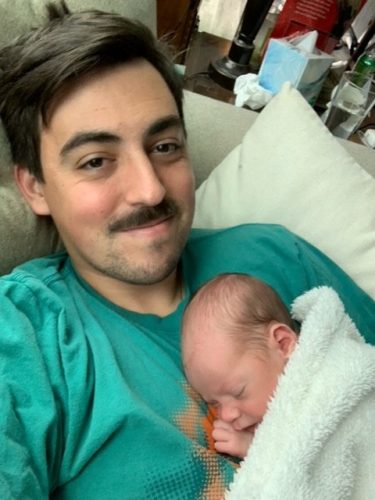 Photos of the Week
In a move that surprised us all, Terry Fortin has traded in her flip phone for an iPhone. Congratulations, Terry!
Mike Sketch, Richard Stack, and Chris O'Connor ran into one another as they were out and about town this weekend. They first met in 1988 at Duke. They shared a photo with us – it's always great to see friends and colleagues!
Duke Children's Hospital #1 in NC
Duke Children's Hospital & Health Center continues to rank as the No. 1 children's hospital in North Carolina by U.S. News & World Report, with nine pediatric specialties ranked among the best in the nation. Duke Children's also retained a prominent position in the region and nationally – ranking fourth in the southeast and 27th in the nation in the magazine's annual listing. Duke also received top marks in this year's list for pediatric cardiology and heart surgery, placing seventh nationally. To read the full news release, please visit: https://duke.is/zphv9. Congratulations to all!
Medicine Grand Rounds Update
The Department of Medicine announced last week that they are moving Medicine Grand Rounds to an 8 a.m. time slot in order to maximize in-person attendance, especially among trainees. The time change from noon to 8 a.m. went into effect on Friday, June 17. MGR will continue to be offered both in-person and virtually. All sessions are recorded and available for viewing on the Duke Medicine Grand Rounds website.
Reminder: Exterior Doors
It is critical to keep exterior doors closed. Allowing them to be propped open presents a security risk to our patients and our team members. Please do not prop exterior doors. Thank you!
COVID-19 Update
All the latest Clinical Operations updates related to COVID can be found at https://covid-19.dukehealth.org. Patient-facing resources on DukeHealth.org can be found here: https://www.dukehealth.org/covid-19-update/resources. Duke University maintains a resource page as well, which can be accessed here: https://coronavirus.duke.edu/updates/for-staff.
Upcoming Events & Opportunities
AHA Aortic Stenosis Webinar features Vemulapalli
June 21: Undertreatment of Aortic Stenosis: A Conversation to Understand the Problem and Consider Solutions. Panelists include Sreekanth Vemulapalli, MD. 6-7 p.m. EDT. This national webinar is part of the American Heart Association's Target: Aortic Stenosis initiative. For a full list of presenters and panelists or to register (registration is required), please visit: https://bit.ly/3OrktdS.
June 24: Be The Match Registry Drive. 8 a.m. – 3 p.m., Duke University Hospital outside of Atrium Café. If you're between the ages of 18-35 years old, consider registering as a potential stem cell/bone marrow donor via Be The Match. Help support our cardiology team member and ALL survivor, Dayana Ramos.
Did you know that every three minutes, someone is diagnosed with a blood cancer? You can help be part of their cure. It's quick and easy — with just a swab kit, it can be determined if your bone marrow or stem cells can save a patient's life. Come to event to learn more or visit https://bethematch.org. Test kits are available through the registry website.
June 30: Women in Cardiology. Arrive by 6:30 p.m. The WIC team has announced their next meeting will be at the home of Dr. Pamela Douglas. The theme of the event will be 'Mentorship and Sponsorship' with panelists Dr. Douglas, Dr. Jenn Rymer, Dr. Tracy Wang, and Dr. Camille Frazier-Mills. We are lucky to have such a group of incredibly accomplished women and we can't wait to hear about their mentorship and sponsorship experiences and advice. Dinner will be provided. For more details, please contact cardiology fellow Karen Flores Rosario, MD.
Duke-Stanford Cardiovascular Research Symposium
June 27 & 28. The Duke-Stanford Cardiovascular Research Symposium returns to Durham this year and is offered as a hybrid event. This symposium is sponsored by the Edna and Fred L. Mandel, Jr. Foundation.
Registration required. In person: Great Hall, Mary Duke Biddle Trent Semans Center, Durham, NC. For those who wish to attend virtually, the event will offer live-streaming. The link will be emailed prior to the program. Registrants who choose the virtual live-streamed webinar option will be able to obtain CE credit for the course. For more information, contact Christy Darnell.
Cardiology Grand Rounds
Cardiology Grand Rounds has concluded and will resume in September.
Have news to share?
If you have news to share with the Pulse readership, please contact Tracey Koepke, director of communications for Duke Heart at tracey.koepke@duke.edu. We would love to hear about your latest accomplishments, professional news, cool happenings, and any events or opportunities that may be of interest to our Duke Heart family. Please call with any questions: 919-681-2868. Feedback on Pulse is welcome and encouraged. Submissions by Noon, Wednesdays, to be considered for weekend inclusion.
Duke Heart in the News:
June 11 — Robert Mentz
CBS Mornings/Eye on America (Boston, MA)
Spirituality can improve outcomes for patients with heart failure
https://duke.is/pk2j9
June 12 — Adrian Hernandez
The New York Times
Ivermectin Has Little Effect on Recovery Time From Covid, Study Finds
https://duke.is/rbb7p
June 15 — Adrian Hernandez
Newsobserver.com
Ivermectin does not shorten COVID-19 illness, according to large Duke clinical trial
https://duke.is/yvrcu
June 16 — Christopher Granger
Medpage Today
Out-of-Hospital Cardiac Arrest: Impact on Long-term Survival
https://duke.is/cwnys
June 16 — Sunil Rao
tctMD
Risking COVID-19 for Professional Gain? Spring's In-Person Meetings in Hindsight
https://duke.is/w5hg3
June 16 — Adrian Hernandez
Axios
Ivermectin doesn't meaningfully aid COVID-19 recovery, study finds
https://duke.is/jcs27
June 17 — Renato Lopes
World Stock Market/CNN Vital Signs
CNN Vital Signs explains how to avoid thrombosis
Division of Cardiology Publications Indexed in PubMed June 9-15, 2022
Alexander KP. Meaningful Evidence for Anticoagulation in the Gray (Elder) Zone. JAMA Cardiol 2022 Jun 1;7(6):581-582. PM: 35416911.
Del Brutto VJ, Diener HC, Easton JD, Granger CB, Cronin L, Kleine E, Grauer C, Brueckmann M, Toyoda K, Schellinger PD, Lyrer P, Molina CA, Chutinet A, Bladin CF, Estol CJ, Sacco RL. Predictors of Recurrent Stroke After Embolic Stroke of Undetermined Source in the RE-SPECT ESUS Trial. J Am Heart Assoc 2022 Jun 7;11(11):e023545. PM: 35656979.
Don CW, Zwischenberger BA, Kurlansky PA, Rao SV, Sharma G, Lawton JS, Tamis-Holland JE. 2021 ACC/AHA/SCAI Coronary Artery Revascularization Guidelines for Managing the Nonculprit Artery in STEMI. JACC Case Rep 2022 Apr 6;4(7):377-384. PM: 35693904.
Eikelboom J, Rangarajan S, Jolly SS, Belley-Cote EP, Whitlock R, Beresh H, Lewis G, Xu L, Chan N, Bangdiwala S, Diaz R, Orlandini A, Hassany M, Tarhuni WM, Yusufali AM, Sharma SK, Kontsevaya A, Lopez-Jaramillo P, Avezum A, Dans AL, Wasserman S, Felix C, et al. The Anti-Coronavirus Therapies (ACT) Trials: Design, Baseline Characteristics, and Challenges. CJC Open 2022 Jun;4(6):568-576. PM: 35252829.
Figtree GA, Redfors B, Kozor R, Vernon ST, Grieve SM, Mazhar J, Thiele H, Patel MR, Udelson JE, Selker HP, Ohman EM, Maehara A, Karmpaliotis D, Eitel I, Granger CB, Ben-Yehuda O, Stone GW, Kosmidou I. Clinical Outcomes in Patients With ST-Segment Elevation MI and No Standard Modifiable Cardiovascular Risk Factors. JACC Cardiovasc Interv 2022 Jun 13;15(11):1167-1175. PM: 35680197.
Garg A, Rout A, Farhan S, Waxman S, Giustino G, Tayal R, Abbott JD, Huber K, Angiolillo DJ, Rao SV. Dual antiplatelet therapy duration after percutaneous coronary intervention using drug eluting stents in high bleeding risk patients: A systematic review and meta-analysis. Am Heart J 2022 Aug;250:1-10. PM: 35436504.
Kern MJ, Applegate B, Bittl J, Block P, Butman S, Dehmer G, Garratt KN, Henry T, Hirshfeld J, Holmes DR, Kaplan A, King S, Klein LW, Krucoff MW, Kutcher MA, Naidu SS, Pichard A, Ruiz CE, Skelding KA, Tobis JM, Tommaso C, Weiner BH, White C. Conversations in cardiology: Late career transitions-Retool, retire, refocus. Catheter Cardiovasc Interv 2022 Jun;99(7):2136-2144. PM: 35446473.
Mann DL, Hernandez AF, Braunwald E. Could Neprilysin Be Already Inhibited by BNP in the LIFE Trial?-Reply. JAMA Cardiol 2022 Jun 1;7(6):657-658. PM: 35507336.
Memon MM, Siddiqui AA, Amin E, Shaikh FN, Khan MS, Doukky R, Krasuski RA. Novel oral anticoagulants versus vitamin K antagonists in patients with atrial fibrillation after transcatheter aortic valve replacement: A systematic review and meta-analysis. Catheter Cardiovasc Interv 2022 Jun;99(7):2101-2110. PM: 35476221.
Nelson MB, Gilbert ON, Duncan PW, Kitzman DW, Reeves GR, Whellan DJ, Mentz RJ, Chen H, Hewston LA, Taylor KM, Pastva AM. Intervention Adherence in REHAB-HF: Predictors and Relationship With Physical Function, Quality of Life, and Clinical Events. J Am Heart Assoc 2022 Jun 7;11(11):e024246. PM: 35656973.
Pahuja M, Leifer ES, Clarke JD, Ahmad T, Daubert MA, Mark DB, Cooper L, Desvigne-Nickens P, Fiuzat M, Adams K, Ezekowitz J, Whellan DJ, Januzzi JL, O'Connor CM, Felker GM, Piña ILAssessing race and ethnicity differences in outcomes based on GDMT and target NT-proBNP in patients with heart failure with reduced ejection fraction: An analysis of the GUIDE-IT study.Prog Cardiovasc Dis Mar-Apr 2022;71:79-85.PM:35490873
Salah HM, Minhas AMK, Khan MS, Abramov D, Agarwal R, Fudim M. Trends and Characteristics of Hospitalizations in Patients With Heart Transplant. Curr Probl Cardiol 2022 Aug;47(8):101210. PM:35460682
Segar MW, Patel KV, Hellkamp AS, Vaduganathan M, Lokhnygina Y, Green JB, Wan SH, Kolkailah AA, Holman RR, Peterson ED, Kannan V, Willett DL, McGuire DK, Pandey A Validation of the WATCH-DM and TRS-HF Risk Scores to Predict the Risk of Incident Hospitalization for Heart Failure Among Adults With Type 2 Diabetes: A Multicohort Analysis. J Am Heart Assoc 2022 Jun 7;11(11):e024094. PM:35656988
Solomon SD, Claggett BL, Miao ZM, Diaz R, Felker GM, McMurray JJV, Metra M, Corbalan R, Filippatos G, Goudev AR, Mareev V, Serpytis P, Suter T, Yilmaz MB, Zannad F, Kupfer S, Heitner SB, Malik FI, Teerlink JR Influence of atrial fibrillation on efficacy and safety of omecamtiv mecarbil in heart failure: the GALACTIC-HF trial. Eur Heart J 2022 Jun 14;43(23):2212-2220. PM:35325102