Chief's message:
In Memoriam: Robb Kociol, MD, former Cardiology Fellow
It is with great sadness that we share the news of the passing of Robb Kociol, MD, a 2011 graduate of our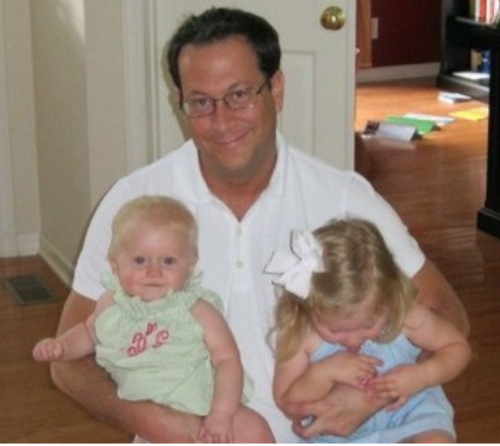 cardiology fellowship program.
A native of the San Francisco Bay area, Kociol came to Duke for fellowship from Brigham and Women's Hospital. He was noted during fellowship for being caring, fun, smart, and often self-deprecating. He was passionate about advanced heart failure care and after training at Duke, returned to Boston and the Beth Israel Deaconess Medical Center as a faculty member. He eventually became the director of their Transplant Program. Over the last few years, he transitioned to pharma – initially at Boehringer Ingelheim before going to Cytokinetics where he partnered with Duke faculty and company leadership for the omecamtiv mecarbil work.
He is survived by his wife Kristin, their two young daughters, and his parents.
Robb was a friend, gentle and thoughtful, and will be missed by all of us that knew him and by the larger cardiovascular community. His passing, like many of the events over the last few years, reminds us how precious life is and the bonds we have with each other.
At this time, service details have not been announced. We will remain in contact with the family to get details around his service, and ensure that the Duke community works to find any ways that we can support them.
As a start, below is a gofundme site that has been started to support his family.
We are raising money for the Kociol family after the unexpected passing of Robb.   Th… Colleen Donovan needs your support for Kociol Family Memorial Fund

gofund.me
We asked several Duke Heart team members to share their thoughts on Robb with us. Here is what they wrote:
From Adrian Hernandez, MD:
"Robb came to Duke as a cardiology fellow with the triple aim of excellence in clinical care, research, and education.  He achieved all of this plus more.  What we learned from Robb is there is a 4th aim- excellence in humanity. He cared about people- friends, family, and others. It showed every day. 
As we've learned about Robb's passing, I know it brings up so many fond memories of him.  Some of my best experiences have been with and because of Robb.  At the beginning of his fellowship, I remember when he first met with me and asked if I could be his mentor in his own quirky style.  Along the way, I had the privilege to see things differently through his eyes when he had decisions to make, opportunities to consider and difficult times to confront.  Each time our conversation turned to what was best for the family and the people around him. He also had plenty of amusing stories to share in his self-deprecating way.
Just one example of his impact comes from several years ago when I had the pleasure of visiting Beth Israel-Deaconess Medical Center. Robb had just started the advanced heart failure program with ventricular assist devices, and it was clearly on its way to success.    Every fellow noted how much of an impact Robb had on the place, their lives, and the lives of others.  I heard stories from the fellows about Robb and the amount of time he spent with them and the patients selflessly ensuring their success.  He led by example and all the fellows wanted to be like Robb.   He relentlessly dedicated himself to every patient for the best outcome possible whether on ECMO or getting a VAD or making a tough decision at the end of life.    He also wanted everyone to learn together and advance the field.  He was so committed and loved it. That was Robb—committed to others.   I was thankful Robb had ignored my advice on starting a VAD program- "Don't do it. It's impossibly hard, especially in Boston!" His reply, "I know, but its family."
From Ravi Karra, MD:
"Robb was the best.  He was brilliant and led by modeling excellence with humility and a quirky charm that was infectious. No one left a chat, text, or email from Robb without a smile on their face. Robb was always dedicated to serving patients and taking care of his family. Robb loved doctoring more than anyone I have ever met, and Robb was a great doctor. As a new attending, he built up the heart transplant program at the BI, caring for his patients as soon as the cross-clamp came off.  He absolutely adored his wife, Kristin, and his girls, Sophia and Olivia. When catching up with Robb, he always gushed about what his girls were up to and always expressed his deep appreciation and love for Kristin. His sudden passing has been heart-breaking. My family has been privileged to know and grow with the Kociol's – we sorely miss our dear friend."
From Robert Mentz, MD:
"Robb lived an inspiring life. An exceptional clinician and researcher, he was a role model for many interested in improving care for patients with heart failure. He excelled during his training at Duke and the DCRI. Brilliant, hardworking and engaging, he helped lead a number of foundational projects in outcomes research and trials. Having trailed him at Brigham and Women's Hospital and Duke, I became used to being referred to as "Robb" – though his shoes would be impossible to fill. He paved the way for many of us and was a thoughtful mentor and friend.
Following his training, he returned to Boston where he went on to lead and expand the advanced heart failure program at Beth Israel. He worked so incredibly hard to provide the best possible care for his patients. He had a remarkable career as a clinician investigator but perhaps even more inspiring was his life as a husband, father and friend. He faced both personal and family health issues with grit, courage and resiliency. It was shocking to hear of his passing and our thoughts go out to his wife and kids in particular. May they find some peace in knowing the tremendous impact he has had on so many of his colleagues and patients' lives.
We will explore the best ways to support his family and remember his legacy within the walls of Duke and beyond. Back in 2016, he published a thoughtful piece about the need to be a well-rounded clinician – his words extend beyond clinical medicine and truly reflect the well-rounded and caring man he was – he will be missed."
From Jason Katz, MD:
"Robb was a brilliant cardiologist, but most importantly he was a compassionate, caring, and beautiful human being. He had overcome so many obstacles over the last several years, and yet remained steadfast to the important things in life – his family, friends, and his passion for innovation. I am glad I had the chance to speak with him just a few weeks ago and was able to tell him how lucky we all felt to work with him. He represented the Duke family in such amazing ways."
Highlights of the week:
Jill Engel named Service Line VP, Heart & Vascular Services
Jill Engel, RN, DNP, FNP, ACNP, ANP, NEA-BC, FAANP, has been named Service Line Vice President – Heart & Vascular Services, Duke University Health System (DUHS), effective July 1, 2022. She holds a wealth of experience and expertise for our organization and was promoted to the role after an extensive and very competitive national search.
Jill is a health care leader specializing in operational care redesign and strategic planning; programmatic design, development and financial planning; and a strong track record of recruiting, retaining, coaching and mentoring diverse and highly functional teams.
As an accomplished Advanced Practice Provider (APP) and nursing leader with an expertise and passion for advancing the mission of the heart and vascular service line, Jill served as interim Service Line VP – Heart & Vascular Services, DUHS, for nearly 18 months. During this time, Jill demonstrated her capabilities to strategically collaborate with physicians and colleagues, improve operational effectiveness and develop people. Prior to this interim role, Jill served as the nursing leader for the heart and vascular service line.
Additionally, she has served since 2020 as Academic Program Advisory Board member for Duke University School of Nursing and the Duke University School of Medicine (School of Cardiac Sonography).
The announcement was made on Thursday, June 2 by Craig Albanese, MD, executive vice president and chief operating officer for DUHS.
Personally, I will just add that Jill's has been a great partner to work with and we are inspired by her ability to understand the issues that our clinical teams face in our day to day activities, her drive to improve patient care, and her ability to communicate broadly to our teams.
Please join us in congratulating Jill on her new executive leadership role!
Duke CTSI Announces MURDOCK Biorepository Initiative for Investigators
The Duke Clinical and Translational Science Institute (CTSI) has announced a new opportunity for Duke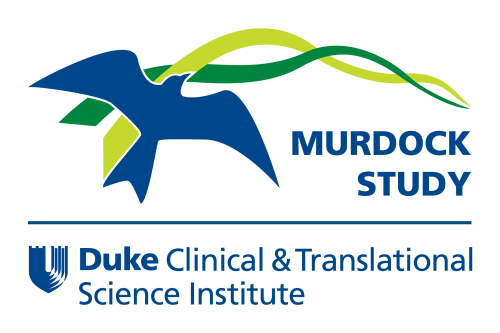 investigators to obtain biospecimens from the MURDOCK Study for research. The MURDOCK study is a landmark longitudinal cohort of more than 12,000 diverse participants linked to clinical data and up to 14 years of outcomes data.
The MURDOCK Biorepository Transformation Initiative, led by the Duke Kannapolis Research group, will work with Duke investigators to convert samples into rich molecular datasets by facilitating access to these samples.
To make the MURDOCK samples easier to access, researchers will only incur costs for biospecimen retrieval and shipment.
"Through this science-forward initiative, we are making thousands of biospecimens and associated clinical and outcome data available to all Duke researchers," said Svati Shah, MD, MHS, professor of medicine, associate dean for genomics, and director of Duke Kannapolis Research. "We are thrilled for the opportunity to share this powerful resource with more Duke collaborators, and we are incredibly grateful to the greater than 12,000 participants who contributed to one of the most unique biorepositories of its kind."
The broad phenotypes included in the community-based MURDOCK cohort provide an excellent opportunity to study many different diseases and longitudinal outcomes, as well as serving as matched controls.
To read the full story, please visit: https://duke.is/2627y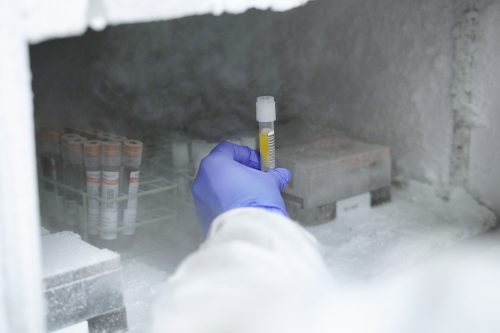 Call for Heart Walk Captains, Walkers
Duke Health will once again participate in the Triangle Heart Walk and Dr. Rick Shannon has put out the call for team captains and walkers. Shannon is serving as the 2022 Heart Walk Campaign Chair.
The Heart Walk is the American Heart Association's (AHA) premiere fundraising event that brings communities across the U.S. together to celebrate progress in the fight against heart disease and stroke, which remain the No. 1 and No. 5 leading causes of death in adult Americans.
In this year of renewal, we especially want to dedicate our efforts in remembrance of those members of the Duke family who have lost their lives or that of a loved one to heart disease and redouble our efforts to prevent these tragic losses.
After two years, the Triangle Heart Walk is planned as an in-person event this fall (date will be announced this summer). Our Duke Health theme is "We're back—and together, we're stronger than ever!" This will be a great opportunity to gather and celebrate one another and our efforts to reinvigorate heart-healthy lifestyles as well as raise lifesaving funds for the AHA.
We have set a goal of recruiting 350 team captains and 3,500 walkers to represent Duke Health, with a fundraising target of $350,000. Achieving this would make 2022 our most successful Heart Walk ever – and we can do this, together! Please consider becoming a team captain or committing to join a Duke Heart Walk team.
Registering as a team captain or walker is quick and easy.
Select the "Create new team" or the "Join a Team" button. Then complete the registration page.
Personalize your page with a photo and send emails inviting others (co-workers, friends and family) to join the team and donate to your fundraiser.
If you have any questions, you can contact Sangeetha Menon, Development Director for the Triangle American Heart Association via email (sangeetha.menon@heart.org). She can help you get started.
Blumer Presents Final CGR of Season
Vanessa Blumer, MD, cardiology fellow, presented our final cardiology grand rounds of the season on Tuesday evening, May 31. Her topic was "Heart Failure Cardiogenic Shock and the Golden Circle." Vanessa walked us through her "why" for this area of research and provided the current evidence around detection, management, and the working group on cardiogenic shock. Great job!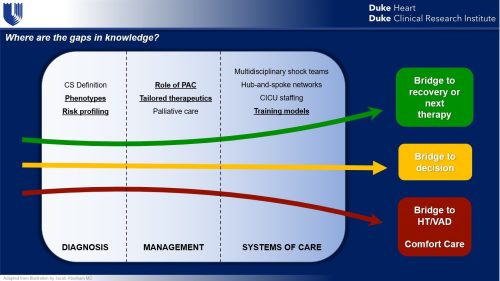 Duke Heart Team Heads to Honduras
A team from Duke Heart, comprised of cardiothoracic surgeons, anesthesiologists, perfusionists, nurses, an engineer, a medical student and a surgery resident have left on a medical mission trip to Honduras. The team, part of an effort known as Duke Heart for Honduras, is headed to the country of approximately 10 million people which has almost no cardiac surgery practitioners or facilities, and a very high incidence of rheumatic valvular heart disease. The team will be in Honduras through June 12 to perform cardiac surgery at Honduras Medical Center in the capital city of Tegucigalpa. This is the second trip for Duke Heart for Honduras. The first trip was in 2019.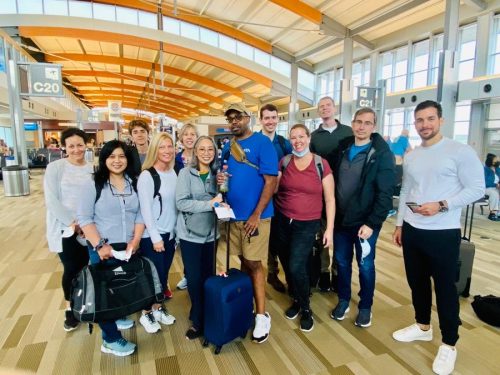 COVID-19 Update
All the latest Clinical Operations updates related to COVID can be found at https://covid-19.dukehealth.org. Patient-facing resources on DukeHealth.org can be found here: https://www.dukehealth.org/covid-19-update/resources. Duke University maintains a resource page as well, which can be accessed here: https://coronavirus.duke.edu/updates/for-staff.
Upcoming Events & Opportunities
Cardiology Grand Rounds
Cardiology Grand Rounds has concluded and will resume in September. Thanks for joining us – 2021-2022 has been a great year of presentations!
Duke-Stanford Cardiovascular Research Symposium
June 27 & 28. The Duke-Stanford Cardiovascular Research Symposium returns to Durham this year and is
offered as a hybrid event. This symposium is sponsored by the Edna and Fred L. Mandel, Jr. Foundation.
Registration required. In person: Great Hall, Mary Duke Biddle Trent Semans Center, Durham, NC. For those who wish to attend virtually, the event will offer live-streaming. The link will be emailed prior to the program. Registrants who choose the virtual live-streamed webinar option will be able to obtain CE credit for the course. For more information, contact Christy Darnell.
Have news to share?
If you have news to share with the Pulse readership, please contact Tracey Koepke, director of communications for Duke Heart at tracey.koepke@duke.edu. We would love to hear about your latest accomplishments, professional news, cool happenings, and any events or opportunities that may be of interest to our Duke Heart family. Please call with any questions: 919-681-2868. Feedback on Pulse is welcome and encouraged. Submissions by Noon, Wednesdays, to be considered for weekend inclusion.
Division of Cardiology Publications Indexed in PubMed May 26 – June 1, 2022
Erickson ML, Wang W, Counts J, Redman LM, Parker D, Huebner JL, Dunn J, Kraus WE. Field-Based Assessments of Behavioral Patterns During Shiftwork in Police Academy Trainees Using Wearable Technology. J Biol Rhythms 2022 Jun;37(3):260-271. PM: 35416084.
Généreux P, Kirtane AJ, Kandzari DE, Armstrong EJ, Krucoff MW, Redfors B, Ben-Yehuda O, Lerew DR, Ali ZA, Maehara A, O'Neill WW, Stone GW. Randomized evaluation of vessel preparation with orbital atherectomy prior to drug-eluting stent implantation in severely calcified coronary artery lesions: Design and rationale of the ECLIPSE trial. Am Heart J 2022 Jul;249:1-11. PM: 35288105.
Jones WS, Wruck LM, Harrington RA, Hernandez AF. Iterative approaches to the use of electronic health records data for large pragmatic studies. Contemp Clin Trials 2022 Jun;117:106789. PM: 35545204.
Macedo AVS, de Barros E Silva PGM, de Paula TC, Moll-Bernardes RJ, Mendonça Dos Santos T, Mazza L, Feldman A, Arruda GDAS, de Albuquerque DC, de Sousa AS, de Souza OF, Gibson CM, Granger CB, Alexander JH, Lopes RD. Discontinuing vs continuing ACEIs and ARBs in hospitalized patients with COVID-19 according to disease severity: Insights from the BRACE CORONA trial. Am Heart J 2022 Jul;249:86-97. PM: 35405099.
Petek BJ, Moulson N, Drezner JA, Harmon KG, Kliethermes SA, Churchill TW, Patel MR, Baggish AL. Cardiovascular Outcomes in Collegiate Athletes After SARS-CoV-2 Infection: 1-Year Follow-Up From the Outcomes Registry for Cardiac Conditions in Athletes. Circulation 2022 May 31;145(22):1690-1692. PM: 35545946.
Pfeiffer CT, Paulo JA, Gygi SP, Rockman HA. Proximity labeling for investigating protein-protein interactions. Methods Cell Biol 2022 ;169:237-266. PM: 35623704.
Pokorney SD, Cocoros N, Al-Khalidi HR, Haynes K, Li S, Al-Khatib SM, Corrigan-Curay J, Driscoll MR, Garcia C, Calvert SB, Harkins T, Jin R, Knecht D, Levenson M, Lin ND, Martin D, McCall D, McMahill-Walraven C, Nair V, Parlett L, Petrone A, Temple R, Zhan. Effect of Mailing Educational Material to Patients With Atrial Fibrillation and Their Clinicians on Use of Oral Anticoagulants: A Randomized Clinical Trial. JAMA Netw Open 2022 May 2;5(5):e2214321. PM: 35639381.
Reading Turchioe M, Volodarskiy A, Pathak J, Wright DN, Tcheng JE, Slotwiner D. Systematic review of current natural language processing methods and applications in cardiology. Heart 2022 May 25;108(12):909-916. PM: 34711662.
Sandhu RK, Seiler A, Johnson CJ, Bunch TJ, Deering TF, Deneke T, Kirchhof P, Natale A, Piccini JP, Russo AM, Hills MT, Varosy PD, Araia A, Smith AM, Freeman J. Heart Rhythm Society Atrial Fibrillation Centers of Excellence Study: A survey analysis of stakeholder practices, needs, and barriers. Heart Rhythm 2022 Jun;19(6):1039-1048. PM: 35428582.
Shavadia JS, Alemayehu W, deFilippi C, Westerhout CM, Tromp J, Granger CB, Armstrong PW, van Diepen S. Novel multi-marker proteomics in phenotypically matched patients with ST-segment myocardial infarction: association with clinical outcomes. J Thromb Thrombolysis 2022 May;53(4):841-850. PM: 34708315.
Singer DE, Atlas SJ, Go AS, Lopes RD, Lubitz SA, McManus DD, Revkin JH, Mills D, Crosson LA, Lenane JC, Aronson RS. ReducinG stroke by screening for UndiAgnosed atRial fibrillation in elderly inDividuals (GUARD-AF): Rationale and design of the GUARD-AF randomized trial of screening for atrial fibrillation with a 14-day patch-based continuous ECG monitor. Am Heart J 2022 Jul;249:76-85. PM: 35472303.
Udell JA, Lu D, Bagai A, Dodson JA, Desai NR, Fonarow GC, Goyal A, Garratt KN, Lucas J, Weintraub WS, Forman DE, Roe MT, Alexander KP. Preexisting frailty and outcomes in older patients with acute myocardial infarction. Am Heart J 2022 Jul;249:34-44. PM: 35339451.