Highlights of the week:
Welcome New Cardiology Fellows; New CT Surgery Resident!
We are excited to welcome our new first-year cardiology fellows and a new resident for the cardiovascular and thoracic surgery I-6 training program this week. We are thrilled to have them join us! Please give a warm welcome to:
Cardiology Fellows:
Andrew Andreae, MD, completed residency at Duke; a graduate of Virginia Commonwealth University School of Medicine.
Michael Cosiano, MD, completed residency at Duke; a graduate of Weill Cornell Medicine.
David Elliott, MD, completed residency at Duke; a graduate of Duke University School of Medicine
Nathan Goodwin, MD, completed residency at Duke; a graduate of the University of Missouri School of Medicine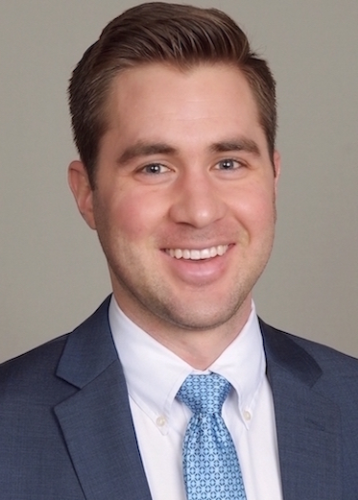 Aman Kansal, MD, completed residency at Duke; a graduate of Duke University School of Medicine.

Allie Levin, MD, completed residency at Massachusetts General Hospital; a graduate of Columbia University Vagelos College of Physicians and Surgeons.
Anthony Lin, MD, completed residency at the University of California at San Francisco; a graduate of Duke University School of Medicine.
Paula Rambarat, MD, completed residency with Massachusetts General Hospital; a graduate of Columbia University Vagelos College of Physicians and Surgeons.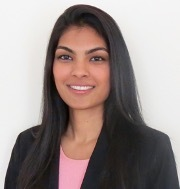 Jessica Regan, MD, completed residency at Duke; a graduate of Virginia Commonwealth University School of Medicine.
Belal Suleiman, MD, completed residency at University of Texas Southwestern; a graduate of the University of Kentucky College of Medicine.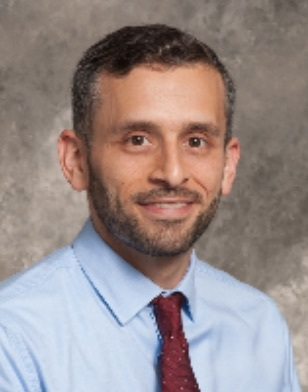 Cardiovascular & Thoracic Surgery resident:
Rebekah Boyd, MD, joins us from Columbia University Vagelos College of Physicians and Surgeons.
Rymer Named John Bush Simpson Assistant Professor of Medicine
Jennifer Rymer, MD, has been named the John Bush Simpson Assistant Professor of Medicine.
Rymer joined the Duke Cardiology faculty in July, 2020 as an interventional cardiologist. She was a fellow in cardiovascular medicine at Duke from 2014 to 2019 and did her internal medicine residency here from 2011 to 2014 following her graduation from Vanderbilt University School of Medicine.
Rymer has 70 publications to her credit and serves on leadership and publication committees for the American Heart Association, the American College of Cardiology, the Society for Vascular Medicine and the Society for Cardiovascular Angiography and Interventions. She is also the recipient of the Walter Floyd Award for Excellence in Clinical Cardiology, the DCRI Harrington Research Award for Excellence in Clinical Research, the Women as One Research Award, the William Keating Career Development Award from the American College of Cardiology, and a Career Development Award from the American Heart Association.
The work she did during fellowship, particularly on the Inclusion and Diversity Task Force, led Rymer to devote some of her time to increasing the representation of representation in the field of cardiology. She was recently named the trainee liaison for the Department of Medicine's Program for Women in Internal Medicine (PWIM) where she has helped create and facilitate programs tailored to the needs of women trainees.
She hopes to demonstrate, through her work with PWIM and elsewhere, that a career in cardiology is a fulfilling and rewarding choice for women. Rymer is also member in the Duke Clinical Research Institute.
Congratulations, Jenn!
EP Fellows Celebrated at Year-End Dinner
Our graduating EP fellows were celebrated last weekend (Saturday, June 18) at The Roof restaurant on top of the Durham Hotel, which is an annual tradition for the EP section. A shout-out to Don Hegland, MD, EP Program Director, who continues to lead an outstanding fellowship program! Great work!
"Words cannot express how special these graduates are," said Jon Piccini, MD, director of the electrophysiology section. "They are among the best fellows we have ever graduated from our program."
Graduating fellows:
Adam Barnett, MD, is joining Prisma Health in Greenville, SC.
Eric Black-Maier, MD is joining Maine Medical Center in Portland, ME.
Zak Loring, MD, is joining the EP faculty here at Duke.
Mike Rehorn, MD, is joining Virginia Cardiovascular Specialists in Richmond, VA.
Shown in photos are:
Graduating fellows, L-R: Barnett, Black-Maier, Rehorn and Loring.
Graduating fellows with EP faculty.
Graduating fellows with their spouses and faculty.
Congratulations to all!
Latest AHA GWTG HF, CAD Awards for Duke Hospital Announced
We are pleased to announce the latest American Heart Association Get With The Guidelines (GWTG) Awards for Duke University Hospital, announced earlier this week. We have achieved the following:
GWTG Heart Failure Award — Gold Plus with Heart Failure Honor Roll and Type 2 Diabetes Honor Roll.
This is the highest recognition level by the American Heart Association.
GWTG Coronary Artery Disease (CAD) — Mission: Lifeline Award: NSTEMI – Gold
GWTG CAD — Mission Lifeline: STEMI Receiving Center — Gold Plus
These achievements are based upon participation in GWTG-CAD and meeting the required Mission: Lifeline recognition criteria for data submitted through the 2021 calendar year. This accomplishment signifies a commitment to guideline adherence and quality improvement, not only on behalf of Duke University Hospital but for the entire STEMI System of Care.
Excellent teamwork!!! Congratulations to all!
Duke Heart at AAHFN 2022
Duke Heart was well represented at the American Association of Heart Failure Nurses (AAHFN) 18th annual meeting held June 15-18, 2022 in Orlando, Florida. Stephanie Barnes served as the Planning Chair for the meeting. Shelley Thompson, Robert Mentz, Marat Fudim and Joey Harrington were speakers at the conference. There were also many past Duke nurses and physicians who were speakers and in attendance.
We have it on great authority that planning committee chair Stephanie Barnes did an absolutely fantastic job.
"The conference was a wonderful opportunity to learn and network and the quality of presentations was outstanding," said Shelley Thompson, a conference speaker and nurse practitioner with the Duke Heart Failure team.
Rob Mentz concurred, "The AAHFN meeting, that Steph helped lead, was a tremendous success. I had never been to the meeting before and was truly impressed by the engagement, high quality talks, and phenomenal community the society has built."
Great work, Stephanie! Congratulations to all presenters!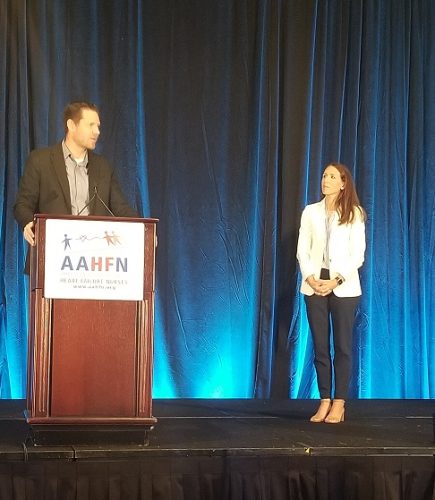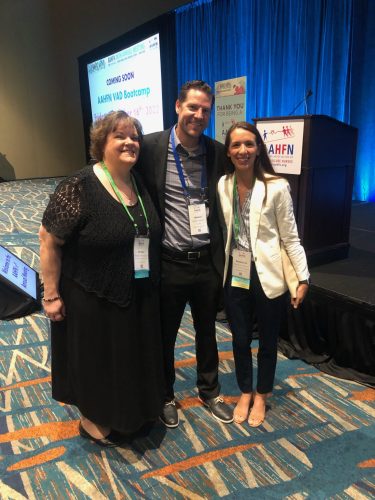 Tcheng: Patient Safety Surrounding Medical Devices
Congrats to Jimmy Tcheng, MD and team. Their latest research article, Advancing Patient Safety Surrounding Medical Devices: Barriers, Strategies, and Next Steps in Health System Implementation of Unique Device Identifiers, was published this week in the journal Medical Devices: Evidence and Research. To check it out, visit: https://doi.org/10.2147/MDER.S364539
Harrington Article to be Featured by ACC.org
Congratulations to cardiology fellow Josephine Harrington, MD — her recently published expert analysis piece (co-authored with
Manesh Patel, MD), The Next Wave of Anticoagulation: Results of PACIFIC-AF and the Future Role of Factor XIa Inhibition in Atrial Fibrillation, which appears on ACC.org, was selected by Dr. Kim Eagle, Editor-in-Chief of ACC.org, to appear as a featured item on the ACC.org homepage. Starting on Tuesday, June 28 and running through the weekend, the article will be one of the three images cycling across the top of www.acc.org.
Well done!
Ohman, Newby Participating in International Golf Tournament
Magnus Ohman and Kristin Newby participated in the William Harvey Golf Tournament held this past week in Europe. The tournament, according to Ohman, was developed by Drs. Will Fennel (Ireland), Peter Sleight (UK), and Tom Ryan, Sr. (US) in 1999 to foster international academic camaraderie. Teams from Great Britain, Ireland, the EU, and the US compete for a trophy over 4 days in a Ryder Cup style format. Dr. Kristin Newby is leading the US team as captain at Lake Garda, Italy. The team includes past presidents from ACC and AHA and "will do their best to take home the trophy among stiff competition from similar leaders on the European continent," Ohman added.
We look forward to learning the results!!
Duke Health's Commitment to Addressing Workplace Violence
At Duke Health, the safety and security of our patients and team members are our highest priorities. With recent violent incidents in health care settings and elsewhere, we have redoubled efforts to provide a safe environment at our facilities. Among additional and expanded security measures, we are:
Evaluating and optimizing security presence at key hospital and clinic locations
Providing additional emergency alert resources and support to care teams, notably those tending patients with behavioral health concerns
Reviewing and revising the policies, procedures and training requirements for the management of security-related events
Making fewer entrances accessible to visitors
All entities of Duke Health are gun-free zones for patients, visitors, students, providers and staff. We are continuing to evaluate and implement additional measures that foster an environment of wellbeing and health.
Remain Vigilant with Spam, Cybersecurity Concerns
There has been a recent uptick in patients and team members receiving health-related scam phone calls. If an employee or a patient room receives a scam call, please report the number that that received the call and the number that made the call to the Duke Health Service Desk at 919-684-2243 immediately.
Reminder: Exterior Doors
As part of this overall effort, it is critical to keep exterior doors closed. Allowing them to be propped open presents a security risk to our patients and our team members. Please do not prop exterior doors. Thank you!
COVID-19 Update
All the latest Clinical Operations updates related to COVID can be found at https://covid-19.dukehealth.org. Patient-facing resources on DukeHealth.org can be found here: https://www.dukehealth.org/covid-19-update/resources. Duke University maintains a resource page as well, which can be accessed here: https://coronavirus.duke.edu/updates/for-staff.
Upcoming Events & Opportunities
Duke-Stanford Cardiovascular Research Symposium
June 27 & 28. The Duke-Stanford Cardiovascular Research Symposium returns to Durham this year and is offered as a hybrid event. This symposium is sponsored by the Edna and Fred L. Mandel, Jr. Foundation.
Registration required. In person: Great Hall, Mary Duke Biddle Trent Semans Center, Durham, NC. For those who wish to attend virtually, the event will offer live-streaming. The link will be emailed prior to the program. Registrants who choose the virtual live-streamed webinar option will be able to obtain CE credit for the course. For more information, contact Christy Darnell.
June 28: The Changing Landscape and Economics of Perfusion Technology. 2-3 p.m. Virtual. Part of The Alliance Conversation Series offered by The Organ Donation and Transplantation Alliance (The Alliance). Wendy Swafford, Sarah Casalinova & Amber Johnson of Duke will join Jeff Orlowski, LifeShare of Oklahoma as presenting speakers. Kevin Myer of LifeGift will serve as moderator.  Registration is required. The event is free. Event is geared toward transplant center, OPO, QI professionals and leadership.
June 30: Women in Cardiology. Arrive by 6:30 p.m. The WIC team has announced their next meeting will be at the home of Dr. Pamela Douglas. The theme of the event will be 'Mentorship and Sponsorship' with panelists Dr. Douglas, Dr. Jenn Rymer, Dr. Tracy Wang, and Dr. Camille Frazier-Mills. We are lucky to have such a group of incredibly accomplished women and we can't wait to hear about their mentorship and sponsorship experiences and advice. Dinner will be provided. For more details, please contact cardiology fellow Karen Flores Rosario, MD.
Cardiology Grand Rounds
Cardiology Grand Rounds has concluded and will resume in September.
Have news to share?
If you have news to share with the Pulse readership, please contact Tracey Koepke, director of communications for Duke Heart at tracey.koepke@duke.edu. We would love to hear about your latest accomplishments, professional news, cool happenings, and any events or opportunities that may be of interest to our Duke Heart family. Please call with any questions: 919-681-2868. Feedback on Pulse is welcome and encouraged. Submissions by Noon, Wednesdays, to be considered for weekend inclusion.
Duke Heart in the News:
June 21 — Peter Ubel (internal medicine)
MediQuality
Jury still out on vitamin, mineral supplements to prevent heart disease, cancer
https://duke.is/4cnp8
June 22 — Carol Krucoff (Duke Health & Wellness)
Yoga Journal
Ask the Teacher: Can I Practice Yoga with a Pacemaker?
https://duke.is/9rhyz
June 23 — Adrian Hernandez
Newsobserver.com
Coronavirus updates for June 23: Here's what to know in North Carolina this week
https://duke.is/jksjr
June 23 — Jonathan Piccini
Courier-Gazette (Camden, ME)
Pen Bay Medical Center receives achievement award
https://duke.is/yqr29
June 23 — Richard Shannon and Beverly Gray (ob/gyn)
Full Frontal with Samantha Bee
https://duke.is/vgghp
June 23 — Karen Alexander
Salisbury Post
Clinical research programs aim to improve lives, recruit local participants at NCRC
https://duke.is/z5msh