Chief's message: Happy July 4th

As noted over the last few weeks of the pulse, we welcome in new Cardiology fellows and CT surgery residents this week.  We will share their experiences, more about each of the individuals, and our continual work to improve how we deliver cardiovascular care in the upcoming weeks.  We also hope you all have some time to celebrate July 4th with Friends and family this weekend.
Highlights of the week:
Mark Leithe, MD, Retires from Duke Health
Mark Leithe, MD, has officially retired from Duke as of June 30. Leith, a cardiologist who did his fellowship training in cardiology at Duke, worked for a number of years at Wake Med — including as chairman of their department of medicine — before rejoining the Duke Heart team in 2010. Leithe has served as chief of Duke Cardiology of Raleigh since that time, as well as director of the Cardiac Catheterization Lab at Duke Raleigh Hospital.
"It has been a true privilege to begin and end my cardiology career at Duke," says Leithe. "I began my cardiology fellowship in 1987, with Magnus Ohman, Paul Gurbel, and Bill Parsons. My career path was somewhat unusual in that I left the academic center and worked for 19 years in a very busy interventional cardiology practice prior to returning to Duke Cardiology 12 years ago. Due to this anomalous course, Manesh has described me as 'a unicorn'.
"While at Wake Med, I frequently held up Duke as the example of excellence in cardiology, which they may not have appreciated," Leith adds. "Practicing at Duke has enabled me to deliver the best care to my patients due to excellence in specialized services, such as rhythm management, structural heart, and advanced heart failure, to mention just a few. In addition, participation in teaching and in clinical research at Duke have enriched my career immensely.
"I will miss my many patients, some of whom I've known for 29 years, and who have become friends. One such patient came to the office this month with a retirement gift for me and told our staff that she has been with me longer than she was with either of her two husbands.
"I will miss my partners at Duke Cardiology of Raleigh, who are collectively the finest group of physicians and people that I know.
Some of my best friends in my life I have met during my time at Duke, and we have shared vacations, holidays and raising families. I plan to step back now and meditate on the things that I will attach the most importance to. I can see that exercising my right brain with art, music and reading will be in my future. I can also see that trips to New Jersey to spend time with our grandchildren will also be a priority."
Mark's wife, Linda Leithe, MD, a neuroradiologist at Duke, is planning to cut back her hours over the coming year and then retire next summer. Leithe added that all of his team members have been extremely gracious by holding a number of celebrations in his honor and that he's been deeply touched by the outpouring.
The physician members of the Duke Cardiology of Raleigh practice and their spouses held a retirement dinner for Mark on Friday, June 10 in the wine cellar of the Angus Barn in Raleigh. The Duke Cardiology of Raleigh team hosted a retirement luncheon on Tuesday, June 28 at their clinic on the Duke Raleigh Hospital Campus — a number of former team members from the past twelve years joined to congratulate Leithe in person, and the Cath team at Duke Raleigh hosted a celebratory dinner on Thursday, June 30.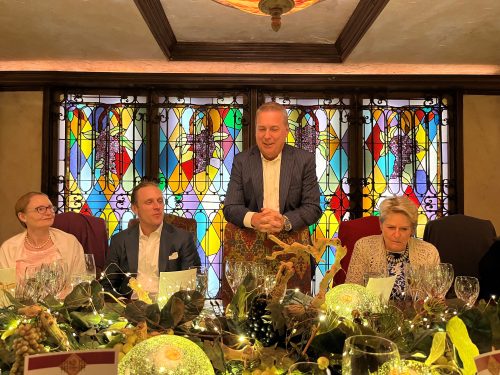 We spoke with several Duke Heart team members about Mark's lasting impact on them. Here is some of what they shared with us:
"Mark retiring is a big loss for the Duke Cardiology of Raleigh group and the division of cardiology, but most importantly, it is a loss for our cardiology patients.  Mark has been a dedicated clinician and physician leader within our community for decades. His patients adore him, and many of them think of him as family. He makes a major effort to connect with his patients on a personal level that extends beyond the typical patient-physician relationship. The staff in clinic and in the cath lab appreciate his kindness, patience, and level of respect. He is admired by his colleagues, and he has been in invaluable mentor to many of us. Mark is humble and eager to listen and learn from others. Mark has always been dedicated to the mission of lifelong learning and focused on providing the highest level of patient care. This is exemplified by the fact that he regularly attends the Mayo Clinic Board Review, taking time away from his family and personal life, simply to make sure that he stays up to date on the latest cardiovascular care. While I am excited for Mark to enjoy his retirement, he will certainly be missed, as he is irreplaceable." — Sean Pokorney, MD
"Mark has been an outstanding cardiologist in Wake county for over 30 years. His care for cardiac patients is renowned, but his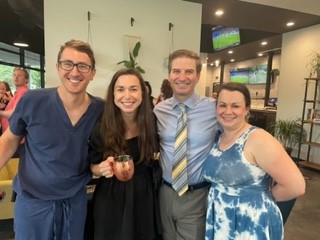 biggest contribution was to build the Duke Cardiology practice at Duke Raleigh into the premier multi-disciplinary cardiology group in Wake county. Thousands of patients have been touched by Mark's care. Many of us have occasionally seen his patients in follow-up and you immediately recognize the patient's great admiration for the care that Mark provided to them. His clinical acumen will be very hard to follow but we wish him the very best in retirement." — Magnus Ohman, MD
"Dr. Leithe has been amazing to work with for the last 12 years. He's the type of leader that every team wishes for – thoughtful, caring, compassionate, a great listener and available. He leaves Duke Cardiology of Raleigh with a strong team and great leadership in place. I'll be forever thankful for the opportunity he gave me 12 years ago. He will be greatly missed."
— Cheri Wills, HCA, Duke Cardiology of Raleigh
"I will greatly miss Mark as he begins well-deserved retirement. Mark welcomed me to the Raleigh office a few years ago after working with me in the cath lab during my fellowship. As I started there, he made sure it was easy and fun (and busy!) to work with the group at Duke Cardiology of Raleigh. He, along with James Mills, have been a constant source of support as we navigated building this new clinic, and from early on has been enthusiastic about supporting its growth. I have also noticed, countless times, Mark's dedication to his large panel of patients — many of whom have seen him for decades and always speak glowingly of him. Mark has been a great friend, colleague and leader over the years. I wish him the best in retirement!" — Kishan Parikh, MD
"Mark has done an outstanding job here at Duke Cardiology of Raleigh. He has overseen and facilitated a lot of growth in the
practice and set a really good leadership example for the group. On top of that, as a clinician, he has been a fantastic interventionalist — a very careful and considered cardiologist who always, always made himself available to look at films and talk about cases. I couldn't have asked for a better colleague. His patients have been very loyal to him and rightly so. He's personable, deeply caring and just a good guy to have around, not only clinically but for his collegiality and friendship. He has always been a triple-threat, so to speak. He's skilled in the cath lab, great clinically, and he gets along so beautifully with the team and patients. He's got high marks in all those areas and we are going to miss him." — James Peterson, MD
Speaking for James Mills and the whole Duke Raleigh team, and our entire faculty, I can say that Mark will be missed.  He represents some of the best of Duke Cardiology and, as noted by many, was the standard bearer for interventional and clinical cardiology in Wake county for more than 30 years.  His leadership, focus on clinical care and education, and continual work to drive our practice in a patient-centered way will be lasting legacies.
Duke Stanford Symposium Held
We were very excited this week for the long-awaited Duke-Stanford Cardiovascular Research Symposium, hosted by Duke. The event took place in the Great Hall of the Mary Duke Biddle Trent Semans Center. This was the third such event held as part of the Duke-Stanford cardiovascular partnership and is jointly organized by teams at Duke and Stanford University. The hybrid symposium, with more than 160 attendees registered to attend virtually and in-person, offered 30 speakers on a wide range of cardiovascular research.
"The quality of the science presented this week was excellent," said Howard Rockman, MD, the Edward S. Orgain Distinguished Professor of Cardiology and director of the CVRC. "The event offered great recognition of the many ties between Duke and Stanford cardiovascular researchers."
Keynotes included Dr. Deepak Srivastava, president of the Gladstone Institutes and Dr. Chris Newgard of the Duke Molecular
Physiology Institute. Other highlights included an Innovation Panel with Dr. Howard Rockman, director of the Duke CVRC, Dr. Joe Wu, director of the Stanford Cardiovascular Institute, Dr. Victor Dzau, president of the National Academy of Medicine, former chancellor for health affairs at Duke and a CVRC faculty member, and chief of Duke's division of cardiology, Dr. Manesh Patel, as well as a mentorship session with Dr. Robert Lefkowitz and the CURE students — a group of Duke undergraduates participating in the DCRC's Cardiovascular Undergraduate Research Experiences (CURE) educational enrichment program which launched this summer.
"It was terrific to finally hold this symposium," said Maria Price-Rapoza, PhD, executive director of Duke CVRC. "We appreciate the many colleagues who contributed to make this event a success."
The Duke Stanford Symposium was supported by a grant from the Edna and Fred L. Mandel Jr. Foundation. Funding for the CURE program is also provided by the Mandel Foundation.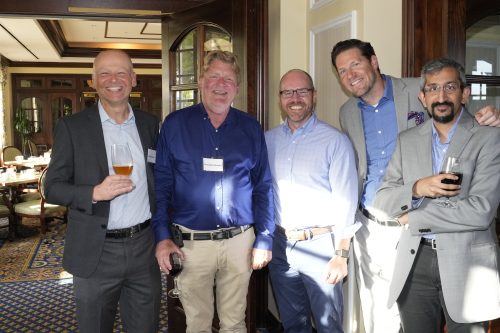 Galbraith Retiring; Heading to Lankenau
Katie Galbraith, president of Duke Regional Hospital, has announced her retirement from this role, which will take effect in mid-August. She will begin a new position as president of Lankenau Medical Center, part of Main Line Health in the Philadelphia area, this fall.
In a message to DUHS leadership this week, Craig Albanese, MD, executive vice president and chief operating officer, thanked her for her many years of service to Duke Health.
"We will sorely miss her and her irreplaceable spirit and leadership here at Duke," said Albanese. "Let's all express our enormous gratitude for her more than two decades of achievements that have improved health care access and quality for hundreds of thousands of patients and family members that Duke Health serves each year."
Galbraith's remarkable and exemplary 26-year career at Duke Health began as a temporary receptionist. Her talent was recognized early, and soon she was asked to apply her expertise and skills to tell our Duke Health story, progressing through roles in media relations, communications and marketing. She served Duke Children's Hospital for five years in public relations and development, and, in 2001, accepted a role at Duke Regional Hospital. She made Duke Regional her home, taking on higher and higher scopes of accountability, from marketing and business development to strategic planning to hospital operations, and finally serving as vice president, and then as president in May 2014.
During Galbraith's tenure as president, Duke Regional Hospital consistently has been recognized for excellence in patient care, including achieving Five Stars from CMS in 2019 and 2020, and Four Stars in 2021 and 2022. The hospital has received the Governor's Award for Performance Excellence in 2015 and 2016 and has been ranked among the top hospitals in North Carolina by U.S. News & World Report and by Healthgrades America's 100 Best Hospitals in 2018 and 2019, America's 250 Best Hospitals 2017, 2018 and 2019, and Patient Safety Excellence Award 2017, 2018 and 2019. Duke Regional Hospital has been recognized as a leader in LGBTQ+ Healthcare Equality by the Human Rights Campaign Foundation since 2013.
Her most enduring legacy may be the 2021 opening of Duke Behavioral Health Center North Durham, a 112,000-square-foot comprehensive center bringing together inpatient, outpatient and emergency behavioral health services in what was the largest construction project in the history of Duke Regional Hospital. Today, the behavioral health center serves patients from throughout the state, meeting an urgent community need for highest quality inpatient and outpatient behavioral health care for both adults and children.
Galbraith credits much of this success to the collaborative spirit and commitment to continuous improvement that characterize teamwork at Duke Regional Hospital and all of Duke Health.
For those of you who have worked with her over the years, you know what a warm, welcoming person she is and that her commitment to Duke has been exceptional. She will be missed. Please join us in congratulating her on an incredible career at Duke Health and wishing her well in her new role.
ICYMI: Year-End Messages from Duke's DOS, DOM
Duke's Department of Surgery and Department of Medicine each held their annual "State of the Department" year-end presentations recently. Both events included highlights of work done by the Duke Heart team over the past year and are worth viewing.
Dr. Allan D. Kirk, chair of the Department of Surgery presented his address, Moving Forward Together, on Friday, June 17. To view it, please visit: https://duke.is/46ucr.
Dr. Kathleen Cooney, chair of the Department of Medicine presented her address, Trailblazing Toward Tomorrow, during Medicine Grand Rounds on Friday, June 24. To view it, please visit: https://duke.is/bhhdp.
Congratulations to all Duke Heart team members for the work you did over the past year. Together we are doing great things!
ICYMI: Klotman Reappointed Dean, Duke SOM
Mary E. Klotman, MD, has been reappointed for a second five-year term as dean of the Duke University School of Medicine, vice chancellor for health affairs at Duke University, and chief academic officer for Duke University Health System. Her new term began on July 1, 2022.
Pagidipati at HID2022
Neha Pagidipati, MD, presented on cardiovascular risk factors during pregnancy during the 6th annual Heart in Diabetes (HID) conference held June 24-26 in Philadelphia. Her presentation on this critical topic was very well received.
Way to go, Neha!
Palma Named to CAAHEP Board, Effective July 1
Richard Palma, program director of the Duke Cardiac Ultrasound Certificate Program, has been elected to the Board of
Directors for the Commission on Accreditation of Allied Health Education Programs (CAAHEP); the role is effective as of July 1. Palma will represent the Hospital/VA Educational membership category and his term will run until June 30, 2025.
Earlier this year, Palma was appointed a commissioner to the CAAHEP, a role he vacates due to his election to the Board of Directors.
Congratulations, Richie!
William Harvey Golf Tourney Results
The U.S. team, including Magnus Ohman, Larry Crawford and Kristin Newby (team captain) from Duke, did their best to bring home the William Harvey Trophy. Heading into the final day of competition during the William Harvey Golf Tournament being held in northern Italy, the US team had a mathematical chance (note the hopeful faces in the team picture, which was taken prior to the final-day matches), but could not overcome history and fell just short in a very respectable second place finish after four days of match play competition: EU 15.5, US 11, Great Britain & Ireland 8.5.
Amazingly, in 11 William Harvey tournaments spanning 20 years of competition, the home team has always won the William Harvey Trophy!! We now look forward to the 2024 tournament which will take place on home soil in the US, giving us the chance to keep this historical streak alive!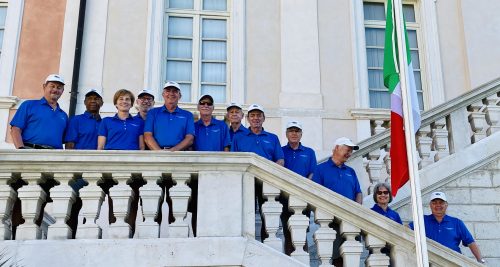 COVID-19 Update
All the latest Clinical Operations updates related to COVID can be found at https://covid-19.dukehealth.org. Patient-facing resources on DukeHealth.org can be found here: https://www.dukehealth.org/covid-19-update/resources. Duke University maintains a resource page as well, which can be accessed here: https://coronavirus.duke.edu/updates/for-staff.
Upcoming Events & Opportunities
July 26: Women in Cardiology. The WIC team postponed their event originally planned for June 30. Details will be announced soon. For more information, please contact cardiology fellow Karen Flores Rosario, MD.
Cardiology Grand Rounds
Cardiology Grand Rounds has concluded and will resume in September.
Have news to share?
If you have news to share with the Pulse readership, please contact Tracey Koepke, director of communications for Duke Heart at tracey.koepke@duke.edu. We would love to hear about your latest accomplishments, professional news, cool happenings, and any events or opportunities that may be of interest to our Duke Heart family. Please call with any questions: 919-681-2868. Feedback on Pulse is welcome and encouraged. Submissions by Noon, Wednesdays, to be considered for weekend inclusion.
Duke Heart in the News:
June 29 — Robert Mentz
Medpage Today
Bye-Bye, 'Life's Simple 7': AHA Redefines Cardiovascular Health by Adding Sleep
https://duke.is/58hb5
June 29 — Stuart Russell
Diagnostic and Interventional Cardiology
Adult Cancer Survivors Have Higher Risk of Cardiovascular Disease Than Those Without Cancer, Study Shows
https://duke.is/nznsj
(Last two week of Division of Cardiology Publications)
Division of Cardiology Publications Indexed in PubMed June 23-29, 2022
Anjorin AC, Greiner MA, Vemulapalli S, Svetkey L, Southerland KW, Bosworth HB. Underutilization of Guideline-based Abdominal Aortic Aneurysm Screening in an Academic Health System. Ann Vasc Surg 2022 Jul;83:184-194. PM: 34942338.
Baksh SS, Pratt RE, Gomez J, Dzau VJ, Hodgkinson CP. A novel Cbx1, PurB, and Sp3 complex mediates long-term silencing of tissue- and lineage-specific genes. J Biol Chem 2022 Jun;298(6):102053. PM: 35605661.
Davis TME, Giczewska A, Lokhnygina Y, Mentz RJ, Sattar N, Holman RR. Effect of race on cardiometabolic responses to once-weekly exenatide: insights from the Exenatide Study of Cardiovascular Event Lowering (EXSCEL). Cardiovasc Diabetol 2022 Jun 27;21(1):116. PM: 35761271.
Grego S, Welling CM, Miller GH, Coggan PF, Sellgren KL, Hawkins BT, Ginsburg GS, Ruiz JR, Fisher DA, Stoner BR. A hands-free stool sampling system for monitoring intestinal health and disease. Sci Rep 2022 Jun 27;12(1):10859. PM: 35760855.
Hess CN, Szarek M, Anand SS, Bauersachs RM, Patel MR, Debus ES, Nehler MR, Capell WH, Beckman JA, Piazza G, Henkin S, Bura-Rivière A, Lawall H, Roztocil K, Hsia J, Muehlhofer E, Berkowitz SD, Haskell LP, Bonaca MP. Rivaroxaban and Risk of Venous Thromboembolism in Patients With Symptomatic Peripheral Artery Disease After Lower Extremity Revascularization. JAMA Netw Open 2022 Jun 1;5(6):e2215580. PM: 35731517.
Krychtiuk KA, Fordyce CB, Hansen CM, Hassager C, Jentzer JC, Menon V, Perman SM, van Diepen S, Granger CB. Targeted temperature management after out of hospital cardiac arrest: quo vadis? Eur Heart J Acute Cardiovasc Care 2022 Jun 22;11(6):512-521. PM: 35579006.
Minhas AS, Goldstein SA, Vaught AJ, Lewey J, Ward C, Schulman SP, Michos ED. Instituting a Curriculum for Cardio-Obstetrics Subspecialty Fellowship Training. Methodist Debakey Cardiovasc J 2022 Jun 3;18(3):14-23. PM: 35734150.
Napp LC, Westenfeld R, Møller JE, Pappalardo F, Ibrahim K, Bonello L, Wilkins C, Pershad A, Mannino SF, Schreiber TL, Hall PA, Medjamia AM, Haurand JM, Sieweke JT, Schäfer A, Grines CL, Burkhoff D, Moses JW, Ohman EM, O'Neill WW, Kapur NK, Bauersachs J. Impella Mechanical Circulatory Support for Takotsubo Syndrome With Shock: A Retrospective Multicenter Analysis. Cardiovasc Revasc Med 2022 Jul;40:113-119. PM: 34916157.
Overton ET, Weir IR, Zanni MV, Fischinger S, MacArthur RD, Aberg JA, Fitch KV, Frank M, Albrecht H, Goodenough E, Rhame FS, Fichtenbaum CJ, Bloomfield GS, Malvestutto C, Supparatpinyo K, McCallum S, Douglas PS, Alter G, Ribaudo H, Grinspoon SK. Asymptomatic SARS-CoV-2 Infection Is Common Among ART-Treated People With HIV. J Acquir Immune Defic Syndr 2022 Aug 1;90(4):377-381. PM: 35413022.
Schmitz LL, Zhao W, Ratliff SM, Goodwin J, Miao J, Lu Q, Guo X, Taylor KD, Ding J, Liu Y, Levine M, Smith JA. The Socioeconomic Gradient in Epigenetic Ageing Clocks: Evidence from the Multi-Ethnic Study of Atherosclerosis and the Health and Retirement Study. Epigenetics 2022 Jun;17(6):589-611. PM: 34227900.
Smith PJ, Sherwood A, Hinderliter AL, Mabe S, Watkins LL, Craighead L, Ingle K, Tyson C, Avorgbedor F, Lin PH, Kraus WE, Liao L, Blumenthal JA. Lifestyle modification and cognitive function among individuals with resistant hypertension: cognitive outcomes from the TRIUMPH trial. J Hypertens 2022 Jul 1;40(7):1359-1368. PM: 35703293.
Song A, Lusk JB, Roh KM, Jackson KJ, Scherr KA, McNabb RP, Chatterjee R, Kuo AN. Practice Patterns of Fundoscopic Examination for Diabetic Retinopathy Screening in Primary Care. JAMA Netw Open 2022 Jun 1;5(6):e2218753. PM: 35759262.
Wilson NA, Tcheng JE, Graham J, Drozda JP. Advancing Patient Safety Surrounding Medical Devices: Barriers, Strategies, and Next Steps in Health System Implementation of Unique Device Identifiers. Med Devices (Auckl) 2022 Jun 21;15:177-186. PM: 35761948.
Younis A, Goldenberg I, Farooq S, Yavin H, Daubert J, Raitt M, Mazur A, Huang DT, Mitchell BL, Rashtian MR, Winters S, Vloka M, Aktas M, Bernabei MA, Beck CA, McNitt S, Zareba W. Reduction in Ventricular Tachyarrhythmia Burden in Patients Enrolled in the RAID Trial. JACC Clin Electrophysiol 2022 Jun;8(6):754-762. PM: 35738852.
Division of Cardiology Publications Indexed in PubMed June 16-22, 2022
Angraal S, Hejjaji V, Tang Y, Gosch KL, Patel MR, Heyligers J, White CJ, Tutein Nolthenius R, Mena-Hurtado C, Aronow HD, Moneta GL, Fitridge R, Soukas PA, Abbott JD, Secemsky EA, Spertus JA, Smolderen KG. One-Year Health Status Outcomes Following Early Invasive and Noninvasive Treatment in Symptomatic Peripheral Artery Disease. Circ Cardiovasc Interv 2022 Jun;15(6):e011506. PM: 35579010.
Butler J, Stebbins A, Melenovský V, Sweitzer NK, Cowie MR, Stehlik J, Khan MS, Blaustein RO, Ezekowitz JA, Hernandez AF, Lam CSP, Nkulikiyinka R, O'Connor CM, Pieske BM, Ponikowski P, Spertus JA, Voors AA, Anstrom KJ, Armstrong PW. Vericiguat and Health-Related Quality of Life in Patients With Heart Failure With Reduced Ejection Fraction: Insights From the VICTORIA Trial. Circ Heart Fail 2022 Jun;15(6):e009337. PM: 35656822/
de Barros E Silva PGM, Macedo TA, Lopes RD, Okada MY, Frigini T, Roveri PO, Balada R, de Macedo LS, Furlan V. Chest Pain Network with Support of Telemedicine: Impact on Reperfusion Therapy and Clinical Outcomes After 8 Years of Experience. Telemed Rep 2021 Dec 22;2(1):284-292. PM: 35720760.
Haddad F, Ataam JA, Amsallem M, Cauwenberghs N, Kuznetsova T, Rosenberg-Hasson Y, Zamanian RT, Karakikes I, Horne BD, Muhlestein JB, Kwee L, Shah S, Maecker H, Knight S, Knowlton K. Insulin Growth Factor Phenotypes in Heart Failure With Preserved Ejection Fraction, an INSPIRE Registry and CATHGEN Study. J Card Fail 2022 Jun;28(6):935-946. PM: 34979242.
Hess CN, Baumgartner I, Anand SS, Nehler MR, Patel MR, Debus ES, Szarek M, Capell W, Muehlhofer E, Berkowitz SD, Haskell LP, Bauersachs RM, Bonaca MP, Hsia J. Sex-Based Differences in Outcomes Following Peripheral Artery Revascularization: Insights From VOYAGER PAD. J Am Heart Assoc 2022 Jun 21;11(12):e024655. PM: 35699170.
Johansen KL, Acharya A, Cizman B, Cobitz AR, Correa-Rotter R, Dasgupta I, Kher V, Lopes RD, Matsumoto L, Meadowcroft AM, Merege Vieira Neto O, Okabe M, Rayner B, Silva A, Thomas H, Singh AK. Challenges of Conducting Clinical Trials during the SARS-CoV-2 Pandemic: The ASCEND Global Program Experience. Kidney360 2022 Feb 10;3(4):728-733. PM: 35721625.
Kamat I, Hajduczok AG, Salah H, Lurz P, Sobotka PA, Fudim M. Catheter-Based Management of Heart Failure: Pathophysiology and Contemporary Data. Interv Cardiol Clin 2022 Jul;11(3):267-277. PM: 35710282.
Kolb P, Kenakin T, Alexander SPH, Bermudez M, Bohn LM, Breinholt CS, Bouvier M, Hill SJ, Kostenis E, Martemyanov KA, Neubig RR, Onaran HO, Rajagopal S, Roth BL, Selent J, Shukla AK, Sommer ME, Gloriam DE. Community guidelines for GPCR ligand bias: IUPHAR review 32. Br J Pharmacol 2022 Jul;179(14):3651-3674. PM: 35106752.
Lala A, Mentz RJ. Advancing Our Common Purpose Through "Coopetition". J Card Fail 2022 Jun;28(6):881-882. PM: 35715020.
Lopes RD, Guimarães PO, Schwartz GG, Bhatt DL, Bittner VA, Budaj A, Dalby AJ, Diaz R, Goodman SG, Harrington RA, Jukema JW, Kiss RG, Loy M, Pordy R, Poulouin Y, Szarek M, White HD, Steg PG. Effect of Alirocumab on Incidence of Atrial Fibrillation After Acute Coronary Syndromes: Insights from the ODYSSEY OUTCOMES Trial. Am J Med 2022 Jul;135(7):915-918. PM: 35296402.
Mastoris I, Spall HGCV, Sheldon SH, Pimentel RC, Steinkamp L, Shah Z, Al-Khatib SM, Singh JP, Sauer AJ. Emerging Implantable-Device Technology for Patients at the Intersection of Electrophysiology and Heart Failure Interdisciplinary Care. J Card Fail 2022 Jun;28(6):991-1015. PM: 34774748.
Shah A, Mentz RJ, Sun JL, Rao VN, Alhanti B, Blumer V, Starling R, Butler J, Greene SJ. Emergency Department Visits Versus Hospital Readmissions Among Patients Hospitalized for Heart Failure. J Card Fail 2022 Jun;28(6):916-923. PM: 34987009.
Sheikh AB, Fudim M, Garg I, Minhas AMK, Sobotka AA, Patel MR, Eng MH, Sobotka PA. The Clinical Problem of Pelvic Venous Disorders. Interv Cardiol Clin 2022 Jul;11(3):307-324. PM: 35710285.