Highlights of the week:
Swaminathan Elected to SCAI's Board of Trustees
Congratulations to Raj Swaminathan! We learned this week that Swaminathan has been elected to the Board of Trustees for the Society for Cardiovascular Angiography and Interventions (SCAI), the international professional society for interventional cardiology. The SCAI Board of Trustees is responsible for furthering SCAI's mission and for setting its long-term priorities and goals. The Board establishes and oversees the strategic plan and all related activities.
Well-deserved, Raj!
Cardiology is the Family Business for Kelsey Mother-Daughter Duo
The weekly Kelsey family meal—lunch at Duke Cardiology Arringdon Clinic—is a time to catch up for Duke cardiology fellow Michelle Kelsey, MD, and her cardiologist Mom, Anita Kelsey, MD, MBA, professor of medicine.
Michelle likes to bring the meal each Thursday when she's working at the Morrisville, NC, clinic as part of her research fellowship at the Duke Clinical Research Institute where she is working toward a master's degree in health science. It's just one of the ways she makes it a point to show support and appreciation for Mom.
"She knows how much I love taking care of patients and she has respected all of the things that I was doing that take away from family time so, to her credit, Michelle made my life a lot easier," Anita says. "A doctor cannot be successful if their family is not supportive."
Growing up as the child of a physician, Michelle understands that traditional family time often has to take a back seat to duty. It's just one of the lessons she learned from Mom.
The Family Business
"When I started medical school, I wanted to do something different but I realized that cardiology was the most fun, and I saw how much enjoyment my mom had and how satisfying it was for her," Michelle says. "That was part of what moved me into the profession."
But the really cool thing, she adds, is they are the only mother-daughter legacy in cardiology to have gone through the same training program. "There are other mother-daughter academic cardiologists but they trained in separate places, and there are father-son legacies, but no mother-daughter that we know of," says Anita.
Cardiology, the Kelseys are fond of saying, is the family business,
Having a cardiologist mother as a role model helped shape Michelle's perceptions about women in the workplace, she explains. So, being a female cardiologist was nothing really out of the ordinary because Anita made it look easy.
But while women are no longer a minority in medicine, they still very much need the support of others, Anita and Michelle note.
"Women need someone to set the norms for what women can do," says Anita. "Even in leadership positions women aren't heard as well as men. We need to support each other when we're in these settings because we haven't broken through the glass ceiling, despite what everybody says. We still have a long way to go, I think."
Footsteps to Follow
Following in the footsteps of her engineer father and brothers, Anita Kelsey majored in biomedical engineering at Duke as an undergraduate.  She earned her medical degree at the University of Connecticut and did her residency there before returning to Duke as a cardiology fellow from 1995 to 1998.
Anita went back to Connecticut, where her clinical career focused on echocardiography, education, heart disease in women, and leadership. She served as associate chief of cardiology at Saint Francis Hospital in Hartford, where she began a women's heart program that has reached 11,000 women with special focus on the highest-risk, underserved, inner-city women.
Anita again returned to Duke in 2019 as vice chief of noninvasive cardiac imaging and earned a master's degree in business administration through Duke's executive weekend program. She attributes her drive for excellence, in large part, to her own mother who returned to higher education later in life to earn an accounting degree and run the family engineering business.
"I certainly had a great role model," Anita says. "Duke engineering was very sparse with women in the 80s, when I was an undergrad but it never bothered me. My mom always told me that whatever my brothers could do I could do better. I believed her, so that's where I started."
Like mother, like daughter, Michelle also attended Duke as an undergraduate. She majored in philosophy, then followed Anita to medical school at the University of Connecticut and did her residency at Beth Israel Deaconess Medical Center in Boston, Mass.
"My journey, watching my mom, reminds me that it's so important to have women in this field that other women can look up to," Michelle says. "Role models are so helpful for women in medicine."
As for Anita, she has found a new source of enjoyment from her profession—watching Michelle's professional growth. "I enjoy taking care of patients but I've enormously enjoyed watching my daughter enter the field of cardiology and seeing what she can do as a woman," she says. "If I were somebody else, I would be impressed by her integrity, her work ethic, and how well she practices in medicine, but being her mother I'm enormously proud."
–this article was published March 15 by the Duke Department of Medicine.
ICYMI: Bahnson Circulation Article & Podcast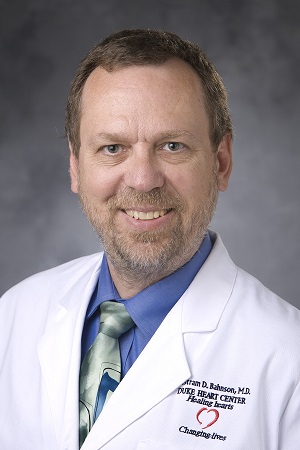 The lead research article in Circulation for Monday, March 15, "Association Between Age and Outcomes of Catheter Ablation Versus Medical Therapy for Atrial Fibrillation: Results from the CABANA Trial is by Tristram Bahnson et al.
Bahnson was interviewed for an accompanying Circulation on the Run podcast (produced by AHA & Circulation) regarding the paper. Check it out here: https://circulation.libsyn.com/circulation-march-15-2022-issue
Nicely done!
Kudos to Flores-Rosario
Drs. Jennifer Rymer and Anna Lisa Chamis want to give a special shout-out to cardiology fellow Karen Flores Rosario, MD, who planned and organized the special Women's Heart Health Grand Rounds held on Tuesday, March 15. Dr. Rymer notes that Dr. Flores Rosario, "literally planned the whole GR today. She picked the speakers of Drs. Rymer, Patterson, and Daubert, spoke with each of us regarding what she wanted to be discussed, followed up multiple times, and made sure it all came together. She has been really active in keeping the Women in Cardiology group going!"
Great job, Karen! CGR was terrific!
Kudos to Loriaux
Dr. Anna Lisa Chamis shared a note with us this week about cardiology fellow, Daniel Loriaux, MD.
"Hi Anna Lisa, I just wanted to say what a delight having Dan in clinic has been. He comes to literally every clinic with notes prepped, he knows the basics of my whole panel for that day, and he has questions jotted down. We end up having extra time to look up films and talk over patients, and it makes the clinic honestly so much fun for me. Patients remark how kind and respectful he is. I hope he knows how wonderful he is!" – Jenn Rymer
Way to go, Dan!
Finding Your Why
If you haven't yet had an opportunity to do so, please check out this beautifully written piece by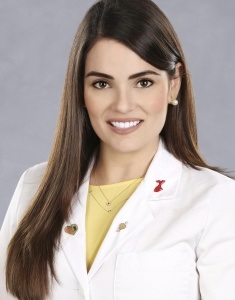 cardiology fellow, Vanessa Blumer, MD. It was published this week in the Journal of Cardiac Failure. "Michele — This is my why, now let's find the way…"
Thank you for sharing your story, Vanessa. You're an inspiring and gifted clinician!
Pitching In to Fight Hunger in Durham
Several members of our Cardiology APP team volunteered at The Food Bank of Central and Eastern NC this past week.
Shown L-to-R are Shelley Thompson, Michelle Martwick, Jade Clausen (holding a sweet potato that strongly resembled an anatomical heart), Faith Williams, and Jesslyn Doody.
Thank you so much for taking time to contribute to supporting a great cause. Way to represent Duke Heart!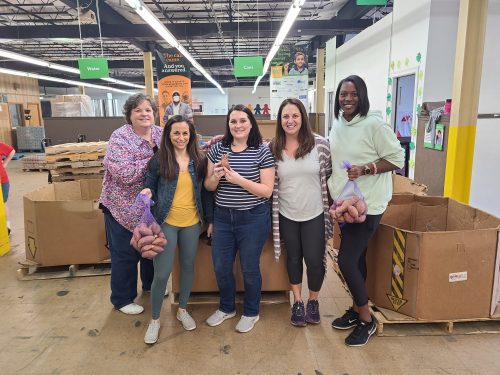 Alumni News: Vora Selected for SCAI Leadership Program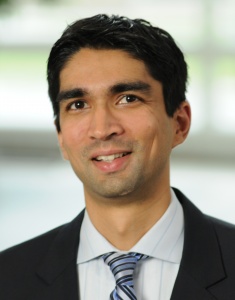 Amit Vora, MD, one of our former interventional fellows, has been selected for the Society for Cardiovascular Angiography and Interventions (SCAI) Emerging Leader Mentorship (ELM) program, a competitive two-year leadership development opportunity offered in partnership with the American College of Cardiology (ACC) and the Cardiovascular Research Foundation (CRF). ELM is designed to provide career and professional development, mentoring, and group training for early-career interventionalists. Through access to experienced SCAI, ACC, and CRF leaders, collaboration with industry supporters, and professional coaching, the ELM program will provide participants with:
Financial and logistical support to attend SCAI, ACC, and TCT Scientific Sessions over a two-year period
Speaking opportunities at SCAI, ACC, and TCT Scientific Sessions during the two-year program
Focused one-on-one mentoring
Enhance media, communication, and podium skills
Committee involvement with the partner organizations based on individual interests
A network of colleagues who serve as a resource of support throughout career
Broad exposure to SCAI, CRF, and ACC
Individualized professional development towards a clinical, research, or educational niche
This is terrific, Amit – congratulations!
Last Call! Voting for USNWR 'Best Hospitals' Open in Doximity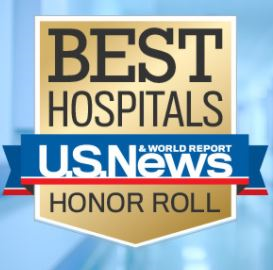 The survey period for U.S. News & World Report's 'Best Hospitals' is open in Doximity through the end of the week: Friday, March 25. We encourage all those who are eligible to vote in the survey of "Best Hospitals for Cardiology and Heart Surgery" to consider casting a vote for Duke.
Reminder: paper surveys have been discontinued. The only way to vote in the survey is online via Doximity.
If you have not yet claimed your profile on this platform, you can do so at any time during the voting period.
Go to com
Enter your first and last name on the home screen
Click on the 'Find My Profile' button
A survey will display in your profile until you vote or the survey closes on March 25, 2022.
COVID-19 Updates
All the latest Clinical Operations updates related to COVID can be found at https://covid-19.dukehealth.org.
Upcoming Events & Opportunities
Genomic & Precision Medicine Forum
March 24: "Molecular Signatures of the Response to Antiplatelet Therapy" with Deepak Voora, part of the Genomic & Precision Medicine Forum Series sponsored by the Center for Applied Genomics & Precision Medicine. Virtual event, Noon. Registration is required.
Marfan NC Walk for Victory
April 23: The North Carolina Walk for Victory to support Marfan patients and their families will take place on Saturday, April 23, 2022 from Noon to 3 p.m. at Laurel Hills Park on Edwards Mill Road in Raleigh. Duke Heart is proud to serve as the presenting sponsor and we are excited for Chad Hughes, MD to serve as medical chair for the walk.
Please help us support all Marfan families as well as those with Loeys-Dietz (LDS), Vascular Ehlers-Danlos (VEDS), and related conditions. Donate or come join us!
Walk for Victory is The Marfan Foundation's global walk program. The event is low-key, fun and family-oriented. To learn more or to register for this event, please visit: https://give.marfan.org/event/2022-north-carolina-walk-for-victory/e353032.
To learn more about The Marfan Foundation, please visit marfan.org.
Duke Heart CME
April 23: Duke Sports Cardiology & Sudden Death in Athletes Symposium with course directors Jim Daubert and Bill Kraus. Virtual. For information or to register, contact Christy Darnell christy.darnell@duke.edu or 919-880-8686.
Have news to share?
If you have news to share with the Pulse readership, please contact Tracey Koepke, director of communications for Duke Heart at tracey.koepke@duke.edu. We would love to hear about your latest accomplishments, professional news, cool happenings, and any events or opportunities that may be of interest to our Duke Heart family. Please call with any questions: 919-681-2868. Feedback on Pulse is welcome and encouraged. Submissions by Noon, Wednesdays, to be considered for weekend inclusion.
Duke Heart in the News:
March 11 — Muhammad Shahzeb Khan
tctMD
Guideline-Directed Therapies Underused in Frail HF Patients
https://duke.is/mk8nh
March 11 – Joe Turek
WLDS/WEAI (West central Illinois)
Petersburg Native On Cusp of Solving Organ Transplant Rejection
https://duke.is/8fk6k
March 11 — Manesh Patel and Christopher Granger
HCPLive
Peripheral Artery Disease (PAD) Pathophysiology and Coronary Artery Disease
https://duke.is/cg6ze
March 11 – Joe Turek
Good Morning America
Baby gets first-of-its kind heart transplant to help fight rejection
https://duke.is/j2d8d
March 13 — Salim Idriss
Healio
Pediatric cardiac screening data warehouse created
https://duke.is/6p92q
March 14 — Joe Turek
Southern Living
Baby Receives World's First Combined Heart and Thymus Transplant at Duke
https://duke.is/gaww8
March 15 — Daniel Friedman
tctMD
Subcutaneous ICD Has Favorable Outcomes in Older Patients
https://duke.is/pw64r
March 15 — Daniel Friedman
Healio/Cardiology Today
For older adults, similar outcomes for subcutaneous vs. transvenous ICDs
https://duke.is/43vdj
March 16 — Duke Health
WUNC 91.5 FM/NC Public Radio
VA considering closure, replacement of Durham medical center
https://duke.is/9quap
Division of Cardiology Publications Indexed in PubMed March 10-16, 2022
Bagiella E, Puskas JD, Moskowitz AJ, Gelijns AC, Alexander JH, Narula J, Smith PK, Hutcheson K, Chang HL, Gammie JS, Iribarne A, Marks ME, Vengrenyuk Y, Yasumura K, Raymond S, Taylor BS, Yarden O, Orion E, Dagenais F, Ailawadi G, Chu MWA, Gupta L, Levitan B. Rationale and design of a randomized trial evaluating an external support device for saphenous vein coronary grafts. Am Heart J 2022;246:12-20. PM: 34936861.
Bahnson TD, Giczewska A, Mark DB, Russo AM, Monahan KH, Al-Khalidi HR, Silverstein AP, Poole JE, Lee KL, Packer DL. Association Between Age and Outcomes of Catheter Ablation Versus Medical Therapy for Atrial Fibrillation: Results From the CABANA Trial. Circulation 2022;145(11):796-804. PM: 34933570.
Camm AJ, Blomström-Lundqvist C, Boriani G, Goette A, Kowey PR, Merino JL, Piccini JP, Saksena S, Reiffel JA. AIM-AF: A Physician Survey in the United States and Europe. J Am Heart Assoc 2022;11(6):e023838. PM: 35243874.
Chew DS, Cowper PA, Al-Khalidi H, Anstrom KJ, Daniels MR, Davidson-Ray L, Li Y, Michler RE, Panza JA, Piña IL, Rouleau JL, Velazquez EJ, Mark DB. Cost-Effectiveness of Coronary Artery Bypass Surgery Versus Medicine in Ischemic Cardiomyopathy: The STICH Randomized Clinical Trial. Circulation 2022;145(11):819-828. PM: 35044802.
Coniglio AC, Patel CB, Kittleson M, Schlendorf K, Schroder JN, DeVore AD. Innovations in Heart Transplantation: A Review. J Card Fail 2022;28(3):467-476. PM: 34752907.
Cooper LB, Bruce S, Psotka M, Mentz R, Bell R, Seliger SL, O'Connor C, deFilippi C. Proteomic differences among patients with heart failure taking furosemide or torsemide. Clin Cardiol 2022;45(3):265-272. PM: 35014074.
El-Chami MF, Piccini JP, Bockstedt L. Leadless Pacing-Uncertainties Remain About Safety and Efficacy-Reply. JAMA Cardiol 2022;7(3):361-362. PM: 35080586.
Fendrick AM, Djatche L, Pulungan Z, Teigland C, Yang M, Lautsch D, Hilkert R, Mentz R. Out-of-pocket payments for part d covered medications by medicare fee-for-service beneficiaries with heart failure with reduced ejection fraction. Am Heart J 2022;246:74-81. PM: 34774543.
Fudim M, Khan MS, Paracha AA, Sunagawa K, Burkhoff D. Targeting Preload in Heart Failure: Splanchnic Nerve Blockade and Beyond. Circ Heart Fail 2022;15(3):e009340. PM: 35290092.
Greene SJ, Butler J, Hellkamp AS, Spertus JA, Vaduganathan M, Devore AD, Albert NM, Patterson JH, Thomas L, Williams FB, Hernandez AF, Fonarow GC. Comparative Effectiveness of Dosing of Medical Therapy for Heart Failure: From the CHAMP-HF Registry. J Card Fail 2022;28(3):370-384. PM: 34793971.
Han JK, Al-Khatib SM, Albert CM. Changes in the digital health landscape in cardiac electrophysiology: A pre-and peri-pandemic COVID-19 era survey. Cardiovasc Digit Health J 2020;2(1):55-62. PM: 35265890.
Ijaz SH, Jamal S, Minhas AMK, Sheikh AB, Nazir S, Khan MS, Minhas AS, Hays AG, Warraich HJ, Greene SJ, Fudim M, Honigberg MC, Khan SS, Paul TK, Michos ED. Trends in Characteristics and Outcomes of Peripartum Cardiomyopathy Hospitalizations in the United States Between 2004 and 2018. Am J Cardiol 2022;168:142-150. PM: 35074213.
Kandzari DE, Mahfoud F, Weber MA, Townsend R, Parati G, Fisher NDL, Lobo MD, Bloch M, Böhm M, Sharp ASP, Schmieder RE, Azizi M, Schlaich MP, Papademetriou V, Kirtane AJ, Daemen J, Pathak A, Ukena C, Lurz P, Grassi G, Myers M, Finn AV, Morice MC, Mehran R. Clinical Trial Design Principles and Outcomes Definitions for Device-Based Therapies for Hypertension: A Consensus Document From the Hypertension Academic Research Consortium. Circulation 2022;145(11):847-863. PM: 35286164.
Kaneko T, Vemulapalli S, Kohsaka S, Shimamura K, Stebbins A, Kumamaru H, Nelson AJ, Kosinski A, Maeda K, Bavaria JE, Saito S, Reardon MJ, Kuratani T, Popma JJ, Inohara T, Thourani VH, Carroll JD, Shimizu H, Takayama M, Leon MB, Mack MJ, Sawa Y. Practice Patterns and Outcomes of Transcatheter Aortic Valve Replacement in the United States and Japan: A Report From Joint Data Harmonization Initiative of STS/ACC TVT and J-TVT. J Am Heart Assoc 2022;11(6):e023848. PM: 35243902.
Kelsey MD, Newby LK. In CV disease, GLP-1 RAs and SGLT2 inhibitors reduce CV mortality. Ann Intern Med 2022;175(3):JC26. PM: 35226528.
Lala A, Mentz RJ. #ConstructivelyDisruptive – Breaking Molds at JCF. J Card Fail 2022;28(3):351-352. PM: 35279266.
Lala A, Tayal U, Hamo CE, Youmans Q, Al-Khatib SM, Bozkurt B, Davis MB, Januzzi J, Mentz R, Sauer A, Walsh MN, Yancy C, Gulati M. Sex Differences in Heart Failure. J Card Fail 2022;28(3):477-498. PM: 34774749.
Lusk JB, Xu H, Thomas LE, Cohen LW, Hernandez AF, Forrest CB, Michtalik HJ, Turner KB, O'Brien EC, Barrett NJ. Racial/Ethnic Disparities in Healthcare Worker Experiences During the COVID-19 Pandemic: An Analysis of the HERO Registry. EClinicalMedicine 2022;45:101314. PM: 35265822.
Marston NA, Giugliano RP, Melloni GEM, Park JG, Morrill V, Blazing MA, Ference B, Stein E, Stroes ES, Braunwald E, Ellinor PT, Lubitz SA, Ruff CT, Sabatine MS. Association of Apolipoprotein B-Containing Lipoproteins and Risk of Myocardial Infarction in Individuals With and Without Atherosclerosis: Distinguishing Between Particle Concentration, Type, and Content. JAMA Cardiol 2022;7(3):250-256. PM: 34773460.
Oliveira Junior HA, Ferri CP, Boszczowski I, Oliveira GBF, Cavalcanti AB, Rosa RG, Lopes RD, Azevedo LCP, Veiga VC, Berwanger O, Avezum Á. Rationale and Design of the COVID-19 Outpatient Prevention Evaluation (COPE – Coalition V) Randomized Clinical Trial: Hydroxychloroquine vs. Placebo in Non-Hospitalized Patients. Arq Bras Cardiol 2022;118(2):378-387. PM: 35262569.
Patel KV, Keshvani N, Pandey A, Vaduganathan M, Holmes DN, Matsouaka RA, DeVore AD, Allen LA, Yancy CW, Fonarow GC. Association of readmission penalty amount with subsequent 30-day risk standardized readmission and mortality rates among patients hospitalized with heart failure: An analysis of get with the guidelines – heart failure participating centers. Am Heart J 2022;246:1-11. PM: 34973189.
Peterson BE, Harrington RA, Stone GW, Steg PG, Gibson CM, Hamm CW, Price MJ, Lopes RD, Leonardi S, Prats J, Deliargyris EN, Mahaffey KW, White HD, Bhatt DL. Effect of Platelet Inhibition by Cangrelor Among Obese Patients Undergoing Coronary Stenting: Insights From CHAMPION. Circ Cardiovasc Interv 2022;15(3):e011069. PM: 35196863.
Roifman I, Han L, Fang J, Chu A, Austin P, Ko DT, Douglas P, Wijeysundera H. Patient, physician and geographic predictors of cardiac stress testing strategy in Ontario, Canada: a population-based study. BMJ Open 2022;12(3):e059199. PM: 35273065.
Sharma A, Mahaffey KW, Gibson CM, Hicks KA, Alexander KP, Ali M, Chaitman BR, Held C, Hlatky M, Jones WS, Mehran R, Menon V, Rockhold FW, Seltzer J, Spitzer E, Wilson M, Lopes RD. Clinical events classification (CEC) in clinical trials: Report on the current landscape and future directions – proceedings from the CEC Summit 2018. Am Heart J 2022;246:93-104. PM: 34973948.
Varma N, Cygankiewicz I, Turakhia MP, Heidbuchel H, Hu Y, Chen LY, Couderc JP, Cronin EM, Estep JD, Grieten L, Lane DA, Mehra R, Page A, Passman R, Piccini JP, Piotrowicz E, Piotrowicz R, Platonov PG, Ribeiro AL, Rich RE, Russo AM, Slotwiner D, Steinberg. 2021 ISHNE/HRS/EHRA/APHRS Collaborative Statement on mHealth in Arrhythmia Management: Digital Medical Tools for Heart Rhythm Professionals: From the International Society for Holter and Noninvasive Electrocardiology/Heart Rhythm Society/European Heart Rhythm. Cardiovasc Digit Health J 2021;2(1):4-54. PM: 35265889.
Wan EY, Ghanbari H, Akoum N, Itzhak Attia Z, Asirvatham SJ, Chung EH, Dagher L, Al-Khatib SM, Stuart Mendenhall G, McManus DD, Pathak RK, Passman RS, Peters NS, Schwartzman DS, Svennberg E, Tarakji KG, Turakhia MP, Trela A, Yarmohammadi H, Marrouche NF. HRS White Paper on Clinical Utilization of Digital Health Technology. Cardiovasc Digit Health J 2021;2(4):196-211. PM: 35265910.
Wei S, Le N, Zhu JW, Breathett K, Greene SJ, Mamas MA, Zannad F, Van Spall HGC. Factors Associated With Racial and Ethnic Diversity Among Heart Failure Trial Participants: A Systematic Bibliometric Review. Circ Heart Fail 2022;15(3):e008685. PM: 34911363.
Windle JR, Windle TA, Shamavu KY, Nelson QM, Clarke MA, Fruhling AL, Tcheng JE. Roadmap to a more useful and usable electronic health record. Cardiovasc Digit Health J 2021;2(6):301-311. PM: 35265926.
Zhang L, Olalere D, Mayrhofer T, Bittner DO, Emami H, Meyersohn NM, Puchner SB, Abidov A, Moloo J, Dolor RJ, Mark DB, Ferencik M, Hoffmann U, Douglas PS, Lu MT. Differences in Cardiovascular Risk, Coronary Artery Disease, and Cardiac Events Between Black and White Individuals Enrolled in the PROMISE Trial. JAMA Cardiol 2022;7(3):259-267. PM: 34935857.