Highlights of the week:
Baby Receives World's First Combination Heart Transplant/Thymus Procedure
Using processed thymus tissue from the heart donor could lower the risk of organ rejection
A baby believed to be the first person to receive a combination heart transplant and allogeneic processed thymus tissue implantation appears to be gaining the immune cells necessary to reduce or eliminate the need for prolonged use of toxic anti-rejection drugs.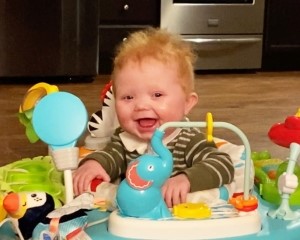 The two procedures — performed at Duke University Hospital last summer under an expanded access application that was cleared by the FDA — represent a milestone in heart transplantation.
"This has the potential to change the face of solid organ transplantation in the future," said Joseph W. Turek, MD, PhD, associate professor in the division of cardiovascular and thoracic surgery, section chief of pediatric cardiac surgery and a member of the surgical team that performed the landmark procedure.
"If this approach proves successful – and further validation is contemplated – it would mean transplant recipients would not reject the donated organ and they would also not need to undergo treatment with long-term immune-suppression medications, which can be highly toxic, particularly to the kidneys," Turek said. "This concept of tolerance has always been the Holy Grail in transplantation, and we are now on the doorstep."
Currently, transplanted hearts have an average lifespan of about 10 to 15 years. With durability limited by the toxicity of immune-suppression drugs, other options have long been sought.
The idea of using donated and processed thymus tissue during heart transplantation has been under study at Duke and other sites for several years. Because the thymus gland stimulates the development of T-cells, which fight foreign substances in the body, implanting the processed tissue is hoped to establish the donor's immune system as the recipient's, so the donated heart is recognized as "self."
The approach has shown promise in animal experiments, including in Turek's lab at Duke, but it had previously not been tried in a living organ recipient.
Duke researchers received permission from the FDA for the investigational procedures after two important factors lined up serendipitously – the youngster, Easton Sinnamon, needed both a heart transplant and processed thymus tissue implantation independent of one another, and he was a patient at Duke, where the processed thymus tissue implantation is solely available.
The processed thymus tissue implantation method, pioneered at Duke by Louise Markert, MD, uses a proprietary technique to culture and administer processed thymus tissue; the process has been licensed to Enzyvant Therapeutics GmbH. The company received FDA approval last fall for allogeneic processed thymus tissue-agdc, indicated for immune reconstitution in pediatric patients with congenital athymia, a rare condition in which children are born without a thymus. Enzyvant provided financial support for processing of the thymus tissue that was used in this research.
"We see tremendous promise in this technology for patients and we are working with urgency to advance research and development for all children in need of cardiac transplants," said Rachelle Jacques, chief executive officer of Enzyvant.
For Easton, the first-in-human combination of procedures appears to be working.
Tests taken 172 days post-transplant/implantation indicate the processed thymus tissue is functioning, building the critical T-cells that are integral to a well-functioning immune system. Easton's care team at Duke continues to monitor progress; another milestone is possible in several months when he could be tapered off anti-rejection drugs.
"Cases like this underscore how important new insights emerge when surgery and science are expertly practiced together," said Allan D. Kirk, MD, PhD, chair of the Department of Surgery at Duke University School of Medicine. "This case has implications for more than just heart transplantation – it could change the way that many solid organ transplants are done in the future.
"The team performed the transplant and implant in a patient who lacked significant thymus function, providing an excellent opportunity to examine how allogeneic processed thymus tissue can shape a person's immune system to be more receptive to a donor organ," Kirk said. "If this can be extrapolated to patients who already have a functioning thymus, it could potentially allow them to restructure their immune systems to accept transplanted organs with substantially less dependence on anti-rejection medication. The processing method used for the thymus tissue seems to be critical and is of great interest."
Born with severe heart defects as well as thymic deficiency from an unknown cause, which severely impaired his immune system, Easton received his transplant on Aug. 6, 2021, when he was 6 months old, followed two weeks later with the implantation of the cultured thymus tissue from his heart donor.
Easton recently celebrated his first birthday and continues to do well.
"It was one of those things where it could help him, and if it works, it not only helps him, but it could help thousands of other people as well with their children who need transplants," said Easton's mom, Kaitlyn Sinnamon. "When we talked about it, it was like 'Why would we not do it when we can make a difference for all these other people?'"
During a media briefing held Monday, March 7, the Sinnamon's were asked what message they hope their son grows up embracing. Kaitlyn responded, "I think my biggest thing is, especially with all the scars that he has, is that I hope he will just be proud of those and know that we did everything for what was the best decision for that moment.
"That he should be proud of those because it's something that shows he was fighting for his life and he should be honored to let people know that that's one thing that he did, and that he got to make a difference."
We look forward to seeing Easton continue to do well, especially now that he can be home with his family. Congratulations to Joe and team – we are very excited about the work you're doing, as well as the potential this treatment holds.
2022 Triangle Heart Ball Held
The American Heart Association's Triangle Heart Ball was held Friday evening, March 11 at the Raleigh Convention Center. The event included a silent auction, live auction, dinner and fellowship with other area sponsors. Duke Heart is pleased to support the work of the AHA. We thank all who were able to join us.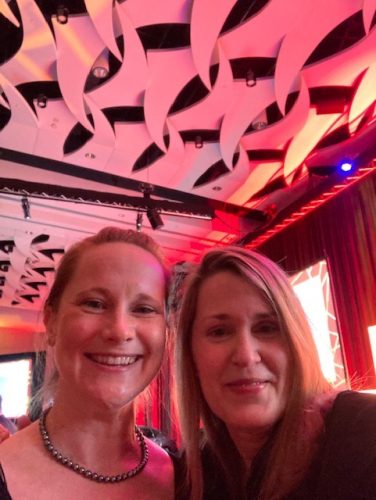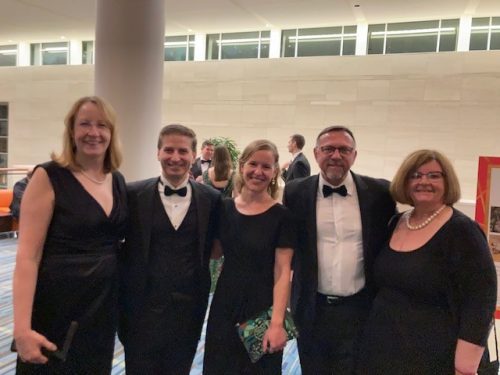 Frazier to Serve as Nurse Manager DUH 7100, Effective March 28th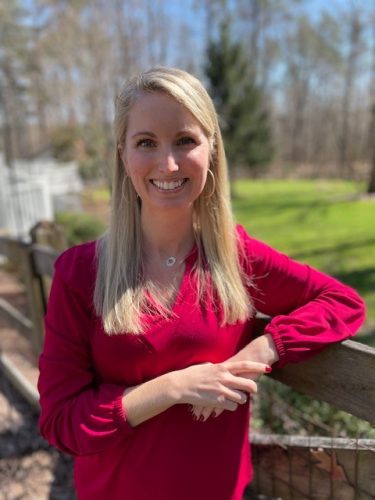 Duke Heart is pleased to announce that Ashley Frazier, BSN, RN, CCRN will become nurse manager for Duke University Hospital's Cardiology Stepdown Unit 7100 effective Monday, March 28th.  Ashley earned a Bachelor of Science in Nursing from Duke University School of Nursing in 2013. She was hired as a new graduate nurse in the Duke Pediatric Cardiac Intensive Care Unit in July, 2013 and has served as a nightshift Clinical Lead since August, 2017.
As a Clinical Lead, Ashley has been heavily involved with Duke Children's safety and quality initiatives including pressure injury prevention, cardiac arrest prevention, and breast milk handling process improvement. At the Health System Level, Ashley participates in numerous Maestro Care work groups focusing on nursing documentation improvements. Additionally, Ashley is a Well-Being Ambassador, holds a Patient Safety Leadership certification, and has contributed to burnout reduction initiatives.  She currently serves on the Nursing Informatics Council, DUHS Cardiac Monitoring Subcommittee, and DUHS Nursing Quality Council.
Please join us in congratulating and welcoming Ashley to her new role.
Nesmith Receives High Five
Georgina Nesmith, RN, nursing program manager for the Duke Heart Center Communications team received a DUHS "High Five" on Tuesday, March 8. She was nominated by Carroll Enterkin, who wrote:
"In addition to teaching me how to make new patient appointments, Gina has advised me in ways to do my job to make it easier, all in such a calming voice. I have been so blessed to work in Heart Communications Center this past year. I feel the Lord blessed me so much with this job."
Well-deserved, Georgina! Thank you for all you do. Carroll, we are pleased to have you on the Duke Heart team. We're glad you're here!
Voting for USNWR 'Best Hospitals' Open in Doximity
The survey period for U.S. News & World Report's 'Best Hospitals' is open in Doximity through March 25. We encourage all those who are eligible to vote in the survey of "Best Hospitals for Cardiology and Heart Surgery" to consider casting a vote for Duke.
Reminder: paper surveys have been discontinued. The only way to vote in the survey is online via Doximity.
If you have not yet claimed your profile on this platform, you can do so at any time during the voting period.
Go to com
Enter your first and last name on the home screen
Click on the 'Find My Profile' button
A survey will display in your profile until you vote or the survey closes on March 25, 2022.
COVID-19 Updates
All the latest Clinical Operations updates related to COVID can be found at https://covid-19.dukehealth.org.
Upcoming Events & Opportunities
Cardiology Grand Rounds
March 15: Coronary Artery Disease in Women with Jennifer Rymer; Hypertensive Disorders of Pregnancy with Melissa Daubert; and Cardio-Oncology in Women with Brandy Patterson. 5 p.m. via Webex.
Upcoming Duke Heart CME
April 23: Duke Sports Cardiology & Sudden Death in Athletes Symposium with course directors Jim Daubert and Bill Kraus. Virtual. For information or to register, contact Christy Darnell christy.darnell@duke.edu or 919-880-8686.
Have news to share?
If you have news to share with the Pulse readership, please contact Tracey Koepke, director of communications for Duke Heart at tracey.koepke@duke.edu. We would love to hear about your latest accomplishments, professional news, cool happenings, and any events or opportunities that may be of interest to our Duke Heart family. Please call with any questions: 919-681-2868. Feedback on Pulse is welcome and encouraged. Submissions by Noon, Wednesdays, to be considered for weekend inclusion.
Duke Heart in the News:
March 4 — Neha Pagidipati
HCPLive
Neha Pagidipati, MD: New Approaches in Obesity Management
https://duke.is/jg96f
March 4 – Christopher Granger
HCPLive
Christopher Granger, MD: Integration, Value of SGLT2 Inhibitors in Practice
https://duke.is/rqvh6
March 7 – Joe Turek
Associated Press
Baby gets heart transplant with a twist to fight rejection
https://duke.is/c2vt9
*also carried by 421 additional outlets including ABC News, China Global Television Network, San Francisco Gate, Washington Post
*AP local outlets in Atlanta, Chicago, Dallas, Gainesville, Houston, Los Angeles, New York, Philadelphia, Phoenix, San Francisco
March 8 – Joe Turek
BBC News
'World-first' heart-thymus transplant success for Easton
https://duke.is/w4uxe
March 9 — Robert Mentz
Medpage Today
Exercise Intervention May Slow HF Progression Before Disease Takes Hold
https://duke.is/znusb
March 9 — Muhammed Shahzeb Khan
Healio/Cardiology
In HFrEF, therapy in patients with frailty often not optimized despite high risk
https://duke.is/m79vp
March 9 — Duke University (ADAPTABLE)
Clinical Research Forum
Clinical Research Forum Announces the 2022 Top Ten Clinical Research Achievement Awards
https://duke.is/8d68h
March 7-11 — Heart-Thymus News Coverage
As of March 11, news coverage for this story had been included in at least 675 individual outlets including national coverage by the Associated Press (AP), ABC, CBS, NBC and FOX affiliates, McClatchy papers, MSN & Yahoo News and international coverage by the BBC and WION (India). The majority of coverage was by AP affiliates.
Division of Cardiology Publications Indexed in PubMed March 3-9, 2022
Abraham WT, Piccini JP, Dufton C, Carroll IA, Healey JS, O'Connor CM, Marshall D, Aleong R, van Veldhuisen DJ, Rienstra M, Wilton SB, White M, Sauer WH, Anand IS, Huebler SP, Connolly SJ, Bristow MR. Dose-limiting, adverse event-associated bradycardia with β-blocker treatment of atrial fibrillation in the GENETIC-AF trial. Heart Rhythm O2. 2021;3(1):40-49. PM: 35243434.
Arnold SV, Manandhar P, Vemulapalli S, Vekstein AM, Kosinski AS, Spertus JA, Cohen DJ. Patient-reported vs. physician-estimated symptoms before and after transcatheter aortic valve replacement. Eur Heart J Qual Care Clin Outcomes. 2022;8(2):161-168. PM: 34718485.
Beck TP, Tsipis N, Kisslo JA, Rivera JD, Armour AC, Moon RE. Immersion-Induced Mitral Regurgitation: A Novel Risk Factor for Swimming-Induced Pulmonary Edema. Chest. 2022;161(3):e137-e143. PM: 35256086.
Bicong L, Allen JC, Arps K, Al-Khatib SM, Bahnson TD, Daubert JP, Frazier-Mills C, Hegland DD, Jackson KP, Jackson LR, Lewis RK, Pokorney SD, Sun AY, Thomas KL, Piccini JP. Leadless pacemaker implantation after lead extraction for cardiac implanted electronic device infection. J Cardiovasc Electrophysiol. 2022;33(3):464-470. PM: 35029307.
Brancato SC, Wang M, Spinelli KJ, Gandhavadi M, Worrall NK, Lehr EJ, DeBoard ZM, Fitton TP, Leiataua A, Piccini JP, Gluckman TJ. Temporal trends and predictors of surgical ablation for atrial fibrillation across a multistate healthcare system. Heart Rhythm O2. 2021;3(1):32-39. PM: 35243433.
Carvalho GD, Armaganijan LV, Lopes RD, Olandoski M, Galvão BMDA, Pessoa CC, Erbano BO, Luz RSBD, Demarchi AV, Medeiros BG, Moreira DAR. Relationship between ventricular repolarization parameters and the inducibility of ventricular arrhythmias during electrophysiological study in patients with coronary artery disease. Rev Assoc Med Bras (1992). 2022;68(1):61-66. PM: 35239939.
Chew DS, Jones KA, Loring Z, Black-Maier E, Noseworthy PA, Exner DV, Packer DL, Grant J, Mark DB, Piccini JP. Diagnosis-to-ablation time predicts recurrent atrial fibrillation and rehospitalization following catheter ablation. Heart Rhythm O2. 2021;3(1):23-31. PM: 35243432.
Dhruva SS, Shah ND, Vemulapalli S, Deshmukh A, Beatty AL, Gamble GM, Freeman JV, Hummel JP, Piccini JP, Akar JG, Ervin K, Arges KL, Emanuel L, Noseworthy PA, Hu T, Bartlett V, Ross JS. Heart Watch Study: protocol for a pragmatic randomised controlled trial. BMJ Open. 2021;11(12):e054550. PM: 35234659.
Fox KAA, Virdone S, Pieper KS, Bassand JP, Camm AJ, Fitzmaurice DA, Goldhaber SZ, Goto S, Haas S, Kayani G, Oto A, Misselwitz F, Piccini JP, Dalgaard F, Turpie AGG, Verheugt FWA, Kakkar AK. GARFIELD-AF risk score for mortality, stroke, and bleeding within 2 years in patients with atrial fibrillation. Eur Heart J Qual Care Clin Outcomes. 2022;8(2):214-227. PM: 33892489.
Gaffey AE, Cavanagh CE, Rosman L, Wang K, Deng Y, Sims M, O'Brien EC, Chamberlain AM, Mentz RJ, Glover LM, Burg MM. Depressive Symptoms and Incident Heart Failure in the Jackson Heart Study: Differential Risk Among Black Men and Women. J Am Heart Assoc 2022;11(5):e022514. PM: 35191315.
Girotra S, Chan ML, Starks MA, Churpek M, Chan PS. Association of COVID-19 Infection With Survival After In-Hospital Cardiac Arrest Among US Adults.   JAMA Netw Open. 2022;5(3):e220752. PM: 35234884.
Ijioma NN, Don C, Arora V, Edgar L, Hawkins B, Monteleone P, Tcheng JE, Helmy T. ACGME Interventional Cardiology Milestones 2.0-an overview: Endorsed by the Accreditation Council for Graduate Medical Education. Catheter Cardiovasc Interv. 2022;99(3):777-785. PM: 34708916.
Januzzi JL, Ohman EM. Underdiagnosis of Ischemic Heart Disease in New-Onset Heart Failure: A Call to Action. J Am Coll Cardiol. 2022;79(9):861-863. PM: 35241219.
Kalayci A, Gibson CM, Hernandez AF, Hull RD, Cohen AT, Fitzgerald C, Hussain SD, Chi G, Alkhalfan F, Harrington RA, Goldhaber SZ. Inverse relationship between body mass index and risk of venous thromboembolism among medically ill hospitalized patients: Observations from the APEX trial. Thromb Res. 2022;211:63-69. PM: 35091313.
Khan MS, Solomon N, DeVore AD, Sharma A, Felker GM, Hernandez AF, Heidenreich PA, Matsouaka RA, Green JB, Butler J, Yancy CW, Peterson PN, Fonarow GC, Greene SJ. Clinical Outcomes With Metformin and Sulfonylurea Therapies Among Patients With Heart Failure and Diabetes. JACC Heart Fail. 2022;10(3):198-210. PM: 34895861.
Nanni AN, Harris M, Watson M, Yang Z, Lee HJ, DeVore AD, Henderson JB. Association of tacrolimus time-to-therapeutic range on renal dysfunction and acute cellular rejection after orthotopic heart transplantation in a high use basiliximab population. Clin Transplant. 2022;36(3):e14542. PM: 34797576.
Paluch AE, Bajpai S, Bassett DR, Carnethon MR, Ekelund U, Evenson KR, Galuska DA, Jefferis BJ, Kraus WE, Lee IM, Matthews CE, Omura JD, Patel AV, Pieper CF, Rees-Punia E, Dallmeier D, Klenk J, Whincup PH, Dooley EE, Pettee Gabriel K, Palta P, Pompeii LA. Daily steps and all-cause mortality: a meta-analysis of 15 international cohorts. Lancet Public Health. 2022;7(3):e219-e228. PM: 35247352.
Regan JA, Abdulrahim JW, Bihlmeyer NA, Haynes C, Kwee LC, Patel MR, Shah SH. Phenome-Wide Association Study of Severe COVID-19 Genetic Risk Variants. J Am Heart Assoc. 2022;11(5):e024004. PM: 35179038.
Sampognaro JR, Lewis RK, Black-Maier E, Pokorney SD, Hegland DD, Piccini JP. Cases of Azygous Coil Extraction. Heart Rhythm O2. 2021;3(1):65-69. PM: 35243437.
Samsky MD, Rao SV. Review of Cardiogenic Shock After Acute Myocardial Infarction-Reply. JAMA 2022;327(9):879. PM: 35230396.
Selvaraj S, Hu R, Vidula MK, Dugyala S, Tierney A, Ky B, Margulies KB, Shah SH, Kelly DP, Bravo PE. Acute Echocardiographic Effects of Exogenous Ketone Administration in Healthy Participants. J Am Soc Echocardiogr 2022;35(3):305-311. PM: 34798244.
Senman B, Rao SV. Heart Team Without Borders: Taking the Heart Team Beyond the Institution. J Am Heart Assoc 2022;11(5):e025080. PM: 35225005.
Solomon SD, Vaduganathan M, Claggett BL, de Boer RA, DeMets D, Hernandez AF, Inzucchi SE, Kosiborod MN, Lam CSP, Martinez F, Shah SJ, Belohlavek J, Chiang CE, Willem Borleffs CJ, Comin-Colet J, Dobreanu D, Drozdz J, Fang JC, Alcocer Gamba MA, Al Habeeb W. Baseline Characteristics of Patients With HF With Mildly Reduced and Preserved Ejection Fraction: DELIVER Trial. JACC Heart Fail 2022;10(3):184-197. PM: 35241246.
Thakkar A, Valente T, Andesia J, Njuguna B, Miheso J, Mercer T, Mugo R, Mwangi A, Mwangi E, Pastakia SD, Pathak S, Pillsbury MKM, Kamano J, Naanyu V, Williams M, Vedanthan R, Akwanalo C, Bloomfield GS. Network characteristics of a referral system for patients with hypertension in Western Kenya: results from the Strengthening Referral Networks for Management of Hypertension Across the Health System (STRENGTHS) study. BMC Health Serv Res. 2022;22(1):315. PM: 35255913.
Zeitler EP, Austin AM, Leggett CG, Gilstrap LG, Friedman DJ, Skinner JS, Al-Khatib SM. Complications and Mortality Following CRT-D Versus ICD Implants in Older Medicare Beneficiaries With Heart Failure. JACC Heart Fail 2022;10(3):147-157. PM: 35241242.
Zeitler EP, Felker GM. Natriuretic Peptides and Stratification for ICD Therapy in Nonischemic Heart Failure: A Definite Maybe? JACC Heart Fail 2022;10(3):172-174. PM: 35241244.