Highlights of the week:
Milano, Ward to Receive Distinguished Palumbo Award
We are thrilled to share that two Duke Heart faculty members have been selected to receive the 2022 Leonard Palumbo Jr., MD Faculty Achievement Award.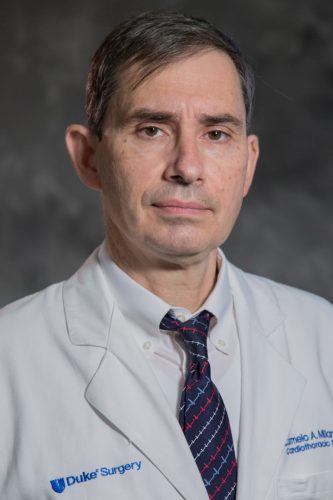 Cardiovascular and thoracic surgeon Carmelo Milano, MD, and
cardiologist Cary Ward, MD, were selected by a committee of Duke faculty members.
According to a message from Ann Brown, MD, MHS, vice dean for faculty, Duke University School of Medicine, "The committee found this year's nominees exceptionally impressive, making it extremely difficult to select one recipient for this award."
The Palumbo award honors a faculty member who displays both a dedication to compassionate patient care and excellence in the teaching and mentoring of young physicians.
The award is named for Dr. Leonard Palumbo Jr., who completed his undergraduate and medical degrees, as well as his clinical training, here at Duke. Dr. Palumbo was a compassionate and empathetic clinician and a dedicated and talented educator. His commitment to both patients and students inspired the establishment of this award in 1999 by his brother, also a Duke alumnus, Art Palumbo.
Milano and Ward will be presented the awards at the upcoming annual School of Medicine Spring Faculty Celebration currently planned as an in-person event on Tuesday, May 10, at 5 p.m. at the Sarah Duke Gardens.
We will share more information as it becomes available. We are so pleased for Cary and Carmelo! Congratulations!
Please Join Us at ACC.22 – We will be watching the Final Four Game at the Reception….
Saturday April 2nd 5:30-8:30 PM RedBud Room Renaissance Hotel Washington DC
Scientific Presence at American College of Cardiology 2022.  Cardiology Faculty and Fellows will have several presentations at the upcoming meeting and we will update those in the upcoming week.
Celebrating Heart Units 7100 and 6E – CLABSI Free Day Milestones!
Duke University Hospital Unit 7100 has gone more than 700 days since having a Central Line-Associated Bloodstream Infection (CLABSI) attributed to one of their patients. Pictured here are the 7100 Hospital Acquired Infection (HAI) Champion, Amanda Burke with her co-worker Ann Keiper and (second photo) Lisa Duncan, 7100 Nurse Manager, with unit team members.
Similarly, Duke Medical Pavilion 6 East has gone more than 800 days since having a CLABSI attributed to one of their patients. Pictured here are the 6 East HAI Champions, Jose Kaminski and Mutya Valente and (second photo) the 6 East Nurse Manager, Ciarra Ashley and unit team members.
Way to go, Duke Heart units! Keep up the great work!
Duke Heart Grows by One
Congratulations to Fran Cosgrove Reda, one of our amazing cardiology NPs, and Jonathan Reda on the birth of their daughter, Kay Lennon Reda, born March 12. Mom and baby are doing well. We are thrilled for Fran and her family – welcome to the Duke Heart family, Kay. We are excited to meet you!
COVID-19 Updates
All the latest Clinical Operations updates related to COVID can be found at https://covid-19.dukehealth.org.
Upcoming Events & Opportunities
Marfan NC Walk for Victory, April 23
The North Carolina Walk for Victory to support Marfan patients and their families will take place on Saturday, April 23, 2022 from Noon to 3 p.m. at Laurel Hills Park on Edwards Mill Road in Raleigh. Duke Heart is proud to serve as the presenting sponsor and we are excited for Chad Hughes, MD to serve as medical chair for the walk.
Please help us support all Marfan families as well as those with Loeys-Dietz (LDS), Vascular Ehlers-Danlos (VEDS), and related conditions. Donate or come join us!
Walk for Victory is The Marfan Foundation's global walk program. The event is low-key, fun and family-oriented. To learn more or to register for this event, please visit: https://give.marfan.org/event/2022-north-carolina-walk-for-victory/e353032.
To learn more about The Marfan Foundation, please visit marfan.org.
Duke Heart CME
April 23: Duke Sports Cardiology & Sudden Death in Athletes Symposium with course directors Jim Daubert and Bill Kraus. Virtual. For information or to register, contact Christy Darnell christy.darnell@duke.edu or 919-880-8686.
Have news to share?
If you have news to share with the Pulse readership, please contact Tracey Koepke, director of communications for Duke Heart at tracey.koepke@duke.edu. We would love to hear about your latest accomplishments, professional news, cool happenings, and any events or opportunities that may be of interest to our Duke Heart family. Please call with any questions: 919-681-2868. Feedback on Pulse is welcome and encouraged. Submissions by Noon, Wednesdays, to be considered for weekend inclusion.
Duke Heart in the News will resume coverage next weekend