Chief's message:
Hope everyone had a good week and some time for rest.  This was a busy week for Duke Heart with the Heart Rhythm Society (HRS) national meeting with several faculty and fellow presentations, the International Society for Heart & Lung Transplantation (ISHLT) 42nd Annual Meeting and Scientific Sessions in Boston with several important presentations from our Duke Heart Faculty and fellows including several clinical practice changing studies, the first in-person Heart Center Leadership Council meeting to review our progress in three years, and the Duke ACTIV-3 clinical research team, led by our own Peter K. Smith, MD — the team was presented with a Duke University Presidential Award.  This all happened while we kept working hard to provide our patients the best opportunity for heart care – something that was again evident this weekend on the wards and in the cath lab.  Our Heart Center Leadership council Chair – Bob Keegan wanted to make sure that on behalf of the Heart Center Leadership council we include a tremendous thanks to all employees across Duke Heart on their behalf of the council in this weekend's issue of Pulse.  Appreciate the support Bob!
Hopefully as we approach the end of the academic year we will have an opportunity to celebrate our fellows, faculty and staff at some of our end of year events.
Highlights of the week:
ACTIV-3, Global Efforts, Transplant Nurses & Perfusion Week
We have so much to celebrate! First, happy May Day, traditionally the halfway point between the spring equinox and the summer solstice, according to the Farmer's Almanac. With spring well underway here in NC, today also kicks off Perfusion Week 2022, May 1-7, so be sure to thank our amazing perfusionists when you see them!
Several cardiologists and their global efforts were featured in a new Magnify article out this week; our ACTIV-3 team received the prized Duke University Presidential Award (see below), we wrapped up Patient Experience Week (April 25-29), National Donate Life month (April) and Transplant Nurses Week runs through tomorrow, May 2. Duke is blessed with one of the best transplant teams in the world, and our nurses are a big part of that! We especially thank the nurses supporting our lung and heart transplant surgical teams and all those caring for our transplant patients pre- and post-surgery. We could not do this without you!
Speaking of transplant teams…
Duke Heart Shines at ISHLT 2022
The International Society for Heart & Lung Transplantation (ISHLT) 42nd Annual Meeting and Scientific Sessions were held April 27-30 in Boston.
ICYMI, the U.S. Food and Drug Administration this week granted premarket approval to TransMedics for its OCS Heart System for use with organs from donors after circulatory death (DCD). The TransMedics OCS Heart System is now approved with the extended clinical indication for ex vivo reanimation, functional monitoring, and beating-heart preservation of DCD hearts. This indication is based on the results of the OCS DCD Heart Trial and the associated Continued Access Protocol (EXPAND trial) which were presented by Jacob Schroder, MD, on Friday, April 29 at ISHLT.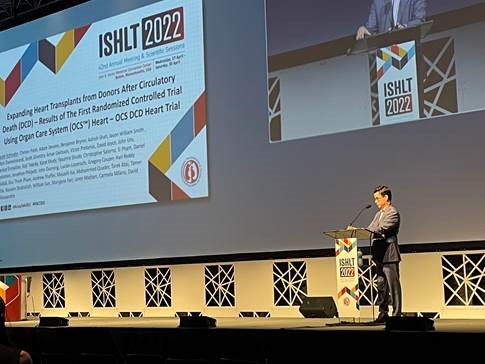 "The FDA's approval of the OCS for DCD donor hearts is the natural progression from the prior approval of the device for extended criteria brain dead donors, supported by the excellent results from the U.S. DCD trial," said Schroder, surgical director of heart transplantation at Duke University Health System and the principal investigator for the OCS DCD Heart Trial. "The use of OCS is actively expanding the donor pool, as I expected. It is time we stop considering heart transplant as a severely supply limited resource. With OCS we will be able to expand access to this life saving therapy to more end-stage heart failure patients."
Schroder presented clinical trial results on Friday morning. The multicenter, randomized, U.S. Donation after Circulatory Death (DCD) trial utilized direct procurement and perfusion (DPP) with the Organ Care System (OCS). In this trial, patients awaiting heart transplantation were randomized in a three to one manner to a donation after circulatory death (DCD) eligible arm versus donation after brain death (DBD) only. Inclusion and exclusion criteria were pre-established both with regards to the recipient and donor characteristics but also with regards to the DCD management; for example, a functional warm ischemia time less than 30 minutes was defined and served as part of the trial protocol. This resulted in comparison of 80 DCD transplants versus 86 DBD cases, which were treated as randomized and per protocol. The DCD transplant cohort displayed significantly younger donor and recipient age. Furthermore, duration of wait list time was less for the DCD cohort. The primary effectiveness endpoint was patient survival at 6 months and did not differ between the two groups (95% DCD versus 89% DBD). Overall patient and graft survival at 2 years was significantly better in the DCD cohort (93%) versus the DBD control (83%). The incidence of moderate or severe LV or RV PGD was greater for the DCD group (22.5%) versus the DBD (9.5%).
This U.S. DCD trial was the first of its kind in that a randomized control group, deemed as DCD ineligible, was utilized and there were predetermined inclusion and exclusion criteria. The team concludes that despite higher rates of primary graft dysfunction, heart transplantation with DCD achieves intermediate survival outcomes equivalent to those achieved with DBD. Of note: Duke was the first and leading enroller in the trial.
In a note from Schroder to members of leadership this weekend, he reflected on the work:
"I am heading back from ISHLT in Boston after presenting the 2-year EXPAND heart and US DCD trials yesterday. Both ground breaking trials with results that have moved the needle in heart transplant. The DCD trial is probably the most meaningful thing to happen in heart transplant in the U.S. in many decades. 
Now we, and anyone who is even remotely familiar with either trial, knows THAT THESE WERE REALLY DUKE TRIALS. We, as a team, made this happen out of sheer collective willpower.
Each and every team member should feel really great about this. Not only about the patients we helped along the way. But the countless more that will be helped in the future from our hard work.
I thank you all from the bottom of my heart for your efforts to continue to get the absolute best for Duke patients. And a special thanks to Sarah Casalinova who, for 6 years, has been the cornerstone to everything we have done with OCS."
These results – the clinical trial findings, the FDA approval, the ISHLT presentations, and lives saved — stem from an incredible effort put forth over many years by members of this team. Their commitment to advanced heart failure patients with extremely limited options as well as their dedication to one another is truly inspiring. Congratulations!
And there is even more to celebrate from ISHLT:
Duke Cardiology fellow Lauren Truby gave an excellent oral scientific presentation on "Proteomic profiling of cold storage preservation solution to identify signatures of primary graft dysfunction following heart transplantation." This work helped to identify a set of novel biomarkers associated with primary graft dysfunction following heart transplantation; she also gave an excellent talk entitled, "Bridge to transplant with durable left ventricular assist device is associated with primary graft dysfunction: a report from the International Consortium on Primary Graft Dysfunction" and gave an invited presentation entitled "The rise of the machines: PGD risk scoring systems in the MCS bridge-to-transplant populations." In summary: her work is helping to identify important clinical and biochemical risk factors for the development of primary graft dysfunction after heart transplantation.
Way to go, Lauren!
Duke cardiology fellow Vanessa Blumer was the only fellow invited to participate in and present during the first-ever, multi-national, ISHLT-endorsed Shock Consensus Conference. The focus was on identifying key areas of consensus for the care of patients with non-ischemic cardiogenic shock. She was asked to present a talk entitled, "How to proceed? Tools to quantify non-AMI cardiogenic shock severity and establish goals for treatment."
In summary: her contribution will hopefully lead to several consensus documents helping to identify priority areas for investigation focusing on the care of patients with cardiogenic shock unrelated to acute myocardial infarction.
ICYMI, Vanessa is co-author on a new perspectives piece Women Empowering Women in Heart Transplantation and Mechanical Circulatory Support that appears online (article in-press) in the Journal of Cardiac Failure.
Nicely done, Vanessa!
Chet Patel chaired a session entitled "Will you be mine? Choosing donors and recipients for heart transplantation" – Way to represent Duke Heart, Chet!
Integrated thoracic surgery resident Julie Doberne presented on heart transplant in HIV-positive recipients and compared results with other solid organ transplants in same population. In a post to Twitter she credited Chet Patel and Carmelo Milano for being instrumental in the research and stated that HIV is no longer a death sentence.
Great work, Julie!
Comments from team members related to work presented at ISHLT include:
"I'm extremely proud of all team member efforts leading the care of patients with cardiogenic shock, mechanical circulatory support, and heart transplantation." – Jason Katz, Duke's Director of Cardiovascular Critical Care; Co-Director, Duke Mechanical Circulatory Support Program, and Co-Director, Duke Cardiac Intensive Care Unit
"Every day I am so thankful to have trained in HF at Duke but I'm especially proud today" – Amanda Coniglio via Twitter regarding Schroder presentations.
"This is what it's all about. JNS and our surgical team are the most fantastic surgeons out there-tireless, brilliant, committed, bringing real change to the field." — Richa Agarwal via Twitter during Schroder presentations.
Heart Rhythm Society 2022, San Francisco
On the west coast this weekend, many of our Duke Heart faculty and fellows are attending and presenting during the Heart Rhythm Society 2022 annual meeting (April 29-May 1) in San Francisco.
Earlier today, Jon Piccini presented 4-fold Higher Rate Of Atrial Fibrillation Detection After Stroke Of Presumed Known Etiology With Continuous Versus Intermittent Monitoring: Results From The Stroke AF Study:
Despite progress in the prevention of stroke, it remains the fifth most common cause of death in the U.S. Atrial fibrillation increases the risk of stroke five-fold and is a common cause of stroke, especially in older individuals. Stroke often leads to permanent disability or death and identifying the cause of a stroke is an important step in preventing future or recurrent stroke.
Prior work has shown that between 20 and 30% of patients with stroke of undetermined cause (often referred to as cryptogenic stroke) have atrial fibrillation. Thus, patients with stroke of undetermined cause often undergo intensified heart rhythm monitoring in order to diagnose (and treat) atrial fibrillation as a potential cause of stroke. However, a recent analysis from the STROKE AF study suggests that looking for atrial fibrillation may be very important in patients whose stroke was not caused by atrial fibrillation and how we look for atrial fibrillation has important implications for providers and patients.
The STROKE AF study compared heart rhythm monitoring with an implantable cardiac monitor (ICM) versus standard approaches to intermittent heart rhythm monitoring in patients with stroke attributed to large artery atherosclerosis or small vessel occlusion. In patients whose stroke did not appear to be due to an abnormal heart rhythm, the study found that 1 in 8 patients had atrial fibrillation detected by an ICM by 12 months.
At today's Heart Rhythm Society annual meeting, Piccini and colleagues reported on an additional analysis of the STROKE AF data.
In their analysis, they examined how the type of heart rhythm monitoring may impact the ability of monitoring to identify atrial fibrillation in these patients. As one might expect, they said, when comparing continuous monitoring with an ICM versus intermittent heart rhythm monitoring, continuous monitoring identified more instances of atrial fibrillation. However, and perhaps more importantly, even the most aggressive intermittent monitoring strategy would have missed 77% of patients with episodes of atrial fibrillation lasting an hour or more.
According to Piccini and team, these findings are important because after someone experiences a stroke, an important goal of care is to avoid another episode of stroke, no matter what caused the first. Individuals who have atrial fibrillation and a history of stroke have a Class I guideline recommendation for oral anticoagulation to prevent future stroke. The results from the STROKE AF investigators suggests that even with the most aggressive forms of intermittent monitoring, a large proportion of patients with atrial fibrillation would not be diagnosed and may go untreated.
"Traditionally, we have focused our efforts with AF screening in persons who had no clear cause of their stroke," Dr. Jonathan Piccini, director of cardiac electrophysiology at Duke emphasized. "STROKE AF highlights the importance of diagnosing atrial fibrillation even in persons whose stroke appeared to be due to atherosclerosis or small vessel ischemia. Moreover, these data add to the growing evidence that highlight the importance of continuous cardiac monitoring in some patients who are at-risk for atrial fibrillation, regardless of what may have caused their first stroke."
Great work, Jon!
Additional presentations during HRS included:
Duke cardiology fellow Kelly Arps presented Use Of Ripple Mapping To Enhance Localization And Ablation Of Outflow Tract
Premature Ventricular Contractions on Friday as well as a poster presentation Temporal Relationship Of Atrial Arrhythmias With The Diagnosis Of Cardiac Sarcoidosis.
Jon Piccini presented Bridging the Gap in Guideline-driven Care for CIED Infections – We Must Do Better and Understanding the Clinical Utility of Anti-Tachycardia Pacing.
Marat Fudim presented Barostim: Patient Identification and Real World Experience during a session on Friday and Splanchnic Nerve Block in Heart Failure: Rationale and Clinical Application on Saturday.
Kevin Thomas co-chaired the Saturday session on Disparities or Differences in ICD/CRTD Utilization and earlier today co-chaired a session with Sana Al-Khatib on Racial and Ethnic Disparities in Clinical Electrophysiology.
Al-Khatib also served as a session commentator for Artificial Intelligence To Identify Left Ventricular Dysfunction From An Apple
Watch ECG: A Prospective, Decentralized International Pragmatic Study and presented Clinical Trials: Where does the Evidence Lie for Prevention of Pacing Induced Cardiomyopathy?
Jim Daubert presented ICDs are No Longer Indicated for Primary Prevention in Patients with Non-ischemic Cardiomyopathy
Sean Pokorney presented Successes and Failures in Rhythm Control: Is it Time for a Hybrid Approach to Cardioversion, Ablation and AADs?
Impressive work by our Duke EP team. Way to go!!
ACTIV-3 Research Team Celebrated with Presidential Award
We are pleased to celebrate the Duke ACTIV-3 clinical research team, led by Peter K. Smith, MD — the team was presented with a Duke University Presidential Award for their continuing efforts in COVID-19 research on Wednesday, April 27 during a ceremony at Page Auditorium.
When Duke decided to halt all unnecessary clinical research activity at the start of the pandemic, Smith, the site PI for the Cardiothoracic Surgery Network (CTSN), recognized that the CTSN could be redirected for COVID-19 clinical trials due to how they were structured as well as their prior experience in the study of stem cells. The NIH quickly selected the CTSN to serve as one of four research platforms for the government's unified response to COVID-19 – becoming the ACTIV-3 network. By mid-April 2020, Smith had not only gathered experts from throughout Duke Health to serve on the Duke-based ACTIV-3 clinical research team, the team had drafted the first clinical trial protocol using stem cell therapy for COVID-19 ICU patients.
With unprecedented speed and efficiency – the team created new infrastructure and established new systems to conduct COVID-19 research. Team members screened and consented patients 24/7/365, with staff working overtime, putting themselves and their families at potential risk at a time when very little was known about the virus. Multidisciplinary team capabilities were expanded, including pulmonary critical care physicians, infectious disease specialists, residents, and expansion from 4 to 32 clinical research staff dedicated to the project. Data and biospecimens were collected with an efficiency that far surpassed any that had previously been achieved in a clinical trial setting.
After completing the first stem cell study, the team then successfully helped to complete accrual to 5 other monoclonal antibody studies, one of which was recently published in the New England Journal of Medicine.  The ACTIV-3 team currently has 2 other studies which are actively enrolling, including studies with new classes of promising therapeutics for the most critically ill patients. Almost 40% of patients enrolled at Duke have been African American, providing proportional representation of those most affected by COVID-19 in our community, which is something the ACTIV-3 team is especially proud of.
"We often don't do a good job of enrolling the full breadth of our Duke patient population into clinical trials — meaning geographically, racially, ethnically and from a socio-economic standpoint, said Tom Holland, MD, a faculty member in infectious diseases. "The fact that we presented this to everybody, and we were willing to do the kinds of things to go to where patients were for follow up, for labs and visits to make it so that any patient who wanted to enroll, and was able to do so, could. We truly enrolled a population that looks a whole lot like the general population that we've taken care of for COVID."
In 18 months, the ACTIV-3 international network enrolled more than 3000 patients across 139 sites, 422 of which have been accrued from Duke as the leading enrolling site, earning a special commendation from the Director of the NIH.
"This remarkable achievement is a testament to the commitment and dedication of the ACTIV-3 team which has shown single-minded purpose to save the lives of current and future patients most critically affected by the pandemic by enrolling them to clinical trials. We nominate the ACTIV-3 team for their courage and for serving as an inspiring example of what can be achieved through extraordinary teamwork," states the team's nomination letter.
"The surgery research group was very generous with their resources, making sure that we had clinical research coordinators and
nurses to help get this going," added Christina Barkauskas, MD, Duke faculty member in Pulmonary and Critical Care Medicine. "From the beginning we had a robust team that was willing to work hard, especially at the beginning of the pandemic when we felt like we had something different, novel and special to offer these patients – we wanted to give them the best chance we could, so we offered it to as many patients as we possibly could."
Speaking to Smith's leadership of the ACTIV-3 team, Holland and Barkauskas were equally effusive.
"It was really fun to be able to experience his commitment to a project and to a mission and a scientific question — he has pretty remarkable drive," Barkauskas said. "We knew what we wanted to do, and he would be persistent in finding a way to make it happen, and I think we all appreciated his constant presence to support the team. We screened patients every single day for two years. And getting this award is a nice testament to how hard we worked and how committed we all were. Sometimes it just feels good to get a little bit of recognition, even though we already felt good about what we were doing."
Holland concurred, "Peter has been our captain and driving force for ACTIV-3 the whole time. He tends to deflect credit for this, but around the clock he was keeping an eye on who was coming into the hospital and who might be eligible for our trials. He was on every one of the calls multiple times a day to review what was going on. We would not have been able to keep up the pace of enrollment or maintain the motivation and vision to keep going as quickly as we did without his passion or his vision."
Leading and working with the ACTIV-3 team has been refreshing, Smith says. "Seeing the capability of a multidisciplinary team that includes surgeons, experts from infectious disease, critical care, and the hospitalist program come together in this way has been exhilarating. This team created a potent research engine and it broke down a lot of the silos that can prevent certain kinds of research from thriving. I'm optimistic that we can branch out and potentially replicate this for further disease states."
We are thrilled for the ACTIV-3 team – congratulations to all. The Presidential Award is well-deserved!
HCLC Sends Kudos to Duke Heart Team
The Spring Meeting of the Duke Heart Center Leadership Council (HCLC) took place on Friday, April 29 at the J.B. Duke Hotel & Conference Center in Durham.
The HCLC is led by Bob Keegan, who serves as Chair. The group heard overall highlights and updates from Manesh Patel and Ed Chen, co-directors of Duke Heart. Patel and Chen led a panel discussion, Focus on Discovery Science and Innovation with presentations by Chris Holley, Jennifer Rymer, Sreekanth Vemulapalli and Brittany Zwischenberger. Jill Engel presented an update on the efforts of our nursing and hospital-based teams during the pandemic as well as an update on cardiac nursing research.
The HCLC was truly impressed with the efforts reported on — particularly the care and dedication each and every Duke Heart team member exhibited during the pandemic.
Keegan and the HCLC requested that we specifically include a tremendous thanks to all employees across Duke Heart on their behalf in this weekend's issue of Pulse. They asked us to send their profuse thanks for the incredible care we gave to patients coming to Duke Heart during the pandemic, for the advances we have been able to make despite the extreme challenges we faced because of the pandemic, the dedication all of us have shown by sticking together and standing by Duke Health, and for the care each of us takes in our respective positions — be they administrative, educational, research-focused, at the bench or at the bedside, they thank all of us for our work.
GREAT JOB, EVERYONE!
Shout-out to Duke Heart Administrative Professionals
A huge shout-out to our Duke Heart Administrative Professionals — they are some of the unsung heroes of healthcare, working behind the scenes to manage schedules, patient inquiries, appointments, paperwork — all "the things" (countless, really) that need doing to keep our faculty, fellows and other staff members organized and productive. Administrative Professionals Day was Wednesday, April 27, but it's never too late to acknowledge their efforts and celebrate all they do.
Shout out to Holley
Our Ventricular Assist Device team wrote to us this week to recognize Chris Holley, MD, for the great rounding attending experience for their team during Patient Experience Week. Holley, often recognized for his research efforts as part of the Duke Cardiovascular Research Center, demonstrated his clinical excellence this week while leading the VAD clinical team for the LVAD service.
Comments from inpatient and outpatient APPs, fellows, pharmacists, nurses and patients recognize "his thoughtful attention and thorough evaluation of each issue with timely teaching moments for our fellows and other clinicians. His conversations with each patient and clinician on primary, outpatient and consult services represents the wisdom and kindness we hoped to inspire this week. Thanks Dr. Holley!"
Great job, Chris!
Duke Heart Global Efforts Celebrated in Magnify
Three of our terrific Duke Heart faculty members, Gerald Bloomfield, Waseem Akhter and Titus Ng'eno are featured in the current issue of Magnify, the Duke University School of Medicine magazine. The article, 'A Pandemic in Slow Motion': Duke Cardiologists Call for a New Approach to Prevent a Looming Global Crisis in Heart Health is a great way to learn more about the important work they are doing to advance access to cardiovascular care across the world. Inspiring!
Chen Featured in STS Podcast
Dr. Edward P. Chen, chief of the division of Cardiovascular and Thoracic Surgery is the featured guest in The Society of Thoracic Surgeons April 28 podcast (#133: Same Surgeon, Different Light: Dr. Ed Chen).
This is well worth a listen. Well done!
In Passing: Marc Caron, PhD, Professor of Cell Biology, Neurobiology and Medicine
We were saddened earlier this week by the passing of our long-time Duke colleague, Marc Caron, PhD, James B. Duke Professor of Cell Biology, Professor of Neurobiology and Professor of Medicine in Cardiology. Dr. Caron, 75, also was a member
of the Duke Cancer Institute and Duke Institute for Brain Sciences.
In a joint message from Mary Klotman, MD, Dean, Duke School of Medicine and Scott Soderling, PhD, Chair of the department of Cell Biology, they wrote:
An authoritative and prolific scientist, Dr. Caron spent all but two of his 47-year career at Duke. He studied the mechanisms of action and regulation of hormones and neurotransmitters and how they might underlie brain and behavior disorders such as schizophrenia, Parkinson's disease, attention-deficit hyperactivity disorder, mood disorders and addiction. Among his many achievements, Dr. Caron and his colleagues engineered and characterized a large number of genetically modified mouse models to analyze the foundations of these various brain disorders. In a groundbreaking study, his team identified a novel mode of signaling for the brain's dopamine D2 receptors, which are principal targets of antipsychotic medications. Dr. Caron also contributed to the discovery of how receptor signaling is regulated by kinases and arrestins, and he defined the molecular signals for their endocytosis and recycling as functional entities. His genetic gain and loss-of-function models provided evidence for the importance of GPCR regulation through kinases and arrestins and identified one of the first in vivo examples of G protein- versus arrestin-mediated GPCR signaling. Dr. Caron mentored many trainees, and followed them through their own careers with encouragement and advice.
Among his many honors, Dr. Caron was an investigator of the Howard Hughes Medical Institute from 1992 to 2004, a member of the American Academy of Arts & Sciences and a fellow of the American Association for the Advancement of Science. In 2005, he received the Julius Axelrod Award from the American Society for Pharmacology and Experimental Therapeutics. Dr. Caron authored more than 650 publications and served as editor or editorial board member of several leading journals including the Journal of Clinical Investigation.
Dr. Caron received his BSc in Chemistry from Laval University and his PhD from the University of Miami. He completed a postdoctoral fellowship at Duke University. He joined the faculty of Laval University School of Medicine as an assistant professor in 1975, and then returned to join Duke's faculty in 1977.
His funeral mass was held yesterday at Immaculate Conception Catholic Church in Durham. An online obituary can be found here.
Our deep condolences go out to Dr. Caron's family, friends and his colleagues throughout the world.
COVID-19 Update
All the latest Clinical Operations updates related to COVID can be found at https://covid-19.dukehealth.org. Patient-facing resources on DukeHealth.org can be found here: https://www.dukehealth.org/covid-19-update/resources. Duke University maintains a resource page as well, which can be accessed here: https://coronavirus.duke.edu/updates/for-staff.
Upcoming Events & Opportunities
Cardiology Grand Rounds
May 3: Precision Medicine in Arrhythmias: Not Your Daddy's Long QT with Navid Nafissi. 5 p.m. Webex.
May 10: Coronary CTOs and Cardiac MRI: The Duke Experience with Caitlin Dresher. 5 p.m., Webex.
MDEpiNet Spring 2022 Virtual Mini-Think Tank
May 5: MDEpiNet Spring 2022 Virtual Mini-Think Tank. Noon – 5:30 p.m., ET
MDEpiNet Predictable And SuStainable Implementation Of National CardioVascular Registries (PASSION CVR) Registry-Supported Prospective Clinical Trials
Join and invite your colleagues to join for updates from, and dialogues across our Registry-supported Prospective Trials Working Groups:
Data Governance & Access
Operational Roles & Responsibilities
Global Regulatory Acceptance
Use Cases:

Aortic Intervention
Heart Valves
Mechanical Circulatory Support
Peripheral Arterial Intervention
Registration now open: https://duke.qualtrics.com/jfe/form/SV_2f6JBD6WfaF9jBc.
Evening with Heart Raleigh
An Evening with Heart Raleigh, which has been rescheduled from earlier this year, will benefit Marfan families as well as those with Loeys-Dietz (LDS), Vascular Ehlers-Danlos (VEDS), and related conditions.
May 5, 2022
The Maxwell
7-10 p.m.
Cocktail attire
Tickets for the event include open bar, taco bar, heavy appetizers, dessert, silent auction, DJ, and a fun photo booth. For those unable to attend in person but who would like to participate, the silent auction items can be bid on online from anywhere. Lots of cool items have been donated so far! For tickets, more information or silent auction viewing and bidding, please visit: https://marfan.ejoinme.org/raleigh22.
Have news to share?
If you have news to share with the Pulse readership, please contact Tracey Koepke, director of communications for Duke Heart at tracey.koepke@duke.edu. We would love to hear about your latest accomplishments, professional news, cool happenings, and any events or opportunities that may be of interest to our Duke Heart family. Please call with any questions: 919-681-2868. Feedback on Pulse is welcome and encouraged. Submissions by Noon, Wednesdays, to be considered for weekend inclusion.
Duke Heart in the News:
April 25 — Stuart Knechtle (transplant surgery)
CBS17.com
NC mom, daughter share organ transplant journey during National Donate Life Month
https://duke.is/m4tqy
April 26 — Gerald Bloomfield
Poz.com
More Cardiac Abnormalities Seen in People Living With HIV
https://duke.is/2byb2
April 27 — Duke University Health System
Becker's Hospital Review
36 hospitals on Forbes list of best employers for diversity
https://duke.is/gyqpy
April 27 — Joe Turek
CBS News/CBS Mornings
First-of-its-kind heart transplant in infant could possibly prevent organ rejection
https://duke.is/zfek5
April 28 — Manesh Patel
Healio/Cardiology
Asundexian confers lower bleeding rates vs. apixaban for stroke prevention in AF
Division of Cardiology Publications Indexed in PubMed April 21-27, 2022
Ani C, Shavlik D, Knutsen S, Abudayyeh I, Banta J, O'Brien E, Mentz RJ, Bertoni AG, Fraser G. Glycemic status, non-traditional risk and left ventricular structure and function in the Jackson Heart Study. BMC Cardiovasc Disord 2022 Apr 21;22(1):186. PM: 35448969.
Berkowitz SD, Bauersachs RM, Szarek M, Nehler MR, Debus ES, Patel MR, Anand SS, Capell WH, Hess CN, Hsia J, Leeper NJ, Brasil D, Mátyás L, Diaz R, Brodmann M, Muehlhofer E, Haskell LP, Bonaca MP. Prevention of arterial and venous thrombotic events in symptomatic peripheral arterial disease patients after lower extremity revascularization in the VOYAGER PAD trial: Dual anticoagulant/antiplatelet regimen vs antiplatelet therapy alone. J Thromb Haemost 2022 May;20(5):1193-1205. PM: 35170216.
Coniglio AC, Mentz RJ. Sleep Breathing Disorders in Heart Failure. Cardiol Clin 2022 May;40(2):183-189. PM: 35465892.
Cooper-DeHoff RM, Niemi M, Ramsey LB, Luzum JA, Tarkiainen EK, Straka RJ, Gong L, Tuteja S, Wilke RA, Wadelius M, Larson EA, Roden DM, Klein TE, Yee SW, Krauss RM, Turner RM, Palaniappan L, Gaedigk A, Giacomini KM, Caudle KE, Voora D. The Clinical Pharmacogenetics Implementation Consortium Guideline for SLCO1B1, ABCG2, and CYP2C9 genotypes and Statin-Associated Musculoskeletal Symptoms. Clin Pharmacol Ther 2022 May;111(5):1007-1021. PM: 35152405.
Goodney P, Shah S, Hu YD, Suckow B, Kinlay S, Armstrong DG, Geraghty P, Patterson M, Menard M, Patel MR, Conte MS. A systematic review of patient-reported outcome measures patients with chronic limb-threatening ischemia. J Vasc Surg 2022 May;75(5):1762-1775. PM: 35085747.
Greene SJ, Tan X, Yeh YC, Bernauer M, Zaidi O, Yang M, Butler J. Factors associated with non-use and sub-target dosing of medical therapy for heart failure with reduced ejection fraction. Heart Fail Rev 2022 May;27(3):741-753. PM: 33471236.
Mark DB, Spertus JA, Bigelow R, Anderson S, Daniels MR, Anstrom KJ, Baloch KN, Cohen DJ, Held C, Goodman SG, Bangalore S, Cyr D, Reynolds HR, Alexander KP, Rosenberg Y, Stone GW, Maron DJ, Hochman JS. Comprehensive Quality-of-Life Outcomes With Invasive Versus Conservative Management of Chronic Coronary Disease in ISCHEMIA. Circulation 2022 Apr 26;145(17):1294-1307. PM: 35259918.
Minhas AMK, Salah HM, Khan MS, Rao VN, Tedford RJ, Reddy YNV, Caughey MC, Savarese G, Greene SJ, Michos ED, Fudim M. Most Common Causes of Hospitalization Associated with Inpatient Mortality in the United States Between 2005-2018. Am J Med Sci 2022 May;363(5):459-461. PM: 35090870.
Simonato M, Vemulapalli S, Ben-Yehuda O, Wu C, Wood L, Popma J, Feldman T, Krohn C, Hardy KM, Guibone K, Christensen B, Alu MC, Chen S, Ng VG, Chau KH, Shahim B, Vincent F, MacMahon J, James S, Mack M, Leon MB, Thourani VH, Carroll J, Krucoff M. Minimum Core Data Elements for Evaluation of TAVR: A Scientific Statement by PASSION CV, HVC, and TVT Registry. Ann Thorac Surg 2022 May;113(5):1730-1742. PM: 35367049.
Singh AK, Blackorby A, Cizman B, Carroll K, Cobitz AR, Davies R, Jha V, Johansen KL, Lopes RD, Kler L, Macdougall IC, McMurray JJV, Meadowcroft AM, Obrador GT, Perkovic V, Solomon S, Wanner C, Waikar SS, Wheeler DC, Wiecek A. Study design and baseline characteristics of patients on dialysis in the ASCEND-D trial. Nephrol Dial Transplant 2022 Apr 25;37(5):960-972. PM: 33744933.
Smilowitz NR, Cornwell M, Offerman EJ, Rockman CB, Shah SH, Newman JD, Ruggles K, Voora D, Berger JS. Risk factors, transcriptomics, and outcomes of myocardial injury following lower extremity revascularization. Sci Rep 2022 Apr 25;12(1):6718. PM: 35468922.
Voora D, Baye J, McDermaid A, Narayana Gowda S, Wilke RA, Nicole Myrmoe A, Hajek C, Larson EA. SLCO1B1*5 Allele Is Associated With Atorvastatin Discontinuation and Adverse Muscle Symptoms in the Context of Routine Care. Clin Pharmacol Ther 2022 May;111(5):1075-1083. PM: 35034348.
White HD, Schwartz GG, Szarek M, Bhatt DL, Bittner VA, Chiang CE, Diaz R, Goodman SG, Jukema JW, Loy M, Pagidipati N, Pordy R, Ristić AD, Zeiher AM, Wojdyla DM, Steg PG. Alirocumab after acute coronary syndrome in patients with a history of heart failure. Eur Heart J 2022 Apr 19;43(16):1554-1565. PM: 34922353.