Highlights of the week:
Rao Named President of SCAI
Sunil Rao, MD, professor of medicine in cardiology at Duke and section chief of cardiology at the Durham VA Health System, assumed the office of president of the Society for Cardiovascular Angiography & Interventions (SCAI) on Saturday evening during the SCAI 2022 Scientific Sessions being held May 19-22 in Atlanta, GA. He gave the presidential address.
Rao graduated summa cum laude from Miami University in Oxford, OH, and magna cum laude from The Ohio State University College of Medicine where he won the David Saylor Memorial Award for cardiology research. He completed a residency in internal medicine and fellowships in cardiology and interventional cardiology at Duke University Medical Center. After his training, he joined the faculty at Duke University Medical Center as an assistant professor of medicine and rose to become professor of medicine in 2017. In 2005, he became the director of the catheterization laboratories at the Durham VA Medical Center, and in 2014, he was appointed chief of cardiology at the Durham VA. Rao has won several awards as an attending physician including the W. Proctor Harvey Award from the American College of Cardiology (2011), and the Duke Cardiology Fellows' Mentoring Award (2013, 2018), and the DCRI Robert M. Califf MD Award for Fellow Mentoring (2020).
As the VA's chief of cardiology, Rao has overseen the expansion of the faculty to increase patient access, start new clinical programs, and leverage VA research funding. New clinical programs include a structural heart disease service, a same-day discharge after PCI program, and a transradial PCI program. Under his leadership, the Durham VA is the leading transradial PCI center in the VA system nationally.
In September, Rao will begin a new role as director of interventional cardiology for the NYU Langone Health System in New York. At the national level, Rao serves as Editor-in-Chief of Circulation: Cardiovascular Interventions and is a former chair of the SCAI Quality Improvement Committee and was the program chair for the SCAI 2019 Scientific Sessions.
"It is a tremendous honor to lead SCAI during the next year as we continue to make meaningful progress towards the organization's priorities outlined in our strategic plan, as well as empower and educate our members who are the leaders of interventional cardiology," Rao stated. "I look forward to working with our members in the year ahead to improve patient outcomes."
Congratulations, Sunil!
Additional SCAI Highlights:
We had several current and former faculty and fellows present and moderate at SCAI. Raj Swaminathan was part of the SCAI program committee and former fellow Amit Vora (now at UPMC) was inducted into the Emerging Leader Mentorship program Congratulations, Raj and Amit!
Jennifer Rymer had two invited oral presentations: Managing bleeding in high risk ACS and Diversifying the Vascular Workforce and panel on cardiogenic shock. Great work, Jenn!
DCRI Fellows Graduation Reception Held
After three years without a formal Duke Clinical Research Institute (DCRI) Fellows' Graduation Reception, the DCRI team was able to get together in person at the University Club in Durham on Tuesday evening, May 17. There, the team celebrated the accomplishments of nine graduating fellows and wholeheartedly thanked all the mentors and DCRI faculty and staff who supported them.
Graduating trainees from the Heart Center included: Drs. Michelle Kelsey, Andrew Vekstein, Vishal Rao, Vanessa Blumer, and Kelly Arps. The event was attended by several DCRI members/cardiology faculty including Drs. Adrian Hernandez, Manesh Patel, Michael Felker, and Robert Mentz. Several individuals were awarded as follows: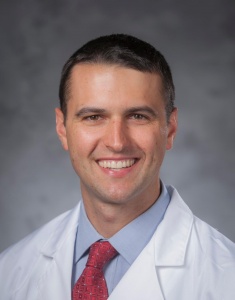 The DCRI Fellows' Citizenship Award was given to Andrew Vekstein, MD, resident in the CT Surgery Integrated Thoracic Surgery Residency Program. Mentor: John Alexander.
The Robert A. Harrington Excellence in Fellowship Award was given to Michelle D. Kelsey, MD. Begun in 2012, this award is designed to recognize a graduating DCRI research fellow who has contributed the most to the DCRI fellowship during his/her tenure and who has demonstrated excellence in academic accomplishments, in participation in clinical research operations, and in peer-to-peer mentoring. Fellows considered for this award are expected to have demonstrated the following key attributes during their DCRI tenure: a passionate pursuit of innovative clinical research, humility, inclusiveness, loyalty to colleagues, consensus-building, and selflessness. All graduating DCRI research fellows are eligible for this award.
The Eric D. Peterson Manuscript Award was given to Vishal N. Rao, MD. Rao won the Peterson award for his JACC paper In-Hospital Initiation of Sodium-Glucose Cotransporter-2 Inhibitors for Heart Failure With Reduced Ejection Fraction. This award recognizes a DCRI fellow whose writing excellence is demonstrated in at least one impactful and novel medical article. Through this award, the fellowship program recognizes Dr. Eric D. Peterson, a former DCRI Director, and his contributions to the DCRI fellowship program.
In commenting on the event, Sana Al-Khatib, MD, DCRI Fellowship Program Director said, "Congratulations to all the graduating fellows! It was truly wonderful to have the opportunity to celebrate them and to thank everyone who supported them in person. We are very proud of the amazing accomplishments of our trainees and look forward to seeing how they will shape the future and make a difference for patients and the world. We appreciate the tremendous commitment of our faculty and staff who work tirelessly to support our mission to train the next generations."
Congratulations, Michelle, Andrew, Vishal, Vanessa & Kelly! You are all amazing!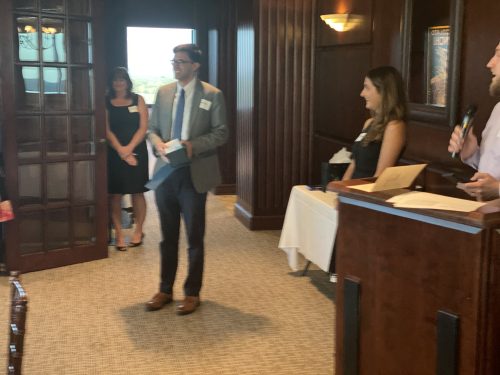 Fudim Presents LBCT at Heart Failure 2022
Marat Fudim, MD, MHS, presented data from the REBALANCE-HF trial this morning (May 22) as part of late-breakers at the Heart Failure 2022 & World Congress on Acute Heart Failure, the annual congress of the Heart Failure Association of the European Society of Cardiology, being held this weekend in Madrid (May 21-24).
The REBALANCE-HF trial is examining the safety and efficacy of a splanchic nerve ablation in patients with heart failure with preserved ejection fraction (HFpEF). Fudim reported on the first 18 patients with HFpEF to have been enrolled into the roll-in, open-label arm of the study. The findings were simultaneously published in the European Journal of Heart Failure.
The preliminary open-label results support the safety and efficacy of splanchnic ablation for volume management (SAVM) in HFpEF. The findings require confirmation in the ongoing randomized, sham-controlled portion of the trial.
In addition to Fudim, Manesh Patel is a co-author. Additional authors from other institutions include Peter S. Fail, Sheldon E. Litwin, Tamaz Shaburishvili, Parag Goyal, Scott Hummel, Barry A. Borlaug, Rajeev C. Mohan, Ravi B. Patel, Sumeet S. Mitter, Liviu Klein, Krishna Rocha-Singh, Vivek Y. Reddy, Daniel Burkhoff and Sanjiv J. Shah.
Congratulations, Marat!
Milano Named Beard Distinguished Professor
Congratulations to Carmelo Milano, MD, professor of surgery in the Division of Cardiovascular and Thoracic Surgery. He has been named the Joseph W. and Dorothy W. Beard Distinguished Professor of Experimental Surgery effective July 1.
Distinguished professorships are awarded to faculty who have demonstrated extraordinary scholarship in advancing science and improving human health. Milano is one of 16 faculty members in the Duke School of Medicine to be awarded a distinguished professorship this year. David Harpole is another; his distinguished professorship was mentioned in a Pulse post last month. The SOM officially announced all professorship on May 19.
To read about each of the 2022 distinguished professorships, please visit: https://medschool.duke.edu/news/meet-school-medicines-2022-distinguished-professors.
Congratulations, Carmelo!
Kelsey on CV Prevention at CGR
Michelle Kelsey presented an engaging cardiology grand rounds on Tuesday, May 17. In CV Prevention: Taking Flight, Kelsey discussed a range of factors impacting cardiovascular disease prevention, including BP guideline variance and too few specialists available to efficiently monitor the 34.2 million people with type 2 diabetes. She stressed the importance of teamwork, comparing it to that of the Wright brothers' whose partnership made the first successful aircraft flight possible.
Great presentation, Michelle!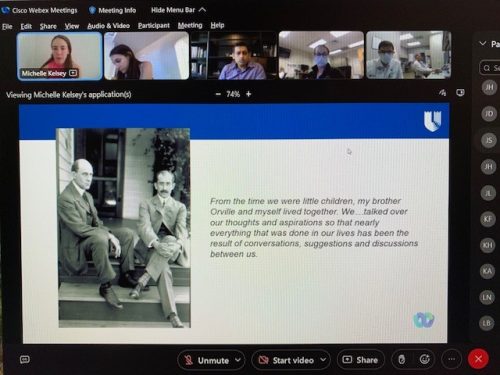 2022 FON Excellence Award Winners Celebrated        
The 33rd Duke Friends of Nursing (FON) Annual Gala was held last weekend at the Durham Convention Center. Thirty-seven Duke nurses were recognized with Excellence Awards; all 216 nominees and the contributions of Duke nurses across Duke University Health System were celebrated. Each winner was recognized individually with a Friends of Nursing pin, a certificate, an engraved trophy, and a $1,000 education stipend. To watch a replay of the entire celebration from last weekend, click here.
The following Duke Heart team members were recognized with Excellence Awards:
Ciarra Ashley
Jo Nocito
Gilbert Thomas Rutledge
Diane M. Sauro
Dustin Tart
Mutya Valente
Melissa Williams
FON was launched in 1988 thanks to the vision of Martha White Blalock and Dan S. Blalock Jr., grateful patients who sought a way to thank the nurses who were caring for them during Martha's hospitalization at Duke. Following Martha's death, Dan collaborated with others to establish the Friends of Nursing program. He remained closely involved until his passing in 2017. Through the Daniel S. Blalock Jr. Charitable Foundation, Dan continues to make a difference at Duke.
During the 2022 nomination cycle, FON received nominations across all settings of care, with many nurses receiving multiple submissions. The nominations came from patients and their loved ones, and from other nurses and interprofessional colleagues.
"My sincere thanks to those who nominated a colleague," said Mary Ann Fuchs, vice president of patient care and system chief nurse executive for Duke University Health System. "When you take the time to submit a nomination, you enhance the person's sense of purpose and well-being, and you help to build a supportive work culture."
Friends of Nursing nominations are open year-round. To learn more or to nominate a colleague, please visit: https://dukefriendsofnursing.org/nominate-a-nurse.
Congratulations, Ciarra, Jo, Gilbert, Diane, Dustin, Mutya and Melissa! We are so happy for you!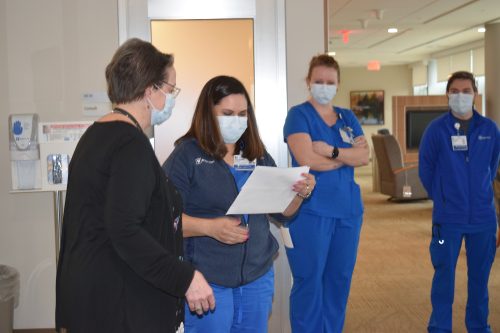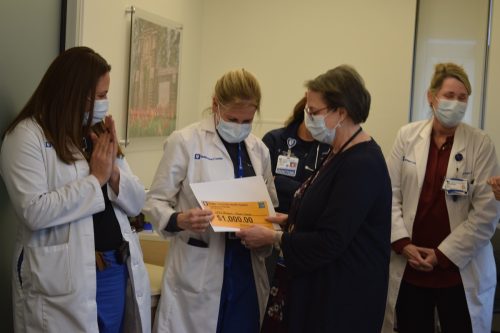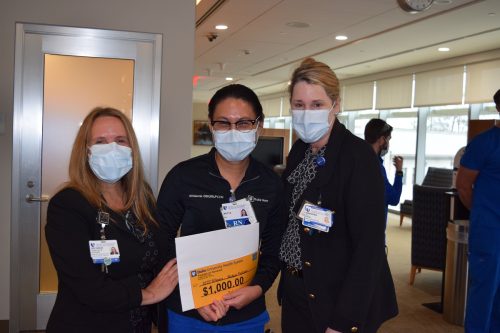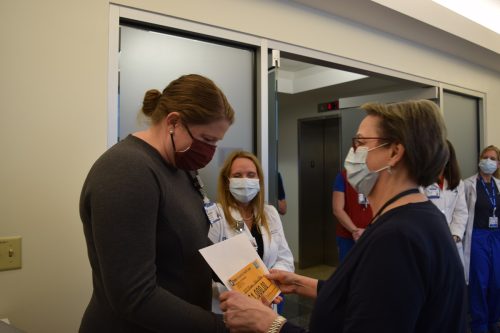 ICYMI: CardioNerds launches AF Series with Arps as Co-Chair
Our friends at CardioNerds have launched a new series on Atrial Fibrillation. Duke cardiology fellow Kelly Arps co-chairs the series with Colin Blumenthal, a fellow at the University of Pennsylvania. The series launched this week with episode #208, featuring Larry Jackson.
Arps and Blumenthal were joined by Dinu-Valentin Balanescu, rising internal medicine chief resident at Beaumont Hospital, to interview Jackson. The topic is Atrial Fibrillation: Epidemiology, Health Equity, & The Double Paradox with Dr. Larry Jackson. Not to be missed – this will be a terrific series!
Great job, Kelly and Larry!
COVID-19 Update
All the latest Clinical Operations updates related to COVID can be found at https://covid-19.dukehealth.org. Patient-facing resources on DukeHealth.org can be found here: https://www.dukehealth.org/covid-19-update/resources. Duke University maintains a resource page as well, which can be accessed here: https://coronavirus.duke.edu/updates/for-staff.
Upcoming Events & Opportunities
Cardiology Grand Rounds
May 24: Global Cardiovascular Health in the Peri-Pandemic Era with Mark Huffman of Washington University School of Medicine. 5 p.m. Webex.
May 31: Heart Failure Cardiogenic Shock and the Golden Circle with Vanessa Blumer. 5 p.m., Webex. (Link not yet available.)
Duke-Stanford Cardiovascular Research Symposium
June 27 & 28. The Duke-Stanford Cardiovascular Research Symposium returns to Durham this year and is offered as a hybrid event. This symposium is sponsored by the Edna and Fred L. Mandel, Jr. Foundation.
Registration required. In person: Great Hall, Mary Duke Biddle Trent Semans Center, Durham, NC. For those who wish to attend virtually, the event will offer live-streaming. The link will be emailed prior to the program. Registrants who choose the virtual live-streamed webinar option will be able to obtain CE credit for the course. For more information, contact Christy Darnell.
Have news to share?
If you have news to share with the Pulse readership, please contact Tracey Koepke, director of communications for Duke Heart at tracey.koepke@duke.edu. We would love to hear about your latest accomplishments, professional news, cool happenings, and any events or opportunities that may be of interest to our Duke Heart family. Please call with any questions: 919-681-2868. Feedback on Pulse is welcome and encouraged. Submissions by Noon, Wednesdays, to be considered for weekend inclusion.
Duke Heart in the News:
May 12 — Duke Heart
El Heraldo (Honduras)
Brigada regresa al país para aliviar corazones de personas sin recursos
https://duke.is/jtkus
May 15 — Robert Mentz
CBS Mornings
Spirituality can improve outcomes for patients with heart failure (*clip begins @ 01:52:52)
https://duke.is/ykwk3
May 17 — Salim Idriss
Applied Clinical Trials
The Need For Pediatric Clinical Trials and Data
https://duke.is/468ja
May 19 — Sunil Rao
Medpage Today
Distal Radial Artery PCI Access Doesn't Hurt the Hand
https://duke.is/gw6wg
May 20 — Kelly Arps and Larry Jackson
CardioNerds (#208)
Atrial Fibrillation: Epidemiology, Health Equity, & The Double Paradox with Dr. Larry Jackson
Division of Cardiology Publications Indexed in PubMed May 12-18, 2022
Asher WB, Terry DS, Gregorio GGA, Kahsai AW, Borgia A, Xie B, Modak A, Zhu Y, Jang W, Govindaraju A, Huang LY, Inoue A, Lambert NA, Gurevich VV, Shi L, Lefkowitz RJ, Blanchard SC, Javitch JA. GPCR-mediated β-arrestin activation deconvoluted with single-molecule precision. Cell 2022 May 12;185(10):1661-1675.e16. PM: 35483373.
Bhatt AS, Fonarow GC, Greene SJ. Prioritizing prevention of de novo and worsening chronic heart failure. Eur J Heart Fail 2022 Apr;24(4):653-656. PM: 35218135.
Campbell MM, Benjamin DK, Mann T, Fist A, Kim H, Edwards L, Rak Z, Brookhart MA, Anstrom K, Moore Z, Tilson EC, Kalu IC, Boutzoukas AE, Moorthy GS, Uthappa D, Scott Z, Weber DJ, Shane AL, Bryant KA, Zimmerman KO. Test-to-Stay After Exposure to SARS-CoV-2 in K-12 Schools. Pediatrics 2022 May 1;149(5):e2021056045. PM: 35437593.
DeFilippis EM, Blumer V, Mentz RJ, Agarwal R, Haythe JH, Kittleson M. In-Hospital Outcomes in Pregnancy After Heart Transplantation. Am J Cardiol 2022 Jun 1;172:68-72. PM: 35331474.
Eiger DS, Smith J, Shi T, Stepniewski TM, Honeycutt C, Boldizsar N, Gardner J, Tsai CF, Nicora C, Moghieb A, Kawakami K, Choi I, Smith R, Inoue A, Selent J, Jacobs J, Rajagopal S. Phosphorylation barcode ensembles encoded by biased CXCR3 agonists direct non-redundant chemokine signaling. FASEB J 2022 May;36 Suppl 1:10.1096/fasebj.2022.36.S1.0R486. PM: 35554623.
Fordyce CB, Hill CL, Mark DB, Alhanti B, Pellikka PA, Hoffmann U, Patel MR, Douglas PS. Physician judgement in predicting obstructive coronary artery disease and adverse events in chest pain patients. Heart 2022 May 12;108(11):860-867. PM: 35110385.
Gardner J, Eiger D, Boldizsar N, Honeycutt CC, Kirchner S, Hicks C, Choi I, Zheng K, Warman A, Smith J, Zhang J, Rajagopal S. Location Bias Contributes to Functionally Selective Responses of Biased CXCR3 Agonists to Regulate Inflammation. FASEB J 2022 May;36 Suppl 1:10.1096/fasebj.2022.36.S1.0R865. PM: 35555971.
Harrington J, Tseliou E, Shah S, Shah KS. Paying Homage to the Power of Proteomics: Insights Into Obesity and Heart Failure From the HOMAGE Trial. J Card Fail 2022 May;28(5):787-788. PM: 35304349.
Hicks CN, Eiger D, Gardner J, Boldizsar N, Honeycutt C, Choi I, Rajagopal S. Location Bias of G Protein-Coupled Receptor Kinases Promotes Biased Signaling at CXCR3. FASEB J 2022 May;36 Suppl 1:10.1096/fasebj.2022.36.S1.R2182. PM: 35554028.
Kohlmann T, Lee C, Rajagopal S. Determining the Requirements for Gαi:β-arrestin Complex Formation at G Protein-Coupled Receptors. FASEB J 2022 May;36 Suppl 1:10.1096/fasebj.2022.36.S1.R5812. PM: 35554641.
Krychtiuk KA, Granger CB. In older persons at risk for dementia, a multidomain approach reduced stroke and transient ischemic attack. Ann Intern Med 2022 May;175(5):JC55. PM: 35500268.
Krychtiuk KA, Newby LK. Moderna COVID-19 vaccine was linked to myocarditis or myopericarditis at 28 d (4.2 events/100 000 persons). Ann Intern Med 2022 May;175(5):JC58. PM: 35500266.
Lala A, Lopes RD, Mentz RJ. International Collaborations in Heart Failure: JCF in Latin America. J Card Fail 2022 May;28(5):695-696. PM: 35559918.
Lee C, Kohlmann T, Xiong X, Rajagopal S. Regulation of Endothelial Cell function by Integration of Gαi and β-arrestin signaling at Atypical Chemokine Receptor 3. FASEB J 2022 May;36 Suppl 1:10.1096/fasebj.2022.36.S1.R6324. PM: 35554058.
Lewis GD, Docherty KF, Voors AA, Cohen-Solal A, Metra M, Whellan DJ, Ezekowitz JA, Ponikowski P, Böhm M, Teerlink JR, Heitner SB, Kupfer S, Malik FI, Meng L, Felker GM. Developments in Exercise Capacity Assessment in Heart Failure Clinical Trials and the Rationale for the Design of METEORIC-HF. Circ Heart Fail 2022 May;15(5):e008970. PM: 35236099.
Li A, Liu S, Huang R, Ahn S, Lefkowitz RJ. Loss of Biased Signaling Specificity of the Angiotensin II Type 1 Receptor in Overexpressed Systems. FASEB J 2022 May;36 Suppl 1:10.1096/fasebj.2022.36.S1.R2797. PM: 35555965.
Lowenstern A, Alexander KP, Pagidipati NJ, Hill CL, Pellikka PA, Cooper LS, Alhanti B, Hoffmann U, Mark DB, Douglas PS. Presenting Symptoms in Patients Undergoing Coronary Artery Disease Evaluation: Association With Noninvasive Test Results and Clinical Outcomes in the PROMISE Trial. Circ Cardiovasc Qual Outcomes 2022 May;15(5):e008298. PM: 35369715.
Minhas AMK, Ijaz SH, Jamal S, Dani SS, Khan MS, Greene SJ, Fudim M, Warraich HJ, Shapiro MD, Virani SS, Nasir K, Khan SU. Trends in Characteristics and Outcomes in Primary Heart Failure Hospitalizations Among Older Population in the United States, 2004 to 2018. Circ Heart Fail 2022 May;15(5):e008943. PM: 35078346.
Mullens W, Martens P, Testani JM, Tang WHW, Skouri H, Verbrugge FH, Fudim M, Iacoviello M, Franke J, Flammer AJ, Palazzuoli A, Barragan PM, Thum T, Marcos MC, Miró Ò, Rossignol P, Metra M, Lassus J, Orso F, Jankowska EA, Chioncel O, Milicic D, Hill L et al. Renal effects of guideline-directed medical therapies in heart failure: a consensus document from the Heart Failure Association of the European Society of Cardiology. Eur J Heart Fail 2022 Apr;24(4):603-619. PM: 35239201.
Patel JN, Abramov D, Fudim M, Okwuosa IS, Rabkin DG, Chung JS. The heart transplant allocation change attenuates but does not eliminate blood group O waitlist outcome disadvantage. Clin Transplant 2022 May;36(5):e14620. PM: 35213753.
Pham U, Chundi A, Rajagopal S. Distinct Spatial Conformations and Trafficking Patterns of β-arrestin Isoforms in AT1R Signaling. FASEB J 2022 May;36 Suppl 1:10.1096/fasebj.2022.36.S1.L7742. PM: 35559563.
Price MJ, Valderrábano M, Zimmerman S, Friedman DJ, Kar S, Curtis JP, Masoudi FA, Freeman JV. Periprocedural Pericardial Effusion Complicating Transcatheter Left Atrial Appendage Occlusion: A Report From the NCDR LAAO Registry. Circ Cardiovasc Interv 2022 May;15(5):e011718. PM: 35369701.
Razaghizad A, Oulousian E, Randhawa VK, Ferreira JP, Brophy JM, Greene SJ, Guida J, Felker GM, Fudim M, Tsoukas M, Peters TM, Mavrakanas TA, Giannetti N, Ezekowitz J, Sharma A. Clinical Prediction Models for Heart Failure Hospitalization in Type 2 Diabetes: A Systematic Review and Meta-Analysis. J Am Heart Assoc 2022 May 17;11(10):e024833. PM: 35574959.
Remillard TC, Cronley AC, Pilch NA, Dubay DA, Willner IR, Houston BA, Jackson GR, Inampudi C, Ramu B, Kilic A, Fudim M, Wright SP, Hajj ME, Tedford RJ. Hemodynamic and Clinical Determinants of Left Atrial Enlargement in Liver Transplant Candidates. Am J Cardiol 2022 Jun 1;172:121-129. PM: 35341576.
Van Belle E, Patel M, Davies J. Fractional Flow Reserve-Guided PCI as Compared with Coronary Bypass Surgery. N Engl J Med 2022 May 12;386(19):1863-1864. PM: 35544399.
Yaranov DM, Jefferies JL, Silver MA, Burkhoff D, Rao VN, Fudim M. Discordance of Pressure and Volume: Potential Implications for Pressure-Guided Remote Monitoring in Heart Failure. J Card Fail 2022 May;28(5):870-872. PM: 35158025.
Zeitouni M, Marquis-Gravel G, Smilowitz NR, Zakroysky P, Wojdyla DM, Amit AP, Rao SV, Wang TY. Prophylactic Mechanical Circulatory Support Use in Elective Percutaneous Coronary Intervention for Patients With Stable Coronary Artery Disease. Circ Cardiovasc Interv 2022 May;15(5):e011534. PM: 35580202.
Zhang Y, Kontos CD, Annex BH, Popel AS. Endothelial Regulation of Microvascular Growth and Stability by Ang-Tie and VEGF Signaling Pathways: A Mechanistic Computational Systems Biology Model. FASEB J 2022 May;36 Suppl 1:10.1096/fasebj.2022.36.S1.R2072. PM: 35560284.
Zhu H, Yin X, Holley CL, Meyer KD. Improved Methods for Deamination-Based mA Detection. Front Cell Dev Biol 2022 Apr 27;10:888279. PM: 35573664.