Highlights of the week:
Wang Receives Lifetime Achievement Award at QCOR22
Congratulations to Tracy Y. Wang, MD, professor of medicine in cardiology, director of Health Services & Outcomes Research, and Duke Clinical Research Institute member, has received the American Heart Association's Council on Quality of Care and Outcomes Research (QCOR) 2022 Outstanding Lifetime Achievement Award! The award was presented earlier this weekend during the QCOR Scientific Sessions (May 13-14) in Reston, VA. Wang gave the keynote address.
The QCOR lifetime achievement award is presented to a QCOR council member for their significant long-term contributions to outcomes research and the improvement of cardiovascular care. Candidates are selected annually by QCOR's nominating committee and the winner is selected by their leadership committee.
"Well, I guess this award makes me officially old now," said Wang ahead of the award presentation. "Duke has such a unique environment that has allowed me to explore my interests and grow in delightfully unexpected ways. I've benefited from incredible mentorship, and am rejuvenated daily working alongside creative younger minds who want to make a difference in how we take care of patients."
She received a number of accolades on Twitter, including:
"There's no smarter researcher, more supportive mentor, or better human being in cardiology." – Alex Fanaroff, MD, former Duke cardiology fellow.
"She is a brilliant physician scientist, and more importantly a truly wonderful person. Well deserved. Just wondering what she'll do with the second half of her life???" — Women as One
"Exceptional clinician, researcher, educator, leader, sponsor, mentor, and friend." — Vanessa Blumer, MD, Duke cardiology fellow.
"Such a well-deserved honor. Had to travel to Reston VA to see her IRL!"– Rob Mentz, MD
In addition to Wang, a number of current and former Duke faculty and fellows presented at QCOR including Emily O'Brien, Lesley Curtis, Alex Fanaroff, Mike Nanna, Jenn Rymer, Ajar Kochar, Rob Mentz, Vanessa Blumer, and Stephen Greene.
A perspective piece by Wang – "Mentorship and the Leaky Pipeline in Academic Cardiology" — was published in Circulation: Cardiovascular Quality and Outcomes during her award speech on Friday. A link to it can be found here: https://duke.is/yy65w.
Congratulations, Tracy! We are so proud of you – way to go!
Update: High-Sensitivity Troponin I (hsTnI), Effective 5/17 at DUH
Beginning May 17, 2022, High-Sensitivity Troponin I (hsTnI) will replace the current High-Sensitivity Troponin T test at Duke University Hospital. There will be no fundamental changes to the hsTn algorithm, results/interpretations reporting, or ordering. The hsTnI numerical thresholds are nearly identical to those for hsTnT, and the interpretations and disposition guidance that go with them will be available as currently and are unchanged.
Additional information is available through the following links:
High Sensitivity Troponin I for Providers: https://intranet.dh.duke.edu/sites/MaestroCare/Maestro%20Care%20Training%20Supplements/High%20Sensitivity%20Troponin%20I%20for%20Providers.pdf
Troponin I Smarttext tipsheet (PPT): https://intranet.dh.duke.edu/sites/MaestroCare/Maestro%20Care%20Training%20Supplements/Troponin%20I%20Smarttext%20tipsheet.pptx?d=wb2ba5706a7da4939bd620ddc971b5d21
SOM Faculty Awards Dinner Honors 2020-2022 Awardees
The Duke School of Medicine annual faculty awards dinner was held this week at the Sarah Duke Gardens. A number of Duke Heart faculty members were in attendance, including Cary Ward, Carmelo Milano and Manesh Patel – our 2022 awardees. Due to the pandemic, the awards dinner had not been held in person for two years. Awardees for 2020 or 2021 were invited to join the festivities. A recap of our current and past awardees: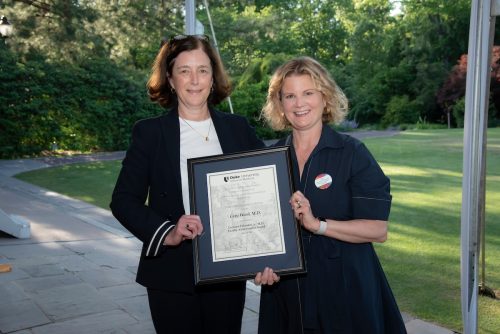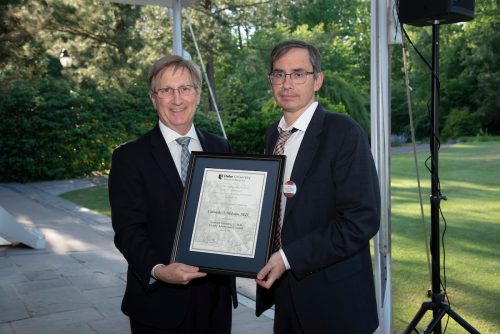 Ward and Milano were co-winners of the 2022 Palumbo award which recognizes dedication to compassionate patient care and excellence in the teaching and mentoring of young physicians.
Manesh Patel received the 2022 Career Mentoring Award in Clinical Research/Population Health.
2021: Kevin Thomas was the recipient of the Excellence in Professionalism Award, which recognizes the importance of promoting ethical and professional behavior in our community.
2021: Robert Mentz received the Early Career Research Mentoring Award in Clinical/Population Health Science.
2021: Terry Fortin received the Master Clinician/Teacher Award, which honors individuals with superlative accomplishment and service in the areas of clinical care and teaching
2020: Larry Crawford received the Excellence in Professionalism Award. As noted above, the award is given to a faculty member that exemplifies ethical and professional behavior in our community. Recipients represent Duke's guiding principles of respect, trustworthiness, diversity, teamwork, and learning.
2020: Mike Sketch received the Leonard Tow Humanism in Medicine Award.
2020: Tracy Wang received the Early Career Mentoring Award in Clinical/Population Health Science.
We are so proud of each one of you. Congratulations!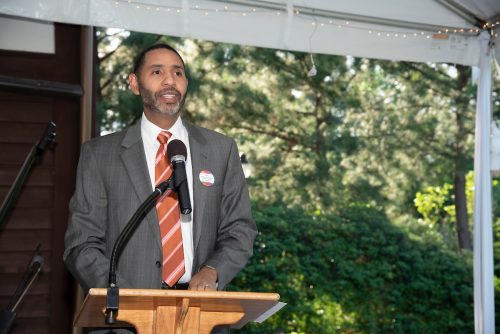 2022 AATS Underway in Boston
The American Association for Thoracic Surgery's 102nd annual meeting is underway in Boston (May 14-17) and we're giving a shout-out to all Duke team members in attendance!
A very special congratulations to Jeff Gaca, MD and Jacob Klapper, MD – both surgeons were elected to AATS and officially inducted this weekend. Such great news! Founded in 1917, the American Association for Thoracic Surgery (AATS), is comprised of more than 1,500 of the world's foremost cardiothoracic surgeons from 46 countries. We are excited for both of them.
We'll have coverage of key Duke presentations next weekend.
Arlene Martin Departs Fellowship Program
We are saddened to have said goodbye to one of our long-term Duke Heart team members this week. Arlene Martin, our wonderful GME program coordinator for the Cardiovascular Disease fellowship, the Advanced Training in Cardiology fellowship, and the Clinical Investigator Pathway-Cardiovascular Disease fellowship has left Duke in order to focus on family needs. Her last day with us was May 11.
Arlene has worked closely with the fellowship program for more than a decade — and it's hard to imagine the fellowship program without her. She has done an incredible job for us and for our fellows!
From Anna Lisa Chamis, MD, current program director:
"Arlene has diligently served as program coordinator for multiple Division of Cardiology fellowships since 2011. During that time, she supported 9 program directors and ~140 trainees.  Notably, she helped launch 2 new ACGME fellowship programs at Duke and spearheaded the initial site accreditation for those programs. Arlene also worked tirelessly to help us apply for grants/ external funding to support our fellowship programs, assisting in the acquisition of $2.3 million in salary and benefits for our fellowship programs during her tenure. Not surprisingly, she was awarded the 2015-2016 Fellows' staff service award. Personally, Arlene has taught me so much about the administrative regulations and policies surrounding our programs, and I am grateful to have benefitted from her vast knowledge and experience."
From Andrew Wang, MD:
"Arlene actually began her work at Duke as my administrative assistant, but helped with tasks for the previous program coordinator too.  When the program coordinator role became available, she expressed her interest, applied, and was clearly the most qualified candidate (even with little knowledge of ACGME requirements at that time).  In nearly 10 years of working with her as our program coordinator, she was dedicated to improving our program as well as the experience and environment for our fellows. She made important and lasting improvements in our fellowship program. She brought our program from the "paper chart" era to the electronic era. She took on new responsibilities and learned new skills, including grant-writing to support our fellows, with rapid adeptness and competency. In all of her work, she demonstrates a strong sense of ownership, conscientiousness, timeliness, and high quality. I wish her the best in her future endeavors and thank her for her support and contributions to our fellowship program."
From Svati Shah, MD:
"Arlene has done an incredible job as the Cardiology Fellowship Program Director! I had the honor of being an Associate Program Director with Arlene for many years. She has balanced the intense responsibilities of this job beautifully. She did so much work quietly behind the scenes to make sure we had a robust (and compliant!) fellowship. I am so grateful for how much she taught me and helped me grow as an APD.  She will be greatly missed."
From Amanda Coniglio, MD, (outgoing chief cardiology fellow)
"Arlene has always gone above and beyond to make sure the fellows and program were supported. She has paid meticulous attention to detail and has always been quick to help when needed. She will be greatly missed!"
From Christopher Wrobel, MD (incoming chief cardiology fellow):
"Arlene has been an invaluable asset to the fellowship. She has superhuman organizational prowess that I hope to have a fraction of some day. She has always been understanding of my (occasional) lapses, and gently guided me on the road to full compliance. I know I and all of the other fellows will remain greatly indebted to Arlene for all of her work over the years. We will miss you greatly Arlene!"
She truly has been a behind-the-scenes person helping make "all the things" happen. Thank you so much for all you've done for us, Arlene! We wish you all the best!
ICYMI: Frazier-Mills Interviewed by HeartRhythm TV
Camille Frazier-Mills, MD appears in a recent episode of the Women in EP – Mentorship Series on HeartRhythm TV (YouTube). The topic last weekend was Heart Rhythm Society DEI Council: Inclusion Series, Closing the Sex Gap. She was interviewed along with Annabelle Volgman of Rush University Medical Center. Among other factors, Frazier Mills says early exposure and mentorship are key to getting more women to specialize in electrophysiology. This is definitely worth watching! Check it out here: https://duke.is/ru8mb.
D'Amico Named Associate Editor, Annals of Surgery
Congratulations to Thomas D'Amico, MD, the Gary Hock Endowed Professor of Surgery and Chief, Section of General Thoracic Surgery in the Division of Cardiovascular and Thoracic Surgery. He was recently named associate editor for thoracic surgery for the journal Annals of Surgery. D'Amico is currently serving a two-year term as medical director of the AATS.
Dresher & Rao Presented CGR
We had two terrific cardiology grand rounds presentations this past week. On Tuesday, cardiology fellow Caitlin Dresher presented on coronary CTOs and cardiac MRI, and on Thursday, cardiology fellow Vishal Rao presented on gaps in care delivery and phenotyping across the spectrum of heart failure along with strategies for improvement. Nicely done!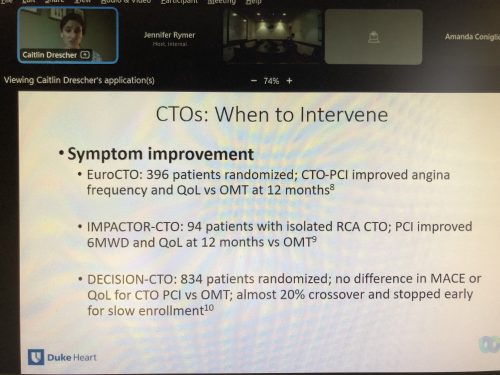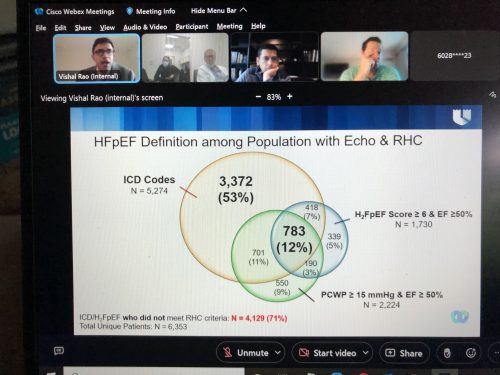 Nurses Week 2022: Our 1st Daisy Award!
We want to close out Nurses Week with another round of thanks to all our terrific Duke Heart nurses! We hope you enjoyed some of the special events that were held to celebrate you this past week. Shown here are Duke Heart CVSSU RNs enjoying mid-morning Coffee Cart with Mary Lindsay and Joe Kelly!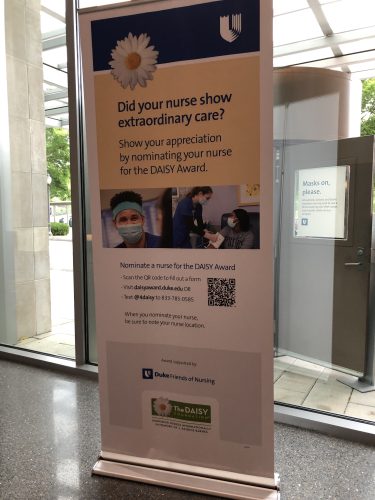 In other great news this week, we learned that Zac Snell, RN on 6East has received the first DAISY Award for the Heart Center! The awards are given by the Daisy Foundation, which is an international foundation that was formed in November 1999 by the family of J. Patrick Barnes, a patient who passed away due to complications of Idiopathic Thrombocytopenic Purpura (ITP). The nursing care that Patrick received when hospitalized profoundly touched his family; they launched the Foundation in his memory. Nurses who demonstrate extraordinary and compassionate care are nominated by patients and family members.
Zac is pictured below with 6E team members, Heart Center leadership, and leadership from DUH. Great job, Zac! Well done.
The week culminated with the annual Friends of Nursing Gala, which was held last night. We will have coverage of all Duke Heart winners and photos next weekend!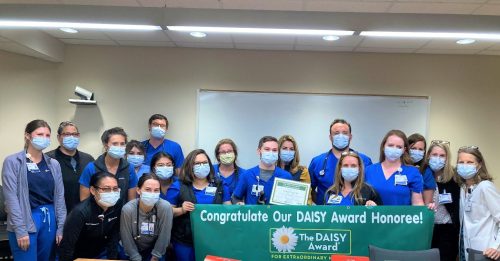 COVID-19 Update
All the latest Clinical Operations updates related to COVID can be found at https://covid-19.dukehealth.org. Patient-facing resources on DukeHealth.org can be found here: https://www.dukehealth.org/covid-19-update/resources. Duke University maintains a resource page as well, which can be accessed here: https://coronavirus.duke.edu/updates/for-staff.
Upcoming Events & Opportunities
Have news to share?
If you have news to share with the Pulse readership, please contact Tracey Koepke, director of communications for Duke Heart at tracey.koepke@duke.edu. We would love to hear about your latest accomplishments, professional news, cool happenings, and any events or opportunities that may be of interest to our Duke Heart family. Please call with any questions: 919-681-2868. Feedback on Pulse is welcome and encouraged. Submissions by Noon, Wednesdays, to be considered for weekend inclusion.
Duke Heart in the News:
May 10 — Duke Hospital, Duke Regional, Duke Raleigh
Newsobserver.com
NC claims top spot for nation's safest hospitals. See how Triangle hospitals rank
https://duke.is/n7dts
May 10 — Richard Shannon and Beverly Gray
CBS17.com
Duke Health doctors worry about abortion ban impacts
https://duke.is/5pv96
May 12 — Michelle Kelsey
CBS17.com/WNCN
How you brew coffee could impact your cholesterol, research shows
https://duke.is/bjdvy
Division of Cardiology Publications Indexed in PubMed April 28 – May 11, 2022
Ahmed F, Abid M, Maniya T, Usman MS, Fudim M.Incidence and prognosis of COVID-19 amongst heart transplant recipients: a systematic review and meta-analysis. Eur J Prev Cardiol 2022;29(6):e224-e226. PM: 34757386.
Alenezi F, Covington TA, Mukherjee M, Mathai SC, Yu PB, Rajagopal S. Novel Approaches to Imaging the Pulmonary Vasculature and Right Heart. Circ Res 2022;130(9):1445-1465. PM: 35482838.
Anand SS, Hiatt W, Dyal L, Bauersachs R, Berkowitz SD, Branch KRH, Debus S, Fox KAA, Liang Y, Muehlhofer E, Nehler M, Haskell LP, Patel M, Szarek M, Yusuf S, Eikelboom J, Bonaca MP. Low-dose rivaroxaban and aspirin among patients with peripheral artery disease: a meta-analysis of the COMPASS and VOYAGER trials. Eur J Prev Cardiol 2022;29(5):e181-e189. PM: 34463737.
Andonian BJ, Koss A, Koves TR, Hauser ER, Hubal MJ, Pober DM, Lord JM, MacIver NJ, St Clair EW, Muoio DM, Kraus WE, Bartlett DB, Huffman KM. Rheumatoid arthritis T cell and muscle oxidative metabolism associate with exercise-induced changes in cardiorespiratory fitness. Sci Rep 2022;12(1):7450. PM: 35523821.
Assimon MM, Pun PH, Al-Khatib SM, Brookhart MA, Gaynes BN, Winkelmayer WC, Flythe JE. Proton pump inhibitors may enhance the risk of citalopram- and escitalopram-associated sudden cardiac death among patients receiving hemodialysis. Pharmacoepidemiol Drug Saf 2022;31(6):670-679. PM: 35285107.
Bachour K, Dodge SE, Kearing S, Douglas PS, Wong S, Coylewright M. Predicting When Women Will Achieve Equitable Representation in Four Specialties: The WHEN Study. Am J Med 2022;135(5):650-653. PM: 35134367.
Baggish AL, Chang CJ, Drezner JA, Harmon KG, Kraus WE, Matuszak J, Wasfy MM. ACSM-AMSSM Call to Action: Adapting Preparticipation Cardiovascular Screening to the COVID-19 Pandemic. Curr Sports Med Rep 2022;21(5):159-162. PM: 35522440.
Bernstein E, Wang TY. Point-of-Care Ultrasonography: Clearly More Than a Pretty Picture-Reply. JAMA Intern Med 2022;182(5):568. PM: 35285852.
Blankstein R, Shaw LJ, Gulati M, Atalay MK, Bax J, Calnon DA, Dyke CK, Ferencik M, Heitner JF, Henry TD, Hung J, Knuuti J, Lindner JR, Phillips LM, Raman SV, Rao SV, Rybicki FJ, Saraste A, Stainback RF, Thompson RC, Williamson E, Nieman K, Tremmel JA, et al. Implications of the 2021 AHA/ACC/ASE/CHEST/SAEM/SCCT/SCMR Chest Pain Guideline for Cardiovascular Imaging: A Multisociety Viewpoint. JACC Cardiovasc Imaging 2022;15(5):912-926. PM: 35512960.
De Caterina R, Patti G, Westerbergh J, Horowitz J, Ezekowitz JA, Lewis BS, Lopes RD, McMurray JJV, Atar D, Bahit MC, Keltai M, López-Sendón JL, Ruzyllo W, Granger CB, Alexander JH, Wallentin L. Heterogeneity of diabetes as a risk factor for major adverse cardiovascular events in anticoagulated patients with atrial fibrillation: an analysis of the ARISTOTLE trial. Eur Heart J Cardiovasc Pharmacother 2022;8(3):227-235. PM: 33367487.
Frankel DS, Dechert-Crooks BE, Campbell K, DeSimone CV, Etheridge S, Harvey M, Lampert R, Nayak HM, Saliba WI, Shea J, Thomas J, Zado E, Daubert JP. 2021 HRS Educational Framework for Clinical Cardiac Electrophysiology. Heart Rhythm O2 2022 Apr 15;3(2):120-132. PM: 35496459.
Freeman JV, Higgins AY, Wang Y, Du C, Friedman DJ, Daimee UA, Minges KE, Pereira L, Goldsweig AM, Price MJ, Reddy VY, Gibson D, Doshi SK, Varosy PD, Masoudi FA, Curtis JP. Antithrombotic Therapy After Left Atrial Appendage Occlusion in Patients With Atrial Fibrillation. J Am Coll Cardiol 2022;79(18):1785-1798. PM: 35512858.
Friedman DJ, Du C, Wang Y, Agarwal V, Varosy PD, Masoudi FA, Holmes DR, Reddy VY, Price MJ, Curtis JP, Freeman JV. Patient-Level Analysis of Watchman Left Atrial Appendage Occlusion in Practice Versus Clinical Trials. JACC Cardiovasc Interv 2022;15(9):950-961. PM: 35512918.
Fudim M, Kaye DM, Borlaug BA, Shah SJ, Rich S, Kapur NK, Costanzo MR, Brener MI, Sunagawa K, Burkhoff D. Venous Tone and Stressed Blood Volume in Heart Failure: JACC Review Topic of the Week. J Am Coll Cardiol 2022;79(18):1858-1869. PM: 35512865.
Goldberg LR, Jorbenadze A, Shaburishvilli T, Mirro MJ, Fudim M, Zuber M, Stämpfli SF, Tanner FC, Erne P, Cleland JG. Synchronized diaphragmatic stimulation: a case report of a novel extra-cardiac intervention for chronic heart failure. ESC Heart Fail 2022;9(3):1677-1681. PM: 35297198.
Harskamp RE, Lucassen WAM, Lopes RD, Himmelreich JCL, Parati G, Weert HCPMV. Risk of stroke and bleeding in relation to hypertension in anticoagulated patients with atrial fibrillation: a meta-analysis of randomised controlled trials. Acta Cardiol 2022;77(3):191-195. PM: 33685380.
Jain V, Minhas AMK, Khan SU, Greene SJ, Pandey A, Van Spall HGC, Fonarow GC, Mentz RJ, Butler J, Khan MS. Trends in HF Hospitalizations Among Young Adults in the United States From 2004 to 2018. JACC Heart Fail 2022;10(5):350-362. PM: 35483798.
Jimenez Contreras F, Mendiola Pla M, Schroder J, Bryner B, Agarwal R, Russell SD, Mirza J, Daneshmand MA, Milano C. Progression of aortic valve insufficiency during centrifugal versus axial flow left ventricular assist device support. Eur J Cardiothorac Surg 2022;61(5):1188-1196. PM: 35167677.
Kelsey MD, Nelson AJ, Green JB, Granger CB, Peterson ED, McGuire DK, Pagidipati NJ. Guidelines for Cardiovascular Risk Reduction in Patients With Type 2 Diabetes: JACC Guideline Comparison. J Am Coll Cardiol 2022;79(18):1849-1857. PM: 35512864.
Malenka DJ, Bhatt DL, Bradley SM, Shahian DM, Draoui J, Segawa CA, Koutras C, Abbott JD, Blankenship JC, Vincent R, Windle J, Tsai TT, Curtis J, Roe M, Masoudi FA. The National Cardiovascular Data Registry Data Quality Program 2020: JACC State-of-the-Art Review. J Am Coll Cardiol 2022;79(17):1704-1712. PM: 35483759.
Manichaikul A, Lin H, Kang C, Yang C, Rich SS, Taylor KD, Guo X, Rotter JI, Craig Johnson W, Cornell E, Tracy RP, Peter Durda J, Liu Y, Vasan RS, Adrienne Cupples L, Gerszten RE, Clish CB, Jain D, Conomos MP, Blackwell T, Papanicolaou GJ, Rodriguez A. Lymphocyte activation gene-3-associated protein networks are associated with HDL-cholesterol and mortality in the Trans-omics for Precision Medicine program. Commun Biol 2022;5(1):362. PM: 35501457.
Muiruri C, Corneli A, Cooper L, Dombeck C, Gray S, Longenecker CT, Meissner EG, Okeke NL, Pettit AC, Swezey T, Vicini J, Bloomfield GS. Perspectives of HIV specialists and cardiologists on the specialty referral process for people living with HIV: a qualitative descriptive study. BMC Health Serv Res 2022;22(1):623. PM: 35534889.
Narcisse DI, Katzenberger DR, Gutierrez JA. Contemporary Medical Therapies for Patients with Peripheral Artery Disease and Concomitant Type 2 Diabetes Mellitus: a Review of Current Evidence. Curr Cardiol Rep 2022;24(5):567-576. PM: 35201560.
Nelson AJ, Haynes K, Shambhu S, Eapen Z, Cziraky MJ, Nanna MG, Calvert SB, Gallagher K, Pagidipati NJ, Granger CB      . High-Intensity Statin Use Among Patients With Atherosclerosis in the U.S. J Am Coll Cardiol 2022;79(18):1802-1813. PM: 35512860.
Piccini JP, Arps K. Sacubitril/Valsartan Therapy for AF and HFpEF: Is the Glass Half Empty or Half Full? JACC Heart Fail 2022;10(5):347-349. PM: 35483797.
Roselli C, Yu M, Nauffal V, Georges A, Yang Q, Love K, Weng LC, Delling FN, Maurya SR, Schrölkamp M, Tfelt-Hansen J, Hagège A, Jeunemaitre X, Debette S, Amouyel P, Guan W, Muehlschlegel JD, Body SC, Shah S, Samad Z, Kyryachenko S, Haynes C, Rienstra M, et al. Genome-wide association study reveals novel genetic loci: a new polygenic risk score for mitral valve prolapse. Eur Heart J 2022;43(17):1668-1680. PM: 35245370.
Rymer JA, Gutierrez JA. Challenges in Peripheral Artery Disease Clinical Trial Implementation and Design. Can J Cardiol 2022;38(5):699-702. PM: 35074414.
Salah HM, Levin AP, Fudim M. Updates from the American Heart Association Scientific Sessions: cardiovascular pharmacotherapy. Eur Heart J Cardiovasc Pharmacother 2022;8(3):E4-E6. PM: 34864960.
Selvaraj S, Margulies KB, Dugyala S, Schubert E, Tierney A, Arany Z, Pryma DA, Shah SH, Rame JE, Kelly DP, Bravo PE. Comparison of Exogenous Ketone Administration Versus Dietary Carbohydrate Restriction on Myocardial Glucose Suppression: A Crossover Clinical Trial. J Nucl Med 2022;63(5):770-776. PM: 34675108.
Sidhu MS, Alexander KP, Huang Z, O'Brien SM, Chaitman BR, Stone GW, Newman JD, Boden WE, Maggioni AP, Steg PG, Ferguson TB, Demkow M, Peteiro J, Wander GS, Phaneuf DC, De Belder MA, Doerr R, Alexanderson-Rosas E, Polanczyk CA, Henriksen PA, Conway DSG, et al. Causes of cardiovascular and noncardiovascular death in the ISCHEMIA trial. Am Heart J 2022;248:72-83. PM: 35149037.
Smith PJ, Sherwood A, Hinderliter AL, Mabe S, Tyson C, Avorgbedor F, Watkins LL, Lin PH, Kraus WE, Blumenthal JA. Cerebrovascular Function, Vascular Risk, and Lifestyle Patterns in Resistant Hypertension. J Alzheimers Dis 2022;87(1):345-357. PM: 35275539.
Spertus JA, Mack MJ, Ohman EM. Improving the National Cardiovascular Data Registry's Value to Elevate the Quality of Cardiovascular Care. J Am Coll Cardiol 2022;79(17):1713-1716. PM: 35483760.
Spitzer E, Fanaroff AC, Gibson CM, Seltzer J, McFadden E, Ali M, Wilson M, Menon V, Mehran R, Held C, Mahaffey KW, Lopes RD. Independence of clinical events committees: A consensus statement from clinical research organizations. Am Heart J 2022;248:120-129. PM: 35296411.
Tanaka A, Hebert AM, Smith-Washington A, Hoffstaetter T, Goldenberg R, Vemulapalli S, Del Río-Solá L, Arnaoutakis GJ, Mussa F, Ota T. Knowledge gaps in surgical management for aortic dissection. Semin Vasc Surg 2022;35(1):35-42. PM: 35501039.
Verma S, Rathwell S, Fremes S, Zheng Y, Mehta R, Lopes RD, Alexander JH, Goodman SG, Diepen SV. Associated factors and clinical outcomes in mechanical circulatory support use in patients undergoing high risk on-pump cardiac surgery: Insights from the LEVO-CTS trial. Am Heart J 2022;248:35-41. PM: 35263653.
Wang A, Fosbøl EL. Current recommendations and uncertainties for surgical treatment of infective endocarditis: a comparison of American and European cardiovascular guidelines. Eur Heart J 2022;43(17):1617-1625. PM: 35029274.
Wegermann ZK, Mack MJ, Arnold SV, Thompson CA, Ryan M, Gunnarsson C, Strong S, Cohen DJ, Alexander KP, Brennan JM. Anxiety and Depression Following Aortic Valve Replacement. J Am Heart Assoc 2022;11(9):e024377. PM: 35470691.
Wilson BS, Tucci DL, Moses DA, Chang EF, Young NM, Zeng FG, Lesica NA, Bur AM, Kavookjian H, Mussatto C, Penn J, Goodwin S, Kraft S, Wang G, Cohen JM, Ginsburg GS, Dawson G, Francis HW. Harnessing the Power of Artificial Intelligence in Otolaryngology and the Communication Sciences. J Assoc Res Otolaryngol 2022;23(3):319-349. PM: 35441936.