Chief's message:
Mother's Day and appreciating the Moms in our Lives!
Mother's Day around Duke and UNC is also noted for college, medical school, and post-graduate degree graduations.  It is a good tradition allowing family's to relish an important milestone and provide the opportunity to consider the influence mothers have on our lives.We hope that you all got to spend some time with the ones you love appreciate all the moms out in the Duke Heart community and the lessons of love, kindness, and selfless devotion they have on us all. Mothers come in many iterations – to those we are blessed to have among us, and those who have passed before us — we hope this has been a wonderful weekend for all!
Highlights of the Week.
Harrington gives Medicine Grand Rounds as Joseph C. Greenfield Visiting Professor
We welcomed Robert Harrington, chair of the Department of Medicine at Stanford, back to campus this week as the Joseph C. Greenfield Visiting Professor. His lecture, Cardiovascular Medicine as a Data Science was presented during Medicine Grand Rounds on Friday.  It was great to see so many residents, faculty and fellows that could attend. Bob Harrington was able to provide an amazing over-arching view of not only how medicine has become a data science field, but more importantly providing many examples of how clinicians and data scientists are interacting to do clinical research, engage patients, and deliver care.  It was a fun to have Bob revisit the cath lab, the clinical wards, work with our residents and fellows to discuss how we can continue to improve medicine.  The innovation on getting data science and information at the point of care at Stanford Medicine was quite impressive.
Nafissi Grand Rounds Presentations
Navid Nafissi gave an excellent presentation this week during Cardiology Grand Rounds on Tuesday evening. His topic was "Precision Medicine in Arrhythmias: Not Your Daddy's Long QT". In keeping with the data science theme – Navid highlighted how our understanding of arrhythmias and the genetic and clinical correlates is exploding requiring a broad set of skills for clinicians in this area.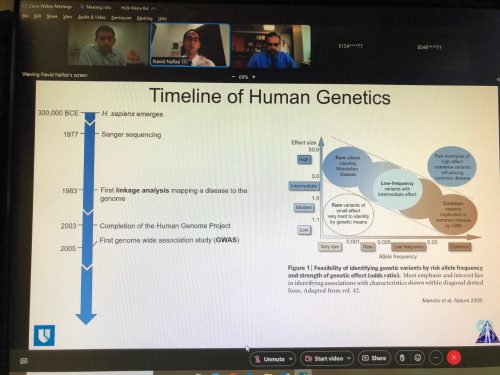 Nurses Week 2022
It's Nurses Week, 2022 (May 6-12)! On behalf of Duke Heart, we would like to recognize each of our nurses for their professiona
l accomplishments and contributions in caring for Duke Heart patients over the past year. This year continues to be challenging with the ongoing COVID pandemic and more patients than ever in need of the highly specialized care that only the Duke Heart team can provide.
Duke Heart Nurses are foundational to Duke's ability to provide best-in-class heart care. Each of our nurses have been a part of many firsts in the U.S. and at Duke. These firsts include caring for patients and partnering with our cardiology and cardiac surgery providers in landmark clinical trials including the TransMedics DCD trials and the implant of the first-in-U.S. Carmat total artificial heart last summer. At Duke University Hospital, Duke Heart Nurses supported bed and tower expansion, growth of CICU and cardiology beds and grew the emergency response teams including the addition of a Behavioral Response team. Our outpatient teams continued to support our patients and families using new technologies and approaches, including enhanced telehealth and mobile cardiac rehabilitation. None of these accomplishments would be possible without the amazing care across our outpatient, rehabilitation, procedural, and diagnostic teams and the inpatient cardiology and surgical units.
In the midst of a busy clinical year, each of them continued to show tremendous compassion for not only Duke patients and families but also each other and our community. The Duke Heart Nursing team possesses unmatched talent, dedication and teamwork that exemplifies living the Duke Values.
Kudos and Thank you!
Celebrating Perfusionists!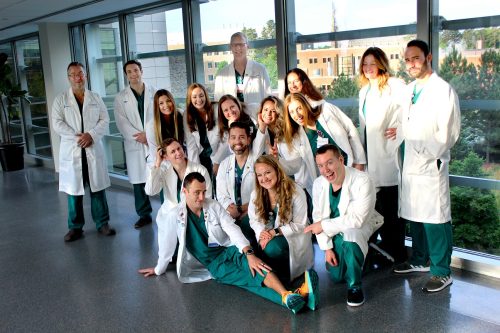 Our Duke Perfusion team, one of the largest in the country, has a scope of practice inclusive of cardiopulmonary bypass, extracorporeal support, mechanical circulatory support, and autotransfusion for adult and pediatric patients. Areas of expertise include major aortic surgery, advanced heart failure, heart and lung transplantation, minimally invasive and robotic surgery, blood conservation, surgical oncology, and complex congenital surgery. Our team has been involved in multiple groundbreaking innovations including Transmedics OCS heart procurements, cutting-edge mechanical support and laboratory research.  Duke perfusionists are nationally recognized leaders in the field and serve as clinical instructors for four perfusion schools.
The Duke Perfusion team is devoted to our community and engages in multiple outreach and service initiatives each year. To celebrate Perfusion Week (May 1-7), the team volunteered with Habitat Build.
An outstanding group in any year, this team has put in an incredible effort during the pandemic and we are extremely proud of them. Great job!!!
Kudos to Hughes & Burkett
We received the following note this week via Press Ganey in regard to care provided to a patient by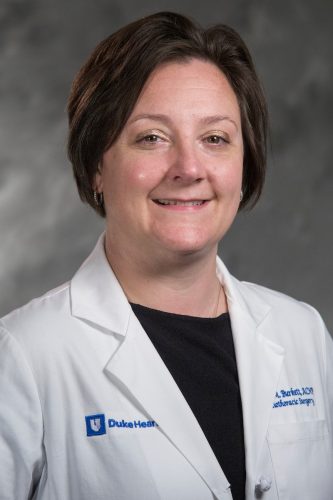 Chad Hughes and Melissa Burkett:
"I would like to comment on Dr. Hughes first, then his assistant Melissa. I doubt anything I say hasn't been said before about Dr. Hughes or Melissa, but perhaps substantiates comments made by others. I found both of these professionals to be world class. Dr. Hughes reminds me of a military special operator or fighter pilot I have met and worked with in my career. I know the personality well. Dr. Hughes is laser focused, precise, and highly motivated. He's EXACTLY what you would want in a surgeon. The bonus is he puts you at ease immediately. Perhaps it's his demeanor or level of confidence, but make no mistake you know when talking with him he knows his craft very well. He's obviously highly trained and skilled. I would venture to guess if medicine had not called him, he would have been a Green Beret, Navy SEAL, or fighter pilot. And if you were going into an operation, you would want him on your TEAM.  He's on point, and will get the job done better than probably 99.9% of surgeons in the world (that's my after-action report). Generally, you cannot help but like the guy. And his assistant, Melissa, who must work a crazy schedule, always manages to follow up with every question or concern you may have. I am not sure what anyone would expect or want in a medical care TEAM. Perhaps Dr. Hughes and Melissa are the special forces of Duke Medical." — A grateful patient, name withheld for confidentiality
"THANK YOU for the great things you are doing for our patients every day!" — Jamie Hilton, Nurse Manager, Operations
Well done, Chad & Melissa!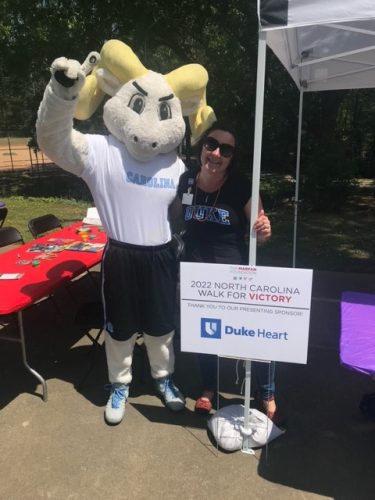 ACC Leadership Academy Held
The ACC Emerging Faculty Leadership Academy was held May 1-3 at Heart House in Washington, DC. Four invited participants had ties to Duke Heart. Here they are together, shown L-R are:  Tony Gutierrez, Lauren Cooper, cardiology fellow from 2012-2016; Kristen Campbell, clinical pharmacist with Duke EP, and Kelly Schlendorf, advanced heart failure fellow, 2011 – 2012. Congrats to all of you and a hat tip to Kristen Campbell for the photo!
Tannu Recognized by ASE Foundation
We are pleased to share that Manasi Tannu, a first-year cardiology fellow, has been recognized by the ASE Foundation with a Top Investigator Travel Grant.
We received a message from Fawaz Alenezi this week that read, "Our Duke echo lab abstracts that are led by our phenomenal fellow Manasi Tannu have been recognized as the ASE Foundation Top Investigators and will receive $1000 to support travel to attend the ASE meeting. The selected abstracts are:
Echocardiography based estimation of pulmonary vascular resistance and outcomes in patients with pulmonary hypertension.
Prognostic value of right ventricular-pulmonary artery coupling in patients with pulmonary hypertension.
The ASE Foundation is the philanthropic arm of the American Society of Echocardiography. Each year, the ASE Foundation works with the ASE Scientific Sessions Abstract Chairs to identify meritorious early career abstract presenters. The selected presenters are recognized as the ASE Foundation Top Investigators and each receives a travel grant in the amount of $1,000 (U.S. currency) to support their travel to attend the ASE meeting and present their accepted abstract(s).
In the announcement letter to Tannu, Andrea M. Van Hoever, Deputy Director of the ASE Foundation wrote, "Young investigators such as yourself are the scientific heart and future of ASE's annual meeting. We are honored to be able to support your attendance and look forward to seeing you in Seattle."
Way to go, Manasi!
COVID-19 Update
All the latest Clinical Operations updates related to COVID can be found at https://covid-19.dukehealth.org. Patient-facing resources on DukeHealth.org can be found here: https://www.dukehealth.org/covid-19-update/resources. Duke University maintains a resource page as well, which can be accessed here: https://coronavirus.duke.edu/updates/for-staff.
Upcoming Events & Opportunities
Cardiology Grand Rounds
May 10: Coronary CTOs and Cardiac MRI: The Duke Experience with Caitlin Dresher. 5 p.m., Webex.
May 12: Mind the Gaps: Novel Strategies for Care Delivery and Phenotyping Across the Spectrum of Heart Failure with Vishal Rao. 5 p.m., Webex link coming soon.
Have news to share?
If you have news to share with the Pulse readership, please contact Tracey Koepke, director of communications for Duke Heart at tracey.koepke@duke.edu. We would love to hear about your latest accomplishments, professional news, cool happenings, and any events or opportunities that may be of interest to our Duke Heart family. Please call with any questions: 919-681-2868. Feedback on Pulse is welcome and encouraged. Submissions by Noon, Wednesdays, to be considered for weekend inclusion.
Duke Heart in the News:
April 28 — Manesh Patel
Healio/Cardiology
Asundexian confers lower bleeding rates vs. apixaban for stroke prevention in AF
https://duke.is/wjqbn
April 29 — Manesh Patel
HCP Live
Overview of Polyvascular Disease and Coronary Artery Disease
https://duke.is/pu7nq
April 29 — Jonathan Piccini
Cardiac Rhythm News
New data from STROKE AF trial shared at HRS 2022
https://duke.is/r8t5u
May 1 — Jonathan Piccini
Cardiovascular Business
STROKE AF study shows insertable cardiac monitors detect 4 times more AFib than Holter monitoring
https://duke.is/6tmma
May 1 — James Daubert
MedpageToday
Menstrual Cycles Point to Link Between Sex Hormones and Long QT
https://duke.is/5yp7j
May 1 — Joseph Turek
WCBS-NY (Radio)
Breakthrough could mean end of anti-rejection drugs for transplant patients
https://duke.is/nhtkd
May 2 — Sana Al-Khatib
Medscape
Apple Watch ECG App, Still Experimental, Reveals Asymptomatic Low LVEF
https://duke.is/cnyvt
May 3 — Daniel Friedman
tctMD
NCDR Analyses Offer Insights Into First-Generation Watchman Outcomes
https://duke.is/yqt4m
May 5 — Sana Al-Khatib
Healio
Apple Watch app, using AI, identifies left ventricular dysfunction
https://duke.is/pfkp6
May 5 — Sana Al-Khatib
Medscape (en español)
Aplicación experimental de electrocardiograma revela una fracción de eyección ventricular izquierda baja asintomática
https://duke.is/rg6xf