Memorial Day
This has been a difficult week for our country as we continue to struggle with the pattern of senseless gun violence and the safety of our communities. On behalf of the Duke Heart Leadership team, we'd like to wish all of you a very safe and peaceful Memorial Day weekend. As our nation takes time to remember all those who have been lost while serving in the U.S. military, we hope you're able to spend some time in self-care, in reflection, and hopefully in the company of those most dear to you. Thank you for all that you do to make Duke Heart one of the very best places to work and care for others.
Duke Execs Kick-off Heart Walk Season
Cardiologist Rick Shannon, MD, Chief Quality Officer for Duke Health, is serving as the Triangle-area campaign chair for the 2022 Triangle Heart Walk. He recently hosted two Heart Walk kick-off events for senior leaders across Duke University Health System. The first was held May 12 at Duke University Hospital and the second was held on Thursday morning at Duke Raleigh.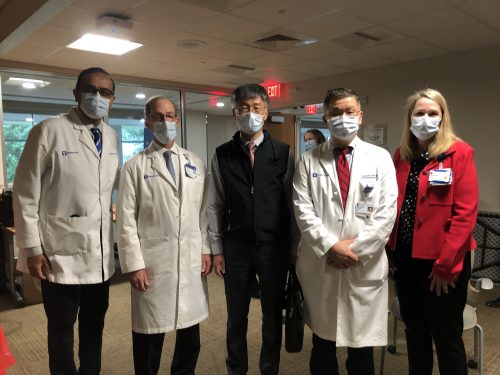 Duke Heart's leadership team shared highlights and successes of our ongoing partnership with the American Heart Association (AHA) both locally and nationally, as well as personal accounts of why supporting fundraising efforts like the Heart Walk are important. Cardiovascular disease and stroke have impacted most members of our team in some way — and hearing team members share their "why" stories and our efforts toward research, care and prevention was deeply inspiring.
We're looking forward to a successful Heart Walk this fall–be on the lookout for more information. We'd like to make this our biggest and most successful year, ever! The date of the walk will be announced this summer.
Speaking of our AHA partnership, congratulations to our colleagues in the Duke Stroke Center! Two of their teams from Duke Raleigh Hospital participated in the Triangle CycleNation event held by the AHA on May 17 at Coastal Credit Union Midtown Park at North Hills in Raleigh. The teams raised funds to help fight stroke and increase awareness around stroke prevention and warning signs. Good work!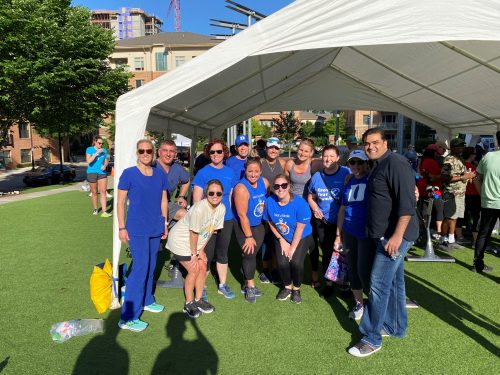 Highlights: AATS 2022
The American Association for Thoracic Surgery (AATS) 102nd annual meeting took place the weekend of May 14-17 in Boston.
Duke highlights included:
Presentations by thoracic surgeons Betty Tong and Matt Hartwig – they were each recognized during AATS 2022 with separate news briefs in the AATS Daily News on Monday, May 16 .
Tong was highlighted for her AATS presentation, "Lung Cancer Screening in 2022" which she gave on Saturday, May 14. Tong discussed study findings that demonstrate roughly five percent of screen-eligible patients are getting low-dose computed tomography (LDCT) scans of their chest to screen for lung cancer. Fairly recently, the U.S. Preventative Services Taskforce expanded screening guidelines that make an even larger number of patients screen-eligible, but Tong says, "only time will tell if more people get LDCT scans." In her interview with AATS Daily News, Tong stated, "Adherence to screening guidelines and follow-up is suboptimal right now." She discussed accessibility, budget constraints, socio-economic issues and general misconceptions about lung cancer screenings as issues that all contribute to low screening rates. See story on p. 4: https://duke.is/855sp.
Hartwig was highlighted to preview his presentation on proposals for an AATS
consensus document, "The Use of Mechanical Circulatory Support (MCS) for Lung Transplantation" which took place on Monday, May 16. "The AATS believes it's important to provide the latest
guidance on how to best use modern MCS to benefit our patients before, during, and after lung transplantation," Hartwig says in the piece. "Establishing an expert consensus document would be the most appropriate way to meet our needs." See story on p. 6: https://duke.is/855sp.
Jacob Schroder presented the AATS consensus statement on DCD heart transplantation,
"Cardiac Transplantation Utilizing Donors Following Circulatory Death" on Saturday evening, May 15. The consensus statement will soon be published in the Journal of Thoracic and Cardiovascular Surgery; Schroder and Carmelo Milano are the first and senior authors.
Early EXACT Trial Findings Presented as AATS Late Breaker
The Epicardial Delivery of XC001 Gene Therapy for Refractory Angina Coronary Treatment (EXACT) trial is a first-in-human clinical trial examining the safety and efficacy of using an adenoviral vector to more efficiently deliver human vascular endothelial growth factor (VEGF) directly into the myocardium with the goal of stimulating angiogenesis in patients suffering from refractory angina due to advanced coronary artery disease (CAD). Readers may recall the trial launched at Duke last summer when study investigator and cardiothoracic surgeon Adam Williams
performed the first procedure on one of our Duke study participants.
The preliminary findings in a small sample size of participants suggests a dose-response across several efficacy variables and supports continued investigation in the Phase 2 portion of the trial. Early clinical trial results were presented at AATS by Nahush Mokadam of Ohio State's Wexner Medical Center, one of the site investigators, on Sunday, May 15.
Additional Duke investigators on the trial include: Tom Povsic, Duke site and national PI, and executive committee member E. Magnus Ohman, who Povsic credits with getting
this study to Duke.
Related EXACT news: Povsic presented the 6-month follow up data "Preliminary Safety, Tolerability and Efficacy of Direct Epicardial Administration of Encoberminogene Rezmadenovec (XC001) to Ischemic Myocardium in Patients with Refractory Angina: Six Month Phase 1 Data for the EXACT Trial" at the American Society of Gene and Cell Therapy

Magnus Ohman

in Boston on May 18th.
Additional Duke presenters at AATS included faculty members: Thomas D'Amico, Jacob Klapper, David Harpole, Edward Chen and Chad Hughes, as well as the following members of Duke's general surgery residency program: Vignesh Raman, Christopher Jensen, Kristen Rhodin and Samuel Kesseli.
Impressive work! Congratulations to all!
NCDR Announces 2022 Chest Pain-MI Awards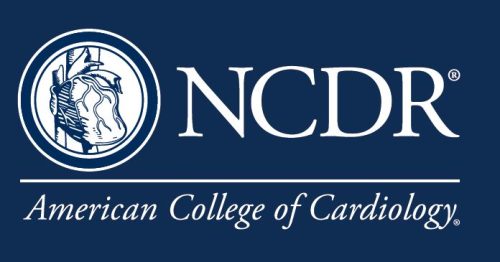 We are excited to share our latest performance achievement awards for the American College of Cardiology's Chest Pain-MI Registry. This week we were notified by the National Cardiovascular Data Registry (NCRD) of our latest ratings across all three hospitals.
Duke Regional Hospital: Silver
Duke Raleigh Hospital: Platinum
Duke University Hospital: Platinum
More than 2,400 hospitals and over 8,500 outpatient providers worldwide participate in one or more of the ACC's ten registries, such as Chest Pain-MI, forming a comprehensive network of cardiovascular care providers committed to ensuring evidence-based cardiovascular care, improving patient outcomes and lowering health care costs.
The Chest Pain-MI Registry is the most trusted source for outcomes-based, continuous quality improvement, according to the ACC. It is the go-to registry for hospitals and health systems applying ACC and American Heart Association clinical guideline recommendations.
Congratulations to all!
Shout-out to Haney & Ashley!
We received a terrific note this week from Lisa Clark Pickett, Chief Medical Officer for Duke University Hospital, regarding team members Jack Haney and Ciarra Ashley and wanted to share it with you. Pickett wrote:
"Good Morning, Jack and Ciarra,
While reading comments on our Patient Satisfaction Survey I was just delighted to read this lovely compliment about you and your team. Thank you for your continual dedication to patients, professionalism, and excellence!"
The survey note read: "Dr. Haney and his medical team were awesome! Nurses on the 6 East Floor were very attentive to my needs & took excellent care of me. This was the BEST hospital stay for me." – a grateful patient
Great job!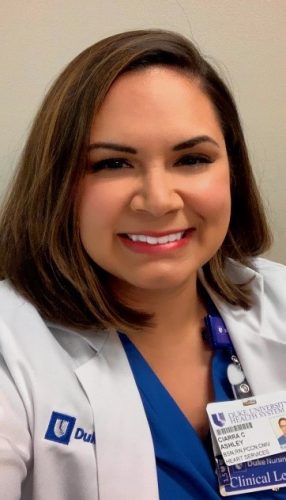 Kudos to Loriaux, Pagidipati!
We're also sharing some warm compliments we received regarding cardiology fellow Dan Loriaux and faculty member Neha Pagidipati via Duke Health's StarCard feedback system.
"Dr. Pagidipati is an exceptional doctor. Dr. Dan Loriaux, fellow at Duke, is a remarkable young man. If he continues with cardiology, there is no one better to add to the Duke team. Both (Dan and Neha) are uniquely gifted," the patient wrote (names are withheld in StarCard).
Another wrote, "Excellent, compassionate care by Dr. Pagidipati. None better."
Well done!
Latorre Nominated For Daisy Award
Amanda Latorre, one of our wonderful nurses on 7100, was recently nominated for a Daisy Award for providing compassionate care. She received the nomination from a patient's daughter. The daughter had been present with her mother for the duration of the hospitalization as she was hesitant to leave and miss out on important information. Amanda put the daughter's mind at ease with her excellent bedside manner and strong communication skills which allowed the daughter to leave for a night of good rest. Amanda also provided the patient with fresh toiletries and a moisturizing foot massage.
Thank you, Amanda, for the exceptional care you continue to provide for our Heart patients!
COVID-19 Update
All the latest Clinical Operations updates related to COVID can be found at https://covid-19.dukehealth.org. Patient-facing resources on DukeHealth.org can be found here: https://www.dukehealth.org/covid-19-update/resources. Duke University maintains a resource page as well, which can be accessed here: https://coronavirus.duke.edu/updates/for-staff.
Upcoming Events & Opportunities
Cardiology Grand Rounds
May 31: Heart Failure Cardiogenic Shock and the Golden Circle with Vanessa Blumer. 5 p.m., Webex.
Duke-Stanford Cardiovascular Research Symposium
June 27 & 28. The Duke-Stanford Cardiovascular Research Symposium returns to Durham this year and is offered as a hybrid event. This symposium is sponsored by the Edna and Fred L. Mandel, Jr. Foundation.
Registration required. In person: Great Hall, Mary Duke Biddle Trent Semans Center, Durham, NC. For those who wish to attend virtually, the event will offer live-streaming. The link will be emailed prior to the program. Registrants who choose the virtual live-streamed webinar option will be able to obtain CE credit for the course. For more information, contact Christy Darnell.
Have news to share?
If you have news to share with the Pulse readership, please contact Tracey Koepke, director of communications for Duke Heart at tracey.koepke@duke.edu. We would love to hear about your latest accomplishments, professional news, cool happenings, and any events or opportunities that may be of interest to our Duke Heart family. Please call with any questions: 919-681-2868. Feedback on Pulse is welcome and encouraged. Submissions by Noon, Wednesdays, to be considered for weekend inclusion.
Duke Heart in the News:
May 20 — Richard Shannon
Axios
Red states aren't prepared for a post-Roe baby boom
https://duke.is/v4vqs
May 23 — Jennifer Rymer
tctMD
DISRUPT PAD III: Lithotripsy Prep Linked to Better PAD Patency at 1 Year
https://duke.is/ycwfv
May 24 — Sunil Rao
Healio
SCAI president discusses results of the DIPRA trial
https://duke.is/5n3s8
May 24 — Marat Fudim
Medscape
Paradigm-Challenging Heart Failure Treatment Strategy Hopeful in Early Trial
https://duke.is/jze4f
Division of Cardiology Publications Indexed in PubMed May 19-25, 2022
Bier EA, Alenezi F, Lu J, Wang Z, Mammarappallil JG, O'Sullivan-Murphy B, Erkanli A, Driehuys B, Rajagopal S. Noninvasive diagnosis of pulmonary hypertension with hyperpolarised Xe magnetic resonance imaging and spectroscopy. ERJ Open Res 2022 May 16;8(2):00035-2022. PM:35586448.
DeVore AD, Hellkamp AS, Thomas L, Albert NM, Butler J, Patterson JH, Spertus JA, Williams FB, Shen X, Hernandez AF, Fonarow GC. The association of improvement in left ventricular ejection fraction with outcomes in patients with heart failure with reduced ejection fraction: data from CHAMP-HF. Eur J Heart Fail 2022 May;24(5):762-770. PM: 35293088.
Jawitz OK, Lawton JS, Thibault D, O'Brien S, Higgins RSD, Schena S, Vemulapalli S, Thomas KL, Zwischenberger BA. Sex Differences in Coronary Artery Bypass Grafting Techniques: A Society of Thoracic Surgeons Database Analysis. Ann Thorac Surg 2022 Jun;113(6):1979-1988. PM: 34280377.
Kelsey MD, Patrick-Lake B, Abdulai R, Broedl UC, Brown A, Cohn E, Curtis LH, Komelasky C, Mbagwu M, Mensah GA, Mentz RJ, Nyaku A, Omokaro SO, Sewards J, Whitlock K, Zhang X, Bloomfield GS. Inclusion and diversity in clinical trials: Actionable steps to drive lasting change. Contemp Clin Trials 2022 May;116:106740. PM: 35364292.
Kwapong YA, Boakye E, Obisesan OH, Shah LM, Ogunwole SM, Hays AG, Blumenthal RS, Creanga AA, Blaha MJ, Cainzos-Achirica M, Nasir K, Douglas PS, Wang X, Sharma G. Nativity-Related Disparities in Preterm Birth and Cardiovascular Risk in a Multiracial U.S. Cohort. Am J Prev Med 2022 Jun;62(6):885-894. PM: 35597568.
O'Brien EC, Sugarman J, Weinfurt KP, Larson EB, Heagerty PJ, Hernandez AF, Curtis LH. The impact of COVID-19 on pragmatic clinical trials: lessons learned from the NIH Health Care Systems Research Collaboratory. Trials 2022 May 21;23(1):424. PM: 35597988.
Rosenberg P. VDAC2 as a novel target for heart failure: Ca at the sarcomere, mitochondria and SR. Cell Calcium 2022 Jun;104:102586. PM: 35429733.
Saldarriaga C, Atar D, Stebbins A, Lewis BS, Abidin IZ, Blaustein RO, Butler J, Ezekowitz JA, Hernandez AF, Lam CSP, O'Connor CM, Pieske B, Ponikowski P, Roessig L, Voors AA, Anstrom KJ, Armstrong PW. Vericiguat in patients with coronary artery disease and heart failure with reduced ejection fraction. Eur J Heart Fail 2022 May;24(5):782-790. PM: 35239245.
Sata SS, Spratt SE, Edmonston DL, Pagidipati N. Clinical progress note: Indications for and management of sodium-glucose cotransporter-2 (SGLT-2) inhibitors in hospitalized patients. J Hosp Med 2022 May;17(5):360-363. PM: 35535917.
Schocken DD. Registry Evidence for Modulation of the Acute Ischemic Heart Disease Pathway: Statins Prevent Heart Failure? J Am Coll Cardiol 2022 May 24;79(20):2034-2036. PM: 35589165.
Stacey RB, Hall ME, Leaverton PE, Schocken DD, Zgibor J. Relation of glycemic status with unrecognized MI and the subsequent risk of mortality: The Jackson Heart Study. Am J Prev Cardiol 2022 May 10;11:100348. PM: 35600110.
Udell JA, Jones WS, Petrie MC, Harrington J, Anker SD, Bhatt DL, Hernandez AF, Butler J. Sodium Glucose Cotransporter-2 Inhibition for Acute Myocardial Infarction: JACC Review Topic of the Week. J Am Coll Cardiol 2022 May 24;79(20):2058-2068. PM: 35589167.