Highlights of the week:
National Wear Red Day
Kudos to all team members for sporting red on National Wear Red Day, Friday, Feb. 4. We remain so grateful to each of you for the work you're doing to provide the very best care possible for our patients, for the work you do to continue to lift one another up during very stressful and challenging circumstances, and helping to increase awareness of cardiovascular disease overall. Great job! Please continue to share photos with Pulse – we'll happily share them all month long as we celebrate Heart month!
Shown here are members of our Heart Leadership team (Heart leadership team members and administrative assistants); our VAD team (L to R: Kevin Cox, Catherine Shuford, Helen Barnes, Laura Blue, Pernestaline McAllister and Dakota Bentz); Two generations of Kelsey's: faculty member Anita Kelsey, MD and cardiology fellow Michelle Kelsey, MD; Duke Heart administrative assistant Caleb Smith; Jill Engel & Terri Fortin; Cath lab sporting some red! (Clockwise from top L: Terri Fortin, and the sporty shoes of Larry Jackson, Jill Engel & Manesh Patel); several of our amazing WICs (L-R: Anita Kelsey, Jessie Duran, Toi Spates, Brittany Zwischenberger, and Nkiru Osude).
Looking good, everyone!!! More photos to come next week…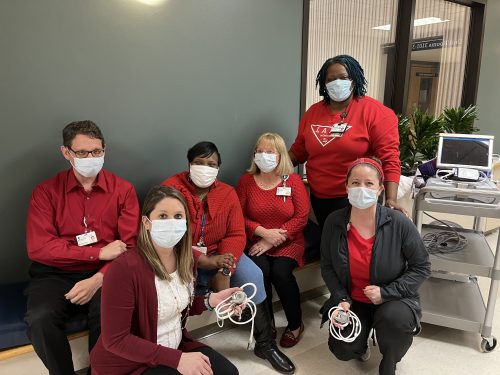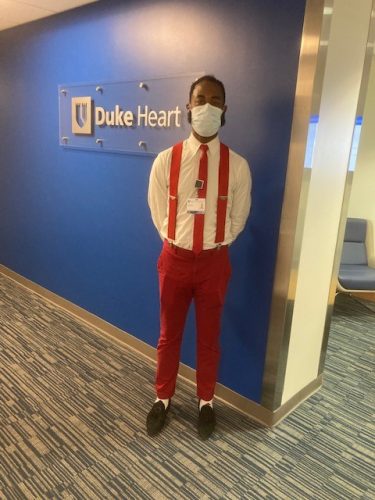 Heart Highlights: Duke Electrophysiology
It was another incredible year in Duke Heart with impressive accomplishments across the board. We are pleased to share with you just a few of the highlights from the past year from our Duke Electrophysiology team:
In calendar year 2021, (despite several waves of the COVID pandemic) Duke EP clinicians performed:
6316 in person device interrogations
9% increase from 2020
16,603 remote device interrogations
12% increase from 2020
1103 device implants at Duke University Hospital
No change from 2020
1078 EP study/ablation procedures at Duke University Hospital
10% increase from 2020
Includes 545 AF ablations
12% increase from 2020
Includes 138 VT ablations at Duke University Hospital
5% increase from 2020
54 left atrial appendage closure procedures at Duke University Hospital
127 lead extraction procedures within the Duke Heart network, including 34 at Wake Med-Heart Care Plus
6% increase from 2020
Duke EP welcomed several new members this year, including Daniel J. Friedman, MD, a former Duke cardiology and EP fellow who rejoined us after serving on the faculty at Yale School of Medicine; Laura Webb, PA-C, MPAS and Chrystal Foster, RNFA, FNP-C, MSN.
Team members engaged in a number of volunteer efforts, including Bill Cockfield, who served as a Covid-19 community vaccinator at the Karsh Alumni Center and Kelly Valencia, who did similarly at Duke Raleigh's first "Pop Up" Covid-19 vaccine clinic.
Camille Frazier-Mills and Tristram Bahnson were appointed to editorial boards – Frazier-Mills to Circulation: Arrhythmia and Electrophysiology and Bahnson to Heart Rhythm O2. Multiple EP faculty members – including Bahnson, Frazier-Mills, James Daubert, Don Hegland, Larry Jackson, Kevin Jackson, Jason Koontz, Jon Piccini and Al Sun are chapter authors in the most recent edition of the popular EKG textbook Marriott's Practical Electrocardiography (13th edition).
Notable awards this past year include:
Brenda Smith who received the prestigious Wilma Minniear Award for Excellence in Nursing Mentorship, part of Duke's Friends of Nursing Excellence awards;
Kevin Thomas received the Excellence in Professionalism Award from Duke School of Medicine – the award recognizes a faculty member who exemplifies professionalism and personifies Duke's guiding principles of respect, trustworthiness, diversity, teamwork, and learning.
Research accomplishments include:
108 peer-reviewed publications for 2021!
Larry Jackson received a K-Award from the NIH's National Heart, Lung, and Blood Institute for his project, Shared Decision-Making to Reduce Racial Disparities in Oral Anticoagulation Use in Patients with Non-Valvular Atrial Fibrillation.
Enrollment of the first patient in the nationwide DEFINE AFIB trial, an app-based research study that will assess atrial fibrillation burden and its impact on patient outcomes, quality of life, and healthcare utilization. Jon Piccini, MD is chair of the DEFINE AFib Steering Committee.
Sean Pokorney, MD and team on June 14th implanted the first Extravascular Implantable Cardioverter Defibrillator (EV ICD) in the Carolinas as part of the Medtronic EV ICD Pivotal Study.
Several presentations at the European Society of Cardiology Congress, including Micra Coverage with Evidence Development (CED) Study Two Year Follow-up Results, the largest evaluation of leadless pacemakers to date, presented by Jon Piccini, MD.
In September Drs. Al Sun and Jason Koontz conducted the first-in-man utilization of the Ventrax ventricular access sheath that was designed in collaboration with Merit Medical. The system is designed with an integrated pigtail dilator to allow seamless transition from femoral access directly to crossing the aortic valve. The sheath is FDA approved and there are ongoing efforts to test the sheath in a small trial evaluating the benefit of avoiding using an ablation catheter to cross the valve as well as the additional support of a long sheath in the LV.
The National Institutes of Health awarded Joseph Mathew, MD, chair of Duke Anesthesiology, Jerry Reves, MD, professor of anesthesiology, and Jon Piccini, MD, MHS a $3,739,083 R01 grant for their project titled, Neurocognition and Greater Maintenance of Sinus Rhythm in AF (NOGGIN AF). Drs. Mathew, Piccini, and the Duke EP Team will test the hypothesis that restoration of sinus rhythm with catheter ablation vs drug therapy leads to less long-term neurologic damage and dysfunction due to improved cerebral blood flow and lower risk for additional ischemic injury.
Congrats to the entire Duke EP team – we know even more was accomplished than we could include here this week – what a terrific year you've had; there is a lot to celebrate!
ICYMI: Blumer Piece Featured by ACC
Duke Cardiology fellow Vanessa Blumer, MD, has a terrific piece in the American College of Cardiology's Cardiology Magazine: Training Pathways for Critical Care Cardiology: The Intersection with Advanced Heart Failure.   Great job!
Machovec Receives DCHC Impact Award
Duke Cardiac Anesthesiologist Kelly Machovec, MD, MPH, has been awarded the Pediatric and Congenital Heart Center (PCHC) Impact Award for the exceptional impact she has had on clinical practice around hemostasis, on both a local and
national level.
"I am grateful for the recognition and so proud to be part of the amazing PCHC team," says Machovec, associate professor of anesthesiology. "Being a pediatric cardiac anesthesiologist is the best job in the world."
The Pediatric and Congenital Heart Center Impact Award is an annual accolade that is decided by the voting of peers. Machovec's colleague, Dr. Warwick Ames, presented her the award on January 26 at the PCHC yearly retreat. As he describes, "her impact is palpable everywhere in the Duke Children's Heart Center." Machovec is credited for discontinuing preoperative blood testing to avoid children having painful, unnecessary blood draws in the preoperative clinic, which revolutionized the way blood products are ordered for children with congenital heart disease at Duke. She also wrote the handbook of coagulation management for children coming off cardiopulmonary bypass. This led to her founding the Hemostasis Interest Group, a committee within the Congenital Cardiac Anesthesia Society, described as "a forum where some of the sharpest brains in pediatric anesthesia meet to share knowledge and expertise."
"Kelly has had a special impact on each of us and is fully deserving of this award. I am proud to call her a dear friend and colleague and congratulate her on receiving this award," adds Ames.
Machovec completed a fellowship in pediatric anesthesiology at Duke University before joining Duke Anesthesiology faculty in 2013 where she is a member of the Pediatric Anesthesiology Division. Machovec's impact is also recognized outside of Duke. As a mark of her influence, she is an advocate for basic science cancer research; to-date, Machovec has raised $48,000 for the Dana-Farber Cancer Institute as part of her participation in the 2022 Boston Marathon.
Flags Lowered in Memory of Jones
University flags were lowered on Monday, Jan. 31, 2022 in memory of Robert "Bob" H. Jones, MD, Professor Emeritus of Surgery, who died on Jan. 26. We thank all who shared their thoughts of him with Pulse. A reminder that his obituary can be found here and that a memorial service will be held at 11:00 a.m. on March 5th at the Cole Mill Road Church of Christ, 1617 Cole Mill Rd, Durham, NC 27705.
COVID-19 Updates
All the latest Clinical Operations updates related to COVID can be found at https://covid-19.dukehealth.org.
Reminder: All Duke University Health System (DUHS) and Private Diagnostic Clinic (PDC) team members, regardless of work location, are required to receive and provide documentation of a completed COVID-19 booster vaccination by 10 a.m. on Tuesday, Feb. 15, 2022, or within 28 days of their eligibility under CDC and state guidelines. More details are available in this email that was sent to all staff on Tuesday, Dec. 28.
Upcoming Events & Opportunities
Cardiology Grand Rounds
February 8: No CGR today.
February 10: Topic TBA. Our guest will be AAMC President, Dr. David Skorton.
February 15: Topic TBA. Presenter will be Toi Spates.
Duke Genomic & Precision Medicine Forum Series
February 24: Guest will be William E. Kraus, MD speaking on Components of Personalized Lifestyle Medicine with a Focus on Physical Activity. Noon – 1 p.m. via Zoom. Sponsored by Duke Center for Applied Genomics & Precision Medicine. Registration is required; event is free. To learn more and to register, please visit:  https://bit.ly/3ouqDiK.
Upcoming Duke Heart CME
April 23: Duke Sports Cardiology & Sudden Death in Athletes Symposium with course directors Jim Daubert and Bill Kraus. Virtual. For information or to register, contact Christy Darnell christy.darnell@duke.edu or 919-880-8686.
Seeking Applicants: Chan Zuckerberg Science Diversity Leadership Award
The Chan Zuckerberg Initiative (CZI) and the National Academies of Sciences, Engineering, and Medicine invite applications for the new Science Diversity Leadership program, which will support projects led by excellent biomedical researchers who—through their outreach, mentoring, and teaching—have a record of promoting diversity, equity and inclusion in their scientific fields.
Each grant recipient will be awarded a total of $1.15 million over five years, with the first two cohorts of grantees selected in 2022 and 2023. Investigators leading the grantees' projects will use funds to support research programs and outreach, mentoring, and teaching activities. The principal investigator must lead an independent research laboratory in a university, medical school, or nonprofit research institution in the U.S. or a U.S. territory and have started their first independent laboratory no earlier than January 1, 2012. Learn more and apply. Applications close May 19, 2022.
Have news to share?
If you have news to share with the Pulse readership, please contact Tracey Koepke, director of communications for Duke Heart at tracey.koepke@duke.edu. We would love to hear about your latest accomplishments, professional news, cool happenings, and any events or opportunities that may be of interest to our Duke Heart family. Please call with any questions: 919-681-2868. Feedback on Pulse is welcome and encouraged. Submissions by Noon, Wednesdays, to be considered for weekend inclusion.
Duke Heart in the News:
January 27 — Christopher Granger
Healio/Cardiology
Early referral for ablation may be needed for certain patients with AF
https://duke.is/gb3gw
January 31 — Midge Bowers
NPschools.com
Day in the Life of a Cardiology NP – Two Experts Share Their Perspectives
https://duke.is/vxj3b
February 1 — L. Kristin Newby
MCG magazine/Augusta University
https://duke.is/m2enw
February 2 — John Haney
Fierce Biotech
Paragonix's lung transport system completes 4,700-mile, cross-country transplant
https://duke.is/8rb6a
February 2 — Duke University Hospital (Lung Tx program)
Becker's Hospital Review
10 hospitals performing high volumes of lung transplants
https://duke.is/2d5z7
February 3 — Adam DeVore
WSOCtv.com (Charlotte)
'Saved my life': Harrisburg man is first in North America with artificial heart
https://bit.ly/3rw2pGQ
February 4 — Svati Shah
CBS17.com (Raleigh)
National Wear Red Day seeks to raise awareness among women about heart disease
https://bit.ly/34mF3uf
Division of Cardiology Publications Indexed in PubMed January 27-February 2, 2022
Al-Khatib SM, Link MS. Perplexing Results From the PRAETORIAN Trial: Revisiting the Debate About the Value of Antitachycardia Pacing. Circulation 2022;145(5):330-332. PM: 35100016.
Carnicelli AP, Hong H, Connolly SJ, Eikelboom J, Giugliano RP, Morrow DA, Patel MR, Wallentin L, Alexander JH, Cecilia Bahit M, Benz AP, Bohula EA, Chao TF, Dyal L, Ezekowitz M, A A Fox K, Gencer B, Halperin JL, Hijazi Z, Hohnloser SH, Hua K, Hylek E, et al. Direct Oral Anticoagulants Versus Warfarin in Patients With Atrial Fibrillation: Patient-Level Network Meta-Analyses of Randomized Clinical Trials With Interaction Testing by Age and Sex. Circulation 2022;145(4):242-255. PM: 34985309.
Chandra A, Skali H, Claggett B, Solomon SD, Rossi JS, Russell SD, Matsushita K, Kitzman DW, Konety SH, Mosley TH, Chang PP, Shah AM. Race- and Gender-Based Differences in Cardiac Structure and Function and Risk of Heart Failure. J Am Coll Cardiol 2022;79(4):355-368. PM: 35086658.
Chau KH, Chen S, Crowley A, Redfors B, Li D, Hahn RT, Douglas PS, Alu MC, Finn MT, Kodali S, Jaber WA, Rodriguez L, Thourani VH, Pibarot P, Leon MB. Paravalvular regurgitation after transcatheter aortic valve replacement in intermediate-risk patients: a pooled PARTNER 2 study. EuroIntervention 2022;17(13):1053-1060. PM: 34483095.
Collins KA, Ross LM, Piner LW, Fos LB, Slentz CA, Bateman LA, Willis LH, Bales CW, Siegler IC, Wolever RQ, Huffman KM, Kraus WE. Amount and intensity effects of exercise training alone versus a combined diet and exercise lifestyle intervention on health-related quality of life in the STRRIDE-PD randomized trial. BMJ Open Diabetes Res Care 2022;10(1):e002584. PM: 35086944.
DeVore AD, Hill CL, Thomas LE, Albert NM, Butler J, Patterson JH, Hernandez AF, Williams FB, Shen X, Spertus JA, Fonarow GC. Identifying patients at increased risk for poor outcomes from heart failure with reduced ejection fraction: the PROMPT-HF risk model. ESC Heart Fail 2022;9(1):178-185. PM: 34791838.
El-Chami MF, Garweg C, Iacopino S, Al-Samadi F, Martinez-Sande JL, Tondo C, Johansen JB, Prat XV, Piccini JP, Cha YM, Grubman E, Bordachar P, Roberts PR, Soejima K, Stromberg K, Fagan DH, Clementy N. Leadless pacemaker implant, anticoagulation status, and outcomes: Results from the Micra Transcatheter Pacing System Post-Approval Registry. Heart Rhythm 2022;19(2):228-234. PM: 34757189.
Ezekowitz JA, Alemayehu W, Rathwell S, Grant AD, Fiuzat M, Whellan DJ, Ahmad T, Adams K, Piña IL, Cooper LS, Januzzi JL, Leifer ES, Mark D, O'Connor CM, Felker GM. The influence of comorbidities on achieving an N-terminal pro-b-type natriuretic peptide target: a secondary analysis of the GUIDE-IT trial. ESC Heart Fail 2022;9(1):77-86. PM: 34784657.
Govsyeyev N, Nehler MR, Low Wang CC, Kavanagh S, Hiatt WR, Long C, Jones WS, Fowkes FGR, Berger JS, Baumgartner I, Patel MR, Goodney PP, Beckman JA, Katona BG, Mahaffey KW, Blomster J, Norgren L, Bonaca MP. Etiology and outcomes of amputation in patients with peripheral artery disease in the EUCLID trial. J Vasc Surg 2022;75(2):660-670. PM: 34597783.
Greene SJ, Butler J, Fonarow GC. In-hospital initiation of quadruple medical therapy for heart failure: making the post-discharge vulnerable phase far less vulnerable. Eur J Heart Fail 2022;24(1):227-229. PM: 34779112.
Gupta K, Girotra S, Nallamothu BK, Kennedy K, Starks MA, Chan PS. Impact of the three COVID-19 surges in 2020 on in-hospital cardiac arrest survival in the United States. Resuscitation 2022;170:134-140. PM: 34838661.
Katz DH, Tahir UA, Bick AG, Pampana A, Ngo D, Benson MD, Yu Z, Robbins JM, Chen ZZ, Cruz DE, Deng S, Farrell L, Sinha S, Schmaier AA, Shen D, Gao Y, Hall ME, Correa A, Tracy RP, Durda P, Taylor KD, Liu Y, Johnson WC, Guo X, Yao J, Ida Chen YD, et al. Whole Genome Sequence Analysis of the Plasma Proteome in Black Adults Provides Novel Insights Into Cardiovascular Disease. Circulation 2022;145(5):357-370. PM: 34814699.
Kittipibul V, Fudim M. Tackling Inflammation in Heart Failure With Preserved Ejection Fraction: Resurrection of Vagus Nerve Stimulation? J Am Heart Assoc 2022;11(3):e024481. PM: 35023352.
Mac Grory B, Piccini JP, Yaghi S, Poli S, De Havenon A, Rostanski SK, Weiss M, Xian Y, Johnston SC, Feng W. Hyperglycemia, Risk of Subsequent Stroke, and Efficacy of Dual Antiplatelet Therapy: A Post Hoc Analysis of the POINT Trial. J Am Heart Assoc 2022;11(3):e023223. PM: 35043692.
Narins CR, Aktas MK, Chen AY, McNitt S, Ling FS, Younis A, Zareba W, Daubert JP, Huang DT, Rosero S, Kutyifa V, Goldenberg I. Arrhythmic and Mortality Outcomes Among Ischemic Versus Nonischemic Cardiomyopathy Patients Receiving Primary ICD Therapy. JACC Clin Electrophysiol 2022;8(1):1-11. PM: 34454875.
Ngeno GTK, Barasa F, Kamano J, Kwobah E, Wambui C, Binanay C, Egger JR, Kussin PS, Thielman NM, Bloomfield GS. Feasibility of Cardiac Rehabilitation Models in Kenya. Ann Glob Health 2022;88(1):7. PM: 35087707.
Norgren L, North R, Baumgartner I, Berger JS, Blomster JI, Hiatt WR, Jones WS, Katona BG, Mahaffey KW, Mulder H, Patel MR, Rockhold FW, Fowkes FGR. World regional differences in outcomes for patients with peripheral artery disease: Insights from the EUCLID trial. Vasc Med 2022;27(1):21-29. PM: 34516308.
Oliver CE, Patel H, Hong J, Carter J, Kraus WE, Huffman KM, Truskey GA. Tissue engineered skeletal muscle model of rheumatoid arthritis using human primary skeletal muscle cells. J Tissue Eng Regen Med 2022;16(2):128-139. PM: 34781416.
Oster ME, Shay DK, Su JR, Gee J, Creech CB, Broder KR, Edwards K, Soslow JH, Dendy JM, Schlaudecker E, Lang SM, Barnett ED, Ruberg FL, Smith MJ, Campbell MJ, Lopes RD, Sperling LS, Baumblatt JA, Thompson DL, Marquez PL, Strid P, Woo J, Pugsley R, Reagan-S. Myocarditis Cases Reported After mRNA-Based COVID-19 Vaccination in the US From December 2020 to August 2021. JAMA 2022;327(4):331-340. PM: 35076665.
Smith ID, Ross LM, Gabaldon JR, Holdgate N, Pieper CF, Ning TC, Kraus WE, Huffman KM. The Relation of Accelerometer-Measured Physical Activity and Serum Uric Acid Using the National Health and Nutrition Survey (NHANES) 2003-2004. Front Sports Act Living 2022;3:775398. PM: 35098119.
Tsai S, Liu Y, Alaiti MA, Gutierrez JA, Brilakis ES, Banerjee S. No benefit of vorapaxar on walking performance in patients with intermittent claudication. Vasc Med 2022;27(1):33-38. PM: 34609939.
Wang H, Kurniansyah N, Cade BE, Goodman MO, Chen H, Gottlieb DJ, Gharib SA, Purcell SM, Lin X, Saxena R, Zhu X, Durda P, Tracy R, Liu Y, Taylor KD, Johnson WC, Gabriel S, Smith JD, Aguet F, Ardlie K, Blackwell T, Reiner AP, Rotter JI, Rich SS. Upregulated heme biosynthesis increases obstructive sleep apnea severity: a pathway-based Mendelian randomization study. Sci Rep 2022;12(1):1472. PM: 35087136.
Wharton JM, Piccini JP, Koren A, Huse S, Ronk CJ. Comparative Safety and Effectiveness of Sotalol Versus Dronedarone After Catheter Ablation for Atrial Fibrillation. J Am Heart Assoc 2022;11(3):e020506. PM: 35060388.
Woldu B, Temu TM, Kirui N, Christopher B, Ndege S, Post WS, Kamano J, Bloomfield GS. Diastolic dysfunction in people with HIV without known cardiovascular risk factors in Western Kenya. Open Heart 2022;9(1):e001814. PM: 35064055.