Highlights of the week:
Latest DUH Adult Cardiac Surgery Program STS Ratings
We learned this week that our Adult Cardiac Surgery program has earned 3-star quality ratings for all ranked categories from the Society of Thoracic Surgeons (STS). The 3-star ratings were earned for isolated coronary artery bypass grafting (CABG) procedures; isolated aortic valve replacement (AVR) surgery; for AVR + CABG, and for isolated mitral valve replacement and repair (MVRR) surgery.
The Duke University Hospital STS Risk Adjusted Harvest 3 report includes analyzed results for the 3-year period spanning July 2018 to June 2021.
The STS star rating system is one of the most sophisticated and highly regarded overall measures of quality in health care, rating the benchmarked outcomes of cardiothoracic surgery programs in the U.S. The star rating is calculated using a combination of quality measures for specific procedures performed by an STS Adult Cardiac Surgery Database (ACSD) participant.
Established in 1989 as an initiative for quality improvement and patient safety among cardiothoracic surgeons, the STS ACSD houses more than 6.5 million surgical records and gathers information from more than 3,800 participating physicians, including surgeons and anesthesiologists from more than 90 percent of groups that perform heart surgery in the U.S. The Database includes three other components: the Congenital Heart Surgery Database (CHSD), the General Thoracic Surgery Database (GTSD), and the mechanical circulatory support database (Intermacs). Duke has participated in the STS National Database since its inception.
This achievement is the result of the effort the entire Duke Heart team puts in every day — across the board – our nurses, residents, fellows, CT surgeons, anesthesiologists, ICU teams, cardiologists, pharmacy leaders, cardiac rehabilitation team and all those who support them. Congratulations!
CVRC Announces Annual Mandel Awards
The Duke Cardiovascular Research Center (CVRC) has recently announced their annual Mandel Awards. The Mandel Funding Program Review Committee made three awards in the Seed program, one award in the Fellow program, and one in the Scholar program. We are pleased to share the projects and scholars receiving funding for the 2022 project period which begins January 1.
Mandel Scholar Award
Ravi Karra, MD
Project: Correction of LMNA Cardiomyopathy by Cardioediting
Dilated cardiomyopathies (DCM) due to genetic mutations are common and more likely to progress to end stage heart failure compared to other types of DCM. Here, we propose the development of a system to treat genetic DCM by correcting the causal mutation, using LMNA DCM as an example. We will develop tools to genetically edit LMNA mutations and develop an ultrasound-based method to deliver these tools to the heart. These experiments can establish "cardioediting" as a potential treatment of heritable DCM.
Mandel Fellow Award
Pavitra Murali, PhD, mentored by Sudha Shenoy, PhD
Project: Trafficking of Angiotensin Receptors into autophagosomes and its impact on
β-arrestin-dependent signaling
Drugs that bind to the extracellular domains of cell-surface G protein-coupled receptors (GPCRs) are used to treat a variety of cardiovascular diseases including hypertension. Activated GPCRs trigger a signal transduction cascade that produces physiological responses including contraction/relaxation of smooth muscle cells lining arteries. GPCRs, which are bound by drugs at the plasma membrane, rapidly internalize into the cell into intracellular vesicles called endosomes and subsequently traffic into highly acidic vesicles called lysosomes where the GPCR protein is degraded into small peptides. This degradation ensures the long-term desensitization or dampening of signaling and subsiding of the physiological action. We have found that internalized angiotensin type II receptor (AT1R) localizes into a distinct population of vesicles called autophagosomes, which is an unexpected phenomenon because the pathway that invokes formation of autophagosomes called autophagy is known only for recycling organelles and protein catabolism during cell starvation. Since agonist Ang II provokes autophagy trafficking of the AT1R, we believe that this sub-cellular localization may have putative roles in defining AT1R signaling and physiologic effects. The AT1R is an essential target for drugs used to treat many forms of cardiovascular diseases including hypertension; recent evidence reveals that the AT1R mediates its physiologic effects through both G protein and β-arrestin-dependent pathways. In this proposal, I will study how the autophagy trafficking of the AT1R is regulated, and determine the relevance of this trafficking pathway to AT1R signal transduction. The proposed studies will uncover hitherto unknown molecular mechanisms in AT1R trafficking and signaling and might provide new therapeutic angles to treat high blood pressure and cardiovascular disease.
Mandel Seed Awards
Neil Freedman, MD and Christopher Holley, MD, PhD
Project: Atherogenic Mechanisms of Small Nucleolar RNAs
Atherosclerosis fundamentally involves oxidation, a chemical process that is critical for
normal cell function. When oxidation is excessive, it deranges the chemical structure of lipids and proteins and thereby adversely affects their function. The pathogenesis of atherosclerosis initiates with oxidation of the cholesterol-rich low-density lipoprotein particles, and perpetuates with excessive oxidative cell signaling—termed "oxidative stress"—in the inner layers of the artery. This project aims to attenuate excessive oxidative signaling through a novel regulatory mechanism involving particular RNA molecules known as small nucleolar RNAs, or "snoRNAs", which are expressed throughout the body's cells. We have found a group of four snoRNAs that augment cellular oxidative stress (Rpl13a-snoRNAs); they appear to do so by facilitating the modification of various messenger RNAs with 2'-O-methylation—a modification that reduces the translation of the messenger RNA into protein.
With previous support from the Mandel Foundation, we found that genetic deficiency of these snoRNAs in Apoe-/- mice reduces arterial levels of reactive oxygen species and attenuates atherosclerosis. Furthermore, we found that snoRNA deficiency in smooth muscle cells dramatically increases the expression of a mitochondrial protein (COX4i2) that reduces mitochondrial production of reactive oxygen species. Therefore, we hypothesize that snoRNAs augment the level of reactive oxygen species in vascular cells by methylating the messenger RNA encoding COX4i2 and thereby reducing the cellular level of COX4i2 protein.
The Mandel Seed Grant will allow us to continue our snoRNA atherosclerosis studies until we can secure NIH funding. Specifically, this new application seeks to achieve the following aims: (1) to determine whether antagonizing snoRNA function with antisense oligonucleotides reduces atherosclerosis in low-density lipoprotein receptor-deficient (Ldlr-/-) mice, and thereby to determine whether snoRNAs can be targeted therapeutically, and (2) to determine in vascular smooth muscle cells and macrophages whether the pre-mRNA encoding COX4i2 is a target of snoRNA-guided methylation, and thereby to elucidate molecular mechanisms underlying the effects of snoRNAs on cellular oxidative stress. Completing these aims will advance our work toward publishing our first manuscript and obtaining NIH support for our ongoing investigations into the anti-atherogenic therapeutic potential of snoRNA-targeted strategies.
Christopher Kontos, MD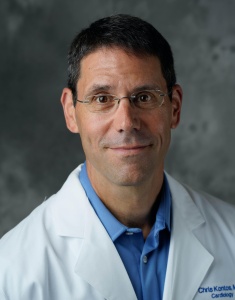 Project: Regulation of endothelial metabolism by the Tie1 receptor tyrosine kinase
In the presence of oxygen, cells typically generate energy by breaking down glucose through glycolysis, and then the byproduct, pyruvate, is used by mitochondria to generate ATP through aerobic respiration. Under anaerobic conditions lacking oxygen, cells are unable to utilize mitochondrial respiration, and after glycolysis, pyruvate gets converted to lactate, which is then shuttled out of the cell. Although oxidative metabolism is more efficient than anaerobic glycolytic metabolism in terms of energy production, some cells paradoxically utilize glycolysis as their main form of energy production even in the presence of oxygen.
This phenomenon of "aerobic glycolysis", was first described by Dr. Otto Warburg (also known as the "Warburg Effect") in cancer cells. Interestingly, aerobic glycolysis occurs not only in aberrant cancer cells, but it is the primary metabolic pathway that endothelial cells lining the vasculature use to generate energy. Alterations in endothelial cell metabolism are a hallmark of their activation, which occurs during new blood vessel growth and inflammation, and while this activation may be helpful in some contexts, e.g., growth of new blood vessels in response to exercise, the activation of endothelial cells in large arteries can be harmful and lead to atherosclerosis and high blood pressure. When endothelial cells are activated, their metabolism changes to increase their rate of glycolysis, but how they do this is not completely understood.
We hypothesize that the endothelial receptor tyrosine kinase Tie1, which is increased in activated endothelial cells, is partially responsible for altering the metabolism of these activated endothelial cells, and that blocking Tie1's role in this metabolic shift may help prevent vascular dysfunction and subsequent cardiovascular disease.
Huanghe Yang, PhD
Project: Demystify flow-activated chloride conductance in endothelium and its role in hypertension
Mechanical forces are fundamental in cardiovascular health and disease. Lining the interior surface of blood vessels, the endothelium constantly senses blood flow-induced shear and stretch forces and converts these mechanical stimuli into biochemical signals. Endothelial mechanotransduction is therefore central for both acute vasoregulation and chronic vascular remodeling; and malfunction of endothelial mechanotransduction contributes to cardiovascular diseases including hypertension and atherosclerosis. Mechanosensitive ion channels (MSCs) are the primary mechanotransducers in the endothelium. The endothelial MSCs, including the recently discovered mechanosensitive PIEZO1 calcium permeable channel, have been extensively investigated. Nevertheless, the molecular identity and pathophysiological role of an endothelial flow-activated chloride conductance (FACC) still remain elusive.
Our preliminary results showed that the FACC is significantly upregulated in angiotensin II (Ang II)-treated endothelial cells in vitro, highlighting the urgency to uncover its molecular identity and contribution in hypertension. With this Seed Grant, we aim to acquire critical preliminary results to strengthen our hypothesis that the functional coupling between Piezo1 mechanosensitive calcium channel and TMEM16A calcium-activated chloride channel (CaCC) gives rise to the FACC and enhanced endothelial FACC contributes to hypertension. I anticipate to utilize this opportunity to establish collaborations with CVRC investigators and submit an NIH R01 to further understand FACC in endothelial biology and diseases.
Congratulations to all Mandel funding recipients – we look forward to learning more about your work!
ICYMI: 2021 ACC/AHA/SCAI Guideline for Coronary Artery Revascularization
Congratulations to Brittany Zwischenberger and Sunil Rao, two members of the writing team for the latest Guidelines for Coronary Artery Revascularization which were co-published online in the Journal of the American College of Cardiology and in Circulation on Thursday. ACC/AHA Joint committee members from Duke include: Sana Al-Khatib, Adrian Hernandez, W. Schuyler Jones, and Dan Mark.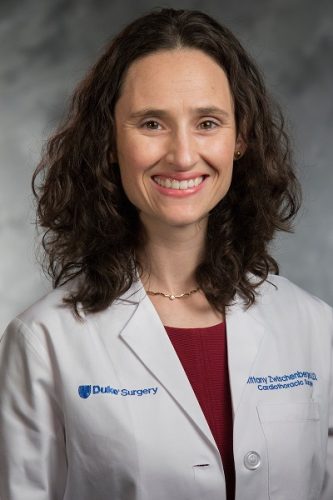 Congratulations to Helen Barnes!
Duke Heart's leadership team wishes to congratulate Helen Barnes who graduated yesterday from University of Mount Olive with a Bachelor of Science degree in Business Administration in Healthcare Management.
"Helen is a great asset who is always willing to partner on new projects with a ready smile and kind words," said Laura Blue, DNP, VAD Program Team Lead. "I am so proud of her for pursuing her dream of getting her degree and I think she is a great role model for others who wish to pursue their education. Helen was a big supporter of mine when I was working on my doctorate. When she came to me and let me know she felt she could achieve this, I wanted to support her as much as she had supported me. I am really excited for her."
Barnes, a dedicated member of the Duke family since 1999, has functioned as an administrative assistant with the Duke's Ventricular Assist Device program for 11 years. Helen partnered with leadership to develop and successfully lead her final project, "Optimizing Incoming Communication in a Multidisciplinary Subspecialty Clinic."
Congratulations, Helen!
Hofmeister Lands Emerging Leaders Grant
Karl Hofmeister, a 2021 graduate of Duke's Cardiac Ultrasound Certificate program, has been selected by the Society of Diagnostic Medical Sonography (SDMS) Foundation for their 2022 Emerging Leaders Grant Recipient Program. Hofmeister's cohort will participate virtually in a variety of leadership education opportunities that are designed to engage them in meaningful dialogue and projects related to the future of the profession and leadership volunteerism.
Hofmeister was the first recipient of our Cardiac Ultrasound Certificate program's inaugural outstanding student award, which is now named after Joseph Kisslo, MD.
The Emerging Leaders program will culminate with one participant being selected to receive a grant to attend the Fall SDMS and SDMS Foundation Board of Directors Meetings, Liaison Meetings, and the 2022 SDMS Annual Conference.
Congratulations, Karl!
Upcoming Events & Opportunities
SI4R Training Workshop
December 14: Stepping in 4-Respect (SI4R) Workshop for Duke Division of Cardiology. 5-7 p.m. Zoom (Details in email from Kim Dorman)
As part of the Department of Medicine Civility Champion initiatives, a 2-hr zoom workshop for all faculty, staff, and trainees throughout all DOM divisions has been developed. Civility Champions are trained faculty, fellows, and chief residents who provide informal support in response to incidents of bias, harassment, or other unprofessional behaviors, and to help those affected understand their options for intervention and reporting. People generally come to Civility Champions after the fact, and the Champions debrief their experiences every quarter.
The workshop that Drs. John Duronville, Jane Gagliardi, Anita Kelsey, Camille Frazier-Mills, Daniella Zipkin, Laura Previll, and Sophia Weinmann will be presenting to the Cardiology clinical faculty is entitled Stepping In 4-Respect. It is being offered twice and is a new component of these civility efforts designed to teach faculty the skills needed to step in (be an "upstander") in the moment, with a particular focus on race-, ethnicity- and gender-based incidents. This workshop is supported by Dr. Kathleen Cooney, Chair of the DOM, and will be provided to each division's faculty over the coming months.
Please be sure to attend the workshop on Dec. 14 if you missed the one on Nov. 30. Additional details about registration, the structure and goals of the workshop appeared in the email invitation.
Duke Well-Being Ambassador Virtual Course
January 11 – March 15: The Well-being Essentials for Learning Life-Balance (WELL-B) weekly webinar series begins January 11, 2022 at 3 p.m. EST. For only one hour a week for 10 weeks, healthcare workers can learn about the science and practice of well-being from Dr. Bryan Sexton, Dr. Carrie Adair, and Dr. Kyle Rehder. These strategies can enhance your well-being, and through sharing, the well-being of your co-workers. Available to all Duke Health employees and those outside of Duke as well. More information: bit.ly/dukewellb. Offered by the Duke Center for Healthcare Safety and Quality.
Duke Research Week 2022
January 31 – February 4: Registration is now open for Duke Research Week 2022. Join us virtually for a week-long celebration of research underway at Duke! There is an excellent lineup of faculty lectures, panel discussions, "flash talks" with graduate students, trainees and postdoctoral fellows, and guest presenters for the Robert J. Lefkowitz, MD, Distinguished Lecture and Daubechies Lecture. Check out the full agenda here: https://dukeresearchweek.vfairs.com/en/#distinguishedlectures
Save the Date: Wear Your Red
Friday, Feb. 4: National Wear Red Day. Seriously team, put this one on the calendar! It's never too early to start thinking of what you can wear on National Wear Red Day — red running shoes? Heart socks? The perfect red top or sweater? A cool red tie? What about that AHA gear you picked up at the last in-person Sessions? Stock up, plan ahead and have plenty of attire to wear throughout heart month to help promote cardiovascular disease awareness — and YES — we would love to have individual and team photos to share in Pulse!!
Save the Date: Support the Marfan Foundation
February 11: An Evening with Heart to benefit The Marfan Foundation. 7-10 p.m. at The Maxwell in Raleigh, NC. A Valentine's Day weekend event with silent auction, cocktails, heavy hors d'oeuvres and entertainment. Cocktail attire. Tickets required. For information, visit: https://bit.ly/3cHIBYD.
The Duke Center for Aortic Disease, led by cardiovascular surgeon Chad Hughes, works closely with Marfan patients, their family members and the Marfan Foundation. We are the only location in NC offering access to comprehensive aortic surgical interventions as well as coordinated cardiovascular care and genetic counseling for patients with Marfan syndrome and other connective tissue disorders such as Loeys-Dietz. If you're interested in learning more about the work being done at Duke or would like to partner or otherwise get involved, please contact Dr. Hughes or Melissa Merrill Burkett, ACNP.
Have news to share?
If you have news to share with the Pulse readership, please contact Tracey Koepke, director of communications for Duke Heart at tracey.koepke@duke.edu. We would love to hear about your latest accomplishments, professional news, cool happenings, and any events or opportunities that may be of interest to our Duke Heart family. Please call with any questions: 919-681-2868. Feedback on Pulse is welcome and encouraged. Submissions by Noon, Wednesdays, to be considered for weekend inclusion. Note: Pulse will be taking a break for the holidays from Dec. 26 through Jan. 2; we'll return on Jan. 9, 2022!
Duke Heart in the News:
December 3 — E. Hope Weissler and W. Schuyler Jones
tctMD
Statins Underprescribed in PAD Before and After Interventions
https://duke.is/722jz
December 7 — E. Hope Weissler and W. Schuyler Jones
Physician's Weekly
PAD: Statin Prescribing After Revascularization Still Low
https://duke.is/mmhc7
December 8 — Amanda Coniglio
NIH
Rare gene mutation in some Black Americans may allow earlier screening of heart failure
https://bit.ly/3IGG8N5
December 9 — Duke University Hospital
Becker's Hospital Review
https://bit.ly/3lVQ77f
December 9 — Amanda Coniglio
Clinicalomics
Mutation Linked to Heart Failure in People of African Descent
https://bit.ly/3EKmCNf
Division of Cardiology Publications Indexed in PubMed December 2-8, 2021
Becher PM, Schrage B, Benson L, Fudim M, Corovic Cabrera C, Dahlström U, Rosano GMC, Jankowska EA, Anker SD, Lund LH, Savarese G. Phenotyping heart failure patients for iron deficiency and use of intravenous iron therapy: data from the Swedish Heart Failure Registry. Eur J Heart Fail 2021:10.1002/ejhf.2338. PM: 34476878.
Bernstein E, Wang TY. Point-of-Care Ultrasonography: Visually Satisfying Medicine or Evidence-Based Medicine? JAMA Intern Med 2021:10.1001/jamainternmed.2021.5831. PM: 34633409.
Carnicelli AP, Li Z, Greiner MA, Lippmann SJ, Greene SJ, Mentz RJ, Hardy NC, Blumer V, Shen X, Yancy CW, Peterson PN, Allen LA, Fonarow GC, O'Brien EC. Sacubitril/Valsartan Adherence and Postdischarge Outcomes Among Patients Hospitalized for Heart Failure With Reduced Ejection Fraction. JACC Heart Fail 2021;9(12):876-886. PM: 34509408.
Del Rosario M, Guduguntla V, Wang TY. Nonfatal Myocardial Infarction-Poor Surrogate for Mortality. JAMA Intern Med 2021:10.1001/jamainternmed.2021.5713. PM: 34694340.
Escaned J, Cao D, Baber U, Nicolas J, Sartori S, Zhang Z, Dangas G, Angiolillo DJ, Briguori C, Cohen DJ, Collier T, Dudek D, Gibson M, Gil R, Huber K, Kaul U, Kornowski R, Krucoff MW, Kunadian V, Mehta S, Moliterno DJ, Ohman EM, Oldroyd KG, Sardella G, et al. Ticagrelor monotherapy in patients at high bleeding risk undergoing percutaneous coronary intervention: TWILIGHT-HBR. Eur Heart J 2021;42(45):4624-4634. PM: 34662382.
Hess CN, Debus ES, Nehler MR, Anand SS, Patel MR, Szarek M, Capell WH, Hsia J, Beckman JA, Brodmann M, Diaz R, Habertheuer P, Leeper NJ, Powell RJ, Sillesen H, Muehlhofer E, Berkowitz SD, Haskell LP, Bauersachs RM, Bonaca MP. Reduction in Acute Limb Ischemia with Rivaroxaban versus Placebo in Peripheral Artery Disease after Lower Extremity Revascularization: Insights from VOYAGER PAD. Circulation 2021:10.1161/CIRCULATIONAHA.121.055146. PM: 34637332.
Hsia J, Kavanagh ST, Hopley CW, Baumgartner I, Berger JS, Fowkes GR, Jones WS, Mahaffey KW, Norgren L, Patel MR, Rockhold F, Blomster J, Katona BG, Hiatt WR, Bonaca MP. Impact of chronic kidney disease on hemoglobin among patients with peripheral artery disease treated with P2Y inhibitors: Insights from the EUCLID trial. Vasc Med 2021;26(6):608-612. PM: 34082620.
Ma Z, Viswanathan G, Sellig M, Jassal C, Choi I, Garikipati A, Xiong X, Nazo N, Rajagopal S. β-Arrestin-Mediated Angiotensin II Type 1 Receptor Activation Promotes Pulmonary Vascular Remodeling in Pulmonary Hypertension. JACC Basic Transl Sci 2021;6(11):854-869. PM: 34869949.
Mack M, Carroll JD, Thourani V, Vemulapalli S, Squiers J, Manandhar P, Deeb GM, Batchelor W, Herrmann HC, Cohen DJ, Hanzel G, Gleason T, Kirtane A, Desai N, Guibone K, Hardy K, Michaels J, DiMaio JM, Christensen B, Fitzgerald S, Krohn C, Brindis RG, et al. Transcatheter Mitral Valve Therapy in the United States: A Report From the STS-ACC TVT Registry. J Am Coll Cardiol 2021;78(23):2326-2353. PM: 34711430.
Manolio TA, Bult CJ, Chisholm RL, Deverka PA, Ginsburg GS, Goldrich M, Jarvik GP, Mensah GA, Ramos EM, Relling MV, Roden DM, Rowley R, Williams MS, Green ED. Genomic medicine year in review: 2021. Am J Hum Genet 2021;108(12):2210-2214. PM: 34861172.
Matsue Y, Sama IE, Postmus D, Metra M, Greenberg BH, Cotter G, Davison BA, Felker GM, Filippatos G, Pang P, Ponikowski P, Severin T, Gimpelewicz C, Voors AA, Teerlink JR. Association of Early Blood Pressure Decrease and Renal Function With Prognosis in Acute Heart Failure. JACC Heart Fail 2021;9(12):890-903. PM: 34627724.
Salah HM, Pandey A, Soloveva A, Abdelmalek MF, Diehl AM, Moylan CA, Wegermann K, Rao VN, Hernandez AF, Tedford RJ, Parikh KS, Mentz RJ, McGarrah RW, Fudim M. Relationship of Nonalcoholic Fatty Liver Disease and Heart Failure With Preserved Ejection Fraction. JACC Basic Transl Sci 2021;6(11):918-932. PM: 34869957.
Salisbury AC, Safley DM, Kennedy KF, Bhardwaj B, Aronow HD, Jones WS, Feldman DN, Secemsky E, Tsai TT, Attaran RR, Spertus JA. Development and validation of a predictive model for bleeding after peripheral vascular intervention: A report from the National Cardiovascular Data Registry Peripheral Vascular Interventions Registry. Catheter Cardiovasc Interv 2021;98(7):1363-1372. PM: 34569709.
Samsky MD, Mentz RJ, Stebbins A, Lokhnygina Y, Aday AW, Pagidipati NJ, Jones WS, Katona BG, Patel MR, Holman RR, Hernandez AF, Gutierrez JA. Polyvascular disease and increased risk of cardiovascular events in patients with type 2 diabetes: Insights from the EXSCEL trial. Atherosclerosis 2021;338:1-6. PM: 34741929.
Stefanini GG, Briguori C, Cao D, Baber U, Sartori S, Zhang Z, Dangas G, Angiolillo DJ, Mehta S, Cohen DJ, Collier T, Dudek D, Escaned J, Gibson CM, Gil R, Huber K, Kaul U, Kornowski R, Krucoff MW, Kunadian V, Moliterno DJ, Ohman EM, Oldroyd KG, Sardella G. Ticagrelor monotherapy in patients with chronic kidney disease undergoing percutaneous coronary intervention: TWILIGHT-CKD. Eur Heart J 2021;42(45):4683-4693. PM: 34423374.
Weissler EH, Jones WS. Who Will Own the Responsibility to Prescribe Statins? Tragedy of the Commons. JAMA Netw Open 2021;4(12):e2137605. PM: 34860247.