Highlights of the week:
Friede & Nafissi at NCYIF 2021
Kevin Friede and Navid Nafissi presented their work at the 17th Annual Northwestern Cardiovascular Young Investigator's Forum this weekend in Chicago. Friede presented his abstract, A Gene Expression Signature Reflective of Exposure to Antiplatelet Therapy is Associated with Bleeding. Mentor: Deepak Voora. Nafissi presented his abstract, Integration of Electronic Health Records with Genetics in Monogenic Electrophysiologic Disorders. Mentor: Svati Shah.
Both presentations were well received. Congratulations to Nafissi who was awarded 3rd place in the Basic Science category during the awards ceremony on Saturday evening, Oct. 16.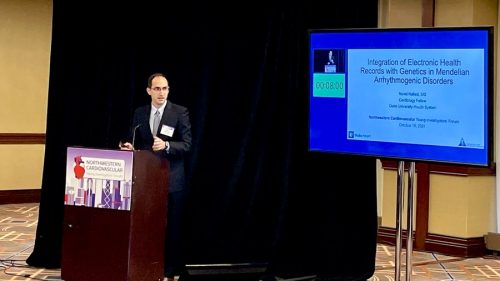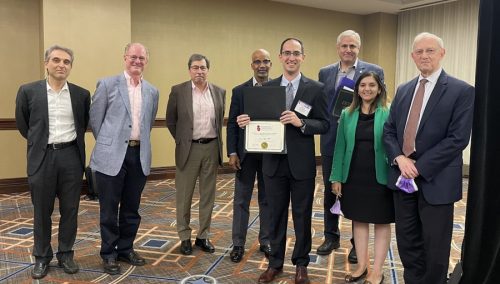 The event was presented by Northwestern University Feinberg School of Medicine and Creative Educational Concepts, Inc., and supported by an independent educational grant from AstraZeneca.
Nicely done, Kevin and Navid!!!
Latest by Tcheng is Hot Off the Press!
Congratulations to James Tcheng and his co-authors at the University of Nebraska Medical Center and University of Nebraska-Omaha for their newly published article "A Roadmap to a More Useful and Usable Electronic Health Record" in Cardiovascular Digital Health Journal:
Windle JR, Windle TA, Shamavu KY, Nelson QM, Clarke MA, Fruhling AL,Tcheng JE, A Roadmap to a More Useful and Usable Electronic Health Record, Cardiovascular DigitalHealth Journal (2021), doi: https://doi.org/10.1016/j.cvdhj.2021.09.007
Kudos to TRANSFORM-HF Team!
Congratulations to Tracy DeWald, Kim Biever and the entire Duke TRANSFORM-HF team for reaching 200 participants enrolled in the TRANSFORM-HF study. The team was notified this week that the Duke site is the highest enroller in TRANSFORM to date and is, so far, the only site to reach 200 participants. Way to go!!
Daubert Member of Championship Hockey Team
Fun fact: Duke Electrophysiologist James Daubert stays active by playing in a couple of local hockey leagues. He and his teammates in the 'Summer Over-40 league' recently won their league championship!
Daubert says his team includes a rather interesting cast of characters — professors, restaurant owners, recording studio owner-managers, business owners and at least one electrophysiologist… He adds that, for a team of players over 40, "the level of sportsmanship is pretty good although good natured competition for sure."
His team had made it to the final game in the past two seasons, but had lost to their arch rivals, the "green" team both times. This season, however, Daubert's "blue" team prevailed.
Congratulations, Jim!!!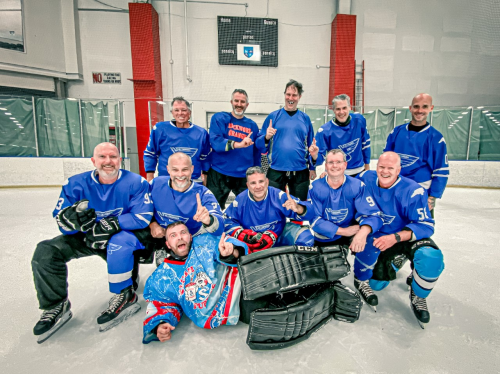 Upcoming Events & Opportunities
Cardiology Grand Rounds
October 19: New Approaches to the Mitral Valve, with Jeff Gaca. 5 p.m. Webex.
October 20: Special Grand Rounds from Jonathan Lindner on Advanced Imaging and Cardiovascular Drug Development
October 26: Sleep Disordered Breathing and Cardiovascular Disease with Jonathan Piccini, Marat Fudim and Andrew Spector. 5 p.m. Webex.
November 2: Coronary Microvascular Dysfunction with Jessica Duran. 5 p.m. Webex.
Upcoming Duke Heart CME
November 5: 13th Annual NC Research Triangle Pulmonary Hypertension Symposium. Course directors are H. James Ford (UNC) and Terry Fortin. 8:30 a.m. to 4:20 p.m. Morning case-based workshops have been cancelled due to Covid. Afternoon portion will be held via Zoom. For more information and to register, please visit: https://bit.ly/3DrZwuv.
Have news to share?
If you have news to share with the Pulse readership, please contact Tracey Koepke, director of communications for Duke Heart at tracey.koepke@duke.edu. We would love to hear about your latest accomplishments, professional news, cool happenings, and any events or opportunities that may be of interest to our Duke Heart family. Please call with any questions: 919-681-2868. Feedback on Pulse is welcome and encouraged.
Duke Heart in the News:
October issue– Division of Cardiology
Newsweek
World's Best Specialized Hospitals 2021
https://www.newsweek.com/worlds-best-specialized-hospitals-2021
October 11 — William Kraus
Physician's Weekly
Pandemic Intensifies Push for Home-Based Cardiac Care
https://duke.is/p4gs6
October 11 — Jacob Schroder
The Brunswick Beacon
Shallotte heart recipient one step closer to coming home
https://duke.is/cfsc8
October 12 — Mitch Krucoff
tctMD
Conversations in Cardiology: Do You Use Antibiotics in the Cath Lab?
https://duke.is/g3n65
October 13 — G. Michael Felker
tctMD
HF Care Didn't Suffer as Clinicians Turned to Telehealth in COVID-19
https://duke.is/nyusc
October 13 — G. Michael Felker
HCPLive
Omecamtiv Mecarbil May Reduce Time To Event in Patients with Severe Heart Failure
https://duke.is/b9gdg
October 14 — Robert Califf
CBSNews.com*
Robert Califf is the leading contender for FDA commissioner
https://duke.is/6znt4
*story appears in dozens of news outlets
October 14 — Robert Califf
The Hill*
Biden likely to tap Robert Califf to return as FDA head
https://duke.is/phhxw
October 14 — Robert Califf
WSJ.com
Biden Weighs Nominating Former FDA Commissioner Robert Califf to Lead Agency Again
https://duke.is/r6u8b
October 15 — G. Michael Felker
Medpage Today
Analysis Makes Stronger Case for Omecamtiv Mecarbil in Severe HF
https://duke.is/5cgb7
Division of Cardiology Publications Indexed in PubMed Oct 4-13, 2021
Andonian BJ, Hardy N, Bendelac A, Polys N, Kraus WE. Making Cardiopulmonary Exercise Testing Interpretable for Clinicians. Curr Sports Med Rep 2021;20(10):545-552. PM: 34622820.
Blumenthal JA, Hinderliter AL, Smith PJ, Mabe S, Watkins LL, Craighead L, Ingle K, Tyson C, Lin PH, Kraus WE, Liao L, Sherwood A. Effects of Lifestyle Modification on Patients With Resistant Hypertension: Results of the TRIUMPH Randomized Clinical Trial. Circulation 2021;144(15):1212-1226. PM: 34565172.
Bossard M, Gao P, Boden W, Steg G, Tanguay JF, Joyner C, Granger CB, Kastrati A, Faxon D, Budaj A, Pais P, Di Pasquale G, Valentin V, Flather M, Moccetti T, Yusuf S, Mehta SR. Antiplatelet therapy in patients with myocardial infarction without obstructive coronary artery disease. Heart 2021;107(21):1739-1747. PM: 33504513.
Butala NM, Secemsky E, Kazi DS, Song Y, Strom JB, Faridi KF, Brennan JM, Elmariah S, Shen C, Yeh RW. Applicability of Transcatheter Aortic Valve Replacement Trials to Real-World Clinical Practice: Findings From EXTEND-CoreValve. JACC Cardiovasc Interv 2021;14(19):2112-2123. PM: 34620389.
Camp J, Glaubitz L, Filla T, Kaasch AJ, Fuchs F, Scarborough M, Kim HB, Tilley R, Liao CH, Edgeworth J, Nsutebu E, López-Cortés LE, Morata L, Llewelyn M, Fowler VG, Thwaites G, Seifert H, Kern WV, Kuss O, Rieg S. Impact of Immunosuppressive Agents on Clinical Manifestations and Outcome of Staphylococcus aureus Bloodstream Infection: A Propensity Score-Matched Analysis in 2 Large, Prospectively Evaluated Cohorts. Clin Infect Dis 2021;73(7):1239-1247. PM: 33914861.
Carnicelli AP, Hellkamp AS, Mahaffey KW, Singer DE, Breithardt G, Halperin JL, Hankey GJ, Piccini JP, Becker RC, Nessel CC, Berkowitz SD, Fox KAA, Califf RM, Patel MR. Termination Based on Event Accrual in Per Protocol Versus Intention to Treat in the ROCKET AF Trial. J Am Heart Assoc 2021;10(19):e022485. PM: 34569249.
Chunawala ZS, Fudim M, Arora S, Qamar A, Vaduganathan M, Mentz RJ, Pandey A, Caughey MC. Clinical and Echocardiographic Characteristics of Patients Hospitalized With Acute Versus Chronic Heart Failure With Preserved Ejection Fraction (From the ARIC Study). Am J Cardiol 2021;158:59-65. PM: 34474908.
Curzen N, Nicholas Z, Stuart B, Wilding S, Hill K, Shambrook J, Eminton Z, Ball D, Barrett C, Johnson L, Nuttall J, Fox K, Connolly D, O'Kane P, Hobson A, Chauhan A, Uren N, Mccann G, Berry C, Carter J, Roobottom C, Mamas M, Rajani R, Ford I, Douglas P. Fractional flow reserve derived from computed tomography coronary angiography in the assessment and management of stable chest pain: the FORECAST randomized trial. Eur Heart J 2021;42(37):3844-3852. PM: 34269376.
Debus ES, Nehler MR, Govsyeyev N, Bauersachs RM, Anand SS, Patel MR, Fanelli F, Capell WH, Brackin T, Hinterreiter F, Krievins D, Nault P, Piffaretti G, Svetlikov A, Jaeger N, Hess CN, Sillesen HH, Conte M, Mills J, Muehlhofer E, Haskell LP, Berkowitz SD. Effect of Rivaroxaban and Aspirin in Patients With Peripheral Artery Disease Undergoing Surgical Revascularization: Insights From the VOYAGER PAD Trial. Circulation 2021;144(14):1104-1116. PM: 34380322.
Eisenstein EL, Zozus MN, Terry SF, Davidson-Ray L, Anstrom KJ. Ascertaining Nonfatal Endpoints in Clinical Trials: Central Adjudication Versus Patient Insurance Claims. Ther Innov Regul Sci 2021;55(6):1250-1257. PM: 34228318.
Flumignan RL, Trevisani VF, Lopes RD, Baptista-Silva JC, Flumignan CD, Nakano LC. Ultrasound guidance for arterial (other than femoral) catheterisation in adults. Cochrane Database Syst Rev 2021;10:CD013585. PM: 34637140.
Gardner RS, Capodilupo RC, Ahmed R, Stolen CM, An Q, Averina V, Hernandez AF, Boehmer JP. Multiparameter diagnostic sensor measurements in heart failure patients presenting with SARS-CoV-2 infection. ESC Heart Fail 2021;8(5):4026-4036. PM: 34184428.
Ginsburg G, Penny M, Feero WG, Miller M, Addie S, Beachy SH. The National Academies' Roundtable on Genomics and Precision Health: Where we have been and where we are heading. Am J Hum Genet 2021;108(10):1817-1822. PM: 34626581.
Greene SJ, Butler J. Investigator-Reported Versus Adjudicated Clinical Events: 2 Versions of the Truth? J Am Coll Cardiol 2021;78(15):1538-1540. PM: 34620411.
Johnson JN, Mandell JG, Christopher A, Olivieri LJ, Loke YH, Campbell MJ, Darty S, Kim HW, Clark DE, Frischhertz BP, Fish FA, Bailey AL, Mikolaj MB, Hughes SG, Oneugbu A, Chung J, Burdowski J, Marfatia R, Bi X, Craft J, Umairi RA, Kindi FA, Williams JL. Society for Cardiovascular Magnetic Resonance 2020 Case of the Week series. J Cardiovasc Magn Reson 2021;23(1):108. PM: 34629101.
Jones RC, Creutzfeldt CJ, Cox CE, Haines KL, Hough CL, Vavilala MS, Williamson T, Hernandez A, Raghunathan K, Bartz R, Fuller M, Krishnamoorthy V. Racial and Ethnic Differences in Health Care Utilization Following Severe Acute Brain Injury in the United States. J Intensive Care Med 2021;36(11):1258-1263. PM: 32912070.
Kim HJ, Snyder LD, Adegunsoye A, Neely ML, Bender S, White ES, Conoscenti CS, Strek ME. Hospitalizations in patients with idiopathic pulmonary fibrosis. Respir Res 2021;22(1):257. PM: 34592998.
Kim HW, Jenista ER, Wendell DC, Azevedo CF, Campbell MJ, Darty SN, Parker MA, Kim RJ. Patients With Acute Myocarditis Following mRNA COVID-19 Vaccination. JAMA Cardiol 2021;6(10):1196-1201. PM: 34185046.
Levy KD, Blake K, Fletcher-Hoppe C, Franciosi J, Goto D, Hicks JK, Holmes AM, Kanuri SH, Madden EB, Musty MD, Orlando L, Pratt VM, Ramos M, Wu R, Ginsburg GS. Correction: Opportunities to implement a sustainable genomic medicine program: lessons learned from the IGNITE Network. Genet Med 2021;23(10):2020. PM: 33288881.
Lopes RD, de Barros E Silva PGM, Furtado RHM, Alexander JH, Berwanger O. Age-adjusted D-dimer cutoffs to guide anticoagulation in COVID-19 – Authors' reply. Lancet 2021;398(10308):1304. PM: 34627488.
Mentz RJ, Whellan DJ, Reeves GR, Pastva AM, Duncan P, Upadhya B, Nelson MB, Chen H, Reed SD, Rosenberg PB, Bertoni AG, O'Connor CM, Kitzman DW. Rehabilitation Intervention in Older Patients With Acute Heart Failure With Preserved Versus Reduced Ejection Fraction. JACC Heart Fail 2021;9(10):747-757. PM: 34246602.
Mirza KK, Szymanski MK, Schmidt T, de Jonge N, Brahmbhatt DH, Billia F, Hsu S, MacGowan GA, Jakovljevic DG, Agostoni P, Trombara F, Jorde U, Rochlani Y, Vandersmissen K, Reiss N, Russell SD, Meyns B, Gustafsson F. Prognostic Value of Peak Oxygen Uptake in Patients Supported With Left Ventricular Assist Devices (PRO-VAD). JACC Heart Fail 2021;9(10):758-767. PM: 34391745.
O'Neill BP, Grines C, Moses JW, Ohman EM, Lansky A, Popma J, Kapur NK, Schreiber T, Mannino S, O'Neill WW, Medjamia AM, Mahmud E. Outcomes of bailout percutaneous ventricular assist device versus prophylactic strategy in patients undergoing nonemergent percutaneous coronary intervention. Catheter Cardiovasc Interv 2021;98(4):E501-E512. PM: 34051033.
Oyama K, Giugliano RP, Blazing MA, Park JG, Tershakovec AM, Sabatine MS, Cannon CP, Braunwald E. Baseline Low-Density Lipoprotein Cholesterol and Clinical Outcomes of Combining Ezetimibe With Statin Therapy in IMPROVE-IT. J Am Coll Cardiol 2021;78(15):1499-1507. PM: 34620406.
Piccini JP, El-Chami M, Wherry K, Crossley GH, Kowal RC, Stromberg K, Longacre C, Hinnenthal J, Bockstedt L. Contemporaneous Comparison of Outcomes Among Patients Implanted With a Leadless vs Transvenous Single-Chamber Ventricular Pacemaker. JAMA Cardiol 2021;6(10):1187-1195. PM: 34319383.
Povsic TJ, Henry TD, Ohman EM, Pepine CJ, Crystal RG, Rosengart TK, Reinhardt RR, Dittrich HC, Traverse JH, Answini GA, Mokadam NA. Epicardial delivery of XC001 gene therapy for refractory angina coronary treatment (The EXACT Trial): Rationale, design, and clinical considerations. Am Heart J 2021;241:38-49. PM: 34224684.
Sharma A, Januzzi JL, Suchindran S, Coles A, Hoffmann U, Ferencik M, Patel MR, Ginsburg GS, Douglas PS. Utility of High-Sensitivity Troponin Among Stable Patients With Chest Pain Undergoing Stress Imaging (from PROMISE). Am J Cardiol 2021;158:148-149. PM: 34454709.
Sullivan AE, Nanna MG, Wang TY, Bhatt DL, Angiolillo DJ, Mehran R, Banerjee S, Cantrell S, Jones WS, Rymer JA, Washam JB, Rao SV, Ohman EM. Bridging Antiplatelet Therapy After Percutaneous Coronary Intervention: JACC Review Topic of the Week. J Am Coll Cardiol 2021;78(15):1550-1563. PM: 34620413.
Temu TM, Macharia P, Mtui J, Mwangi M, Ngungi PW, Wanjalla C, Bloomfield GS, Farquhar C, Nyanjau L, Gathecha GK, Kibachio J. Obesity and risk for hypertension and diabetes among Kenyan adults: Results from a national survey. Medicine (Baltimore) 2021;100(40):e27484. PM: 34622879.
Wang L, Wang E, Prado Balcazar J, Wu Z, Xiang K, Wang Y, Huang Q, Negrete M, Chen KY, Li W, Fu Y, Dohlman A, Mines R, Zhang L, Kobayashi Y, Chen T, Shi G, Shen JP, Kopetz S, Tata PR, Moreno V, Gersbach C, Crawford G, Hsu D, Huang E, Bu P, Shen X. Chromatin Remodeling of Colorectal Cancer Liver Metastasis is Mediated by an HGF-PU.1-DPP4 Axis. Adv Sci (Weinh) 2021;8(19):e2004673. PM: 34378358.
White PJ, McGarrah RW, Herman MA, Bain JR, Shah SH, Newgard CB. Insulin action, type 2 diabetes, and branched-chain amino acids: A two-way street. Mol Metab 2021;52:101261. PM: 34044180