Highlights of the week:
Ginsburg named Chief Medical & Scientific Officer, NIH All of Us Research Program
Geoffrey S. Ginsburg, MD, PhD, a professor of medicine in cardiology, a professor in pathology, biostatistics and bioinformatics, a professor of biomedical engineering, and a professor in Duke's School of Nursing, will leave Duke to assume the role of Chief Medical and Scientific Officer for the National Institutes of Health (NIH) All of Us Research Program, effective January 2022. Dual announcements were made on Nov. 3 by the NIH and Duke School of Medicine.
In his new role, Ginsburg will have the opportunity to build out the research agenda for All of Us and to engage research scientists across all 27 institutes of the NIH as well as the research community across the U.S. and internationally.
"As I reflect on what I've been doing across most of my career both at Millennium Pharmaceuticals in the late 1990s and early 2000s and then at Duke for the last 17 years, this opportunity with All of Us is the capstone for everything I've been thinking about," says Ginsburg. "In the U.S., this platform is second to none in terms of the ability to carry out the research agenda for precision medicine. It encompasses an amazing set of resources that has the potential to really change how we practice medicine, how we do research, and it brings to fruition my particular focus on individualized care, health, and population health."
Originally announced as the Precision Medicine Initiative cohort program in 2015 by former U.S. President Barack Obama, the name was later changed to the All of Us Research Program, which aims to gather data from at least one million diverse people aged 18 and up who reside in the U.S. as a means of accelerating biomedical research and improving health. The data repository is expected to permit researchers to "take into account individual differences in lifestyle, socioeconomic factors, environment, and biologic characteristics in order to advance precision diagnosis, prevention, and treatment," according to a 2019 special report in the New England Journal of Medicine.
All of Us is enrolling participants from a network of more than 340 recruitments sites. According to the All of Us research website more than 429,000 participants have joined the program and more than 329,000 have contributed biospecimens to the repository, with more than 80 percent of those participants hailing from groups that have been historically underrepresented in biomedical research. The first 80,000 whole genome sequences will be released by the end of the year.
"A visionary leader in genomics and precision medicine, Dr. Ginsburg has been instrumental in Duke's work to advance this still emerging field of science, foster important collaborations, and improve human health," said Mary E. Klotman, MD, Dean, Duke University School of Medicine.
Indeed, Ginsburg has been a transformative leader for Duke University and the School of Medicine for 17 years. He is the founding director of the Center for Applied Genomics & Precision Medicine (CAGPM) and also founding director of MEDx, a partnership between Duke's Schools of Medicine and Engineering, which is designed to stimulate collaboration and innovation. During his tenure at Duke, Ginsburg has pioneered translational genomics, the development of novel diagnostics, and precision medicine. With a strong commitment to interdisciplinary science and innovation, he has led projects to develop predictive models for common complex diseases using high dimensional genomic data and developed partnerships with engineering colleagues to develop novel point of care sensors.
"Dr. Ginsburg's achievements at Duke are numerous, and they all center around genetic science and entrepreneurship fueled by innovation and collaboration," says Kathleen Cooney, MD, chair, Duke Department of Medicine. "Geoff has made an enormous difference here as founder of both the Center for Applied Genomics & Precision Medicine and MEDx. His ability to identify and build partnerships across the Duke enterprise with the Pratt School of Engineering, Duke Heart, and many, many others has been a driving force behind our leadership in precision medicine."
An internationally recognized expert in genomics and personalized medicine, Ginsburg has authored or co-authored more than 300 peer-reviewed publications. His research has been supported by the NIH, the Department of Defense, National Aeronautics and Space Administration (NASA), the Defense Advanced Research Projects Agency (DARPA), the Gates Foundation, and others. Throughout his career, he has demonstrated a strong commitment to interdisciplinary science and innovation, with work spanning oncology, infectious diseases, cardiovascular disease and metabolic disorders. He is a founding co-chair of the International HundredK+ Cohorts Consortium, and founder and president of the Global Genomic Medicine Collaborative (G2MC), a not-for-profit organization aimed at creating international partnerships to advance the implementation of precision medicine.
Ginsburg has served on a number of advisory councils for the NIH including the National Heart, Lung and Blood Institute's (NHLBI) Board of External Experts (2007-2016), the National Advisory Council for Human Genome Research (2009-2011), the External Advisory Committee of the Pharmacogenomics Research Network (2010-2013), the National Center to Accelerate Translational Science (NCATS) Advisory Council (2012-2017), the NHLBI External Advisory Board for Precision Medicine Initiative (2015-2016), and most recently on the Advisory Committee to the Director of the NIH (2016-2020), and the Genomic Medicine Working Group for the National Human Genome Research Institute (2011 to present). He has held leadership roles as the Chair of the NIH CTSA Translational Steering Committee and as Vice Chair of the Cures Acceleration Network Advisory Board.
Ginsburg will step down from both of his directorship roles at Duke in late December. He will remain on faculty at Duke as an adjunct professor in the School of Medicine. The Center for Applied Genomics will continue to grow and succeed at Duke thanks to the team Ginsburg has grown over the years. Dr. Cooney will serve as interim center director to ensure a smooth and orderly transition once a new director is named. Dean Klotman, Provost Sally Kornbluth, and Jerome Lynch, who was recently named dean of Duke's Pratt School of Engineering, will work together to plan the future direction of MEDx.
We are so excited for Geoff and this incredible career opportunity for him at the NIH! He has done an outstanding job at Duke and he will be deeply missed. Please join us in congratulating him on this exciting next step in his accomplished career!
Celebrating Nurse Practitioner Week 2021
It's Nurse Practitioner (NP) Week, November 7-13. Please join us in helping to celebrate our many nurse
practitioners throughout Duke Heart and Duke Health. They are a vital part of all Duke care teams and an invaluable resource to our patients and their loved ones.
NP Week recognizes the contributions NPs make to the health of patients nationwide. These health care professionals practice in clinics, hospitals, emergency rooms, urgent care centers, nursing homes and private practices across the country — wherever patients are in need. They've done an exceptional job in all areas of Duke Heart throughout the COVID-19 pandemic.
Did you know there are more than 325,000 NPs licensed in the U.S.? According to the American Association of Nurse Practitioners, 81 percent of full time NPs see Medicare patients and 78.7 percent see Medicaid patients; 42.5 percent hold hospital privileges. NPs assess patients, order and interpret tests, make diagnoses and provide treatment, including prescribing medications. As clinicians who blend clinical expertise with an added emphasis on disease prevention and health management, NPs are critical members of health care teams across the U.S.
Please join us in thanking and celebrating our Duke Heart Nurse Practitioners!
Positive Top Line Results from U.S. Randomized OCS DCD Heart Trial Announced
TransMedics Group, Inc., announced this week positive topline results from its OCS Donation After Circulatory death (DCD) Heart Trial, which was designed as the first and only randomized trial to compare post-transplant clinical outcomes between hearts transplanted from DCD donors that were resuscitated and assessed on their OCS Heart System and standard criteria donation after brain death (DBD) heart transplants that were preserved using cold storage in the U.S.
The primary goal of the study was to assess the effectiveness and safety of OCS Heart technology to expand the heart donor pool with hearts from DCD donors. Heart transplant candidates were randomized 3:1 into two groups: DCD Heart Possible (DCD) or DBD cold stored hearts (Control). The trial protocol compared the post-transplant outcomes from recipients of DCD hearts preserved on OCS (DCD) to all those who received standard criteria DBD hearts preserved with cold storage (DBD Control).
The OCS DCD Heart trial achieved its primary clinical objectives by meeting the primary
effectiveness endpoint of 6 month patient survival post-transplant which was 95 percent for OCS DCD arm vs. 89 percent for the Control cold storage DBD arm. Even when the outcomes were adjusted for all risk factors between the two groups the results were 94 percent for OCS and 90 percent for Control (non-inferiority p<0.0001), according to the statement released by TransMedics on Nov. 3.
Of 101 DCD donor hearts that were perfused and assessed on OCS Heart technology, 90 were successfully transplanted resulting in a utilization rate of 89 percent. Long-term follow-up is ongoing and the final results are expected to be presented at the International Society for Heart and Lung Transplantion 42nd annual meeting and scientific sessions in April 2022 in Boston.
The OCS Heart System was approved by the U.S. Food and Drug Administration (FDA) for its
DBD heart indication in September 2021. According to TransMedics, the DCD trial results will be submitted shortly to the FDA in a premarket approval supplement to support the approval for the OCS DCD heart indication.
"The OCS DCD Heart Trial provides objective randomized evidence showing high utilization and
excellent short-term clinical outcomes using hearts that historically were never considered for
transplants in the U.S.," said Jacob Schroder, MD, surgical director of heart transplantation at
Duke University Health System and the principal investigator for the OCS DCD Heart Trial. "The
more widespread use of DCD hearts for transplantation is the biggest thing to happen since the
beginning of heart transplantation."
Duke was the first U.S. site to enroll a patient into the TransMedics OCS DCD Heart Trial. Schroder led a Duke Heart transplant team in the first DCD heart transplant in the U.S. on Dec. 2, 2019 at Duke University Hospital. Duke was the lead enroller in the trial.
Al-Khatib, Daubert Listed as Top Scholars, Sudden Cardiac Death
Sana Al-Khatib and Jim Daubert, electrophysiologists with Duke Heart, have been listed by Expertscape in
the top 1 percent of sudden cardiac death experts contributing peer-reviewed journal articles to the scientific literature over the past 10 years. Al-Khatib is ranked as the top contributor, globally.
Expertscape is an online tool geared toward consumers seeking information regarding the most knowledgeable experts in various biomedical research fields. According to their website, Expertscape bases its rankings by mining available scientific publications via online search engines such as PubMed.
Congrats, Sana and Jim!
13th Annual Pulmonary Hypertension Symposium Held
The 13th Annual North Carolina Research Triangle Pulmonary Hypertension Symposium was held on Friday, Nov. 5. Course directors H. James Ford of UNC School of Medicine and Duke Heart's Terry Fortin pulled together a terrific program for more than 240 attendees. In addition to Fortin, Duke presenters included Kishan Parikh, Sudarshan Rajagopal and Jordan Whitson. The event was held online and presented by Duke Health and UNC School of Medicine.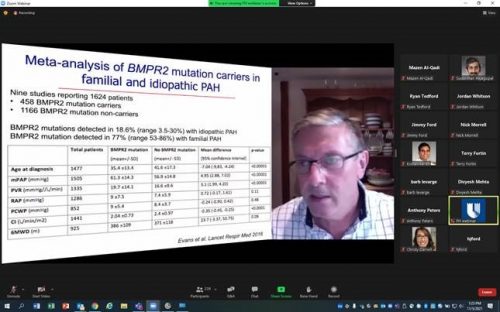 Katz Opens NYU Critical Care Cardiology Symposium
Jason Katz served as a co-course director of the first NYU Langone Critical Care Cardiology Symposium held virtually on Friday, Nov. 5. He kicked off session 1 of the symposium with his presentation, Why Do We Need This Conference? A Journey Through the Evolution of Critical Care Cardiology. The symposium, more than seven years in the making, was a resounding success with more than 850 registrants from over 28 countries. Katz not only helped plan the event, he also served as a moderator for several sessions and pledged to cover costs for any Duke cardiology fellow wishing to attend. Katz's fellow co-course directors included Carlos L. Alviar, Samuel Bernard, James Horowitz and Eugene Yuriditsky, all of the NYU Grossman School of Medicine, and Christopher Barnett of the University of California, San Francisco.
The NYU Langone Critical Care Cardiology Symposium became the first dedicated Cardiac Critical Care conference to take place in the U.S. Way to go, Jason!
Duke Heart at TCT2021
TCT2021, the Transcatheter Cardiovascular Therapeutics 2021 conference was held Nov. 4-6 as a hybrid event based in Orlando and online. Duke had a strong presence with the following moderators and discussants: Pamela Douglas, Sunil Rao, Jennifer Rymer, Mitch Krucoff, Rob Califf, Sreekanth Vemulapalli, Vishal Rao, Marat Fudim, Christopher Granger and Renato Lopes. Poster presentations included Duke cardiology fellow Zach Wegermann.  Jenn Rymer is quoted in several news stories, be sure to check out our News section, below.
BTW, TCT2021 content is on demand and free for one year. Great job, everyone!
Flores Rosario Presents at ACC NC-Chile Case Conference
Karen Flores Rosario, a Duke cardiology 2nd year fellow, was chosen to give an international conference presentation on behalf of the North Carolina chapter of the American College of Cardiology and the Chilean Society of Cardiology and Cardiovascular Surgery (SOCHICAR). The webinar, Clinical Cases from ACC North Carolina and SOCHICAR was held Oct. 25. Flores Rosario presented a brilliant case of lamin cardiomyopathy and did an exceptional job. The discussion was co-moderated by Drs. Adam DeVore and Richard Krasuski.
Well done, Karen!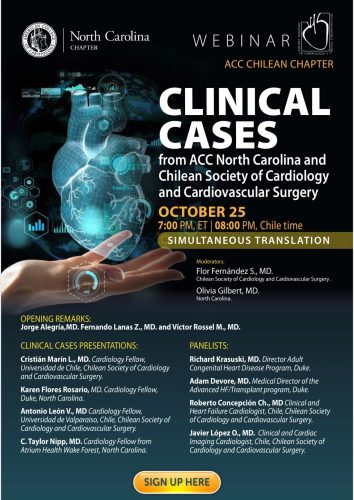 Upcoming Events & Opportunities
Cardiology Grand Rounds
November 9: Case Conference – Lessons Learned in Peri-Operative LVAD Care with Amanda Coniglio. 5 p.m. Webex.
Request for Nominations: Samuel DuBois Cook Society Awards
The Samuel DuBois Cook Society invites nominations of individuals from every sector of the Duke Community: staff, administrators, and students — undergraduate, graduate or professional.
Founded to be an instrument of social engagement and change, the Cook Society seeks to recognize members of the Duke community who reflect in their work or in their academic pursuits, the objectives to which Dr. Cook dedicated his professional life — social justice, mentoring, the University's relationship to the black community, and his vision of the "beloved community," seeking to improve relations among persons of all backgrounds.
Nominations are due November 8, 2021, and winners will be notified in the first week of December.
Awards will be presented during the annual Cook Society Awards Ceremony on February 22, 2022, at the Washington Duke Inn & Golf Club.
In evaluating nominees, the committee seeks members of the Duke community who:
Actively nurture a sense of community and belonging for Black people.
Commit to translate the promise and potential of Black people at Duke into fulfillment and actuality
Foster positive and constructive interpersonal and intergroup relations within both Duke University's and Durham's Black communities
Cultivate positive relations between Black people and other ethnic, racial, and national groups on the basis of an enlightened appreciation and knowledge of our historic interdependence
To learn more/make a nomination please click here.
Request for Nominations: Raymond Gavins Distinguished Faculty Award
The Samuel DuBois Cook Society invites nominations of faculty whose teaching, mentoring, research, publishing, and engagement with faculty, students and staff have helped to improve relations among people of all backgrounds at Duke and beyond.
Nominations are due November 8, 2021, and winners will be notified in the first week of December. Awards will be presented during the annual Cook Society Awards Dinner on February 22, 2022, at the Washington Duke Inn & Golf Club.
In evaluating nominees, the committee seeks faculty who:
Actively nurture a sense of community and belonging for Black people.
Commit to translate the promise and potential of Black people at Duke into fulfillment and actuality
Foster positive and constructive interpersonal and intergroup relations within both Duke University's and Durham's Black communities
Cultivate positive relations between Black people and other ethnic, racial, and national groups on the basis of an enlightened appreciation and knowledge of our historic interdependence
To learn more/make a nomination please click here.
Have news to share?
If you have news to share with the Pulse readership, please contact Tracey Koepke, director of communications for Duke Heart at tracey.koepke@duke.edu. We would love to hear about your latest accomplishments, professional news, cool happenings, and any events or opportunities that may be of interest to our Duke Heart family. Please call with any questions: 919-681-2868. Feedback on Pulse is welcome and encouraged.
Duke Heart in the News:
October 28 — Duke University Hospital
The Fox Magazine
11 Six Reasons To Relocate To North Carolina: A Useful Guide
https://bit.ly/3nSuXHf
October 29 — Duke University Hospital/Cardiology
Cardiovascular Business
Learning from the best: The world's top 20 universities for cardiology
https://bit.ly/3BPCDPP
November 1 — Joseph Turek
Science
Skin, nerve transplants from genetically modified pigs could help humans, but organs are a way off
https://bit.ly/3mChFiP
November 2 — Robert Califf and Haider Warraich
STAT
I've worked with Robert Califf. He is the leader the FDA needs
https://bit.ly/3CHJHiz
November 4 — Jennifer Rymer
tctMD
Good Early Outcomes With PCI in Complex Patients Unsuited to Surgery: OPTIMUM
https://bit.ly/3D6RHdj
November 4 — Jennifer Rymer
tctMD
OCT Guidance Cuts Stent Use in STEMI Without Plaque Rupture: EROSION III
https://bit.ly/3CVQsNY
Division of Cardiology Publications Indexed in PubMed Oct. 28-Nov. 3, 2021
Breitbart P, Koch A, Schmidt M, Magedanz A, Lindhoff-Last E, Voigtländer T, Schmermund A, Mehta RH, Eggebrecht H. Clinical and cardiac magnetic resonance findings in post-COVID patients referred for suspected myocarditis. Clin Res Cardiol 2021;110(11):1832-1840. PM: 34448040.
Cho SM, Floden D, Wallace K, Hiivala N, Joseph S, Teuteberg J, Rogers JG, Pagani FD, Mokadam N, Tirschwell D, Li S, Starling RC, Mahr C, Uchino K. Long-Term Neurocognitive Outcome in Patients With Continuous Flow Left Ventricular Assist Device. JACC Heart Fail 2021;9(11):839-851. PM: 34509403.
Dorling JL, Belsky DW, Racette SB, Das SK, Ravussin E, Redman LM, Höchsmann C, Huffman KM, Kraus WE, Kobor MS, MacIsaac JL, Lin DTS, Corcoran DL, Martin CK. Association between the FTO rs9939609 single nucleotide polymorphism and dietary adherence during a 2-year caloric restriction intervention: Exploratory analyses from CALERIE™ phase 2. Exp Gerontol 2021;155:111555. PM: 34543722.
Duan KI, Helfrich CD, Rao SV, Neely EL, Sulc CA, Naranjo D, Wong ES. Cost analysis of a coaching intervention to increase use of transradial percutaneous coronary intervention. Implement Sci Commun 2021;2(1):123. PM: 34706775.
Ezekowitz JA, Zheng Y, Cohen-Solal A, Melenovský V, Escobedo J, Butler J, Hernandez AF, Lam CSP, O'Connor CM, Pieske B, Ponikowski P, Voors AA, deFilippi C, Westerhout CM, McMullan C, Roessig L, Armstrong PW. Hemoglobin and Clinical Outcomes in the Vericiguat Global Study in Patients With Heart Failure and Reduced Ejection Fraction (VICTORIA). Circulation 2021;144(18):1489-1499. PM: 34432985.
Friedland A, Hernandez AF, Anstrom KJ, Chen-Lim ML, Cohen LW, Currier JS, Forrest CB, Fraser R, Fraulo E, George A, Handberg E, Jackman J, Koellhoffer J, Lawrence D, Leverty R, McAdams P, McCourt B, Mickley B, Naqvi SH, O'Brien EC, Olson R, Prater C, et al.  Design of the Healthcare Worker Exposure Response and Outcomes (HERO) research platform. Contemp Clin Trials 2021;109:106525. PM: 34371163.
Hess CN, Patel MR, Bauersachs RM, Anand SS, Debus ES, Nehler MR, Fanelli F, Yeh RW, Secemsky EA, Beckman JA, Mauri L, Govsyeyev N, Capell WH, Brackin T, Berkowitz SD, Muehlhofer E, Haskell LP, Hiatt WR, Bonaca MP. Safety and Effectiveness of Paclitaxel Drug-Coated Devices in Peripheral Artery Revascularization: Insights From VOYAGER PAD. J Am Coll Cardiol 2021;78(18):1768-1778. PM: 34711335.
Karnam S, Maddala R, Stiber JA, Rao PV. Drebrin, an actin-binding protein, is required for lens morphogenesis and growth. Dev Dyn 2021;250(11):1600-1617. PM: 33896079.
Koontz BF, Levine E, McSherry F, Niedzwiecki D, Sutton L, Dale T, Streicher M, Rushing C, Owen L, Kraus WE, Bennett G, Pollak KI. Increasing physical activity in Cancer Survivors through a Text-messaging Exercise motivation Program (ICanSTEP). Support Care Cancer 2021;29(12):7339-7349. PM: 34050402.
Miller PE, Mullan CW, Chouairi F, Sen S, Clark KA, Reinhardt S, Fuery M, Anwer M, Geirsson A, Formica R, Rogers JG, Desai NR, Ahmad T. Mechanical ventilation at the time of heart transplantation and associations with clinical outcomes. Eur Heart J Acute Cardiovasc Care 2021;10(8):843-851. PM: 34389855.
Noyd DH, Berkman A, Howell C, Power S, Kreissman SG, Landstrom AP, Khouri M, Oeffinger KC, Kibbe WA. Leveraging Clinical Informatics Tools to Extract Cumulative Anthracycline Exposure, Measure Cardiovascular Outcomes, and Assess Guideline Adherence for Children With Cancer. JCO Clin Cancer Inform 2021;5:1062-1075. PM: 34714665.
Ohman EM. The Evolving Post-PCI Antithrombotic Therapies. N Engl J Med 2021;385(18):1712-1714. PM: 34449186.
Oyediran IO, Prattipati S, Sakita FM, Kweka GL, Tarimo TG, Peterson T, Loring Z, Limkakeng AT, Bloomfield GS, Hertz JT. The prevalence, management, and thirty-day outcomes of symptomatic atrial fibrillation in a Tanzanian emergency department. Afr J Emerg Med 2021;11(4):404-409. PM: 34703731.
Shenker RF, Hong JC, Eclov N, Fairchild A, Patel P, Niedzwiecki D, Palta M. Survey of Healthcare Providers Utilization and Perception of Telehealth On-Treatment Visits During COVID-19 Pandemic. Int J Radiat Oncol Biol Phys 2021;111(3S):S112. PM: 34700417.