Highlights of the week:
Shah, Granger Among Duke Faculty Members Awarded Distinguished Professorships
We are pleased to congratulate Christopher B. Granger, MD, and Svati Shah, MD, MHS, on their newly awarded distinguished professorships! Granger and Shah are among 44 Duke faculty members from across all Schools and Institutes to receive the designations from Duke University this year. The honorees were formally recognized by President Vincent Price and Interim Provost Jennifer Francis during a ceremony at the Washington Duke Inn Thursday evening, May 4. A total of 27 faculty from the Duke University School of Medicine were honored.
Granger has been named a Donald F. Fortin, M.D. Distinguished Professor of Medicine. Shah has been named an Ursula Geller Distinguished Professor of Research in Cardiovascular Diseases.
"I am so appreciative to have this honor that is a tribute to the fellows, faculty and other collaborators with whom I have been fortunate to work," said Granger, Donald F. Fortin, MD Distinguished Professor of Medicine. "It is especially meaningful to have the named professorship established by Don Fortin, who was a Duke Cardiology fellow with me, and was previously held by Rob Califf."
Distinguished professorships are awarded to faculty who have demonstrated extraordinary scholarship in advancing science and improving human health.
"I am so honored to have received this," says Shah, Ursula Geller Distinguished Professor of Research in Cardiovascular
Diseases. "When I started as a cardiology fellow at Duke over 20 years ago, I would never have imagined this could happen for me. I am grateful to all of my incredible mentors for their support, to my cardiology colleagues who have enabled our collaborative research, and to Dr. George Barth and Ursula Geller for generously supporting this professorship."
To read the full list of professorships awarded, please visit Duke Today. To see a piece exclusively about the SOM recipients, please visit the DUSOM news story.
Such terrific news and well deserved, Svati and Chris! Congratulations!
Gallagher Named Chief Medical Officer, Duke University Hospital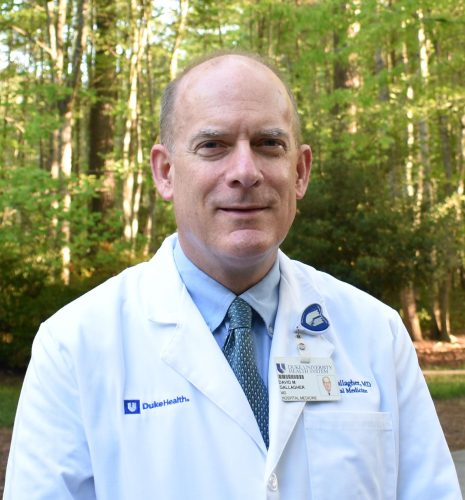 Mary Martin, interim President and Chief Operating Officer of Duke University Hospital (DUH), announced this week that Dr. David Gallagher has been named the new Chief Medical Officer of DUH.
"After an extensive internal search with 16 well-qualified applicants, I am pleased to announce that David Gallagher, MD, SFHM, has been named Chief Medical Officer for Duke University Hospital, effective May 1, 2023.
In this role, Dr. Gallagher will work in conjunction with the DUH Senior Leadership Team to oversee all hospital operations, lead the development of standard work, ensure the delivery of effective care, and manage medical staff matters and concerns. Specifically, he will also manage the DUH medical directors and champion initiatives related to access, patient safety, and quality efforts in conjunction with the DUH Chief Quality Officer, department chairs, and Clinical Services vice-chairs.
Dr. Gallagher has been with Duke since 2006. He has served as the Chief of Duke Hospital Medicine Programs since 2012 and the Associate Chief Medical Officer since 2014. He is currently an Associate Professor of Medicine within the Division of General Internal Medicine. He has a Senior Fellow designation from the Society of Hospital Medicine and treats patients on the Duke General Medicine Inpatient Service, where he also teaches.
Dr. Gallagher's vast clinical experience, academic accomplishments, and leadership excellence make him an ideal fit for this vital position at our hospital during this very important time in healthcare.
Outside of work, Dr. Gallagher is devoted to his wife, Jennifer, their two daughters, and their many pets. He also enjoys surfing whenever he can get to the ocean.
"I am excited, honored, and humbled to have been chosen for this role," Dr. Gallagher said. "I look forward to continuing to partner with all the incredible people at Duke University Hospital and across the health system to further our healthcare journey with continued focus on caring for our patients, their loved ones, and each other."
Information regarding interim hospital medicine leadership is forthcoming.
Martin extended her gratitude to the DUH Chief Medical Officer search committee for their commitment to a fair and transparent process: Ted Boyse, Adia Ross, Jennifer Phillips, Joe Govert, Kristie Barazsu, Sherri Pearce, Cathy Kuhn, Shilpa Shelton, Bryan Mallory, Matt Barber, and Holly Garon Colley.
We join all of Duke Health in congratulating David on his new senior leadership role at Duke University Hospital.
Celebrating Nursing Week
It's National Nursing Week, and here at Duke Health, it is also Mary Ann Fuchs Week. On behalf of Duke Heart, we recognize Dr. Fuchs for her incredible nursing career at Duke, as well as our entire team of nurses for their many professional accomplishments and contributions in caring for Duke Heart patients over the past year. The past several years held great challenges, as we all know, and we're so grateful for the amazing care you provided. With a growing population throughout North Carolina, there are more patients than ever in need of the highly specialized care that our Duke Heart team provides.
Duke Heart Nurses are foundational to Duke's ability to provide best-in-class cardiovascular care. Each of you have been a part of many 'firsts' in the U.S. and at Duke throughout the years; you've cared for patients and partnered with our cardiology and cardiac surgery providers in clinical trials; you have been driving excellence across our quality and safety measures; and you've supported bed and tower expansion, unit moves, site visits, and growth throughout all areas of Duke Heart. Our outpatient teams continued to support our patients and families using new technologies and approaches, including enhanced telehealth and expansion of our rehabilitation programs. None of these accomplishments would be possible without the amazing care across our outpatient, rehabilitation, procedural, diagnostic and the inpatient cardiology and surgical units.
In the midst of a another very busy clinical year, each of you continued to show tremendous compassion for not only Duke patients and families, but also each other and our community. The Duke Heart Nursing team possesses unmatched talent, dedication and teamwork that exemplifies living the Duke Values.
Our successes across the Duke Heart team would not be possible without each one of you!
As part of this special week, this year's Friends of Nursing guest speaker is Rebecca Love, MSN, BS, RN, FIEL, who will
present The Power of Nursing.  All are welcome to participate. You can log in on your own or join teammates at a watch party location where snacks and drinks will be provided to watch her presentation.
Tuesday, May 9 from 2-3 p.m. Via Zoom.
Virtual Watch Party Locations (No RSVP needed):
DUH: DN 2002
DRH: Behavioral Health Community Room
DRaH: Cardinal/Dogwood in North Pavilion
The purpose of Love's presentation is to inspire nurses to develop their unique, experience-based solutions to patient care and staffing issues into strategies and products that can be utilized across health care settings and organizations. The activity will include time for questions and answers.
Everyone is welcome to hear the National Nurses Week speaker; no registration is necessary.
Duke's National Nurses Week speaker is made possible by The Martha White Blalock Nurse Scholar Endowment Fund. For questions about this and other activities supported by Friends of Nursing, please email: friendsofnursing@dm.duke.edu or call 919-681-5094.
For a full list of all Nursing Week events across the DUHS enterprise, please visit Duke Health Now's Celebrating Nurses Week page. There, you can also download a Zoom background to help celebrate our Duke Health nurses.
It's Hospital Week
We Appreciate You! May 7 – 13 is Hospital Week. Here, throughout Duke Health, there will be celebrations focused on demonstrating the appreciation we have for each and every one of our employees. It's because of ALL of our teammates together, that we are able to advance the health of those we serve. We hope you will take time to join in some of the celebrations during this special week.
There are fun events scheduled each day – among the planned celebrations there will be a carnival, a Blessing of the Hands event, a scavenger hunt, and opportunities to contribute to a school supply drive to support Durham Public Schools. For all the details and a full list of events at each hospital, please visit the Celebrating Hospital Week page on the Duke Health Now SharePoint site.
Please take part when and where you're able! Thank you for all you do!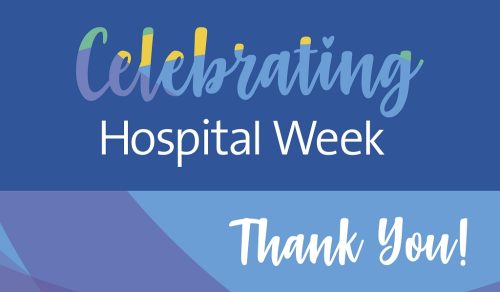 Perfusionists Celebrated
Perfusion Week ended yesterday and we want to give another shout-out to our amazing perfusionists! Here is a group shot of them sporting matching celebratory scrub caps. Thanks for all you do!
DHIP Special Open Enrollment
DHIP special Open Enrollment is coming May 15-28, 2023. As part of the transition to Duke Health Integrated Practice (DHIP), a special Open Enrollment for Duke Benefits** will take place May 15-28.
Click here for resources and details – dhip.org/enroll
**Special enrollment does not apply to Duke-leased employees who already have access to Duke benefits. No changes or elections can be made during this time.
Information Sessions for Transitioning PDC Physicians:
Zoom link to join
7-8 AM, Friday, May 5
5-6 PM, Tuesday, May 9
Information Sessions for Transitioning PDC Direct Employees and Managers:
Zoom link to join
12-1 PM, Friday, May 5
7-8 AM, Tuesday, May 9
Quick Reminders & Updates
May is Asian American and Pacific Islander (AAPI) Heritage Month. We join Duke Health in celebrating the contributions and achievements of our AAPI team members and communities this month and every month.
May is also American Stroke Month. Thanks to each and every one of our team members for the work you do to help control and to diminish the risks of cardiovascular diseases in our patient population – especially those with high blood pressure, high cholesterol, and atrial fibrillation, all of which increase the risk of stroke.
Masking Updates: Masking is now optional in ambulatory surgical centers and low-risk ambulatory clinics that are not attached to a hospital. Masks are still required in all hospital patient care areas, emergency departments, clinics within or contiguous with hospitals (e.g., Duke South clinics), oncology clinics, and infusion clinics. Masking also continues to be required for patients coming to a clinic with respiratory symptoms, any accompanying family/visitors, or for anyone caring for patients with respiratory symptoms. Signage will be distributed to communicate that expectation. Thank you for your attention and commitment to patient and team member safety.
Upcoming Events & Opportunities
Cardiology Grand Rounds
May 9: topic TBD with Abdulla Damlujji of Johns Hopkins University School of Medicine. 5 p.m. Zoom link.
May 16: topic TBD with cardiology fellow Joey Harrington. 5 p.m. Zoom link.
May 23: topic TBD with cardiology fellow Anthony Peters. 5 p.m. Zoom link.
AI Health Virtual Seminar: Challenges in Bring-Your-Own-Device Design-based Digital Health Studies to Develop Reliable and Generalizable Artificial Intelligence Tools for Healthcare Application
Thursday, May 10, 12 p.m. – 1 p.m. (Eastern time)
Virtual seminar via Zoom, open to anyone in the world, but registration is required.
Presented by:  Md Mobashir Hasan Shandhi, PhD; American Heart Association Postdoctoral Fellow, Department of Biomedical Engineering, Duke University, with host Andrew Olson, MPP; Associate Director, Policy Strategy and Solutions for Health Data Science, Duke AI Health
Description:  
Longitudinal digital health studies combine information from digital devices, such as commercial wearable devices, and patient-reported data, such as surveys, from participants. While the ubiquitous adoption of smartphones and access to the internet supports the development of large-scale and distributed digital health studies, there are challenges in collecting representative data as a result of low adherence to, engagement with, and regularity of performing study tasks such as filling out surveys and charging and wearing devices. These challenges may result in a study population that is not representative of the general population or the population group of interest. Artificial Intelligence tools developed based on a non-representative population have a higher chance to fail to generalize in the real-world deployment of such technologies and may not work for underrepresented and underserved communities. In this seminar, the speaker will share his research group's experience in conducting longitudinal digital health studies for COVID-19 monitoring, the challenges the researchers faced to collect data from a representative population, and how his team developed a guideline to mitigate demographic imbalance in bring-your-own-device (BYOD) design-based digital health studies. Furthermore, the speaker will also share how his team developed a machine learning method based intelligent allocation method for COVID-19 diagnostic testing in a resource-limited setting (when we have limited diagnostic tests, like the earlier phase of the pandemic and onset of new variants) using wearable and survey data collected during the longitudinal CovIdentify study.
Please join us for this lunchtime virtual seminar. The presentation will be accessible to a broad audience, including those with no prior background in health data science or artificial intelligence.
Deadline May 12: 2023 Loan Repayment Program
The Duke Department of Medicine has announced the 2023 Loan Repayment Program to Promote Diversity and Inclusion in Medicine (LRPDIM). This award is part of a series of mentored career development opportunities offered by the Department of Medicine and is designed to fund members of groups underrepresented in medicine who, as a group, are disproportionately impacted by student loans. This financial burden impedes the retention, recruitment, and diversification of research faculty in our department.
We encourage investigators from diverse racial and ethnic backgrounds who are under-represented in Medicine to consider applying. The LRPDIM award repays up to $50,000, annually for up to two years, of a researcher's qualified educational debt in return for a commitment to engage in research.  Up to two applicants will be funded (July 1, 2023, through June 30, 2025).  The award recipient must remain a full-time employee of the DOM to receive the full amount of the award. Award funds are not restricted and can be used at the awardee's discretion. If the research commitment is not met, recipients must pay back the amount awarded.
The 2023 LRPDIM Award application deadline is May 12, 2023, at 5 p.m.  Eligibility criteria, detailed information about the Award, and the application form are available on the DOM Loan Repayment Program to Promote Diversity and Inclusion website. For program-related questions, please contact Kimberly Dorman, Special Assistant to the Vice Chair for Faculty Development and Diversity in the Chair's Office.
Cardiac Safety Research Consortium Think Tank Meeting, June 7
The Cardiac Safety Research Consortium will hold a Think Tank meeting on June 7. The event,  CSRC Think Tank: Update on Regulatory Status of Hypertension, Biomarkers and Arrhythmia Monitoring in Clinical Trials will be held at the FDA.
In Session 1, these leading industry professionals will speak on panels discussing:
Regulations for ECG/QT
The double-negative conundrum
Alternative methods for assay sensitivity assessment in routine Phase 1 QT Studies
Covid-19 and prolonged QT
In Session 2, we will discuss:
Small increases in blood pressure and CV risk I
Intermittent versus chronic use hypertension drugs
In Session 3, the meeting faculty will dive into:
In Session 4, the panelists will discuss hot topics in the field such as:
Biologics/cardiomyopathy and vaccine development
MACE
Gene therapies
Wearables
The event will include professionals from FDA Regulatory, Cardiac Safety Consultants, Ltd., Eli Lilly, Richmond Pharmacology, University of Connecticut, Stanford University, University of Pennsylvania, Cleveland Clinic, Clario, Mass General, DSI, Penn Medicine, and UCSF.
There is a registration fee for attendance, for academics it is $275. Registration and more information is available here: https://cardiac-safety.org/
The meeting will be held in person; a recording of the meeting and slide presentations will become available a month after the event occurs.
Have news to share?
If you have news to share with the Pulse readership, please contact Tracey Koepke, director of communications for Duke Heart at tracey.koepke@duke.edu. We would love to hear about your latest accomplishments, professional news, cool happenings, and any events or opportunities that may be of interest to our Duke Heart family. Please call with any questions: 919-681-2868. Feedback on Pulse is welcome and encouraged. Submissions by Noon, Wednesdays, to be considered for weekend inclusion.
Duke Heart in the News:
April 28 — Nenad Bursac
Washington Post
Gene-edited cells move science closer to repairing damaged hearts
https://duke.is/cp5h8
April 29 — Rita Deimler (oncology)
Oncology Nursing News
Cardiac Event Management Is a Key Aspect of Safely Treating Patients With Ribociclib in Advanced Breast Cancer
https://duke.is/wwjsz
April 29 — Jacob Schroder and Jason Banner
CBS News
New method revolutionizes heart transplants
https://duke.is/jj2pr
*story has been updated from a version that aired in February.
April 30 — Andrew Landstrom
ANI (India)
Study reveals genetic tests show how genes linked to heart disease
https://duke.is/ycay9
May 1 — Nada El Husseini (neurology)
American Heart Association News
Cognitive impairment after stroke is common, and early diagnosis and treatment needed
https://duke.is/rh3kp
May 1 — Camille Frazier-Mills
Healio/Cardiology
FDA approves two next-gen miniaturized, leadless pacemakers with extended battery life
https://duke.is/zm8dk
May 2 — Camille Frazier-Mills
Medical Device Network
FDA approves Medtronic's next-generation Micra pacemakers
https://duke.is/6remw