Highlights of the week:
Kisslo to Receive ASE Award for Outstanding Achievement
Joseph Kisslo, professor of medicine in cardiology, will receive the American Society of Echocardiography's (ASE) Outstanding Achievement in Perioperative Echocardiography Award next weekend at the ASE 2021 Scientific Sessions Virtual Experience. Kisslo, who served as the fourth president of ASE (1983-1984), is the first cardiologist to be recognized with the award. His recorded presentation regarding the award will be shown during the ASE Virtual Gala on Sunday, June 20.
The Outstanding Achievement in Perioperative Echocardiography Award recognizes an individual who has made significant clinical, research or educational contributions to the development of the field of perioperative echocardiography. The awardee is chosen by the ASE Council on Perioperative Echocardiography.
Kisslo was the first to use phased array ultrasound imaging in the human body and the first to describe most of the disease for which the technique is now commonplace. Not only has his work shaped the field of echocardiography, it helped establish Duke Heart as one of the premier cardiovascular treatment centers in the world.
We asked Dr. Kisslo's colleagues to submit their perspective on his work at Duke and what it has meant to them. We received a tremendous response. Without a doubt, Dr. Kisslo is among our most beloved faculty members. Here is what they shared:
"Dr. Kisslo was inclusive even before the term was invented. He elevates people around him, his colleagues, anesthesiologists, sonographers. He is a friend and a teacher, and one of the founding fathers of perioperative echocardiography. Without him, our professional landscape would be different. Thank you!" — Alina Nicoara, MD
"Dr. Joe Kisslo is recognized worldwide for his formative work in the field of echocardiography.  His impact on cardiac ultrasound imaging stems from his unique ability to forge lasting collaborative relationships between clinical cardiology, cardiac anesthesia and engineering at Duke resulting in meaningful contributions including phased array ultrasound imaging, Doppler color flow imaging, and transesophageal imaging.  He has been honored worldwide for his contributions to the field. I consider myself overwhelming lucky to have been one of his students and colleagues."  – Anita Kelsey, MD
"Dr. Kisslo is a legend in the field of Cardiac Ultrasound. He has been a leader and dedicated professor that has shared his wealth of knowledge and experience with the world. Learning from him has been an honor and a gift that I will cherish and apply to my students."  — Richard A. Palma, Director of the Duke Cardiac Ultrasound Certificate Program
"I feel so privileged to have the opportunity to learn from Dr. Kisslo going over cases almost daily. Thanks to Dr. Kisslo, I will always remember to calculate LV strain patterns at the onset of the QRS complex!! It's not every day that you get to learn from not only an expert in your field but one of the few who revolutionized the entire world of cardiac ultrasound!" – Sarah H., sonographer
"Vince Lombardi may have said, 'Perfection is not attainable. But if we chase perfection, we can catch excellence.' Dr. Kisslo has lived this adage throughout his career, and has taught all of us to not settle for mediocrity. He inspires me to work harder, not to settle for mediocrity, and therefore I believe that I am a better person, both professionally and personally." – Jean Woolard, sonographer
"Thank you for your pioneering efforts in the field of Perioperative Echocardiography. You were the first to advocate for and actually demonstrate how collaboration between cardiology, cardiac anesthesiology, and cardiac surgery would actually improve the care of our patients. And what a difference that pioneering spirit has made to the field of cardiac anesthesiology and to the generations (including me) that learned from you not just about echocardiography but also of excellence, innovation, and passionate curiosity. Congratulations on this well-deserved award, Doctor, Professor, Reverend Kisslo!" — Joseph Mathew, MD
"Dr. Joseph Kisslo is a true pioneer in the field of echocardiography. While most are familiar with his contributions to the development of the technology and its use in cardiovascular care, few may be aware of his profound influence in the operating room. In the early days of perioperative echo, Joe made countless trips to the operating room to collaborate with surgeons and anesthesiologists and demonstrate the value of echo in patients undergoing cardiac surgery. Whether it was using a TEE probe with a sterile sheath for epicardial echo in pediatric cardiac surgery, or pioneering the use of TEE in adult patients, Joe had a huge impact on an entire generation of cardiac anesthesiologists. He helped us see the immediate results of heart surgery, something we had never envisioned before. As a result, the field developed and Duke has been a leader in perioperative echo ever since, including at ASE, a society he helped create in the mid '70s. His staunch support of perioperative echo led to the first anesthesiologist leading ASE as president in 2019. I will forever be grateful for his support. Congratulations on this award, Joe!" – Madhav Swaminathan, MD
"When I was in school and at my first job out of state, I was always curious about the clinical impact that the operator dependence of echo has on a patient's care. During Hi-5, Joe is passionate and a huge advocate for the ongoing training and education of sonographers. He not only advocates for us to think as a sonographer but also as a clinician and about the clinical implications our echo will have on a patient's care. This has made me much more diligent and helps me think critically about the role that I play in helping answer a clinical question. Through the education and training that Joe provides, I have learned so much in my short time here. I now know what sets our lab, sonographers, and echoes apart from other institutions. What makes for a good echo is not just the latest and greatest machine, but the sonographer that is able to think critically and use the appropriate tools to answer a clinical question. I have no regrets and have zero disappointments in making the move from Arizona. Thanks to Joe and his involvement, the opportunity to work at Duke has lived up to all of my expectations of what it would be like to work at a world renowned institution. Joe has made me proud to be a sonographer here at Duke and I appreciate all that he does." – Eddy Sandoval, sonographer
"Dr. Kisslo has made a career out of educating all of us in cardiology. Treating us all as brother, sisters, children and grandchildren he never misses a chance to mentor us all. The passion he shows and the high expectations to which he holds us are on the forefront each and every day, making us all better professionals. I am so thankful for the left and right SVC ladder, making 3D "Jelly Beans" and after-hours adult congenital training. Heart dissections and 3D training with experts that I have had the pleasure of working side by side with are unique and valuable opportunities. Joe, thanks so much for pushing us all to be great." — One of your children of Echo
"Dr. Kisslo, from the moment we sat in his office in 1984 asking if he would help two ignorant cardiac anesthesiologists learn about transesophageal echocardiography, has been continuously supportive of everyone involved in the use of TEE at Duke.
When our first book about TEE was published in 1987, Joe's foreword included this prescient remark concerning the use of TEE in cardiac anesthesia: "…likely to redefine the requisite fund of knowledge and skills necessary for the practice of cardiovascular anesthesiology in the future."
Joe's history with the development of phased array echo transducers is the reason we got hold of HP color flow Doppler probes so early in the game.
His willingness to come to the OR to help with any questions, and his willingness to allow his expert echocardiographers, Kitty Kisslo and David Adams, to help with our education enabled our TEE skills to develop and engendered confidence amongst anesthesiologists and cardiac surgeons.
Cardiologists, not generally used to inserting gastroscope-like echo probes into awake patients, used to come along to the OR induction rooms for assistance in looking for left atrial thrombi and vegetations associated with infectious endocarditis. They were thrilled with the quality of images obtained with the esophageal window.
There again, Joe's leadership resulted in advances in cardiology practice. His has been a remarkable career, and so many of us lucky to have learned from him." — Fiona and Norbert (Drs. Norbert de Bruijn and Fiona Clements, now retired)
"It's hard to put together what to say about Dr. Kisslo because one feels they'll fall short. He's a mentor, innovator, father figure, teacher, someone who makes you want to be the best person you can be. I find myself quoting him almost daily at work, especially as I'm educating others. His hunger for knowledge and understanding is contagious. He's one of the most supportive individuals I've ever met. There's always a challenge he puts forward for us to meet, but it drives us to excel. Thank you Joe for your continual support, we all are better in our careers from it." — Alicia Armour, Health Center Administrator, Triangle Heart Associates
"'We are in the relentless pursuit of perfection,' Dr. Kisslo has instilled this in all of us that have had the privilege of being his students, echo disciples, and friends. Joe has more determination than anyone I have ever met, when many of us would have given up, he just keeps going. He will be there for you in any way he can, both professionally as well as personally. When my mom was diagnosed with cancer, Joe was my first call "who should she see?" and when in the cross-roads of professional decisions, Joe was there to bounce ideas off of (and give me the hard truths). Most importantly, he taught us the 4th of the 3 Rules of Echo: 'Talk to each other.'" — Ashlee Davis, Chief Technologist, CDU
"I am thrilled to see Dr. Kisslo recognized for his never-ending dedication to the field of Echocardiography. I have so much respect for the time and effort that Dr. Kisslo invests in educating sonographers, physicians, engineering students, and many more at Duke and across the world. His passion for the field of echo is contagious. He makes me want to be better at what I do and made me realize that I can contribute to the advancement and future of echo. Working closely with Dr. Kisslo has emphatically impacted my life both personally and professionally." – Batina Kight, sonographer
Congratulations, Dr. Kisslo!
Swaminathan to Deliver Edler Lecture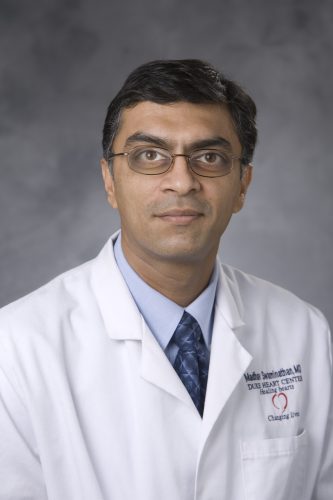 Congratulations to our colleague Madhav Swaminathan, cardiac anesthesiologist and immediate past president of the American Society of Echocardiography (ASE)! He has been selected to deliver the Edler Lecture next weekend at ASE 2021 Scientific Sessions Virtual Experience. The title of his presentation is Echo, Equity, and Empowerment: A Framework for the Future. The annual Edler Lecture honors the founder of echocardiography, Dr. Inge Edler; it was created in 1990.
Shout-out to EKG Support Unit, Daubert & Kraus
A wonderful shout-out to our Duke Heart EKG Support Unit & Diagnostics teams – including Terri DeMuro, Kim Starkey, Duke LifeFlight Event Medicine, Jim Daubert and Bill Kraus!
Hap Zarzour, of Duke Athletics wrote to us in thanks of our annual support of their freshman football player physicals, which were held on Monday, June 7 at Yoh Football Center:
"Thank you everyone for all of your help during freshman football physicals. Things went perfectly, we were able to get all the testing completed as well as an ECHO that afternoon. Amazing. Your hard work and support is so appreciated.  I'm so proud of our resources at Duke that enable us to provide care for our athletes and staff, and Duke Cardiology is at the top of the list." – Robert "Hap" Zarzour, Executive Director of Athletic Medicine
"Kudos to the Duke Heart team for their outstanding commitment and performance once again!"– Jill Engel, Associate Vice President – Heart Services
Shout-out to Team Members on 7700
Rio Landa wrote in earlier this week with a shout-out to team members on 7700. Great work, everyone!
"Big thank you to Brooke, Callie, Dr. Dennis Abraham, and Dr. Jamie Jollis for their help with a sick patient on 7700 last weekend." – Rio Landa, co-team leader of Cardiology APPs
Patient Compliments from Satisfaction Surveys
Many thanks to Lisa Clark Pickett, Chief Medical Officer, Duke University Hospital for sharing the following two great notes with us!
In the first, Pickett shared, "While reading comments on our Patient Satisfaction Survey I was delighted to read this high compliment of the excellent care provided by your team. Thank you for such outstanding teamwork and care!:
"The various teams of Doctors headed up my Drs. Wang and Milano and the stent placement team were outstanding and worked closely together to solve my blocked arteries without having to resort to open heart surgery. The nurses on floors 3 and 7 were also outstanding especially on floor three. Please give them all my heartfelt thanks!" – Name withheld for confidentiality
Nicely done, Andrew Wang, Carmelo Milano and Floors 3 & 7 Nursing teams!
Her second note stated, "While reading comments on our Patient Satisfaction Survey, I was delighted to read this lovely one about your team. Please share with the wonderful nurses, as their last names were not included. Thank you all for providing such excellent and compassionate care!:
"All of the nurses were exceptional in their card during my stay. Nurse JT in CCU was a great guy to have during a time that I did feel uncomfortable due to the fact that I never stayed in a hospital. Dr. Crawford is excellent as my Cardiologist for my Cath Lab Dr. Jollis was superb in giving me insight into my heart issues. Dr Bloomfield did a noteworthy job in giving me the information on my future Open Heart Surgery. Nurse Andreas and the rest of the RN Staff were exceptional in making sure that I was comfortable and helped me with all my needs during my stay. Duke Cardiology is most definitely a first-class operation that genuinely cares about their patients." – Name withheld for confidentiality
Great work, Larry Crawford, Jamie Jollis, Gerry Bloomfield & Care teams!
Virtual Town Hall, June 14
A virtual Town Hall, Planning for the Future of Duke Health's Clinical Enterprise will be held Monday, June 14 from 5-6 p.m. The event is open to all members of the Duke Health community. Panelists will include Eugene Washington, William Fulkerson, Mary Klotman, Thomas Owens, Theodore Pappas and John Sampson. Erica Taylor will moderate. You may submit questions in advance to DHPG@duke.edu. A recording of the town hall will be posted on dukehealthplanning.duke.edu by close of business the following day. To join the Zoom, please click here: Join the Zoom.
Note: Access to the webinar requires authenticated access with your NetID and password. If prompted to sign in, please select to 'Sign in with SSO' and enter 'duke' when prompted for the company domain. You will be directed to log in with your NetID and password.
Scholars Tip: Global Scholarship
Do you want your research and expertise to appear on the Duke in the World map? It's as easy as updating your Scholars@Duke profile to reflect your global scholarship! Any global scholarship from your profile is automatically added to the map for others to explore.
Duke scholars represent more than 150 countries with their research, expertise, service, and teaching. Sharing your global scholarship is a great way to connect with other experts who share interest in a particular region.
How to indicate your Global Scholarship:
Make sure your device is connected to the internet, then follow these steps:
Type duke.edu in your computer's browser address bar.
Click Edit My Profile under Update
Log in using your NetID and password, and then click Manage Your Profile.
Select Global Scholarship from the Scholarly Output section of the Profile Manager.
Follow the instructions in the How to Edit box to designate a specific state, country, or continent that you've impacted with your work.
Click Save to update your profile or click Cancel to discard any changes.
Remember to update your Community Outreach
Often, your Global Scholarship involves some form of community outreach, which might include activities such as field work or advocacy. If this applies to you, be sure to indicate these activities in the Outreach and Engaged Scholarship section of your Scholars profile.
Upcoming Opportunities/Save the Date:
Virtual PMWC: Precision Medicine in the Era of a Pandemic Recovery
June 14-18 – Precision World Medicine Conference. Registration is free and open to all. https://www.pmwcintl.com/covid/
Duke University Chancellor Emeritus Dr. Ralph Snyderman will lead a panel discussion on Personalized, Proactive Value-Based Care: Emerging New Models.
The confluence of the growth of chronic diseases, the impact of COVID, the emergence of new technologies, and the impact of value-based reimbursement are driving major innovations and changes in care delivery. Proactive, personalized, precision, population-based and digitally supported care is emerging and heralding new approaches to health care. This session will capture the elements of these changes and the dynamics of the forces that are driving them. Perspective from care innovators, large providers and payers will be discussed by the following key opinion leaders:
Patrick  Conway, CEO of Care Solutions, Optum
Jaewon Ryu, President and Chief Executive Officer, Geisinger
Rodney Hochman, President & CEO, Providence St. Joseph Health
Marc Harrison, President and CEO, Intermountain Healthcare
HCPLive State of the Science Summit
June 23: — Institutional Perspectives in Cardiology: Cardiovascular Risk Management webinar with Manesh Patel, Schuyler Jones, Tracy Wang and Christopher Granger. 7 to 8:30 p.m. EST. Virtual. Registration is free. They'll cover:
CAD/PAD: Identifying Risk & Summary of Recent Clinical Trials
Extended Thromboprophylaxis: What Do We Know About Scoring, Risk and Contemporary Trials?
Atrial Fibrillation: What Have We Learned About NOACs in Special Populations?
Putting This All Together: Treatment Pyramid
To learn more, please visit: HCPLive Institutional Perspectives in Cardiology.
Have news to share?
If you have news to share with the Pulse readership, please contact Tracey Koepke, director of communications for Duke Heart at tracey.koepke@duke.edu. We would love to hear about your latest accomplishments, professional news, cool happenings, and any events or opportunities that may be of interest to our Duke Heart family. Please call with any questions: 919-681-2868. Feedback on Pulse is welcome and encouraged.
Duke Heart in the News:
June 4 — Cameron Wolfe
CBS17.com
Heart reaction in 7 teenagers probed as possible rare Pfizer vaccine link
https://bit.ly/3xfo0U2
June 6 — Marc Samsky
Healio/Cardiology Today
Among patients with PAD, those with HF at higher risk for poor outcomes
https://bit.ly/2TWe57o
June 7 — Christopher Granger
WECT News (Wilmington, NC)
Brunswick County EMS to participate in Duke University study
https://bit.ly/3pKgHkG
June 7 — Sunil Rao
Medscape
First Risk Score to Predict Bleeding Risk After TAVR
https://www.medscape.com/viewarticle/952580#vp_1
Division of Cardiology Publications Indexed in PubMed June 3-9, 2021
Butala NM, Makkar R, Secemsky EA, Gallup D, Marquis-Gravel G, Kosinski AS, Vemulapalli S, Valle JA, Bradley SM, Chakravarty T, Yeh RW, Cohen DJ. Cerebral Embolic Protection and Outcomes of Transcatheter Aortic Valve Replacement: Results From the Transcatheter Valve Therapy Registry. Circulation 2021;143(23):2229-2240. PM: 33619968.
Dal-Ré R, Mentz RJ, Rosendaal FR. Thoughtful selection and use of scientific terms in clinical research: the case of 'pragmatic' trials. J Investig Med 2021;69(5):1056-1058. PM: 33753535.
Dong R, Leung C, Naert MN, Naanyu V, Kiptoo P, Matelong W, Matini E, Orango V, Bloomfield GS, Edelman D, Fuster V, Manyara S, Menya D, Pastakia SD, Valente T, Kamano J, Horowitz CR, Vedanthan R. Chronic disease stigma, skepticism of the health system, and socio-economic fragility: Qualitative assessment of factors impacting receptiveness to group medical visits and microfinance for non-communicable disease care in rural Kenya. PLoS One 2021;16(6):e0248496. PM: 34097700.
Elliott BA, Holley CL. Assessing 2′-O-Methylation of mRNA Using Quantitative PCR. Methods Mol Biol 2021;2298:171-184. PM: 34085245.
Felker GM, Butler J, Januzzi JL, Desai AS, McMurray JJV, Solomon SD. Probabilistic Readjudication of Heart Failure Hospitalization Events in the PARAGON-HF Study. Circulation 2021;143(23):2316-2318. PM: 34097449.
Kaufman BG, Granger BB, Sun JL, Sanders G, Taylor DH, Mark DB, Warraich H, Fiuzat M, Steinhauser K, Tulsky JA, Rogers JG, O'Connor C, Mentz RJ. The Cost-Effectiveness of Palliative Care: Insights from the PAL-HF Trial. J Card Fail 2021;27(6):662-669. PM: 33731305.
Kennedy DL, Olsen MK, Yang H, Gao X, Alkon A, Prose NS, Dunbar K, Jackson LR, Pollak KI. Communication Coaching in Cardiology (CCC): A study protocol and methodological challenges and solutions of a randomized controlled trial in outpatient cardiology clinics. Contemp Clin Trials 2021;105:106389. PM: 33798730.
Lala A, Mentz RJ. Remembering the Calling – Where Patients and Caregivers Are Front and Center. J Card Fail 2021;27(6):621. PM: 34088378.
Mullan CW, Chouairi F, Sen S, Mori M, Clark KAA, Reinhardt SW, Miller PE, Fuery MA, Jacoby D, Maulion C, Anwer M, Geirsson A, Mulligan D, Formica R, Rogers JG, Desai NR, Ahmad T. Changes in Use of Left Ventricular Assist Devices as Bridge to Transplantation With New Heart Allocation Policy. JACC Heart Fail 2021;9(6):420-429. PM: 33714748.
Perez AL, Grodin JL, Chaikijurajai T, Wu Y, Hernandez AF, Butler J, Metra M, Felker GM, Voors AA, McMurray JJ, Armstrong PW, O'Connor C, Starling RC, Tang WHW. Interleukin-6 and Outcomes in Acute Heart Failure: An ASCEND-HF Substudy. J Card Fail 2021;27(6):670-676. PM: 33497809.
Pfeiffer CT, Wang J, Paulo JA, Jiang X, Gygi SP, Rockman HA. Mapping Angiotensin II Type 1 Receptor-Biased Signaling Using Proximity Labeling and Proteomics Identifies Diverse Actions of Biased Agonists. J Proteome Res 2021;20(6):3256-3267. PM: 33950683.
Rao SV. Real-World Data on the Intravascular Microaxial Left Ventricular Flow Pump (Impella) in High-Risk Patients. Korean Circ J 2021;51(6):487-494. PM: 34085421.