Highlights of the week:
Milano Delivers Inaugural Cohn Lectureship at Tufts
Duke heart surgeon Carmelo Milano, MD, delivered the inaugural American Association of Thoracic Surgery (AATS) Lawrence H. Cohn Visiting Lectureship of Cardiac Surgery at Tufts Medical Center on May 27. Milano's talk, Heart Transplantation Utilizing Donors after Circulatory Death, was held via Zoom. The Tufts team was unanimously chosen as the inaugural recipient of the AATS/AATS Foundation lectureship award.
The lectureship was established to honor the memory of the late Dr. Lawrence H. Cohn, former president of AATS and a highly-esteemed cardiovascular surgeon who spent the majority of his career in Boston.
Cohn died in 2016 at the age of 78. He was the former chief of the Division of Cardiac Surgery at Brigham and Women's Hospital and held the Virginia and James Hubbard Chair in Cardiac Surgery at Harvard Medical School. Across his career, Cohn performed more than 11,500 cardiac surgical operations and was world-renowned in the field of valve repair and replacement surgery and minimally invasive heart surgery. He was a member of the team that completed the first heart transplant in New England in 1984.
"In a nutshell, Dr. Cohn was the consummate academic cardiac surgeon leader and trainer of academic surgeons," said Frederick Y. Chen, MD, PhD, chief of the Division of Cardiac Surgery at Tufts University School of Medicine and a mentee of Cohn's. "He wanted to train surgeons who would change and move the field forward."
The American Association of Thoracic Surgery and AATS Foundation opened applications a year ago to apply for the Cohn Lectureship. As part of the application process, the Tufts team identified Milano as their choice of lecturer if they were to win the award.
Earlier this year, Tufts was approved to begin use of the technology that makes DCD heart transplantation possible. They were eager to hear directly from a surgeon with a high level of expertise in DCD who is also a leader within AATS.
"When I surveyed the field, I felt there really is no other surgeon with the expertise of Dr. Milano in the U.S. who performs DCD transplants," added Chen. "Moreover, I've known about Dr. Milano for a very long time. He, too, is a consummate academic cardiac surgeon. He has an R01; he operates, and he's a teacher – so he really is the traditional triple threat surgeon. We felt, as an internationally known senior AATS member and a highly-regarded educator and mentor, that he would be a great fit for this."
As part of the lectureship, the Tufts team held a tribute to Dr. Cohn and a meet-and-greet so that all members of their cardiovascular and thoracic surgery teams, including PAs, perfusionists, and anesthesiologists, as well as members of leadership and their administration could participate. The tribute and lecture were attended by family members of the late Dr. Cohn.
McGarrah, Southerland Receive Strong Start awards
Congratulations to Rob McGarrah, assistant professor of medicine in cardiology, researcher in the Cardiovascular Research Center (CVRC) and member of the Duke Molecular Physiology Institute; and to Kevin Southerland, assistant professor of surgery in the division of vascular and endovascular surgery, who has done considerable research in the CVRC lab of Christopher Kontos. They are two of six physician scientists in the Duke School of Medicine who were selected to receive Strong Start Awards.
McGarrah's research has made strides in answering the question of how a disease in the liver can affect a distant organ like the heart. He and his collaborators have found that obesity turns off a certain metabolism pathway in the liver, leading to non-alcoholic fatty liver disease and also increasing the levels of specific amino acids (building blocks of proteins) in the blood. When these amino acids are delivered to the heart, they cause the heart to store more fat, which is unhealthy, and to make more protein, which can cause unhealthy heart muscle thickening. This liver-heart cross talk might explain why non-alcoholic fatty liver disease causes abnormal heart function.
The overall goal of the Kontos lab is to understand how blood vessels grow and remodel in response to both pathological and physiological stimuli as well as how they maintain normal tissue function, a process known as vascular homeostasis. The work that Dr. Southerland did in the Kontos lab focused specifically on how genetics influence muscle injury following ischemia in a mouse model.
The Strong Start Award program is designed to nurture the careers of junior, laboratory-based physician-scientists at Duke. By offering substantive mentoring and financial resources, the award supports junior faculty during a critical period of their career — the transition to research independence. Each award is for $75,000 per year, renewable up to three consecutive years ($225,000 total). The funds are to be used at the discretion of the individual recipient to support their research program.
Congratulations Rob and Kevin!
Katz, Arps & Sullivan Receive Year-End Medicine Awards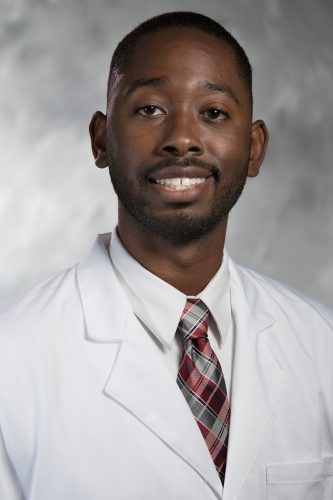 Congratulations to Jason Katz; third-year cardiology fellow Kelly Arps; and incoming fellow Lonnie Sullivan! Katz was awarded the Internal Medicine residency program's Eugene Stead Faculty Teaching Award given to the faculty who best exemplifies the principles of teach from Dr. Steads time at Duke; Arps received the Fellow Teaching Award and Sullivan received the Haskell Schiff Award for Excellence, which is peer-selected and given to the house staff member who best represents the ideal of the program. The awards, presented annually by Duke's Internal Medicine Chief Residents, were presented on Friday, June 4 during Medicine Grand Rounds. We are so proud of you!
McKee Retiring from Heart Center Communications
Vickie McKee, a transitional care nurse with Heart Center Communications, will retire from Duke University Health System at the end of June. She has been working at Duke for 43 years. A certified Basic Life Support Instructor and Heart Failure Nurse, McKee was one of the first recipients of Duke's Friends of Nursing Award, receiving it in 1989 and again in 1999. She has co-authored several poster presentations related to heart failure, and shepherded a number of projects to advance education for patients, including iPad Technology for Heart Failure Education that involved a collaboration between the Duke Transitional Nursing Institute and DCRI/Duke Center for Learning Health Care. Another such project was Heart at Home, Transition in Care where she assisted in the development of a DVD used to educate heart failure patients transitioning from the hospital to home and back to clinic.
Vickie's last official day with us will be Wednesday, June 30. Please offer her your warm congratulations this month. We know she will be missed!
Members of the HCC team shared these thoughts with us:
"I was thrilled when Vickie joined the Heart Center Communications team as a cardiology transitional care nurse, where we provide our inpatient cardiology patients with post discharge follow up telephone calls. She has brought a wealth of cardiac nursing knowledge and skill to our team, and it has been an honor to work with Vickie and to learn from her. She has served in many nursing roles during her years here at Duke, and each of these roles have played a part in the nursing expertise that she has brought to our team. I have seen her provide such genuine and exemplary care to her patients; she has truly had a positive impact on so many lives. I am so proud to call her my friend and colleague, and I wish her all the best as she enters into the next chapter in her life. I will miss her!" — Cheryl Swartz, Cardiology Transitional Care Nurse, HCC
"Vickie is a great nurse, coworker, and friend. She is compassionate with patients and their families. I wish her the best in this next phase of her life." — Ruth B. Cavales, Transitional Care Nurse, HCC
"Vickie's compassion and experience will be greatly missed." — Michael Blazing, Medical Director; Greg Shelton, Administrative Director; and Gina Nesmith, Nurse Program Manager; HCC.
Wegermann Closes Out CGR
Zach Wegermann was the closer for the 2020-21 Cardiology Grand Rounds season on Tuesday, June 1. Wegermann presented research that utilized several different registries to gain insights on various questions related to interventional cardiology. His work showed that patients receiving MitraClip had larger improvements in quality of life outcomes, as measured by Kansas City Cardiomyopathy Questionnaire (KCCQ) scores, when they had lower baseline KCCQ score prior to the procedure.  Another project highlighted that intraoperative TEE during CABG frequently reveals worse-than-expected valvular disease, leading to unplanned valve repair or replacement. Notably, there is wide variance across centers in the usage of intraoperative TEE for CABG, raising the question of whether a more standardized approach is needed. The lecture was not recorded for potential PHI reasons, but we are sure that Dr. Wegermann would be happy to field any follow-up questions. You can read the published results here.
Looking forward, CGR will be on summer break until September 14, when we will kick off the 2021-22 academic year with Dr. Robert Lefkowitz as our guest speaker.
Krasuski Grand Rounds Presentation, Mass General
Rich Krasuski, director of our Adult Congenital Heart Disease Center, was the guest presenter for Cardiology Grand Rounds at Mass General Hospital (MGH) on June 2. A recorded presentation of his talk, The Complexities of Managing Pulmonary Hypertension in Congenital Heart Disease, can be found here; a pre-grand rounds interview with Krasuski, conducted by Mostafa Al-Alusi, a first-year cardiovascular disease fellow at MGH, can be found here.
Fast Track Extubation Article in AACN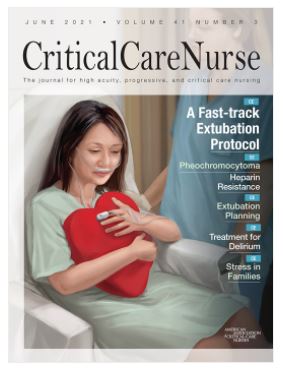 Congratulations to our 7W research team, including Myra Ellis, Heather Pena, Allen Cadavero, Debra Farrell, Mollie Kettle, Alexandra Kaatz, Tonda Thomas, Bradi Granger and Kamrouz Ghadami! Their article, Reducing Intubation Time in Adult Cardiothoracic Surgery Patients With a Fast-track Extubation Protocol is the cover article in the June 2021 issue of Critical Care Nurse (CCN), one of the journals of the American Association of Critical-Care Nurses. The publication is available online and can be found here. Be sure to check out the associated article appearing in HealthLeaders below in "Duke Heart in the News."
Heart Center Leadership Council Spring Meeting Held
The Heart Center Leadership Council held their spring meeting on Friday, May 21 via Zoom. The Council has welcomed four new members over the past year: Kathy Finley, Brad Branch, Chuck Swoboda and Dennis Wicker.
Manesh Patel and Edward Chen, co-directors of Duke Heart Center, provided a general overview of our programs, an update on our latest research and how the pandemic impacted us. The Council then heard a great presentation on the Heart Transplant program from Jacob Schroder and Chet Patel, who covered major milestones from across the past year.
Some comments from the meeting:
"I just wanted to say how blessed I think we are to have Duke and Duke Heart in our neighborhood as well as southeast United States. I am impressed and proud of what is being done — thank you!" — Robb Teer, member, Heart Center Leadership Council
"So impressed by the energy, innovation and courage it takes to do things differently." Donna Childress, member, Heart Center Leadership Council
The HCLC will meet again in October.
Duke Health Closes COVID-19 Command Centers
At the beginning of the COVID-19 pandemic, Duke established Hospital Incident Command Structure (HICS) command centers that allowed for close monitoring and quick adjustments to every part of our operations across the health system. Due to the significant decrease in the spread of infection, Duke has closed all COVID-19 command centers as of June 1. DUHS leadership will continue to monitor COVID-19 and keep safe practices in place. However, the command center closures represent the end of Duke Health's official emergency response efforts.
COVID Hotline Hours as of June 1
As of June 1, the COVID hotline hours of operation for patients, Duke employees and students are as follows:
Employee Hotline: 8 a.m. – 6 p.m., daily. For urgent after-hours concerns, call the Blood and Body Fluids Hotline at 919-684-8115.
Vaccine Hotline: 8 a.m. – 6 p.m., Monday – Saturday.
Patient Hotline:  8 a.m. – 6 p.m., Monday – Saturday. There will remain an option to reach Nurse Triage from 6 p.m. – 8 p.m. and Sundays from 8 a.m. – 8 p.m. for symptomatic and exposed patients.
Student Hotline: 8 a.m. – 8 p.m. daily.
Asymptomatic Testing Hotline: 8 a.m. – 5 p.m., Monday – Saturday.
Scholars Tip: Showcase Your Presentations
Did you know your Scholars@Duke profile has a spot for all of your important invited talks and keynotes? Your Scholars profile is the ultimate tool to demonstrate your contributions to the Duke community and enable discovery of your work. Be sure to list any notable presentations (conferences, lectures, interviews, invited talks, keynotes, etc.) you want others to notice.
How to display notable appearances on your Scholars profile
Make sure your device is connected to the internet, then follow these steps:
Type scholars.duke.edu in your computer's browser address bar.
Click Edit My Profile under Update
Log in using your NetID and password, and then click Manage Your Profile.
Select Global Scholarship from the Scholarly Output section of the Profile Manager.
Scroll down to the Professional Activities section, expand the Recognition heading, then click Presentations & Appearances.
Click Add and complete the required fields to describe your presentation and provide a link to any related materials, then click save. Repeat this step for every presentation you wish to display on your profile.
Information contained in your Scholars@Duke profile feeds into other websites at Duke, so it's good to keep your Scholars profile as up to date as possible.
Upcoming Opportunities/Save the Date:
Virtual PMWC: Precision Medicine in the Era of a Pandemic Recovery
June 14-18 – Precision World Medicine Conference. Registration is free and open to all. https://www.pmwcintl.com/covid/
Duke University Chancellor Emeritus Dr. Ralph Snyderman will lead a panel discussion on Personalized, Proactive Value-Based Care: Emerging New Models.
The confluence of the growth of chronic diseases, the impact of COVID, the emergence of new technologies, and the impact of value-based reimbursement are driving major innovations and changes in care delivery. Proactive, personalized, precision, population-based and digitally supported care is emerging and heralding new approaches to health care. This session will capture the elements of these changes and the dynamics of the forces that are driving them. Perspective from care innovators, large providers and payers will be discussed by the following key opinion leaders:
Patrick  Conway, CEO of Care Solutions, Optum
Jaewon Ryu, President and Chief Executive Officer, Geisinger
Rodney Hochman, President & CEO, Providence St. Joseph Health
Marc Harrison, President and CEO, Intermountain Healthcare
HCPLive State of the Science Summit
June 23: — Institutional Perspectives in Cardiology: Cardiovascular Risk Management webinar with Manesh Patel, Schuyler Jones, Tracy Wang and Christopher Granger. 7 to 8:30 p.m. EST. Virtual. Registration is free. They'll cover:
CAD/PAD: Identifying Risk & Summary of Recent Clinical Trials
Extended Thromboprophylaxis: What Do We Know About Scoring, Risk and Contemporary Trials?
Atrial Fibrillation: What Have We Learned About NOACs in Special Populations?
Putting This All Together: Treatment Pyramid
To learn more, please visit: HCPLive Institutional Perspectives in Cardiology.
Have news to share?
If you have news to share with the Pulse readership, please contact Tracey Koepke, director of communications for Duke Heart at tracey.koepke@duke.edu. We would love to hear about your latest accomplishments, professional news, cool happenings, and any events or opportunities that may be of interest to our Duke Heart family. Please call with any questions: 919-681-2868. Feedback on Pulse is welcome and encouraged.
Duke Heart in the News:
May 26 — Manesh Patel
Weather.com/TWC India
Individuals Advised to Look Out for Symptoms of Heart Problems After COVID-19 Vaccine Shot
https://bit.ly/3g1Uv0M
May 27 — W. Schuyler Jones
TheDoctorWillSeeYouNow.com
Aspirin for Heart Disease? Less May Be More
https://www.thedoctorwillseeyounow.com/content/heart/art6404.html
May 27 — Manesh Patel
PennLive.com/Patriot News
CDC investigates a potential link between COVID-19 vaccines and heart problem seen in young people
https://bit.ly/3wSA650
May 30 — Harry Severance
CNBC.com
Covid has made it harder to be a health-care worker. Now, many are thinking of quitting
https://cnb.cx/34Hmwpk
*carried by 26 other news outlets
May 31 — Daniel Mark
PhysiciansWeekly.com
Dapagliflozin Is Cost-Effective in HFrEF, But Is It Affordable?
https://bit.ly/2RlEbzO
June 3 — Daniel Mark and Derek Chew
MDEdge.com
Dapagliflozin's cost-effectiveness 'intermediate' for HFrEF
https://bit.ly/3vVI90V
June 3 — Myra Ellis
HealthLeaders
Nursing Researchers Safely Decrease Ventilation Time for Cardiac Surgery Patients
https://bit.ly/2Sc2xfx
Division of Cardiology Publications Indexed in PubMed May 27-June 2, 2021
Bernstein RA, Kamel H, Granger CB, Piccini JP, Sethi PP, Katz JM, Vives CA, Ziegler PD, Franco NC, Schwamm LH. Effect of Long-term Continuous Cardiac Monitoring vs Usual Care on Detection of Atrial Fibrillation in Patients With Stroke Attributed to Large- or Small-Vessel Disease: The STROKE-AF Randomized Clinical Trial. JAMA 2021;325(21):2169-2177. PM: 34061145.
Bihlmeyer NA, Kwee LC, Clish CB, Deik AA, Gerszten RE, Pagidipati NJ, Laferrère B, Svetkey LP, Newgard CB, Kraus WE, Shah SH. Metabolomic profiling identifies complex lipid species and amino acid analogues associated with response to weight loss interventions. PLoS One 2021;16(5):e0240764. PM: 34043632.
Chow C, Mentz RJ, Greene SJ. Update on the Impact of Comorbidities on the Efficacy and Safety of Heart Failure Medications. Curr Heart Fail Rep 2021;18(3):132-143. PM: 33835396.
Garza MY, Rutherford MW, Adagarla B, Eisenstein E, Kumar KR, Zimmerman KO, Topaloglu U, Zozus M. Evaluating Site-Level Implementations of the HL7 FHIR Standard to Support eSource Data Exchange in Clinical Research. Stud Health Technol Inform 2021;281:397-401. PM:
34042773
Gutierrez JA, Samsky MD, Schulteis RD, Gu L, Swaminathan RV, Aday AW, Rao SV. Venous thromboembolism among patients hospitalized with COVID-19 at Veterans Health Administration Hospitals. Am Heart J 2021;237:1-4. PM: 33745899.
Jones WS, Mulder H, Wruck LM, Pencina MJ, Kripalani S, Muñoz D, Crenshaw DL, Effron MB, Re RN, Gupta K, Anderson RD, Pepine CJ, Handberg EM, Manning BR, Jain SK, Girotra S, Riley D, DeWalt DA, Whittle J, Goldberg YH, Roger VL, Hess R, Benziger CP, Farrehi, et al. Comparative Effectiveness of Aspirin Dosing in Cardiovascular Disease. N Engl J Med 2021;384(21):1981-1990. PM: 33999548.
Lowenstern A, Sheridan P, Wang TY, Boero I, Vemulapalli S, Thourani VH, Leon MB, Peterson ED, Brennan JM. Sex disparities in patients with symptomatic severe aortic stenosis. Am Heart J 2021;237:116-126. PM: 33722584.
Mentz RJ, Pulungan Z, Kim S, Yang M, Teigland C, Hilkert R, Djatche LM. Quality outcomes, healthcare resource utilization and costs in Medicare patients with chronic heart failure with reduced ejection fraction with and without a worsening event. J Med Econ 2021;24(1):698-705. PM: 33900874.
Pagidipati NJ, Svetkey LP. Time for a Renewed Focus on the DASH-Low Sodium Diet. J Am Coll Cardiol 2021;77(21):2635-2637. PM: 34045019.
Rymer JA, Webb L, McCall D, Hills MT, Wang TY. Differences in Preferences Between Clinicians and Patients for the Use and Dosing of Direct Oral Anticoagulants for Atrial Fibrillation. J Am Heart Assoc 2021;10(11):e020697. PM: 33998252.
Sliwa K, Singh K, Raspail L, Ojji D, Lam CSP, Thienemann F, Ge J, Banerjee A, Newby LK, Ribeiro ALP, Gidding S, Pinto F, Perel P, Prabhakaran D. The World Heart Federation Global Study on COVID-19 and Cardiovascular Disease. Glob Heart 2021;16(1):22. PM: 34040935.
Southwell BG, Wood JL, Navar AM. Función de los profesionales de la salud de rectificar la información errónea que tienen los pacientes más allá de corregir los hechos. Rev Panam Salud Publica 2021;45:e60. PM: 34035798.
Turakhia M, Sundaram V, Smith SN, Ding V, Michael Ho P, Kowey PR, Piccini JP, Foody J, Birmingham MC, Ianus J, Rajmane A, Mahaffey KW, et al. Efficacy of a centralized, blended electronic, and human intervention to improve direct oral anticoagulant adherence: Smartphones to improve rivaroxaban ADHEREnce in atrial fibrillation (SmartADHERE) a randomized clinical trial. Am Heart J 2021;237:68-78. PM: 33676886.