In Memoriam: Roger Gammon, MD
We were deeply saddened to learn of the passing last weekend of Dr. Roger Gammon, an interventional cardiologist who trained at Duke and spent his career in Austin, TX. Prior to his retirement earlier this year, he served as director of the Center for Advanced Cardiovascular Research at Austin Heart. Gammon died in Austin on Sunday, August 29 after a brief illness. He was 61 years old.
Gammon did his clinical cardiology fellowship and interventional cardiovascular fellowship training at Duke from 1988 to 1992. He then went into practice at Austin Heart where he had been recruited by Dr. George Rodgers.
Born in Paola, KS, Gammon excelled as a scholar and athlete. He went on to become valedictorian of Drexel High School's class of 1978 having lettered in three sports, serving as class president, band president and president of the National Honor Society. Gammon entered the University of Missouri – Kansas City where he would complete a B.A. in biology, become a University Scholar and go on to attend UM-Kansas City School of Medicine. His internship and residency were completed at the University of Texas Health Science Center at Dallas, Parkland Memorial Hospital, where he also served as chief resident prior to joining the Duke fellowship.
A letter of recommendation for his entry to Duke's fellowship program mentions, "He is quiet, but not shy, very practical, down to earth and effective in dealing with people. He is well read and knowledgeable and is generally regarded as one of the very best residents in his group."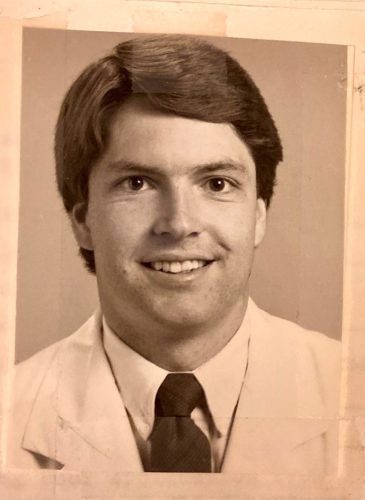 During his training at Duke, Gammon spent dedicated research time in the laboratory of Richard S. Stack, MD, professor emeritus at Duke and president of Synecor, LLC.
"Roger stood out as one of the most outstanding fellows that I ever had the privilege of training. Not only was he incredibly skillful in performing interventional procedures, but he also spent a dedicated year with me in my research laboratory developing the first bioabsorbable stent in the world," said Stack. "Further, we took that to the discovery of placing drugs into the polymer that would prevent restenosis. Importantly, this research led directly to the use of polymers on metal stents that were used to deliver antiproliferative drugs that were applied directly to one of the most popular and successful drug-eluting stents of all time. This research was combined with the engineering efforts of Guidant Corporation to result directly in the development of the Xience stent, which by the end of last year, had been placed in 50 million people in the U.S. and around the world."
We extend our sincere condolences to his wife, Laura (a former Duke CCU nurse), their children and extended family members, and to his many friends and colleagues, particularly those at Austin Heart.
Dr. Gammon was an active member of DUCCS and is remembered fondly by many Duke alums – here and throughout the U.S.
Here are some of their thoughts:
"Roger was just a great human being. Kind, generous, really funny. I have some really good Gammon stories. He was very generous to the new fellows in the cath lab, including myself, in terms of his time and his teaching. He was really excellent, technically, and a very good physician. I would run into him every so often at various investigator meetings and at the professional society meetings. He always had a big smile and was always happy to reconnect. He enjoyed what he did and was very good at it. He truly was all the things that are good about being a Duke fellow. He had all of the characteristics: he worked hard, was smart, collegial, collaborative, and he had a really great sense of humor. He always lightened the situation." – Robert A. Harrington, MD, Arthur L. Bloomfield Professor of Medicine and Chair, Department of Medicine at Stanford University
"I entered my training a little before Roger did, but we overlapped here at Duke and I remember him well. I recall Roger as a great team player. He was always there to support his fellows. His patient care was impeccable. He was truly committed to his patients and provided excellent care – some of the best I've seen. Not only was he a gifted clinician, he was just a great guy." – Mike Sketch, MD
"I remember him as one of the nicest and most competent interventional fellows ever.  He was a favorite among his peers and with the staff in general. What a tragic loss." — Thomas Bashore, MD
"Roger came to Duke as a cardiology fellow in 1988, as one of the early stars from UT Southwestern, where he had been chief resident. We remember him as soft spoken, friendly, and an astute clinician. He also was an excellent actor in the cath lab fellow skit, where he cut quite a figure in tights! He completed his fellowship in 1992 and returned to Texas, where he stayed active and loyal as a Duke alumnus. He was a beloved member of the Duke Cardiology family, and we will miss him." — Christopher Granger, MD
 "Roger was very quiet, a gentle person – understated. He always did the right thing. He did some really innovative research while working under Richard Stack. What was interesting to me was he went into private practice after his fellowship, but he actually continued to do high level phase 3 research. He recruited another one of our fellows, Frank Zidar, to his practice later on and the two of them worked really hard together keeping up with academic research work and clinical trials. Roger was always participating in the DUCCS meetings and remained active in DUCCS throughout his career. I really enjoyed working with him in the cath lab during his training. He was a really terrific guy." – E. Magnus Ohman, MD
Service/memorial information for Dr. Gammon was not available at the time of this posting, but we will share more when we are able to do so.
Lorraine Whitted Retirement; 44 Years of Service in Heart Care
Lorraine Whitted, administrative assistant/Health Unit Coordinator for Duke Heart, will be retiring on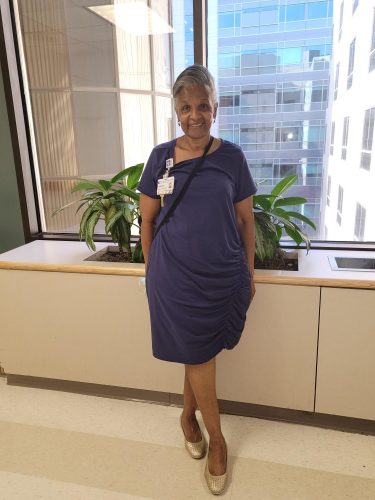 September 9 after 44 years of service at Duke. Lorraine has worked in Heart services since 1977 in varying roles including Health Unit Coordinator (HUC), HUC Supervisor, Unit Service Coordinator, Staff Specialist, and her most recent role of Administrative Assistant/HUC Supervisor.
Throughout her time at Duke, she coordinated many Heart Center related projects, assisted with grant writing, and served on the Duke Hospital HUC Council. She was nominated three times for the highly esteemed Susan B. Clark Administrative Leadership award.
Lorraine is known for her positive approach to work, willingness to help others, and serving as an expert resource internally and externally to Heart Services. Congratulations, Lorraine and thank you for your many years of service at Duke! You will be missed!
2021 HF Collaboratory/HFSA Research Awards Announced
Congratulations to the Duke Heart Failure Research Cluster and the following individuals for receiving 2021 HF Collaboratory/HFSA Research Awards! These awards recognize top Research Sites, Principal Investigators and Site Coordinators and will be presented during the HFSA Annual Scientific Meeting in Denver on September 11.
Top Principal Investigators
Tracy DeWald, PharmD for TRANSFORM – HF
Top Site Coordinators
Kim Biever for TRANSFORM – HF, REHAB-HF
Inneke Johnson for Splanchnic Nerve Blockage in Acute HF and Splanchnic Nerve Blockage in Chronic HF
Top Research Sites
Duke University
PI: Tracy DeWald, PharmD
TRANSFORM-HF, CONNECT-HF
Site Coordinator: Kim Biever
Duke University
PI: Robert Mentz, MD; Intervention Leader: Amy Pastva, PhD
REHAB-HF
Site Coordinator: Kim Biever
Duke University
PI: Kishan Parikh, MD
SPIRRIT-HFpEF
Site Coordinator: Kim Biever
Wow!!! Great work, everyone!
Loring Selected for NIH/SBIR Grant Funding
Congratulations to Zak Loring, a fellow in our Clinical Cardiac Electrophysiology training program! We learned that he has received official notification that a Small Business Innovation Research (SBIR) grant that he submitted to the National Institutes of Health, in partnership with a company called Huxley Medical, Inc., has been funded. The grant title is Non-invasive hemodynamic sensor patch for remote, early detection and prevention of heart failure with left bundle branch block and will be a prospective study cross-validating a novel, multi-modal patch sensor against echocardiography to identify upstream predictors of cardiomyopathy development in left bundle branch block patients.
Loring petitioned the School of Medicine and has been granted PI status for the project as well. Great work, Zak, way to go!
Lefkowitz to Kick-off CGR on Sept. 14
We are pleased to welcome Robert Lefkowitz, MD as our opening presenter of Cardiology Grand Rounds (CGR) on Tuesday, Sept. 14 at 5 p.m. The title of his talk is, A Few Things I've Learned Along the Way. The event will be held via Webex. All are welcome and encouraged to attend!
"We are so excited to have Dr. Lefkowitz make the opening pitch to kick off another season of cardiology grand rounds," said Nishant Shah, MD, assistant professor of medicine in cardiology and one of the co-leaders of Cardiology Grand Rounds. "He is an inspiration to many and has made amazing contributions to the field of medicine. We couldn't be more honored to have him share his experiences and insights on advancing cardiovascular research, particularly in the current times."
Shah is stepping in this year to co-lead CGR with Jenn Rymer, MD. Together, they thank Chris Holley for all he has done in the past to support CGR. If you have suggestions for speakers or topics you would like to see at upcoming CGRs this year, please email Nishant and Jenn.
We look forward to seeing you (virtually) on Sept. 14!
Cardiac Ultrasound Program Celebrates First Commencement
The Duke Cardiac Ultrasound Certificate Program celebrated their first commencement on Saturday,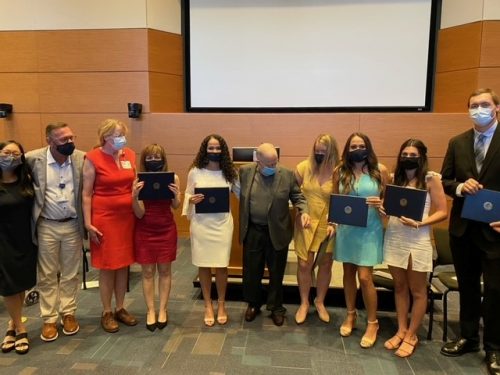 August 28, at the Trent Semans Center for Health Education. Speakers included Anita Kelsey, medical director of the program, and Richard Palma, director and clinical coordinator of the program. Guest speakers included Manesh Patel, Joseph Kisslo and two members of the graduating class — Jamie Falcha and Karl Hofmeister.
Hofmeister received the outstanding student award, which was renamed the Joseph Kisslo, MD Outstanding Award. The renaming of the award was announced during the commencement ceremony when Kisslo was presented with an award for his dedication to teaching.
Ashlee Davis, Brenda Sedberry and Jon Owensby – Duke sonographers – each received recognition awards for "outstanding service to sonographer education".
In addition to Falcha and Hofmeister, program graduates included Patricia Derozier, Michelle Garvey, Erica Guerra, Aliyah Jordan and Brianna Lubrano.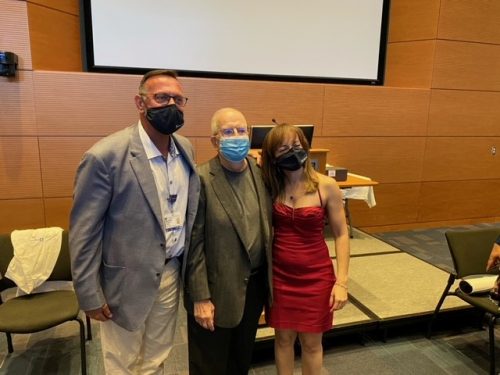 Congratulations to all!
Duke Heart Grows by One!
Congratulations to Kasey Williams and her family on the birth of their baby girl, Julia Mae, this past week. She weighed 8 lbs., 4 oz., and measured 21 inches long. All are doing well and we look forward to meeting her!
2021 Heart Walk Seeking Team Captains, Walkers
The Triangle Heart Walk is scheduled for Sunday, October 10. Recruitment of team captains and
walkers for Duke Health is currently underway – please consider joining us! You can start your own team or join an existing one. Registration is quick and easy: simply visit triangleheartwalk.org/dukehealth2021. If you have any questions or need help, feel free to email Kimberly Burrows, senior director of development for the Triangle AHA, at kimberly.burrows@heart.org.
This is not a mass gathering event. Due to pandemic circumstances, teams and walkers will decide their own walking path. The American Heart Association will have "pop-up" start lines at various locations throughout the Triangle (exact locations to be announced at a later date) or you can choose to walk on your own, wherever is most convenient to you.
The Heart Walk is a great way to set activity goals and put yourself and your health first while engaging in friendly competition among other teams and walkers.
DHTS Deploying Zscaler to all Duke Health Computers
This month, DHTS will deploy Zscaler to all Duke Health computers to combat increasing threats and cyberattacks that occur regularly to the Duke Health network. Zscaler is a software service that provides additional protection from computer malware, viruses and ransomware. The software protects Duke Health computers from accessing malicious internet sites and provides an extra layer of security when accessing commonly used sites (e.g., social media, external email, third-party email marketing platforms, etc.)
Once Zscaler is installed on computers, users will see the log in screen (example appears in the image shown here)
and must enter their NetID and password in order to activate the software. Access to the network and internet will be denied if users do not login to Zscaler when prompted. Users should only have to login once following software installation, and will not be prompted to login again in the future.
Watch this video for more information about Zscaler.
Upcoming Events & Opportunities
Cardiology Grand Rounds
September 14: CGR Kick-off event: A Few Things I've Learned Along the Way with Robert J. Lefkowitz, MD, James B. Duke Professor of Medicine; Professor of Biochemistry and Chemistry; Investigator, Howard Hughes Medical Institute. 5 p.m., Webex.
September 21: ESC 2021 Recap with Bernard Gersh (Mayo Clinic) and Christopher Granger. 5 p.m., Webex.
September 28: Hypertrophic Cardiomyopathy Guidelines and Treatment Update with Andrew Wang. 7:15 a.m., Webex.
Upcoming Duke Heart CME
October 8: Duke Heart Failure Symposium: The Leading Edge of Heart Failure Management. Course directors are Richa Agarwal and Robert Mentz. 12 – 4:30 p.m. Zoom Webinar. To learn more and to register, please visit: http://duke.is/Q1sBtf
November 5: 13th Annual NC Research Triangle Pulmonary Hypertension Symposium. Course directors are H. James Ford (UNC) and Terry Fortin. 8:30 a.m. to 4:20 p.m. Morning case-based workshops will be live, in person at Durham Convention Center (subject to change pending pandemic conditions). Masks and COVID vaccination required. Afternoon portion will be held via Zoom. For more information and to register, please visit: https://bit.ly/3DrZwuv.
Have news to share?
If you have news to share with the Pulse readership, please contact Tracey Koepke, director of communications for Duke Heart at tracey.koepke@duke.edu. We would love to hear about your latest accomplishments, professional news, cool happenings, and any events or opportunities that may be of interest to our Duke Heart family. Please call with any questions: 919-681-2868. Feedback on Pulse is welcome and encouraged.
Duke Heart in the News:
August 28 — Renato Lopes
tctMD
ENVISAGE-TAVI AF: Edoxaban Disappoints in TAVI Setting
https://www.tctmd.com/news/envisage-tavi-af-edoxaban-disappoints-tavi-setting
August 28 — Renato Lopes
Medpage Today
Edoxaban: A Mixed Bag for TAVR Patients Needing Anticoagulation
https://www.medpagetoday.com/meetingcoverage/esc/94264?vpass=1
August 28 — E. Magnus Ohman
Medpage Today
One Month of DAPT Reasonable in Patients at High Bleeding Risk
https://www.medpagetoday.com/meetingcoverage/esc/94265
August 28 — E. Magnus Ohman
HCP Live
Single Month of Dual Antiplatelet Therapy Noninferior to Continued Therapy After PCI
https://www.hcplive.com/view/single-month-dual-antiplatelet-therapy-noninferior-continued-therapy-after-pci
August 28 — E. Magnus Ohman
Healio/Cardiac/Vascular Intervention
DAPT for 1 month after PCI safe, effective in patients at high bleeding risk: MASTER DAPT
https://www.healio.com/news/cardiac-vascular-intervention/20210828/dapt-for-1-month-after-pci-safe-effective-in-patients-at-high-bleeding-risk-master-dapt
August 28 — Renato Lopes
Medscape
'Less Is More' for Edoxaban in Post-TAVI Anticoagulation: ENVISAGE-TAVI AF
https://www.medscape.com/viewarticle/957466
August 30 — Renato Lopes
MDedge
Although inconclusive, CV safety study of cancer therapy attracts attention
https://www.mdedge.com/familymedicine/article/244979/acute-coronary-syndromes/although-inconclusive-cv-safety-study-cancer
August 30 — Renato Lopes
Medscape
Amulet Bests Watchman for LAAO But Not for Bleeding: AMULET-IDE
https://www.medscape.com/viewarticle/957571
August 30 — Renato Lopes
Healio/Cardiology
CV safety of prostate cancer therapies 'remains unresolved': PRONOUNCE
https://www.healio.com/news/cardiology/20210830/cv-safety-of-prostate-cancer-therapies-remains-unresolved-pronounce
August 30 — James Blumenthal
Healio/Psychiatry
Escitalopram reduces anxiety and depression in patients with CHD
https://www.healio.com/news/psychiatry/20210830/escitalopram-reduces-anxiety-and-depression-in-patients-with-chd
August 30 — Renato Lopes
tctMD
PRONOUNCE: No Difference in CVD Risks With Degarelix and Leuprolide for Prostate Cancer
https://www.tctmd.com/news/pronounce-no-difference-cvd-risks-degarelix-and-leuprolide-prostate-cancer