Highlights of the week:
Excellent Duke Showing at HFSA 2021 Scientific Sessions
Duke Heart had a great showing at the Heart Failure Society of America's 2021 Annual Scientific Sessions, held Sept. 10-13 in Denver, CO. This was a hybrid event due to the pandemic. Duke faculty and fellows were involved in lots of great discussions and had numerous achievements recognized throughout the weekend
Robert Mentz started off the sessions on Saturday, Sept 11, discussing "Novel Care Models to Improve Value and Address Disparities in HF." During this session he highlighted the innovative steps Duke has taken towards bridging in-hospital and outpatient quality of care in heart failure, featuring quality outcomes research led by Anthony Carnicelli; novel clinical programs including an in-hospital virtual e-consult service across DOM and an EHR Dashboard led by Vishal Rao; outpatient Same Day Access and titration clinic led by Stephen Greene, and multidisciplinary palliative care programs centered on heart failure.
He also highlighted milestones and innovative work during his last year serving as Editor-in-Chief of Journal of Cardiac Failure.
Marat Fudim moderated an FDA Special Session entitled "Focus on HFSA Research Network." This session featured Duke alums Christopher O'Connor and Mona Fiuzat as they discussed methods to improve health of heart failure patients through high value clinical research. Marat also gave oral presentations entitled "Emerging Devices and Procedures for Heart Failure" , "When CRT is Not an Option: Barostim for HFrEF with Narrow QRS" , "HeartLogic™ Clinical Data and Integration Into Clinical Practice," and highlighted Duke's growing remote monitoring and invasive hemodynamics and heart failure neuromodulation programs.
Adam DeVore presented on methods to improve HF quality care through hospital and patient engagement by highlighting key results in the CONNECT-HF trial.
Susan Dent presented on "Anti-HER2 Therapy – Safe for Use with Mildly Reduced LVEF and Who Should Receive Primary Prevention" during a special Cardio-Oncology session, bringing forth novel research led by Duke faculty.
Vanessa Blumer, an invited speaker, co-led the Hands-On Workshop on Acute Management of
Cardiogenic Shock and served as a presenter on the session of Biventricular Failure/Cardiogenic Shock.
Duke Faculty and Fellows stole the show during the last day at HFSA:
Josephine Harrington was recognized for her excellent work during the JNC New Investigator Award session as the Runner-up for her abstract entitled "Angiopoietin 2 Predicts Clinical Outcomes and Recovery of Ventricular Function in Heart Failure".  Mentors included Ravi Karra and G. Michael Felker.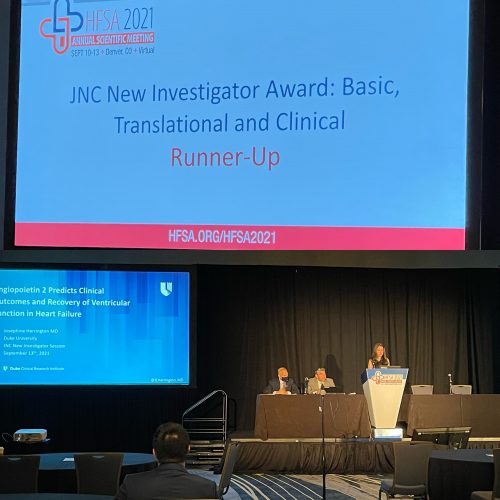 The Late-Breaking Clinical Trials session highlighted the evolving role of digital health technologies in heart failure care, and had a special Duke flavor to end the sessions:
Vishal Rao presented the key ancillary study of the CONNECT-HF trial, entitled "The Association Of Digital Tool Use And Heart Failure Care: Insights From The CONNECT-HF Trial" under mentorship by Adam DeVore and Adrian Hernandez. The study demonstrated that a mobile app intervention plus the usual care may improve HF quality of care by improving patients' own self-care after hospitalization for acute heart failure.
Michael Felker presented the key results from the TARGET-HF-DM trial,
entitled "A Mobile Health Intervention To Increase Physical Activity In Patients With Heart Failure And Diabetes: The Target-HF-DM Randomized Controlled Trial." This work demonstrated that a mobile health intervention that included texts with feedback and updated personalized physical activity goals improved physical activity, quality of life and metabolomic profiling in patients with HF and diabetes.
Special recognition during the Poster Presentations:
Fourth year medical student Evan Murray presented during moderated poster sessions under mentorship by Robert Mentz and Stephen Greene. Two moderated posters are entitled, "Rehabilitation Therapy In Older Patients Hospitalized With Acute Heart Failure And Comorbid Diabetes: Insights From REHAB-HF" and "Unsupervised Machine Learning To Define Acute Hfpef Phenotypes: Findings From ASCEND-HF"
Bradi Granger presented a poster entitled "Performance On Guideline Directed Medical Therapy Remains Low In A Cluster-randomized Trial: Results From CONNECT-HF"
Third year medical resident Brittany Chapman presented poster entitled "Use Of Sacubitril-valsartan And Associated Outcomes By Race And Ethnicity In Patients With Heart Failure With Reduced Ejection Fraction: Data From CHAMP-HF" under mentorship by Adam DeVore.
Vishal Rao presented poster entitled "Electronic-based Characterization And Outcomes Of Heart Failure With Preserved Ejection Fraction" under mentorship by Michael Felker and Kishan Parikh.
In conclusion, we'd like to recognize Rob Mentz for his extraordinary leadership as Editor-in-Chief for the Journal of Cardiac Failure (JCF). We are very proud of the work he has done. He is shown here at the JCF Editorial Board meeting, which was held during the HFSA last weekend. We understand that everyone pictured here spoke up to thank him for the work he has done – his leadership was praised and his many accomplishments applauded throughout the conference. Well deserved!
Many thanks to Vanessa Blumer, Vishal Rao and Josephine Harrington for their excellent summary for Pulse!
VAD Joint Commission Visit This Week
Duke University Hospital has received notification of an upcoming Virtual VAD Joint Commission Visit on Monday, Sept. 20 and Tuesday, Sept. 21. We appreciate the groups who have worked hard to prepare. The surveyor will be rounding via iPad and the survey team will be wearing bright vests.
Please notify Stephanie Barnes, Clinical Director for Advanced Heart Failure Services,
with any questions or concerns. Thank you!
Lefkowitz Kicks Off CGR
We had a terrific Cardiology Grand Rounds with Robert Lefkowitz, MD on Tuesday, Sept. 14. His talk, A Few Things I've Learned Along the Way, was filled with insights – from his '10 Golden Rules of Mentoring,' to his thoughts on the keys to success in science – it was an engaging hour for all attendees. Many thanks to all who joined us!
Duke Heart Seeks Team Captains, Walkers for Heart Walk
The Triangle Heart Walk is scheduled for Sunday, October 10 and we'd love see more members of the Duke Heart faculty and staff sign on as team captains or walkers. Registration is quick and easy – you can start your own team or join an existing one: simply visit triangleheartwalk.org/dukehealth2021. If you have any questions or need help, feel free to email Kimberly Burrows, senior director of development for the Triangle AHA, at kimberly.burrows@heart.org.
Due to pandemic circumstances, the event will not take place at PNC arena. Instead, the American Heart Association will have "pop-up" start lines at various locations throughout the Triangle (locations yet to be announced) or you can choose to walk on your own, wherever is most convenient to you.
Thanks for considering!
High 5 for Hall
Congratulations to Keryn Hall, Patient Service Associate for Duke Cardiology of Raleigh. She received a High 5 this week from Gina Sypliwtchak, also of Duke Cardiology of Raleigh:
"Keryn is one of the best of the best here at Duke Cardiology of Raleigh! She connects with patients, is always willing to help out and provides the best all-around service each and every day. We appreciate all she does and all she strives for! You rock, Keryn!"
Nicely done!
Reminder: Flu Vaccination Update
Duke University Health System (DUHS) requires all healthcare workers to comply with our Healthcare Worker Flu Vaccination policy by either being vaccinated annually against the flu or receiving an approved exemption. This is in alignment with our core value of "caring for our patients, their loved ones and each other." Annual policy compliance is a condition of employment for all DUHS team members. Annual vaccination or policy compliance is also a condition of access to Duke Health facilities, including information systems, for those holding clinical privileges in a Duke Health facility and learners who wish to train in our facilities.
Please note these key dates for the upcoming flu vaccination season:
​Launch of Flu Vaccination Season is Thursday, Sept. 30, 2021.
Applications for Medical or Religious Exemption should be submitted before Monday, Nov. 1, 2021. This will allow sufficient time for review and for communication of the review decision. Please note: Due to the availability of an egg-free formulation of the flu vaccine, egg allergy is not a reason for a medical exemption.​
Policy compliance through vaccination or granted medical or religious exemption by Tuesday, Nov. 9, 2021, at 10 a.m.
More info available here: https://bit.ly/3lm5XXR

Upcoming Events & Opportunities
Cardiology Grand Rounds
September 21: ESC 2021 Recap with Bernard Gersh (Mayo Clinic) and Christopher Granger. 5 p.m., Webex.
September 28: Hypertrophic Cardiomyopathy Guidelines and Treatment Update with Andrew Wang. 7:15 a.m., Webex.
October 5: Critical Care Cardiology in the 21st Century with Anthony Carnicelli. 5 p.m. Webex.
October 12: Lessons from ADAPTABLE and PREVENTABLE: Is Pragmatism the Answer? with Schuyler Jones. 5 p.m. Webex.
Upcoming Duke Heart CME
October 8: Duke Heart Failure Symposium: The Leading Edge of Heart Failure Management. Course directors are Richa Agarwal and Robert Mentz. 12 – 4:30 p.m. Zoom Webinar. To learn more and to register, please visit: http://duke.is/Q1sBtf
November 5: 13th Annual NC Research Triangle Pulmonary Hypertension Symposium. Course directors are H. James Ford (UNC) and Terry Fortin. 8:30 a.m. to 4:20 p.m. Morning case-based workshops will be live, in person at Durham Convention Center (subject to change pending pandemic conditions). Masks and COVID vaccination required. Afternoon portion will be held via Zoom. For more information and to register, please visit: https://bit.ly/3DrZwuv.
Have news to share?
If you have news to share with the Pulse readership, please contact Tracey Koepke, director of communications for Duke Heart at tracey.koepke@duke.edu. We would love to hear about your latest accomplishments, professional news, cool happenings, and any events or opportunities that may be of interest to our Duke Heart family. Please call with any questions: 919-681-2868. Feedback on Pulse is welcome and encouraged.
Duke Heart in the News:
September 9 — Nick Andersen
WRAL
New organ preservation technology offers hope for young transplant candidates
http://duke.is/S4g8Tg
September 9 — Duke University Hospital (Peds DCD story)
WNCN-RAL(CBS)
http://duke.is/RStnYT
*clip begins at 23:18:54
September 12 — Robert Califf
Medpage Today
Heart Failure's 'Golden Moment' Not Translating into Better Health
http://duke.is/GvXcv9
September 12 — William Kraus
NBCNews.com
How many steps a day should you take? Study finds 7,000 can go a long way
http://duke.is/g583WZ
September 12 — William Kraus
Telemundo.com
¿Cuántos pasos hay que dar al día? Un estudio revela que 7,000 pueden ser suficientes para obtener beneficios
http://duke.is/vY1SQf
September 13 — G. Michael Felker
Medpage Today
Transplant Docs Are Sticking With Invasive Biopsies After Heart Transplants
http://duke.is/mmm9cB
September 13 — Neha Pagidipati
Medscape/Reuters Health
GLP-1 Receptor Agonists a Good Treatment Choice for Type 2 Diabetes
http://duke.is/BV2bEM
September 13 — Renato Lopes
Pharmacy Times
Cardiovascular Safety of Prostate Cancer Treatments Still Undecided
http://duke.is/YSIA4P
September 14 — Vishal Rao
tctMD
Digital App Improves HF Quality-of-Care Metrics: CONNECT-AF
http://duke.is/5FDmgT
September 14 — Nick Andersen
WTVD – ABC 11
Doctors at Duke University Hospital perform new type of heart transplant on 14-year-old
http://duke.is/91wzrB
September 15 — Nick Andersen
Spectrum News 1
N.C. teen gets new heart after first-of-its kind surgery at Duke University Hospital
http://duke.is/Eaz7hY
September 15 — G. Michael Felker
tctMD
In HF and Diabetes, Mobile Health App Modestly Boosts Physical Activity
http://duke.is/9XCWnn
September 15 — Vishal Rao
Healio/Cardiology
Digital health app may improve self-care after acute HF hospitalization
http://duke.is/nZbPds
September 15 — G. Michael Felker
Healio/Cardiology
Mobile health intervention improves physical activity, quality of life in HF, diabetes
http://duke.is/hTy7qr
September 15 — Nick Andersen (Peds DCD story)
WXLV – ABC 45
News at 11 p.m.*
http://duke.is/Sdw3vA
*clip begins at 23:08:41
September 16 — Robert Califf
Infection Control Today
Massive Study of Long COVID Launched
http://duke.is/Ny6LDT
September 16 — G. Michael Felker
MDEdge
Texts boost activity, quality of life in patients with heart failure and diabetes
http://duke.is/ECk1Kw
September 16 — Nick Andersen, Jacob Schroder, Ben Bryner & Joseph Turek
Spectrum News 1
Duke performs first U.S. pediatric heart transplant using new method
http://duke.is/dCyD6C
September 16 — Nick Andersen, Jacob Schroder, Ben Bryner & Joseph Turek
Becker's Hospital Review
Duke performs US' 1st pediatric heart transplant using new method
http://duke.is/h1LXVA
Division of Cardiology Publications Indexed in PubMed September 9-15, 2021
Barrett TJ, Cornwell M, Myndzar K, Rolling CC, Xia Y, Drenkova K, Biebuyck A, Fields AT, Tawil M, Luttrell-Williams E, Yuriditsky E, Smith G, Cotzia P, Neal MD, Kornblith LZ, Pittaluga S, Rapkiewicz AV, Burgess HM, Mohr I, Stapleford KA, Voora D, et al. Platelets amplify endotheliopathy in COVID-19. Sci Adv 2021;7(37):eabh2434. PM: 34516880.
Clarke JD, Piccini JP, Friedman DJ. The role of posterior wall isolation in catheter ablation of persistent atrial fibrillation. J Cardiovasc Electrophysiol 2021;32(9):2567-2576. PM: 34258794.
Cosiano MF, Tobin R, Mentz RJ, Greene SJ. Physical Functioning in Heart Failure With Preserved Ejection Fraction. J Card Fail 2021;27(9):1002-1016. PM: 33991684.
Jackson LR, Schrader P, Thomas L, Steinberg BA, Blanco R, Allen LA, Fonarow GC, Freeman JV, Gersh BJ, Kowey PR, Mahaffey KW, Naccarelli G, Reiffel J, Singer DE, Peterson ED, Piccini JP. Dosing of Direct Oral Anticoagulants in Patients with Moderate Chronic Kidney Disease in US Clinical Practice: Results from the Outcomes Registry for Better Informed Treatment of AF (ORBIT-AF II). Am J Cardiovasc Drugs 2021;21(5):553-561. PM: 33786798.
Jenista ER, Jensen CJ, Wendell D, Spatz D, Darty S, Kim HW, Parker M, Klem I, Chen EL, Kim RJ, Rehwald WG. Double spectral attenuated inversion recovery (DSPAIR)-an efficient fat suppression technique for late gadolinium enhancement at 3 tesla. NMR Biomed 2021;34(10):e4580. PM: 34251717.
Lala A, Mentz RJ. Overcoming Inertia: Announcing Double Blinded Reviews at JCF. J Card Fail 2021;27(9):923-924. PM: 34507804.
Lekavich CL, Abraham D, Fudim M, Green C, Mentz RJ, Harshaw-Ellis K, Bowers M, Kelsey A, Parikh K, Truong T, Barksdale D, Kraus WE. Early Identification of Patients at Risk for Incident Heart Failure With Preserved Ejection Fraction: Novel Approach to Echocardiographic Trends. J Card Fail 2021;27(9):942-948. PM: 33965536.
Mehran R, Cao D, Angiolillo DJ, Bangalore S, Bhatt DL, Ge J, Hermiller J, Makkar RR, Neumann FJ, Saito S, Picon H, Toelg R, Maksoud A, Chehab BM, De la Torre Hernandez JM, Kunadian V, Sardella G, Thiele H, Varenne O, Vranckx P, Windecker S, Zhou Y, Krucoff M. 3- or 1-Month DAPT in Patients at High Bleeding Risk Undergoing Everolimus-Eluting Stent Implantation. JACC Cardiovasc Interv 2021;14(17):1870-1883. PM: 34503737.
Nissen SE, Hutchinson HG, Wang TY, Ballantyne CM, Travis S, Morris M, Miller W, Hynson J, Wolski K, Ridker PM. Technology-Assisted Self-Selection of Candidates for Nonprescription Statin Therapy. J Am Coll Cardiol 2021;78(11):1114-1123. PM: 34503680.
Pagidipati NJ, Peterson ED. Should Cardiovascular Preventive Therapy Be Over-the-Counter? J Am Coll Cardiol 2021;78(11):1124-1126. PM: 34503681.
Pandey A, Shah SJ, Butler J, Kellogg DL, Lewis GD, Forman DE, Mentz RJ, Borlaug BA, Simon MA, Chirinos JA, Fielding RA, Volpi E, Molina AJA, Haykowsky MJ, Sam F, Goodpaster BH, Bertoni AG, Justice JN, White JP, Ding J, Hummel SL, LeBrasseur NK, Taffet GE. Exercise Intolerance in Older Adults With Heart Failure With Preserved Ejection Fraction: JACC State-of-the-Art Review. J Am Coll Cardiol 2021;78(11):1166-1187. PM: 34503685.
Piccini JP, Fudim M, Black-Maier E. Can catheter ablation of atrial fibrillation reverse heart failure with preserved ejection fraction? J Cardiovasc Electrophysiol 2021;32(9):2368-2370. PM: 34379342.
Vogel B, Baber U, Cohen DJ, Sartori S, Sharma SK, Angiolillo DJ, Farhan S, Goel R, Zhang Z, Briguori C, Collier T, Dangas G, Dudek D, Escaned J, Gil R, Han YL, Kaul U, Kornowski R, Krucoff MW, Kunadian V, Mehta SR, Moliterno D, Ohman EM, Sardella G, et al. Sex Differences Among Patients With High Risk Receiving Ticagrelor With or Without Aspirin After Percutaneous Coronary Intervention: A Subgroup Analysis of the TWILIGHT Randomized Clinical Trial. JAMA Cardiol 2021;6(9):1032-1041. PM: 33991416.
Weissler EH, Clare RM, Lokhnygina Y, Buse JB, Goodman SG, Katona B, Iqbal N, Pagidipati NJ, Sattar N, Holman RR, Hernandez AF, Mentz RJ, Patel MR, Jones WS. Predicting major adverse limb events in individuals with type 2 diabetes: Insights from the EXSCEL trial. Diabet Med 2021;38(10):e14552. PM: 33690915.
White HD, O'Brien SM, Alexander KP, Boden WE, Bangalore S, Li J, Manjunath CN, Lopez-Sendon JL, Peteiro J, Gosselin G, Berger JS, Maggioni AP, Reynolds HR, Hochman JS, Maron DJ. Comparison of Days Alive Out of Hospital With Initial Invasive vs Conservative Management: A Prespecified Analysis of the ISCHEMIA Trial. JAMA Cardiol 2021;6(9):1023-1031. PM: 33938917.