Chief's message:
This weekend hopefully you all got some time to spend with family around Easter, Ramadan, Passover, or just to get time spend together.  The last few years have taught all of use to ensure we enjoy the moments with friends and family to recharge.  Personally, we want to thank the Duke Heart teams that have continued to pull together for our patients and each other in the ever changing world of health care.
Highlights of the week:
Shout-out to Duke Heart teams
A tremendous shout-out to Duke Heart team members throughout our clinical care areas, in particular to our interventional teams. As many of you know, the EP and Cath Labs were tremendously busy this past week!
According to Anna Mall, cases in the cath lab began to spike on Friday, April 8 with a record setting 38 cases completed. She added that on Monday alone, 44% of cases were PCI, including four STEMI. Tuesday, the trend continued with 32 cases and multiple STEMI activations. Volume hadn't waned toward the end of the week — the teams continued to see busy outpatient and inpatient case volumes.
"Special thanks to the cath lab staff, fellows and faculty for the amazing teamwork handling incredibly busy days – all with a smile!!" — Anna Mall
The interventional teams really pulled together to establish unique work flows in order to manage this uptick in patient cases, according to Jill Engel, associate VP, Duke Heart.
We'd like to add a special shout-out to Andrew Wang, MD, who has been exceptional with morning bed flow call. Across the board, we thank all cardiologists and nursing teams for helping manage bed capacity and patient care. This has been a truly busy time for everyone and Duke Heart leadership appreciates the way everyone has pulled together to help.
THANK YOU! We appreciate all that you and your teams are doing to take great care of our patients and to keep everyone safe. Great job, everyone!!!
Wrobel Named Chief Cardiology Fellow
We are pleased to share the wonderful news that our Duke Cardiology fellows have selected Dr. Christopher Wrobel as their 2022-2023 Chief Cardiology Fellow. The announcement was made earlier this week by fellowship director Anna Lisa Chamis, MD.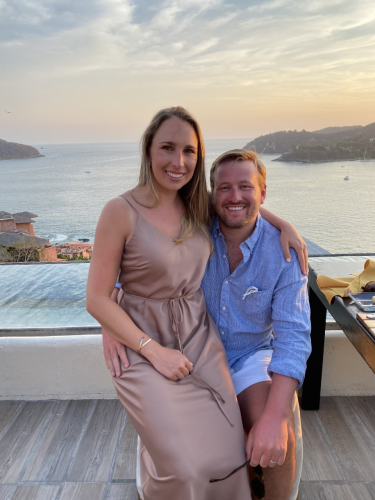 Wrobel was born and raised in Valparaiso, IN. He obtained a BS in chemistry from Duke in 2009. After teaching high school chemistry in New Orleans for two years, he returned to Indiana for medical school. There he met his wife, Dr. Heather Wolfe. Wrobel completed his internal medicine residency at University of Texas Southwestern (UTSW) in 2018. He worked as a hospitalist for one year at UTSW before returning to Duke for cardiology fellowship.
He will complete his Advanced Heart Failure and Transplant Cardiology fellowship in June. Heather and Chris are expecting their first child later this month. In his spare time, Chris enjoys traveling, moonlighting as an amateur restaurant critic, exploring Old World wine, and irrationally supporting his favorite sports teams.
Wrobel will transition to his new role in June. (Photo shows Drs. Chris and Heather Wrobel.)
Please join us in congratulating Chris and welcoming him to his new role!
Thank-you to Coniglio!
Please join us in thanking Dr. Amanda Coniglio for serving as the Cardiology fellowship Chief Fellow this past year. She has worked tirelessly to advocate for the fellows. In a message to the team this week, Dr. Anna Lisa Chamis shared the following:
"Dr. Coniglio's impact on our fellowship program has been substantial! In particular, she started a bi-monthly fellows' Critical Care conference, sent weekly educational and informational summaries to all the fellows with references and championed the return to in-person gatherings – in addition to the routine Chief Fellow responsibilities.
Coniglio will be joining the advanced heart failure team at Rochester General Hospital after graduation." Amanda is shown here with her husband, Dr. Andrew Coniglio.
When asked about her experience this year, Dr. Coniglio said, "I am incredibly grateful for the opportunity to have served as chief this past year and am hopeful that the initiation of CICU case conferences and weekly conference summaries have been an educational resource to all. Congratulations and best wishes to Dr. Wrobel on being elected as chief!"
Coniglio will transition the Chief Fellow role to Dr. Chris Wrobel during June.
Great job, Amanda!
Patel Receives SOM Faculty Award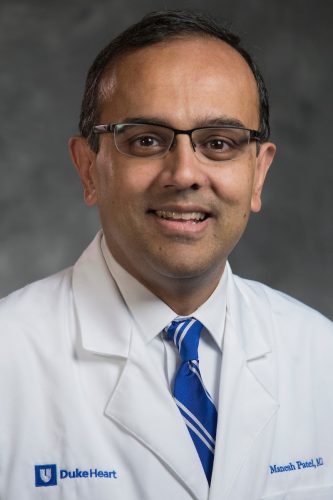 Manesh Patel, MD, professor of medicine and chief of the Division of Cardiology, has been selected to receive the School of Medicine's Career Mentoring Award in Clinical Research – Population Health.  Patel commented that  he was "Humbled for the opportunity to work with some of  the best colleagues, fellows, and faculty in cardiovascular medicine. Also appreciative of those that have supported, mentored and taught me including Bob Harrington, Rob Califf, Pam Douglas, Chris O'Connor and many others."
Chen Inducted to ASA
Congratulations to Edward P. Chen, MD, chief of the Division of Cardiovascular and Thoracic Surgery! Chen was inducted into the American Surgical Association during their 142nd annual meeting held April 7-9 in Chicago at the Chicago Marriott Downtown Magnificent Mile.
Way to go!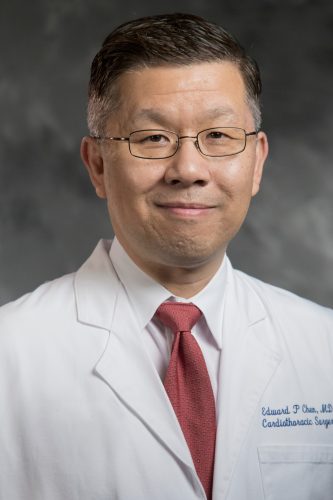 Shah to Lead ASPC Group
Congratulations to Nishant Shah! He has been selected to serve a 1-year term as Chair of the Fellow-in-Training and Early Career Working Group of the American Society for Preventive Cardiology.
Mark Newman to Deliver Reves Lecture
This week, Dr. Mark F. Newman, Executive Vice President of Health Affairs at the University of Kentucky, former president of the Duke PDC and former chair of Duke Anesthesiology, will deliver Cardiology Grand Rounds and the Reves Lecture. Both events promise to be excellent and both are listed in the event section below. Not to be missed!
COVID-19 Update
Second Booster Shot Available for Eligible Faculty, Staff and Students
Duke is now offering second booster shots of the COVID-19 vaccine for eligible faculty, staff and students over the age of 50, as well as anyone who is considered severely immunocompromised to increase their protection against severe disease.
Following approval by the U.S. Food and Drug Administration and the Centers for Disease Control and Prevention last week, Duke will offer the Pfizer vaccine as a second booster shot for those who have had their first booster shot at least four months ago. The second booster shot is not currently required for Duke students, faculty or staff, but it is offered as an option for those who are eligible.
Second booster shots are available by appointment or walk-in at the Duke Medical Pavilion in Conference Room 2w91, Duke Clinic 1J, Duke Regional Hospital and Duke Raleigh Hospital. For more information or to schedule an appointment, visit the Duke COVID Vaccine website. Eligible faculty, staff and students are also encouraged to consider vaccination options at local pharmacies or their healthcare provider.
All the latest Clinical Operations updates related to COVID can be found at https://covid-19.dukehealth.org. Patient-facing resources on DukeHealth.org can be found here: https://www.dukehealth.org/covid-19-update/resources. Duke University maintains a resource page as well, which can be accessed here: https://coronavirus.duke.edu/updates/for-staff.
Upcoming Events & Opportunities
Cardiology Grand Rounds
April 19: Treating the Epidemic after the Pandemic with Mark Newman, University of Kentucky. 5 p.m., DN 2002 or online via Webex.  
Reves Lecture/Anesthesiology Grand Rounds
April 20: Reves Lecture: Creating Alignment for a Healthier State with Mark Newman, University of Kentucky. 7 a.m., DN 2001 or online via Webex. (Link will not be available until 4/18)
Dr. Mark Newman currently serves as Executive Vice President of Health Affairs at the University of Kentucky. The Reves Visiting Professorship and Lecture is supported by the philanthropic efforts of our donors in honor of Jerry Reves, MD, former chair of Duke Anesthesiology.
Note: seating for the in-person lectures on April 19 & 20 will be limited to half the room capacity due to COVID protocols.
Duke Heart CME
April 23: Duke Sports Cardiology & Sudden Death in Athletes Symposium with course directors Jim Daubert and Bill Kraus. Virtual. For information or to register, please visit: https://duke.is/gkffw. If you have additional questions, please contact Christy Darnell christy.darnell@duke.edu or 919-880-8686.
MDEpiNet Spring 2022 Virtual Mini-Think Tank
May 5: MDEpiNet Spring 2022 Virtual Mini-Think Tank. Noon – 5:30 p.m., ET
MDEpiNet Predictable And SuStainable Implementation Of National CardioVascular Registries (PASSION CVR) Registry-Supported Prospective Clinical Trials
Join and invite your colleagues to join for updates from, and dialogues across our Registry-supported Prospective Trials Working Groups:
Data Governance & Access
Operational Roles & Responsibilities
Global Regulatory Acceptance
Use Cases:

Aortic Intervention
Heart Valves
Mechanical Circulatory Support
Peripheral Arterial Intervention
Registration now open: https://duke.qualtrics.com/jfe/form/SV_2f6JBD6WfaF9jBc.
Marfan NC Walk for Victory, April 23
The North Carolina Walk for Victory to support Marfan patients and their families will take place on Saturday, April 23, 2022 from Noon to 3 p.m. at Laurel Hills Park on Edwards Mill Road in Raleigh.
Duke Heart is proud to serve as the presenting sponsor and we are excited for Chad Hughes, MD to serve as medical chair for the walk.
Please help us support all Marfan families as well as those with Loeys-Dietz (LDS), Vascular Ehlers-Danlos (VEDS), and related conditions. Donate or come join us at the event! Parking is easy to access and free.
Walk for Victory is The Marfan Foundation's global walk program. The event is low-key, fun and family-oriented. To learn more or to register for this event, please visit: https://give.marfan.org/event/2022-north-carolina-walk-for-victory/e353032.
To learn more about The Marfan Foundation, please visit marfan.org.
Evening with Heart Raleigh
May 5, 2022
The Maxwell
7-10 p.m.
Cocktail attire
(This event was rescheduled from earlier in the year.) For those unable to attend in person but who would like to participate, the silent auction items can be bid on online from anywhere. Lots of cool items have been donated so far! Tickets for the event include open bar, taco bar, heavy appetizers, dessert, silent auction, DJ, and a fun photo booth. Proceeds benefit The Loeyz-Dietz and Marfan Foundation. For tickets, more information or silent auction viewing and bidding, please visit: https://marfan.ejoinme.org/raleigh22.
Have news to share?
If you have news to share with the Pulse readership, please contact Tracey Koepke, director of communications for Duke Heart at tracey.koepke@duke.edu. We would love to hear about your latest accomplishments, professional news, cool happenings, and any events or opportunities that may be of interest to our Duke Heart family. Please call with any questions: 919-681-2868. Feedback on Pulse is welcome and encouraged. Submissions by Noon, Wednesdays, to be considered for weekend inclusion.
Duke Heart in the News:
April 8 — G. Michael Felker
tctMD
METEORIC-HF: Omecamtiv Mecarbil Doesn't Boost Exercise Capacity in HFrEF
https://duke.is/v4q88
April 8 — Sean Pokorney
U.S. News & World Report
Few People Get Infected Heart Devices Removed, Despite Benefit
https://duke.is/z8zbz
*this story was carried by 10 additional news outlets including UPI, HealthDay and MSN News
April 10 — Mark Sendak and Cara O'Brien (DIHI)
The Wall St. Journal
How Hospitals Are Using AI to Save Lives
https://duke.is/mucf7
April 11 — Sean Pokorney
Cardiovascular Business
VIDEO: Lowering mortality rates from infected EP implantable cardiac devices
https://duke.is/jypq3
April 11 — Jonathan Piccini
Healio/Cardiology
Fitbit receives FDA clearance for algorithm to detect AF
https://duke.is/ywqnc
April 11 — Sean Pokorney
HealthDay
ACC: Infected CV Implantable Electronic Devices Often Not Removed
https://duke.is/rfc5n
April 12 — Christopher Granger
tctMD
Managing AF Patients Undergoing PCI—Some Lingering Questions
https://duke.is/zmez8
April 12 — Duke University (CIED ACC LBCT)
Becker's Hospital Review
https://duke.is/6vcuk