Chief's message:
The Spring in North Carolina is notable for clear changing of seasons – with blooming dogwoods, graduations, and new fellows and faculty. We work every year to try to capture some of the amazing accomplishments of some many great cardiology and heart center team members including faculty, advanced practice providers, fellows, residents, and heart center nurses and staff. We will be doing this in the upcoming weeks. Hopefully taking a few moments to celebrate our accomplishments will help energize our teams as we continue to move forward to help improve the heart health of the triangle and below, improve knowledge, and train the next generation.   As with all academic years, we also have shared some news of transitions from Duke and with Duke Cardiology Alumni.  This week is no exception, as we are excited for Jason Katz as he moves to NYU and Bellevue, but also sad to see him leave us.  Additionally, we share that our notable prior DCRI director and Duke Cardiology Alumni – Bob Harrington will become Dean of Weill Cornell Medicine and provost for medical affairs of Cornell University. We look forward to continuing to work with both of them and celebrating their successes in the future.
Highlights of the week:
Katz Departing for NYU Langone Health in November
As noted above, it is with bittersweet emotions, we announce that Jason Katz, MD, co-director of the Duke CICU and co-director of our Mechanical Circulatory Support (MCS) Program, will be departing Duke Health later this fall in order to take on several exciting new roles at NYU Langone Health System.
There, Katz will become professor of medicine and Associate Chief of Cardiology at Bellevue Hospital (the nation's oldest public health institution), Director of Inpatient Cardiology at Bellevue, Associate Director of the Ventricular Assist Device Program, and Program Director for the NYU Langone Advanced Heart Failure & Transplant Cardiology Fellowship.
Katz has served as the Healthcare System Director of Cardiovascular Critical Care, Co-Director of the CICU, and Co-Director of the MCS Program. He has been influential in expanding and relocating the CICU, creating a CICU APP team, leading a multitude of educational efforts, expanding use of temporary MCS for cardiogenic shock, as well as a number of research endeavors. Katz's efforts have helped improve the care of critically ill and mechanically-supported patients here at Duke and across the world.
"Above and beyond all of the important efforts noted above, he has been an ideal colleague and I feel fortunate to have him as a friend and mentor," said Robert J. Mentz, section chief for Heart Failure at Duke. "He is a staunch patient advocate and has taught us all how to be better clinicians."
In a statement shared with his section team, Mentz included a link to one of Katz's recent Journal of Cardiac Failure articles – a perspective piece – and said he found it particularly impactful.
Jason represents the best of Duke in so many ways. He will be missed dearly across Duke Heart, and by all the teams with whom he has interacted and helped shape. We wish him all the best in this transition, and are happy to know that we will continue to collaborate across multiple fronts.
A gathering to celebrate Katz and his many successes here at Duke and beyond will be planned over the coming months. We wish him all the best as he joins the team at NYU Langone. Please join us in congratulating Jason on his new roles and in thanking him for all the work he has done on behalf of our patients, trainees, and our entire staff.
Congrats, Jason!
Alumni News: Harrington Heading to Weill Cornell Medicine
Congratulations to Duke Heart alum Robert A. Harrington, MD, cardiologist and the Arthur L. Bloomfield Professor of Medicine and chair of the Department of Medicine at Stanford University. Harrington this week was named the Stephen and Suzanne Weiss Dean of Weill Cornell Medicine and provost for medical affairs of Cornell University. Harrington is the former Richard Sean Stack, M.D. Distinguished Professor at Duke and had served as Director of the Duke Clinical Research Institute.
The announcement was made on Thursday, June 1 by Cornell University president Martha E. Pollack. Harrington will begin his new position on Sept. 12.
Harrington, a member of the National Academy of Medicine, is a past president of the American Heart Association (AHA) and has most recently chaired Stanford's Department of Medicine, a position he began in 2012.
"In addition to being an outstanding physician-scientist, Dr. Harrington is an energetic and proven leader, with a reputation for bringing people together to achieve shared objectives," Pollack said. "I am looking forward to working closely with him as we continue to advance Weill Cornell Medicine's mission as a world-class institution of patient care, scientific discovery and education of future health care leaders."
Harrington, who grew up and attended college on the East Coast, is excited to be returning to his roots, although he terms the move as "bittersweet" after 11 years in Palo Alto, California.
"The opportunity to come to Weill Cornell Medicine was really extraordinary for us, professionally and as a family," Harrington said. "I'm excited to help shape an already-excellent academic medical institution into its next version."
Bob Harrington has mentored and had a tremendous impact on so many in medicine, and this new opportunity will undoubtedly allow a him to expand this impact and reach.
Congratulations, Bob! We're excited to have you back East!
Women in Cardiology Update
The Duke Heart Women in Cardiology (WIC) group held their end-of-year event on Thursday evening, June 1 at the Washington Duke Inn.
There was a great turn-out for the event with fellows and faculty from all three hospitals across Duke University Health System in attendance – there was even a surprise appearance by Tracy Wang!
"It was wonderful to catch up and enjoy a fabulous spring night on the patio," said Melissa Daubert, MD. "It was particularly great to see everyone in person with no masks!"
The group plans to continue offering WIC events at least twice per year. If you are not receiving updates about the WIC group or their upcoming events, please reach out to Dr. Daubert to be added to their distribution list.
Quite an amazing group of cardiologists.  Great photo, WIC team!
Kudos to 3100 Team!
Kudos and special thanks to the DUH 3100 nursing staff, VAD medical team, and to Colby and Courtney from PT/OT for arranging for a long-term VAD patient to go outside and visit with his pup, 'Colby Joe.' Pictured are our patient, Dale*, along with Colby Joe, and Courtney and Colby with Colby Joe.
You can tell by Dale's smile just how much he appreciated this special visit!
Great job, everyone! What a wonderful way to spread some joy by helping a patient get a bit of fresh air and some time with their beloved pet. *Name and photos used with permission.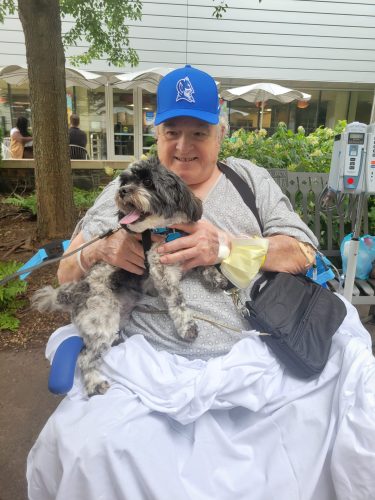 Shout-out to Duke EP Team!
We received an outstanding note from an EP patient this week and wanted to share it with you. The patient had seen Drs. Jonathan Piccini and James Daubert, and received care from a number of EP team members while undergoing care at Duke University Hospital.
"I saw [the patient] yesterday in clinic, said Piccini. "He is doing great and he wanted me to share how much he appreciated each and every one of you and the care you delivered. Thanks for all you do for our patients!" — Best, Jon
The text of the letter is as follows, name withheld for privacy:
I am writing this letter to inform you of my superb care at Duke University Hospital 19-20 Jan 2023. I underwent a cardiac ablation led by Dr Jonathan Piccini, Director of Cardiac Electrophysiology. Dr Piccini was referred to me by my brother who Dr Piccini had helped several years ago with a heart arrhythmia problem.
I feel very fortunate to have had Dr Piccini and Dr James Daubert as my providers. Additionally, I would like to specifically thank some of the great members of their team to include Pre-Op: Joy Lombardi and Emily Tedesco; Afib Ablation: Stewart Capps; Post-Op: Jane Schultz, Emily Tedesco, Lauren Guy, Meredith Wilkinson, Isabella Grezzi, Grace Eckler, Mackensie Bashnig, Deanna Bagalawis, and Janice Febre. Please excuse any misspellings as I was trying to capture names while recovering.
I have been lucky to be a member of a number of high functioning teams during my professional life, and you certainly have one with Dr Piccini and his Electrophysiology superstars. I want to thank you and your medical team for an exceptional care experience. – grateful patient
Nicely done, team!
Great Catch, Aiken & Branson!
Janet Aiken, CNII and Michelle Branson, Clinical Exercise Physiologist from our Cardiopulmonary Rehab team, were concerned about a patient's report of feeling unwell during warm-up for cardiac rehabilitation.  The patient requested to go home, but they advocated for further work-up, which showed the patient to be going in and out of ventricular tachycardia. The patient was transported to the Duke Emergency Department via EMS, admitted as an inpatient, and discharged home several days later.
Way to go – truly a great catch!
This Week: DCRI Research Forum with John Scheyer
The Duke Clinical Research Institute team is excited to have rescheduled their Research Forum with special guest John Scheyer, head coach of the Duke Men's Basketball program. Please join us on June 6, at 9 a.m. for the Forum, which will feature a fireside chat with Scheyer. This will be a virtual event; Scheyer will discuss his journey and the philosophy that keeps him focused on success — both his personal success and the success of his team. We'll also address how his philosophy and resilience translates to healthcare and our approach to enhancing human health.
What: DCRI Research Forum: A Conversation with Duke Men's Basketball Head Coach Jon Scheyer
When: Tuesday, June 6 from 9-10 a.m. ET
Zoom Link:  DCRI Research Forum
Quick Reminders & Updates
PG2 tunnel closure begins tomorrow, June 5. New flooring is being installed in the Duke University Hospital Parking Garage 2 lobby (tunnel level) throughout the walkway to Duke North. The work will take place between the hours of 8 p.m. and 5 a.m. on Monday, June 5 and Monday, June 12. Signage will be posted for awareness about the construction area.
Upcoming Events & Opportunities
Cardiac Safety Research Consortium Think Tank Meeting, June 7
The Cardiac Safety Research Consortium will hold a Think Tank meeting on June 7. The event,  CSRC Think Tank: Update on Regulatory Status of Hypertension, Biomarkers and Arrhythmia Monitoring in Clinical Trials will be held at the FDA.
In Session 1, these leading industry professionals will speak on panels discussing:
Regulations for ECG/QT
The double-negative conundrum
Alternative methods for assay sensitivity assessment in routine Phase 1 QT Studies
Covid-19 and prolonged QT
In Session 2, we will discuss:
Small increases in blood pressure and CV risk I
Intermittent versus chronic use hypertension drugs
In Session 3, the meeting faculty will dive into:
In Session 4, the panelists will discuss hot topics in the field such as:
Biologics/cardiomyopathy and vaccine development
MACE
Gene therapies
Wearables
The event will include professionals from FDA Regulatory, Cardiac Safety Consultants, Ltd., Eli Lilly, Richmond Pharmacology, University of Connecticut, Stanford University, University of Pennsylvania, Cleveland Clinic, Clario, Mass General, DSI, Penn Medicine, and UCSF.
There is a registration fee for attendance, for academics it is $275. Registration and more information is available here: https://cardiac-safety.org/
The meeting will be held in person; a recording of the meeting and slide presentations will become available a month after the event occurs.
Have news to share?
If you have news to share with the Pulse readership, please contact Tracey Koepke, director of communications for Duke Heart at tracey.koepke@duke.edu. We would love to hear about your latest accomplishments, professional news, cool happenings, and any events or opportunities that may be of interest to our Duke Heart family. Please call with any questions: 919-681-2868. Feedback on Pulse is welcome and encouraged. Submissions by Noon, Wednesdays, to be considered for weekend inclusion.
Duke Heart in the News:
News coverage will return next weekend!