Highlights of the week:
The Duke Transplant Center Performs 10,000th Transplant
The Duke Transplant Center recently performed its 10,000th transplant per data from the Organ Procurement & Transplantation Network (OPTN) since performing its first organ transplant, a kidney, in 1965. This is a milestone that only 18 other centers in the U.S. have achieved and the first in North Carolina to meet that mark.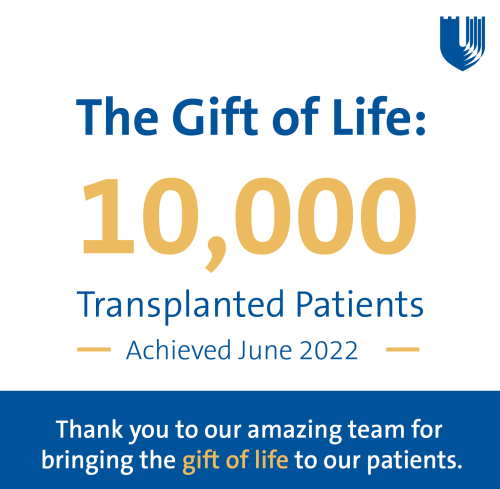 The Duke Transplant Center has reached this lifesaving goal by focusing on research and innovation to expand access to organs for patients on waiting lists. Recent examples include:
Duke Heart surgeons were the first in the U.S. to successfully implant a new-generation artificial heart to bridge the gap until the patient successfully received a human heart transplant.
Duke Heart surgeons were the first in the U.S. to perform a "donation after circulatory death" (DCD) heart transplant in adult and pediatric patients. More than 80 DCD heart procedures have been completed at Duke since our first procedures in 2019.
The Southeast's first living liver transplant between an HIV-positive donor and recipient.
Use of organ preservation systems: The devices circulate warm, oxygenated blood, medications, and nutrients through the organ to preserve it and allow for testing before transplantation. It also means organs can travel farther to reach recipients.
Duke Heart transplant's wait time continued its trend from the last several years, reducing median time-to-transplant to 63 days against a U.S. median wait time of 149 days.
The kidney transplant achieved high marks in their 1-year conditional survival with a functioning graft. Duke's 1-year conditional survival rate for kidney was 99.69 percent against a U.S. rate of 97.03 percent.
Congratulations to all members of the Duke transplant teams past and present for contributing to this remarkable achievement (with very special kudos to all members of our heart and lung transplant teams!). Most especially we want to thank our donor patients and their families for giving the gift of life to our recipient patients who also deserve a big shout-out. We thank all of them for entrusting their care to us.1000th Tx graphic
Study to Prevent Heart Disease in Breast Cancer Patients Receives NHLBI Funding
The National Heart, Lung and Blood Institute (NHLBI) has awarded a five-year grant to Atrium Health Wake Forest Baptist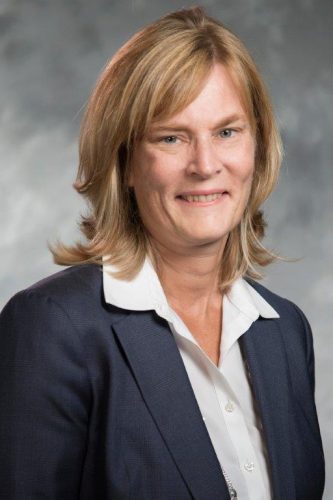 Comprehensive Cancer Center, Duke Cancer Institute and Virginia Commonwealth University Massey Cancer Center to collaborate in a first-of-its-kind prospective study about the long-term heart health of young breast cancer survivors.
The Cardiac Outcomes With Near Complete Estrogen Deprivation (CROWN) study will investigate preclinical cardiovascular effects of estrogen deprivation therapy for the treatment of breast cancer in premenopausal women and is expected to start enrollment in August. The investigators will use novel imaging methods with CT and CMR, as well as biomarkers of cardiotoxicity and inflammation to advance the understanding the effects of estrogen deprivation has on the cardiovascular system, with the goal to better predict, prevent, and treat cardiovascular disease associated with breast cancer treatment.
This is one of many collaborative efforts currently underway in the Duke Cardio-Oncology program. Susan Dent, MD, a medical oncologist who focuses on breast cancer and who serves as associate director of clinical research
for the Duke Cancer Institute Breast Cancer Disease Group and Igor Klem, MD, a cardiologist specializing in imaging for the division of cardiology will serves as lead investigators for the Duke site.
To read more, please visit: https://duke.is/navh.
Duke-UNC Project Wins 3rd Place in American Heart Association Heart Failure Data Challenge
A team from Duke University School of Medicine and the University of North Carolina School of Medicine was awarded third place by the American Heart Association for a project addressing the elements of structural racism that lead to poor heart health.
The American Heart Association and the Association of Black Cardiologists hosted a six-month heart failure data challenge in which research groups tested the relationships between heart failure and health disparities, social determinants of health and structural determinants of health. The results were evaluated by a peer review group of nearly 30 experts in the field.
"Congratulations to these researchers for their exceptional work in the heart failure data challenge," said Michelle A. Albert, MD, past president of the Association of Black Cardiologists and current president of the American Heart Association.
"Improving our understanding of how social determinants of health impact certain populations in order to develop consequential targeted solutions requires harmonization of different types of data," Albert said. "These teams must be commended for their efforts at addressing health equity, one of the most pressing areas in healthcare."
The Duke/UNC project was led by Vishal Rao, MD, an advanced heart failure and transplant cardiology fellow at Duke, Rob Mentz, MD, section chief of heart failure in the Duke Division of Cardiology, and Melissa Caughey, PhD, a cardiovascular epidemiologist from the University of North Carolina School of Medicine.
Collaborators included Gregg C. Fonarow, MD, who serves on the steering committee for the American Heart Association's Get with the Guidelines program and as interim chief of UCLA's Division of Cardiology and director of the Ahmanson-UCLA Cardiomyopathy Center; Amanda Coniglio, MD, former Duke cardiology chief fellow now on faculty at Rochester Regional Hospital; and Duke cardiology and DCRI faculty Adam DeVore, MD, Marat Fudim, MD, Michelle Kelsey, MD, and Roland Matsouaka, MD.
The project explored the association between socioeconomic status disadvantage and in-hospital heart failure outcomes in patients from diverse neighborhoods in the Get With The Guidelines-Heart Failure registry.
This project was inspired by Duke University School of Medicine Division of Cardiology-led efforts to improve heart failure outcomes across central North Carolina. The work prompted the research collaboration between Duke and UNC to better understand how neighborhoods were associated with quality of care and in-hospital outcomes for patients with heart failure.
The project team used the Precision Medicine Platform to investigate key questions around socioeconomic disparities and heart failure outcomes. The Precision Medicine Platform is an easy-to-use research interface that allows researchers to collaborate from anywhere in the world in a secure, cloud-based environment.
With artificial intelligence and deep machine learning capabilities, the Precision Medicine Platform gives researchers the power and speed to bring their data together collaboratively and accelerate their findings into impactful discoveries for patients faster than ever before.
The team hopes to translate the results into local implementation efforts to characterize and mitigate gaps in care defined by socioeconomic groups or neighborhoods.
The research findings from all the winning studies are currently under consideration for publication in peer-reviewed scientific journals and are not yet publicly available.
You can read more about the data challenge here.
Congratulations, Vishal, Rob and team!!!
New Cardiology Stepdown Unit Assistant Nurse Manager Appointments, Effective July 18
Duke Heart is pleased to announce three new assistant nurse manager appointments that will go into effect on Monday, July 18, 2022.
Olivia Gunter, BSN, RN, PCCN will become the Assistant Nurse Manager of Operations for Duke University Hospital's Cardiology Stepdown Unit 7100.  Olivia started out as a new graduate nurse on 7100 in 2019 and is honored to continue working with her coworkers in this new position. Olivia will continue making positive impacts on orientation and quality improvement efforts on 7100, both of which are her passions. Outside of work, Olivia enjoys trying out new recipes in the kitchen and is a recent newlywed!
Dylan Coombs, BSN, RN, will become the Assistant Nurse Manager of Operations for Duke
University Hospital's Cardiology Stepdown Unit 7300. Dylan obtained an Associate of Applied Science in Nursing from Durham Technical Community College in 2013 and a Bachelor of Science in Nursing from Winston Salem State University in 2021. He began his career in nursing working in transitional rehabilitation, long term elder care, and hospice. Dylan started working at Duke University Hospital in 2017 as a CN II on 7300 where he has remained an integral part of the unit. In his time on 7300, Dylan has functioned in the role of bedside RN, Preceptor, and Charge Nurse as well as Co-Chair for the Heart Center Clinical Practice Committee. Additionally, he works as a Clinical Instructor for Duke University School of Nursing where he teaches ABSN students on surgical unit 6300 at Duke University Hospital. Prior to his endeavors in nursing, he has over a decade of experience in sales, marketing, and retail management.
Katia Anello, BSN, RN, will become the Assistant Nurse Manager of Operations for Duke University Hospital's Cardiology Stepdown Unit 7300. Katia earned a Bachelor of Science in Nursing at the University of Lynchburg in 2019. She completed a summer PNA externship and was a clinical nurse for three years on 4100 General Medicine. She is a CAUTI and CLABSI Champion, Maestro Care User Group member, Magnet Ambassador, and Clinical Practice Council member. Katia was a 2021 CHG EBP Fellow and implemented a health system-wide charting change to help increase CHG bathing compliance. Katia will be attending Duke University this fall to get her Master's in Nursing and Healthcare Leadership.
Congratulations to each of them. Please join us in welcoming Olivia, Dylan, and Katia to their new roles!
Ohman Celebration Held
Dr. Magnus Ohman was celebrated by dozens of friends, coworkers and family on Thursday evening, July 14th at the Washington Duke Inn. It was a special evening for guests to gather, mingle and reflect on their long-standing ties to Magnus and gave him an opportunity to see and thank colleagues from across the years.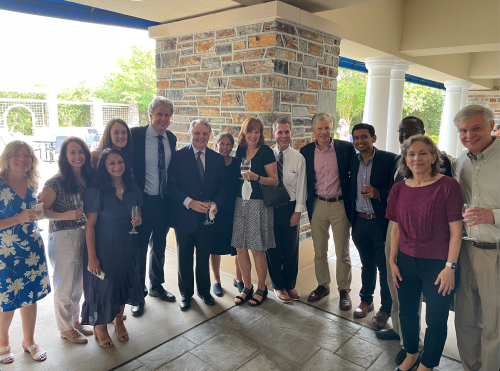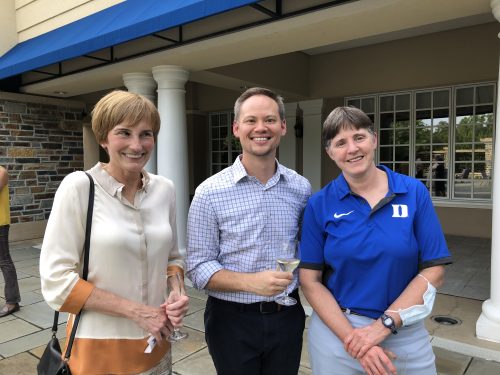 Alumni News: Forging the Future of Biotech and the Business of Health Care
Duke alumnus Dr. Michael Cuffe is among four alumni profiled in the recent issue of DukeMed alumni news magazine as well as the SOM's Magnify. Cuffe, a former Duke cardiology fellow, is now executive vice president and chief clinical officer at HCA Healthcare. Read the full story here: https://duke.is/5wu8g.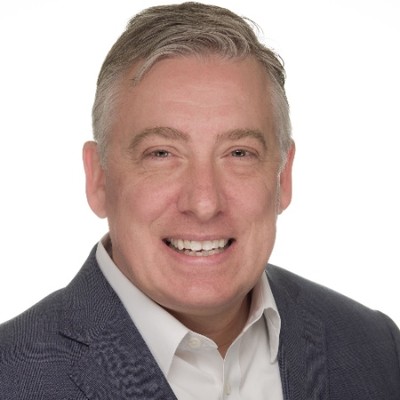 Photo of the Week
In a sight rarer than observing Halley's Comet, all three Duke heart transplant surgeons arrived at clinic 2F2G to evaluate candidate heart transplant patients along with the Cardiothoracic OR APP Team! This was such a rare sight to have them together it required photo evidence for the archives. We appreciate all of the work being done by Drs. Carmelo Milano, Jacob Schroder and Ben Bryner — and the CT OR APP Team appreciated the sudden influx of expertise arriving to clinic!
Special thanks to Richard Sabulsky for the photo!
COVID-19 Update
All the latest Clinical Operations updates related to COVID can be found at https://covid-19.dukehealth.org. Patient-facing resources on DukeHealth.org can be found here: https://www.dukehealth.org/covid-19-update/resources. Duke University maintains a resource page as well, which can be accessed here: https://coronavirus.duke.edu/updates/for-staff.
Upcoming Events & Opportunities
July 22: Pressure and Volume Management in Heart Failure with Marat Fudim for Medicine Grand Rounds, 8 a.m. DUH 2002 or via Zoom.
July 26: Women in Cardiology. The WIC team postponed their event originally planned for June 30. Details will be announced soon. For more information, please contact cardiology fellow Karen Flores Rosario, MD.
August 17: Duke GME DEI 'First Look'. The Duke Office of Graduate Medical Education is holding a virtual DEI 'First Look' event for potential incoming residents and fellows. It's specifically designed for underrepresented applicants and any applicant interested in DEI issues. Registration is required.
October 14: Cardio-Oncology in the Era of Precision Medicine. Symposium to be held at the J.B. Duke Hotel, Durham, NC. Registration is open: https://bit.ly/CardioOnc22. Email Beth Tanner with questions: beth.tanner@duke.edu.
Cardiology Grand Rounds
Cardiology Grand Rounds has concluded and will resume in September.
Have news to share?
If you have news to share with the Pulse readership, please contact Tracey Koepke, director of communications for Duke Heart at tracey.koepke@duke.edu. We would love to hear about your latest accomplishments, professional news, cool happenings, and any events or opportunities that may be of interest to our Duke Heart family. Please call with any questions: 919-681-2868. Feedback on Pulse is welcome and encouraged. Submissions by Noon, Wednesdays, to be considered for weekend inclusion.
Duke Heart in the News:
July 8 — Nishant Shah
CBS-17/WNCN Raleigh
Most Americans don't have optimal heart health
https://duke.is/97hpk
*story begins around 16:21:05
July 8 — Susan Dent
Cardiovascular Business
Could an effective breast cancer therapy be bad for the heart? NIH awards $3.1M to find out
https://duke.is/2rs6z
July 9 — Duke Cancer Institute
Winston-Salem Journal
Atrium Wake Forest Baptist center participates in heart-cancer link study
https://duke.is/gbrjx
July 12 — Manesh Patel
Health Digest
This Is When You Should Worry About Leg Pain
https://duke.is/znguf
July 13 — Stuart Russell
Medscape
The Heartache of Bereavement Can Be Fatal in Heart Failure
https://duke.is/m76wq
July 13 — Adrian Hernandez
Healthcare Purchasing News
Studies reveal fluticasone furoate ineffective against COVID-19 symptoms
https://duke.is/8ss5r
July 13 — Adrian Hernandez
CBS17.com/WNCN
Researchers settle debate on another off-label COVID treatment
https://duke.is/cjkmj
July 13 — Andrew Wang
HealthCentral
Sneaky Signs You Could Have HCM
https://duke.is/w4wnp
July 14 — Adrian Hernandez
USnews.com
Asthma Drug Fluticasone Fails as Potential COVID Treatment
https://duke.is/6uwen
July 14 — Sunil Rao
Medscape
Interventional Imagers Take on Central Role, and More Radiation
https://duke.is/pfnt8
July 14 — Vishal Rao and Robert Mentz
CBS17.com/WNCN
Duke, UNC medical schools team up on project that explores link between structural racism, heart health
https://duke.is/ryvvc
Division of Cardiology Publications Indexed in PubMed July 7-13, 2022
Abramov D, Minhas AMK, Fudim M, Chung JS, Patel JN, Rabkin DG. Impact of the heart transplant allocation policy change on inpatient cost of index hospitalization. Clin Transplant 2022 Jul;36(7):e14692. PM: 35499219.
Filippatos G, Pitt B, Agarwal R, Farmakis D, Ruilope LM, Rossing P, Bauersachs J, Mentz RJ, Kolkhof P, Scott C, Joseph A, Bakris GL, Anker SD. Finerenone in patients with chronic kidney disease and type 2 diabetes with and without heart failure: a prespecified subgroup analysis of the FIDELIO-DKD trial. Eur J Heart Fail 2022 Jun;24(6):996-1005. PM: 35239204.
Giroux NS, Ding S, McClain MT, Burke TW, Petzold E, Chung HA, Rivera GO, Wang E, Xi R, Bose S, Rotstein T, Nicholson BP, Chen T, Henao R, Sempowski GD, Denny TN, De Ussel MI, Satterwhite LL, Ko ER, Ginsburg GS, Kraft BD, Tsalik EL, Shen X, Woods CW. Differential chromatin accessibility in peripheral blood mononuclear cells underlies COVID-19 disease severity prior to seroconversion. Sci Rep 2022 Jul 9;12(1):11714. PM: 35810186.
Keshvani N, Mehta A, Alger HM, Rutan C, Williams J, Zhang S, Young R, Alhanti B, Chiswell K, Greene SJ, DeVore AD, Yancy CW, Fonarow GC, Pandey A. Heart failure quality of care and in-hospital outcomes during the COVID-19 pandemic: findings from the Get With The Guidelines-Heart Failure registry. Eur J Heart Fail 2022 Jun;24(6):1117-1128. PM: 35289038.
Kochav JD, Kim J, Judd R, Tak KA, Janjua E, Maciejewski AJ, Kim HW, Klem I, Heitner J, Shah D, Zoghbi WA, Shenoy C, Farzaneh-Far A, Polsani V, Villar-Calle P, Parker M, Judd KM, Khalique OK, Leon MB, Devereux RB, Levine RA, Kim RJ, Weinsaft JW. Myocardial Contractile Mechanics in Ischemic Mitral Regurgitation: Multicenter Data Using Stress Perfusion Cardiovascular Magnetic Resonance. JACC Cardiovasc Imaging 2022 Jul;15(7):1212-1226. PM: 35798397.
Kuneman JH, El Mahdiui M, van Rosendael AR, van den Hoogen IJ, Patel MR, Nørgaard BL, Fairbairn TA, Nieman K, Akasaka T, Berman DS, Hurwitz Koweek LM, Pontone G, Kawasaki T, Rønnow Sand NP, Jensen JM, Amano T, Poon M, Øvrehus KA, Sonck J, Rabbat MG, et al. Coronary volume to left ventricular mass ratio in patients with diabetes mellitus. J Cardiovasc Comput Tomogr Jul-Aug 2022;16(4):319-326. PM: 35190274.
Moll-Bernardes R, Fortier SC, Sousa AS, Lopes RD, Vera N, Conde L, Feldman A, Arruda G, Cabral-Castro M, Albuquerque DC, Paula TC, Furquim T, Loures VA, Giusti K, Oliveira N, Macedo A, Barros E Silva P, De Luca F, Kotsugai M, Domiciano R, Silva FA, et al. NKG2A Expression among CD8 Cells Is Associated with COVID-19 Progression in Hypertensive Patients: Insights from the BRACE CORONA Randomized Trial. J Clin Med 2022 Jun 27;11(13):3713. PM: 35806995.
Patel RA, Musharoff SA, Spence JP, Pimentel H, Tcheandjieu C, Mostafavi H, Sinnott-Armstrong N, Clarke SL, Smith CJ,  , Durda PP, Taylor KD, Tracy R, Liu Y, Johnson WC, Aguet F, Ardlie KG, Gabriel S, Smith J, Nickerson DA, Rich SS, Rotter JI, Tsao PS, et al. Genetic interactions drive heterogeneity in causal variant effect sizes for gene expression and complex traits. Am J Hum Genet 2022 Jul 7;109(7):1286-1297. PM: 35716666.
Vaduganathan M, Piccini JP, Camm AJ, Crijns HJGM, Anker SD, Butler J, Stewart J, Braceras R, Albuquerque APA, Wieloch M, Hohnloser SH. Dronedarone for the treatment of atrial fibrillation with concomitant heart failure with preserved and mildly reduced ejection fraction: a post-hoc analysis of the ATHENA trial. Eur J Heart Fail 2022 Jun;24(6):1094-1101. PM: 35293087.