Highlights of the week:
DBAP Outing with the Cardiology Fellows
Our newest cardiology fellows got a taste of downtown Durham with an outing on Saturday night to see our Triple-A affiliate, the Durham Bulls, at Durham Bulls Athletic Park. The Bulls played the Norfolk Tides and picked up a 9-8 win in game two of their three game set. Game three is this afternoon. We believe our Duke Heart attendance at the game really gave the Bulls an edge – thanks to all who joined us!
Although it was warm out – the right field picnic area provided a great place to have the families watch the game with some shade, food and drinks.  Thanks to Anna Lisa and the fellowship team for helping set up this fun event.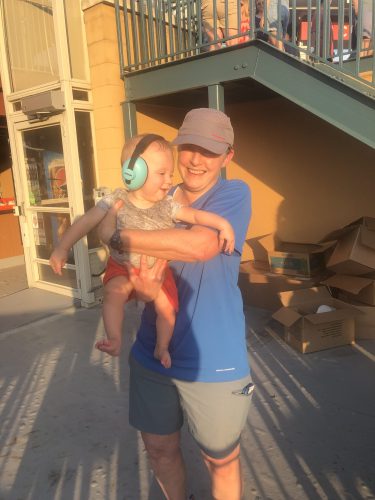 Fudim Presents MGR
On Friday, July 22 Marat Fudim, assistant professor of medicine in cardiology, led a very informative Medicine Grand Rounds on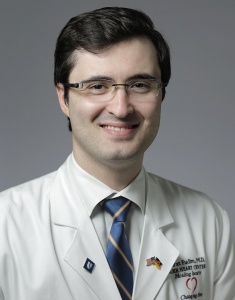 pressure and volume management in patients with chronic heart failure. His presentation covered how volume is distributed throughout the body, the contribution of vasoconstriction to increased intra-cardiac pressures, and several new treatment avenues for patients. In case you missed it, you can view the full recording here: https://warpwire.duke.edu/w/e_MGAA/
This work has opened up many more interesting physiologic studies, devices, and work that Marat and team are helping Duke take the lead on nationally.
Great job, Marat!
Nurse Scientists in Academic-Practice Partnership Improve Rigor of Nursing Science
Asking the right clinical questions is second nature for a nurse, but asking clinical questions in ways that are amenable to scientific solutions is a critical skill that takes time, expertise and mentorship to develop. Faculty at Duke University School of Nursing and Duke University Health System (DUHS) are partnering to help clinical inquiry flourish through collaboration between bedside nurses and nurse scientists. Fruits of the partnership are leading to improved rigor in research and quality improvement design that, in turn, help to improve outcomes for patients and families.
Bradi Granger, MSN, PhD, RN, a professor and director of Duke Heart Center Nursing Research Program, Staci Reynolds, PhD, RN, associate professor and clinical nurse specialist at Duke University Hospital (DUH), and Anna Mall, MSN, RN, assistant nurse manager for the adult cardiac catheterization labs at DUH, recently co-authored an article on clinical inquiry in the American Association of Critical-Care Nurses (AACN) Advanced Critical Care Summer 2022 journal.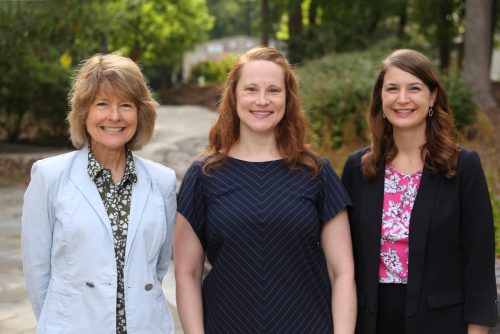 Their work is one of many projects and activities that are an outcome of the Duke Advancement of Nursing, Center of Excellence (DANCE), an academic practice partnership between nurses in the School of Nursing and DUHS, which leverages the experience, knowledge, and aspirations of nurses across both entities.
In an example of the relationships DANCE fosters, Granger immediately thought of Reynolds and Mall when a question came up at a national conference: How can any small-scale, single-site study be valuable to growing and expanding nursing science?
The authors answered that question by creating a pyramid structure outlining a step-by-step approach to clinical inquiry that results in generalizable data that can impact the national or even global health care research priorities for improving health and patient care.
"There is, at the end of the day, a randomized trial that can contribute causal evidence to a patient problem and provide data to change practice and leverage policy," Granger said.
Mall says that she and her team noticed that patients consistently experience discomfort in response to catheter insertion, despite the administration of pre-procedural pain medicine.
"My whole question was, why are we giving this medication? Is it doing what we need it to do? Can we do it a different way," she said.
The first step of the pyramid examined current research and recommendations in the literature about what to do when there was breakthrough pain during the procedure. The next step was designing a study to analyze existing cath lab data for clues to the precursors of pain during the procedure. The next step was designing and conducting the randomized trial that compared two pre-procedural sedation intervals. The last step was taking the results of that trial and building further questions based on focus groups with the nurses and the patients, expanding the inquiry to include additional studies, each addressing the patient experience from different angles.
Reynolds's study focused on central line-associated bloodstream infections, or CLABSIs. Because the infections are costly to treat and create a longer, and possibly more complicated recovery for patients, Reynolds was interested in how to mitigate the rate of infections. Protocol calls for chlorohexidine gluconate (CHG) bathing, but Reynolds found that there was low compliance by nurses across the U.S., partly because patients didn't like the baths, which some find uncomfortable or because they dislike the smell.
Reynolds partnered with Granger, who had connections with Wake Med, and conducted a collaborative study that found that, with greater compliance and procedural understanding, the rate of infection decreased. But they took results of the study a step further to talk to patients and nurses about their experiences.
"There were just a lot of little one-offs from that larger study that we were able to do to keep the ball rolling and answer further clinical inquiry questions as they came up," she said, noting that having a randomized trial as the primary source was critical. "It's not until you get to talking to the bedside nurses and patients that you get into the nitty gritty details of maybe why the intervention of CHG bathing treatments, as recommended in the evidence-based CDC guideline, isn't working so well [in real world clinical practice]."
Implementing the pyramid approach to clinical inquiry requires the type of collaboration DANCE offers.
"The whole premise of DANCE as an academic health system partnership is to bring academicians on the school side, who are experts in the science and design of clinical inquiry, together with the health system nurses to support health system science," Granger said. "Clinical inquiry, when it's done well, requires a rigorous scientific design so that the study can effectively inform practice."
Mall agrees that the questions can often come from clinical nurses, but they need the support and structure that a nurse scientist offers.
"I think what's very unique in the partnership with DANCE is we have those relationships established," she said. "It makes that nurse scientist accessible to the bedside nurse."
Mall said her experience collaborating with the nurse scientists has improved her leadership skills by allowing her time to help with the design study, data collecting, team-building and number-crunching that she would not have been able to do otherwise.
Granger is interested in ensuring that more health systems, including those without academic-practice partnerships like DANCE, have opportunities for collaboration with nurse scientists.
"That's one thing we're working on at Duke through DANCE, to make the resources of a nurse scientist more accessible for our smaller community hospitals, and also around the country, to share this model we're using at Duke," she said.
The co-authors' work helps to demonstrate how nurse scientists and researchers have a key role in advancing nurses' leadership skills, autonomy, and decision-making skills, in turn, improving professional practice environments and health outcomes for real people, families and communities.
Great Catch, Nelson!
We were excited to learn this week that our Duke Heart cath lab team member Eric Nelson, CVIS, received a 'Great Catch!' award.
Eric quickly spoke up to prevent the premature removal of an arterial introducer sheath in an anticoagulated patient in the Cardiac Catheterization Lab at Duke University Hospital. His timely action helped ensure that the introducer remained in place until the patient's clotting time returned to a safe level, which minimized the risk of bleeding after sheath removal.
Excellent job, Eric! Congrats!!
COVID-19 Update
Please continue to practice safe COVID-19 protocols in your day-to-day interactions with others. Be particularly vigilant about masking, and avoid eating indoors in group settings. The health of our team members and our patients remains a priority as we continue to monitor the COVID-19 trends throughout our community.
Stay home if you are not feeling well. Employees who begin to experience any COVID-19 symptoms should report symptoms through the Duke SymMon app, which is available in both the Apple and Google app stores.
Donate blood if you're able to. Click here for Duke-sponsored blood drives through the Red Cross.
All the latest Clinical Operations updates related to COVID can be found at https://covid-19.dukehealth.org. Patient-facing resources on DukeHealth.org can be found here: https://www.dukehealth.org/covid-19-update/resources. Duke University maintains a resource page as well, which can be accessed here: https://coronavirus.duke.edu/updates/for-staff.
Upcoming Events & Opportunities
July 25: Women in Cardiology. 6:30 p.m. Dinner and discussion on mentorship and sponsorship. For more information and location, please contact cardiology fellow Karen Flores Rosario, MD.
August 17: Duke GME DEI 'First Look'. The Duke Office of Graduate Medical Education is holding a virtual DEI 'First Look' event for potential incoming residents and fellows. It's specifically designed for underrepresented applicants and any applicant interested in DEI issues. Registration is required.
October 14: Cardio-Oncology in the Era of Precision Medicine. Symposium to be held at the J.B. Duke Hotel, Durham, NC. Registration is open: https://bit.ly/CardioOnc22. Email Beth Tanner with questions: beth.tanner@duke.edu.
Cardiology Grand Rounds
Cardiology Grand Rounds has concluded and will resume in September.
Have news to share?
If you have news to share with the Pulse readership, please contact Tracey Koepke, director of communications for Duke Heart at tracey.koepke@duke.edu. We would love to hear about your latest accomplishments, professional news, cool happenings, and any events or opportunities that may be of interest to our Duke Heart family. Please call with any questions: 919-681-2868. Feedback on Pulse is welcome and encouraged. Submissions by Noon, Wednesdays, to be considered for weekend inclusion.
Duke Heart in the News:
July 15 — Robert Mentz
tctMD
US Dobutamine Shortage a 'Huge Problem'—What's the Solution?
https://duke.is/2vwsb
July 15 — Andrew Wang
Cardiology Today
'Patients feel better': New hope for obstructive hypertrophic cardiomyopathy
https://duke.is/gpnd7
July 18 — Robert Lefkowitz
GQ.com (Mexico)
Las reglas de oro para ser exitoso, según los ganadores del Nobel
https://duke.is/vxvcw
July 19 — John Haney and Matthew Hartwig
Yahoo.com*
Paragonix Expands Research for Advanced Organ Preservation Clinical Registries
https://duke.is/zku4a
*this story was also carried in Baltimore, Pittsburgh & Sacramento
July 19 — Mihai Podgoreanu and Negmeldeen Mamoun
Medpage Today
Fluid Therapy Showdown in Cardiac Surgery Disfavors Albumin
https://duke.is/m2k87
July 20 — Stuart Russell
Medscape
Pig Heart Transplants and the Ethical Challenges That Lie Ahead
https://duke.is/ysnaf
July 21 — Sreekanth Vemulapalli
WPTF (Raleigh-Durham-Fayetteville)
https://duke.is/2yknw
July 21 — Jason Katz
CardioNerds
Early Struggles, Notable Changes, and Ongoing Challenges in Cardiac Critical Care
https://duke.is/g9w6a
Division of Cardiology Publications Indexed in PubMed July 14-20, 2022
Al Rifai M, Newby LK, Nair AP, Misra A, Rogers JG, Fedson S, Virani SS. SGLT-2 Inhibitors for Patients with Heart Failure: What Have We Learned Recently? Curr Atheroscler Rep 2022;24(8):627-634. PM: 35653033.
Araújo TP, Borges LGS, Barroso WKS, Brandão AA, Barbosa ECD, Feitosa ADM, Malachias MVB, Mota Gomes M, Amodeo C, Povoa RMDS, Jardim PCBV, Lopes RD, Batista SRR, Vitorino PVO. Factors associated with uncontrolled blood pressure in hypertensive Brazilians. J Clin Hypertens (Greenwich) 2022;24(7):814-824. PM: 35770852.
Bahit MC, Vora AN, Li Z, Wojdyla DM, Thomas L, Goodman SG, Aronson R, Jordan JD, Kolls BJ, Dombrowski KE, Vinereanu D, Halvorsen S, Berwanger O, Windecker S, Mehran R, Granger CB, Alexander JH, Lopes RD. Apixaban or Warfarin and Aspirin or Placebo After Acute Coronary Syndrome or Percutaneous Coronary Intervention in Patients With Atrial Fibrillation and Prior Stroke: A Post Hoc Analysis From the AUGUSTUS Trial. JAMA Cardiol 2022;7(7):682-689. PM: 35612866.
Bikdeli B, Zahedi Tajrishi F, Sadeghipour P, Talasaz AH, Fanikos J, Lippi G, Siegal DM, Eikelboom JW, Monreal M, Jimenez D, Connors JM, Ageno W, Barnes GD, Piazza G, Angiolillo DJ, Parikh SA, Kirtane AJ, Lopes RD, Bhatt DL, Weitz JI, Mehran R, Krumholz HM. Efficacy and Safety Considerations With Dose-Reduced Direct Oral Anticoagulants: A Review. JAMA Cardiol 2022;7(7):747-759. PM: 35648414.
Chatterjee R, Kwee LC, Pagidipati N, Koweek LH, Mettu PS, Haddad F, Maron DJ, Rodriguez F, Mega JL, Hernandez A, Mahaffey K, Palaniappan L, Shah SH. Multi-dimensional characterization of prediabetes in the Project Baseline Health Study. Cardiovasc Diabetol 2022;21(1):134. PM: 35850765.
Collins KA, Ross LM, Slentz CA, Huffman KM, Kraus WE. Differential Effects of Amount, Intensity, and Mode of Exercise Training on Insulin Sensitivity and Glucose Homeostasis: A Narrative Review. Sports Med Open 2022;8(1):90. PM: 35834023.
Defilippis EM, Truby LK, Clerkin KJ, Donald E, Sinnenberg L, Varshney AS, Cogswell R, Kittleson MM, Haythe JH, Givertz MM, Hsich EM, Agarwal R, Topkara VK, Farr M. Increased Opportunities for Transplantation for Women in the New Heart Allocation System. J Card Fail 2022;28(7):1149-1157. PM: 35470056.
Gaudino M, Audisio K, Di Franco A, Alexander JH, Kurlansky P, Boening A, Chikwe J, Devereaux PJ, Diegeler A, Dimagli A, Flather M, Lamy A, Lawton JS, Tam DY, Reents W, Rahouma M, Girardi LN, Hare DL, Fremes SE, Benedetto U. Radial artery versus saphenous vein versus right internal thoracic artery for coronary artery bypass grafting. Eur J Cardiothorac Surg 2022;62(1):ezac345. PM: 35678560.
Giroux NS, Ding S, McClain MT, Burke TW, Petzold E, Chung HA, Rivera GO, Wang E, Xi R, Bose S, Rotstein T, Nicholson BP, Chen T, Henao R, Sempowski GD, Denny TN, De Ussel MI, Satterwhite LL, Ko ER, Ginsburg GS, Kraft BD, Tsalik EL, Shen X, Woods C. Differential chromatin accessibility in peripheral blood mononuclear cells underlies COVID-19 disease severity prior to seroconversion. Res Sq 2022;:rs.3.rs-1479864. PM: 35411343.
Greene SJ, Ezekowitz JA, Anstrom KJ, Demyanenko V, Givertz MM, Piña IL, O'Connor CM, Koglin J, Roessig L, Hernandez AF, Armstrong PW, Mentz RJ. Medical Therapy During Hospitalization for Heart Failure With Reduced Ejection Fraction: The VICTORIA Registry. J Card Fail 2022;28(7):1063-1077. PM: 35301107.
Jorbendaze A, Young R, Shaburishvili T, Demyanchuk V, Buriak R, Todurov B, Rudenko K, Zuber M, Stämpfli SF, Tanner FC, Erne P, Mirro M, Fudim M, Goldberg LR, Cleland JGF. Synchronized diaphragmatic stimulation for heart failure using the VisONE system: a first-in-patient study. ESC Heart Fail 2022;9(4):2207-2214. PM: 35619238.
Lala A, Mentz RJ. Fostering Belonging at JCF. J Card Fail 2022;28(7):1047. PM: 35840183.
Minhas AMK, Sagheer S, Ijaz SH, Nazir S, Khan MS, Zaidi SH, Fudim M, Rodriguez F, Johnson HM, Virani SS. Persistent Racial/Ethnic Disparities in Cardiology Trainees in the United States. J Am Coll Cardiol 2022;80(3):276-279. PM: 35835499.
Oslin DW, Lynch KG, Shih MC, Ingram EP, Wray LO, Chapman SR, Kranzler HR, Gelernter J, Pyne JM, Stone A, DuVall SL, Lehmann LS, Thase ME,  , Aslam M, Batki SL, Bjork JM, Blow FC, Brenner LA, Chen P, Desai S, Dieperink EW, Fears SC, Fuller MA, Goodman CS. Effect of Pharmacogenomic Testing for Drug-Gene Interactions on Medication Selection and Remission of Symptoms in Major Depressive Disorder: The PRIME Care Randomized Clinical Trial. JAMA 2022;328(2):151-161. PM: 35819423.
Prabhakaran D, Singh K, Kondal D, Raspail L, Mohan B, Kato T, Sarrafzadegan N, Talukder SH, Akter S, Amin MR, Goma F, Gomez-Mesa J, Ntusi N, Inofomoh F, Deora S, Philippov E, Svarovskaya A, Konradi A, Puentes A, Ogah OS, Stanetic B, Issa A, Thienemann F. Cardiovascular Risk Factors and Clinical Outcomes among Patients Hospitalized with COVID-19: Findings from the World Heart Federation COVID-19 Study. Glob Heart 2022;17(1):40. PM: 35837356.
Prattipati S, Sakita FM, Tarimo TG, Kweka GL, Mlangi JJ, Maro AV, Coaxum LA, Galson SW, Limkakeng AT, Rugakingira A, Urasa SJ, Okeke NL, Mmbaga BT, Bloomfield GS, Hertz JT. Prevalence and Correlates of Ischemic ECG Findings among Adults With and Without HIV in Tanzania. Glob Heart 2022;17(1):38. PM: 35837355.
Rehorn MR, Daubert JP. Editorial commentary: Pulsed field catheter ablation in atrial fibrillation: The promising future of an old technology. Trends Cardiovasc Med 2022;32(6):388-389. PM: 34508849.
Salah HM, Fudim M, O'Neil ST, Manna A, Chute CG, Caughey MC. Post-recovery COVID-19 and incident heart failure in the National COVID Cohort Collaborative (N3C) study. Nat Commun 2022;13(1):4117. PM: 35840623.
Scirica BM, Im K, Murphy SA, Kuder JF, Rodriguez DA, Lopes RD, Green JB, Ruff CT, Sabatine MS. Re-adjudication of the Trial Evaluating Cardiovascular Outcomes with Sitagliptin (TECOS) with study-level meta-analysis of hospitalization for heart failure from cardiovascular outcomes trials with dipeptidyl peptidase-4 (DPP-4) inhibitors. Clin Cardiol 2022;45(7):794-801. PM: 35715946.