Highlights of the week:
Yaport Joins CT Anesthesia Faculty
Mihai Podgoreanu, MD, announced the arrival this week of the newest faculty member to join the CT Anesthesia team. Dr. Miguel Yaport comes to Duke after serving for the past two years as a faculty member at Tufts, including as an attending in their Cardiovascular Center ICUs.
After obtaining his medical degree at Icahn School of Medicine at Mount Sinai, Miguel completed anesthesiology residency at the University of Pennsylvania, followed by a pediatric anesthesia fellowship at Montefiore and a Critical Care Fellowship at the Brigham and Women's Hospital.
Miguel will start in the CTICU later this month and will also participate in the care of non-CT critically ill patients. His research interests include pulmonary hypertension, cardiogenic shock, value-based healthcare, and process-based improvement.
Welcome, Miguel!
Farrell Retires from Duke CTICU
Congratulations to Deb Farrell, an absolutely terrific Cardiothoracic Intensive Care Unit (CTICU) nurse, who retired from Duke at the end of June. She joined the Duke team in 1995, having already worked elsewhere as a nurse for 16 years (she has been an RN since 1979).
During her time in the CTICU, she served as preceptor, charge nurse, chair of the unit's scheduling committee, as a member of the unit research committee and a member of the Duke University Hospital Informatics Council. She has been a member of our Maestro workgroup and the Rapid Response Team. She also cross-trained to both the DUH Dialysis team and Hyperbarics team in order to help those departments.
Deb is a winner of the 2021 American Association of Critical-Care Nurses Circle of Excellence Award, one of 25 given nationally each year to outstanding ICU nurses. She also was the recipient of a Duke Friends of Nursing Award in 2007.
Deb has been instrumental in shaping the care delivered to our cardiothoracic patients over the years and as a mentor and colleague to countless nurses on the CTICU. She will be missed! We wish her all the best in retirement.
Congrats, Deb!
Sangvai Named Interim President, Duke Regional
Devdutta Sangvai, MD, has accepted the role of interim president for Duke Regional Hospital. The search for a successor to Katie Galbraith, who announced her retirement from the role will take place in August, is now underway.
Sangvai stepped down this year as out-going Chair of the Durham County Hospital Corporation Board of Trustees, which is responsible for Duke Regional Hospital. He is well-known and admired by the Durham community. At Duke Health, Sangvai is vice chair for strategy for the Department of Family Medicine and Community Health and Vice President for Population Health Management, leading the Population Health Management Office (PHMO) at Duke University Health System. Complementing the work of PHMO, Sangvai is also Executive Director of Duke Connected Care, Duke's accountable care organization/clinically integrated network.
Barbara Griffith, MD, President of Duke Raleigh Hospital and former Chief Medical Officer for Duke Regional Hospital, will co-chair the search committee for the new president of Duke Regional with Craig Albanese, MD.
Congratulations, Dev!
Alumni News: Echols Named Chief DEI Officer for ACC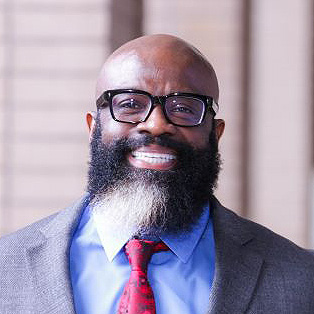 Melvin R. Echols, MD, associate professor of medicine in cardiology at Morehouse School of Medicine and alumnus of Duke's internal medicine and cardiology training programs, has been named Chief Diversity, Equity and Inclusion Officer by the American College of Cardiology (ACC).
The news was announced Thursday, July 7. Echols will lead the ACC's diversity, equity and inclusion strategy and programs, while also maintaining a portion of his current clinical and research responsibilities at Morehouse School of Medicine in Atlanta. His term begins July 18.
"The discovery of commonalities between people and culture while providing quality cardiovascular care to all is strengthened by diversity, and will ultimately improve health equity in our society," Echols said. "Everyone has a part to play in this mission and should feel included in helping to make our society and the world better than yesterday."
Congratulations, Melvin!!
Kudos to Laura Blue, Lead VAD Coordinator
There are members of our team who serve as something of a backbone for us – people who work relentlessly toward the goal of ensuring great patient care, access to clinical trials, and excellent patient education. One of those team members is Laura Blue, RN, AGNP, DNP, who has served as our lead Ventricular Assist Device (VAD) coordinator since 2003.
We received a really terrific note about her recently which made us think about the hundreds of lives she has touched during her time with us at Duke. She has done this not only through direct patient care and training, but also through her work on some of the largest device clinical trials that Duke Heart has participated in. We reached out to a number of her closest colleagues and a patient for their thoughts about her and the work she has done. But first, the original note stated:
"I wanted to send a big thank you to Laura. As you know, she means a lot to her patients especially the patients who were implanted years ago. Last week, a family decided to withdraw VAD support from a patient. The family said, "We want Laura to be here, she has known us since we were little and gave grandmom so many great years." While speaking, the family member gestured the height of a small child. In this time of sadness, the thought of Laura being with the family brought them so much comfort. Laura rounded with us earlier that day and returned to the hospital for another 4 hours that evening and night to be with the patient and assist with the VAD. This was really kind of Laura to do and to stay with the family for some time after." — Rio Landa, Co-team leader, Cardiology APPs
We know this story is not uncommon when it comes to Laura. She is extremely dedicated to our patients, to helping them learn about their condition and how to prepare for a device as well as how to care for it. She works hard to ensure caregivers understand how to best help their loved one.
"I met Laura in May of 2013 when I got my first VAD. I built up a relationship with Laura and all the people on the VAD team over the years. They've done a lot for me. I didn't know what a VAD was until I got to Duke. I had never heard of it before. I had been living with congestive heart failure, couldn't walk – certainly not much of a distance – I'd just give out. Once I got the VAD and got rehab, I was walking 20 miles a week with it. Laura Blue trained me and my wife, who was my caretaker at the time. Laura trained us both in how to maintain the VAD. She taught us everything we needed to know – especially that the main thing we had to do was maintain it and keep it clean so I wouldn't get an infection, and I never got one in the seven years I had it. In between VADs, I was treated for cancer. In order to be eligible for transplant, I'd have to be cancer-free for 5 years. About a year before I was eligible for my second VAD, I ended up at Duke with double pneumonia and the doctor mentioned my weight to me, but you know, it was Laura who came to me and said, "I'm gonna shoot it to you straight. You've got to lose some weight if you want to get on transplant." So, when I got better from the pneumonia, I got after it seven days a week. I'd get up at 5 a.m. and I'd start walking, maybe a quarter of a mile. I eventually got up to 3 miles per day and I did that seven days a week. I lost the weight, changed my eating habits, and lost 100 pounds. When I got my transplant, I said, "I might come back to Duke for something, but it ain't going to be because of my heart." So, I kept up the program and I still walk about 20 miles a week now. I've dropped another 100 pounds since my transplant. I thank Laura for this; I wouldn't be here today without her help. She really took time with me and encouraged me and made a big difference in my life." — Glen Barron, two-time Duke VAD recipient & grateful heart transplant patient
Helen Barnes has supported Laura for more than 10 years at Duke. She has come to know the patients, too, and says that Laura is often the first person that any patient asks for – she is the face at Duke that they recognize most and she's the person they request if they're in distress.
"Laura is such an encourager. She is so great at rooting for her team members and for her patients. She encouraged me to continue my education and she really helped motivate me along the way. She is a great person – I have seen her stay at Duke at night with families if a patient isn't doing well. I've seen her take food to their homes. She goes 110 percent for her patients. She truly cares — she treats them as she'd like to see her family treated. She encourages her team to do the same – to treat them like individuals. She may come across as having a hard exterior sometimes, but inside she has such a big heart and she really loves all her team members, too. She's a team player and a great asset to Duke." – Helen Barnes, staff assistant
 "Laura has been working with LVAD patients since the start of the program in the 1990s. Her amazing dedication to the field and to our Duke patients has resulted in care improvements that are implemented around the world. Despite her international reputation, the patients at Duke think of her as one of them and it is no surprise that a long-time Duke patient and family would feel this way about Laura. She always has the patient's best interest at heart. It is a privilege to work with her." – Stu Russell, MD
"Laura is a true professional. You can call on her for LVAD emergencies at all times of the day, night and weekend. She's responsive and really helps our patients. She is always on call for the LVAD patient. She has enabled the Duke Heart Center to be the leading enroller in numerous national LVAD trials including the Heartmate II Thoratec trial, ENDURANCE (Heartware Medtronic trial) and most recently the MOMENTUM trial (Heartmate III Abbott trial).  Because of our leading role in these trials, Duke has become a national leader in mechanical circulatory support, in general. I'd say she has been instrumental." – Carmelo Milano, MD
"I'd like to take a moment to express gratitude for Laura and the work done to expand access to VAD care both inside the walls of Duke University Hospital and across the state. Laura has taught thousands of patients, families and healthcare team members how to safely care for VADs so patients can receive care both here at DUH and in the community." – Stephanie G. Barnes, MSN, Clinical Director for Advanced Heart Failure Services
"Dr. Laura Blue is an icon in the mechanical circulatory support specialty at Duke and across the country. Her knowledge and experience are unmatched. Laura has partnered to support numerous trials and new devices to literally change and shape this technology over the years. She is always an advocate for the patients and their loved ones and has been a pivotal team member in the development and success of the Duke Mechanical Circulatory Support program. We are fortunate to have Laura on the Duke Heart team!" – Jill Engel, DNP, Associate Vice President for Duke Heart Services
Kudos to Hoke!
Anna Lisa Chamis shared a terrific note she received this week from Melissa Daubert regarding cardiology fellow Cara Hoke: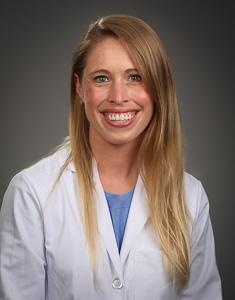 "Thank you for the terrific work and long hours you put in today! You handled a very full TEE board and many other requests today with aplomb. We had some great cases, and your reports were terrific with descriptive and quantitative detail. Your thoughtfulness is truly appreciated. It has been a pleasure to work with you!"
Way to go, Cara!
Shout-out to the DUH Cath Lab team!
A big shout-out to the Duke University Hospital cardiac catheterization lab team – a note from Jenn Rymer sent to Anna Mall stated:
"I had an ICU patient pending discharge on June 24 (but needed cath before discharge). JP and several others stayed to help get the patient a diagnostic cath with Dr. Othman so the patient could go home. I really appreciate the willingness to do what is right for the patient so that he could get home that weekend."
Shown here are cath lab team members (L-R): Miranda Olson, Nicole Mee, Gloria Gonde, JP Maarschalk, and Jen Lutz.
Great patient-centered teamwork! Thanks, everyone!
Thompson Receives 'High 5'
Cardiology nurse practitioner Shelley Thompson recently earned a 'High Five' as part of the DUHS peer recognition program. She was nominated by Richa Agarwal, who said in the nomination:
​​"Shelley is a fierce patient advocate and provided amazing support to a patient and their spouse during a very difficult time."
Congrats, Shelley!
Photos of the Week
Pamela Douglas and Tracy Wang along with Minnow Walsh of St. Vincent Health, chair the ACC's Clinical Trial Research (CRT) Program, the three are shown here with other members of the faculty from across the U.S. The team aims to further develop the skill sets of cardiologists and PhD researchers seeking to succeed in clinical research. Their 2022 cohort was held recently. Well done!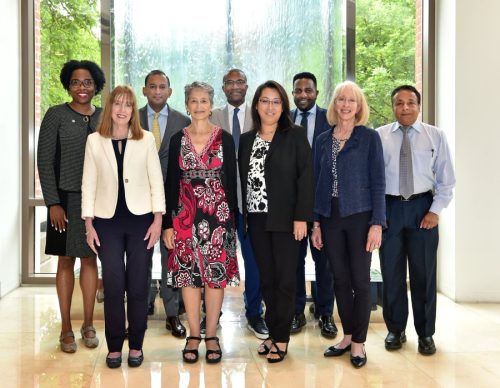 Jack Haney celebrated the start of the training year with new chief residents for Duke cardiovascular and thoracic surgery (L-R): Julie Doberne, James Meza, Haney, Jessica Hudson and Mike Mulvihill.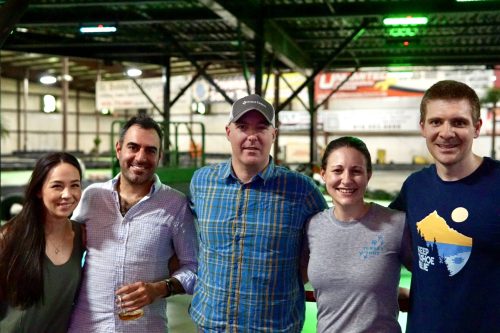 Cardiology fellow Balim Senman styling one of her fabulous blazers with "Balim's Blazer Boys" (Joshua Neal and Derek Woodruff, PGY-1s, Duke internal medicine). In a post to Twitter, Senman stated: "Congratulations to these two phenomenal interns for absolutely KILLING it in their first week of intern year!!" Way to go!
And this great pic, courtesy of Jenn Rymer, of our incoming first year cardiology fellows after their procedural bootcamp. Here they are again, enjoying an evening out at Bull McCabe's in downtown Durham. Looking good everyone — we are so glad you're here!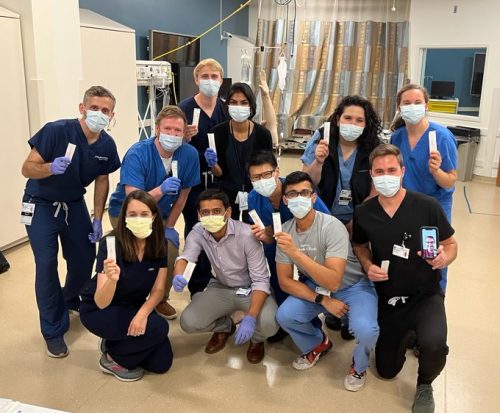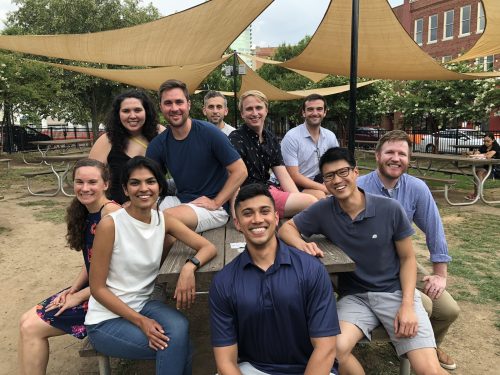 A Dose of Inspiration
Who doesn't need a little inspiration from time to time? Here are two items we came across last week that are worth checking out:
Handle Hard Better with Kara Lawson of Duke Women's Basketball
https://www.youtube.com/watch?v=oDzfZOfNki4
The Washington Post
Their dad was drowning. They saved him using CPR they saw in movie scenes. Washington Post article: https://duke.is/yehz8
Enjoy the coming week!
COVID-19 Update
All the latest Clinical Operations updates related to COVID can be found at https://covid-19.dukehealth.org. Patient-facing resources on DukeHealth.org can be found here: https://www.dukehealth.org/covid-19-update/resources. Duke University maintains a resource page as well, which can be accessed here: https://coronavirus.duke.edu/updates/for-staff.
Upcoming Events & Opportunities
July 26: Women in Cardiology. The WIC team postponed their event originally planned for June 30. Details will be announced soon. For more information, please contact cardiology fellow Karen Flores Rosario, MD.
August 17: Duke GME DEI 'First Look'. The Duke Office of Graduate Medical Education is holding a virtual DEI 'First Look' event for potential incoming residents and fellows. It's specifically designed for underrepresented applicants and any applicant interested in DEI issues. Registration is required.
Cardiology Grand Rounds
Cardiology Grand Rounds has concluded and will resume in September.
Have news to share?
If you have news to share with the Pulse readership, please contact Tracey Koepke, director of communications for Duke Heart at tracey.koepke@duke.edu. We would love to hear about your latest accomplishments, professional news, cool happenings, and any events or opportunities that may be of interest to our Duke Heart family. Please call with any questions: 919-681-2868. Feedback on Pulse is welcome and encouraged. Submissions by Noon, Wednesdays, to be considered for weekend inclusion.
Duke Heart in the News:
June 21 — Harry Severance
EP Monthly
Should You Stay or Should You Go?
https://duke.is/v3xqx
July 1 — Allan Kirk
DailyMail.com
Heart transplants from pigs move a step closer with US health chiefs 'set to approve bigger trials next year' in wake of world-first op
https://duke.is/9emtm
July 6 — William Kraus
eatthis.com
Everyday Habits That Make You Live Longer, Say Experts
https://duke.is/gwh9f
July 6 — Michael Pencina
tctMD
Few Adults Eligible for Primary Prevention With Statins in Latest ESC Guidelines
https://duke.is/7mgn6
July 6 — Jonathan Piccini
HRtv
HRtv Update: Residual Leaks Post Left Atrial Appendage Occlusion
https://duke.is/mvwjf
Division of Cardiology Publications Indexed in PubMed June 30 – July 6, 2022
Aulin J, Hijazi Z, Lindbäck J, Alexander JH, Gersh BJ, Granger CB, Hanna M, Horowitz J, Lopes RD, McMurray JJV, Oldgren J, Siegbahn A, Wallentin L. Biomarkers and heart failure events in patients with atrial fibrillation in the ARISTOTLE trial evaluated by a multi-state model. Am Heart J 2022 Sep;251:13-24. PM: 35569564.
Blumenthal JA, Smith PJ, Jiang W, Hinderliter A, Watkins LL, Hoffman BM, Kraus WE, Mabe S, Liao L, Davidson J, Sherwood A. Longer term benefits of exercise and escitalopram in the treatment of anxiety in patients with coronary heart disease: Six month follow-up of the UNWIND randomized clinical trial. Am Heart J 2022 Sep;251:91-100. PM: 35609671.
Cantor WJ, Tan M, Berwanger O, Lavi S, White HD, Nicolau JC, Dehghani P, Tajer CD, Lopes RD, Moia DDF, Nicholls SJ, Parkhomenko A, Averkov O, Brass N, Lutchmedial S, Malaga G, Damiani LP, Piegas LS, Granger CB, Goodman SG. Morphine and clinical outcomes in patients with ST segment elevation myocardial infarction treated with fibrinolytic and antiplatelet therapy: Insights from the TREAT trial. Am Heart J 2022 Sep;251:1-12. PM: 35533724.
DeVore AD, Bosworth HB, Granger BB. Improving implementation of evidence-based therapies for heart failure. Clin Cardiol 2022 Jun;45 Suppl 1:S52-S59. PM: 35789019.
Florido R, Daya NR, Ndumele CE, Koton S, Russell SD, Prizment A, Blumenthal RS, Matsushita K, Mok Y, Felix AS, Coresh J, Joshu CE, Platz EA, Selvin E. Cardiovascular Disease Risk Among Cancer Survivors: The Atherosclerosis Risk In Communities (ARIC) Study. J Am Coll Cardiol 2022 Jul 5;80(1):22-32. PM: 35772913.
Greene SJ, Lautsch D, Gaggin HK, Djatche LM, Zhou M, Song Y, Signorovitch J, Stevenson AS, Blaustein RO, Butler J. Contemporary outpatient management of patients with worsening heart failure with reduced ejection fraction: Rationale and design of the CHART-HF study. Am Heart J 2022 Sep;251:127-136. PM: 35640728.
Johnson JN, Loriaux DB, Jenista E, Kim HW, Baritussio A, De Garate Iparraguirre E, Bucciarelli-Ducci C, Denny V, O'Connor B, Siddiqui S, Fujikura K, Benton CW, Weinsaft JW, Kochav J, Kim J, Madamanchi C, Steigner M, Kwong R, Chango-Azanza D, Chapa M, et al. Society for Cardiovascular Magnetic Resonance 2021 cases of SCMR and COVID-19 case collection series. J Cardiovasc Magn Reson 2022 Jul 4;24(1):42. PM: 35787291.
Kir D, Zhang S, Kaltenbach LA, Fonarow GC, Matsouaka RA, Piccini JP, Desai NR. Patterns of care for first-detected atrial fibrillation: Insights from the Get With The Guidelines® – Atrial Fibrillation registry. Heart Rhythm 2022 Jul;19(7):1049-1057. PM: 35247626.
Lunardi M, Louvard Y, Lefèvre T, Stankovic G, Burzotta F, Kassab GS, Lassen JF, Darremont O, Garg S, Koo BK, Holm NR, Johnson TW, Pan M, Chatzizisis YS, Banning A, Chieffo A, Dudek D, Hildick-Smith D, Garot J, Henry TD, Dangas G, Stone GW, Krucoff MW, et al. Definitions and Standardized Endpoints for Treatment of Coronary Bifurcations. J Am Coll Cardiol 2022 Jul 5;80(1):63-88. PM: 35597684.
Maia IS, Marcadenti A, Zampieri FG, Damiani LP, Santos RHN, Negrelli KL, Gomes SPDC, Gomes JO, Carollo MBDS, Miranda TA, Santucci E, Valeis N, Laranjeira LN, Westphal GA, Horta JGA, Flato UAP, Fernandes C, Barros WC, Bolan RS, Gebara OCE, Alencar Filho MS. Antivirals for adult patients hospitalized with SARS-CoV-2 infection: A randomized, Phase II/III, multicenter, placebo-controlled, adaptive study, with multiple arms and stages. COALITION COVID-19 BRAZIL IX – REVOLUTIOn: protocol and statistical analysis. Rev Bras Ter Intensiva Jan-Mar 2022;34(1):44-55. PM: 35766657.
Park DY, Wang P, An S, Grimshaw AA, Frampton J, Ohman EM, Rao SV, Nanna MG. Shortening the duration of dual antiplatelet therapy after percutaneous coronary intervention for acute coronary syndrome: A systematic review and meta-analysis. Am Heart J 2022 Sep;251:101-114. PM: 35654162.
Pierce JB, Mentz RJ, Sun JL, Alhanti B, Whellan DJ, Kraus WE, Piña IL, Fiuzat M, O'Connor CM, Greene SJ. Titration of medical therapy and clinical outcomes among patients with heart failure with reduced ejection fraction: Findings from the HF-ACTION trial. Am Heart J 2022 Sep;251:115-126. PM: 35640729.
Sag AA, Patel P. CT-Guided Cooled Radiofrequency Denervation for Chronic Arthritis Pain of the Hip and Shoulder. Semin Intervent Radiol 2022 Jun 30;39(2):150-156. PM: 35781997.
Ten Lohuis CC, Burke SC, Jannuzzo CJ, Barker NA, Chen EP, Busse LW. Protocol Compliance Guiding Angiotensin II Use in Post Cardiovascular Surgery Vasoplegia. Crit Care Explor 2022 May 13;4(5):e0687. PM: 35783549.
Vader JM, Givertz MM, Starling RC, McNulty SE, Anstrom KJ, Desvigne-Nickens P, Hernandez AF, Braunwald E, Mann DL. Tolerability of Sacubitril/Valsartan in Patients With Advanced Heart Failure: Analysis of the LIFE Trial Run-In. JACC Heart Fail 2022 Jul;10(7):449-456. PM: 35772853.