Highlights of the week:
Kisslo Celebrated on 80th
Members of the Duke Heart team gathered this past week both in person and virtually to celebrate Joe Kisslo's recent (80th) birthday.
"From the first phased array to the world of echo and cardiology with more than 45 years at Duke echo lab!" – Fawaz Alenezi, MD
Happy birthday, Joe!
Many thanks to all who were able to participate, and special thanks to members of the Duke echo lab, especially Sreekanth Vemualapalli, Fawaz Alenezi and sonographers Ashlee Davis, Batina Kight and Brenda Sedberry for helping to make arrangements. We like the disco lighting!
Photos courtesy of Fawaz Alenezi.
Members of HF Team to be Recognized by HFSA
Congratulations to Tracy DeWald, PharmD; Kishan Parikh, MD, and Kimberly Biever, CRC – members of Duke's Heart Failure team. They will be recognized during the Research Network Session of the Heart Failure Society of America (HFSA) Scientific Sessions (Sept. 10-13). Duke was selected for a Top Research Site Award for outstanding performance in the TRANSFORM, CONNECT-HF and SPIRRIT HFpEF clinical trials.
In a letter shared with us this past week, we learned:
"Congratulations! On behalf of Dr. O'Connor, HFSA Research Committee Chair and HF-Collaboratory PI, we are pleased to notify you that Duke University has been selected for a Top Research Site Award for your outstanding performance in the TRANSFORM, CONNECT-HF and SPIRRIT HFpEF clinical trials. You were nominated by Dr. Marat Fudim.
As an awardee, you will receive a $500 credit towards registration and membership for the Heart Failure Society of America (HFSA) Scientific Sessions September 10 – 13 at the Gaylord Rockies in Denver, Colorado. Awardees will be recognized during the Research Network Session. We hope you can attend in person to be recognized; however, there will be a virtual option if you are unable to attend in person. You will also receive a certificate by mail.
In addition, we would be thrilled to have you join the HFSA Research Network.  As part of this strong, integrated network of clinical investigators and coordinators under the umbrella of the HFSA, you will have access to best practices, be eligible to assist with site development and training, and make connections with sponsors interested in engaging research sites in their clinical trials. We are also developing future opportunities for central contracting, institutional review board, and budget negotiations.
As a Top Research Site, you will be recognized at the annual meeting, through Twitter, and on the HFSA and HF Collaboratory websites. In addition, we encourage you to join and maintain membership in the HFSA and continue to enjoy the benefits of membership.
Congratulations on this accomplishment!" — Sincerely, Christopher O'Connor, PI, Heart Failure Collaboratory and chair, HFSA Research Network and Research Committee.
Way to go!
Study Will Determine Rate of COVID Heart Inflammation Among Elite Athletes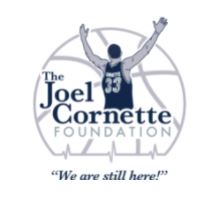 An innovative study at Duke Health aims to determine the prevalence of COVID-related heart inflammation among top-level athletes and establish the symptoms and clinical features to ensure they receive timely and accurate diagnoses.
Heart inflammation, called myocarditis, can arise from COVID infections, and can cause chest pain, heart palpitations and shortness of breath. In severe cases, it can cause permanent damage. Numerous college and professional athletes have tested positive for COVID, adding heightened urgency to research on the cardiovascular effects of the infection.
The Duke-led study is an outgrowth of the Hearts of Athletes study that was launched to establish a better understanding of how hearts are altered by high-level athletic activities. With the new focus on COVID, the study will enroll 300 NCAA, professional and Olympic athletes around the country – 200 who have had COVID and 100 who have not – to undergo heart tests and participate in ongoing monitoring via a health app.
"Even before COVID, we did not have enough information about how the hearts of elite athletes might be different than other healthy people," said study lead Manesh Patel, MD, chief of cardiology at Duke. "Now with COVID and its potential impact on the heart, it's more important than ever to understand whether athletes face unique risks or greater protections based on their cardiovascular features."
The Hearts of Athletes study is funded by The Joel Cornette Foundation, which was established by the family of former Division 1 basketball player Joel Cornette after he died unexpectedly in his mid-30s from an undiagnosed heart condition. The Cornette Foundation supports research into heart disease among athletes and selected Duke as the analytic center for the Hearts of Athletes study.
The study will be available to top athletes from across the U.S. through the Hearts of Athletes app — built on Deloitte's ConvergeHEALTH MyPath for Clinical cloud-based digital platform — downloaded to their mobile devices.
Both COVID-positive and -negative study participants will undergo standard heart workups — including an echocardiogram followed by a cardiac MRI — at a medical facility where they live. Athletes who have received COVID vaccinations will also be eligible. Their de-identified cardiac images will then be sent to the Duke Heart Center for a blinded analysis. Those who have abnormalities will undergo additional observation and treatment.
Participants will also complete a daily health survey for a month, noting COVID symptoms and other health information, via the app.
The study will determine the rate of COVID-related myocardial involvement among athletes, as well as the symptoms and clinical features associated with the condition. Additionally, the data and images of the athletes' hearts will be archived for additional research that could inform medical care and treatment.
"This study will help us better understand how COVID affects the hearts of athletes and, more importantly, how playing sports affects the heart more broadly," Patel said. "Athletes need to know if they have heart conditions that put them at risk – this is information that is empowering. We need to be able to identify those conditions and weigh the impact."
Shout-out to Nuttall
This past week, we were forwarded a note recognizing Savannah Nuttall, CNI on 7300, for compassionate care shown to a patient.
"Savannah, I just wanted to point out the wonderful care that you provided a patient in his last day and hours. I will long remember you holding his hand and comforting him as he passed, one of the most compassionate gestures I have seen in my career at Duke. The patient had no family, yet he passed with great comfort from you. You certainly have chosen the right field and we and our patients are fortunate to have you at Duke." – Jamie Jollis, MD
"Savannah, thank you for the compassion you showed for our patient. Your display of caring helps us all remember the real reason we are healthcare providers. Thank you for providing him with support and human touch during his last day and hours. You exemplify what a nurse and healthcare provider brings to those in need. We are so fortunate to have you as part of the Duke Heart team." – Jill Engel, DNP, ACCNP, NEA-BC, FAANP, AVP Heart Services
Monica Harper, nurse manager operations, 7300, shared, "We all want to thank Savannah for taking time to comfort a patient as he was dying. Her caring and meaningful actions truly exemplify Duke values of putting patients first."
Savannah wanted to ensure that Dr. Jollis and Janny Sweetow were also recognized, as both advocated and cared for the patient. Both "went above & beyond to make sure he was comfortable as well as check in on me & make sure I was okay."
We thank each of you for the compassionate care given to this patient as he neared the end of his life. Well done.
Jon Andrews, MD, Joins Cardiac Anesthesiology Team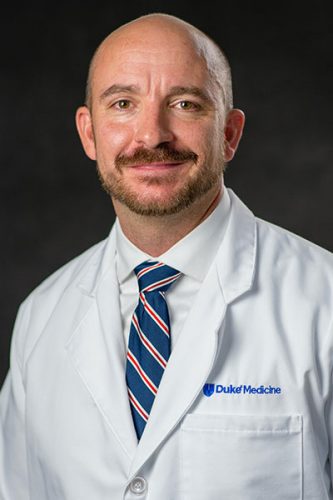 Mihai Podgoreanu, chief, division of cardiac anesthesiology, announced the addition of Jon Andrews, MD, to the Duke Cardiac Anesthesiology faculty. In a note sent last weekend, Podgoreanu wrote:
"Please join me in welcoming Jon Andrews, MD to our Cardiothoracic family. After serving our country during multiple deployments as part of the US Army Special Forces, Jon obtained his medical degree, anesthesiology residency and dual fellowship training in adult cardiothoracic anesthesiology and pediatric anesthesia at Duke. Jon will start in the CTOR tomorrow (Monday, August 9), and will participate in the care of both adult and pediatric cardiac surgical patients."
Please give Jon a warm welcome when you meet him!
Reminder: Faculty & Fellows Gathering
Please join us for a cardiology faculty and fellows happy hour at Ponysaurus Brewery on Thursday, August 19th from 5-8 p.m. We have rented the covered top deck of the brewery so that we can get together rain or shine!
Some Duke Photos from the Week: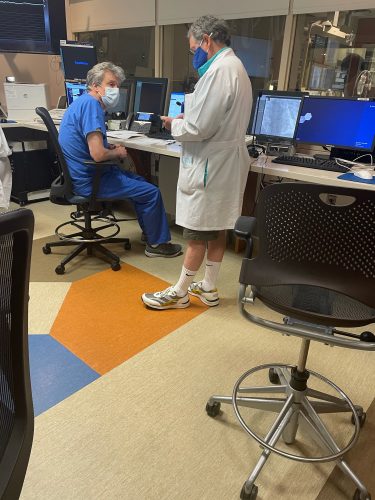 Dr. Bashore checking in with Dr. Sketch on the weekend
Submitted by Jason Katz: Cardiology and Anesthesiology/critical care fellows working together in the CTICU on a procedure.
Scholars Tip of the Month: First Impressions
As we prepare for the start of another academic year, consider giving your Scholars@Duke profile a fresh new look. Your profile picture is often the very first thing someone sees on your profile, so please take a moment to ensure you are leveraging your photo correctly to establish a friendly and professional first impression with students, patients, and peers. We've gathered five tips to help you select the perfect profile picture.  – Scholars@Duke team
5 Tips for a Perfect Profile Picture
Choose a photo that looks like you. Make sure your Scholars profile picture is up-to-date (within the past few years) and reflects how you look on a daily basis – your hair, glasses, makeup, etc.
Make sure your face takes up at least 60% of the frame. Crop your picture from the top of your shoulders to just above your head so that your face fills the frame and shows off your smile.
Choose the right expression. You want to appear warm and friendly. That way, viewers of your profile (i.e., potential collaborators, students, patients) will be able to imagine having a pleasant conversation with you.
Wear what you would wear to work. Wear clothes that match the level of dressiness at your office. Also, note that solid colors tend to do best on camera.
Choose a background that isn't distracting. After you put all that effort into having the perfect expression, you don't want anything to distract from your face. Keep the background simple so that you are the focal point.
Upcoming Events & Opportunities
October 8: Duke Heart Failure Symposium: The Leading Edge of Heart Failure Management. Course directors are Richa Agarwal and Robert Mentz. 12 – 4:30 p.m. Zoom Webinar. To learn more and to register, please visit: http://duke.is/Q1sBtf
Have news to share?
If you have news to share with the Pulse readership, please contact Tracey Koepke, director of communications for Duke Heart at tracey.koepke@duke.edu. We would love to hear about your latest accomplishments, professional news, cool happenings, and any events or opportunities that may be of interest to our Duke Heart family. Please call with any questions: 919-681-2868. Feedback on Pulse is welcome and encouraged.
Duke Heart in the News:
July 29 — Matthew Moore (patient)
WJZY/Fox 46 News (Charlotte)
NC father receives new-generation artificial heart, the first in North America
http://duke.is/BrxLjX
July 30 — Karen Alexander
US News & World Report
AHA News: Dementia Can Complicate Heart Recovery and Treatment
http://duke.is/qbRsRk
July 30 — Jonathan Piccini
Medscape
Prefer Direct Oral Anticoagulants Over Aspirin After Ventricular Ablations: STROKE-VT
https://www.medscape.com/viewarticle/955728
August 1 — W. Schuyler Jones
Pharmacy Today
What's the right aspirin dose for CVD patients?
http://duke.is/g5Cyvd
August 1 — Derek Chew and Duke Clinical Research Institute
Medpage Today
CABANA Paints Afib Ablation as Cost 'Attractive'
https://www.medpagetoday.com/meetingcoverage/hrs/93849
August 2 — William Kraus
Medscape
Modest Calorie Cut Plus Exercise May Improve Vascular Health
https://www.medscape.com/viewarticle/955833
August 4 — Mary Ann Fuchs
The Business Journals
Health care employers step up DE&I efforts
http://duke.is/U4T1rn
August 4 — Derek Chew
tctMD
Catheter Ablation 'Good Value' in CABANA Economic Analysis
http://duke.is/M6AARW
August 5 — Adam DeVore
Medscape
Hospital Intervention Fails to Improve Heart Failure Outcomes
https://www.medscape.com/viewarticle/956108
August 8 — Alvin Wells (Rheumatology and Immunology)
Healio/Rheumatology
'What we see that kills patients': Managing cardiovascular event risk in lupus nephritis
http://duke.is/T1Ks9D
August 8 — Matthew Moore (patient)
WNCN/CBS 17 News
Heart Implant Recipient Celebrates 40th Birthday in Hospital
http://duke.is/1N5GjN
August 9 — Tracy Wang
Everyday Health
Cutting Just 250 Calories a Day and Adding 4 Days of Moderate Exercise Could Help Prevent Heart Disease
http://duke.is/r4SdqR
August 9 — Manesh Patel
WNCN CBS 17 News
Duke studying how top athletes are impacted by COVID-19 infections
http://duke.is/cuggiu
August 9 — Manesh Patel
WRAL NBC 5 News
Duke Health to study heart inflammation from COVID-19 in athletes
http://duke.is/SEk5iY
August 9 — Matthew Moore
WNCT CBS 9 News (Greenville, SC)
Duke Hospital artificial heart recipient celebrates 40th birthday as he continues recovery
http://duke.is/tXaFtb
August 10 — Duke University Hospital
Becker's Hospital Review
US News: The top hospital for heart care by state
http://duke.is/wPrvrx
August 11 — Adrian Hernandez
WBTW CBS-13 News Charlotte
Activ-6 study examines medications' effects on COVID-19
http://duke.is/KzfcHz
August 11 — Adrian Hernandez
WFXB Fox-43 News Myrtle Beach
Duke study looks at medications' effects on COVID-19
http://duke.is/i9IkKT
August 11 — Adrian Hernandez
WUNC-FM 91.5
Researchers at Duke examine existing medications and their effects on COVID-19
http://duke.is/z131S7
Division of Cardiology Publications Indexed in PubMed July 30 – Aug 4, 2021
Ali-Ahmed F, Dalgaard F, Allen Lapointe NM, Kosinski AS, Blumer V, Morin DP, Sanders GD, Al-Khatib SM. Right ventricular lead location and outcomes among patients with cardiac resynchronization therapy: A meta-analysis. Prog Cardiovasc Dis May-Jun 2021;66:53-60. PM: 33864874.
Arps K, Chakravartti J, Hess CN, Rao SV. Ventricular Fibrillation Due to Aortocoronary Vein Graft Spasm During Angiography: Case Report and Literature Review. JACC Case Rep 2021 Mar 17;3(3):388-391. PM: 34317543.
Bianco HT, Povoa R, Izar MC, Luna Filho B, Moreira FT, Stefanini E, Fonseca HA, Barbosa AHP, Alves CMR, Caixeta AM, Gonçalves I, Moraes PIM, Lopes RD, Paola AAV, Almeida D, Moises VA, Fonseca FAH. Accuracy of Post-thrombolysis ST-segment Reduction as an Adequate Reperfusion Predictor in the Pharmaco-Invasive Approach. Arq Bras Cardiol 2021 Jul;117(1):15-25. PM: 34320062.
Biegus J, Zymliński R, Fudim M, Testani J, Sokolski M, Marciniak D, Ponikowska B, Guzik M, Garus M, Urban S, Ponikowski P. Spot urine sodium in acute heart failure: differences in prognostic value on admission and discharge. ESC Heart Fail 2021 Aug;8(4):2597-2602. PM: 33932273.
Califf RM. A Perspective on the K-Index. JACC Case Rep 2020 Feb 5;2(2):335-336. PM: 34317237.
Coniglio AC, Agarwal R, Schroder JN, Mentz RJ, Milano CA, DeVore AD, Patel CB. A Case for Re-Gifting. JACC Case Rep 2021 Jun 2;3(7):1010-1012. PM: 34317674.
Friede KA, Wegermann ZK, Rao SV. Navigation of a Dormant AV Fistula for PCI in a Patient With High-Risk NSTEMI. JACC Case Rep 2020 Aug 5;2(11):1671-1674. PM: 34317031.
Gold ME, Nanna MG, Doerfler SM, Schibler T, Wojdyla D, Peterson ED, Navar AM. Prevalence, treatment, and control of severe hyperlipidemia. Am J Prev Cardiol 2020 Aug 13;3:100079. PM: 34327462.
Hertz JT, Madut DB, Rubach MP, William G, Crump JA, Galson SW, Maro VP, Bloomfield GS, Limkakeng AT, Temu G, Thielman NM, Sakita FM. Incidence of Acute Myocardial Infarction in Northern Tanzania: A Modeling Approach Within a Prospective Observational Study. J Am Heart Assoc 2021 Aug 3;10(15):e021004. PM: 34320841.
Jackson LR, Jackson KP, Thomas KL. Percutaneous left atrial appendage occlusion: A review of current devices, clinical evidence, patient selection, and post procedural antithrombotic management. Prog Cardiovasc Dis May-Jun 2021;66:92-100. PM: 34332665.
Jorbenadze A, Fudim M, Mahfoud F, Adamson PB, Bekfani T, Wachter R, Sievert H, Ponikowski PP, Cleland JGF, Anker SD. Extra-cardiac targets in the management of cardiometabolic disease: Device-based therapies. ESC Heart Fail 2021 Aug;8(4):3327-3338. PM: 34002946.
Kamp NJ, Chery G, Kosinski AS, Desai MY, Wazni O, Schmidler GS, Patel M, Lopes RD, Morin DP, Al-Khatib SM. Risk stratification using late gadolinium enhancement on cardiac magnetic resonance imaging in patients with hypertrophic cardiomyopathy: A systematic review and meta-analysis. Prog Cardiovasc Dis May-Jun 2021;66:10-16. PM: 33171204.
Loungani RS, Sekar S, Rehorn MR, Black-Maier E, Vemulapalli S, Shah SH, Harrison RW. Cardiac Arrest in the Setting of Diffuse Coronary Ectasia: Perspectives on a Unique Ischemic Insult. JACC Case Rep 2020 Sep 15;2(11):1662-1666. PM: 34317029.
Mehta NN, Dey AK, Maddineni R, Kraus WE, Huffman KM. GlycA measured by NMR spectroscopy is associated with disease activity and cardiovascular disease risk in chronic inflammatory diseases. Am J Prev Cardiol 2020 Nov 7;4:100120. PM: 34327480.
Mercado-Alamo A, Singh H, Rosman H, Mehta R, Lalonde T, Kaki A. Unmasking Severe Tricuspid Valve Regurgitation After Percutaneous Debulking of Large Tricuspid Vegetation. JACC Case Rep 2020 Jul 22;3(5):818-822. PM: 34317633.
Morin DP, Al-Khatib SM. Emerging topics in electrophysiology. Prog Cardiovasc Dis May-Jun 2021;66:1. PM: 34332659.
Nayor M, Shah SH, Murthy V, Shah RV. Molecular Aspects of Lifestyle and Environmental Effects in Patients With Diabetes: JACC Focus Seminar. J Am Coll Cardiol 2021 Aug 3;78(5):481-495. PM: 34325838.
Nicolau JC, Feitosa Filho GS, Petriz JL, Furtado RHM, Précoma DB, Lemke W, Lopes RD, Timerman A, Marin Neto JA, Bezerra Neto L, Gomes BFO, Santos ECL, Piegas LS, Soeiro AM, Negri AJA, Franci A, Markman Filho B, Baccaro BM, Montenegro CEL, Rochitte CE, et al. Brazilian Society of Cardiology Guidelines on Unstable Angina and Acute Myocardial Infarction without ST-Segment Elevation – 2021. Arq Bras Cardiol 2021 Jul;117(1):181-264. PM: 34320090.
Piccini JP, Carrillo RG. Attempted lead extraction in low-risk patients without surgical backup: Progress or peril? Heart Rhythm 2021 Aug;18(8):1279-1280. PM: 34023502.
Rao VN, Fudim M, Griffin A, Rymer JA, Jones WS, Koweek LMH, Smith TP, Marin D, DeVore AD. Lawn Mower Versus Left Ventricular Assist Device: A Case of Traumatic Coronary Injury. JACC Case Rep 2020 Mar 18;2(3):406-410. PM: 34317252.
Rehorn MR, Black-Maier E, Loungani R, Sen S, Sun AY, Friedman DJ, Koontz JI, Schroder JN, Milano CA, Khouri MG, Katz JN, Patel CB, Pokorney SD, Daubert JP, Piccini JP. Electrical storm in patients with left ventricular assist devices: Risk factors, incidence, and impact on survival. Heart Rhythm 2021 Aug;18(8):1263-1271. PM: 33839327.
Roth CJ, Clunie DA, Vining DJ, Berkowitz SJ, Berlin A, Bissonnette JP, Clark SD, Cornish TC, Eid M, Gaskin CM, Goel AK, Jacobs GC, Kwan D, Luviano DM, McBee MP, Miller K, Hafiz AM, Obcemea C, Parwani AV, Rotemberg V, Silver EL, Storm ES, Tcheng JE, et al. Multispecialty Enterprise Imaging Workgroup Consensus on Interactive Multimedia Reporting Current State and Road to the Future: HIMSS-SIIM Collaborative White Paper. J Digit Imaging 2021 Jun;34(3):495-522. PM: 34131793.
Sayeed S, Califf R, Green R, Wong C, Mahaffey K, Gambhir SS, Mega J, Patrick-Lake B, Frazier K, Pignone M, Hernandez A, Shah SH, Fan AC, Krüg S, Shaack T, Shore S, Spielman S, Eckstrand J, Wong CA. Return of individual research results: What do participants prefer and expect? PLoS One 2021 Jul 29;16(7):e0254153. PM: 34324495.
Shah KS, Fudim M. Stress Remains in the Eye of the Beholder. JACC Case Rep 2020 Feb 5;2(2):294-295. PM: 34317226.
Sharma A, Greene S, Vaduganathan M, Fudim M, Ambrosy AP, Sun JL, McNulty SE, Hernandez AF, Borlaug BA, Velazquez EJ, Mentz RJ, DeVore AD, Alhanti B, Margulies K, Felker GM. Growth differentiation factor-15, treatment with liraglutide, and clinical outcomes among patients with heart failure. ESC Heart Fail 2021 Aug;8(4):2608-2616. PM: 34061470.
Sharma A, Ofstad AP, Ahmad T, Zinman B, Zwiener I, Fitchett D, Wanner C, George JT, Hantel S, Desai N, Mentz RJ. Patient Phenotypes and SGLT-2 Inhibition in Type 2 Diabetes: Insights From the EMPA-REG OUTCOME Trial. JACC Heart Fail 2021 Aug;9(8):568-577. PM: 34325887.
Shen L, Jhund PS, Anand IS, Carson PE, Desai AS, Granger CB, Køber L, Komajda M, McKelvie RS, Pfeffer MA, Solomon SD, Swedberg K, Zile MR, McMurray JJV. Developing and validating models to predict sudden death and pump failure death in patients with heart failure and preserved ejection fraction.                                                             Clin Res Cardiol 2021 Aug;110(8):1234-1248. PM: 33301080.
Thomas M, Khariton Y, Fonarow GC, Arnold SV, Hill L, Nassif ME, Chan PS, Butler J, Thomas L, DeVore AD, Hernandez AF, Albert NM, Patterson JH, Williams FB, Spertus JA. Association between sacubitril/valsartan initiation and real-world health status trajectories over 18 months in heart failure with reduced ejection fraction. ESC Heart Fail 2021 Aug;8(4):2670-2678. PM: 33932120.
Ugowe FE, Hellkamp AS, Wang A, Becker RC, Berkowitz SD, Breithardt G, Fox KAA, Halperin JL, Hankey GJ, Mahaffey KW, Nessel CC, Singer DE, Patel MR, Piccini JP. Pharmacotherapy for diabetes and stroke risk: Results from ROCKET AF. Heart Rhythm O2 2021 Apr 20;2(3):215-222. PM: 34337571.
Division of Cardiology Publications Indexed in PubMed August 5-11, 2021
Bradley SM, Kaltenbach LA, Xiang K, Amin AP, Hess PL, Maddox TM, Poulose A, Brilakis ES, Sorajja P, Ho PM, Rao SV. Trends in Use and Outcomes of Same-Day Discharge Following Elective Percutaneous Coronary Intervention. JACC Cardiovasc Interv 2021;14(15):1655-1666. PM: 34353597.
Carnicelli AP, Lippmann SJ, Greene SJ, Mentz RJ, Greiner MA, Hardy NC, Hammill BG, Shen X, Yancy CW, Peterson PN, Allen LA, Fonarow GC, O'Brien EC. Sacubitril/Valsartan Initiation and Postdischarge Adherence Among Patients Hospitalized for Heart Failure. J Card Fail 2021;27(8):826-836. PM: 34364659.
Chew DS, Mark DB. Dapagliflozin-Does Cost Make 4-Pillar Heart Failure Therapy Too Herculean a Labor for Medicine? JAMA Cardiol 2021;6(8):875-876. PM: 34037664.
Chow C, Greene SJ, North R, Blumer V, Truby LK, Alhanti B, Butler J, Ezekowitz JA, Starling RC, Mentz RJ. Sex-Differences in Cause of Death for Patients Hospitalized for Heart Failure With Reduced Versus Preserved Ejection Fraction (from the ASCEND-HF Trial). Am J Cardiol 2021;154:123-126. PM: 34284862.
Guimarães PO, de Souza FR, Lopes RD, Bittar C, Cardozo FA, Caramelli B, Calderaro D, Albuquerque CP, Drager LF, Feres F, Baracioli L, Feitosa Filho G, Barbosa RR, Ribeiro HB, Ribeiro E, Alves RJ, Soeiro A, Faillace B, Figueiredo E, Damiani LP, do Val RM, Huemer N, Nicolai LG, Hajjar LA, Abizaid A, Kalil Filho R. High risk coronavirus disease 2019: The primary results of the CoronaHeart multi-center cohort study. Int J Cardiol Heart Vasc 2021;36:100853. PM: 34345648.
Lala A, Mentz RJ. Language Matters: Understanding Barriers to Medication Adherence to Better Tailor Heart Failure Care. J Card Fail 2021;27(8):825. PM: 34364658.
Naidu SS, Abbott JD, Bagai J, Blankenship J, Garcia S, Iqbal SN, Kaul P, Khuddus MA, Kirkwood L, Manoukian SV, Patel MR, Skelding K, Slotwiner D, Swaminathan RV, Welt FG, Kolansky DM. SCAI expert consensus update on best practices in the cardiac catheterization laboratory: This statement was endorsed by the American College of Cardiology (ACC), the American Heart Association (AHA), and the Heart Rhythm Society (HRS) in April 2021. Catheter Cardiovasc Interv 2021;98(2):255-276. PM: 33909349.
Rizik DG, Rao SV, Stone GW, Burke RF, Hermiller JB, O'Neill WW. Re-instituting a live cardiology meeting without symptomatic COVID-19 transmission. Catheter Cardiovasc Interv 2021;98(2):295-296. PM: 33984174.
Romano S, Dell'atti D, Judd RM, Kim RJ, Weinsaft JW, Kim J, Heitner JF, Hahn RT, Farzaneh-Far A. Prognostic Value of Feature-Tracking Right Ventricular Longitudinal Strain in Severe Functional Tricuspid Regurgitation: A Multicenter Study. JACC Cardiovasc Imaging 2021;14(8):1561-1568. PM: 33865769.
Sperber NR, Dong OM, Roberts MC, Dexter P, Elsey AR, Ginsburg GS, Horowitz CR, Johnson JA, Levy KD, Ong H, Peterson JF, Pollin TI, Rakhra-Burris T, Ramos MA, Skaar T, Orlando LA. Strategies to Integrate Genomic Medicine into Clinical Care: Evidence from the IGNITE Network. J Pers Med 2021;11(7):647. PM: 34357114.
Thompson PD, Baggish AL, Blaha MJ, Brawner CA, Eickhoff-Shemek JM, Hunt TN, Kraus WE. Increasing the Availability of Automated External Defibrillators at Sporting Events: A Call to Action from the American College of Sports Medicine. Curr Sports Med Rep 2021;20(8):418-419. PM: 34357888.
Truby LK, Regan JA, Giamberardino SN, Ilkayeva O, Bain J, Newgard CB, O'Connor CM, Felker GM, Kraus WE, McGarrah RW, Shah SH. Circulating long chain acylcarnitines and outcomes in diabetic heart failure: an HF-ACTION clinical trial substudy. Cardiovasc Diabetol 2021;20(1):161. PM: 34344360.
Vatterott P, De Kock A, Hammill EF, Lewis R. Strategies to increase the INGEVITY lead strength during lead extraction procedures based on laboratory bench testing. Pacing Clin Electrophysiol 2021;44(8):1320-1330. PM: 34184293.
Wen J, Xie M, Rowland B, Rosen JD, Sun Q, Chen J, Tapia AL, Qian H, Kowalski MH, Shan Y, Young KL, Graff M, Argos M, Avery CL, Bien SA, Buyske S, Yin J, Choquet H, Fornage M, Hodonsky CJ, Jorgenson E, Kooperberg C, Loos RJF, Liu Y, Moon JY, North KE, Rich SS, Rotter JI, Smith JA, Zhao W, Shang L, Wang T, Zhou X, Reiner AP, Raffield LM, Li Y. Transcriptome-Wide Association Study of Blood Cell Traits in African Ancestry and Hispanic/Latino Populations. Genes (Basel) 2021;12(7):1049. PM: 34356065.